1 IT'S LOUD & PROUD
It's kind of remarkable that the V-Strom has an 18-year history already. Time sure does fly. The good news is that far from being long in the tooth, the V-Strom today looks a lot more youthful than it did back in its debut year, 2002.
It is truly the Benjamin Button of adventure, for not only does it look snappier than ever, its new-youthful looks in fact come from even further back in time, to 1988/9, as its redesign has been heavily nuanced by the Suzuki DR750/800 ('Big') Dakar racers of the late great Gaston Rahier. The orange/white livery apes the Marlboro-backed 1988 machine that Rahier piloted to two stage wins and 9th overall in the rally, the yellow bike is homage to his 1989 bike (no stage wins that year and 11th overall). So, not homage to Dakar winning machines per se, but the V-Stroms are still a very nice tribute to the diminutive Belgian who also won for Suzuki three 125cc motocross world championships in 1975/76/77 (incidentally Rahier also won the Dakar Rally in 1984 and '85 – on another brand).
So, gone are the smooth rounded profiles, replaced by distinctly angular lines and even a square in that headlight. Even aspects such as the seat are now hard-edged, and in our preferred wire-spoke wheel XT variant the V-Strom looks better than ever. Not necessarily racy or aggressive, but purposeful.
And the good news keeps coming, for the new looks are matched by a new vibrancy in the bike's performance. Some 107hp isn't big money in big-ADV terms, but it'll punch hard when asked and there's character to match. So, after years of being the middling budget adventure option, with a touring bias, the 2020 model is for once loud and proud.
2 TECH SAVVY
Suzuki certainly has spent many an R&D hour updating the V-Strom's tech. As for every manufacturers' 2020 models, this has been necessitated by the need to meet the stringent new Euro5 regulations that took effect 01.01.20, but Suzuki has made a good fist of it.
The addition of the Inertial Measurement Unit (IMU) has certainly prompted a significant revision in the rider aids as this unit feeds into the V-Strom's motion track brake system, hill hold control system and slope-dependent control system. There must be greater computing power in the Engine Control Module (ECM), too, which has necessitated Controller Area Network (CAN) type wiring which transmits more data far quicker than standard wiring.
A lot of the tech might go unnoticed in use (as it should) but the low RPM assist function is something that you do notice. It's meant to stop you from stalling the bike when taking off from a stop but actually it's a cool function that will also help in slow off-road riding. If you let the clutch out in first gear, with no throttle, the V-Strom will gently ease up to a 9mph speed. Swap to second gear, and still without touching the throttle, the low RPM assist will have the bike popping along at 16mph. If you come to a rise it'll add more throttle so you don't stall and you'll ease over the slope. Point being in UK 'green lanes' the 9mph speed was perfect for narrow, tight lanes and the 16mph was quite satisfactory for slightly faster going while at the same time that gentle throttle operation by the low RPM assist could be exploited to find traction in slick going. Maybe not what the engineers had in mind, but cool nonetheless…
Regards other tech. The Suzuki Drive Mode Selector (SDMS) certainly works and the three levels of throttle response are identifiably different. But in the dry summer conditions of this test the sharpest 'A' mode was just fine, even in the green lanes. But on slick wet days, for sure you'd be picking a gentler throttle response offered by 'B' and then 'C' modes. In the same dry conditions, with almost perfect traction everywhere, it was hard to evaluate the traction control system. I suspect again it would be very nice to have for those wet slippery days, but for this test the throttle feel was plenty good enough to ride with TC off.
The motion track brake system and combined brake system was equally not the easiest to evaluate given the dry conditions we enjoyed. However, the fact the combined brake system brings a measure of rear brake into heavy braking is a good thing given it adds stability. That the ABS system is also now corner sensitive is another good thing. I had the ABS set to its least intrusive setting.
The hill hold and slope dependent control systems will work wonders for a few. The hill hold I never sensed activated in all the time I rode the bike (just didn't stop on any slopes!) – and I like that it can be deactivated which is useful when off-road where you might be doing a three point turn in a narrow sloping lane where you might have to back the bike up a slope – and while maybe the slope dependent system worked for me (the idea is that it balances the braking on steep slopes) it's a fine-tune thing to find a feel for without having an identical bike minus the system to benchmark against. However, the load-dependent control system on the braking could well have been doing a good job. An afternoon ride two-up proved very pleasurable and quite possibly the way the system balances the braking performance front to back could well have aided the comfort of that ride. We should note at this point that Suzuki has given the V-Strom a fly-by-wire throttle for this year. What can we say, except the throttle response was both crisp and smooth – so that's arguably another positive (although I don't recall bitching about the old throttle setup).
The cruise control was excellent, being very easy to operate. Prime the system with a stab of a button on the right handlebar (a lit icon on the dash confirms this) than set and adjust up or down the cruise speed with the grey rocker switch on the left. It cancels anytime you hit the brakes or engage the clutch.
Much of this trickery is interfaced through the LCD instrument panel. While not TFT trick, it does the job. I actually liked the LCD panel for being smallish and unobtrusive, allowing for a narrow front profile for the bike. That said, some individual displays, like the time, were a touch on the small side for quick easy reference.
In all, the electronics package has come up quite a few levels. However, what isn't here is an 'offroad pro' setting. That goes for suspension as much as the engine management / braking system electronics. Suzuki has made the V-Strom a more comprehensive package, but only for the touring type rider. For the wannabe big-bike dirt god there are no magic skid/wheelie/jump settings. Dynamic riding off-road will be very much down to the rider to master unaided.
3 NEW ERGOS
I'm not sure how much Suzuki has reworked the ergos, if at all. But the slim front fairing, the wide alloy motocross type handlebars and the flat seat all seem to lend the bike a purposeful cockpit. On the lower setting on the seat I was too cramped, but on the higher setting (870mm) I found good legroom when seated, while the seat was not too high for getting my feet down when on the trail (I'm 6'0").
The ergos lend themselves to a standing-attack position; the lowish handlebars mean you are leant forward, which is good for control but for all-day standing while slow-riding you'd probably either want handlebar risers (if the cables allow) or lower the footpegs (if they don't). It is though a balanced standing position and as with the 2014 V-Strom (I tested) the bike takes to trails quite naturally, there's a good feeling for the bike and performing slow speed full-lock turns does not pose a problem. In fact cruising along at 25mph on dirt it was just fine. On gravel it'll probably be something of a weapon, too, at any speed. But on bumpy going the suspension (and lack of ground clearance) will be limiting factors. Again with the likes of a GSA you can electronically jack-up the suspension and pick dynamic riding modes and these allow you to romp along, but on the V-Strom in the absence of these features it's going to be a matter of self- and bike-preservation.
Two-up the V-Strom was an excellent ride. Both the rider's and the pillion's seats are pretty comfortable, the pillion gets fairly decent leg room and there's plenty of space front to back – we were indeed seated comfortably. Equally the power can be fed in smoothly and the braking also smoothed, without excessive forward pitching, so for two-up riding it's hitting a sweet spot. That rider saddle was also good for a non-stop ride of 150 miles, all done pretty easily with only the occasional fidget.
The screen is very good, too. Mostly it was left in the lowest setting and it was just fine, offering good wind protection without overly obscuring forward vision when on the trails. When hitting rain I was able to reach over the screen and release the lock on the front, then lift the screen to the highest setting and quickly lock-off the screen again. For sure this isn't recommended, you should stop and adjust it, but if you're 6'0" or taller there's that (dodgy) option. And in the high position the screen was again just great, offering even more protection while still not that intrusive.
4 SOLID FUNDAMENTALS
Sometimes you get a bike with all the whistles and bells, a bike that's seemingly ticked all the boxes – but it lacks soul. It just doesn't rev your heart. Now the V-Strom could have been a little guilty of this in the past. It didn't help that it didn't look that sexy – too roadbike-y. However, it always felt capable – and it was.
Fact is the V-Strom has always been a better bike than we've given it credit for. Suzuki has blessed this bike with a strong aluminium beam-type frame. It has decent Kayaba suspension front and back – maybe not exactly to true adventure specification, but good stuff in itself. So get this beast on a backroad and it can really move, it's got great handling and it feels light with it, probably helped by the wheel combination of a 19×2.5 front and 17×4.00 rear, so narrowish tyres that aid quick steering. And that motor has never lacked for strength and durability. And while not super-frugal the V-Strom has never been a gas-guzzler; on this test we ranged between 55 and 60mpg – not bad for a big 'thou'. Combine that economy with a 20-litre fuel capacity and this bike can make big distances (straight or twisty) with surprising ease. And while the exhaust is whisper-quiet as required by law, it sounds good to the rider. Yep, very quickly you'll find yourself feeling very happy.
Point being, up to the point where we have to say it isn't an extreme adventure bike – such as a GSA or Super Adventure R – we have to credit the bike for being very strong on tech and design. Mostly what it lacked before was the suit of clothes that best expressed what's on offer. Which brings us to point 5…
5 A NEW VIBE
No question this 2020 revamp has been quite an upgrade for the formerly humble V-Strom. There's now a sense of youth and fun about the bike, given the fresh bodywork and out-there colours. And while the V-Strom is striking in these new race bike colours somehow it doesn't feel overly garish, the look stopping just this side of 'boy racer'.
The new look matches the new tune on the motor. Now the old tune wasn't bad, the 1037cc vee-twin has always been a strong motor, but the new tune gives it that little bit more, making it more fun, without detracting from its cruise capability. The motor is amenable at all revs, not choking up when going slow, not struggling when pushed hard.
There's also a sense of practicality. The bodywork isn't overly ornate, there are not acres of ABS plastic and the screen is sportsbike minimal yet barn door protective. We like that the XT comes with a full LED lighting complement too – that's a premium spec. The ride position is relaxed and comfortable for big rides yet the bike doesn't feel like a monster tourer when you get it into the dirt. There's a very real sense of balance in all aspects of the design.
So in all, it feels like a bike that would satisfy an owner for a long time. Maybe he/she would be seduced in the showroom by the looks, but it'll be that engine and capable chassis that will keep it in the garage and out on the road in the years to come. And honestly, if you're not extending your adventure riding into the extreme/advanced realm, then the V-Strom's spec is just about spot-on – why pay thousands more for features you're not going to need?
Personally I had mixed feeling about this bike ahead of this test. I'd hoped the XT version at least would have gained an inch or two in ground clearance to enhance its off-road capabilities, and I wasn't convinced a new set of clothes would amount to very much. Yet the bike has me won over. I can accept its limitations because Suzuki kind of declare these at the outset and I suspect their market analysis has shown the vast majority of adventure bike riders only do the lightest of occasional off-road riding. So they've focused on the V-Strom's strengths to make it better for what it is most likely to do. And so what it is, is a very attractive, strong performing big-ADV in an 80:20 (road / off-road) kind of way. And through its honesty and integrity – and new found joie de vivre – I find I like it, very much.
What would we change/improve?
No bike is perfect and there will be bits that could be improved – hence the existence of the aftermarket. So what would we change on the V-Strom XT?
Proper handguards. The ones fitted, termed 'knuckle covers' by Suzuki are super-flimsy
A proper sump plate, for peace of mind
A folding-tip gear lever, again for peace of mind
A radiator guard, it's a big rad and there's plenty of area for stones to puncture it
Given the spec and likely use of this bike we'd actually go for the optional alloy panniers (with liners) ready for the two-up tour with one's partner, just remove them (that's the partner and the panniers) for serious off-road sorties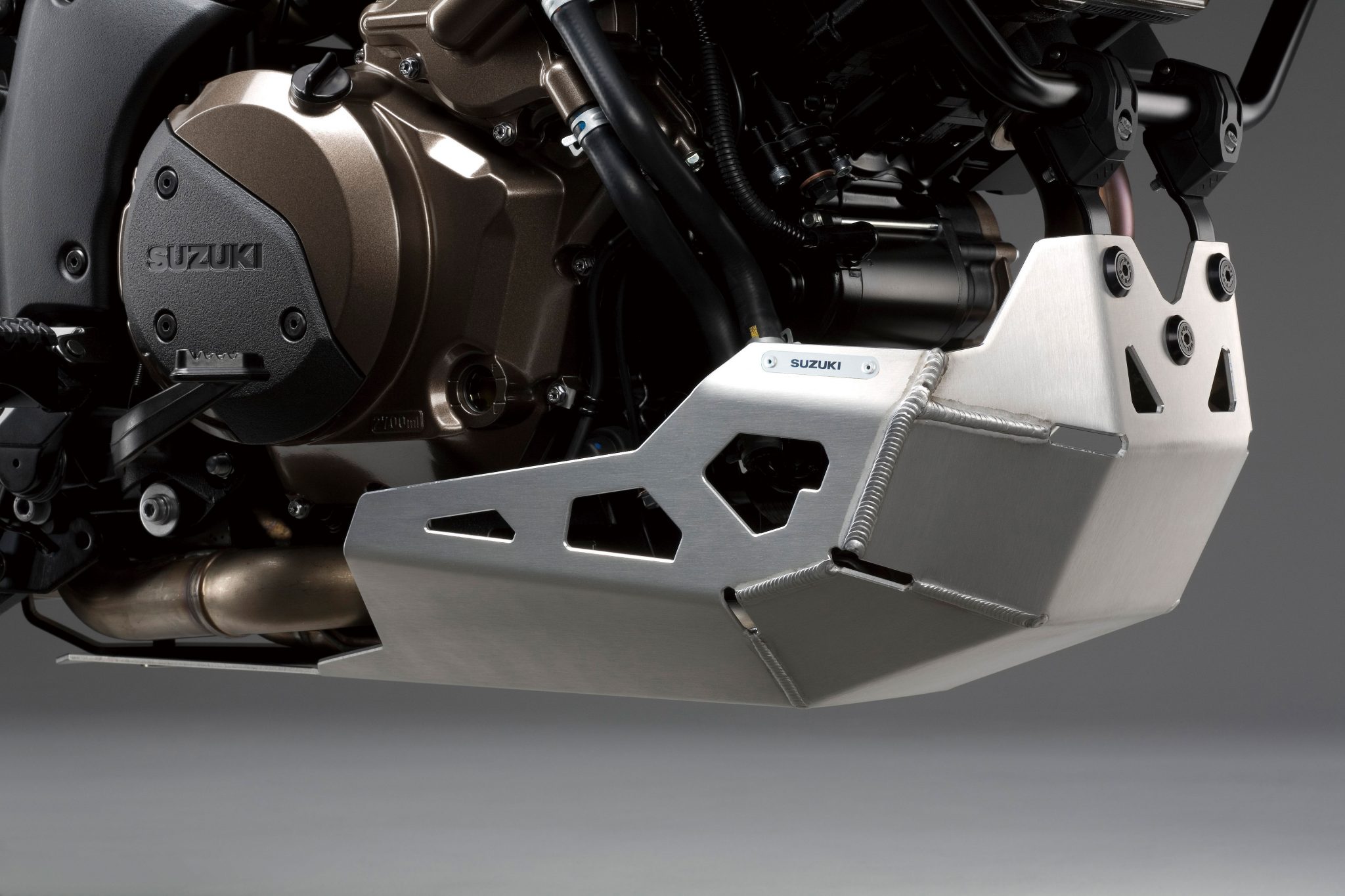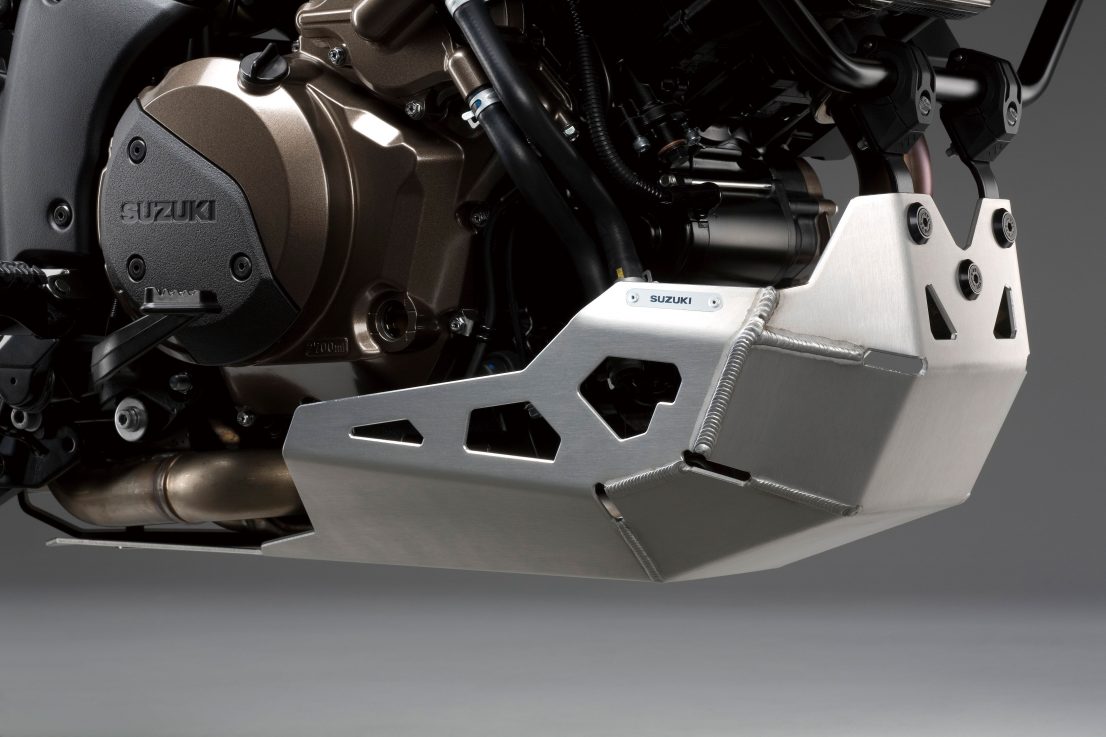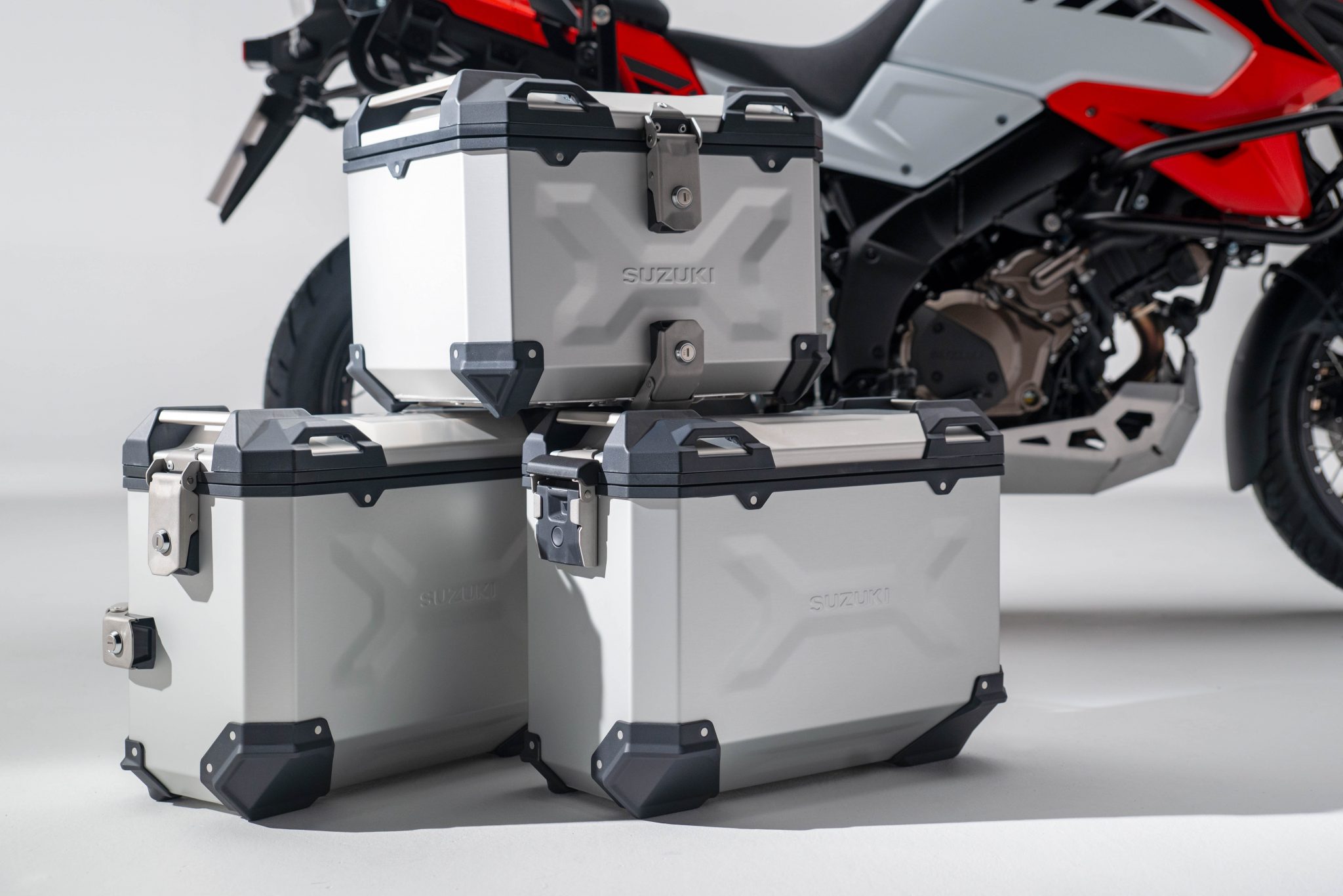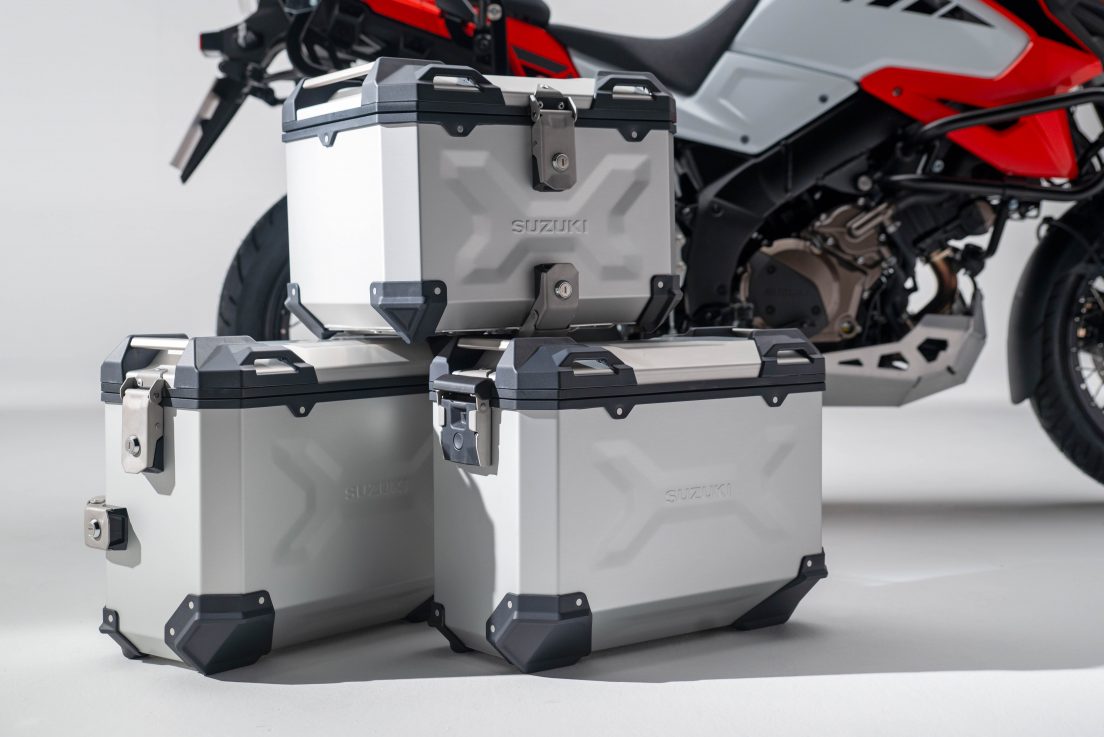 ACTUALLY, THERE IS AN EXTREME ADV OPTION
We bang on about how the V-Strom is a road bike first and foremost, but not everyone is inclined to think that way. German DR-Z, DR Big, and V-Strom specialist Hessler Rallye Team (HRT) has swum against the tide and created this V-Strom 1050XT 'Desert Express'. It was shown for the first time at the launch of the 2020 V-Strom 1050XT at EICMA in Milan, so kind of has a Suzuki endorsement.
The Desert Express is based around the chassis and V-Twin engine of the XT, but uses a host of new components manufactured in-house by HRT, plus modified suspension and aftermarket bolt-ons.
Key among the changes is an additional 30mm of suspension travel over the standard machine (up from 160mm to 190mm), by way of modified forks and a new shock from Wilbers, plus a new HRT-made linkage.
The front forks slot into new yokes, also made in-house. Further HRT additions include footrest hangers – which support Suzuki RM-Z450 footpegs – rear brake pedal and gear lever, and skid plate. A new headlight protector and Zeta Rallye 1050 windscreen are copies of the original items found on Suzuki's Dakar rally machines.
A lift kit raises the front mudguard to fit more aggressive tyres, brake and clutch levers come courtesy of Probrake, and there's a new luggage rack and number plate assembly. A Mivv silencer adds to the racy look and brings a vee-twin rumble. Of course a graphics kit finishes the job.
Available from dr-big-shop.de, the kit costs 3,895€.
2020 SUZUKI V-STROM 1050 XT 
| | | | |
| --- | --- | --- | --- |
| Engine capacity | 1037cc | Engine | 4-stroke, liquid-cooled, DOHC, 90˚ V-Twin |
| Bore | 100.0mm x 66.0mm (3.9in x 2.6in) | Compression ratio | 11.5 : 1 |
| Lubrication | Wet-sump | Ignition | Electric |
| Fuel system | Fuel injection | Transmission | 6-speed constant mesh |
| Drive | Chain | Starter | Electric |
| MPG* | 57.65 | CO2 | 115 g/km |
| Power | 79.0kW @ 8500rpm (107.4PS) | Torque | 100.00Nm @ 6000rpm (73.76lb.ft)† |
| | | | |
| --- | --- | --- | --- |
| Front suspension | Inverted telescopic, coil spring, oil damped | Rear suspension | Link type, coil spring, oil damped |
| Front brakes | Disc, twin | Rear brakes | Disc |
| Front tyres | 110/80R19M/C 59V | Rear tyres | 150/70R17M/C 69V |
| | | | |
| --- | --- | --- | --- |
| Overall length | 2265mm (89.2in) | Overall width | 940mm (37in) |
| Overall height | 1465mm (57.7in) | Wheelbase | 1555mm (61.22in) |
| Ground clearance | 160mm (6.3in) | Seat height | 850-870mm (33.5-34.3in) |
| Kerb mass | 247.0kg (544.6bs) | Fuel capacity | 20.0 litres (4.4UK gallons) |