When Suzuki launched an all-new V-Strom for 2014 were we convinced it was a real adventure bike, not some touring sled dressed up all fancy? We were not. Now, a few months downstream of the launch a V-Strom has landed in the TBM garage. What to do – immediately we took it to the Cambrian Rally. Authentic adventure bike? It was a case of sink or swim, literally…
It was probably my idea – all the dumb ones are. But I can't quite recall how it came about. Race the Suzuki V-Strom 1000 in the Cambrian Rally, why not? Surprisingly Suzuki GB thought it was a good idea and gave the project the green light straight away. And of course once that's happened you look pretty lame trying to back out.
Naturally everything was last minute. Late entry. Bike collected barely a week before the Friday travel-up. Last minute email to Touratech Germany to overnight-courier some serious bike protection to Nick Plumb's Touratech UK headquarters, for fitting on said Friday. Tyres from Metzeler, fortunately in stock and again despatched on the overnight. And of course – a weekend leave pass from the missus, also last minute (so it'll cost…).
And so stage one on Friday: ride the TBM Long Term Honda CRF250L – complete with all the weekend's baggage – from Broadstairs to TBM Towers in West London. I'd have taken the car, but ad-man Alex wanted to join me on the Cambrian so the wee willing Honda needed to come along too. And that was a journey through London's rush hour, of course. Then a quick turnaround as we loaded the CRF into the TBM van while I swapped to the V-Strom and piled on down the M4 to Plumby's. Quick turnaround? Okay, not quite, this is TBM – first coffee, then chat with Alex, then longer chat with Si (late arriving), then the usual poke and pick at the gear I'd chosen for the event. Then finally away – oh, but the V-Strom's fuel tank's empty (surprise!). Refuel. Hopeless attempt at getting the earplugs to fit, then Chiswick roundabout and finally M4 west bound.
Fortunately the V-Strom can eat motorways. It's a big 1000, after all, so it'll play fast lane bragging rights with the usual tin-top nugget-heads in their M-something BMWs and Mercs (I don't know their range codes, simply not interested!). You can put the adjustable screen (three options on height and three on angle to give nine permutations) up high to reduce the wind blast nicely, although you'll get some buffeting as a result. But even at high speeds the feeling is relaxed and so-solid. And with a fairly big tank it'll go a long way quickly.
That said, a quick calculation set the ETA in Wales at about 4pm – not clever with guards and tyres to fit (sure to displease the mechanics) – so head down, 90mph cruising speed (or not, officer) and blast westwards. There's a real-time petrol consumption read-out on the dash, I note it had said 55mpg when I was in traffic at 70mph, but at, er, higher speeds it came down, suggesting high 40s. When I arrived at the fuel station by Touratech I'd done 207 miles non-stop (with some numb bum, but not horrendous) and the refuel took 18.75 litres (tank capacity is a solid 20 litres), so the real fuel consumption had been 49.3mpg. With packed panniers, screen, tent and 90-kilos of rider that's pretty impressive – a hell of a lot better than I recall of the original Suzuki TL1000S (from which this bike takes its motor) – modern engine management clearly makes a difference.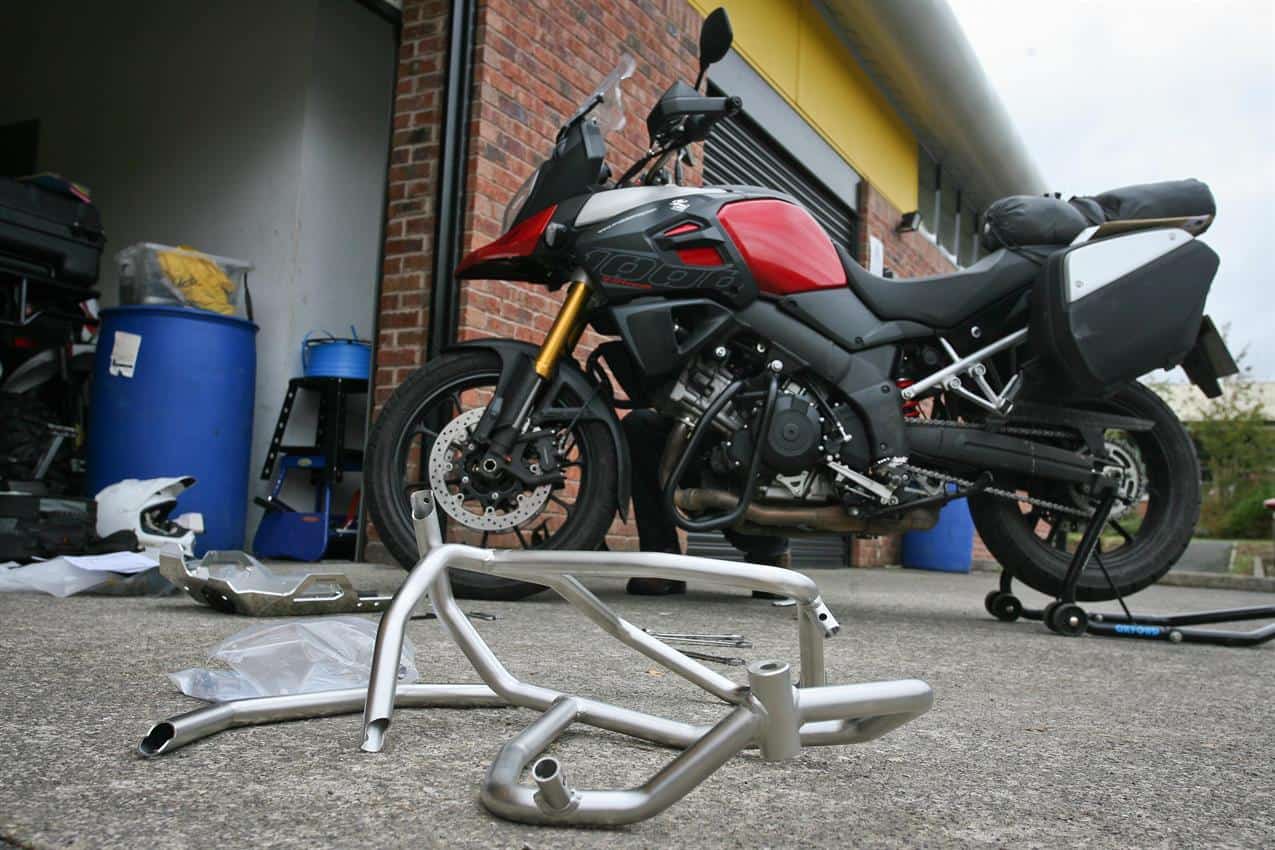 BEEF-UP?
At Touratech we were beefing up the V-Strom with some bush bars. Suzuki had already fitted their own engine guards, but the Touratech ones offer more coverage, up to the fairing, and look nicer too. I'll take that upgrade. There's no sump guard on the Suzuki, and with ground clearance being not so much (165mm) it desperately needed a sump plate for the Cambrian and all the rocks we'd find there. So on with Touratech's sump plate – an easy job, and thankfully it offers substantial coverage. I noted I was trying not to scratch the plate as I fitted it… Then two easy jobs to finish – a swap from the standard rubber-top footrests for proper serrated types and an alloy guard for the radiator.
A bit more prep was needed – we rotated the bars forward a bit to create a better standing position, and we rotated the gear lever up one notch on the spline so it was raised and easier for a motocross boot to get under (especially in a standing position). Then on with some new Metzeler Karoo 3 tyres – proper what I call town & country types. They're a new design and while their rounded profile look a bit less than confidence-inspiring there's actually a healthy gap between the rows of knobs that should ensure fairly decent bite. We'd see how they perform.
So job done. Only five hours work for Touratech's manager Steve and me – well, more Steve than me (and to be fair we chatted through half of that). So it was 9pm and the rain was coming down cats and dogs, not boding well for start in the morning. Alex had turned up with the TBM van and the Honda in the back, wise man. We repaired to my old man's place near Llandeilo for the night. 'We repair to…' – I've stolen that directly from some 20-year-old Blezard copy, can you believe. Thank you P.N.B., nice turn of phrase.
RALLY BIKE?
Now, I'm no different to anyone else, I think the same thoughts. And one of those is a question I have as to whether the V-Strom is really an adventure bike at all, or just a road bike dressed up to look the part. I've never actually properly looked at the V-Strom to assess this, just gone on gut instinct. And so my gut has been pretty much negative on the matter. Suzuki have left the matter moot too, keen to pitch the Strom on its road attributes. There's no ruffty-tuffty desert riding in this sales brochure. But still, given that they call it an adventure model we should at least see just how much adventure it might take, eh?
And given that Africa is a fair ways away and not entirely attractive for a number of reasons right now, and being stuck for finding riding buddies to tackle local lanes, then the Cambrian was an ideal solution. If I was to get the Strom stuck in a bog, having a good 150 riding companions should at least give an evens chance of extraction. Likewise I could forget about issues of navigation – just follow the arrows. And fighting for byway space with walkers, horses, mountain bikers and 4×4 fans – not an issue (or so I thought). So I wasn't at the Cambrian on some premise that the Strom is a rally racer, no, just using the opportunity to see just how extreme the Strom could go. That's not an excuse, by the way, for not getting a decent result. Not one bit.
All that said, between the night-before bike prep and scrutineering at 9am I was at least able to last-minute familiarise myself with some of the Strom's spec. And it's actually quite up-market. That's an alloy beam frame for a start. Anybody who's ridden Honda's CRF enduros or Suzuki's own RMX450 – even a GSX-R race rep – will know there's a lot of integrity in alloy beam frames. When they're good, they're very good. And this one is 13% lighter than the previous Strom frame, so clearly Suzuki have been doing some homework. And there, in all their glory, attached to the front of the Strom are a pair of gold-anodised Kayaba upside forks, with adjustment for preload, compression and rebound damping. I'm a big fan of Kayaba (or KYB if you prefer) units – knowing them from Yamaha YZs, YZ-Fs and WRs and knowing just how good they are – so seeing these on the Suzuki kind of got me hopeful. Sadly the Kayaba shock doesn't seem quite so sophisticated, with preload adjustment only – but then I'm not so sophisticated either, and seeing this largish adjuster knob just under the seat I wound the preload up to max allowing for my weight and wanting maximum ground clearance. There's more good stuff. Like the radially-mounted Tokico monoblock brakes, with ABS. Traction control too. It's not quite GS-sophisticated, but Suzuki have allowed the Strom a few trinkets.
And while we know this engine from as long ago as 1997, in the TL-S, and from 2002 in the original V-Strom (so it's old, like) – it's evident that Suzuki have given it a thorough makeover for this 2014 edition. With +2mm on the bores it's now 1037cc and with dual plug heads and new fuel injection, plus ECU upgrades, it's a whole new tune. And bless Suzuki, for they've gone completely in the opposite direction to the rest of the adventure market and de-powered the machine! Suzuki quote 100hp but magazine dyno tests are showing that to be about 91hp at the rear wheel – about 25hp less than the 1200GS and 37hp less than the 1190 KTM (and of course there's now the 1290…)! But a little like Aprilia with their Caponord, here Suzuki have clearly decided the market would like easy, low-rev torque characteristics, we're not here to set lap records or speed records, let's just chill-out and enjoy the scenery. They've even added a heavier flywheel to accentuate the point.
Ahh, getting back to the traction control, it comes with three levels of actuation if you count 'off' as a level. Okay two levels, then. Only here: a confession. I rode the whole time with it off! We'd set it at off at TBM and I'd not paid attention to how we did that so forgot how to switch it back on again (which is in fact very easy – it was just I was always hurrying). Yet despite rain and dirt on the roads, and rain on Cambrian course, the power was just so controllable that I never actually needed to turn it on. I'm sure there are times when it's needed – say riding two-up with full luggage on sheet ice – but for now, given my ineptitude, we'll need to rely on Alex to establish its usefulness (lucky man – he's keeping the Strom as a long termer).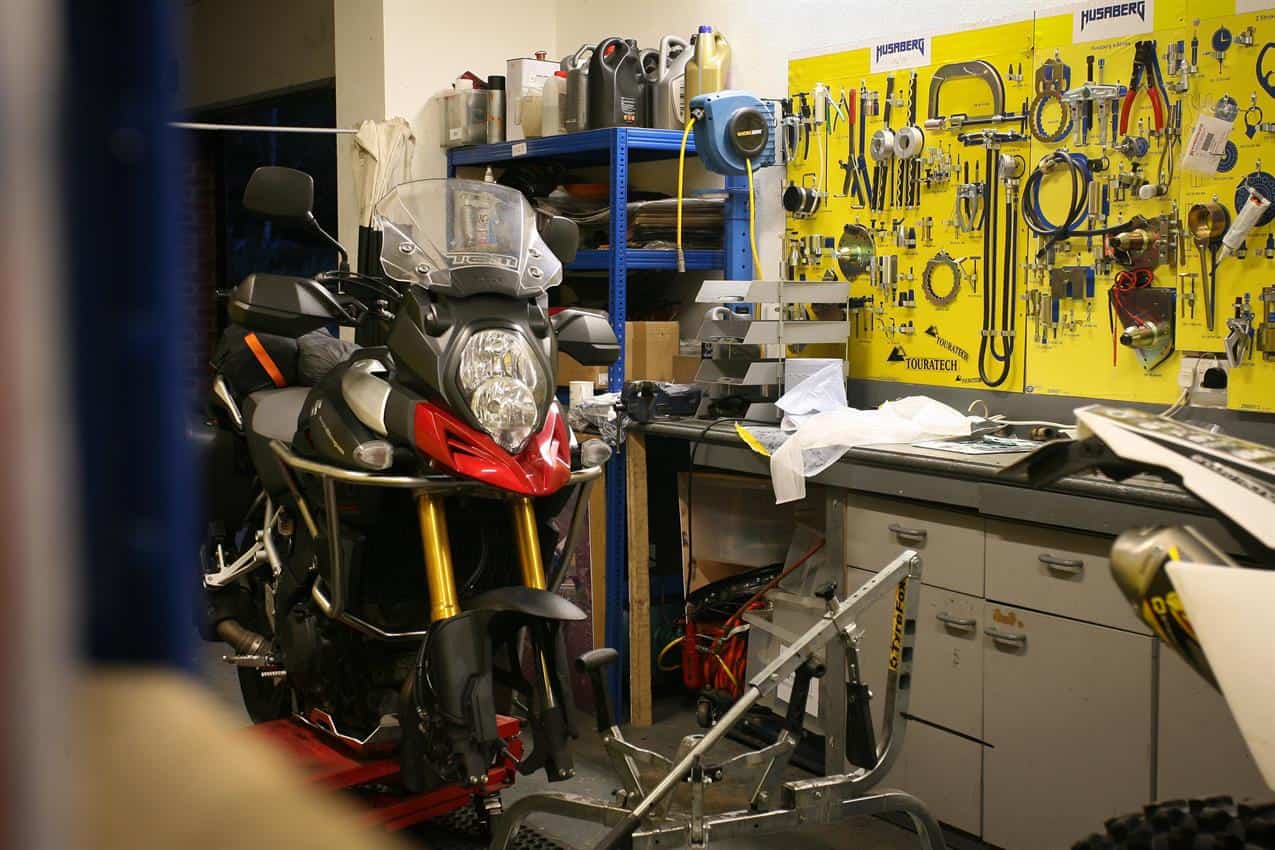 SO, ON WITH IT!
So onto the gravel. Saturday morning, 10:51 ticked over on the officials' clock and the Strom (and me) start the 20th Cambrian Rally. Then we stop 10 seconds up the track to allow Alex to pack the camera away and tag along on the CRF-L. Then on again.
And all is well. The Strom tracks true, stays stable when you get off the gas as you look for a line through the curves and reacts exactly like any bike you know. It's not top-heavy, there's no tippy feeling. It doesn't chug or chunter, it just goes. Fuss free. Whether we call it 100hp or 91hp, for off-road that's oodles more than you need, and with road gearing set for something like 140mph top speed then by third gear we're going plenty fast enough, especially on wet slippery gravel track. We came to some muddy sections – where the logging contractors had been working – and while I tensed-up the Strom didn't, it moved around a little, like any bike, and like any bike the answer to any squirm is just to gas it up a little more. It's all pretty easy.
Ten minutes in and we came to our first test. It could have been the Strom's nemesis, even. It was a challenge section that started with a juicy fat climb up a bank about 40-foot high then followed a track around a small quarry. I could have stopped and scoped it out, but my instinct suggested that just might spook me, better just to get in there and do it. And that's exactly what happened. The Strom launched into the climb like a regular EXC (or rather RMX), with a lovely mix of grip and slip and popped over the crest sweetly, then slithered down a snaking 20-foot descent on the far side – the ABS giving little pulses through the lever – and then it was back on the gas to thread through a channel between bushes and trees. The front climbed one side of the channel while the rear stayed in the trough, but the bike rode sideways as easy as it rides inline. At the end we dropped down another 20-foot bank, steep but with plenty of run-off – easy enough to coast down.
It was all so easy Alex suggested I do it again for the camera. I cheerily said yes, only to return to the first climb to find two EXCs stuck – hmm, maybe it wasn't so easy. No going back, though. I'd got a small problem in as much as I couldn't recall what gear I rode the climb in first time. I made a guess it was first – this is highish road gearing and I expected first gear on a 1000cc vee-twin should be good for a range from 0 to 60mph, so it would probably be good. And it was. I made a short approach, maybe about 10-15mph, then gave a good squirt just before the climb started to add more momentum so that I could feather the throttle on the climb if I needed. But there were no issues, the Strom had the job nailed so well I could even play with a little wheelspin at the top for effect. We didn't even ride banks like this on the GS Trophy in Canada, so hats off to the Strom it was already riding (calmly, confidently) into the extreme range.
STRATA FLORIDA
Strata Florida is known to most, but not all. It's a byway, I guess, but it's also a famous section of the annual Welsh Two Day Enduro course. It's a rocky track that follows a wide valley floor for a few miles, countless times crossing a river, sometimes actually being the course of the river. And when we say rocky, we mean hard solid strata, then loose stone over that, then big rocks – all good stuff, kind of Scottish Six Days, only flatter. And that river – ahh, when it rains hard (like on the Friday night) the level comes right up. And when we arrived at about 11:30 on that Saturday morning, yes the level was high. Last thing I wanted was to hit a submerged rock and topple and drown the Strom. That would be a serious game over scenario.
We were into the hard stuff straight away, approaching from the western end. And again, fantastically, the Strom was loving it. There was a proper trials section to get through with big rocks, rock steps and lots of loose stuff too. With about four-inches of water running over it. It looked intimidating. However, there's a joy with big-big bike – they move the small rocks aside. Stuff that might trip a lighter bike gets shoved aside by the mass of big adventure bikes, so in fact the technique is to forget the small stuff and just watch out for the big ledges. You can spring down a ledge, just, but getting up can be awkward as getting the front light on an adventure bike is pretty much impossible.
All that said the Strom was stroking it. Sure enough the valley was echoing to the clank of rocks smashing into the sump plate, but nothing was stopping the Strom and feet-up trials riding through the rocks was totally feasible. Then came some deeper channels to cross – and I have to say I was concerned the front might dive headlong into an unseen hole – but yet again the Strom was up for it. It ran straight, the force of the water couldn't knock it off course and the rear Karoo was churning with such aggression the terrain was simply submitting to this greater force. You could hear and feel the thrash of the tyre on the river bed and it was reassuringly positive.
The final river crossing was the deepest, but technically not so difficult except for executing something of an arc as you crossed so as to stay in the shallower sections. A drowned KTM 990 Adventure on the far bank highlighted the dangers here and the rider very helpfully pointed out exactly where not to go! With no one around to show exactly how deep the going was a sensible man would wade in first and check the depth – much better to have wet boots then a hydraulic-locked motor. In fact water in an engine like the V-Strom – I wouldn't want to even start imagining how bad that could be. Fortunately with needing to have Alex in position with the camera on the far bank I had my guinea pig to ensure the chosen line was a good one. It was still deep, but seeing as he didn't seem to hit any obstructions, it was good. And it was. The Strom's 19-inch front wheel was totally submerged but the bike pushed through and drove up the far bank unflustered.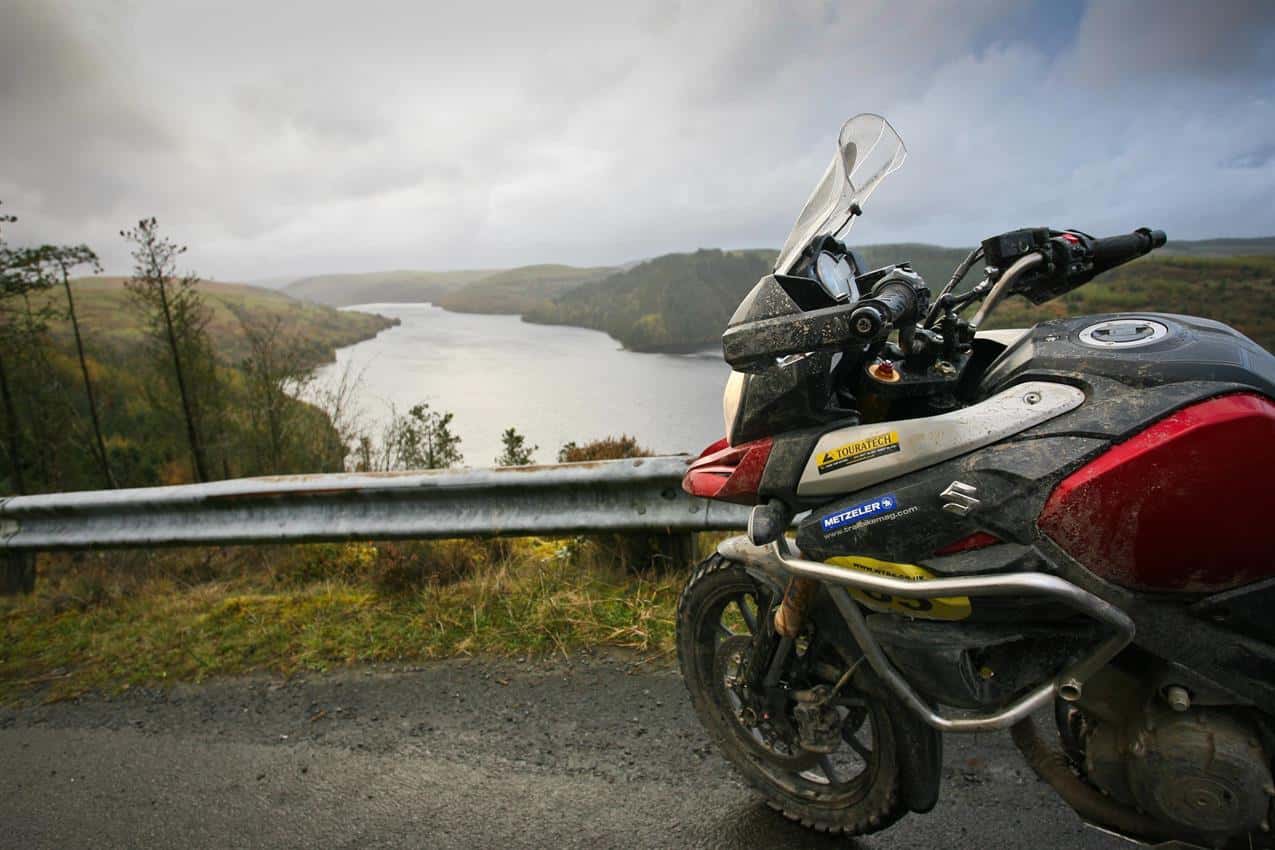 CRACK ON!
One thing we discovered at the finish of the first lap was that we were hopelessly late. The organisers had explained with an 18mph average lap speed there was plenty of time for photos. But not, it would seem, for a full-on photo shoot. We'd lost time chatting to some Dutch 4×4 drivers out on Strata Florida too. And more time was lost trying to start the stricken 990 Adventure using jump leads off the Strom.
So we dropped the cameras and went for a fast-ish flowing second lap. Again, no real issues. You could really push on over the gravel, the Strom was pretty secure. I came to stop on one hill in the first special test when mistakenly I tried a line over a whole load of brash. Something you can do on an enduro but eventually the Strom fell into a hole. Alex came along (my ever-present batman) and it was a matter of 30 seconds work to heave it sideways back into a better line and after a handful of throttle the rear Karoo at last bit down into the firm stuff and Strom powered it's way up the rest of hill with no issue.
I did detect a shortcoming in the ergonomics. Piling along the gravel tracks I noticed the pegs were quite high compared to the handlebars and so this led to something of a stoop for me the rider that put pressure on the lower lumber region of my back. There's no scope to raise the bars, and they're as high as I'd like to see, any more and you'll take too much weight off the front end. So it's a question of having to lower the pegs say an inch. Only then we might get stuck in the ruts, where presently the Strom is going so well, being so narrow. So maybe if we had an inch more suspension travel we could at the same time lower the pegs an inch and be totally sorted. Of course a shorter rider than me might not feel the same. Oh, and for me, maybe a higher seat (there is an option) would be better.
And that suspension? Well, at the start I had it in mind to ride a lap and then make adjustments, anticipating putting a bit more compression and rebound damping into the forks. As it was I ended that first lap not even thinking about the settings, the Strom had behaved that well – the Kayabas were doing just fine. I'm sure there are guys out there who'll punish this suspension and claim to bottom it out etc. But this is an adventure bike, not a rally bike, start making modifications in that direction and you'll destroy the all-round versatility.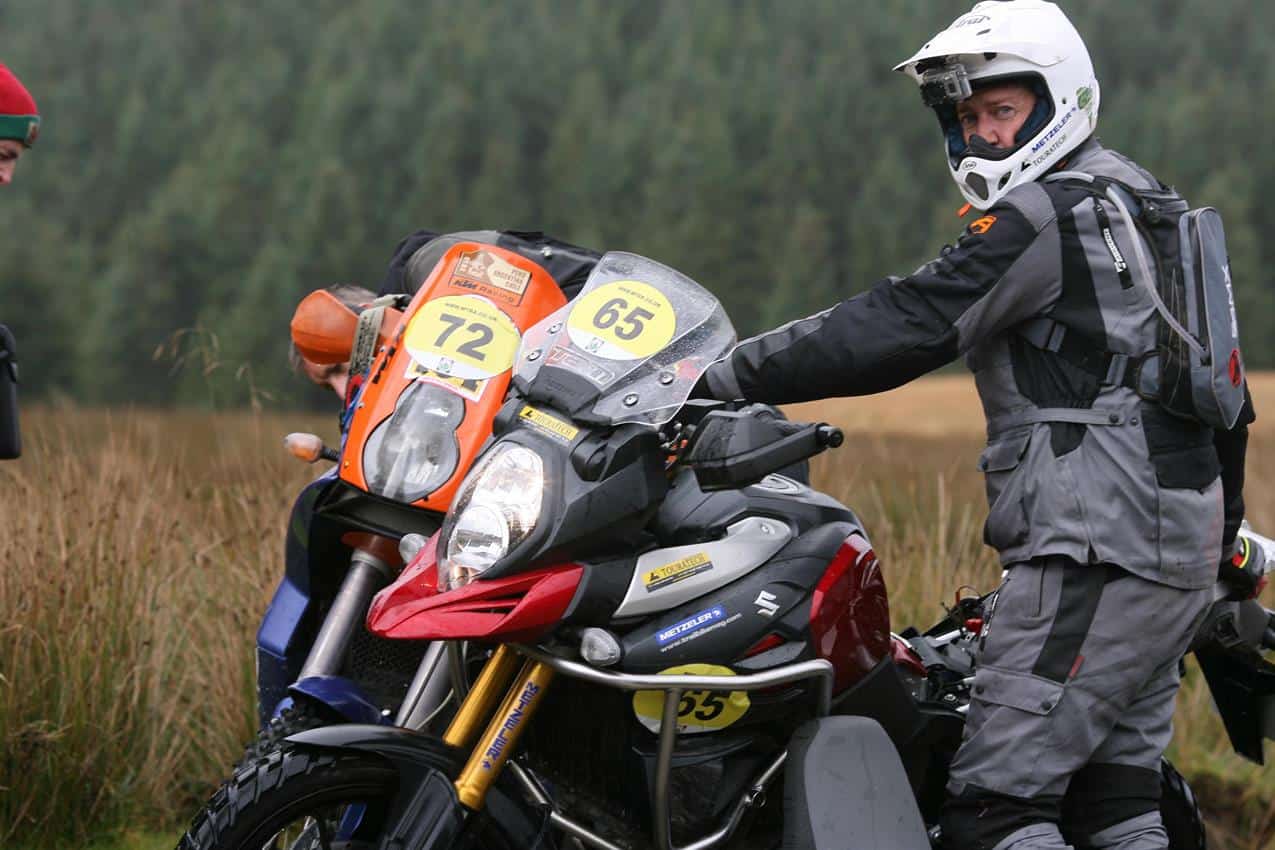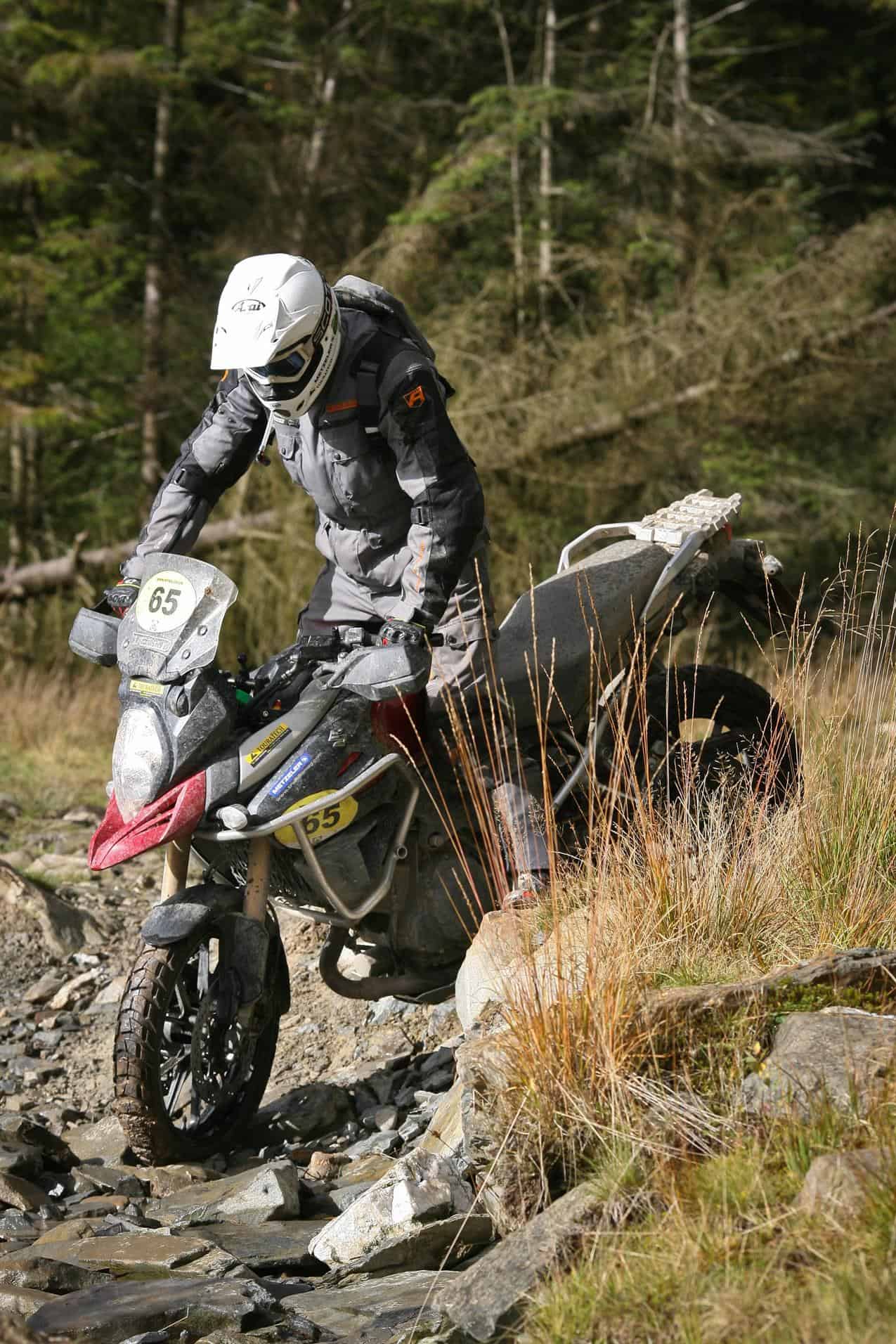 HOME?
So two laps done, that's something like 70 miles off-road (plus reruns of sections for the camera), and the Strom was just fine. Nothing had broken, nothing had shown any signs of weakness whatsoever. It hadn't come up short anywhere and even riding with ABS on (it was only afterwards I was told I could disable it by removing a fuse) there had been no issues, it had still slowed and stopped exactly as I needed.
So – having consumed the obligatory burger and coffee – while others loaded up their bikes into vans and onto trailers I put on an over-jacket for the rain and, like a small handful of other enlightened riders, headed off to my digs on the bike.
We were back the next day. For this we rode just the one lap as we wanted to cover the rally itself (story in the next issue) and again the Strom was just fine. Notably, when we got to the end of the Strata Florida section, with a third of a lap to go, mostly on gravel, we set off with the front runners, who were just coming through. And – it seemed rude not to – we gave it a go at riding at a pace with them. And again fair play to the Strom, it did pretty well. Speed wasn't an issue, but slowing was, and trying to scrub speed off a 250-kilo adventure bike on adventure tyres isn't the same as for a 450 rally bike on enduro tyres. Still there were some memorable moments and by no means was the Strom dropped like some old nag. Even going through the original challenge section (now reversed) the Strom could fly through barely a second or two slower than the rally bike ahead.
And at the end of day two it wasn't just a case of an over-jacket to don but a full pack-up, so on with the panniers and camera bag and such, ready for the 300 mile run back to London. Same tyres still. On the motorway yes the Karoos do make a bit of thrumming noise but the grip and comfort is almost identical to a road tyre.
The V-Strom had exceeded all expectations. Without a doubt it has genuine off-road chops. It's not quite a GS – I'd prefer to see wire-spoke wheels and a bit more ground clearance – but it's far more dirt-adept than even Suzuki give it credit for. It is a legitimate adventure bike, and some. Perhaps at the outset, in my mind, I figured I could at least drag the Strom around this rally course. It would be slow, it wound't be pretty, but it would be possible. As it was, it was easy (okay easy-ish) and a whole lot of fun. On an enduro bike you'd have to ride flat out to make a rally course fun, but on the Strom a fast canter was plenty and there was always that frisson of excitement – make the challenges or bear the consequences (the weight mostly!).
So by heck it was good, I'm a convert. And, you know, I'm not saying every V-Strom owner should go out there and brutalise his lovely £10k Suzook on a rally course, but he can at least now ride happily on his commute, on his weekend jaunts, on his summer holiday two-week tour, knowing that if he wanted, yes he could take his V-Strom down that gravel path less-travelled. The V-Strom is an authentic all-terrain vehicle. Happy days!
Thanks to: Harley Stephens and the crew at Metzeler for the tyres, to Touratech HQ in Germany for all the protective parts, to Touratch UK (Nick and to Steve) for fitting those parts – and the tyres – for us (with us?!). And to Jim Weaver, Julian Harvey, Bob Perring and all the kind folk at WTRA for allowing us to ride the Cambrian Rally.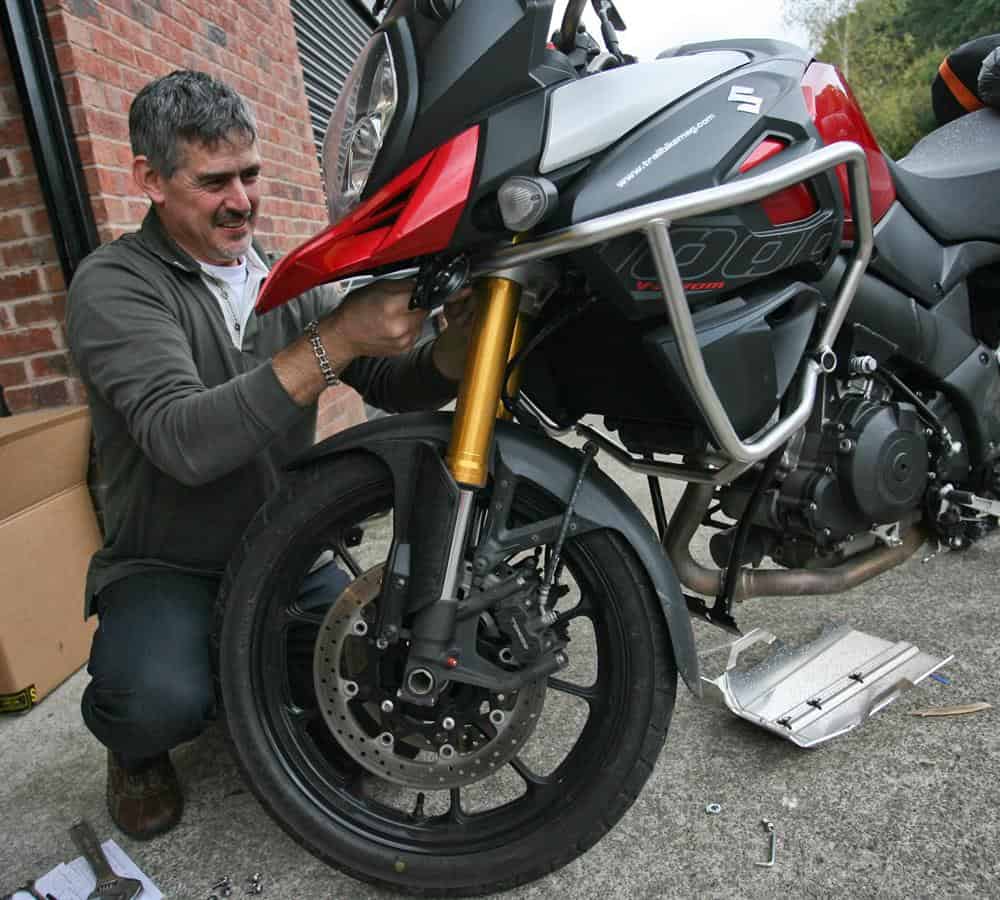 PREPPING THE V-STROM FOR THE CAMBRIAN
This job was amazingly easy, it's all off the peg stuff. This is what we fitted:
From Touratech:
Works long-distance footpegs £136.63
Radiator guard £91.05
Stainless steel crash bar £283.73
Expedition engine protection shield £260.94
From Metzeler:
Metzeler Karoo 3
110/80-19 circa £70.00
150/70-17 circa £80.00
Contacts:
SUZUKI V-STROM 1000 Adventure
Specification
Price: £9999
Engine: 1037cc, liquid-cooled, DOHC, 90º V-twin, four-stroke
Bore & stroke: 100 x 66mm
Compression ratio: 11.3:1
Transmission: Six-speed, wet multi-plate clutch, chain drive
Chassis: Alloy beam frame
Front suspension: Kayaba USD forks, adj for preload, comp & rebound damping
Rear suspension: Kayaba shock, adj for preload only
Brakes: Twin discs with radially mounted Tokico monobloc calipers, single disc rear
Tyres: 110/80-19, 150/70-17
Wheelbase: 1555mm
Seat height: 850mm
Ground clearance: 165mm
Weight: 228kg
Fuel capacity: 20 litres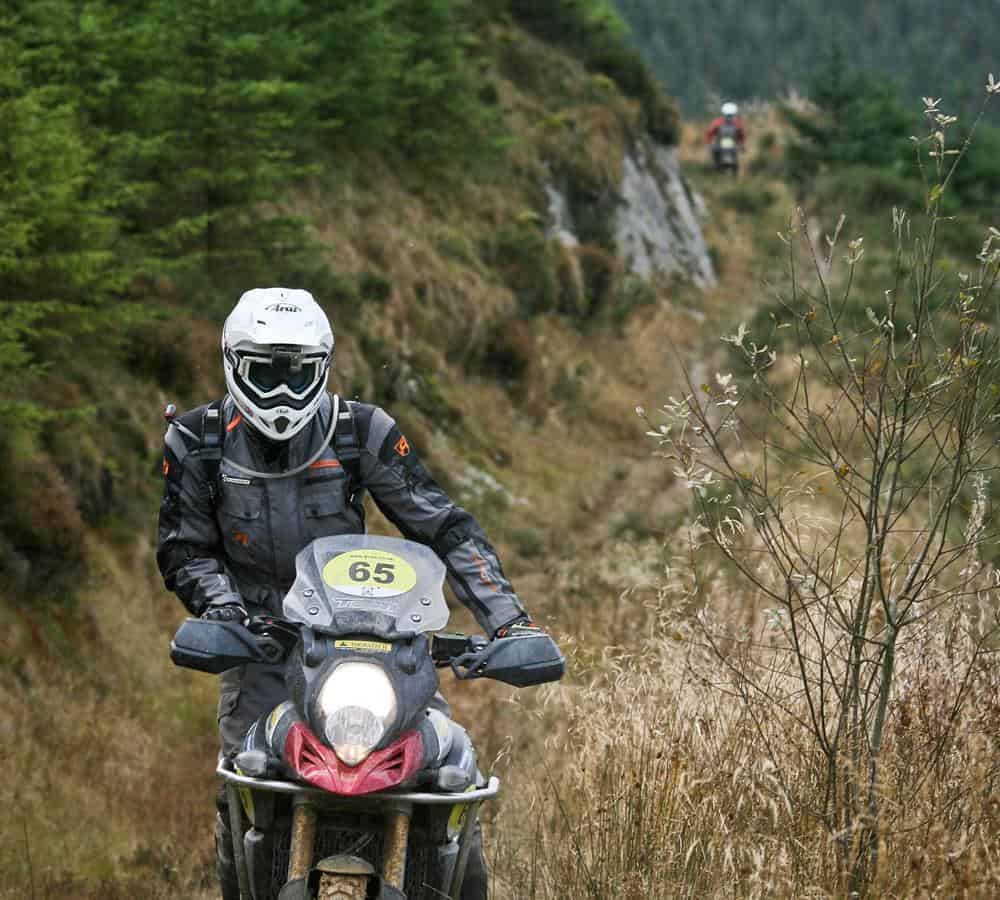 V-STROM
What's hot:
Good pricing
Spot on with 20-litre tank
Good fuel economy
Good off-road and on!
What's not:
For serious off-road we need wire-spoke wheels, an inch more suspension, inch-lower pegs, stronger handlebars and maybe the tall-seat option – sounds like a 'Rally' version much like Aprilia are doing with the Caponord, or GS Adventure as BMW do… For the road use it's just fine except maybe a more comfortable saddle please!