Back in RUST #5 we looked into the Trail Riders Fellowship, the UK's almost unique association of trail riders, formed half a century ago to protect land and trail access rights for motorcylists. Back then we looked at the directors' vision for the future. Now we're taking a look at what the TRF looks like at grass roots level…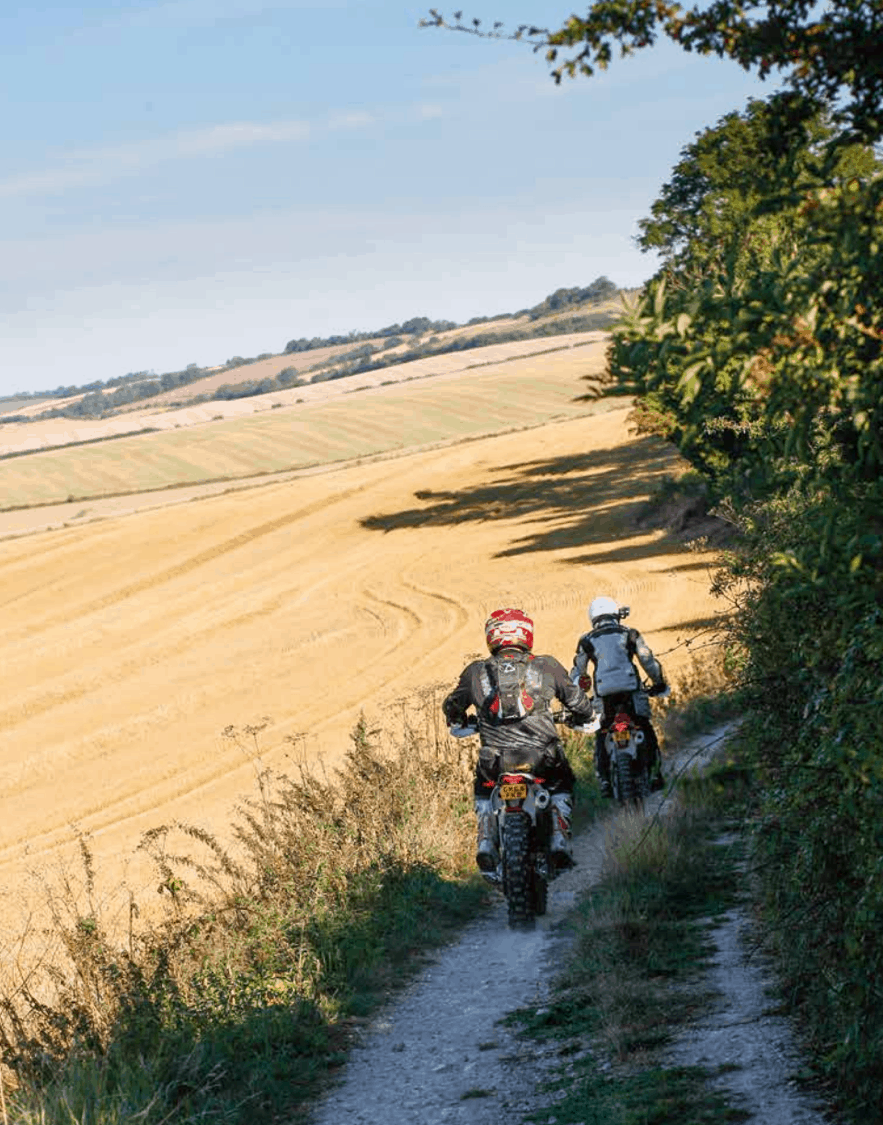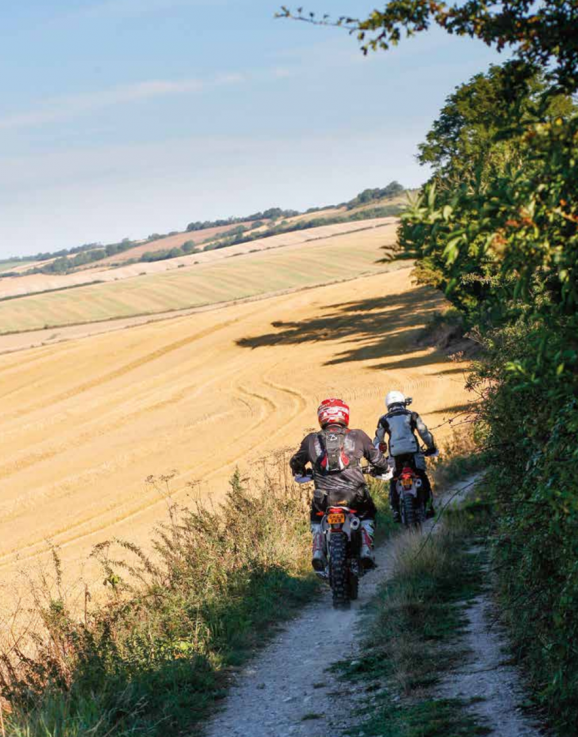 I first came across the Trail Riders Fellowship (TRF) when I was in Wales crewing for the Which Bike? Enduro Team sometime in the late seventies (WB? was a popular UK monthly motorcycle magazine in its day and it carried a regular On the Rough section). I forget the exact event, the Isca, the Beacons, anyway one of the two-day nationals and at the bottom of the programme it read "Thanks to the Welsh TRF for all their help". Who they? I wondered. But the logistical nightmare that is the job of crew chief for an enduro team, working out everyone's times, fuel stops, time on the road for crew vehicles versus bike time on the course, refreshments etc, etc made me forget to chase down the answer to that particular question at the time. The TRF has come a long way since those days, it's approaching its halfcentury, the membership is up 20 percent over the last two years to more than 4,500 and in 2017 it added another UK motorcycle association, the Motorcycle Action Group (MAG) to its list of affiliates. Hopefully this will give the TRF extra muscle when it comes to fighting for the preservation of our rights of way across this Scepter'd Isle (y'know, the UK). You might say it's on a roll. Interestingly, from the TRF website, 17,000 visitors have registered an interest in trail riding and it can be extrapolated from that figure that there are probably more than 20,000 active trail riders in the UK. Probably.
GRASS ROOTS Now in RUST #5 we investigated the upper echelons of the TRF, the director's direction (if you like), but here (in this feature) RUST has taken the opportunity to spend some time with the grass roots of the organization to see what the TRF experience is like as an ordinary member. In our case, specifically with the Kent branch, 
which is incidentally headed by TRF Heritage Director, Steve Neville. We should explain, the TRF has several directors each responsible for their own area of expertise and who, together act as a national council for guiding and shaping the Fellowship's aims and activities.
Steve's day job was monitoring London's air pollution. Sounds simple, but I suspect there's a lot more to it than he let on. Hardly surprising then that Steve has recently taken delivery of a Zero electric motorcycle. By the way, these being modern times, there's no cloak and dagger, no secret handshake when it comes to finding TRF groups, to make contact with your local TRF go to www.TRF.org.uk and click on Regional Groups and select your nearest. That's how I ended up at The Castle Hotel in Eynsford, Kent at 8.00pm on a Tuesday evening, the group meets every second Tuesday of the month. On this particular evening I imagined that a bunch of TRF members would be easy to spot in the bar. Not so. I eventually ended up asking one of the bar staff where the TRF meeting was. "Is it the motorbikes?" she asked, "Yes," I affirmed. "They're in the Meeting Room," she replied. "Ah, so where's the …?" It was one of those conversations. When I eventually found the Meeting 
Room, sure enough it was full of guys, all guys, wearing oddments of motorcycle apparel. Was this the TRF meeting? No, it turned out to be the Honda Pan European Owners route planning sub-committee meeting. Phew! That was close. Anyhow, after that I soon located the likeminded-folk group, turned out they were all a little late arriving. Topic of the night turned out to be membership and its lack of activity. Steve said he tried to organise a regular ride on the Saturday following the monthly meeting and then there was the traditional last Sunday in the month trail ride, some of which only had 
single-figure attendances. Another warm topic was, as Kent is split into two regions, should they be regarded as two separate TRF Groups? The reason being that otherwise some members would have too far to travel. I was at the west Kent venue and members from the east Kent meet at Bridge near Canterbury, also rides out are already organised to start from different places.
BREAKING FREE West Kent along with Essex, Surrey and Hertfordshire cater for London-based members who like to break free at the weekends. As if on cue, a young chap from south east London turned up. He wanted some advice on what bike to get. As you can imagine there was a lot of advice flying around but taking in to account his biking history and novice dirt status a 250cc four-stroke was the general consensus. Bearing in mind if you're not in the fortunate position of living within striking distance of a byway then you'll need to either ride there or have a van or vehicle with a bike rack, so there is a school of thought that favours the larger capacity bikes, 450cc-and upward, for their ability to maintain higher road speeds without stressing the motor. In reality, local w
knowledge will often dictate choice, you can, pretty much, be on a byway within an hour's travel regardless of where you live. How you get there is up to you.
HORSING AROUND The first activity RUST joined the TRF on was the Chilham Park Horse Trials held in the considerable grounds of Chilham Castle. This has been a traditional Kent TRF activity for many years and nationwide the TRF has links with many equestrian events. The major task over this particular weekend was to have TRF riders out on the cross-country course periodically taking the scores from the observers at the jumps to the organisers office, thereby enabling a speedy results service and subsequent prize-giving after each event. Who needs computers? 
Apart from being very good public relations, it does no harm to get other countryside users on side, particularly those with some money and influence in rural affairs. As Steve explained, "Yes it's good PR but there are other reasons for doing these events; for a start, it's about the only income we get apart from the membership and how else would you be able to ride your motorcycle all over a 'Capability' Brown parkland landscape?" Fair point, I doubt that even the Rathmells or the Lampkins get special dispensation to ride up the cascade at Chatsworth House (yes, I know that was Joseph Paxton designed, not Lancelot Brown). But speaking of the Equestrian fraternity, it is very mixed; the competitors' parking area at the two-day event was an eyeopener. Horse boxes come in various shapes and sizes, everything from a DIY conversion of an aged Luton Transit with a tent on the side, to articulated trailers with luxury apartments at the front and stable accommodation at the rear with the staff in a matching motorhome – straight out of a Jilly Cooper novel. The sound effects were just as impressive. Highly-strung thoroughbred bloodstock having their rumps whipped – and that's just the riders – hooves against horse box, the PA system with a running commentary, prize giving, it was a bit like Horse of the Year Show on fast forward and at full volume, quite an experience. For the TRF chaps the main objectives were achieved, raising public awareness via its TRF-branded gazebo and riders in TRF shirts, while information was transported from the furthest point on the course to Event Control in the blink  of an eye, well, almost. Steve was right, an exclusive, interesting and different couple of days and all in a good cause, plus we all got some cake. Tea and cake are the lifeblood of this country.
A RIDE OUT
Our next appointment with the TRF was a ride out with Steve. By this time we were into high summer, it hadn't rained for weeks, the ground was hard and the brambles vicious. Steve arrived on his AJS 350 road bike shod with road tyres. He claimed this was necessary because his normal mount, a Yamaha WR450F, was waiting a gear-selector shaft oil seal (the wrong one had been sent). A likely tale, I suspect he just wanted to point out that actually, in the right hands, in dry conditions anyone can take to the byways on almost anything, including ancient Aye Jays. In keeping with the old-technology theme, Steve was using a marked-up OS map (Ordinance Survey is the UK's national mapping agency) for the day's route, no Smartphones, GPS or haptic helmet alerts here. Not a bad choice as it turned out because we weren't in a hurry and stopped frequently to take in the view and a map helps to put where you are in context rather than just following the runway on a screen. Curiously, in this day and age we call this kind of thing 'slow culture', but really its just the old ways albeit it has its charms and advantages. We had a great day out riding the East Kent trails some of which I knew and many I didn't. You can't really go wrong with downland trails, the scenery is great including the villages, then you encounter bits of old Roman road coming up from Dover, and the Wye and Crundale Downs are a delight. Don't forget to look where you're going, it might all seem serene but as ever, expect the unexpected.
NO MOTOR VEHICLES?
As we got on to the old Canterbury to Ashford road which, in parts, is now paralleled by the current A28, there's a 'No Motor Vehicles' sign. Steve explains that as there isn't one at the other end, there's nothing to prevent you coming at it from the other direction. As Steve also points out, signage is very important, as most prosecutions tend to be based around disobeying traffic signs. Ironically it's also the reason why many prosecutions fail as signs aren't legal unless they're backed up by a change in legislation and also they have to conform to a certain physical specification. One of the main problems facing trail riders are Temporary Restriction Orders (TROs), usually indicated by said 'No Motor Vehicles' signs. These can be seasonal restrictions to prevent byways becoming too churned up in the wetter months and in Kent that's November 1 to April 20. But No Motor Vehicles doesn't necessarily include motorcycles, normally this can be checked on the county council website highways/rights of way section and you often find that the ban doesn't apply to motorcycles, quadricycles or horsedrawn vehicles.
CHANGES
These seasonal restrictions have been in place for quite some time and over that period it's the four-wheel vehicle that's changed more than the motorcycle in terms of their effect on the byway. Modern motorcycles, despite their improved grip capabilities over the years, when compared with their pre-WW2 counterparts may be slightly more powerful but are certainly lighter, weight being a major factor when it comes to soil and tree-root damage. By contrast, the modern 4×4 or agricultural behemoth is a completely different beast to a pre-war Austin Seven or Ferguson tractor.
TRACTOR RACING SEASON
To give farmers their due, in East Kent anyway, they do a lot of work either upkeeping byways themselves or getting the local council to do so, just prior to the tractor and trailer racing season, or harvest time as it's more generally known. In many ways it's this sharing of a limited resource which promotes areas of conflict and the fact that, in a couple of cases you're dealing with already 'persecuted minorities', motorcyclists and pedal cyclists with entrenched us-and-them views. Again, like the byway issues, footpath users of even ten years ago wouldn't expect to be confronted by downhill mountain bikers doing 30mph. Then there's the whole electric-power question, is an electrically-assisted bicycle a Powered Two Wheeler (PTW – another legal description) and if so then what? As the Nobel literature prize-winner put it, "Times They Are a Changin' "
SAFETY IN NUMBERS?
The TRF's Marketing Director Mario Costa-Sa can provide an overview of what's happening
nationwide. The membership has grown by 1500 in the last three years. "In my own group in Herfordshire there used to be 80 members, there are now 350. All I want to do is repeat what I've done in Herts, what they've done in Northumbria and what the High Peak Group has done in the Peak District, and reach out to trail riders in the area and say we want you to ride with us, we'll show you how to do it responsibly, legally and with skill. We will train you, we'll show you where the lanes are and we'll have loads of fun. Now why wouldn't you want to join?" The current recruitment campaign leaflet, 'Not all roads are black' covers pretty much what Mario has said plus it highlights the fact that many roads are unsurfaced or 'unmetalled' as they're labeled in the South West and on maps often referred to as unclassified but are legally usable providing you observe any dependent regulations. The outcome of Brexit negotiations will probably determine how useful the association with MAG will turn out to be. Either way, it does no harm politically for trail riders to be classified as motorcyclists and MAG will undoubtedly benefit from the TRF's bare-knuckle approach when