This European-built, liquid-cooled, fuel-injected 250cc thumper cost less than four grand brand new! AJP seriously raised their game for 2013…
After 25 years of building small-bore dirt bikes, Portuguese manufacturer AJP has introduced a water-cooled 250cc lump to their range-topping PR5. Having tested the old air-cooled version (of the PR5) back in summer, we were invited out to Portugal to ride the latest incarnation of their flagship model, and see how – and where – it fits into the highly competitive 250cc thumper market.
Situated in Lousada, a picturesque town half an hour inland from Porto, AJP builds between five and six hundred machines a year, selling them to a rapidly expanding customer base – to countries as diverse as Angola and New Zealand
Seven times Portuguese Enduro champion and company founder Antonio J Pinto (AJP) is the man behind the brand, and from humble beginnings he has steadily built the marque into what it is today – a highly organised, small-scale manufacturer. Furthermore, having secured a five-million-euros investment in the brand three years ago, he is clearly not daunted by the challenge of going up against more established names in the dirtbike industry…
The 2013 model launch starts in the excellent Park hotel in nearby Panafiel, and it is obvious upon arrival that senhor Pinto is not some faceless suit churning out mass-produced bikes, but a local hero turned businessmen. Even the local mayor makes a brief appearance, taking to the microphone to congratulate AJP on their 25th anniversary. In fact as I soon discover there is a genuine feeling of goodwill towards Antonio and AJP in the surrounding area – thanks to their contribution towards the local economy, in one of the worst recessions Portugal has ever seen. The people surrounding him are clearly proud of his achievement both on and off bikes, and are proud to be part of the AJP setup.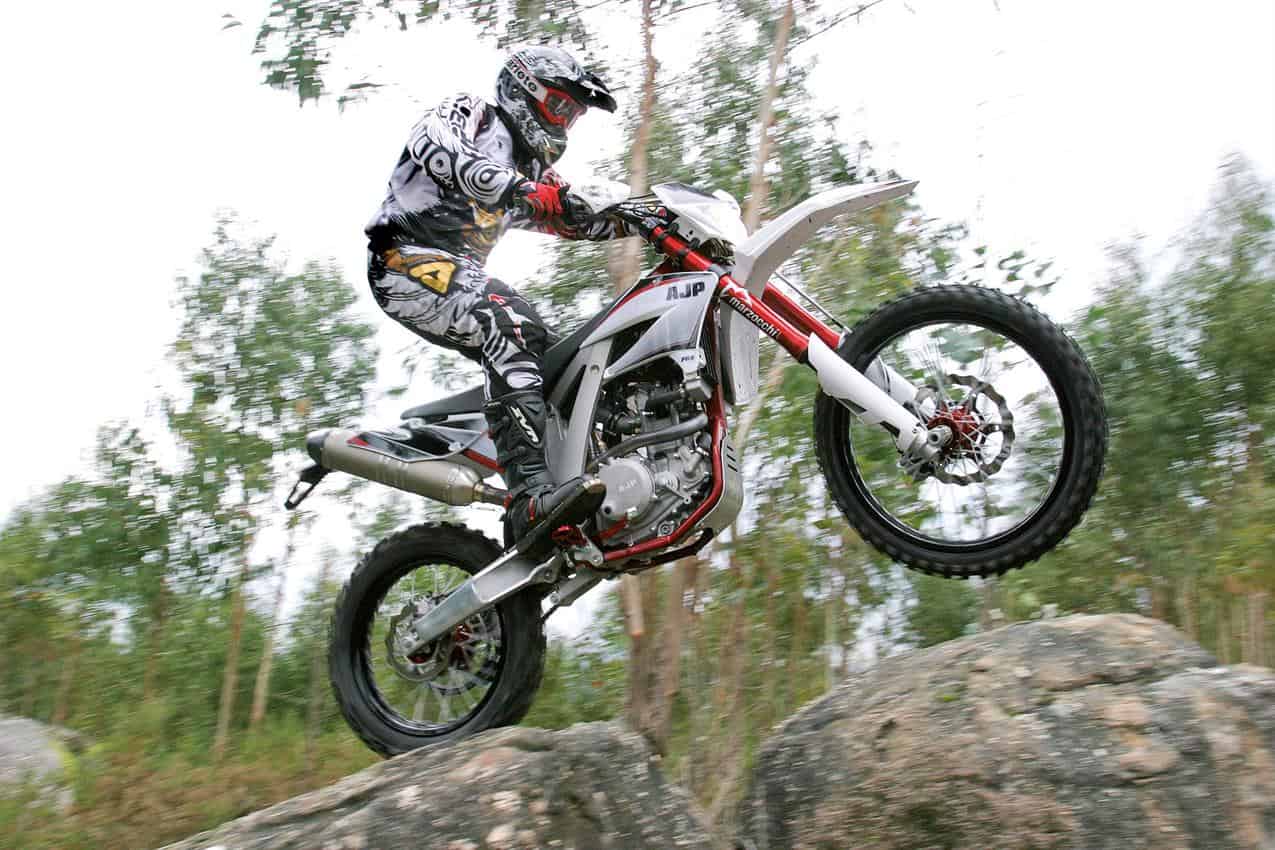 The Hills are Alive
Formalities over, we're transported up into the hills around Panafiel where huge vineyards compete with Eucalyptus groves to provide a stunning backdrop to the surrounding Minho province
A tight and twisty enduro loop begins with a taped off special test before heading up into the woods for a few kilometres, across some amazing slabby rock sections and then back to base again.
All eyes understandably turned towards the PR5 and although clearly the star of the show, the entire range has received minor updates and this gives me a chance to check out the rest of the range first.
The first thing you notice when you look at the AJP website is the bewildering array of different models on offer. For example the 2013 PR4 model comprise of 15 different variations of engine, wheels and suspension, whilst the PR3 offers no fewer than 19 different variations! All of which can leave you ever so slightly confused about which version of which model you are actually looking at!
Sensibly the UK importers have taken a long hard look at which of these bikes would work best here in Blighty, and whilst they can get their hands on any combination of any bike AJP make, they are focusing on bringing in and promoting a few specific models.
Getting Started
The PR3 200 in trail guise with its smaller frame, forgiving power, robust air-cooled engine and revised suspension would be an excellent introduction to the world of trail riding for youngsters and shorter riders. For 2013 it has upside down adjustable forks as standard across the range and of particular note is the 'City Trail' with a set of more road-biased rubber, which would make a cheap and cheerful, easy-going commuter for those riders that can't wear jeans without turn-ups.
Easy Tiger
Next up is The PR4 offered with the same 200cc engine and similar characteristics to its sibling, but with a full size frame for the regular-sized rider. But it was the 240cc version of this machine that I rode next, that was one of the surprises of the launch, for me.
The 240 (actually 232cc) still uses the air-cooled unit that is essentially a reworked version of the mild-mannered 200, it has a slightly longer crank as well as those additional cc's, which endow it with a bit more low down grunt and a noticeable increase in top end power.
Although it's never going to set the world alight, I reckon this particular version of the bike would make a fabulous little green laner, and ought to appeal to a lot of died-in-the-wool traditionalists who aren't in the least bit interested in riding some refugee-racer. Personally I would opt for the standard suspension setup, as the uprated kit seems a bit like overkill for the engine and chassis combination.
But both these bikes ate up the small loop with relish and left me with a smile on my face, whilst also allowing me to familiarise myself with the circuit before trying out the 'bigger' bike.
Just before trying the new version however I got a quick blat on a rather special example of the old air-cooled version of the PR5. AJP Factory rider João Ribeiro had been wowing onlookers with some quick laps round the special test and showing off his trials background with all manner of rock-hopping and wall riding on his bored-out 280cc 2012 factory bike, which we were then all offered a go on.
It's certainly a fair bit livelier, lighter and quicker revving than the stock bike as you might imagine, but it still has the familiar feel of the old air-cooled motor with its mid-rangey power and flattish torque curve – there's just a lot more of everything that's all. And it just goes to show what you can get out of a sensibly tuned and well set-up bored-out (air-cooled) 250.
Cool Runnings
And so then to the main course: the 2013 PR5 which (mercifully!) only comes in three (actually, let's call it four) main flavours: namely Trail, Enduro (Standard or Racing trim) and Supermoto. All of them powered by the new water-cooled 250cc engine which uses a contemporary bottom-end (of undisclosed origin) fitted with a new SOHC cylinder head developed by AJP themselves.
With the best will in the world, it's fair to say AJP is unlikely to make the shortlist of any serious racer looking to purchase a competitive race bike, so instead let's confine our comments regarding the trail and sport versions of the PR5 to those trail riders for whom racing is of secondary importance.
The trail version features the fully adjustable front forks from the PR4 though with a non-adjustable Sachs unit at the rear – along with the all important homologation kit (essentially indicators and number plate holder).
The UK importers see this version as the bike to try and take some of the market share away from the hugely popular Honda CRF250L, and not withstanding the fact that last year's lower-specced air-cooled PR5 actually cost more than this new machine, have priced the new version of the bike to slightly undercut the Honda which itself comes in at a competitive £3995.
Without the name, branding or reputation to match the Honda, AJP have a fair task on their hands, but they like to make the point that for sub-4k you are getting what is essentially a hand finished machine fitted with (in certain cases) higher-end components and a two-year warranty. Whether this is sufficient to tempt potential buyers away from such an established manufacturer (and an excellent product in the CR250L) remains to be seen.
The first PR5 I get to ride is the all singing and dancing 'Racing' version with the re-worked head, Marzocchi front forks, fully adjustable Sachs rear, Doma exhaust and floating brakes. One of the things you notice immediately is how narrow the bike is. AJP's have always been exceptionally slim around the mid-section thanks to the rear-mounted fuel tank, but the addition of a radiator on the new liquid-cooled model has made no difference to the width of the front of the bike, and they were able to keep on using the same plastics as the old air cooled models, albeit slightly modified to attach to the bottom of the rad.
The new electric-start, water-cooled unit provides noticeably more power than its predecessor and generates plenty of useful torque for a 250 thumper. It's not going to trouble a KTM 250EXC-F, but on first impressions it should easily keep a CRF250X honest. This is a crucial improvement, as perhaps the single biggest criticism of the old air-cooled version was the modest performance and disappointing power-to-weight ratio.
AJP claim the new powerplant goes much of the way to addressing these issues by offering increased power and decreased weight over the air-chilled lump; and although we can't be certain till we get the machine on the atomically-calibrated TBM digital scales and the PDQ dyno, after a couple of laps spent chasing down the test course I would have to agree with them.
Interestingly enough the extra power is easily dealt with by the high quality suspension components, and compared with the other bikes in the range it definitely feels more focussed, more rewarding to ride, yet requiring a little more input from the rider – simply because it's capable of going that much faster.
Run to the hills
The short test loop at the launch was clearly never going to be much more than a quick blast and photo opportunity to sample the bikes, so next day we headed over to the boss' personal residence for an opportunity to go and do some 'proper trail riding'… with an ex-enduro champ… in his back yard.
I won't dwell on the severity of some of this terrain except to say that Senhor Pinto eats, breathes and sleeps these bikes and guess what… he can ride 'em too!
Starting out on a box fresh Enduro version (I'd watched it having the finishing touches applied during a tour of the factory that morning), initial impressions were a touch disappointing having ridden the Racing version the day before. The cable-operated (non-adjustable) clutch lever felt heavy and after working the bike up the first of some fairly hairy hill climbs, I could feel my left hand beginning to cramp up within minutes of setting off.
More worrying still was the positioning of both the gear and rear brake levers tucked away under the engine casings. Admittedly I do possess a fairly hefty set of size 11 paddles, but I have never struggled so much to locate the controls on a dirt bike. I appreciate the need to keep them relatively tucked in to avoid being ripped off on the first protruding rock, but the last thing you want to be doing whilst getting to know a new bike and attempting to follow an extremely quick rider over some fairly challenging terrain, is be looking down searching for the rear stopper and gear shifter, and ultimately it did slightly mar my first impressions of the bike.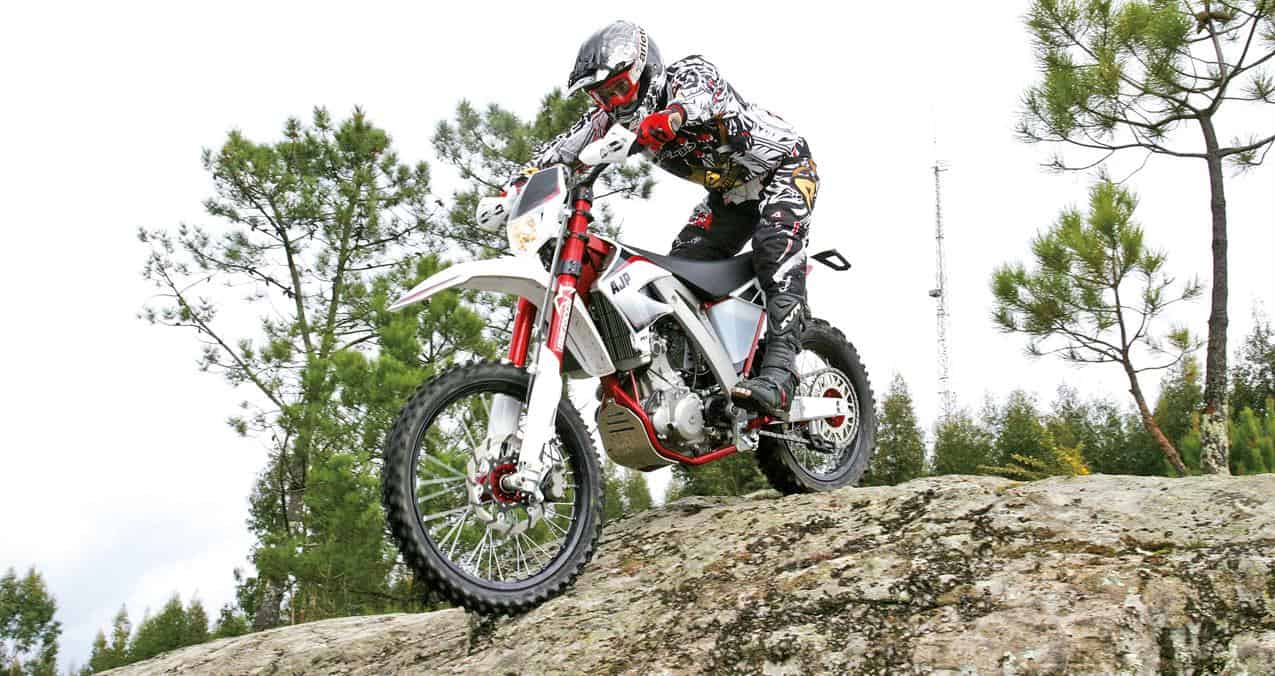 I should however point out that these machines are pre-production bikes and Antonio assures me that these shortfalls are being addressed for the bikes which customers will buy. After swapping bikes round I had a spell back on the excellent PR4 240 and faith and confidence was briefly restored before Antonio led us into ever less-forgiving gullies, riverbeds, climbs and descents.
He was obviously keen to demonstrate that the bikes could handle it and there was to be a few more bits of broken AJP branded plastics and levers strewn across the rocky hillsides before he was satisfied his point was proven…
Summing Up
Let's face it the addition of a more powerful, more efficient and/or lighter engine in the AJP range was long overdue. Nevertheless I reckon AJP have got their marketing spot-on in terms of where they see their product fitting in. The PR4 and PR5 will appeal to trail riders looking for something strong and affordable and a bit different to take to the trails with.
The build quality is remarkably good (not just at this price point, but overall); the bikes look fresh in their white livery and brightly coloured frames, and when you look at how they intend to price the trail version in the UK, they clearly deserve closer investigation. Especially when you take into account the two-year warranty, rapidly expanding dealer network and sensibly priced spares.
Who knows… after 25 years of growing up, maybe AJP is coming of age after all!
To find out more about the current AJP range you can go to their website at www.ajpmotos.com
Main distributor for the UK is Thor Motorcycles at Tretoil Works, Tretoil, Bodmin, Cornwall PL30 5BA. Contact there is colin@thormotorcycles.co.uk 01208 831774
You can also find their website here at www.thormotorcycles.co.uk Don't forget to tell them that RUST sent you!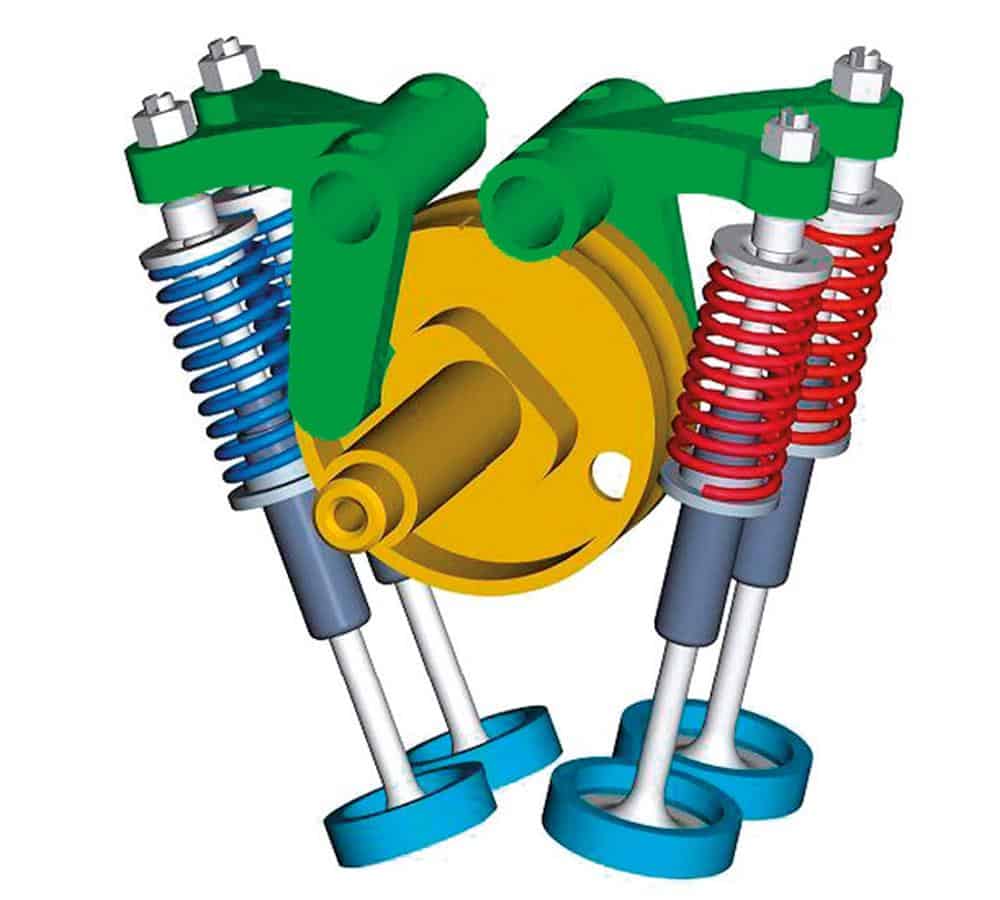 Cam In
As well as launching the new 2013 bikes and celebrating their 25th anniversary, AJP took the opportunity to reveal their new 'Inner Cam' design, which is another of Antonio's own ideas. Unhappy with the peaky power delivery of a conventional twin-cam setup, he went about trying to design a new SOHC system that delivered power more smoothly and efficiently throughout the rev range, whilst putting less strain on the valvetrain.
The result is his patented Inner Cam design whereby the cam followers sit inside (and follow the profile of) a hollowed-out and 'lipped' camshaft, instead of resting directly on the cam itself – using springs to close the valves in a conventional fashion.
The new cylinder head incorporating this design will be manufactured by AJP themselves and be a direct replacement for the current system, once it has proven itself in competition on the 2013 race bikes. AJP have engineered it so it will bolt straight on to the new water-cooled unit with a minimum of fuss.