With the classic bike scene on the rise, and many green laners re-evaluating what they want from their machines, will we soon be seeing the rise of the retro trailie? Barni tracked down a mint example of the classic dual sporter…
Fizzies, Choppers, Scalextrics: pick just about any retro bike or toy and you'll find a legion of blokes snapping up examples in order to relive their youth. For some though, it isn't about owning another example of 'my first bike', it's more a case of being able to buy something that they couldn't own the first time around. Colin Matthews and his immaculate Kawasaki KE175 are a case in point…
Ever since the age of 13, Colin knew that all he wanted to do was work with bikes. Aged 16, he took a job at Huddersfield Kawasaki where he met brothers Phil and Brian Alford. At the time Phil owned a red KE175 and a third brother, John, owned a yellow version. 'John didn't work there, but he came in for parts', remembered Colin. 'His bike had about 70,000 miles on it. He used it all the time but it wasn't far off immaculate.'
'Knocking about on bikes' with the Alfords, Colin was desperate to bag himself a KE, particularly Phil's red example, and pestered both brothers to sell him theirs. Neither relented. 'I'll show them', Colin thought, and instead bought himself a KMX200…
Now you might think that the larger, more modern, liquid-cooled motor in the KMX would allow it to easily see off an old air-cooled 175. But you'd be wrong. 'We ran it side-by-side with Phil's red KE and he beat me!' Colin laughed. 'That made me want to buy one even more.'
Another KE soon joined the pack, a green 1979/80 D-model – the last of the breed – though it wasn't Colin who bought it. Instead it was Brian Alford, who'd decided to get one to match his brothers'. The bike became something of a project, though that didn't really matter, as Colin explained: 'Because we worked at a Kawasaki dealer and could easily get the parts we could go overboard on it – those bits we couldn't chrome-plate we had plastic-coated.' And gradually the little Kwaka was tidied-up bit-by-bit, Colin helping out whenever and wherever he could.
Green Shoots
Despite it being his boyhood dream, Colin left the motorcycle industry for a while, though kept in touch with the Alfords. And by doing so Colin, now aged 40 and back working with bikes as the Service Manager at Norwich Honda dealership CJ Ball, finally obtained his own KE.
'It actually all happened about 12 years ago,' he reported. 'Brian was getting married and had got himself a house so I guess he needed the money.' The offer of the KE at a sensible price was too tempting for Colin to turn down, though he still thought he'd best come up with an excuse for adding another bike to his collection. 'Erm, I bought it to get my girlfriend on it', he smirked. 'It's a nice light bike but she never went for it. She bought a fast car instead!'
Cosmetically, the KE was looking great, though despite having undergone a recent engine rebuild it wasn't running quite right. 'At first it seemed fine, it ran okay. But it'd only pull about 50. And I knew that wasn't right. So I pulled it apart.'
His first port of call was the carb, yet that turned out to be in fine fettle despite the bike having sat unused for a while. So Colin turned his attention to the electrics. Eventually he discovered that the magnets on the flywheel were in slightly the wrong position and, seeing as how a new KE175 magneto is apparently a whopping £500 – if you can find one – Colin instead resorted to carefully unbonding them and then putting them back, hopefully in the right place. 'There was a bit of trial and error involved', he explained.
The Kwaka was then taken into work, where technician Lewis Reynolds offered to sort out the timing. 'I brought it into the workshop,' continued Colin, 'and Lewis timed it up with the strobe. "They're not that quick, these" stated Lewis as he sat on the bike in the yard, revving it up in first gear. He then dumped the clutch and nearly flipped it!'
Green Piece
When I arrived in Norwich to photograph the KE, it was nestled in between a row of modern sports tourers and naked bikes, and its diminutive size would've hidden it away were it not for the lairy green panels. 'The plastics and tank have aged differently', explained Colin, referring to the different shades of green, before unnecessarily apologising for the state of the bike. You can't see it in the photos, but there's a fine layer of dust nestling just under the headlight and where the seat meets the rear fender… I've seen bikes leave factories in worse condition!
'Everything's standard except the bars and the exhaust', detailed Colin. Indeed, whenever the bike required something new, OE parts were used – right down to the nuts 'n' bolts! A DEP can sits where the black painted original was, a Kawasaki silencer being no longer available. And the other notable exception to the religious use of Kawasaki parts is those blue Renthal ally bars replacing the chromed steel originals. After all, despite the bordering-on-concours finish, the 175 was built to be used.
Because it'd been sat for a while it took Colin a few kicks to bring the 175 to life but when he did the motor sounded crisp yet remarkably civilised. It may have been 14 years since the motor was rejuvenated but since that time the bike's clocked the equivalent of just 100 miles per year.
There was none of the 'dang-dang-dang' expansion chamber racket of old air-cooled competition bikes, nor the hornet-in-a-tin-can rasp from the silencer. Instead the bike emitted a gentle hum like a far away Cessna. And grabbing the bars revealed there to be a surprising lack of vibes too. With that big soft seat, those Jupiter-sized indicators hanging down under the bars, big round dials directly in front of you, giant lights front and rear, and swingarm-mounted pillion pegs, the little KE is a trailbike in the true sense of the word. Colin has been tempted to enter it into an enduro, though thought better of it. However the bike has seen action on the green lanes of Yorkshire, as well as occasional use to get into work. So although it's also been exhibited at a couple of bikes shows, it isn't simply a cotton wool-wrapped show pony.
Green Uncommon
This isn't a story of one man's epic rebuild, spending long nights in the shed or every lunchbreak scouring eBay for long deleted parts. Colin's KE isn't a recent restoration project, it's a bike that's been slowly rejuvenated then incredibly well cared for and sympathetically maintained. I guess you could call it a rolling restoration, albeit one which has taken place over something like 20 years! And with many trail bikes of that era slipping into disrepair and then deteriorating further towards 'field bike' status, it's nice to see a 'survivor'.
Competition machines from the same era are seeing a huge resurgence in popularity, spawning dedicated events and race series, and whilst interest in old trailies doesn't seem to be quite so strong, there's certainly an undercurrent eschewing the 12in of suspension travel, 13000rpm redlines and knife-edge seats of modern enduro bikes for twin shocks, radial-finned heads and Chesterfield-like saddles. You don't have to have owned one the first time around to appreciate the laidback style, and deliciously dated styling, of a retro trailie…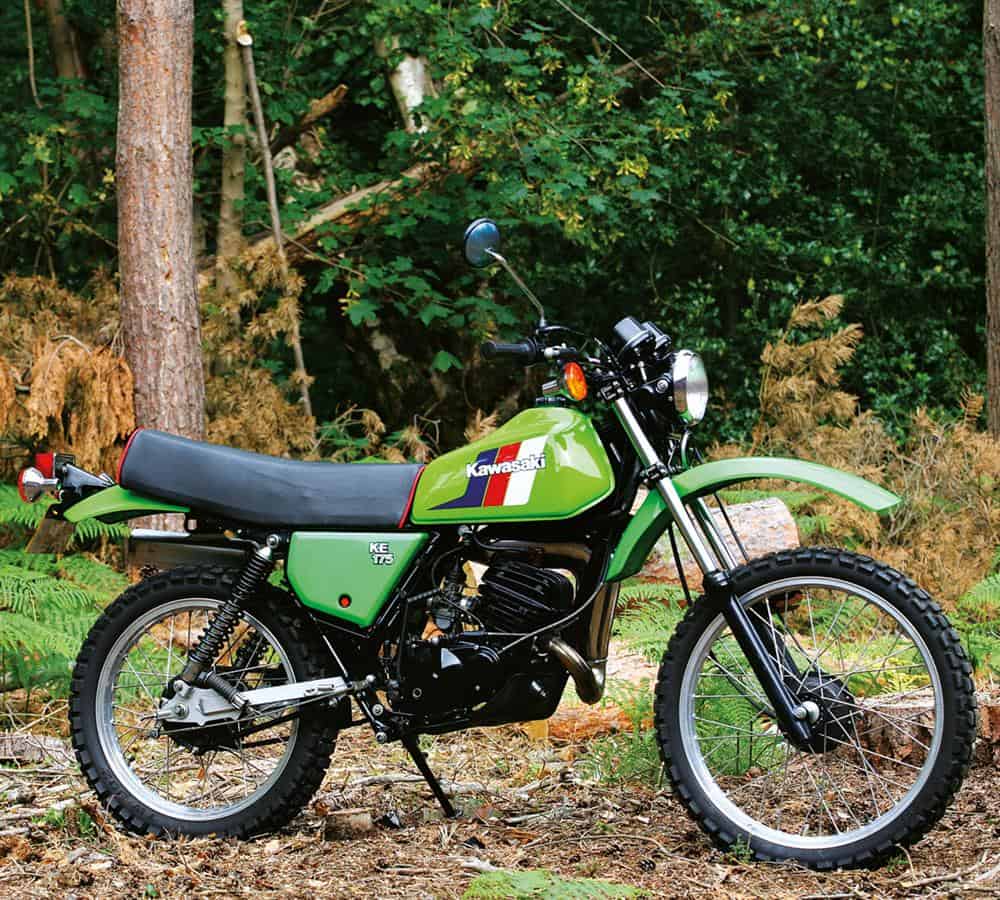 Green Field
The KE175 was Kawasaki's late '70s/early '80s two-stroke trail bike, successor to the F7. (It was in 1976 that Kawasaki came up with prefixes to differentiate between the models – KE being short for Kawasaki Enduro. Up until then, the F-series were the brand's two-stroke trail models.) At the time Suzuki were offering the long-running TS185, whilst Honda chose four-stroke power in the shape of their XL range. Perhaps most popular of all, however, was Yamaha's pretty DT175.
The KE's reed-valve, autolube motor was good for a claimed 17hp at 7500rpm, with maximum torque of 12.29lb-ft arriving 500rpm earlier. Peak power was obviously way off what we're used to from contemporary competition two-strokes, yet that torque figure is comparable with a modern 150cc stroker, and a wide ratio five-speed 'box allowed it to comfortably achieve motorway speeds. On the dirt however, drum brakes and 185mm and 100mm of suspension travel front and rear (respectively) enforced a more sedate pace.
After the D-model KE of the early '80s, Kawasaki trail bikes (with the exception of a KDX-SR models) relied on four-stroke engines, with models such as the KLR and KLX. Air-cooled two-strokes continued in the form of the more competition-oriented KDX175, which led to the KDX200, and then the arrival of water-cooling brought a new 200 which in turn became the 220.