Aprilia's new-age Caponord is packed with electronic aids – a long distance test in Europe's Alps proved they make a great bike even better…
Aprilia's Caponord 1200 Travel Pack has been with us some months now but, given a complete wash-out with the weather at their original world launch, Aprilia decided to give the bike a second introduction so that we can understand fully just what they've made for us.
And the re-launch was something special, a 400-mile ride from the coast in the South of France through mile after mile of gorges (the famous Route Napoleon) before ascending into the French Alps and reaching the Cime de la Bonette, the second highest road in the Alps at 2860 metres (and then back again). Late summer, it was mid-30s down in Nice, but at the top of the mountains it was cooler, for a couple of the journo-groups down to 5º. Importantly though, the route offered every variation in road condition, from proverbial billiard table to potholed, patched-Tarmac hell.
Aprilia's intention being to demonstrate the new Caponord is an all-roads bike. With 167mm of travel up front and 150mm at the rear it has fairly long travel suspension so it can take on most challenges, albeit with only 17" wheels, in 120 and 180 sections, we're probably not talking dirt – and certainly not mud.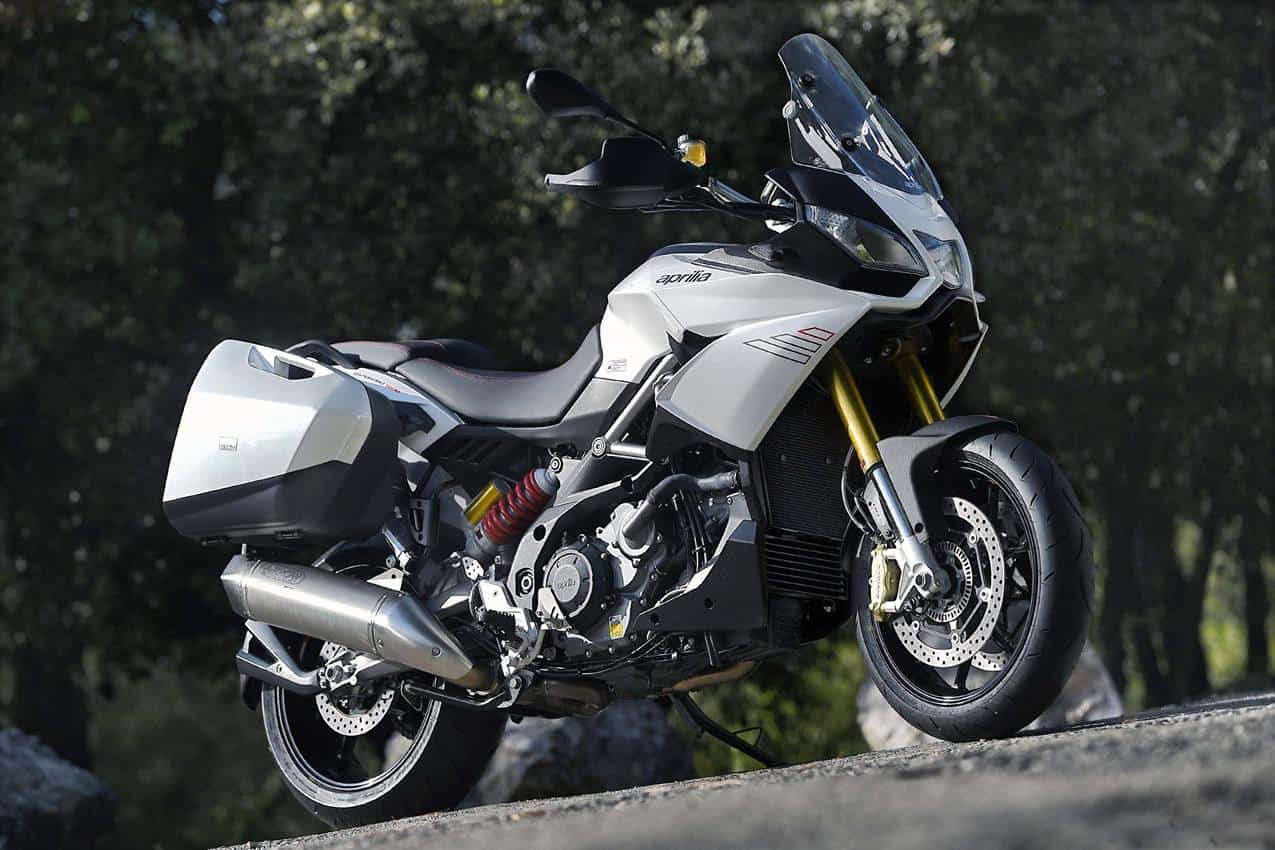 We've seen set-ups like this before – think Ducati Multistrada, Kawasaki Versys 1000 – but now the difference is the sheer weight of rider's aids that make this formula work better than ever. The Aprilia is bristling with technology: two-channel ABS and traction control, ride-by-wire throttle and engine management (three settings), semi-active dynamic damping, cruise control and automatic suspension preload. It is as sophisticated as any package, drawing from years of experience in electronics in both MotoGP and World Superbike racing. In fact the Capo's dynamic damping software is written by their racing division.
And Aprilia's 12-hour test route delivered, not only in sheer magnificence in scenery but in providing the roads to truly test the Capo's capabilities. Point being you could mix and match the electronic aids to the terrain – even your mood. On fast smooth roads I picked 'Sport' on the engine mapping, maximum preload and '1' (least intrusive) on the traction control and ABS – and the Capo' just flew. On slower, rough roads I backed the mapping down to 'Tour' (noticeably softer), set the preload to 'solo plus baggage' and put traction control and ABS to '2' anticipating odd bits of gravel etc. And the Capo' responded with a smooth relaxing ride, there being no need to stress over random scatterings of grit or dirt. You could tell for British B-roads this is a perfect set-up. The tech is also very easy to understand and adjust – and it works. Good job.
This is an easy bike to enjoy. Comfort is very good – that's an awesome seat, nice wide motocross-type bars and a protective fairing. Importantly, though, that's also one strikingly characterful 90º vee-twin motor that they've installed, one that can either lope easily along or given the herbs will go on the attack. It's not mental ex-world superbike-mean (Aprilia have the RSV4 for that), but it has a deep vee-twin bark of authority and for everyday riding, in every condition, it's every bit the entertaining ride bikes in this sector should be.
Ultimately the Caponord shines because it is just so good all round. Aprilia have been brave not to go power-mad (like KTM, like Ducati) and have hit a sweet-spot at 125hp (like BMW!). So few of us actually really want the off-road capability (heck, taking £12k of kit – fully paid for – up a rocky, slippery trail would certainly fill me with trepidation) so Aprilia have taken the dirt bit away – it's not a major loss. Instead they're making a forte of back-roads capability. And with all the rider aids they've made also a fun, sporty, comfortable – and safer – touring bike. Yeah, good for everything except dirt. You've got to like that. And heck, yes, it's also a bike with soul, thanks to that great motor. Proper grown-up thinking to produce a proper grown-up bike – with brio. Bravo Aprilia!
Aprilia Caponord 1200 Travel Pack
Specification
ENGINE
Type: 90° V-twin engine, liquid cooled, double overhead camshaft with mixed gear/chain timing system, four valves per cylinder
Bore & stroke: 106 x 67.8mm
Compression: 12.0:1
Power (claimed): 125hp @ 8250rpm
Torque (claimed): 84.6 lb-ft @ 6800rpm
Clutch: Wet multiplate clutch, hydraulic actuation
Starter system: Electric
Transmission: 6-speed, chain drive
CHASSIS
Frame: Modular tubular steel frame, aluminium side plates. Removable steel rear subframe
Suspension: Fully adjustable front Sachs 43 mm upside-down fork. Hydraulic brake electronically managed in rebound and compression with aDD (Aprilia Dynamic Damping). Sachs dynamic rear monoshock absorber. Spring preload and hydraulic brake electronically managed in rebound and compression with aDD (Aprilia Dynamic Damping)
Brakes: Front: Dual 320mm stainless steel floating discs. Brembo 32mm monoblock four-piston radial calipers. Rear: 240mm stainless steel disc. Brembo single piston caliper. Continental two channel ABS system and Aprilia Traction Control (aTC).
Tyres: Front: 120/70-R17; rear: 180/55-17
DIMENSIONS
Seat height: 840mm
Wheelbase: 1565mm
Rake/trail: 26.1º/125mm
Weight: 228kg (dry)
Fuel capacity: 24 litres
Price: £12,934
Contact: 0844 967 1849
Web: www.uk.aprilia.com