AUSTRALIA
The Australian Outback is an adventure rider's bucket list destination. In 2016 RUST's JB was lucky enough to tick this one off, with thanks to his friends at Touratech
THE Oodnadatta Track passed under our wheels. At the head of our seven-man group, on their fully equipped 2017 BMW R 1200 GS Rallyes, Herbert and Ramona Schwarz could glide along at up to 110km/h in comfort, the GSs really do deal with tracks like these effortlessly. For me, running a few kilometres behind them, on a rather more basic Husqvarna TR650 Terra, the pace was forcibly slower, probably no more than 70km/h as above that the Terra became a terror, threatening to wipe out in the sand washes. Even so, we were experiencing similar feelings. The Outback is a huge place, so arid and hot you could call it hostile, and yet so fascinating, so wondrous it soothes. There's an energy about the place, it's Mother Nature on steroids – so you don't fight a place like this, you work with it.
The Australian Outback is huge, Australia is apparently 7.692 million square kilometres – so given the outback covers over 70% of the continent that means its an area of at least 5.384 million square kilometres. And here in the South Australian Outback, more density populated than probably any part, we're still talking no more than 0.0015 persons to be found per square kilometre (England as a whole holds 413/sq.km) so it's not an ideal place to breakdown, or get lost. Even now tourists do get stranded and die out here.
And so, despite the well-graded piste, despite the vast horizons, we were not travelling at any great speed. I'd come down to 70km/h and even that was too much. Regular stops were essential, to absorb both the magnitude and the detail. For in a terrain that is consistently referred to as ancient and infertile the flora not only dazzles but changes, constantly. There is an almost infinite variation in textures in this semi-arid land – it's not to be rushed. And for the brain to absorb all of this (it can't, but it tries) takes time. Finally, there is so much of it – as said, when you're talking millions of square kilometres then hours of riding result in no more than millimetres of progress measured on a map. You can cross entire European countries in less time than it takes to go between two towns out here.

BLUE TONGUE
The Touratech adventurers were then spread across tens of kilometres of the track – riding together was impractical (the dust!) and unnecessary. The seven riders dissected into pairs and singles.
At the tail end, I wasn't even moving. I'd found a blue-tongued skink (lizard) on the track and was lying down there with it, on that ancient soil.
We were on our bellies, just inches apart, each trying to figure the other out. Minutes passed and in the 40º heat I was boiling, but the skink just looked back, not across the few centimetres that separated us, but centuries, millennia, he being a virtual dinosaur. Only then, after some fair time, did I start to understand the true balance here. I was in effect holding my breath, I could only stay here in this near-desert for as long as my 30-litres of fuel and 13-litres of water would allow. After that I'd be finished, dead, in a matter of days if not hours. This little guy will live his whole life here, perfectly adapted as he is, a master of the land. I was looking at him with wonder; I daresay he saw me with contempt, if emotion in a skink was at all possible.
Ramona Schwarz was at least moving. For her the Outback was a calming, soothing experience
"Riding into the outback was like taking a break from this crazy world. As we flew into Melbourne the geo-political situation felt to be in such turmoil. The mass migrations into Europe from the African-Arabian continent, the uncertainties in the European Union given Brexit, and the sheer shock of the Trump win in the US presidential elections have all made for troubling times.
"Such tensions and anxieties all melted away once we were into the Outback, we were back to mother nature dominating our destinies, and she deserves our respect. We traveled slower, as the heat and the land dictates, and we were immersed in the natural experience with only the smallest of human interruptions. As we rode I could feel a sense of calm and peace overtaking me – it was just me gliding through this vast land, a very simple yet fundamental interaction. I was at last feeling calm and happy."

HIGH COUNTRY
The Australian adventure had started in the Victorian High Country, some three hours northeast of Melbourne – and home to Touratech Australia. Here the eucalyptus (gum tree) forests that cloak the gently rolling slopes had soothed (that word again) with shades of green, greys and, where the underlying rocks were exposed, blues – these colours ever-changing in subtlety as the sun's sweep across the sky cast new spears of golden light through the canopy. In the trees the birdsong was beyond anything heard anymore in Europe, so rich in variation as kookaburra, parrots, lyrebirds and even robins would sing out, clear and crisp through an atmosphere empty of the thrum of urban chaos.
High up in the hills we'd rested at the Dargo Hotel, an authentic Australian country pub, built in 1898 (and never closed for so much as a day since). And never changed – the hotel being built in that traditional weatherboard and tin roof construction with wooden floors scuffed by the boots of workmen and travellers for a century and more. The beers were ice cold, the welcome genuinely warm (as it is everywhere in Australia) and the food, eaten at simple wooden trestles, wholesome. And after a cosy night's sleep in the timber bunkhouses out back, dawn brought a peace and tranquility that would be repeated day after day as we'd inched their way across the map of Southern Australia.
A visit to these parts would not be complete without a ride along the Great Ocean Road. At 243km long it is effectively the world's longest war memorial, having been built by the returning soldiers of the Great War (World War I) and dedicated to their fallen comrades. It is an iconic stretch of tarmac, which also weaves a message of love for this land and the mighty Southern Ocean that breaks upon its shores. These days, in daytime, the road can be overwhelmed by the tourist busses and day-trippers from Melbourne, so we'd set our alarms early for an early start to enjoy the road at its best, that is to say when empty.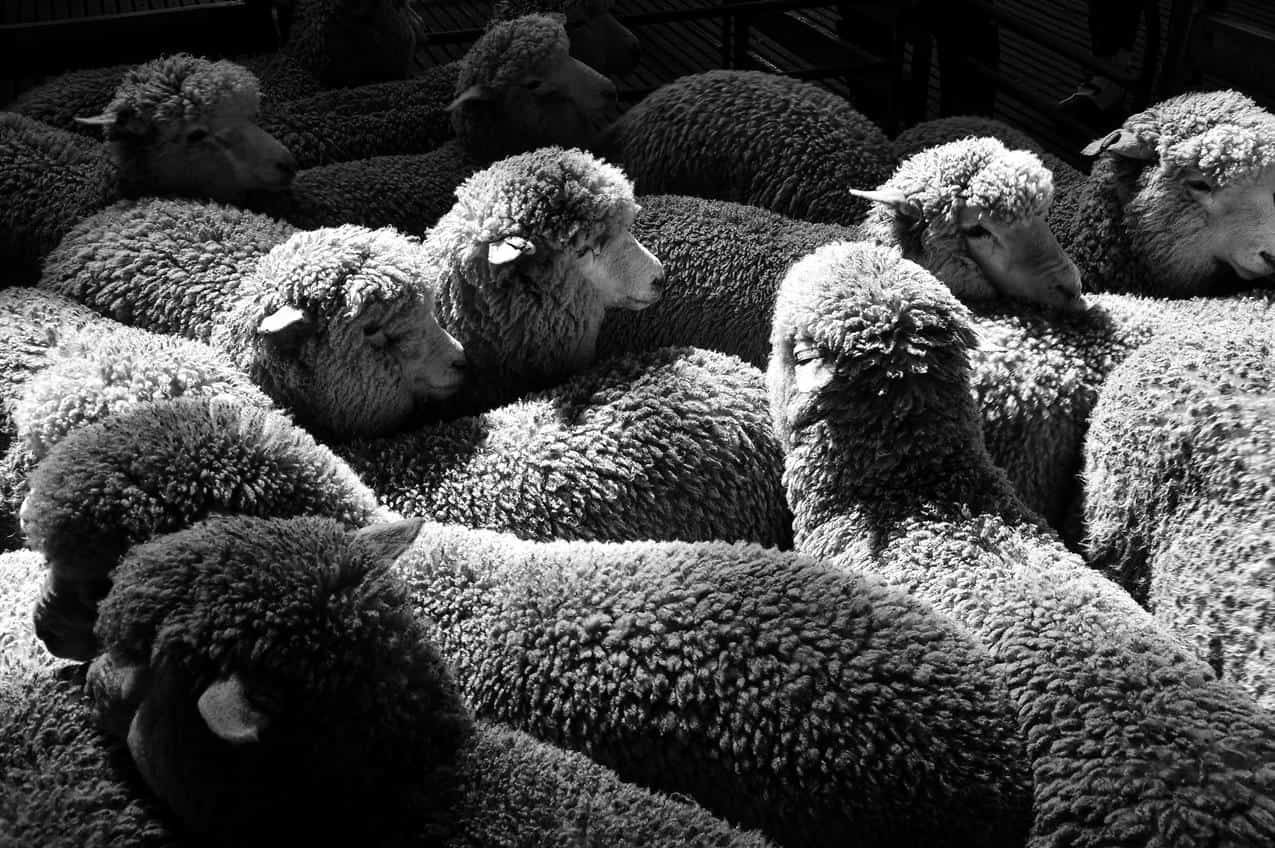 SHEEP, OF COURSE
The interactions in rural Australia seem so personal – probably on account of the low population density. Heading north we found Penshurst Farm, home of John Wrenche – in fact his family's home since the 1860s, for his grandfather founded the farm using monies he'd earned from sheep shearing. Years ago Touratech Australia's Robin Box had worked here as a young man, he also using shearing as a way to make big money fast. Robin has maintained a lifelong friendship with John and told us it was essential we dropped by on his old employer and friend. Today John's flock is 12,000 strong (plus 4000 cattle) and it takes a team of six shearers 12 days to shear the lot – we dropped in on the very last day of shearing and even got to have a go at this work so traditional to the region. It's backbreaking stuff of course, and sweaty when the temperatures climb. Good shearers will fleece up to 350 sheep in a day – that's real work.
Onwards and we encountered a range of uplands called the Grampians. Not mountains as such, but rock formations that rise up from the otherwise quite flat lands. Here the temperatures started to rise and after a week in the green fertile south we noticed the soil turning yellow (it would eventually turn red). And here on the edge of a forest we saw our first mob of kangaroos, and it was a thrill. We'd already seen joeys (juvenile kangaroos) in a sanctuary, but here they were running (hopping) wild. The hand of man was still to be seen all around – fences, farmsteads, roads – but the kangaroo belligerently springs over them all. This is their land.
The Grampians disappeared as many ranges do, almost unnoticed. It's a matter of sudden awareness – the horizon has extended tens if not hundreds of miles – so you stop and look back and there's the rock formation from another angle, like the humpback of a whale as it surfaces on the ocean.
The following day we experienced our first real Outback track. The Nhil to Murrayville road is a 151km stretch of sand-based track creating a striking yellow scar through the still very green ground cover. That's 151km with no services, no dwellings, not so much as a standpipe for water in between. This is in fact a relatively short stretch by Australian standards, but for Europeans that's still requires some mental adjustment. The next village was over two-hours drive away, to the locals just a short drive. We stopped to contemplate – and photograph – the track. Again we noticed the rising temperatures; a hydration pack, and back-up bladder with 10-litres more water, was essential preparation.
INTO THE SAND
The track was exciting to ride and the rider needed to stay keen to spot sand drifts, which could grab at the wheels and possibly cause a crash. The new 2017 BMW R 1200 GS Rallyes (ridden by Herbert and Ramona) could blast through this, a touch of throttle pushing the big adventure bikes straight. It was the same for the Triumph Tiger 800XCX, but on the smaller Husqvarna Terra the bike would get sucked down and would go into a near-terminal weave, so it needed to be ridden a good 20km/h slower or risk a nasty crash. The two 4x4s that were seen on the track were of course impervious to the variations and blasted over the track at 100-120km/h creating a wild vortex of dust in their wake.
The following day there was a longer track to reach the outback township of Yunta – this time the distance was over 350km with not even a village in between. This was just beyond the limit of fuel range of several of our bikes (which meant carrying fuel bladders) and is at the limit of what's possible in a single day's riding in such territory. When the team encountered deep sand and the top speed dropped to 40-50km/h – often needing to paddle through the deepest drifts – we knew a very long day was ahead. The temperature soared, registering 44-45ºC – so oppressive – and when Ramona painfully injured her knee in a fall the team realised there was no way out of the bush that night. Triumph-riding Andrea Box – as a local she was our pathfinder, and as a qualified paramedic she was our 'doc' – medicated and bandaged Ramona while the team made an emergency plan that involved a relay of her bike (and the Husqvarna) and making a bush camp. This was, of course, real adventure. We knew it was how we reacted to these situations that's the real test of our skills, that ensures our safety.
The following morning we rode into Yunta – seven riders on six bikes (one more relay for the Husqvarna). An afternoon of rest and recovery saw Ramona back on her bike, painkillers allowing her to continue the journey, although her knee would need surgery on her return to Germany.