When über-fit pro cyclist Ben Swift invited us out riding with him, we figured we'd never be able to keep up. Thankfully, he meant trail riding, while we meant cycling. So we combined the two…
Whenever I feel like I've eaten a few too many Jammy Dodgers and I need to regain some semblance of fitness I instinctively turn to pedal power. Cycling not only shrinks my paunch but, unlike running or, God forbid, gym work it also gives me a bit of an adrenaline rush. I can pull wheelies and skids, go 'wheeee'  down hills, and generally lark about too.
There's a clear link between cycling and motorcycling (and not just the fact that both have two wheels),  which runs as deep as the very most basic skills required to undertake either discipline: balance; co-ordination; timing etc. And if you're the kind of person who always ploughs straight into that huge mudhole because you were only looking ten feet ahead and failed to spot an easy route around it then I can guarantee that a few outings on a mountain bike will endow you with a thousand-yard stare to rival any amphetamine-addled 'Nam veteran! When you can't rely on a handful of gas to get you out of a quagmire then you'll certainly learn to choose the line of less resistance! Cycling is a great way to stay in shape, and improve your bike skills…
We know of hundreds of motorcycle racers – both tarmac and dirt – who stick with two wheels, yet lose the engine, for training. In fact, those who don't are probably in the minority. On the flipside, there probably aren't QUITE so many top cyclists who turn to petrol-power but there are certainly a few (downhill MTBer, Rob Warner, was a regular finisher at The Tough One, for instance).  Ben Swift is one of that number…
Going For Gold
Never heard of Ben Swift? Swifty? No? We're surprised. Even if you're not a cycle fan, the name should be tucked away in the back of your mind. Because back in April 2012, Ben scooped a gold at the UCI Track Cycling World Championships, picked up a pair of silver medals to boot, and made national news headlines. He's a shoe-in for the Great Britain Olympic team this year…
As well as representing his country, 24-year-old Ben is well on his way to carving out a legendary top-level career in the ultra-hard world of pro cycling. Alongside the likes of Bradley Wiggins and Mark Cavendish, Ben is part of the UAE Team Emirates team.
Cycle Path
Ben currently lives in the Isle of Man (so he's neighbours with some motorcycling greats…)  though having literally just returned from the World Champs in Australia we met up in his native Yorkshire…
Searching for Ben's family home in a small south Yorks village, when we pull up outside there's little doubt we've found the right place. A huge white banner is draped across the tiles from a bedroom window, proclaiming 'Ben Swift, World Champion 2012'.  We walk past two of Ben's toys, an understated BMW and a chunky-tyred Land Rover Discovery, and rata-tat-tat at the door. RUST's most passionate pedal-pusher, JK, can barely contain his excitement. He's out on his various bicycles most weekends and his day-today life's put on hold when the Tour de France is on…
Ben opens the door with a cheery smile and invites us inside, where we meet his dad, Mark. The kettle goes on and the banter begins – immediately both Ben and Mark are as open and welcoming as long-lost friends.
Naturally, the talk flicks between cycling and dirtbiking, and after an hour-or-so we figure that we oughta head out on the bikes, deciding it'd be good to warm up with a few miles on the pushbikes before getting wet and muddy on the local lanes.
Ben gets kitted-up in the regulation lycra, and wheels out an impossibly trick-looking Pinarello bike with tyres narrower than a GP 125's powerband. JK matches him with his own tight-fitting outfit (calm yourselves, ladies…)  and his own lightweight, though slightly less 'factory',  road bike. Me? I've got a knobbly-shod MTB so I'm in baggy shorts, a hoody, and trainers, with the camera bag strapped to my back. And as we head out onto the road, I wonder what passers-by must think. Ben and JK look the part, I look a prat.
We amble along at what must be a snail's pace for Ben. He and JK take the lead, riding abreast and chatting about the coming season, though I know there's harder work just around the corner. Before we left Ben had mentioned something about 'an old training loop'  and that dreaded word… 'hills'.
Sure enough, as we turn onto a narrow country lane the tarmac rears-up in front of us like a 30-foot wave hitting a reef, and wends its way between tall hedges to the head of the valley. We later discover that the lane is used as a timed hillclimb by the local cycling club and, indeed, there was a faded white startline across the road.
Swifty stands up on the pedals and pulls away as quick as a sportsbike leaves a family saloon at the lights. Staggering. By the time JK and I have gritted our teeth and launched into the climb Ben's already a tiny spec, rapidly approaching the summit. In a big race like the Tour or the Giro 'd Italia or the Vuelta in Spain he'd spend hundreds of kilometres each day in the bunch, trying to avoid the crashes, and then put in maximum effort to drag himself over some of the biggest mountain passes in Europe to a summit-top finish or a life-threatening descent into a sprint finish. Team RUST don't mount too much of a challenge…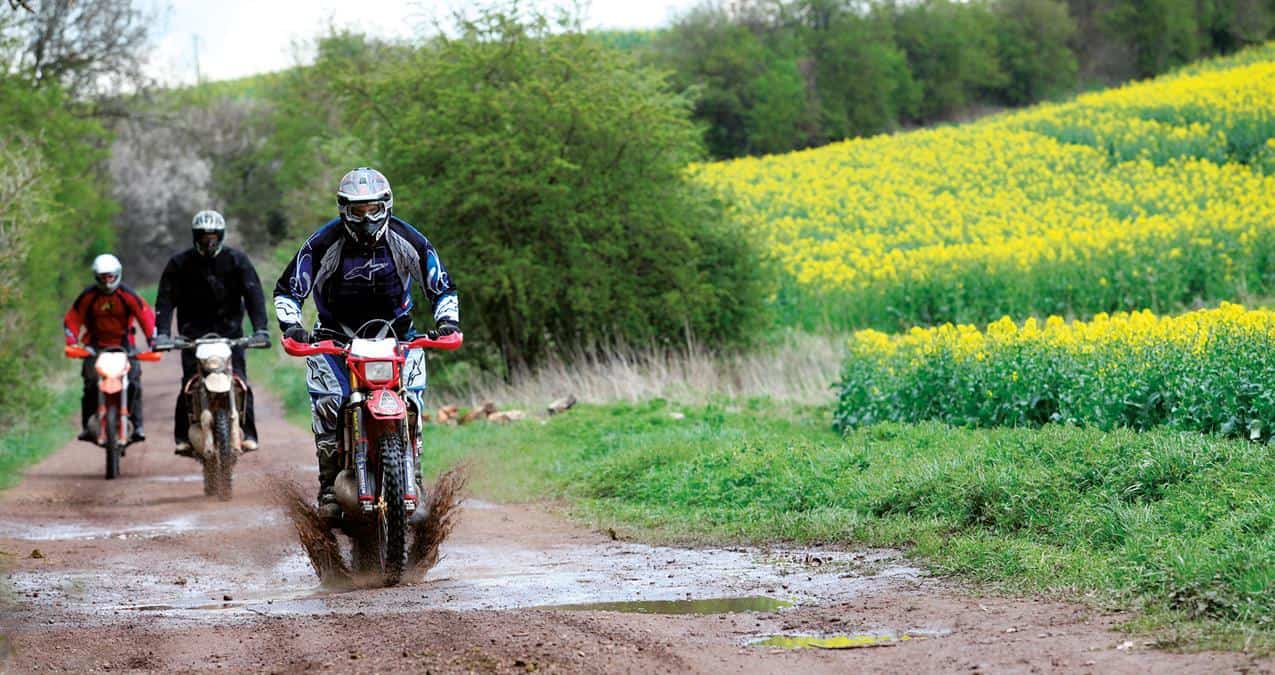 As we near the top I look back to see a cracking view, and as Swifty's waiting for us (his heart rate barely raised whilst I'm panting like a fat Labrador on a summer's day)  I seize the chance to grab a few shots of him and JK on the ascent. Sending them back down a couple of hundred yards (under the pretence of a better composition but more as a punishment for nearly killing me!)  Ben bounds back towards the camera with the enthusiasm of a Yorkshire terrier chasing a rabbit…
Once the terrain opens up, our pace increases, and with very little traffic around we cruise along, three-abreast, at a leisurely speed. We're just spinning the pedals, enjoying a quiet mid-week amble through the countryside… This'll never do! I know Swifty's considerably faster than us, but I want to see by just how much. You wouldn't go for a drive with Sebastian Vettel and ask him to pootle around like a granny nipping to Asda!
So once we (that's JK and I)  have recovered from another lung-bursting hillclimb, I set Ben and JK a challenge. On the homeward stretch they'll race between road signs. Ben suggests a distance – he's used the signs and lampposts as practice markers many times before – and as our imaginary startline edges closer I can see JK swapping cogs to give himself the best chance possible.
No chance. As soon as we reach the sign Ben's up out of the seat, hard on the pedals, and rapidly pulling out a lead. JK's quick, but there was only ever gonna be one outcome to this race!
Pedal. Power
Everyone knows that the consumption of tea and biscuits plays a crucial part in any training regime (well for Team RUST it does),  so we sit down to another cuppa and a couple of Hob-Nobs before hitting the trails…
Tea slurped and biscuits dunked, we kit-up and grab our bikes. Mark's borrowed a friend's KTM as he often uses Ben's Gasser while Ben is away racing. But today Swifty's on the EC300. To be honest, I'm surprised that his team allow him to trail ride at all, but the guys at Sky know that he's not going to do anything daft and he stays away from the dirt when there's a big event on the horizon.
Sadly there's not enough time to head to the nearby Peaks, so we settle for some of the gentler lanes close to home, the first of which is a surprisingly tricky singletrack slither. With oak trees and tall hedges on either side, the narrow muddy trail offers little chance to pick an easier line – it's simply a case of slip-sliding through the slimy mud.
'Dirtbiking is good cross-training in winter',  suggests Ben. 'And it's great for your bike-handling skills'.  Indeed, it's easy to see how the skills you use trying to remain upright on a slippery Yorkshire green lane translate to keeping a Pinarello on the road down a slick Alpine descent. And vice-versa. Which is probably why despite the fact that our outing was only Ben's third time out on the trails he stayed on our back wheels all day.
Of course, what you don't learn by racing a bicycle is how to splash your mates, so when we take a quick breather at the end of a puddley lane, we give Ben a few hints on how best to soak your riding buddies. JK's got a cheeky glint in his eye, but assures us all he's on his best behaviour and that no-one's in for a surprise dowsing…
Bar Hopping
As it happens we're all in for a soaking, as sporadic heavy showers loiter in the distance and obscure the horizon with their cloud-burst, before sneaking up to get us soaked. And what makes it all the more galling, is that our 'there-and-back'  route means we catch up with rain that's already soaked us heading in the opposite direction!
The trails are largely gentle, if a little rutted, farmland tracks that link together quaint hamlets, small villages and the occasional town. Most novice riders loathe ruts, but Ben copes with relative ease, thanks to the balance and coordination years of cycling have instilled in him.
It's these skills which mean that although Ben only passed his test in October 2011, he's not intimidated by the torquey two-stroke Gasser. He did have a PW80 when he was six or seven, and tooled around Italy on a Vespa for a while when he was working out in Italy ('I used to take it off-road, too…' laughs Ben),  though I suspect that neither properly prepared him for the three-hundred!
The 250EXC he owned for a brief time probably helped. Although the KTM was great when it was on song, Ben reports that it 'didn't like tootling along'  so he found it tiresome to live with on the local roads and trails. The 300 came up at a bargain price, so Ben made the change…
Having reached the farthest point of our ride, we turn back and head for home. We now know what each trail has in store for us, so the pace increases slightly and Ben tries a sneaky drive-by splashing on JK. It works a treat. Unfortunately, he hasn't factored-in the final trail of the day, which allows JK to level the score. Not many people sneak past Ben in a sprint, but JK managed to make the move, and the mud, stick…
Spin Cycle
The day's gentle trails were unlikely to get anyone too knackered, least of all Ben. Though that's not to say his world-class level of fitness makes him completely immune from dirtbiking ailments. 'The first time I rode the KTM I had such a sore arse I couldn't sit on my bike saddle',  remembers Ben. And when you consider the miniscule perch on a modern-day racing pushbike, that really says something about Austrian seat foam!
He also explained how his upper body strength is lacking compared to the power in his legs, and that it's WAY off that of top class enduro racer. He put it succinctly: 'I try to get rid of muscle in my upper arms.'
Essentially, when Ben's cycling he wants to carry around the smallest amount of weight possible. After all, he's got to rely on his own power, rather than that of an engine, to propel himself along; to haul up endless mountain climbs; and explode into a sprint finish. Any muscle bulk that can't help with that is not only wasted but is slowing him down. In motorcycling terms, it's all about power-to-weight ratio. So the three 40-60 minute gym sessions he undertakes each week focus on core stability and 'strength conditioning'  as opposed to bench-pressing big weights, and it's why after a previous ride on the rocky trails of the Peak District he reckons he 'bloody knew about it' in his arms and shoulders the next day.
Naturally, the time he spends in the gym, plus a whopping 25 hours a week pedaling away on his local roads, and a diet that is designed to give him the most gain from his physical efforts, keep Ben incredibly fit. However, he reckons that you can achieve some meaningful results by eating sensibly and taking a modicum of exercise. Okay, by 'exercise'  we mean actually exerting yourself. Yes, taking the stairs is better for you than riding the escalator, but unless you're running up numerous flights for minutes at a time then it's not going to do too much towards your fitness. '110-130 beats per minute is fat-burning',  reckons Swifty. So you need to get your heart pumping, the blood flowing and your lungs working hard. 'When you're training hard you need to fuel properly',  he adds. 'Eat healthy and sensibly. Eat fruit and veg, and slow-release carbs. Try to replace snacks with fruit.'  Is he saying I should moderate my Jammy Dodger intake? 'Fraid so.
Buying a pushbike is obviously high on his list of recommendations. Road cycling is clearly Ben's passion, though he freely admits that riding off-road is more strenuous and ultimately, hour-for-hour, better for your fitness. If you add one or two riding buddies into the mix to inject some fun and motivation on a cold wet evening after work, all the better. That way you've got some company, someone to gauge your progress by, and, of course, someone to race! Then perhaps think about working out a couple of regular routes, where you can easily see your improved times/skills, as you get better. Hey, it's the same as you'd do on your dirtbike already, right? Get your pushbike out and ride three (or more)  times a week, or maybe a big one at the weekend if you can manage it – start with maybe 10 miles on the road or 5 miles off-road and increase from there when it becomes easy.
If you can't get out during the week or you live somewhere where the traffic is too dangerous, Ben suggests trying a spinning class at the gym. These are essentially sessions on an exercise bike, often with pumping music to get you in the mood, where an instructor sets a pace that you have to try to match. 'There's a big hill coming up',  they'll call, and you'll be expected to get up out of the saddle and pedal as if you were really on an ascent. Take a note as well, that spinning classes seem very popular with the girls…
Drink lots of fluids, and do so before you NEED to. Avoid sugary fizzy pop, both whilst you're riding and when you get home.
Sprint Finish
We liked this simple, no-nonsense approach. When talking 'fitness'  it's all too easy to get hung-up on convoluted 'programs',  and whilst Ben clearly does have his own training methods for staying on-form, he suggested that for Average Joe who simply wants to stay in shape you need to make it enjoyable so that you don't get fed up and jack it in.
Take small but regular steps in your training progression. Don't over-reach yourself, but don't be lazy either. And when you are riding, think about what you are doing. Consider how you avoid potholes or how you descend down the muddy bridleway. It'll help once you're back on the dirtbike. Which, let's face it, is probably why you want to stay fit.
As Swifty put it, 'if you're fitter you'll have more fun.'  And let's face it, he should know…
There are many more issues of RUST Magazine for your perusal just click on the link and enjoy! https://rustsports.com/issues/