2013: BMW has at last given the F800GS the supersize 'Adventure' treatment, much as the R1200GS and Boxers before it have enjoyed for many years. Jon Bentman travelled to the German launch in their Black Forest region to find out more
It doesn't take five minutes of riding to know BMW has got the F800GS Adventure so very right. It's not a buried fact, or a slow burn, it's apparent almost immediately. Perhaps this is something in common with all good bikes – that when it's right you know it straight away, instinctively. Point being, I'm really not so sure the original 2008 F800GS was right – there were, I felt, issues – but the new Adventure version most certainly feels right straight from the get-go.
And it's curious that it should feel so different, so improved, because BMW claim to have changed so little – just to have added to the existing formula. But there's one thing that they've added this year that I'm almost sure makes the biggest difference – and we're talking just two letters here: WP. As in WP suspension. Now I'm not finding exact reference to this in the specification but if you look closely at the top of the fork legs you'll find a WP sticker, and that shock – now with the option of BMW's electronic suspension adjustment (ESA) – is almost definitely WP quality kit too.
If you're asking for my opinion here, then yeah, I'm picking it's the composure and performance of the WP suspension that's transforming the F800GS experience with this Adventure model. Gone is the pitching under brakes, gone – it would seem – too, is the nervousness from the front end at high speed (particularly in gravel). This is the sophisticated well-damped, well-sprung suspension the F800GS had been calling out for since day one. This new suspension has been fitted to the 2013 F800GS standard model already, say BMW, but having ridden that bike in South America it wasn't so obvious. On the Adventure model, here, tested in the Black Forest of Germany it is very obvious. Really thinking about it, I'm wondering if this heavier Adventure model is carrying different spring or damping rates, and it's this making the difference. In any case if I was working in a certain office in Mattighofen, Austria right now – reading this – I'd be shitting orange bricks. BMW, no question, has stepped it up – the F800GS Adventure is bringing its A-game.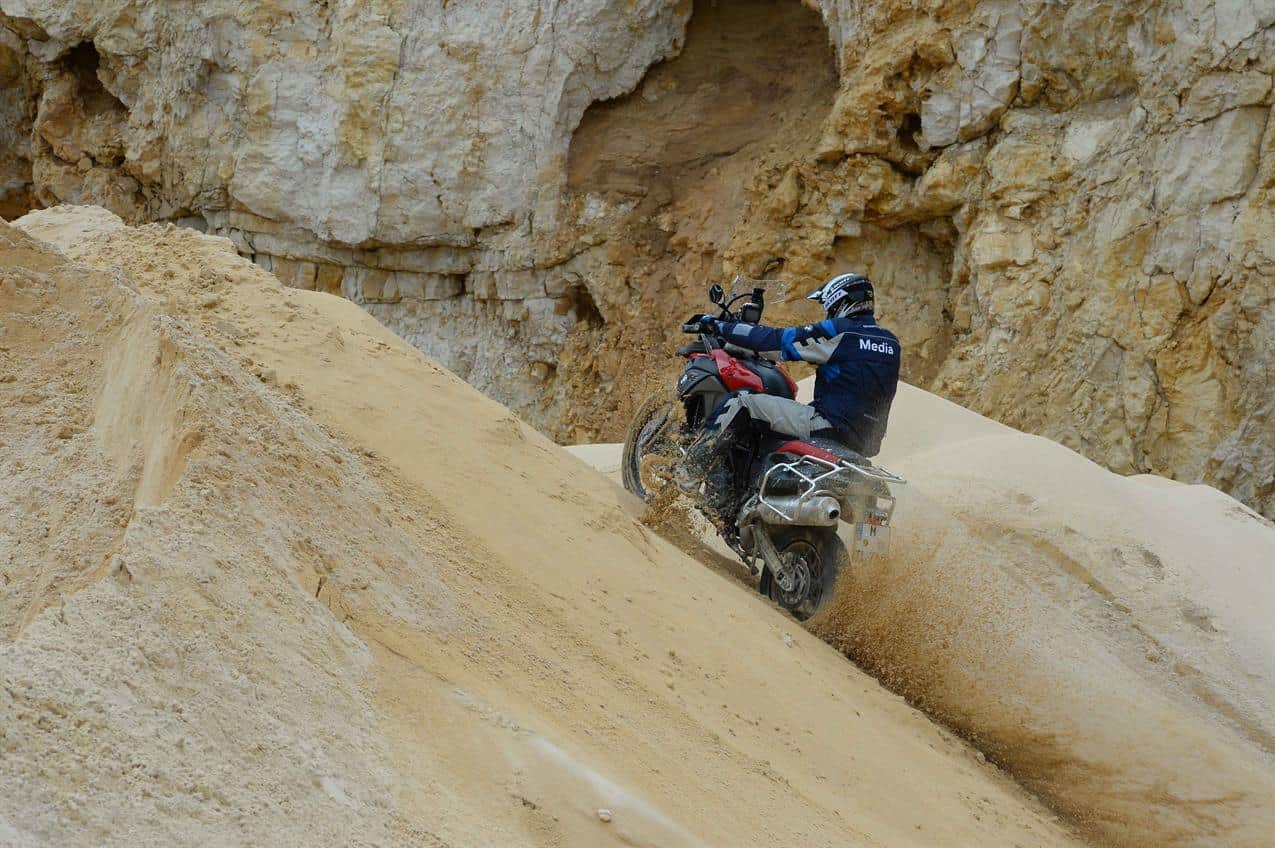 THE UPGRADE IS RECOMMENDED, SIR
And it's just as well that BMW has nailed the chassis set-up because the last thing any of us needed was the old F800GS set-up loaded up with the extra 15-kilos of kit that the Adventure model brings (a claimed 229kg as compared to the 214kg of the standard model). That would have been a disaster. Instead the new set-up is a triumph (not a Triumph, and for sure in Hinckley, the makers of the Tiger 800XC must be concerned too…).
So the next most significant in the list of Adventure add-ons is the 24-litre tank (up from 18 litres), which brings the fuel range up to a certain 250 miles or 400 kilometres (depending on your continent). Now the F800GS was already very fuel efficient and the fuel range was already – in my opinion – good enough for 95% of the planet, but I guess if you wanted to go deep, deep, deep into some desert (and back), well, now you can. The tank adds some width to the rear but BMW has been savvy enough to keep the width around the rider's position suitably narrowed. They've also added a framework around the tank that is combined pannier mounting system and crash bars in one. BMW inferred this was some kind of an exoskeleton in that it added strength to the structure of the rear sub-frame but I'm not so sure – I'm not seeing the triangulation nor the structural connection points.
Atop the big tank sits a bigger seat too. Its 10mm deeper, say BMW, for added comfort. It's definitely more of a comfort option than the standard seat and despite being quite sculpted it's got great ergos whether for riding seated or standing. It is a lofty perch, mind, and even tall dudes (or dudettes) are going to have to stretch their toes to find terra firma. There is a low-seat option which brings the rider 30mm closer to earth. Perhaps more importantly – for many owners: super-importantly – the pillion seat has been hugely improved with a pad that at last has real depth and width so as to (for the first time) make this a serious two-up touring proposition.
The result of these improvements at the rear must have made the front of the GS look a bit feeble for BMW has bulked out the front end too. The fairing is now wider right out to the 'beak' and the screen is taller. Pleasingly, neither are to any detriment – the added wind protection is much welcomed and when riding off-road neither the screen nor fairing seem to in any way impede the rider in terms of vision or movement.
BMW has also added a set of engine bars, and having seen a couple of Adventures 'fall over' in the soft stuff I can stand witness to these bars doing a very fair job not only in saving the engine but the fairing too – you'd have to slam the Adventure into the deck pretty hard to nail the bodywork. Again, this speaks of clever design.
Also adding to the off-road spec are some decent serrated footpegs and these are at last wide ones, not too-narrow as before. The rear brake lever has gained adjustability with a flip-down second tip that works better for riding stood-up (off-road). Pity a folding tip wasn't added to the gear lever (for crash protection), but let's not get too pedantic. There are also hand guards fitted, but these are only plastic with little reinforcement (let's call them wind deflectors). If you're seriously going off-road you'd immediately upgrade these.
Finishing off the Adventure spec is an extended electronics package that gets close to bringing the F800GS up to R1200GS standards on rider aids. ABS is fitted as standard but now there's an option of both Automatic Stability Control (ASC) and Electronic Suspension Adjustment (ESA). ABS has previously been an automatic switch-off for off-road riding but if you take the ASC package you now get a much finer set-up which increases the 'limited slip threshold' to suit loose terrain (you select 'enduro' mode for this). The ESA meanwhile allows a variation from comfort to sporting modes, which again means you can access better stability in high-speed riding.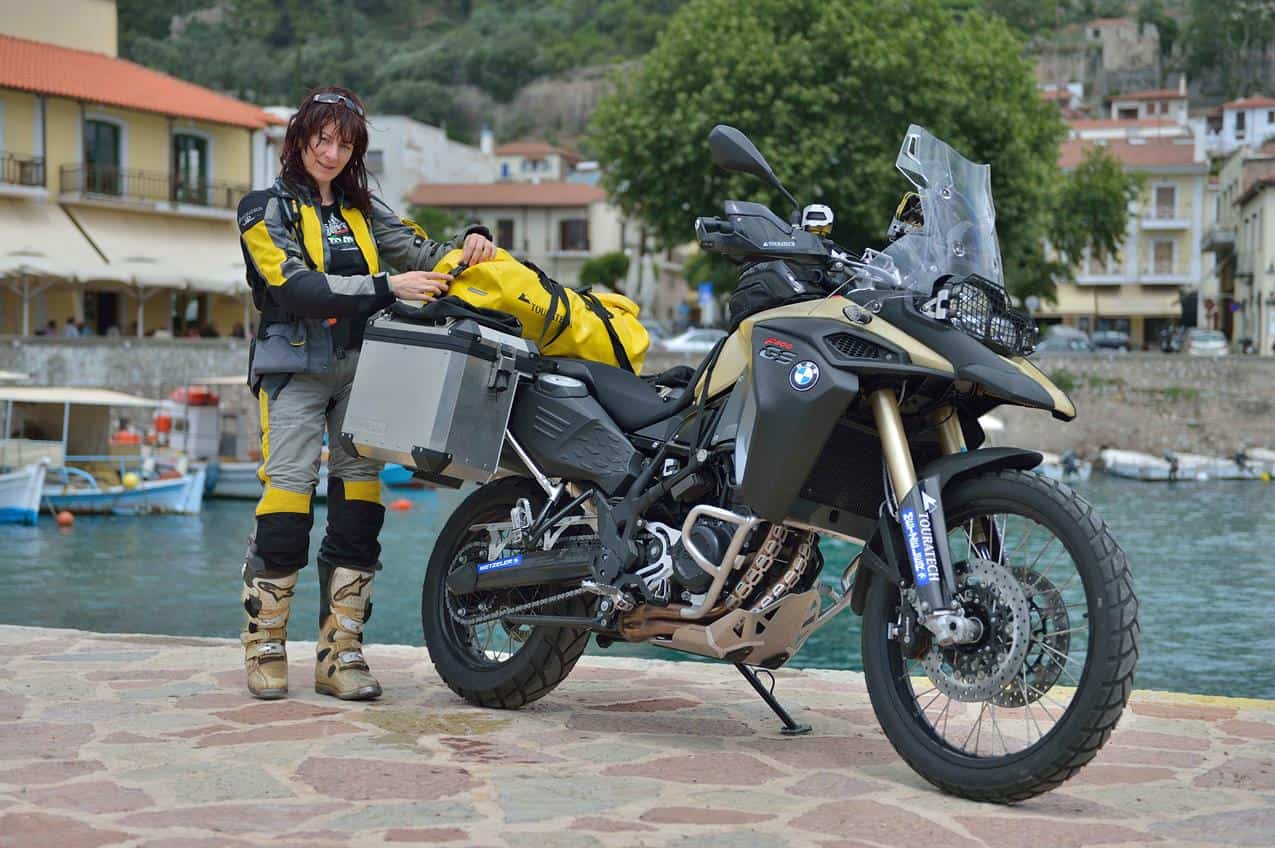 BOMB PROOF
All of the above combine to really bring on the F800GS Adventure. The sure-footedness that the bike has gained makes it feel sharper and more adept (both on and off-road) than the standard model, despite the gain in bulk. BMW could have called it their EXC or even SX version, rather than Adventure, for it's gained a cool sporty nature.
Of course, the motor is unchanged, and this is no bad thing. Having ridden and followed the F800GS through two international GS Trophies – that's 2000km each time; adding up the combined distances of the 100 riders we're talking about 200,000km off-road – I can put my hand on heart and say this is one über-tough unit. Maybe three times I saw clutch plates being changed but only after massively extreme abuse from some very unforgiving riders. Just give it new oil every now and again, keep an eye on the air filter, and – the world's fossil fuel supplies permitting – this thing will ride into the next century without so much as a set of piston rings.
It is worth noting, all the same, that it's an engine that's just a little light on character. There's one quote you'll hear R1200GS riders repeat after a test ride on an 800: 'it's no Boxer'. And it isn't. Robust – most certainly. Characterful – not so much. Despite a fair 85bhp it can also feel a bit busy at higher speeds, revving at over 5000rpm at motorway cruising velocities. That said, we shouldn't get so picky, Adventure bikes are about seeing the world from the road less travelled, so high speed capability shouldn't be on the list of must-haves. Do the right thing, take it easy and take everything in and the 800 motor is just fine.
By the way, the extra bulk does have an effect on fuel consumption and BMW claim the Adventure drinks at a rate of 49.5mpg at a steady 75mph as against the 54.3mpg of the standard bike. Slow down to an Adventure-right 55mph, though, and the big bike returns a pretty decent 65.7mpg. We'll not grumble.
Chassis integrity is now first class. The frame is unchanged, aside from sub-frame modifications to take the bigger tank and bodywork, but with the suspension upgrade performs so well that it makes for a bike that's so much more adept both on the seal and in the dirt. In the name of investigative journalism it was hammered around the twisties in the Black Forest and was just fine, then given all manner of off-road tests to ride (as part of the GS Trophy of Germany competition) and had no problems there either. It's a big beastie, heavy for off-road too, but about the only time you could really feel the weight was trying to lighten the front over some log crossings (oh, and digging it out of a giant sand pile, ahem). But most definitely this bike works really well off-road, it's got authentic dirt credentials.
ADVENTURE IS OUT THERE
Bottom line is BMW has (at last?) got the F800GS right. But for the matter of price point I'd be inclined to strike out all the earlier lesser-spec'd F800GSs and just go with this one. It's what the F800GS should have been from the word go. So, if you've tried an F800GS before and not warmed to it, then do try this one, it's a whole new – and very exciting –story. The new Adventure is here and in the words of Pixar's Charles F. Muntz 'adventure is out there'. Grab one of these and chances are so will you be.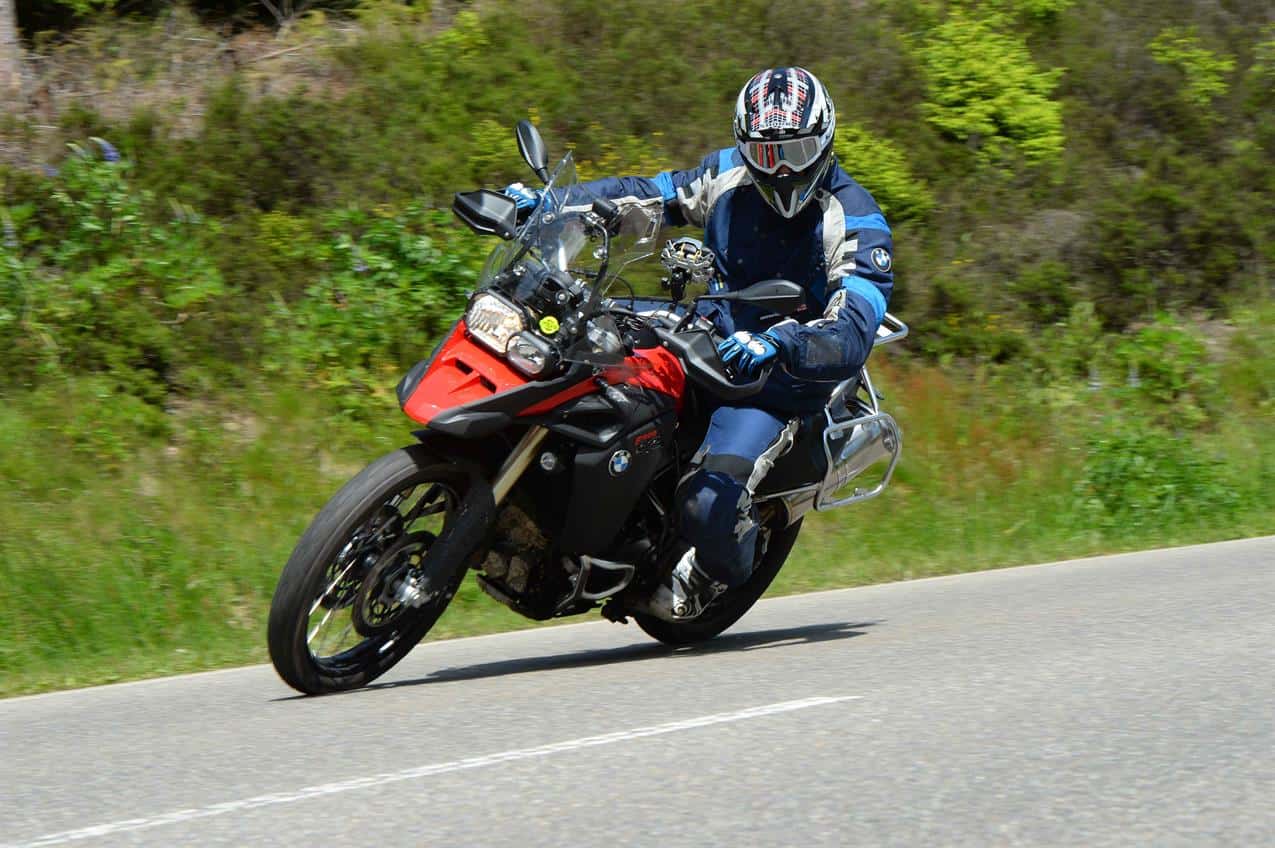 SPECIFICATION
BMW F800GS ADVENTURE
Price: £9650
Engine: Liquid-cooled DOHC eight-valve parallel twin
Displacement: 798cc
Bore & stroke: 82 x 75.6mm
Gearbox: 6-speed with wet multi-plate clutch
Claimed power: 85hp at 7500rpm
Claimed torque: 82Nm at 5750rpm
Frame: Tubular steel trellis
Front suspension: 43mm USD WP fork
Rear suspension: WP Monoshock, cast alloy swingarm (optional ESA works on rear suspension only)
Front brake: Twin 300mm discs with Brembo twin-piston calipers, ABS
Rear brake: Single 265mm disc with Brembo single-piston caliper, ABS
Seat height: 890mm (low seat option: 860mm)
Tyre sizes: 90/90-21; 150/70-17
Ground clearance: NA
Fuel capacity: 24 litres
Fuel range: 250 miles (400km) (estimated)
Weight: 229kg
Contact: BMW UK on 0800 777 155 www.bmw-motorrad.co.uk