2020 DAKAR RALLY – CRAIG KEYWORTH #114
JAN 16, 2020
STAGE 11:  Shubaytar – Haradh
Liaison 365km, Special 379km
Position: 80th o/a, 90th stage
Time: 62:23.19
Today was a tough day. I saw both the sunrise and the sunset from behind the bars. I also had a fabulously big crash. I'd got a surprising amount of sleep given the refugee camp and was keen to boss the dunes. We had a 40 odd km liaison, a 370km special to get out of the empty quarter and a 320km liaison back to the bivouac.
No more than 30km in and I'm looking at a bike firmly planted in a ridiculously cone shaped bike trap in the sand. Just a moment before and I'd been railing the side of a dune like I owned it. I must have forgotten to thank a dune or wave at a camel, as I was out of Karma. Someone else had avoided the fall and rise of a big dune by riding around the bowl at the side. It's a personal favourite line. A habit if you will. Another, rather unbecoming habit is to try and out do the last girl/guy by leaving a higher tyre rut. I went a bit too high though, and the top of the dune gave way leaving me and the bike chopping sideways in mid air, and then barrelling into oblivion. The sand hole that the bike had come to rest in was the softest sand I've ever known. After five minutes of making it worse I was coming to the realisation that this was not a good situation. I was off the main route, out of sight and very, very stuck. I'd also 'rung my bell' quite impressively and was a bit starry eyed, had a pretty banged up left hand and a shaky leg. Nothing broken, sticking in or out and all was dry though, so we're OKIsh.
After the first few attempts to shift the bike, it wasn't having it. By now I'd spoken to Paris, who'd called via the Iritrack to check I was okay (the iritrack has a decelerometer in it, and if you stop very suddenly it pings an alert, if you don't start moving sharpish they call you, and if you don't answer you'll see a helicopter within a few minutes).
The eventual method of extraction was to try and dig some steps with my hands, position the bike upright with the rear wheel between my legs and use the spokes to drive the wheel up and over my inner thigh inch by inch. I quite literally buried myself getting it out. I was done.
Arms like Bambi and a similar mental capacity – every decision I make is a stupid one and I crash a good few more times. It takes me an hour to get my mojo back.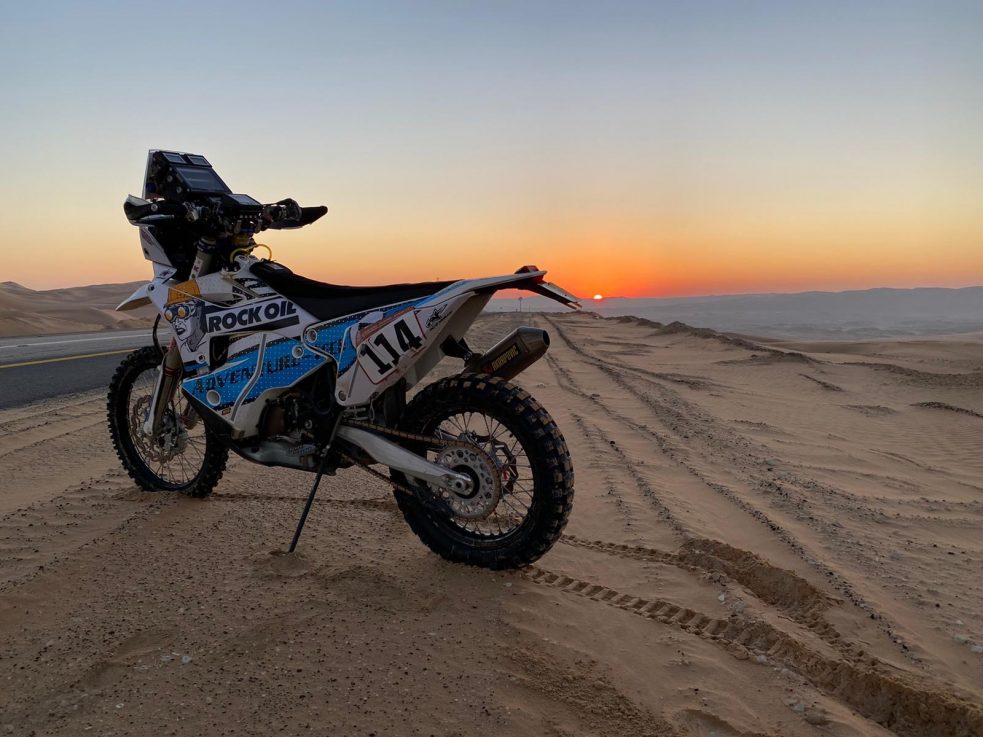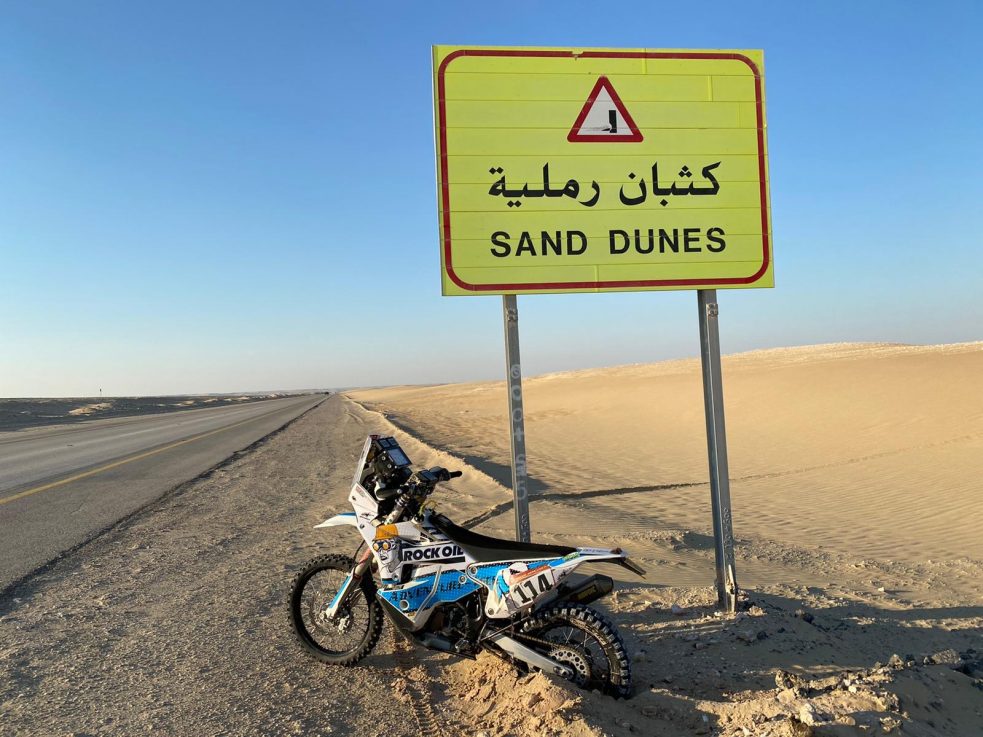 I'd spent another good hour or so pushing back up the line of riders when I came across Taye Perry, prone behind a dune and with a dead bike. There's a Frenchman assisting already; I stop and join them. We move her to a safer spot, our Frenchman moves on and we get stuck in to the obvious choices. To no avail. I've made a small set of micro jump leads up and have them on my bike, which is lucky ('lucky…') as by now the battery is giving up. We try a tow start and again, no dice. In a last ditch attempt to get things moving we try and tow her up the dunes with my bike. This was never going to happen. We're not in Skegness here. The dunes are huge. I rather frustratingly leave Taye with my leads and a hug. She was on the podium. She's just 20km from a fuel stop and potential help. A couple of 'experience' (they're out of the main race) quads fail to stop to help. They'd easily pull her through the next dune set, but there must be a pie and chips special this evening with the young farmers or something… I absolutely do not roost them when I pass them on the way through.
I try another push to catch back up, but to be brutally honest I'm done. My efforts to retrieve my bike this morning took their toll, and by the time I'm at the circa 250km point I'm a bit bored of the sand. The trucks have caught up and make a right old mess. Many of the waypoints are within a sea of foot deep ruts. Not the most enjoyable. I crack on.
The last 70km is like riding fresh powder snow. There's some wisps of vegetation and the sand is almost white, with very little else under it, and if I wasn't so tired it would have been a lot of fun. I glance down and see I'm skipping along at about 110kmh though, and it's getting the distance ticked off.
My mind has started to wander towards home. The finish line is dangerously close and this morning's dune crashing niggles are starting to ache a bit. I keep an eye open for some camels to cheer me up, but I've not seen one – must be why it's called the empty quarter.
Game plan – keep it upright and bring it home tomorrow…