2020 DAKAR RALLY – CRAIG KEYWORTH #114
JAN 10, 2020
STAGE 6: Ha'il – Riyadh
Liaison 353km, Special 477km
Position: 91st o/a, 97th stage
Time: 39:17.15
Today was a big day, so seemingly every truck, buggy and bike mechanic decided to 'test' their respective charges by thrashing them around the bivouac until around 03.00 this morning. I was up at 04.15. At least I now know the protocol for testing race trucks. It's school boy stuff as it turns out – thrash them, wait ten minutes to see if it's fixed itself, then try again…
Despite the bitter cold I was nodding on the 172km liaison. It was properly cold though. I taped plastic bags over my hands, as well as rubber mechanics gloves under warm riding gloves and chemical hand warmers. Likewise I wore all of my normal kit, plus a GoreTex water proof, a down gillet and a military GoreTex jacket, with a bin bag c/w arm and head holes for good measure. I wasn't warm.
The morning liaison was 172km and then into a 477km special, which was all sand. We had some seriously fast plateaus, where we were flat out for 25 minutes – if your arse could take the battering from an over-hard seat kicked up by the odd rut or rock. It was here, purely on fact finding mission – trying to determine the max speed – that I noticed a little 'snatch' that I know all too well is a tired clutch. Balls. I had about 420km to go and knew there'd be a few cheeky dunes, so I let sensibility take over and eased right off.
And I had a marvellous day. I basically did my own thing, carved off piste lines and had a whale of a time. I kept cruising on the HUGE plateaus to a sensible 90/100km/h – anything quicker and you tend to break traction/ground contact a lot more, and the FR has enough power to not care about whether it's clutch or tyre that takes the pounding, so I cruised. It's a shame really as the clutch and tiredness stole a day that would otherwise have been made for max steering damper and max throttle. Probably for the best then!
Again there were a good few abandoned bikes, the first six days likely taken its toll and it looked like most were loss of control at dune bottoms, a lack of concentration, arms, or both put an end to at least three more Dakars.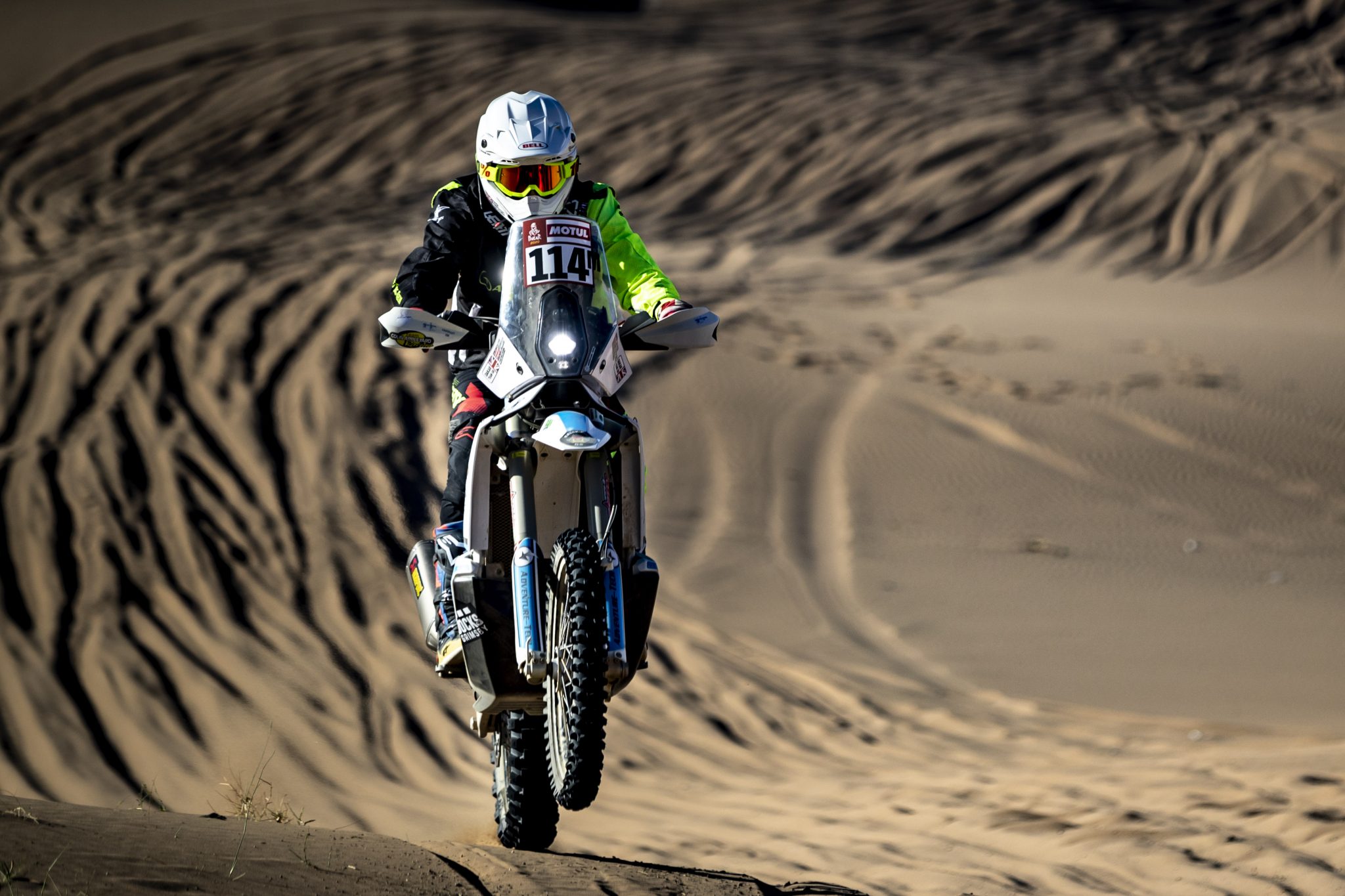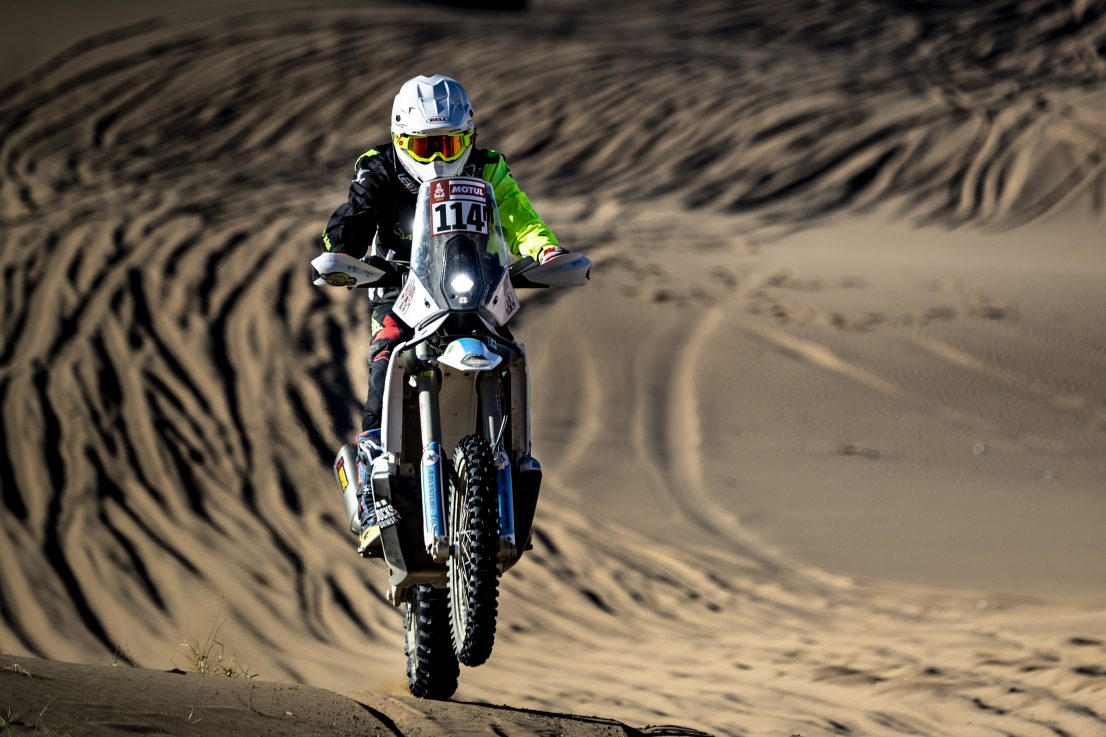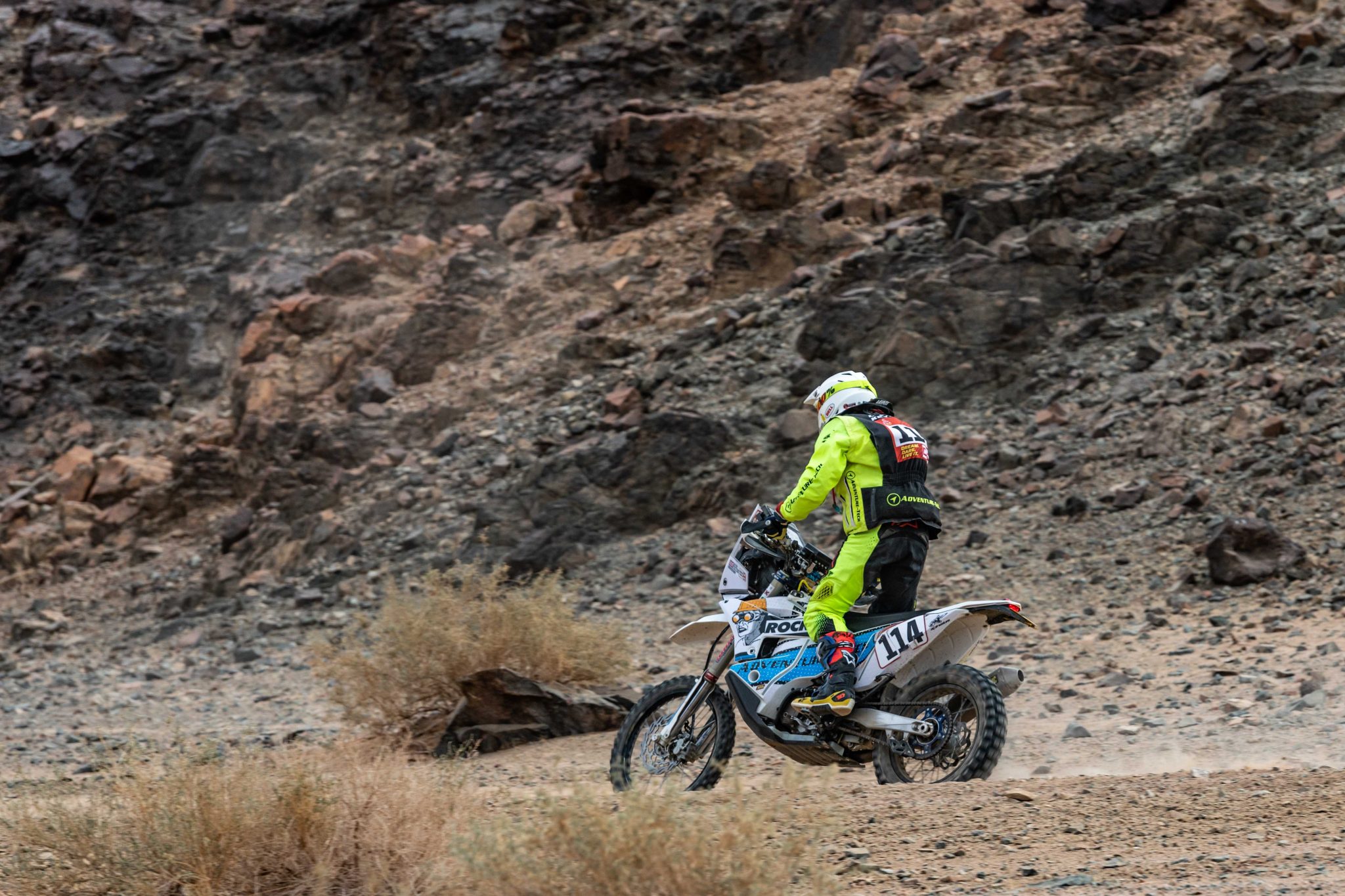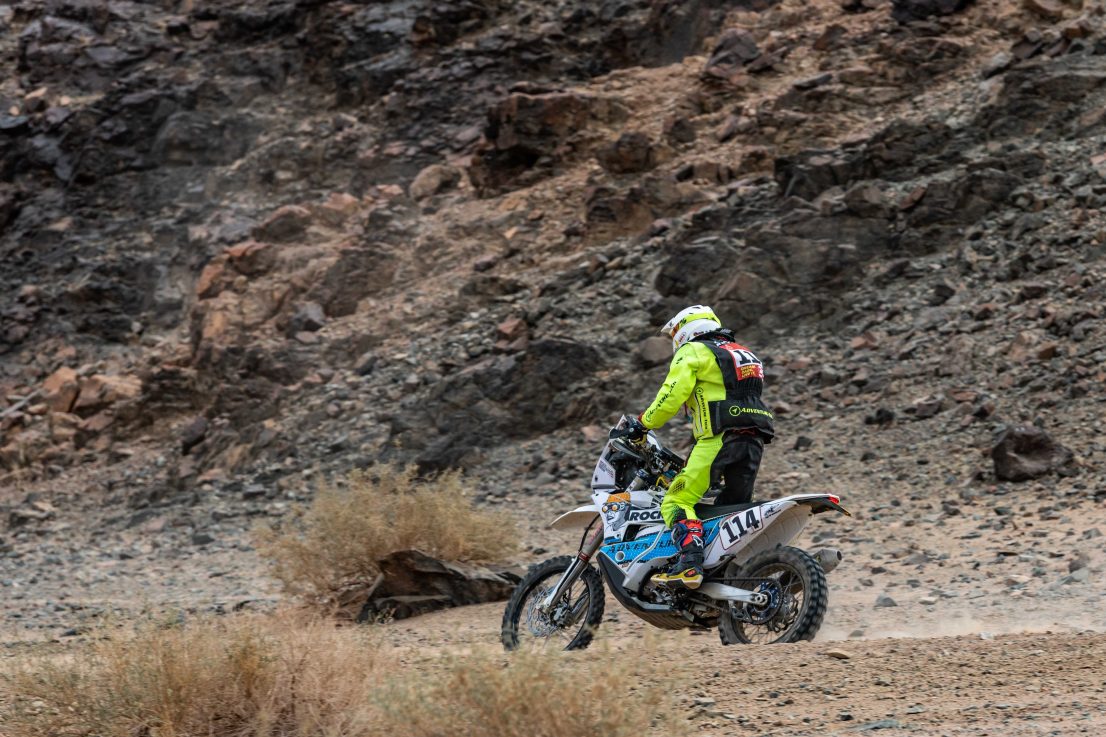 As the day wore on and the sun started to drop I decided I'd go for it a bit. Again, I didn't want to be out on the stage in the dark. I'm carrying a spare clutch plate (just one) as a 'get home' measure but again, not a job for the sand. As it happens it was a good call. The last few dunes were proper monsters. The last one with a good few hundred people on and only a 20ft gap in the middle. Not my own line choice by any means, but when I came up short by about 6ft they seems more than pleased and pulled me up no bother, so all ended well.
We're now at the rest day. I'm feeling pretty good, the body is faring well, aside from last night's sleep (I'm also rubbish at early starts…) so I'm happy enough so far. Today's result won't help overall but not so bad in the scheme of things. The 176km liaison to Riyadh in the dark was obviously cold and rubbish but aside from the local driving, uneventful and box ticking. My head is fried from the wind noise/cold and lack of sleep.
I did have some numbers I'd like to achieve, but I've seen so many riders chase these early on and end up on a flight home. Marathon not a sprint…