Honda's road-ready CRF450X-RL came with a hefty £7300 price tag back in 2013, yet it wasn't too far removed from the standard model. Was road legality enough to tempt buyers away from the European marques?
This thing needs to be good. At £7299 Honda UK's new trail-ready CRF450X-RL (Road Legal) is priced in-line with the very latest, well proven, high-specced KTM and not too far off exotica such as TM's EN450. A bold move, indeed, when the standard 450X costs just £5999 – a relatively cheap bike in today's dirtbike market, and given that it's changed very little since the last decade (and even since it was launched) you'd expect that to be the case. So what justifies the extra £1300..?
What indeed. I'd love to reel-off a plethora of trail/enduro must-haves, here, I really would. But there's no need for a deep breath before launching into the list. A speedo, horn, lighting kit (with indicators), and V55/1 registration form bring the bike up to road legal snuff; an ignition key prevents some toe-rag hopping on it and clearing-off when you stop for fuel (and is something appreciated by many insurance companies); and a GMX alloy tank adds some glitz. And other than a modified sidestand, and we can't tell in what way it's been changed, that's yer lot… You'll need to add the cost of first registration and a tax disc too…
On the face of it, that's not an awful lot. So before we go any further, let's dwell on why there's a need for such a bike. The stock X comes with lights front and rear but the headlight doesn't dip, the tail-light doesn't 'brake', and there's no switchgear or switches to operate them. The bike comes without a speedo – just an odometer – and there's no horn either. To get the CRF on the road, you need to add all of these yourself (or get a friendly dealer to do it for you), obtain the correct DVLA paperwork, apply for a registration and, potentially, transport the bike down to your local DVLA office so that a nice man with a clipboard can cast his eye over it and tick a box on a form. It's a rigmarole… but not TOO onerous unless you simply cannot spare the time, especially as 'DIY' enduro bikes are exempt from homologation regs.
We've long criticised the Japanese brands for not selling road-ready dirtbikes and the excuse they've always given, albeit with an obvious air of frustration if you ask their UK representatives, has centred around the fact that the factories build bikes for their biggest markets (countries such as the US where homologation isn't always required), before batting the ball back over the net with the claim that the Europeans are essential exploiting a loophole in the regs whereby the bike you pick-up from your dealer isn't necessarily in the same spec as one that's been homologation tested. Does the customer give two hoots..?
Generation Gap
After barely a couple of minutes aboard the Honda I shouted over to my riding partner, 'this thing feels a couple of generations old.' By pure coincidence, looking back to the last time we rode a 450X – in March 2011 – I wrote something similar. Back then, switching from the Honda onto the KTM 450, my initial comment was '[the KTM] feels a generation on'. Austria have even updated their 450 in the intervening years too! Whereas the Euro brands make year-on-year updates to their enduro bikes to keep them fresh and long-since recognised the need to make 450 thumpers easier to ride, Honda have sat on their hands…
There's a raw sound to the miniaturised motor and this is matched by the riding experience – one that seems to date back to the early days of the 450 class when we were trying to figure-out what we really wanted from big four-strokes. The 40mm Keihin flatslide isn't as refined as a modern EFI set-up, and the SOHC (or Unicam as Honda dubbed it) motor responds abruptly to every input. This is most pronounced in the ballsy mid-range, where the CRF stomps away as in the lower three gears you struggle to balance wheelspin and wheelie. There's no smoothness, no subtlety, just a big bundle of torque unravelling very quickly indeed. Short-shifting is really the best way to gather it all together, and the best way to generate some proper grip. Because although the single cam power delivery feels very 'thudding', its potency means it's hard to translate that into traction.
There's top-end too, but are you really looking to exploit the peak power of a 450 on the trail? I suspect you're much more likely to be using the mid-range or bottom-end than holding the throttle against the stop. If you do then you'll find that there's not much in the way of over-rev – the power signs-off quite quickly – but by then you're much more likely to be concerned about what's heading towards you at a rate of knots.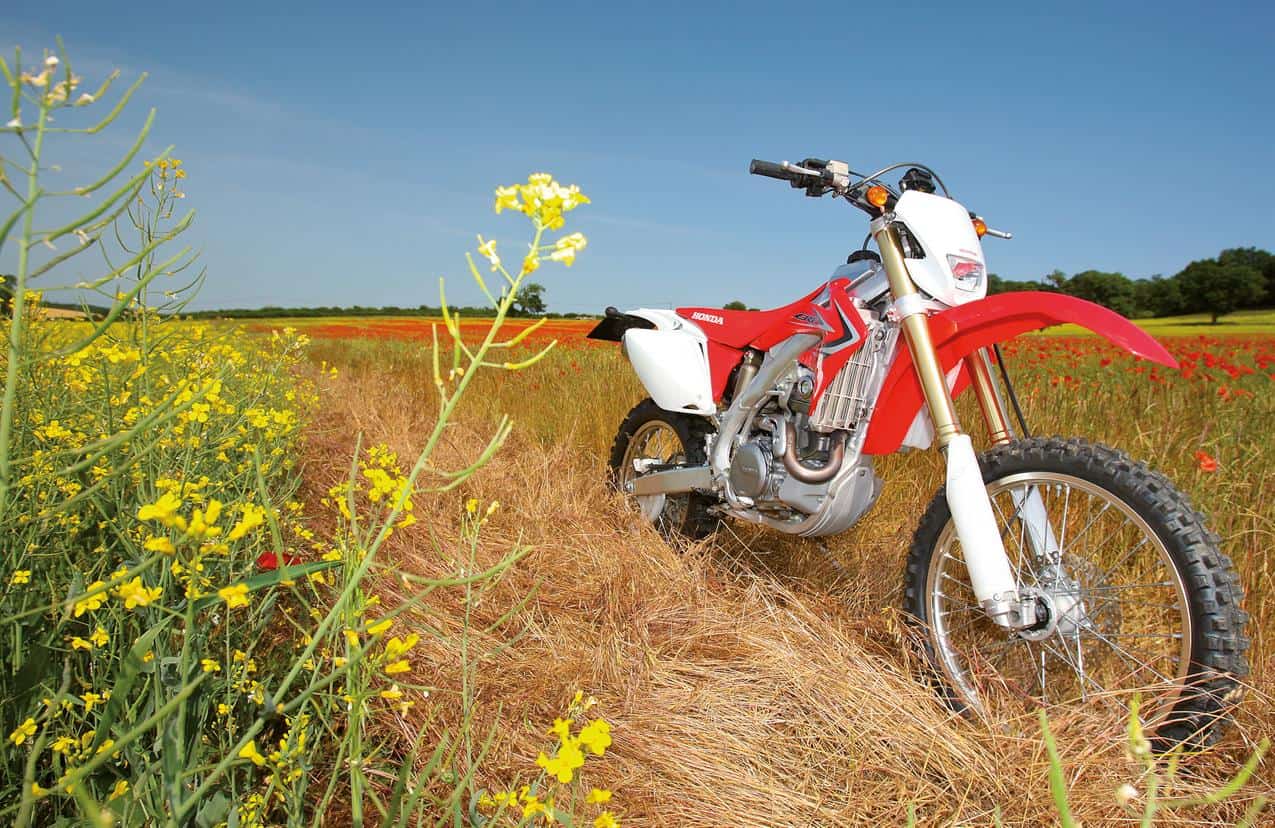 The Nissin front brake offers bags of feel, though stopping power was slightly lacking from this example and although a change of pads might restore some bite I can't help but feel that Honda ought to be speccing their bikes with bigger discs nowadays. Surely they learned that lesson with the XR650R..?
There are two attributes you can always rely on with a CRF: stability and neutral handling. The way the CRF flows through corners means you don't have to constantly allow for a front-end that wants to turn quicker than you, nor fight it to prevent yourself from running wide. It does just what you ask of it.
The steering damper, hidden down by the headstock, is really just a safety net as I've never experienced any kind of twitchiness from a 450X. With the summer sun having evaporated all of the water out of the puddles, what's left behind are series of awkwardly-spaced hard-edged holes which could easily upset your day. The Honda remains unflappable.
Except there's a choppiness in the suspension which transmits a little too much of what's going on beneath the wheels to your wrists and ankles. Like the motor, it's lacking some refinement and requires some fettling – hopefully with a screwdriver rather than a specialist – to introduce the kind of suppleness we expect from a modern machine.
With the sun blazing down we head to the woods for some shade under the broad leaves of old oaks and riding more technical than wide dusty trails. Small bombholes and log crossings provide the entertainment.
Again, the Honda's cable clutch and reasonably heavy throttle can't match the lightness you get from contemporary Euro bikes. In some ways I'm glad that the clutch isn't a hydraulic unit as they're often harder to modulate than a cable and the 450 motor often needs to be restrained with a dash of clutch. On those sharp little climbs it takes a great deal of finesse – a level I don't really possess – to prevent the real wheel from lighting-up as it scrabbles to find grip amongst the dust, twigs, and leafs on the woodland floor. On climbs where you can simply point it skywards and wind-on the gas it'll romp to the top in a flash and at least lofting the front wheel over logs doesn't pose a problem.
You really notice the weight of a big four-stroke in these conditions. With a full tank of gas, the RL is six kilos heavier than a standard X, the TBM digi scales recording 126.5kg. That's around ten kilos more than the lightest in class (do you really need to ask what that is..?) and a good seven-or-so up on most Euro machines.
If technical riding is your bag, then you're probably not considering a 450 thumper anyway. You buy one because you want something of an all-rounder that you can trail ride far and wide, enter into the occasional race, and generally use for all of your dirty biking exploits. I'm not sure that the Honda is user-friendly enough to be that bike…
Dear John
When all's said and done, we could try to explain-away the price tag by suggesting that what you're buying isn't a DIY special but an official, properly put together, road-ready Honda. Except the execution isn't what we've come to expect from the brand and certainly doesn't complement the robustness and finishing of the standard bike. The speedo is mounted on a cheap-looking bracket which holds it too high, making it vulnerable to damage, and the drive for the original odometer is still in the hub (rather than replacing it with a spacer). Worst of all, certainly from an aesthetic point of view, our bike came with a large slice of foam wedged down behind the headlight in what looks to be an attempt to hide the wiring. C'mon Honda, this is most unHonda-like.
If you went out and bought a stock 450X, ordered a tank from GMX and a lighting kit from Pro Racing you'd still have change from seven grand. And that's paying retail prices – with the added bonus of having the standard parts you're removing. Yes, you'd have to fit the bits yourself but Honda haven't made such a great job of it that you'd spend the extra letting them do it!
And would you pick the same components as them? The ally tank is lovely, no doubt about it, but is it the first thing you'd think of when upspeccing a CRF? I'd fit some bigger, grippier pegs for starters. And is it the kind of part we want on a trailie nowadays? For many riders it'd make more sense to have a clear plastic item. Indicators are a homologation requirement, though you don't need them on an enduro machine to be road legal. They just get broken… as one of ours did. And, whilst it worked faultlessly, the Sigma Sport speedo has the look of a basic cycle unit. Pro Racing have new, far nicer, units in stock so future RLs may come with these. But the display on our bike wasn't a match, in terms of both looks and features, for something like a Trail Tech… Put simply, the level of finish on the CRF-XRL is not good enough to justify the price tag.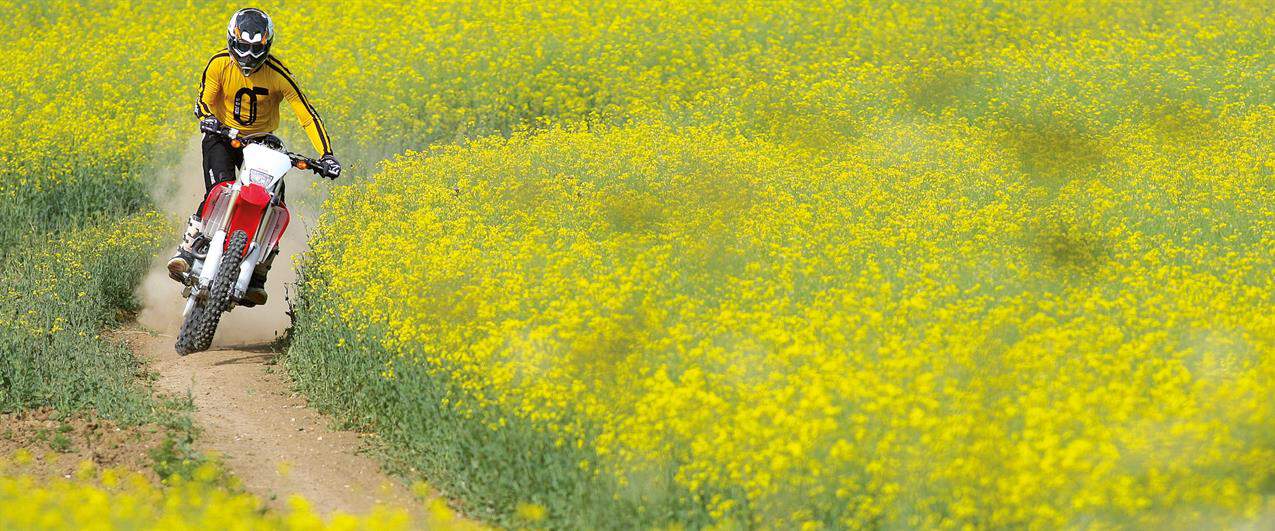 If there's one positive to take from the CRF450XRL then it's this: Honda UK are recognising the demands of the dirtbike market. They've tackled the issue of the European brands dominating because their bikes come 'Ready to Ride', now they need to persuade the factory to get behind it and integrate such features into the manufacturing process. And, even more importantly, the Japanese need to look at what we really want from a big four-stroke. They make their big sportsbikes easy to use rather than awkwardly feisty monsters. Why not their enduro bikes..?
If you REALLY want a 450 Honda and it's only the lack of road legality that's putting you off then you may look upon the RL as the answer to your dirtbiking prayers. But against the European opposition, it simply isn't good enough… and it's too dear.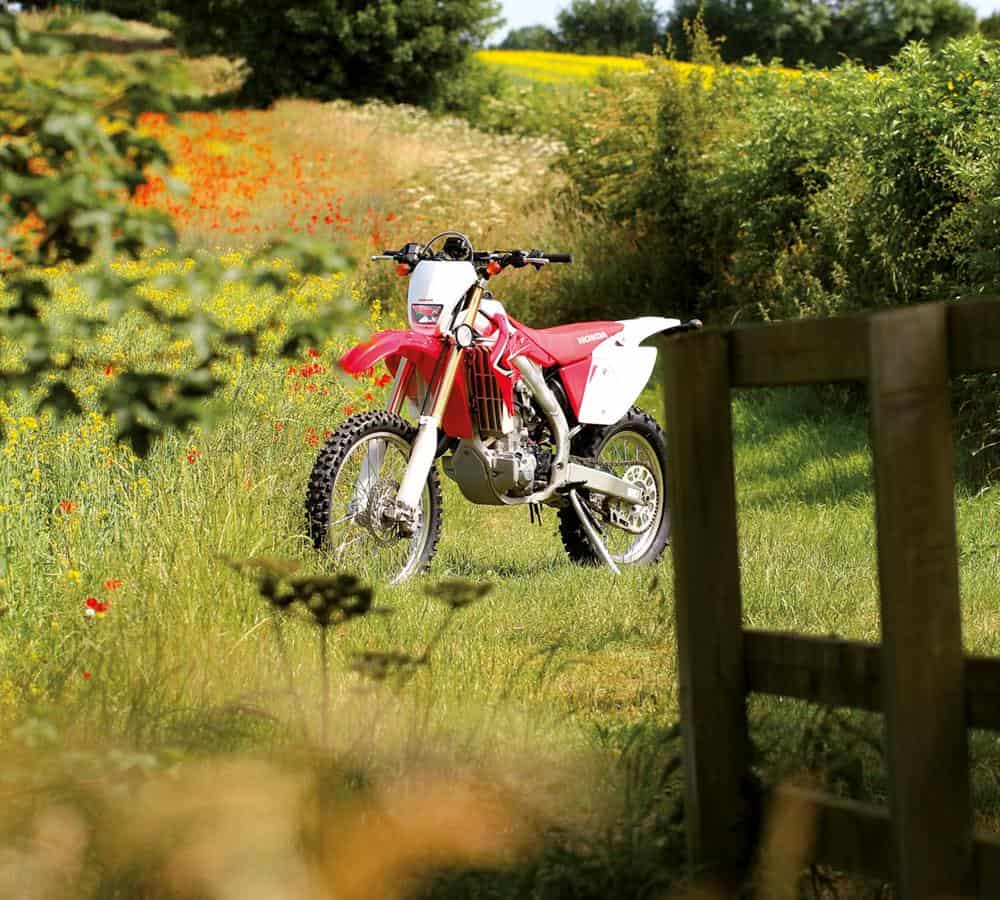 Euro Zone
It'd be remiss of us to comment on the 450XRL without mentioning HM Honda, the company who import Honda dirtbikes into Italy. For as long as we can remember, HM have been taking Honda MX bikes and turning them into enduro machines, upspeccing Japanese 'enduro' models, and generally adding a touch of Euro panache to dirtbikes from the Big H. And they too produce a road-ready machine based on the 450X – the CRE F450X…
Aside from some natty graphics and a lighting kit, HM add comprehensive digi clocks, braceless bars, a larger (260 rather than 240mm) floating wave front disc, a Magura hydraulic clutch, a plastic bashplate covering the lower frame rails, flag-style handguards, a Blackbird gripper seat cover, and frame protectors. They also replace the God-awful-looking standard can with a Leo Vince silencer. And the price of an HM F450X in Italy? Naturally, that depends on the exchange rate, and as I write this in mid-July it'd be eight quid (yep, £8) more than we pay for the RL!
Unfortunately, without an HM importer at present and little chance of one appearing soon, you do have to budget for shipping it from Italy!