2015: For years serious adventure riders had bemoaned the lack of choice for those seeking a light-middleweight adventure machine. Then Chinese manufacturer Shineray created this 400cc air cooled trail-adventure bike. But with Chinese bikes having an historically poor reputation, could we take the WK 400 Trail seriously?
I THINK I can define my state of mind as I prepared to test the WK 400 Trail: High hopes and low expectations. It's a different mindset to that of approaching a new KTM or Honda. There's no sense of fait accompli, instead everything is to play for, anything can happen. The Chinese, though, are learning fast, with each year the quality improves, the shortfalls diminish and they get closer to proper parity with the establishment. But by the same token each year we have to ask, are they there yet?
Notwithstanding, we're of a mind to champion them for this model. A mid-size, mid-capacity, mid-everything adventure bike has been the request of many a serious overland traveller for many years. And a light-middleweight adventure bike is what they're really saying, for after all there are options out there in the 650cc capacity, like Yamaha's Ténéré and BMW's Sertão. And some lucky markets also see the likes of Honda's XR650L, Kawasaki's KLR650 or Suzuki's DR650. But even those can be a bit too big for some; too tall, too heavy, maybe too expensive as well?
And that brings us to this light-middleweight, say 400-500cc, segment. Maybe it starts even smaller – for we could begin our discussion with the early 1990s Suzuki DR350 such as Austin Vince used for his Mondo Enduro circumnavigation. Following that there was the DRZ400 that many an adventurous trail rider will sing the praises of. Only the DRZ, like the DR350, is long-past history now. Vince recently made his Mondo Sahara expedition on a late-1990s Honda XR400s and that struck a chord with many. In praise of the light, simple bike, as it were. But again we're talking old bikes, decades old in fact. Not new.
And that's where the WK 400 Trail comes in. It's a new bike, fresh to the market (hurrah) and – importantly – where the DR/DRZ/XR offerings were essentially trail bikes that owners adapted to long-distance work, the 400 Trail is a long distance machine right from the start (and so surely mis-named). It's a big-tank bike, with screen, comfy seat, even one of those cheeky little rails that run above the speedo to take a GPS. Hey it even has proper aluminium panniers as an optional extra. It is, correct us if we're wrong, the first factory-standard adventure machine in this capacity class.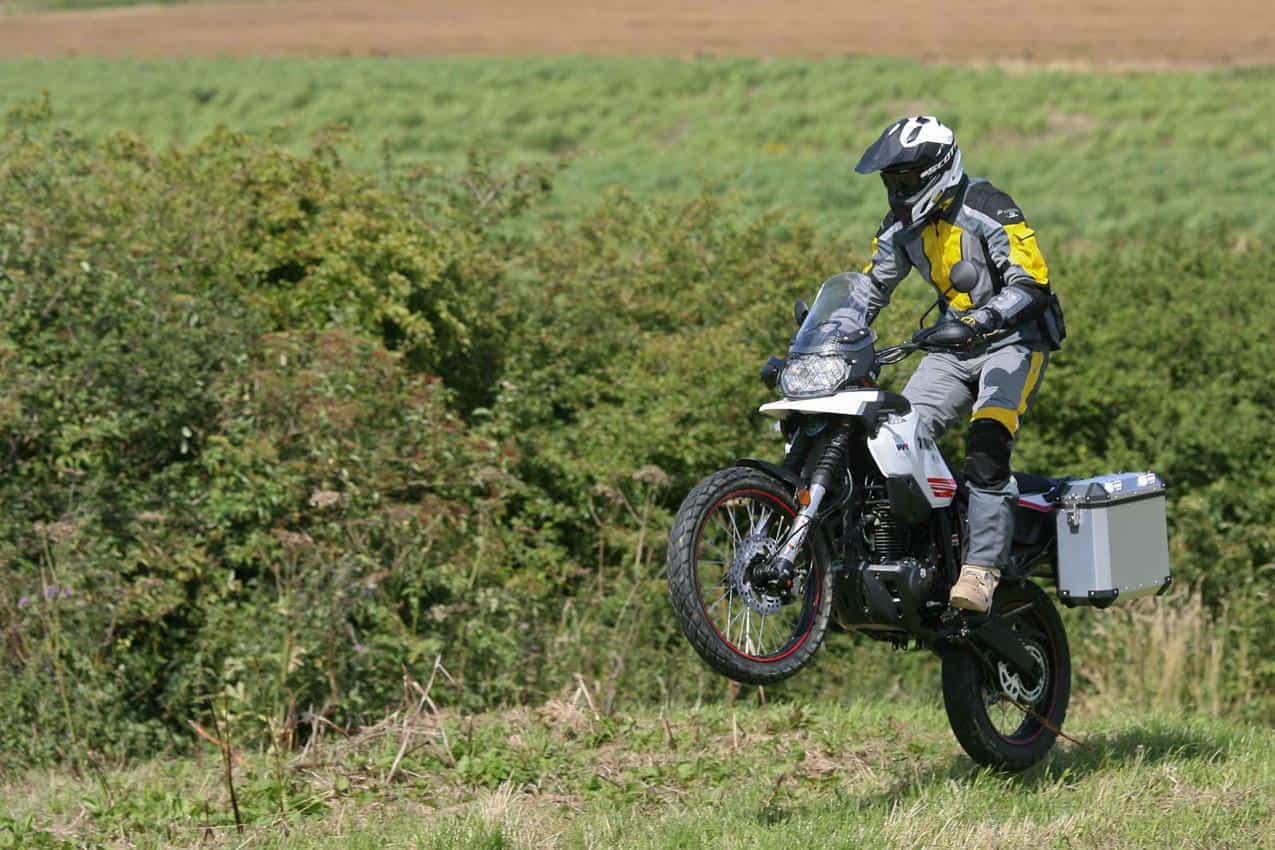 NICE JOB!
So we can't help but praise the WK 400 Trail right from the outset. It's as if the manufacturer read Chris Scott's website (www.adventure-motorcycling.com) and have taken his every observation to heart. The spec is suitably impressive: a simple SOHC air-cooled motor, big 18-litre tank, mid-to-long travel suspension, 21/18" wheels, screen, serrated foot pegs, sump guard even. Scott himself has tried building such a machine and has shown it's not easy. But the Chinese have done an amazing job. Simple where it needs to be, yet sophisticated in the details.
For instance, we like the instrument set: a digital speedo and analogue tacho, then a clock, a fuel gauge, battery health indicator, odometer and trip meter. It's neat and smart looking. If slightly generic – there's no redline on the tacho which reads up to 11,000rpm while the bike starts busting a gut at 7000rpm. We also like the use of LEDs for the tail light and indicators – right on the money with those. The controls are getting better with each year, too. There's a folding gear lever, and well designed switchgear – heck, even the kill switch looks identical to a KTM/Husqvarna one, so their component buyer is clearly watching the market place. The seat is comfy, certainly big enough. The optional panniers are almost Touratech-clones and are both well mounted and featuring strong lock mechanisms. We like the gaiters over the fork stanchions. Little details – there really is so much to like.
I guess what we really appreciate though, is the engine. It's reputedly something of a copy of the Honda XBR500 motor. Some have called it an XR400 copy, but those who have dug a bit deeper are suggesting XBR (the mid 1980s road bike), sleeved down. The simplicity is important. No water-cooling means no radiators or hoses to split or crush. With inspection caps on the cylinder head it's a simple top-end service proposition too. Cable actuated clutch means no hydraulics to fail and simple substitution of a new cable for the old if you need it. Fuel injection lends improved fuel economy and hypothetically it's more reliable than a carburettor – albeit you need to stay on top of the fuel filter cleaning. Not so much an issue in the UK, but using dirty fuel in far off lands it's a necessity if you want to keep a healthy fuel pump.
It's not entirely basic though, there's a counter-balancer geared off the crank, so reduced-vibes smooth-running is on the menu. Oh, and it's low-power. Just under 30hp. And that is a very good thing. It means the 397cc motor is low-tune, so better able to work with lower grade fuels, and low stress to operate. This is not an engine you need to buzz, this is for the steady lolloping cruise. And when it comes to travel riding you should be taking it steady, slow even, for if you don't you're not seeing anything.
SHE'S TIGHT
Let's get on with the ride. We got the WK with barely 80 miles on the clock. And the motor was consequently rather tight, to the point it made the ride a bit awkward at the start. In the course of the test we put a solid 250 miles on top of that and by the end it was a lot looser – and better. So if you get to test ride a brand new one bear that in mind, it becomes a smoother more fluid ride with every mile on the clock – even the top speed, or top cruising speed, improves.
First miles we did were a transfer from Lincolnshire to Norfolk using B and minor A roads. Long straight ones as this part of the country typically offers. Riding in the company of a Honda CRF250L – an ideal comparison – we found they're an even match on acceleration and cruising speeds – on both we settled into an easy 55-60mph on the level. And at this speed the WK was quite unhurried and remarkably vibration-free revving at 5000rpm. The screen was doing its job superbly, the seat was okay and the whole ergonomic package wasn't bad at all. If I wasn't 6'0" tall I'd say it was really very good, but being this tall I'm often a little cramped on anything smaller than 1200cc. By comparison the Honda was just as smooth, but the motor was buzzing along higher in the rev range, and the lack of screen and thin saddle meant it was a little less comfortable and so more tiring.
While the Honda and WK are comparable, given their price point and marketing position, they're far from identical. With its panniers attached the WK actually has a lot more presence, is noticeably bigger (without panniers its about 15kg heavier), and looks and feels sturdier all round. That said the Honda is better finished and has a thoroughly modern engine. The WK might be easy to service but the Honda needs almost no servicing…
The WK's presence is unfortunately reinforced by its louder-than-average exhaust. Despite having two very neatly designed and finished mufflers, the WK does bark. It's not competition pipe offensive, but its a fair deal more dB up the scale than the whisper-quiet Honda – to the point I'd roll the throttle mid-overtake so as not to offend the motorists.
And the WK, like the Honda, is a bit tall in the saddle, it's a fair swing of the leg. Both of course settle into the suspension once you're seated, but that initial mount – especially with the panniers to avoid – can look a touch comedic. Perhaps we need to face up to the fact, if you want 250mm of ground clearance, if you want 9" of suspension travel (both adventure standards – and note how I mixed the measures there) then that comes with a lofty seat height. That's the unavoidable trade.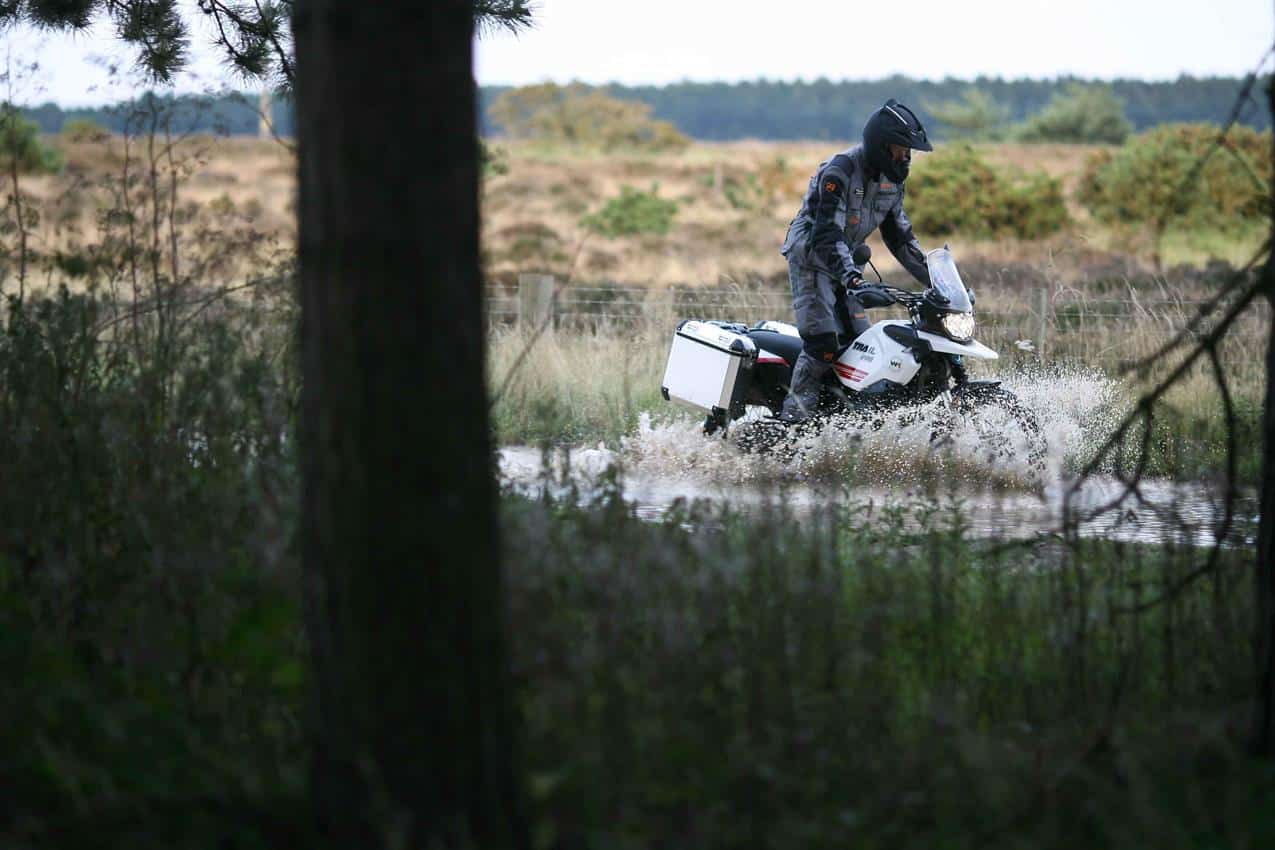 INTO THE ROUGH
Well, off the tarmac at least. Not having done the wise thing and contacted the TRF for some local knowledge we played it safe riding only the byways as marked on our brand new OS maps. These were to be found in the lower reaches of the Thetford Forest and consisted of some fairly flat, well-graded sand tracks (not even deep sand).
The WK wasn't exactly ready for this, riding on what we call cut-slicks (by Kenda). Despite being well equipped with rim locks we left the pressures as we'd used on the road (yeah, whatever WK had put in them!) and just ploughed on. The motor was spot-on for this kind of stuff, we'd set a speed of anywhere between 15 and 25mph and the old air-cooled SOHC did that old thing of amiably plodding along, whether in second or third gear.
The suspension wasn't quite so accommodating. The forks audibly clonked – more when topping out as the front came light over bumps and roots – while the shock squeaked and squonked as if desperate for a bit of grease. The actual action of both wasn't so bad and will most certainly deal with everything an adventurous travel rider will throw at it (say, a jog across the Anatolian Steppe) but without a doubt you'd want to fettle the set-up before you set off.
Riding on traditional 21/18" wheels helps and this combined with the easy lolloping power meant that even when we encountered sloppy muddy sections (dare I say it we're talking sections of the trail that those extreme 4×4 nuts have clearly abused through a winter) the WK was quite competent applying good old fashioned plonk to overcome the lack of grip.
The brakes were a disappointment. Power both front and rear was lacking (especially for the road) – which was odd as the calipers (twin-piston on the front) and the master cylinders all look to be good kit. When we returned the bike, the guys at WK explained it was most likely the stock brake pads – replace them with a decent set of aftermarket pads and the performance improves appreciably. They're most probably right, and that's an easy fix, it's just a shame the Chinese can't have that sorted right from the start.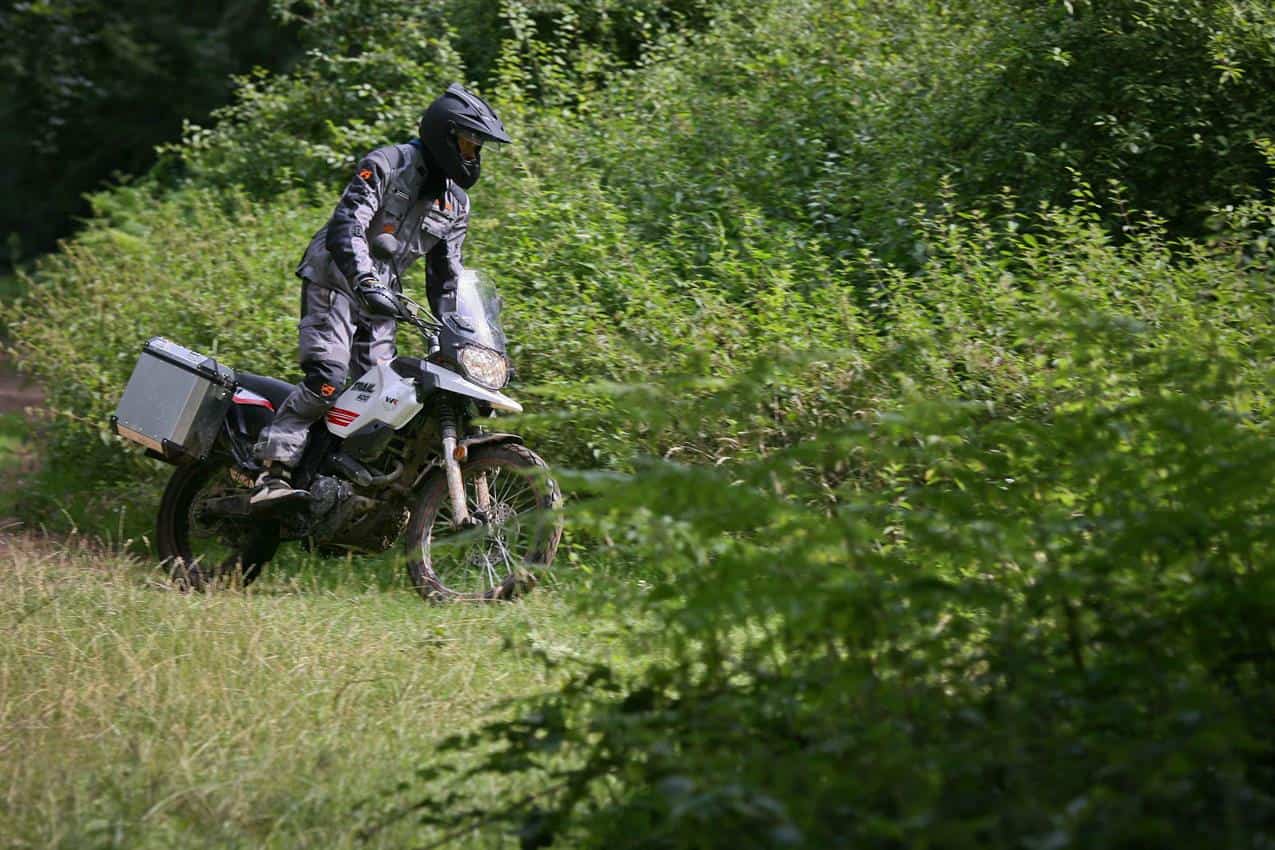 BIG TANK
The 18-litre fuel tank is a wonderful thing. Without radiators or associated plumbing to take up much needed volume, the WK can have a big tank yet be neatly narrowed for comfortable riding whether stood or seated. With the accuracy of fuel injection we were recording impressive fuel economy too, 67 and 68mpg on the two refills we made. Of course we didn't need to refill, these were occasioned by the Honda, which despite offering 80mpg has such a small tank that the rider gets nervous from about the 110-mile mark. So the news is even if you fitted one of those 12-litre tank options to the Honda, the WK would still outlast it by a good 60 miles – yeah, by our calculations the WK is good for 270 miles at a go. That's a gold medal effort in travel bike terms.
We did some night riding and that was the WK's one real weakness. The twin bulb headlight was too weak whether on dip or main beam, in fact more light was reflected backward by the screen than actually lit the way. The Honda's, by comparison, is light years (groan) ahead.
BIG LOVE
High hopes, low expectations (a strap line to English test match cricket up until the last Ashes series) that's how we came into this test. And actually the WK 400 Trail not only exceeded our low expectations, but it gets very close to fulfilling our high hopes.
The build quality is a step-up again on what we've seen on previous Chinese bikes. Still not quite Japanese standard, but closer again, much closer. And the performance is there; this engine – as it ran-in – was getting better and better. Perfect for a plod along the lanes, smooth and easy at 60mph on the tarmac. In fact it was faster than most of the traffic we encountered and so we did a fair bit of overtaking – which needs a bit of planning as there's not much more than about 75mph at the top end and only modest acceleration from 60mph onwards. There's enough comfort and there's more than enough in the way of what the Yanks call 'farkles' to keep the fiddler come kit-fetishist happy.
What's most important though is this bike has spirit. It's the one aspect of a motorcycle that's the hardest to engineer and so many bikes fail because of this, but the WK 400 Trail is a happy, willing workhorse of a bike and even with the shortcomings we've listed it's still a bike we'd look forward to riding. That motor is a good one. That chassis and the ergonomics are good as well. It's inviting and when you ride it, it's satisfying. Given a fettle it'll probably be very good indeed.
Big question – will it last? Quite probably it will. Our mate Chris Scott found a couple of guys from Germany/Italy who in 2014 made a 20,000km trek from China to home in the Alps – and yes one of them was riding a 400 Trail (badged Shineray X5 as it was a home market example). It crushed some wheel bearings along the way, but was still in fine health after 127 days of non-stop adventuring. That sounds well-tested to us.
Of course this was a short 'first ride' type test. But we rode the kind of roads that suit this kind of bike and the right kind of trails too. No, it won't do enduro the way an XR or DRZ can, but then it was never designed to. As a travel bike, though, it's quite possibly the best attempt we've seen from any manufacturer to date. A clever bit of kit. Not flawless obviously but at under £4000 brand new with 24 months warranty, pretty impressive. This Shineray team – they clearly know a thing or two…
2015 WK 400 TRAIL
Specification
Engine air-cooled SOHC single-cylinder four-stroke
Capacity 397cc
Bore & stroke 85x70mm
Compression ratio 8.8:1
Fueling Siemens fuel Injection
Ignition CDI/ECU
Starting Electric only
Gearbox Five speed
Clutch Wet multiplate, cable actuation
Final drive Chain
Frame Steel tube, linkage rear suspension
Front suspension 43mm 'Fast Ace' forks, travel 210mm
Rear suspension Monoshock 'Fast Ace', linkage, travel 200mm
Front brake 280mm disc, twin-piston caliper
Rear brake 220mm disc
Tyres 90/90-21 130/80-18
Claimed dry weight 151kg
Seat height 890mm
Wheelbase 1460mm
Claimed power 29hp at 7000rpm
Claimed torque 23.9lb.ft at 5000rpm
Top speed 75mph indicated