Husqvarna's Terra 650 is an interestingly-styled, heavyweight, dual sport trailie. Barni broke the ice with the Italian machine… Quite literally.
The Husqvarna name has long been synonymous with big-bore four-strokes. Looking back into the end of the last century, in enduro terms that usually meant half-litre monsters piloted by burly Scandinavians who knew how to get the best from a big thumper; and if all else failed had the stature to pick the bloody thing up and carry it on their back. And when it comes to dual sport trailies, well for as long as I can remember there's been a 600cc (or thereabouts) TE model in the 'Swed-alian' marque's range.
But for 2013 the biggest TE you can buy is the 511. Despite the good ol' 610/630 lump undergoing numerous changes in recent years, including power-up mods; fuel injection; and, most recently, the adoption of a twin-cam cylinder head and an increase in displacement, the old motor has now been, erm… euthanised.
It's easy to speculate why. With BMW now pulling the Varese strings, the German bean-counters doubtless questioned why they were producing two different DOHC, six hundred cee-cee single cylinder trail bike engines (both of which date from beyond the last Ice Age), when surely one would suffice. The Italian lump drew the bottle of schnapps and the pearl-handled Luger…
However, despite BMW building a range of their own trailies, it wouldn't really make sense to leave a gap in the range of their 'off-road arm', and so we're now blessed with Husqvarna's TR models: the 650 Terra you see here, and the more roadified 650 Strada, with its 19/17in wheels, which both use BMW's well known and rather well utilised 'Rotax' engine.
The Terra also comes in two different variants, which essentially boils down to whether you want ABS or not. Buy the bike without, and it comes with an 18in rear wheel to complement the 21in front and give you a wide choice of 'proper' knobbly tyres. But with anti-lock brakes comes a 17in rear hoop. Given the dual sport nature of the bike, and the fact that you can switch the ABS off, we'd quite like the wheel size to be an option rather than the braking set-up. But it's not!
Ice Blocks
The first stop for our non-ABS Terra was not the trails, but the scales. Although some previous Beemers that have used this engine (such as the G650X range), haven't been overtly weighty, others – especially the old F650GS – have been as heavy as your great aunt's Christmas pud. Unfortunately the Husky is nearer the latter, and wearing the optional bashplate and handguards, it tips the scales a smidgen north of 180-kilos. The bike it replaced, the TE630, was 153kg.
Though it's a big old figure, it's not such a big surprise. There's little evidence of weight saving and much more of the kind of built-to-last detailing and features we'd expect of a German dual-sporter with 6000-mile service intervals and a two-year warranty: proper clocks and switchgear; large bar-end weights; a sturdy rear rack; and chunky steel frame and swingarm. At least both of those twin tailpipes are put to use, unlike certain 650GS models, where the second silencer was 'just for show' and blanked off!
And the Terra isn't styled like a traditional dirtbike. That thick roadbike-quality bodywork certainly bears a resemblance to the 449/511 models, though at the same time the pointy rear-end and 'scarab'-shaped tank owe a lot to modern naked bikes, not least Husqvarna's own Nuda.
It's divisive styling too. The ice white headlight, front fender and back-end are as sharp as the hoar frost which remained with us for our entire day's testing, and there's something about the sit-up-and-beg front-end that looks like a preying mantis rearing-up on its hind legs. But it's still quite a pretty bike, and along with all of those sharp edges it still retains the factory's trademark swoopy lines. A set of knobblies and a few off-road mods, and it'd take on a pleasantly aggressive edge. It certainly grows on you…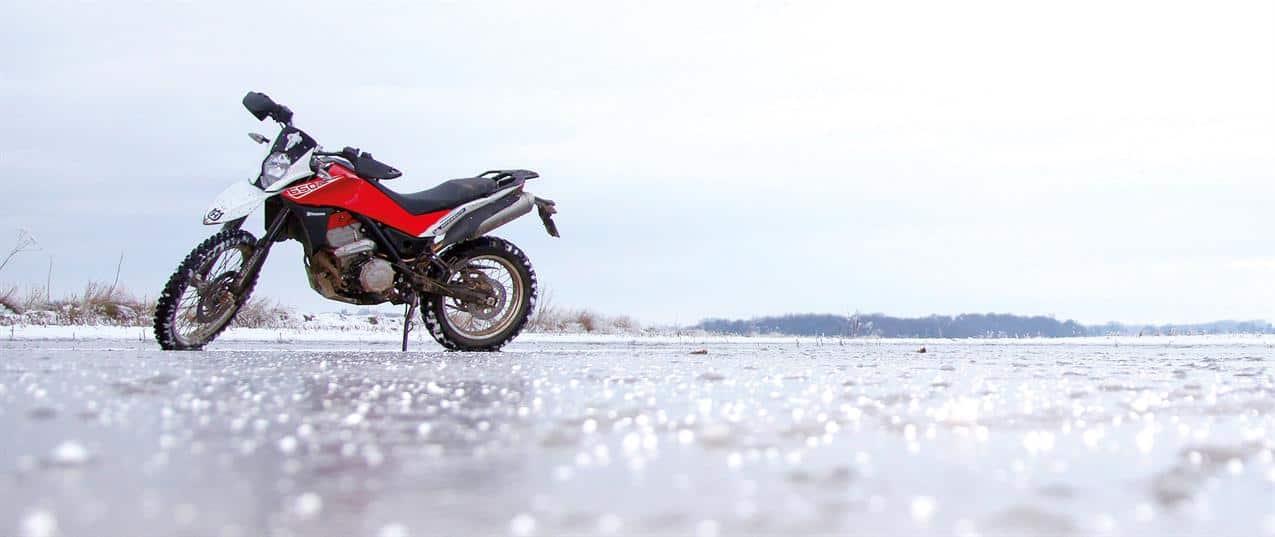 Ice Skating
Once you've settled into that soft, sculpted and reasonably low seat (875mm, or 865mm for the ABS bike), thumbed the starter (there's a curious delay between pressing the button and the motor turning over), clunked into first gear and got those wheels in motion, the Terra doesn't feel overtly heavy.
The trails are frozen hard, dotted with patches of ice and a dollop of snow, yet the Terra slithers along them in a decidedly manageable manner. No doubt the knobbly front tyre we asked for, as opposed to the stock trail item, is earning its keep but I can't help but think back to the last time I rode the 650's predecessor and the overwhelming feeling of stability that bike gave. The TR is similar in that respect.
Maybe it is the weight, maybe it's the relaxed geometry; whatever it is, the 650 feels glued to the ground and incredibly predictable. Somewhat unpredictable is the strength of the ice on the puddles – briefly supporting both bike and rider, and leading to a few scary moments as all semblance of grip is momentarily lost. When the ice does shatter, the Husky regains its poise and ploughs on through like an Antarctic icebreaker.
Riding at low speeds, feet-up, using the impressive steering lock to try to pick my way around churned-up ground without slithering into the deep ruts which border the track, the Husky shows a slight weakness. I'm having to slip the clutch an awful lot to prevent the box-fresh motor from stalling. The TR is incredibly tall geared. This may be good for fuel economy and for relaxed cruising on the road, but it doesn't help you negotiate your way around deep holes or loft the front-end over an awkward tractor rut.
The cable clutch isn't what you'd call heavy, and the lever is span-adjustable, so I'm not too put-out having to work it so much. It's just that the action isn't as nice as that of a modern hydraulic part.
Sometimes though, the old ways are the best, and were I heading off on a jaunt to far-flung lands I'd much rather be relying on an easily fixed cable than a hydraulic system. The same applies to the rather nasty-looking yet easily mended steel gear- and rear brake levers. They'll be far simpler to weld or bend back into shape than alloy versions should you tangle with something a long way from home. I don't for a minute think that this was the reasoning for such engineering decisions – building the bike to a price is far more likely – it's just nice that there's a tangible benefit to the rather obvious cost-cutting.
Iced Up
On open hard-pack tracks less affected by the passing of hooves and chunky agricultural tyres, we can pick up a little speed. The motor's much-maligned notchy gearbox doesn't see much action, as second and third are all that's required to whisk us along at a decent pace.
This increase in speed brings with it a real test for the suspension – unadjustable 46mm Sachs units upfront and a preload- and rebound-adjustable Sachs part at the back. Softly set up, on the flat it gives a wonderful level of feedback from the tyres. Throw in some bumps, in this case a series of dug-out puddles, and the weight suddenly makes itself known.
It's not just the bodywork that belies the Husky's tarmac-focus, as the relatively short-travel suspension shows that it's the most road-biased 'big trailie' we've seen from the Italian factory. With only 190mm of travel at each end, and bearing in mind the bike's weight, you do have to make allowances for the unsophisticated units, and temper your enthusiasm accordingly. On a UK rally it'd be all too easy to go blatting into an obstacle, buoyed by the bike's rock-steady demeanour, only to find that you've run out of suspension. And when all those kilos start to go in a direction you didn't intend, well you soon know about it. A KTM 690 Enduro will run rings around it on dirt.
But racing……? Well that's not really this bike's niche. It'll certainly cope on that kind of terrain should you need to get to some out of the way place on your global travels. And meantime on the tarmac that'll make up a good 95 percent of your journey, you'll have a ball, making the most of the modifications the factory have made to the Beemer engine. Claimed power is up ten bhp to a rather healthy 58 horses! And to achieve this increase they've made numerous physical changes to the motor.
First up, they've fitted a lighter weight, high compression piston and reshaped the combustion chamber. The cam timing has been altered, and then the fuel injection and ignition settings have been adapted to suit.
The result is a welcome increase in oomph, especially up top, without sacrificing that wonderful low-end tractability the Rotax lump is renowned for. It's just a shame that the performance is somewhat dulled by the tall gearing as standard.
Crack the light-action throttle and there's no real urgency to the delivery, just a steady dollop of ever-increasing power. Admittedly this does complement the chassis beautifully and results in a very relaxed ride – after all, this is a dual-sport trail bike and not a competition oriented machine. Only when you got plenty of revs dialled-in do you get any serious punch from the 652cc lump, and even then it's really more of a 'surge'. Hopefully it won't be too long before the aftermarket cottons-onto the bike's need for some new gearing and a choice of sprockets are freely available.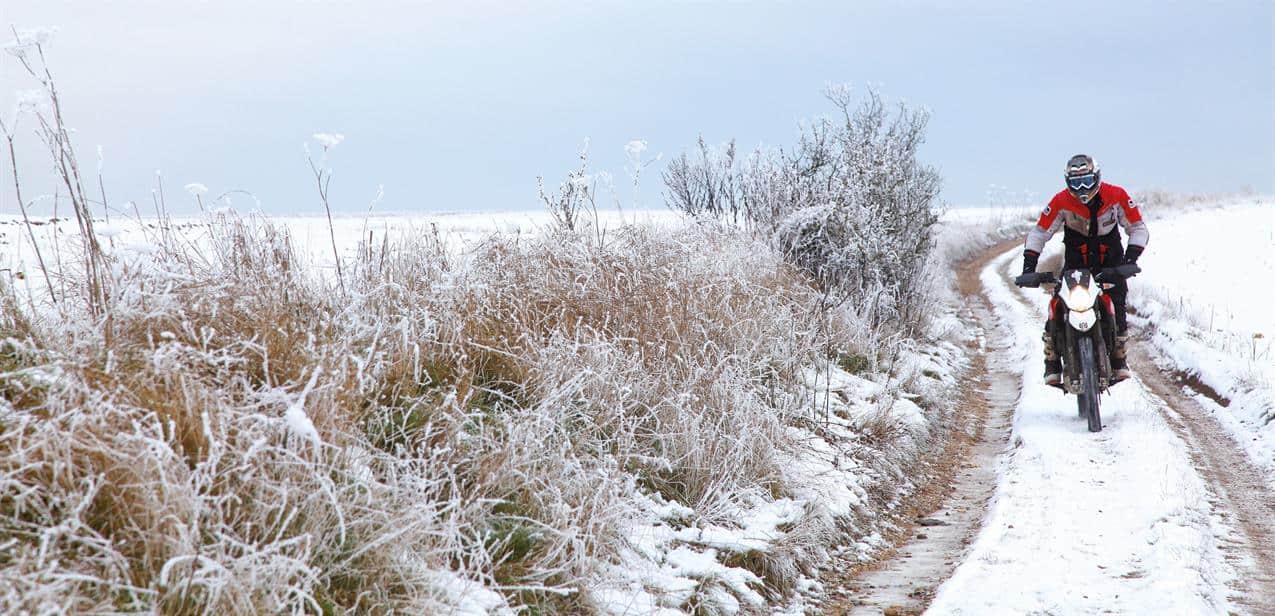 Unlike its Austrian opposition, there's no pronounced step in the TR's power delivery to catch you out. And that's certainly welcome in sub-zero conditions. Wending our way between snow covered fields; along frozen mud tracks; down stony trails and not least through a slushy ford that's lethally slippery at the best of times, I'm very thankful for the Husky's predictable power. Provoke the bike into a slide, or even get caught out by a sudden loss of traction mid-turn, and it's all too easy to catch it with a dash of opposite lock and ride it out without worrying about the back-end overtaking the front. And, as we've said of this engine many times before, it feels as though it'll claw it's way up almost any slope. It may not be high-tech, it may not have the cache of competition variants (not currently, anyway) and it may seem a bit of an old thudder (not that the vibes are particularly intrusive), but it's still a fantastically versatile motor.
Complementing the motor is a braking set-up – single front disc with twin-pot Brembo caliper, and a matching rear – which proved to be just about perfect in the conditions. In fact, the only time it didn't inspire the confidence to grab the lever was when confronted by a river of ice, flowing down the rut I'd chosen, and that's not really a criticism that can be levelled at the brakes! Steady as she goes, and a quick prayer, got me through that.
Whether it will prove to be quite so impressive slowing the bike on a fast, deserted Moroccan piste or on a congested autoroute I couldn't say. But in such treacherous conditions I was more than happy with the way that I could tell exactly when it was going to lock-up, and just how much harder I could squeeze the lever. Whether you'd agree may well depend upon how much dirt you see aboard the TR. There's always a compromise in dual-sport brakes, and that invariably favours off-road feel for on-road stopping power. Monster brakes, long travel suspension and skinny trail tyres rarely make happy bedfellows…
As Cold As Ice
Taking to the tarmac, the 650 is reminiscent of the old F650GS (or its latter day G-GS equivalent, anyhow) only with a fitter engine. The weight rarely becomes an issue, and instead you enjoy threading through one set of flowing turns into the other, maintaining a smooth riding style…
Just as well really, as with the countryside painted a glistening shade of Wintery White and the roads daubed with spots of black ice, this was never going to be a flat-out backroad blast. There's certainly some laughs to be had on the TR, especially if you do get around to lowering the gearing for some added corner-exit punch, but not on this day.
Even running mismatched dirt rubber (our specification, not standard), the Terra was as surefooted as it had been on the trails. The supple springing gave great feedback from the tyres, and with all that weight pushing it into the ground it felt rock-solid on the slick country lanes.
You don't dive into corners like you might on a supermoto – the geometry's a little too slack and the soft suspension unsettles the bike if you do – rather, you carve through them like a speed-skater, scribing a constant radius arc through the turn. It's a pleasantly relaxed way to ride, and perfectly suits this style of bike.
The braceless bars are set low for road handling rather than trail comfort (taller riders might want to think about fitting some risers), and the seat certainly works better when you're not trying to shift your weight around on it, dirtbike stylee. Although it forces you into more or less one position, it is comfortable enough to spend hours onboard without feeling saddle sore.
Getting away from the rural roads, the smooth throttle response is particularly welcome on greasy suburban streets, where hoards of car drivers rush to get home, viewing a soft focus world through misted-up glass. The motorway gives me a chance to open it up, and the Husky responds with a much stronger pull than expected. Even through the too-tall gearing, the midrange and top-end feel much improved since the last time I rode a bike featuring this engine.
Fifth gear seems like an overdrive, though. At 70mph the motor is spinning at around 4500rpm… and peak power doesn't arrive until 7250rpm! I wonder to myself whether it'll actually pull right through to the 8000rpm redline, and if so what speed I'll be doing by then. But it's a fleeting thought, as I'm more concerned with the gently swaying bars (no doubt a side effect of the knobblies we asked Husky to fit), and the absolutely bitter windchill on the test day. The optional screen arrived too late to be fitted to our test bike.
Some heated grips would be welcome right now, and indeed you can spec them on the Terra. Opt for aftermarket parts, however, and if you intend to splice them into the bike's loom rather than running them off the battery, then you really need the help of a Husky dealer. The bike's brain requires telling about such modifications, so that it doesn't flag up a warning or throw a hissy fit. Fortunately, for those looking to take to the trails, removing the rather vulnerable-looking sidestand cut-out switch should be a much easier task, and if you know what you're doing it won't cause an issue with the onboard diagnostics.
As I pull off the motorway, it occurs to me that I haven't really noticed the vibes from the Rotax motor. Those large bar-end weights and thick road bike grips do a lot to isolate your hands from the thudding engine, and even though I've consigned the footpegs' rubber cleats to my jacket pocket, I can still feel my feet. Should you spend all of your time on the road you might want to keep the cleats in place, but removing them (no tools required) does elicit some grip from the basic, not to mention fairly small, steel pegs.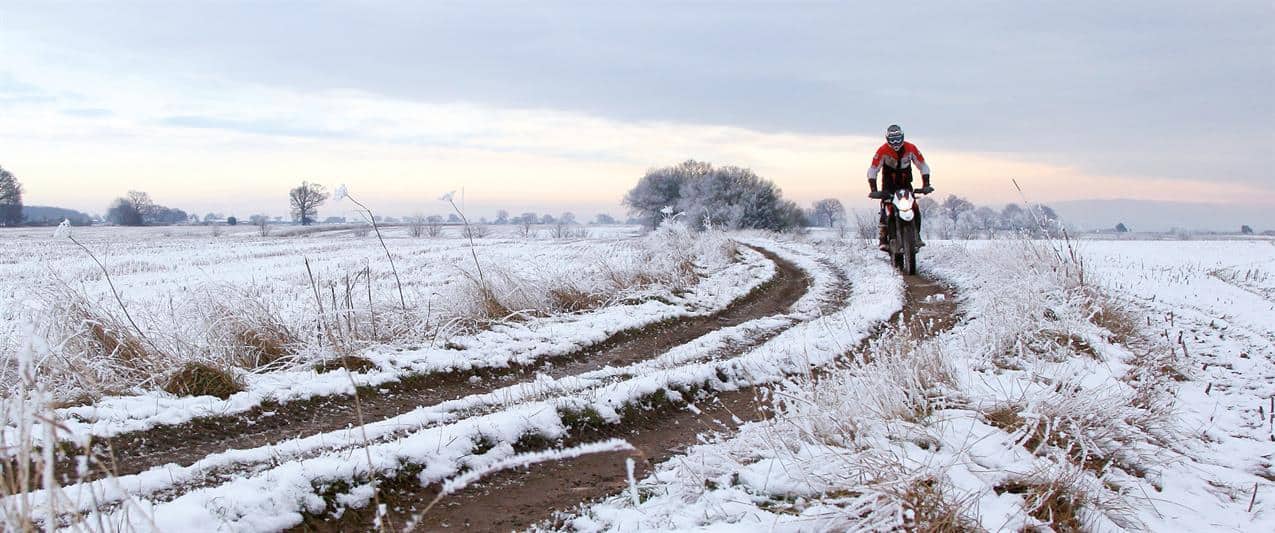 On the trails you barely look at the cockpit, whilst on the road there's much more time, and more of a need, to glance at the dash. It's an area where the Terra appears built to a price, as the clocks look like fairly budget items, and their orange backlighting doesn't make them particularly easy to read after dark. Personally, I'd rather the digi display was given prominence over the rev counter too – it's not something you really worry about on a bike like this. The switchgear and controls look and feel similarly 'inexpensive' also…
Unfortunately, we didn't get the chance to test the Terra's fuel efficiency, as it'd be interesting to see if Husky's performance mods have dented the Rotax motor's renowned frugality. Knowing just how many mpg you can get from single-cylinder Beemers, we'd guess that a steady right hand should see you achieving at least 170 miles out of the 14-litre tank, especially given the stock gearing!
The Icing on the Cake
Whilst I'd imagine a lot of people were put-off buying the Terra's predecessor due to its Italian engine – a largely unknown powerplant to your average road biker, even if its lineage does go back decades; the ubiquitous Beemer engine could make the TR a rather more attractive proposition, especially if they like the idea of a G650GS yet don't want a bike sporting a blue 'n' white roundel.
It's a shame Husky didn't (or weren't allowed to) build a big trailie with a fairing and a larger tank, because whilst the Terra is a very likeable bike, historically the UK market hasn't really warmed to 'naked' big trailies, and there seems to be a real distinction between those adventure bikes which feature a fairing, and those that don't. So it'll be interesting to see how the Terra sells. At £5271 (on the road at time of going to press) for the non-ABS version it's good value, and even when adding the anti-lock brake option it remains under six grand (£5971 at time of going to press).
Certainly the Rotax motor is viewed by most as a tough old lump, and with that in mind it could make a good choice for anyone looking for a (brand) new bike to take overlanding. It's about as basic as any modern machine, without too many fancy features or exotic accoutrements, and Husky offer both soft and hard luggage to suit. Bolting on some more heavy duty off-road parts (such as stronger bars and bigger pegs) would doubtless be incredibly straightforward too.
It's a shame to lose the TE630 as it was a pleasant enough ride, even if it did have something of an identity crisis – a little too basic for the road, but not dirt-focussed enough for really tough off-road use. The Terra has moved away from the TE's dirty pretensions into that broad marketing environ they call Adventure Sports. But it does look to fulfil almost everything you might want, or at least expect in a mainstream big-bore dual-sporter; low maintenance; capable on both road and trail; and inexpensive to buy and run. And therefore ought to appeal to a wider market.
And if nothing else, that funky Italian styling might make a good ice breaker with anyone you meet on your travels…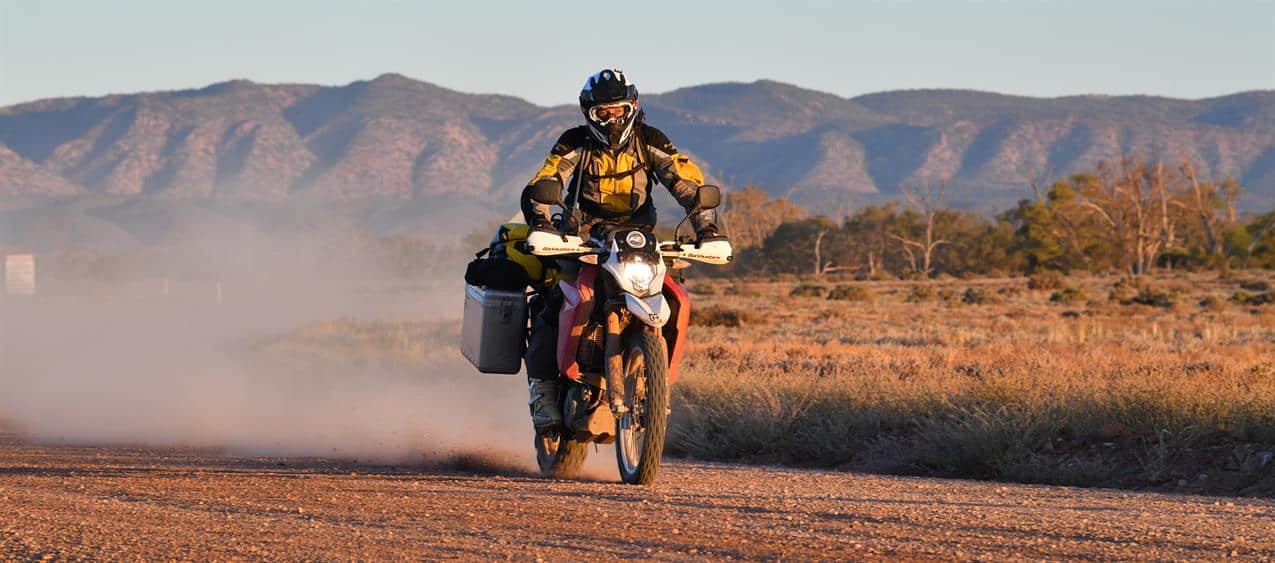 JB got to ride a Husqvarna TR650 Terra on the Touratech Australian expedition, read about his experiences and what he thought about the bike by clicking the link below…