KLIM, the premium off-road and adventure apparel manufacturer has revised its Carlsbad adventure jacket and pants for 2020. KLIM are well known for their premium kit, such as Adventure Rally suit that retails for a princely €1699 for the jacket and €999 for the jeans – we'll assume they're the last word in adventure clothing. But the Carlsbad combo is a different breed, bringing many of KLIM's premium attributes to a more affordable 'mid-range' price point – the Carlsbad jacket starting at €700 and the jeans at €580.
KLIM say they are following the "less is more" trend in adventure motorcycling, where manufacturers are increasingly making smaller, cheaper adventure motorcycles, and as KLIM say 'with compelling results'. So the second generation of its Carlsbad combo is targeting exactly this market segment, which while more budget oriented is still all about long-distance off-road travel, demanding rides far from paved surfaces, all the way to rally racing.
The new Carlsbad does then focus on the essentials. The results, say KLIM: great freedom of movement and comfort due to low weight and excellent ventilation; abrasion-resistant materials; supreme protection; and an abundance of storage.
The outer shell is manufactured in Gore-Tex. Ventilation – that constant adventure requirement – comes in the generous forearm vents that can be zipped in both directions, providing either limited ventilation or a completely open sleeve from the cuff to the elbow, while chest and back vents keep the torso dry and cool; in all six vents. There's ventilation through four vents in the pant, too.
Safety is not overlooked, the suit featuring a complete set of D3O Level 2 armour and large 630D Cordura overlays in key areas. There are 16 pockets, 14 in the jacket, two in the pants – yeah, we do like our pockets – so finding your keys might take a while. Particularly advantageous, say KLIM, is the over-sized, waterproof chest pocket – perfect for maps.
The colours are all bang up to date, with choice of Asphalt Gray, Navy Blue, Sage Hi-Vis (Tan), and traditional Black for the jacket. The pants come in Asphalt Gray, Sage Hi-Vis (Tan) and Black (no blue).
Find out more about KLIM and KLIM Europe at www.klim.com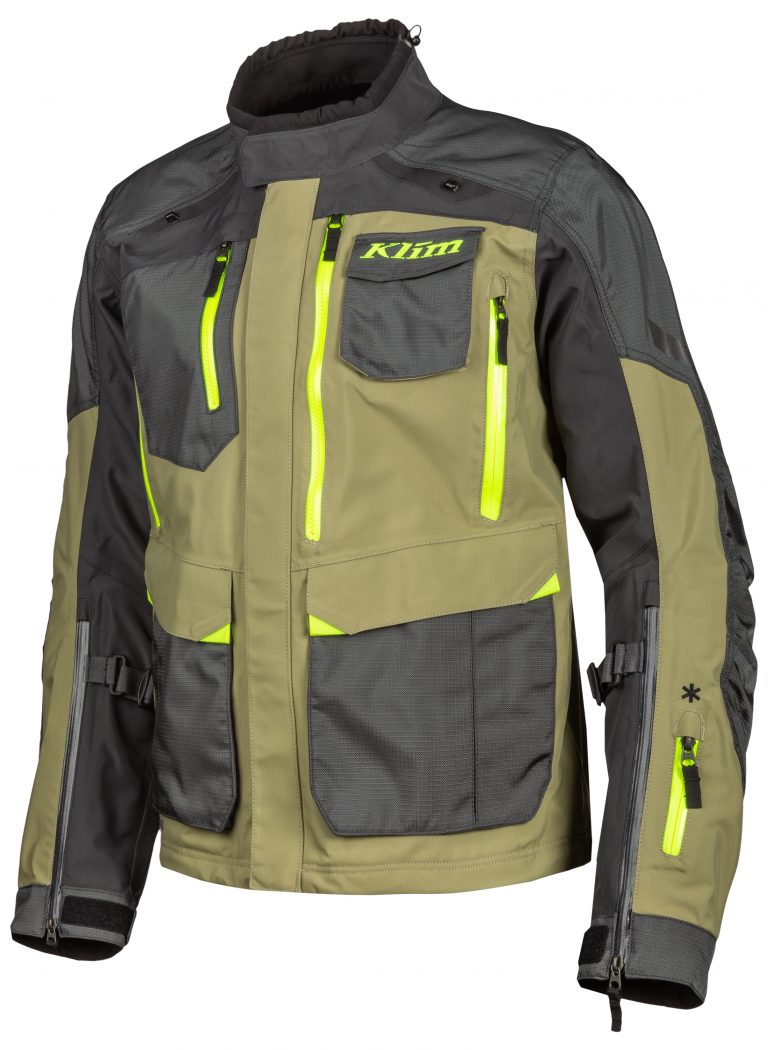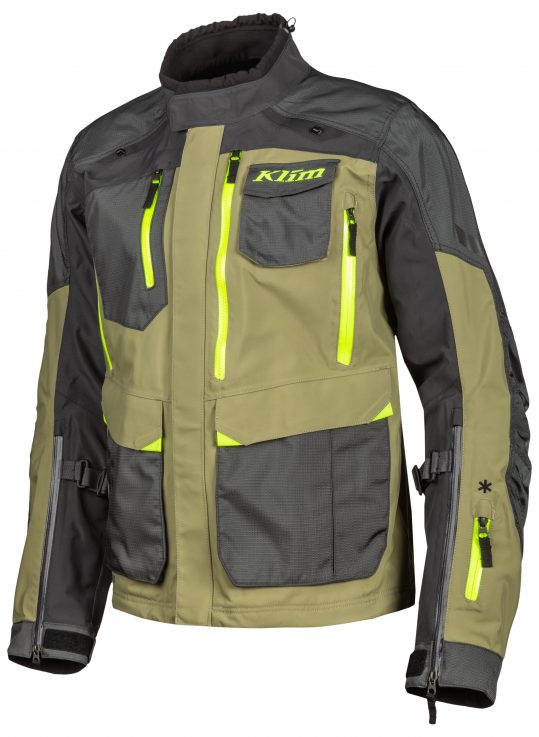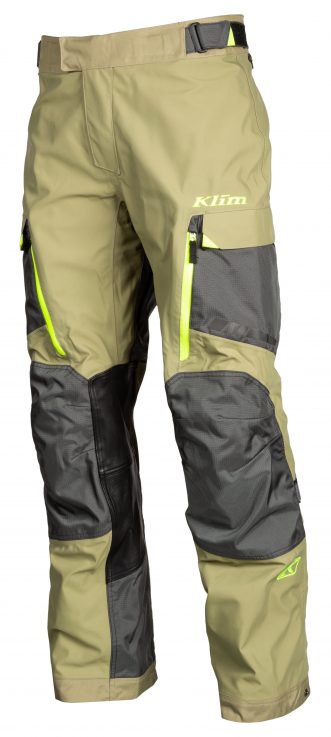 TECHNICAL SPECIFICATIONS:
JACKET:
GORE-TEX PERFORMANCE SHELL,
  DOUBLE-LAYER LAMINATE
GUARANTEED TO KEEP YOU DRY
630D CORDURA® OVERLAYS
  ACROSS THE FOREARM AND
  SHOULDERS
3M™ SCOTCHLITE™ CARBON BLACK
  REFLECTORS
D3O® CE LEVEL 2 LP2 ARMOR ON
  ELBOWS, SHOULDERS, BACK
6 WATERPROOF VENTS
14 POCKETS
ADJUSTABLE HEM, FOREARM,
  CUFFS, COLLAR
MOISTURE-WICKING ANTI-ODOR
  LINER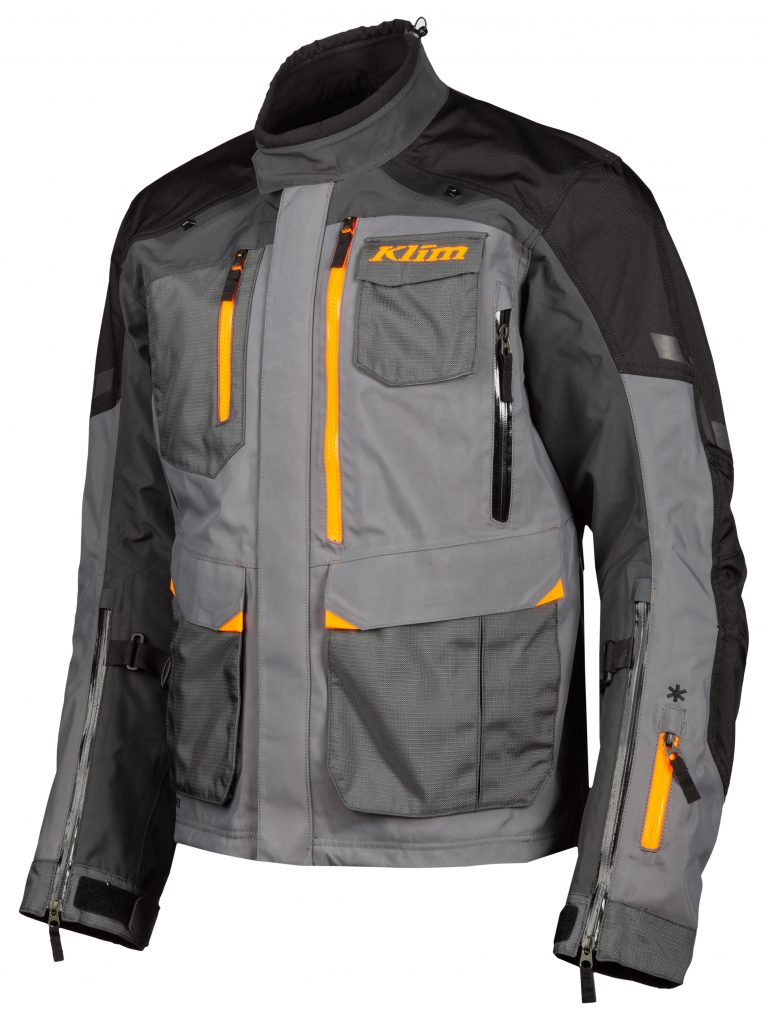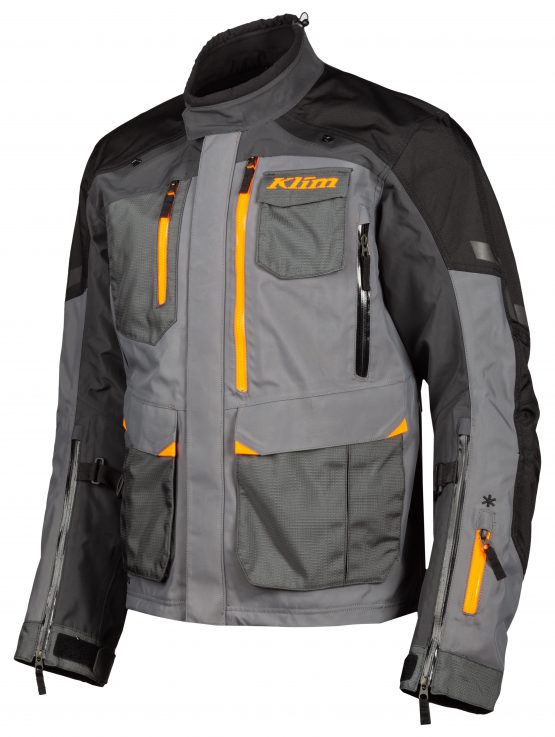 PANT:
GORE-TEX PERFORMANCE SHELL,
  DOUBLE-LAYER LAMINATE
GUARANTEED TO KEEP YOU DRY
630D CORDURA® OVERLAYS ON KNEE AND
  BUTTOCKS
3M™ SCOTCHLITE™ CARBON BLACK
  REFLECTORS
GOAT LEATHER OVERLAYS ON INNER KNEES
CORDURA® INSIDE KNEE AND CUFF FOR WEAR
  RESISTANCE
D3O® CE LEVEL 2 LP2 ARMOR, KNEE AND HIPS
4 WATERPROOF VENTS
2 POCKETS
MOISTURE-WICKING ANTI-ODOR LINER
CUFF DESIGN ALLOWS PANT TO OPEN FOR BOOT
  AND KNEE GUARD ADJUSTMENT