I've always said the best crash protection you can have is you – the rider. Build up your skills and ride with your brain engaged and you'll do more to protect your bike (and your body) from damage than all the crash bars (and body armour) on the planet. We've all seen those overloaded adventure bikes with every accessory appended (heck I've ridden more than my fair share of them), and you get to question just what the rider/owner is achieving. Often it's a matter of adding more weight to an already too heavy bike.
None of which is the correct preamble for this update on the KTM 1290 Adventure R – for here I am adding weight to an already heavy bike. But my point (here) is, choose wisely and you can find a happy middle ground where you improve the bike's protection without overly penalizing it with too much mass. And I'm adding this stuff because – woohoo – the KTM and I (and July on a KTM 790 Adventure R) are off to the Adventure Spec Challenge Isle of Man 500. And while I trust course designer Robert Hughes to be very careful in his choice of tracks, so we shouldn't have any cause for concern, my previous experience of Manx trails is they can be pretty challenging, especially if the weather goes against. So no better time to get protecting.
So here's what I've selected, all of it from KTM's Power Parts catalogue (yes, I'm a lazy one-stop-shop kind of a guy!), in order of importance:
Radiator Protection Grille £69.24
Made of laser-cut aluminium that's then powder coated, this is my number one must-have. Radiator protection is I think a priority because even if you never crash (my objective!) you're never-ever safe from some rider (not what I call them on the trail) roosting you, and one wee rock/stone flicked off a spinning knobbly is all it takes to hole a radiator and bring everything to an untimely stop. KTM's OEM guard is pretty good but this item is ultimate peace of mind and weighs very little.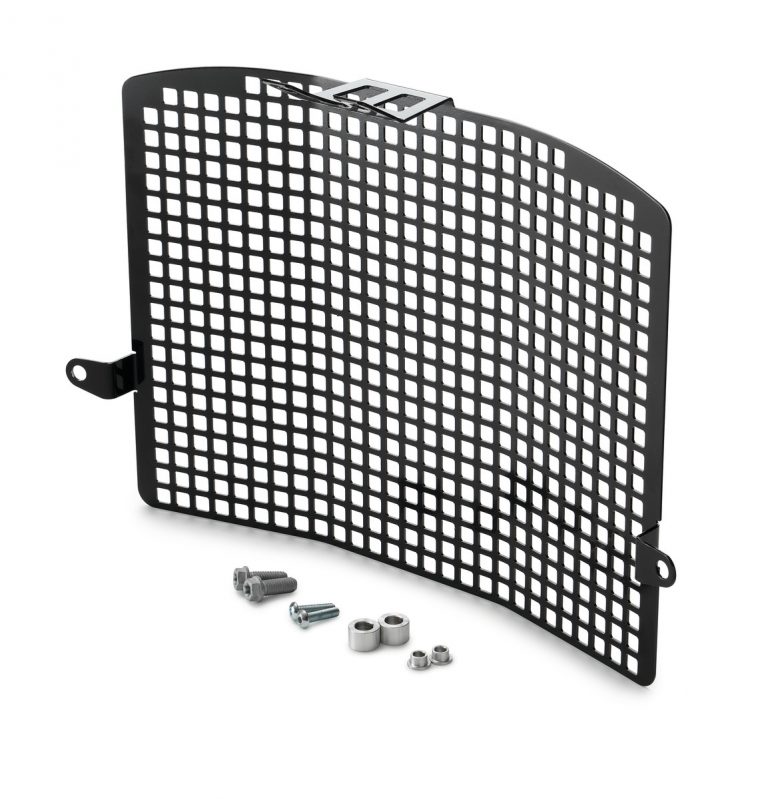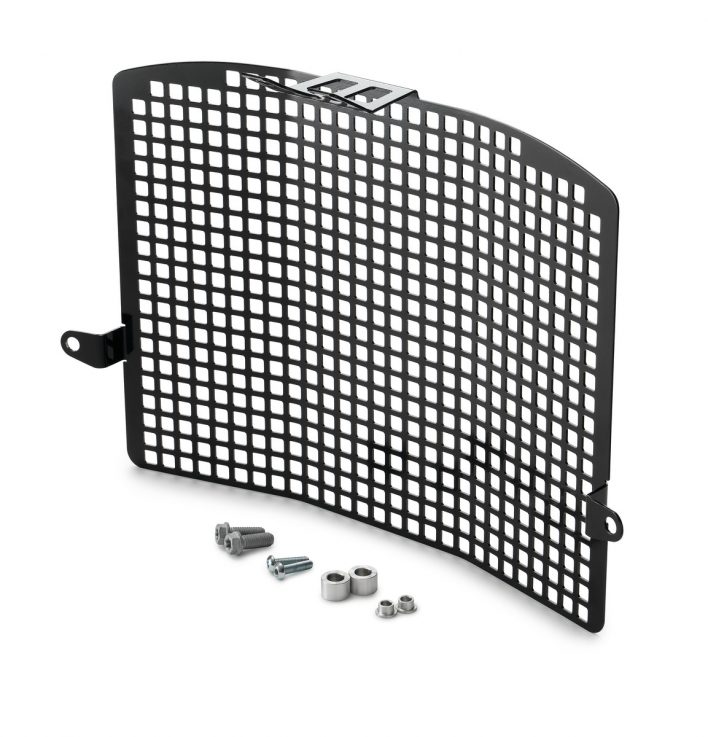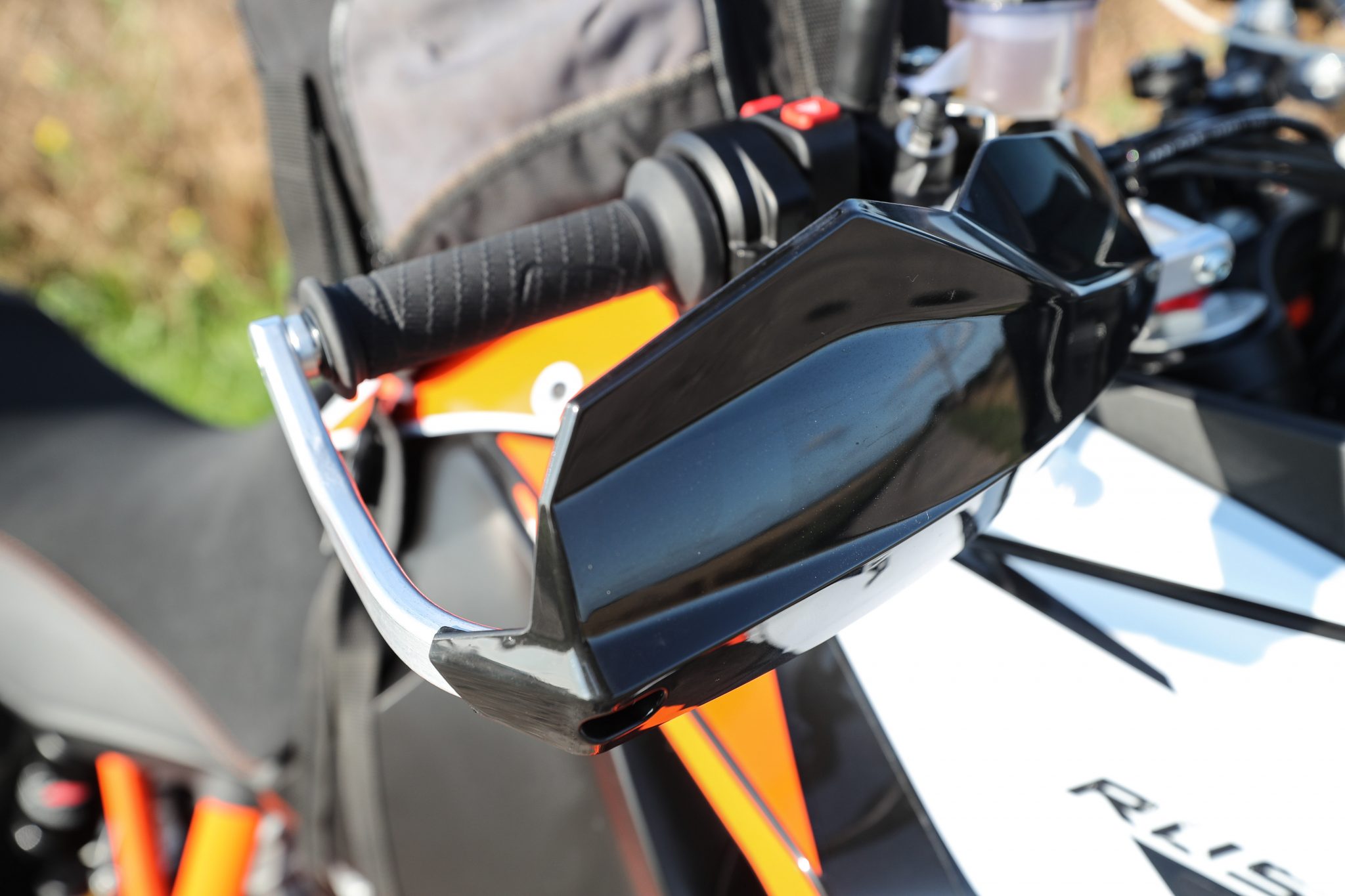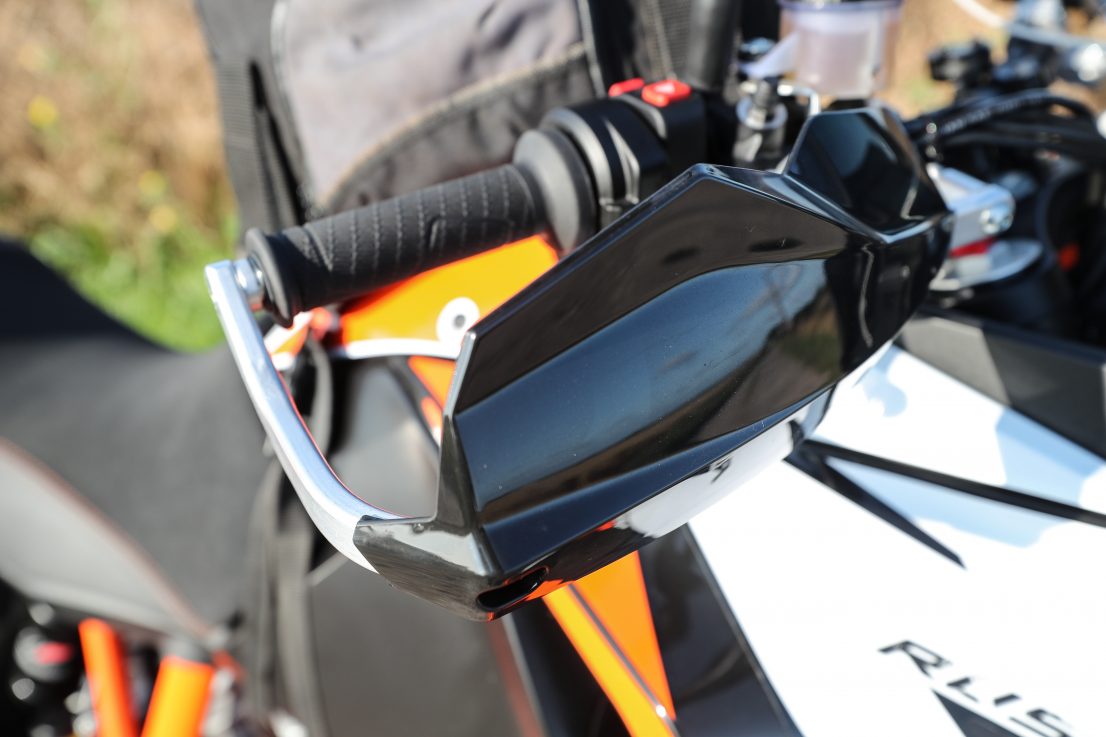 Handguard kit £86.70
Again, this is worth it even if you don't crash because sometimes you just end up laying a bike over, or it falling off its stand, and a broken lever is a royal pain if like me you never remember to pack spares. With this handguard kit, with the all-important aluminium strengthening bar, nothing short of a super high-speed get-off is going to mangle those levers. And of course you need handguards of some substance just to deal with the gorse and other pricklies that line the tighter tracks, especially in the IoM.
Skid plate £244.26
Now for the most part I could avoid this expense because the KTM has decent ground clearance and as a rule I stay away from rocky protruding objects. For 95% of riding it's not really necessary, careful riding is enough. Only again I've seen many a rock step on Manx trails and you only need to roll off one steep step, not thinking – or muff the little leap-down – and with no under-engine frame rails you've got an engine sump and an exhaust that's going to take a big impact. In 6mm aluminium plate this is heavy duty kit that's heavy – but it is at least positioned low-down so you don't feel the weight so much, if at all. And so far I've not noticed it reflecting engine noises anymore than the standard mini-plate. Result!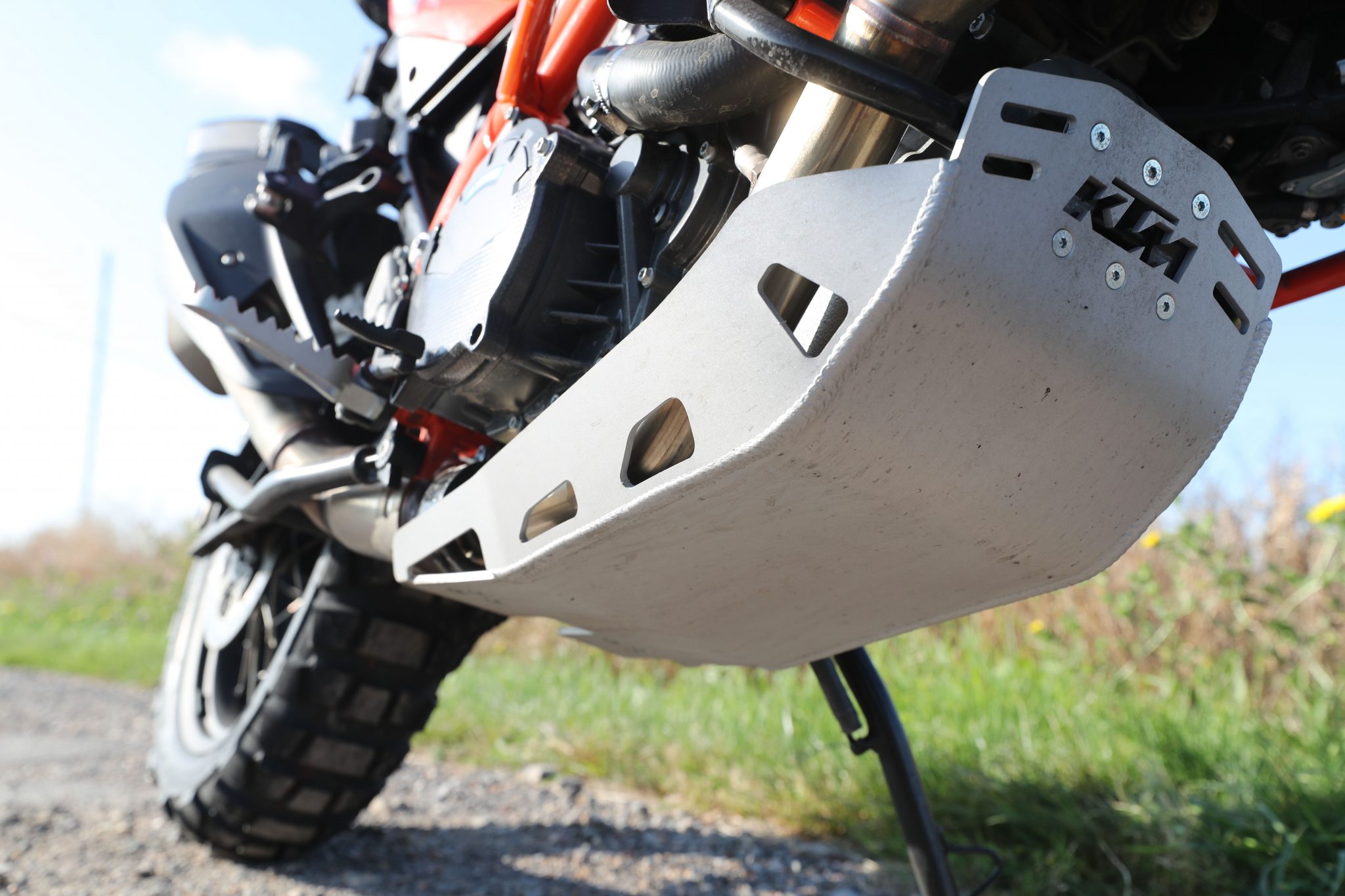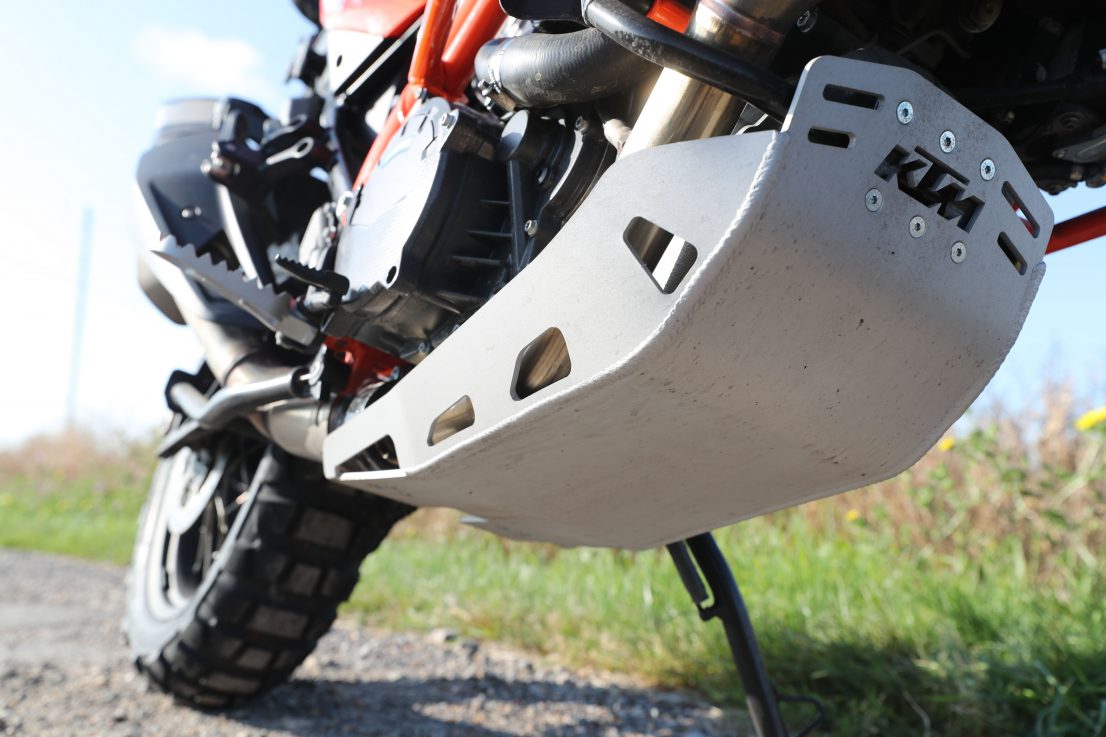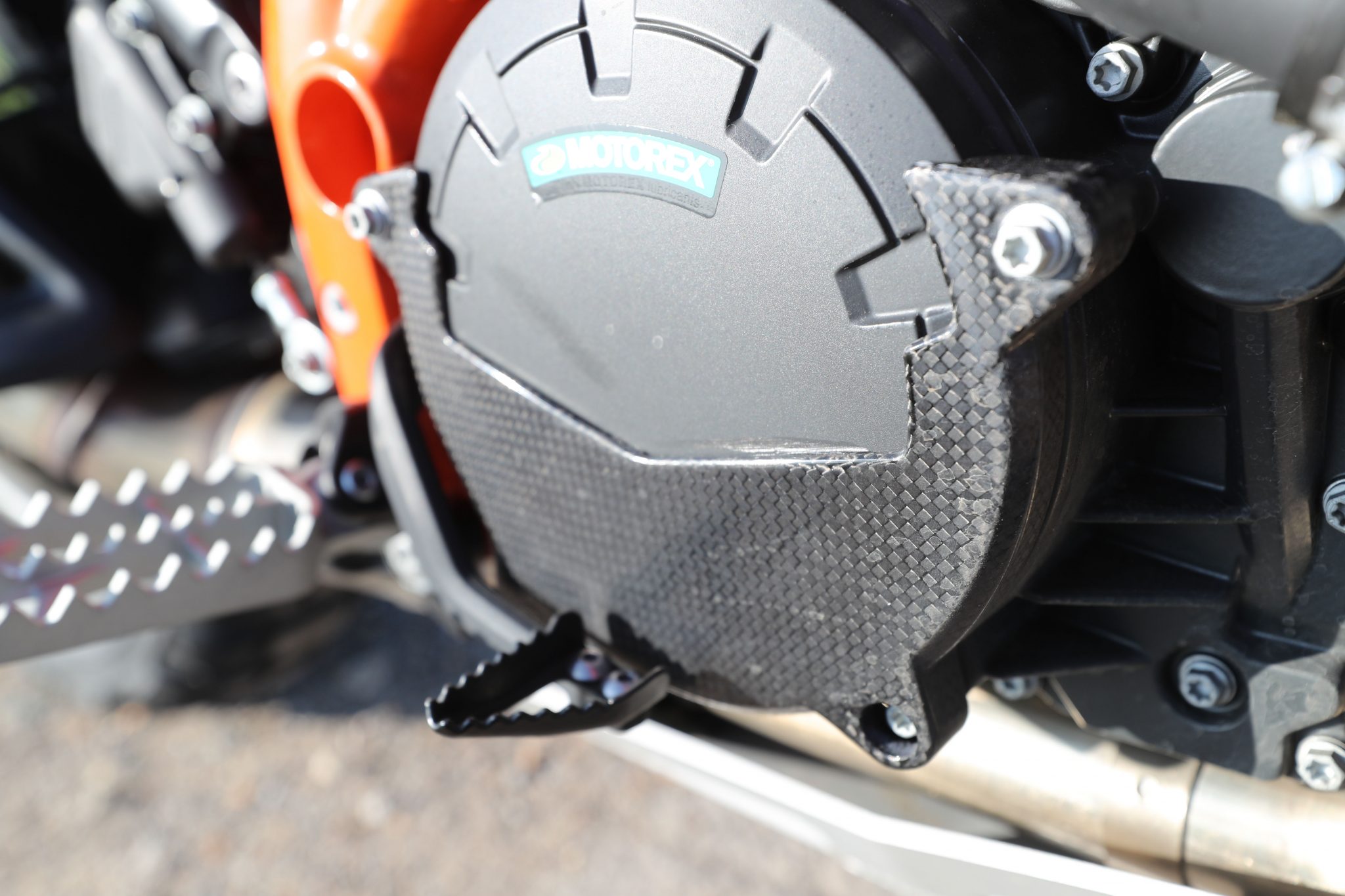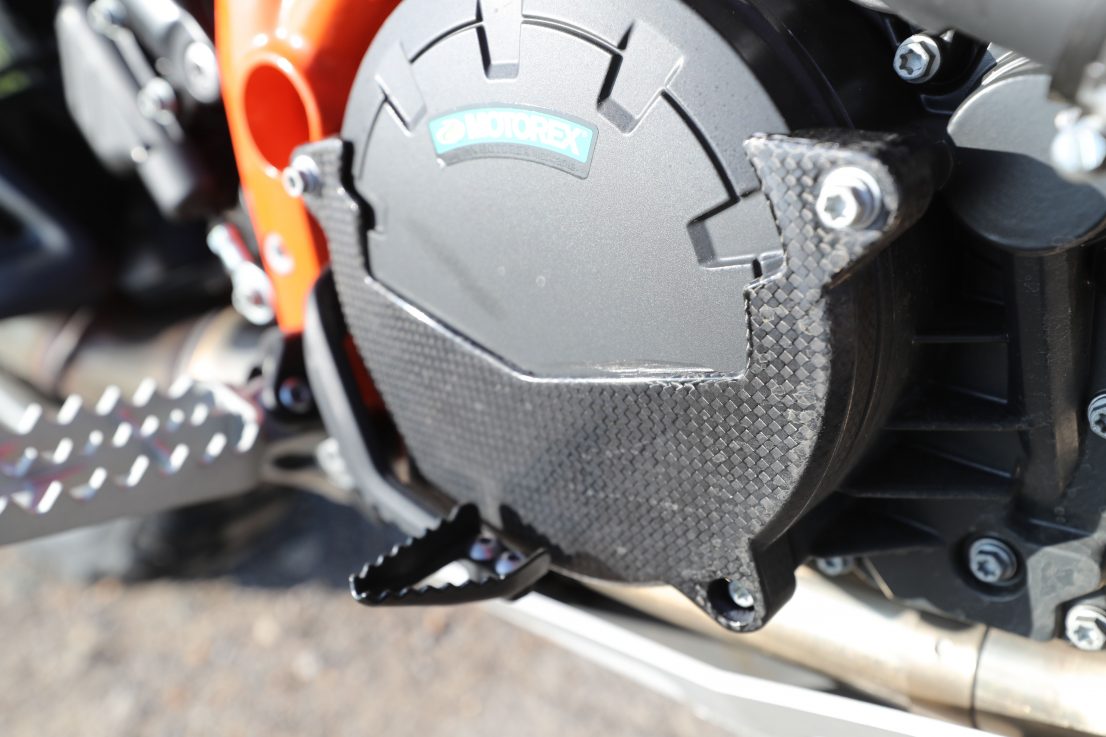 Carbon clutch cover & ignition cover protection £121.74 + £130.50
I'm getting fussy here, but on the upside at least these items weigh very little. Point being, engine cases, often thin die-cast metal in construction, regularly suffer puncture wounds when a bike is laid over on rocks, even gently. These aren't quite the awesome Fort Knox covers that I had from R&G for my long term Honda CRF250L some years back, but they're of help nonetheless. They're not cheap either. Luxury items to an extent, but they have a purpose.
Footpeg set £139.26
Sometimes I think it's my age speaking, but I like an oversized footpeg. BMW GSs have notoriously come with the thinnest daftest pegs and they need a peg change as a matter of course. By comparison, this 1290 has a pretty decent set as standard, but even so a bigger set – and I put these ones in the super-sized 'rally' category – can't go amiss, especially if standing for long hours. And these are a nice size. Not too big I hope, but I'll let you know on that.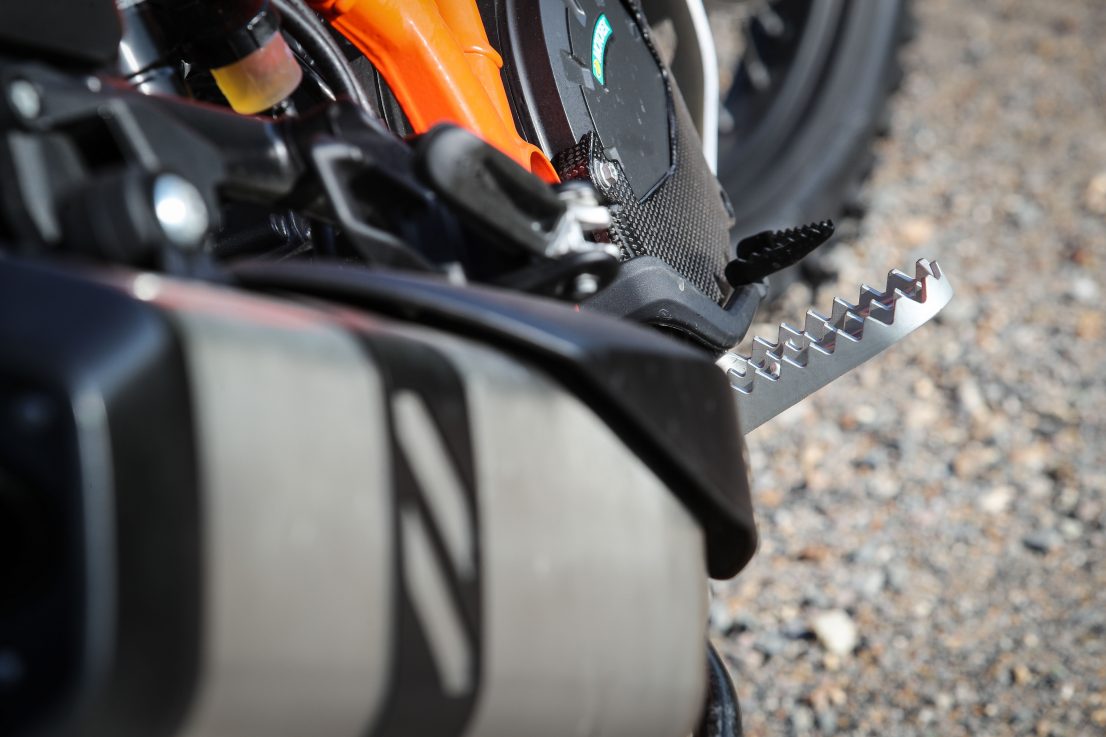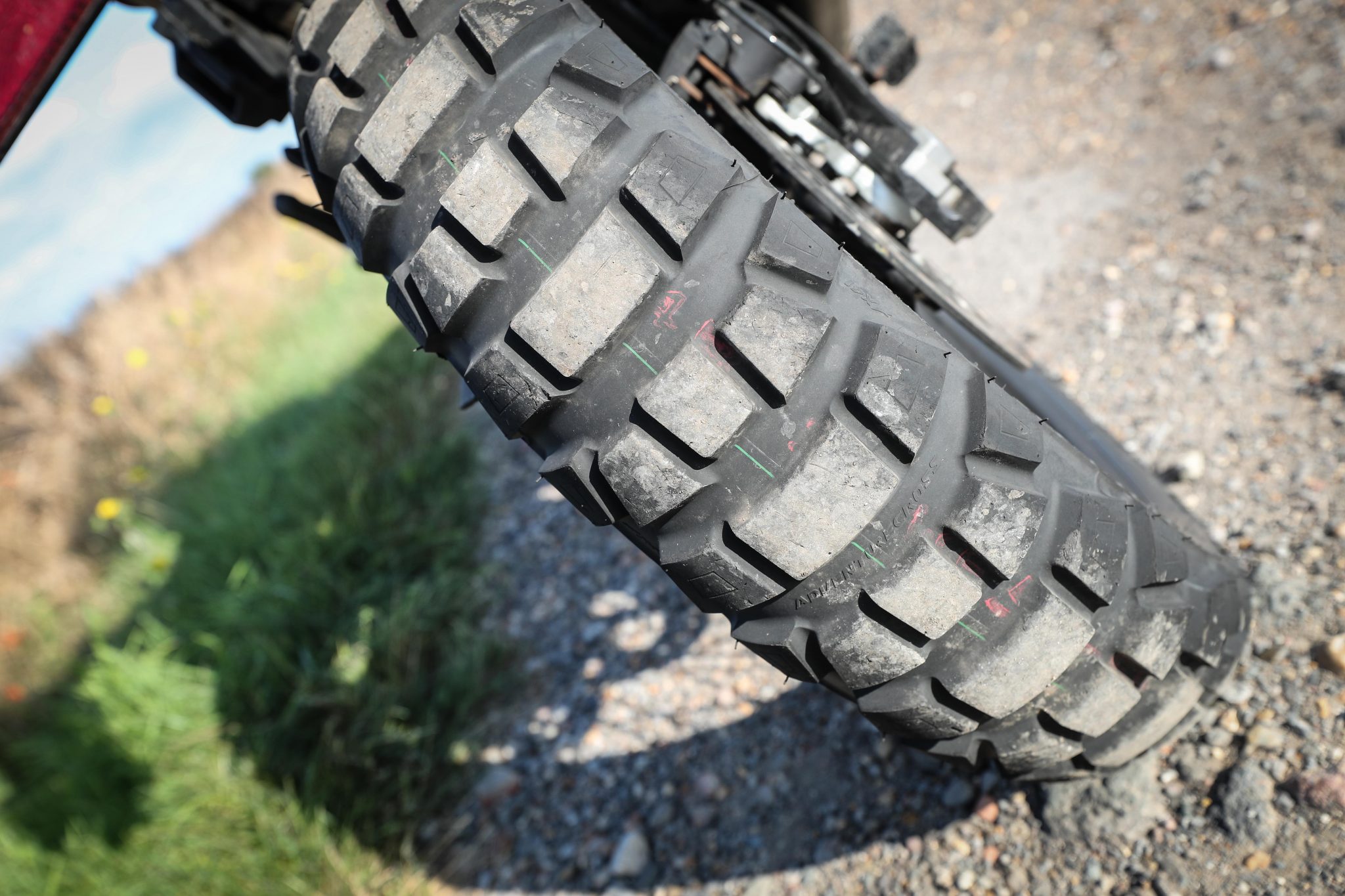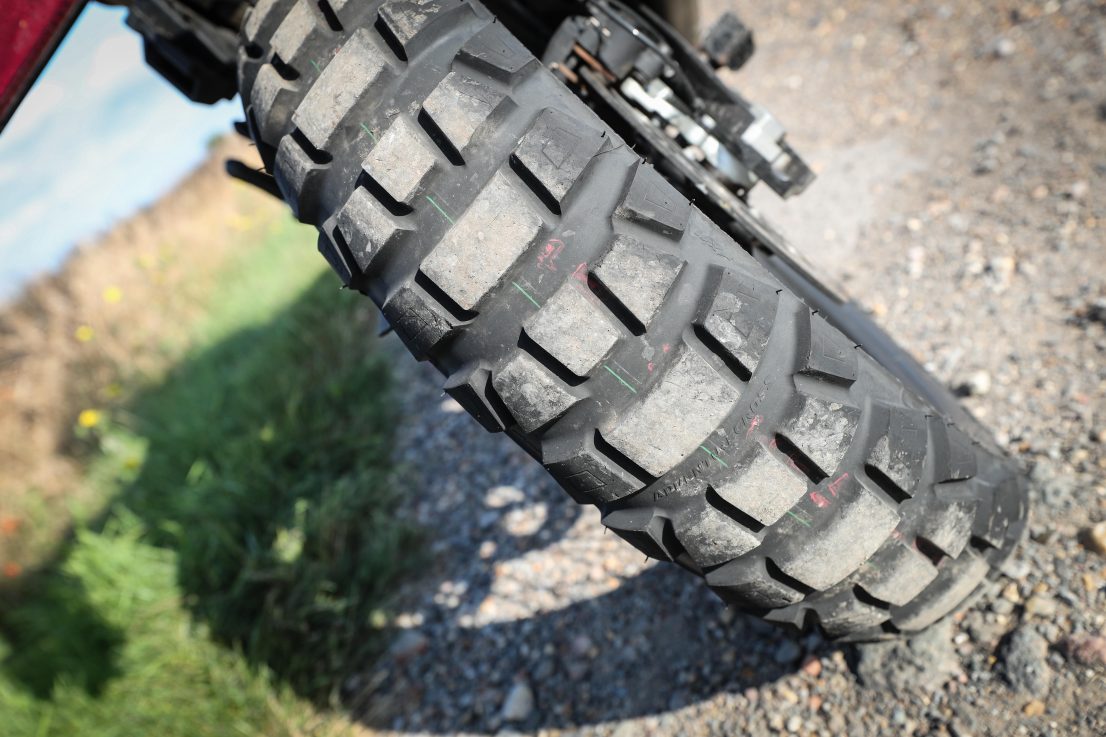 BRIDGESTONE ADVENTURECROSS AX-41
As much as the Adventure Spec Challenges are designed to be ridden on 'road' tyres, a half decent knob gives more assurity ('she said' – can you name that TV reference?) on the trails so rather than push my luck with the cut slicks the 1290 came with I've swapped to a set of the new Bridgestone Adventurecross AX41s. I'd give them a 50/50 rating (road/dirt), they're looking comparable to the likes of Conti TKC80s and Metzeler Karoo 3s.
So far on the road, yes, you can obviously feel there's a little more movement between bike and road than on the road tyres, but this will be more than compensated when it comes to off-road grip. And as it is with adventure bikes, they always look better with proper off-road tyres!
TO THE ISLE OF MAN
So the KTM has been gently racking up the miles. All road stuff so far, but with the big Manx ride coming that'll soon change. Its presence isn't going unnoticed though. Son of JB has twice been caught sitting on it in the garage and Mrs JB has asked questions of a touring nature so clearly it's firing the imagination here and I'll have to give in and share the rides. But I'm being selfish for now and yeah, I'm excited about getting back on the Island.