BEFORE YOU READ THIS!
This test follows on from our quick spin report. It's worth reading that first as it sets out a little more background to the model. You can read it here.
A part of me thought KTM had got this bike wrong. As I reported after the quick spin evaluation, there just didn't seem to be enough off-road in the 390 Adventure's mix. And if I were to point to one detracting feature it would be the lack of ground clearance. KTM call it 200mm, but not when you sit my 90-kilo lard-ass in the seat it isn't.
Now, I'm certain they've got the bike right. It's me and bunch of like-minded off-road enthusiasts who have it wrong. Not wrong about what we want, but wrong about what the 390 Adventure should be. It should not be a 350EXC-F made soft, with a big tank. It should be exactly what it is, a 390 Duke made more versatile – to the point that yes, you can point it down a trail, albeit carefully. And that's right, too, 'carefully' is in this instance the correct modus.
START AGAIN
So lets start again. This bike, it's kind of a modified 390 Duke with longer suspension – but not enduro long – and a relaxed steering angle, and a fair few chassis changes and a minor tweak to the motor. It is by no means a trail bike as we know them. And it's not meant to be. We thought it was, but KTM decided not. It is a road bike first and foremost.
Honestly, you have to inspect closely the way this bike is positioned. If you were to compare it to say a Honda CRF250 Rally then no, that's not a correct comparison. That's a trail bike, this is a road bike. The Kawasaki Versys-X 300 (virtually unknown in these parts) and the BMW 310 GS would seem, on paper, closer comparisons – and the BMW is probably the bike KTM looked to compete with, with this model. Put in that context we can see that the 390 Adventure fits into the 'travel' rather than 'enduro' sub-section of adventure motorcycles. Hence no 'R' designation, as KTM append to their more rugged adventure models.
Only, and this bit is important, what the KTM has more than the competitor bikes so far mentioned – and so sets it apart – is youth appeal. Adventure bikes, while kind of rufty-tufty in many ways, can be a touch too serious, too organized, too adult. That man in his twat (sorry, adventure) suit (blame Austin for that), does not look cool in a modern youth context. However, I suspect the angular aesthetic of the 390 Adventure, and its conversely laid-back attitude to off-road, is cool. Not that we like cool as a measure – being very uncool ourselves – but we must respect it.
So once we recalibrate our thinking to the 390 Adventure being a travel bike (which is KTM's own designation – quite possible stolen from Chris Scott's 'Adventure Motorcycling Handbook') we can see the design indeed stacks up rather well. The 19"/17" wheel combo with Conti TKC70 tyres – just right. The mid-travel suspension (170/177mm) – again just right. The 14.5-litre tank matched to a claimed 3.37-litres per 100km – that's a theoretical range in the order of 400km. KTM hardparts panniers and navi options – again, all these are spot-on. It's not here to ride enduro, not even rally, and for trail riding we're talking easy-grade, 'light off-roading and wider adventure touring' as KTM put it.
WHAT A WHIZZ!
Seen like this we can make better sense of how it performs. That kind of a design bias would indicate something like a mix of 80:20 road to off-road. And this explains why it is so damn good on the tarmac.
The motor comes from the 390 Duke, but is also found in the RC390 supersport that's seeing road race service on tracks around Europe. In the 390 Adventure it is slightly retuned, for more torque, but the power is the same as both those roadies at 44hp. That power is only a little less than say a Yamaha RD350LC from back in the 1980s. So while it's 'only' a 373cc single, that doesn't mean it's puny, it certainly packs a punch.
And so all aspects of road riding are covered. It may not be that solid off the bottom of the rev range (neither was the 350LC), a little clutch slip helps generate a speedier take-off, but everywhere else it's spot on. Cruise speeds are comfortable whether you're talking 40mph (say on single lane back roads), 60mph on dual carriageways, or 70-80mph on motorways. The gearbox is slick – and with the optional quickshifter fitted is ridiculously (Moto3-level) quick shifting. The ratios are all nicely matched. It just hums along. And unlike some Chinese units of late – hey, this thing is Indian-made – it feels substantial enough in the engine room, not at all wheezy. So you would seriously consider longer rides on this bike.
Equally it comes with those functionalities that you'd expect with a modern road bike. So a full-on TFT screen, which relays plenty of information, not least rider modes and aids such as corner sensitive ABS and traction control. Then a proper radial-mounted four-piston brake caliper working on a full-size (320mm) disc. Proper mirrors, LED lighting. And of course a real saddle (not an EXC-spec racing plank), with the option of an even plusher seat. For a road bike rider this all feels very normal.
And so the bike has great road holding. Sometimes on lighter trail bikes you have to take it easy on the road, it's easy to overcome the skinny 21"/18" tyres and on the brakes you get something of a pogo-effect from the suspension. But on the 390 Adventure it has all the poise and agility of a sport road bike. The ride position is of course more relaxed, with those wider mx type bars and a fairly rangey seat-handlebar-footpeg triangle, so it's comfortable for long rides while still be tuned-in to faster more dynamic riding. The wee screen works well enough, too, (you have two height options) although some serious types will no doubt prefer something a little more protective (which KTM can supply). Not the kids though, they'll like this dinky unit.
OFF-ROAD TAKE TWO
As we know from the quick spin story, the first off-road test with the 390 Adventure did not go well. On rutted and sometimes slippery Northamptonshire lanes it struggled. The TKC70s had no bite in the slippery mud and the plastic belly pan (it's not a sump guard) bottomed out in the ruts. Standing up on the bike in these conditions wasn't easy either; the rider feeling a little too perched over the front, on a bike that already feels a little too front-biased for serious off-roading. And one more little thing. For some reason the footpegs are set on a slant, rotated forward as it were, not level. And while this felt quite natural on the road it meant you were riding on the rear edge of the footpegs when stood, which wasn't the most comfortable or secure way to ride. It just doesn't work.
A week or so later, off-road test number two took place in a sunnier, much hotter and drier Kent. Taking several pages from a certain Long Distance Trial roadbook, a six-hour route was ridden that connected delightful country back roads with a whole bunch of green lanes. Mostly this route (I would say) replicated the light off-road and adventure touring terrain as anticipated by KTM. Occasionally the green lanes became a little more serious, but even these were a useful test, kind of replicating some more adventurous routes you might take in say parts of Africa!
On this day the 390 Adventure proved very adept. On the back roads it was sheer delight, being light, agile and quite happy to plod or skip along. The riding position is very comfortable and perfect for seeing over hedges, for quick darts in and out of layby areas when dodging cars etc. The tyres similarly, combined with the ABS and traction control – not to mention decent suspension – all conspired to give an assured ride over potholes and through the usual washes of gravel or grassed centre strips.
On the actual green lanes, just riding at my own pace – not chasing more off-road adept bikes – it coped very well. I was impressed that it chugged quite comfortably up loose rubble climbs, never stalling but pulling well from low revs. The low centre of gravity also meant it felt stable enough and most sudden deflections were easily compensated for. Where the dips and holes got bigger we just went a little slower, no real drama. As before, those annoying deep 4×4 ruts are the only real hindrance, but they were in the minority on this well-scouted route.
This was then an authentic off-road ride, albeit on the 'light' end of technicality. The route and the bike proved a good match and it would be easy to see an off-road newbie doing very well and getting a lot of enjoyment riding this bike on a route like this, probably coming to the odd stop when a more technical climb or descent challenged them. I have to say the 390 Adventure, on account it called for a slowed pace, gave a better interaction between rider and environment than your usual enduro/trail machine – and this should be what adventure riding is, not grandstanding with giant 160hp skids, wheelies and similar such nonsense.
Ground clearance remains an issue. However, with careful line choice it's also mostly a non-issue, we didn't strike the sump anywhere. There were some steps on a couple of the climbs that would for certain have stopped the KTM, but with gentle banks either side of the trail it was possible to ride up these to avoid having to try and pop a wheelie and bounce over the steps.
In all, in this gentle off-road environment the 390 Adventure felt pretty much at home. It might be a little tall in the saddle for a few, but we'd encourage those few to adapt to that rather than lower the bike further. For a 6'0" rider it was no problem to get feet to floor and paddle if necessary (it wasn't). And while the bike is road bike biased, those mx style bars do give you the leverage and nearly the right stance you need for off-roading. In fact, in another mind-adjusting exercise, a good solution was to ride in a 1970-80s off-road style – that is to say, sat down. As you're not travelling that fast in any case (mindful of the ground clearance) it was perfectly comfortable to do this.
PRACTICALITIES
Okay the little things. The fuel range feels not to be quite as long-distance as KTM suggest. The mpg counter on the dash suggested we were doing 80mpg for much of this ride but my check against fuel receipts suggested a reality closer to 70mpg, which translates into a range of around 230 miles (370km). That's still plenty good enough, but to get to the kind of range KTM suggest you'd need to be a lot more judicious with that throttle.
Quality. Actually it feels pretty substantial, it's good. A few of the bolts looked less than 'factory' – cheap chrome perhaps – and the handguards are more wind deflectors than anything, and the belly pan is not an off-road fitment, and (oh yes) the handlebar grips look rather plasticky, but those aside it's looking to be as well built as KTM's 790 and 1290s. It certainly doesn't look cheap. And the size is beguilingly substantial. Stopped to talk to a couple of riders on EXCs they both thought it was a 790 until I corrected them.
The seat is comfortable and shorter test riders have said that the narrowing at the front means the 855mm seat height isn't so lofty as it reads on paper. Vibrations from the motor are noticeable but kept to a comfortable minimum thanks to the balancer shaft and rubber insert on the footpegs. The bike feels light and easy to ride – great for that new A2 licence holder, or older rider downsizing – yet it isn't in any sense flighty.
Bringing the 5" TFT from the 790, plus the rider aids, does lift the tech spec of the bike. Most are now familiar with the operation of KTM's instruments and because of that commonality it's just plug-and-go for anyone familiar with the brand. However, KTM could still do with an auto-save on settings, for every time you switch off the motor you've got to manually regain your settings before setting off again. No real issue on the road but an arse in the lanes when you're trying to toggle your way back to the off-road setting (which gives you ABS-off on the rear wheel).
The one good thing with the cast wheels is they do at least bring tubeless tyres to the small bike party – which is quite a safety feature when it comes to road riding, and peace of mind when it comes to riding motorways. It's noticeable that while KTM kind of promised to deliver wire-spoke wheels as an optional extra they've not rushed to do this. And having now ridden the bike you kind of guess there won't be that huge a demand for them.
The exhaust is suitably quiet and almost pleasing to the ear (as much as singles ever are). It does though have a few issues. There's that cat in the downpipe and the pre-muffler takes up a great deal of space around the back of the engine. It is in all borderline ugly – and you can imagine that pre-muffler getting pretty shitty when it corrodes, but it does at least function in that it hides those super-hot running cats away from small fingers – and gets us past Euro5. It also means you'd struggle to fit a centre stand – that may be impossible – but given tubeless tyres does it really need one?
IT'S GOOD (BUT IT'S NOT QUITE CARLING…)
Yes, it is on balance a very good bike. It's no EXC, for sure. But it is a genuine travel bike, with (light) off-road capability. KTM has been savvy with its positioning. It'll please those emerging markets in the East (as detailed in the quick spin report), but it also will more than satisfy European A2 licence holders looking to make a first go of adventure.
For increased durability, and to entertain sustained adventure riding (with light off-roading along the way), we'd look to up-spec the bike a little, which is perfectly possible with KTM hardparts. Yes, we'd add the alloy sump plate, a chain guide, rad guard and proper hand guards. Then probably add the ergo seat for our aging butts. After that, it's 50:50 if we'd spec KTM's own travel bags or go aftermarket (we like Kriega's latest soft bag options). Certainly as it is the bike feels fit for a proper adventure journey, and with those in place you're good to go.
So again those of us wanting to play in the middle ground of adventure, looking for that 500cc, say 160kg, 50hp, go-anywhere trail machine – well again (as when Honda delivered the Honda CRF450L) we're not there yet. This is not that bike. Could that bike be the 490 Adventure model that's being alluded to? Time will tell. In any case, it's not for us to berate this bike for what it isn't, instead applaud it for what it is. It's a good bike, most definitely.
KTM 390 ADVENTURE
RUST LIKES
Great motor
Sound concept
Good options
Proper bike
RUST REJECTS
Can't blame the bike, but 200mm ground clearance is all you get
It's a few bolts and a bit of decent plating short of being very well finished
Resetting the rider aids and modes each time we switch off and on again
Cast wheels (they're right for this bike, but we're a wire spoke team at heart)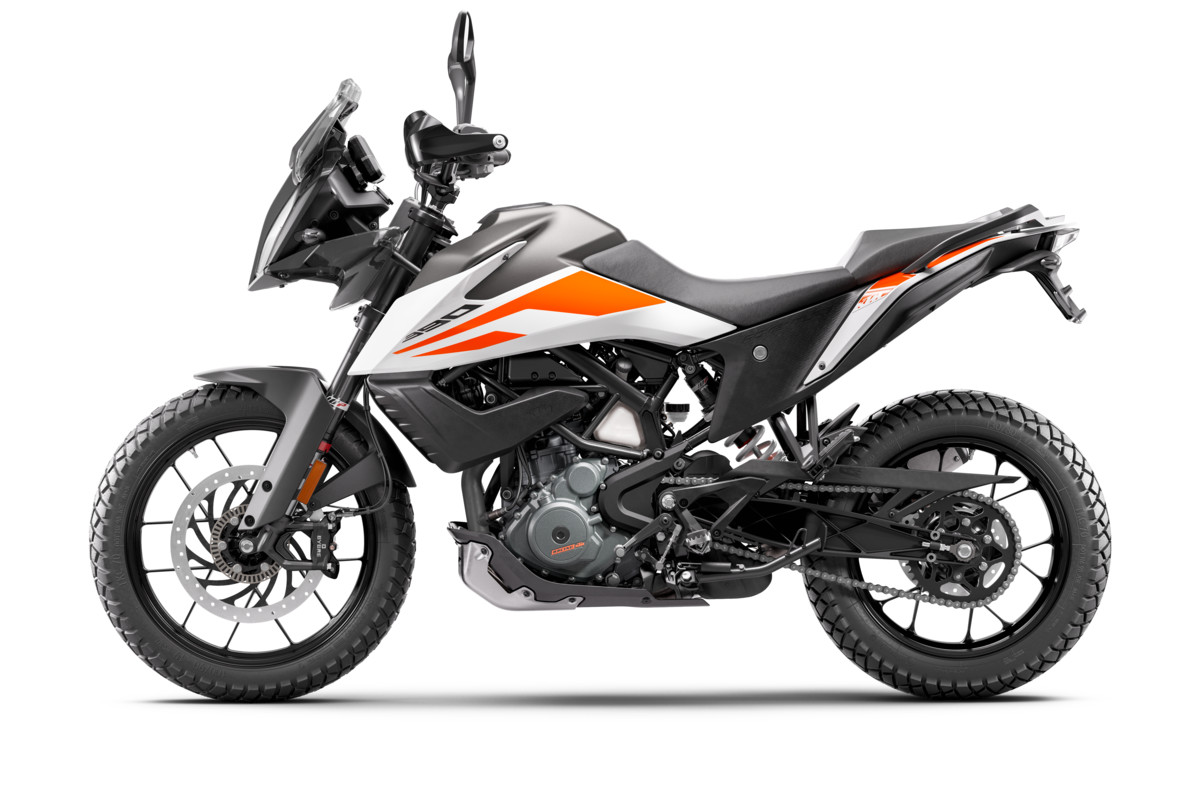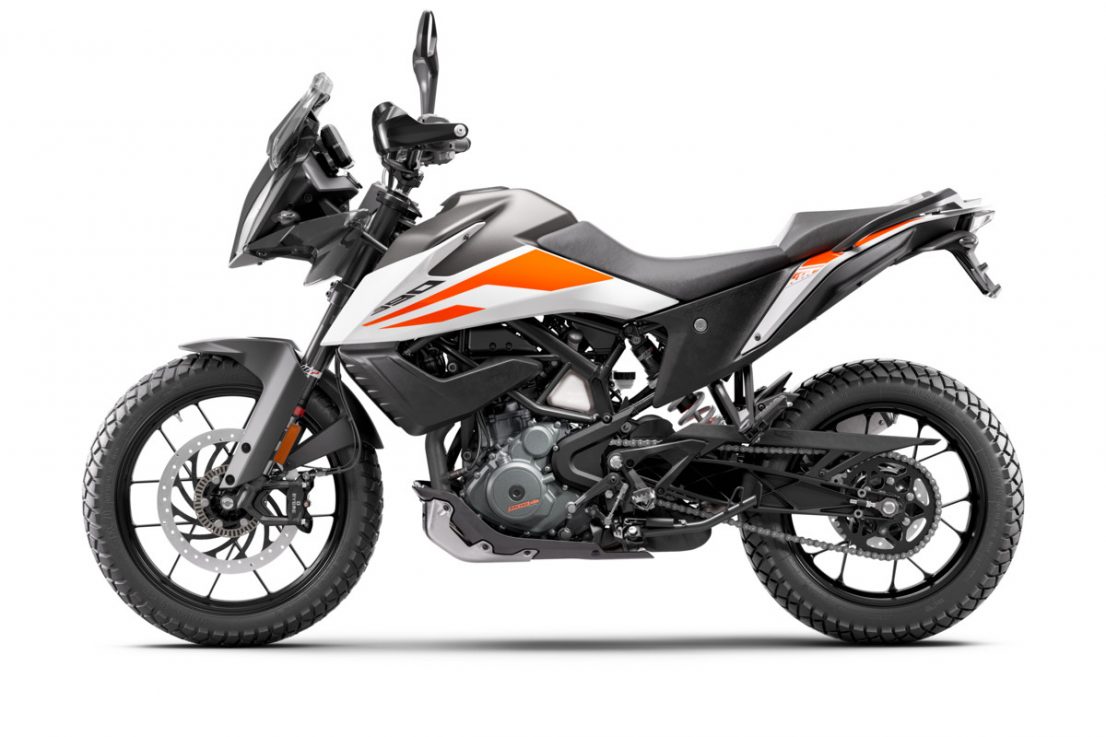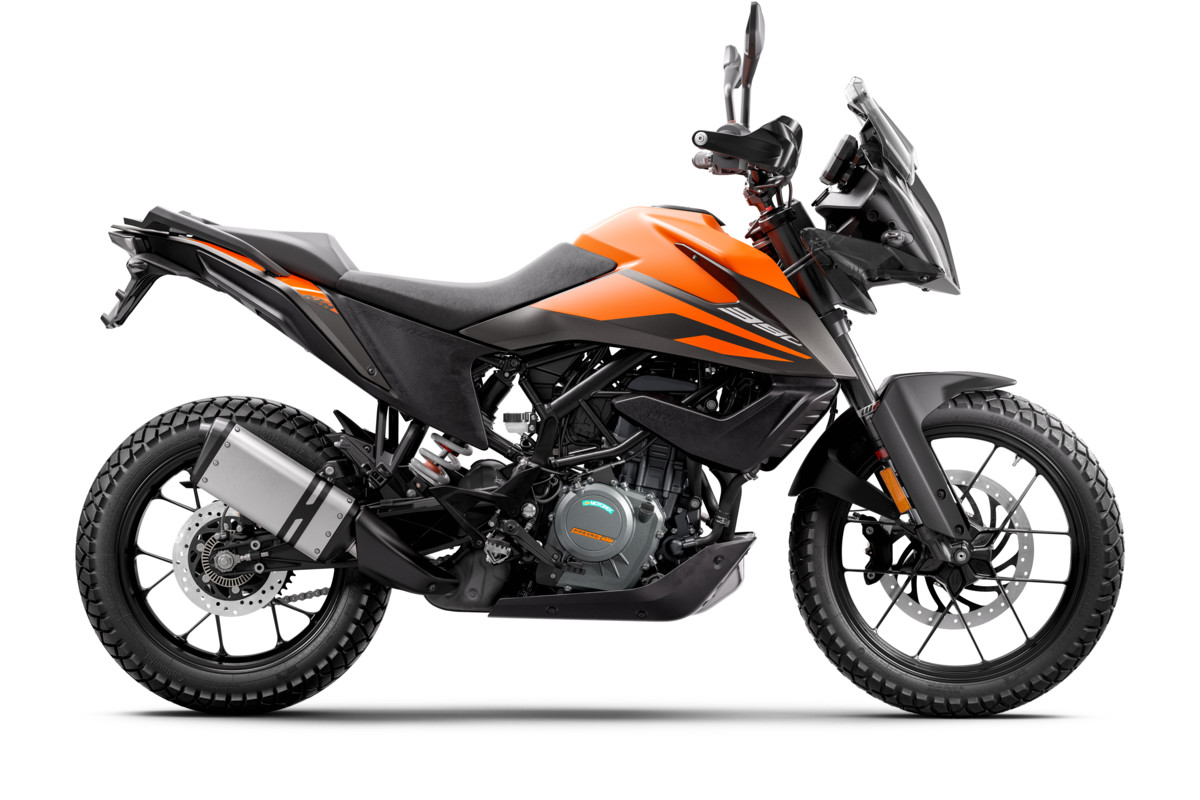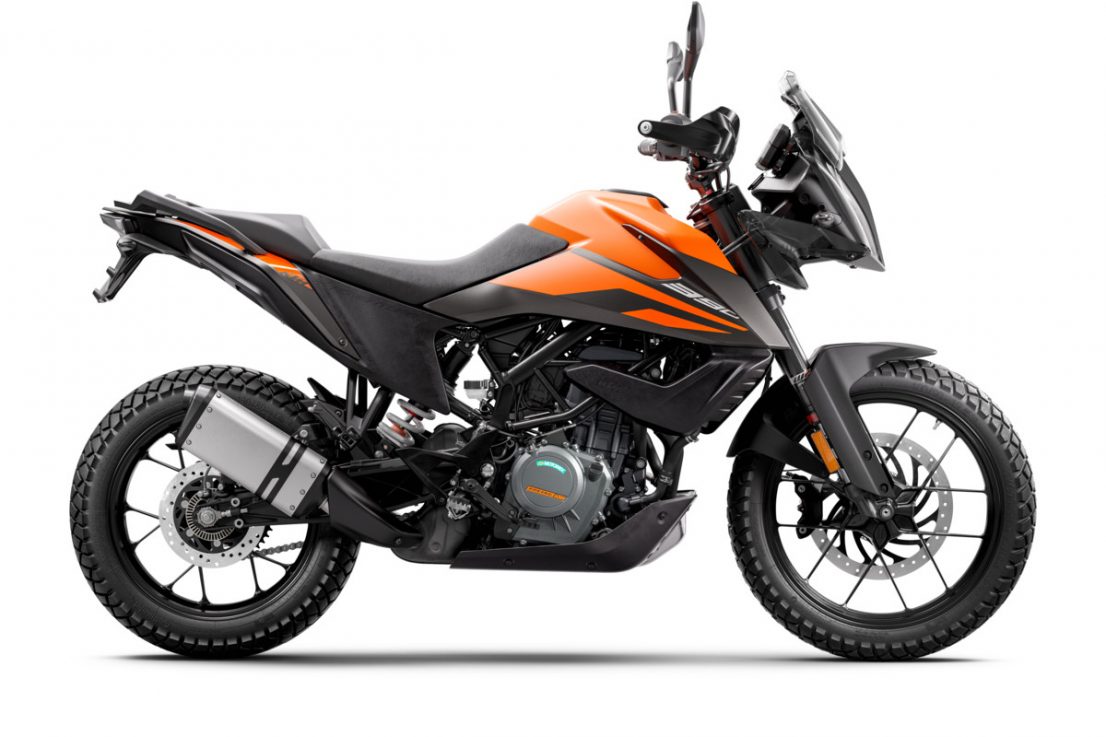 2020 KTM 390 Adventure 
Specification
| | |
| --- | --- |
|   |   |
| Capacity | 373.2cc |
| Bore x Stroke | 89mm x 60mm |
| Engine | Water-cooled, DOHC, four-valve, fuel injected, single cylinder four-stroke |
| Max power | 44hp @ 9000rpm |
| Max torque |  37Nm @7000rpm |
| Transmission | Six-speed, chain |
| Average fuel consumption | 84mpg (claimed) |
| Fuel capacity | 14.5 litres |
| Frame | Steel trellis frame, detachable sub-frame |
| Front suspension | 43mm WP APEX forks, adj for comp & rebound, 170mm travel |
|   |   |
| Rear suspension | WP APEX rear shock, PDS, adj for preload and rebound, 177mm travel |
|   |   |
| Front brake | 320mm disc, Byre four-piston caliper, Bosch 9.1MP Two Channel-ABS |
| Rear brake | Single 230mm disc, single piston caliper |
| Front tyre | 100/90 x 19 Continental TKC70 |
| Rear tyre | 130/80 x 17 Continental TKC70 |
| Wheelbase | 1422mm |
| Ground clearance | 200mm |
| Seat height | 855mm |
| Weight (dry) | 158kg |
| Contact | |