Earlier this year the Corona Virus (Covid-19) put a stop to the world launch of the KTM 390 Adventure. Some countries got there (Tenerife), but not the UK delegation. In the following weeks there was hope we could test ride one on home soil but with lockdown that went out of the window, too. And as far as anyone buying one, well, again with travel restrictions and social distancing this is on hold, too. Motorcycling – social, domestic and pleasure – is off-limits for the time being.
It doesn't stop us thinking and planning though. And actually in the context of the lockdown – given time for reflection – we are considering the nature of our adventure bikes all the more. Also, given the financial pressures that so many people are coming under, how much will super adventure bikes still be tenable post-pandemic? Looking at the numbers on finance, a £17k super adventure will be costing over £400 a month for three years after a £4000 deposit. Will many of us have that kind of spare cash? By comparison the £5k adventure-lites are far more achievable with 36 monthly payments of around £140 after an £1100 deposit. That's good for the younger and/or lower paid, but also for the heavily committed. And given an intended usage of backcountry travel, how much do we need a 1200cc adventure bike? Can a 300cc satisfy just as much – or, will it just have to?
300
Much like the Spartans, the 300cc adventure-lites are coming and they're not going to be a flash in the pan. And as alluded to above, if we're going to bring younger riders into the adventure fold it's modestly priced machines like these that are going to do it. Only the 300s have a wider audience than that. As the incumbent motorcycling fraternity is aging, the prospect of manhandling a monster 1200 down gravel roads is becoming less attractive and older riders are increasingly looking at lighter options. And, as in the competitive dirt world where 'light is right', many are finding the cynically viewed downgrade is in fact an upgrade in riding pleasure. After all, there's a reason motocross and enduro isn't dominated by 1200cc superbikes. Yep, if 450cc is enough for Dakar then surely 300cc is enough for a gentle backcountry adventure.
So the signs are we could see a burgeoning growth of interest in the adventure-lite market post-pandemic. And while the KTM 390 Adventure arrived just at the wrong moment, in hopefully not so many months time it could be in the gun seat for kick starting adventure in the, er, new world(?).
And we say that specifically why? Well, we say that because on paper the KTM can trump the opposition. Its oppo' comes most likely in the form of the BMW G 310 GS, the Honda CRF250 Rally, and the Kawasaki Versys-X 300 – and it looks to score points off all of them.
It's bigger & more powerful
The KTM brings an easy advantage to this market, by being a 390 not a 300, the extra cc's mean it brings more power: 44hp. That should be reliable horsepower, too, as this motor comes from the 390 Duke which has been with us since 2013 (revised in 2017) and so most – if not all – of the bugs have thus been ironed out. Notably those extra horses will help where these bikes – despite our best intentions – will still get to spend most of their time – on the highways. Yep, when it comes to making highway miles less frantic more power generally helps. But while that's a bigger engine it's not a heavier motorcycle, the KTM matching the weights of the opposition. Incidentally, while the Kawasaki gets closest to the KTM on the power chart, it does this by being a high-revving twin, peak power coming at a giddying 11,500rpm – and while that works for the roadie (the engine comes from the Ninja 300R sports model) it's not quite so well suited to the laid-back adventure sector.
It's more sophisticated
Sure, plenty of us were a little disappointed that the KTM 390 Adventure didn't arrive as an R model – we wanted wire spokes, we wanted A-game suspension, kind of a long distance EXC-F – but what KTM built is instead a decent travel bike, in essence a Duke that can go off-road. And even at that, it aces the opposition with better spec suspension, Apex kit by WP – and frankly 170/177mm of suspension travel is enough for this sector. Then there's trick kit like traction control, and ABS that is switchable for cornering and off-road – again higher spec rider aids. And for the big ride, KTM say the sub-frame is strong enough to cope with the stresses of a pillion and luggage.
Finally, there's a full-colour TFT instrument panel that with KTM My Ride (and Bluetooth) has all the connectivity that the big adventure bikes offer. Heck, even the lights are all LED – class.
It'll go further
KTM has matched the opposition for frugality, at 3.33l/100km, but with the 14.5-litre fuel tank they've gained a range of over 400km (250 miles), which is spot-on for extended travel in wilder regions. Kawasaki's Versys-X matches this, but with a less economic motor it's taken a 17-litre tank to achieve the same.
Trick as standard
We should reiterate that where the KTM really wins is in the quality in the suspension. As described, we're talking good quality WP kit here, and this is a key area where the opposition falls down. Each of the opposition really needs a suspension upgrade if you're super-keen about the off-road performance, and that can cost anything between £500 and £2000.
And if you want to go even more trick, of course there's a healthy list of KTM Powerparts that can raise the spec of your 390 Adventure even higher, including wire spoke wheels (although we've not yet seen these listed), upgraded brakes, an Akrapovic exhaust, plus crash protection and luggage options. Key to these offerings is they're all bespoke to the 390 Adventure and available on the basis of a one-stop (online) shop. The opposition really struggles to match KTM's approach here.

SO WE WAIT
Whether all this on-paper superiority fully develops in reality we'll have to wait and see. One truth is still that each of the bikes has its own strengths and thus will be the more compelling buy to different kinds of riders, as our following model synopsis attempts to clarify… 
KTM 390 ADVENTURE
The KTM does come across as a complete package. The choice of cast wheels over wire spoke has been a matter of some debate, and we wonder whether there is an R-model in the pipeline, and if so will those wheel sizes be 21"/18" (surely a 2021 model?).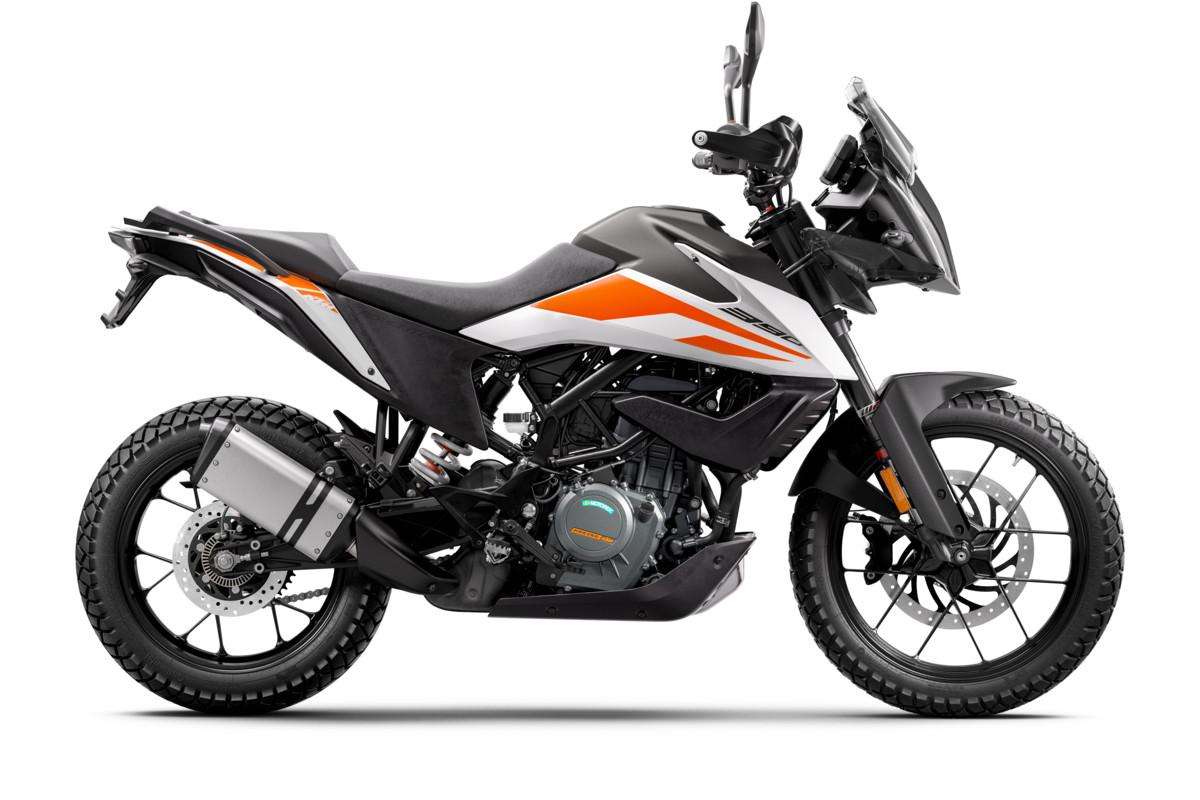 BMW G 310 GS
The BMW is a great wee bike. We like the engine characteristics – it's a relaxing ride, not buzzy. To digress a little, the RUST route here would be to buy a second hand 310 GS – and they're listed for prices like £3750 with barely 1000 miles on the clock – and upgrade that with a Rally Raid Products wheels and suspension kit, probably setting you back around £2500, but for £6250 all in – that's £750 more than the KTM – it's well sorted. See https://rustsports.com/rrp-bmw-g-310-gs/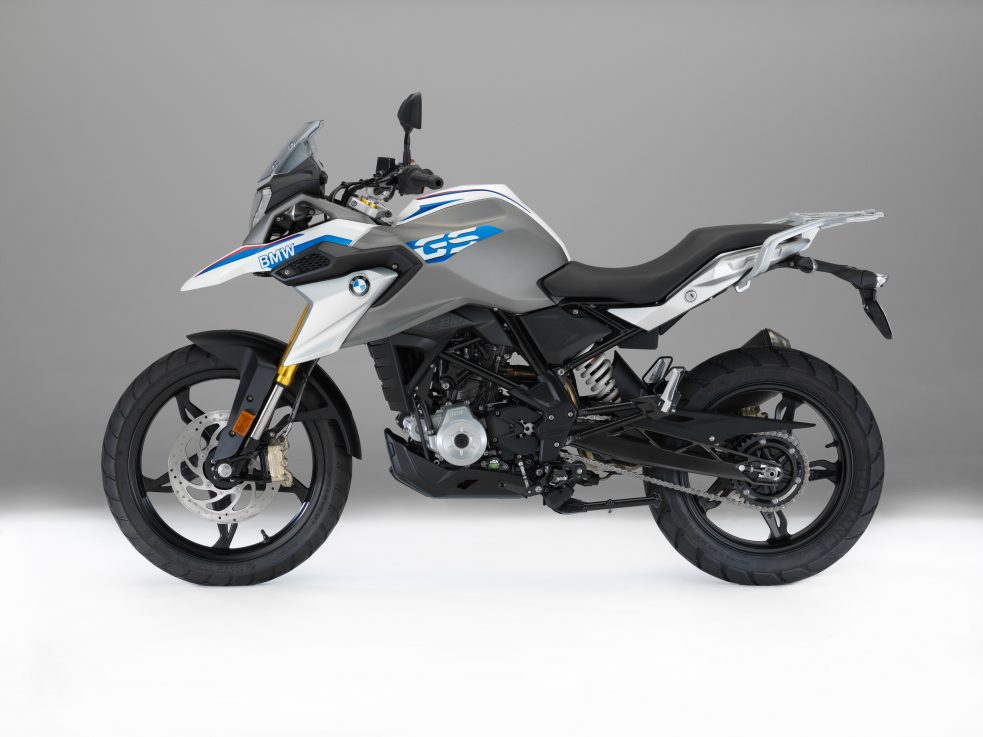 HONDA CRF250 RALLY
The Honda CRF250 Rally, with its 21"/18" wheels and long travel suspension (250/265mm) and Dakar looks is the off-road athlete here. It could do with a better spec to that suspension, but a spend of around £500 would see to that. It's got another great motor, which is light on servicing needs and is stronger than the spec sheet suggests – it licks along much quicker, and much easier, than you'd imagine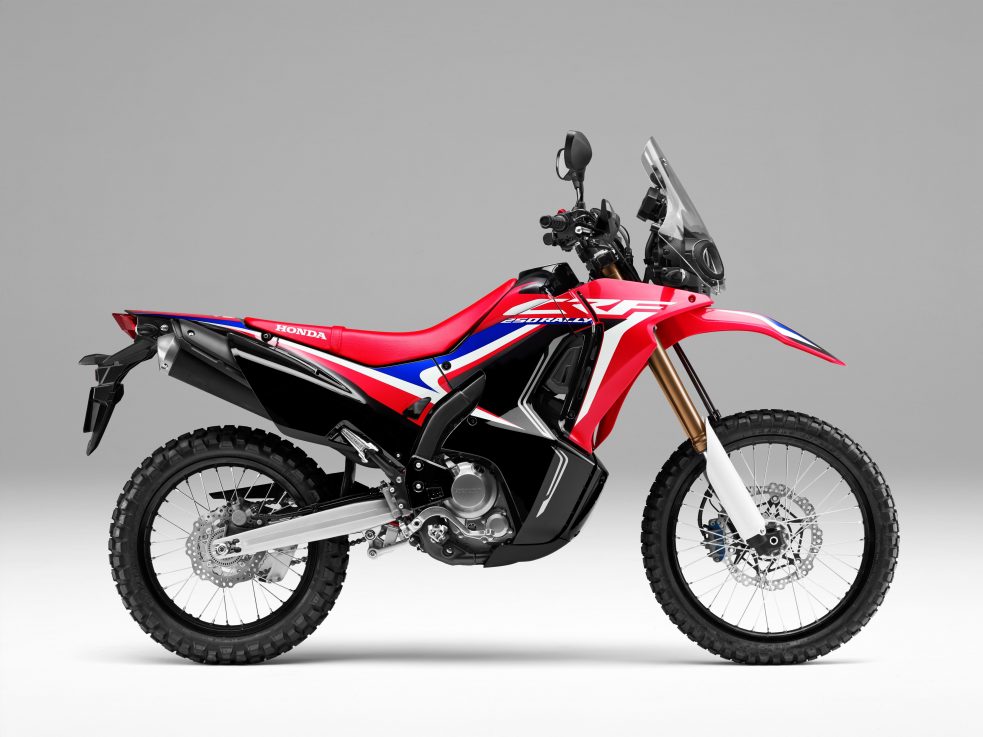 KAWASAKI VERSYS-X 300
The Kawasaki has Versys in its name and DNA. It's a road bike first and foremost and it's not short on spec or quality, but the revvy twin-cylinder motor is more suited to domestic road riding than travel riding – although that shouldn't stop anyone making that choice. And credit to Kawasaki for spec'ing wire-spoke wheels as standard as well as long-ish travel suspension (130/148mm).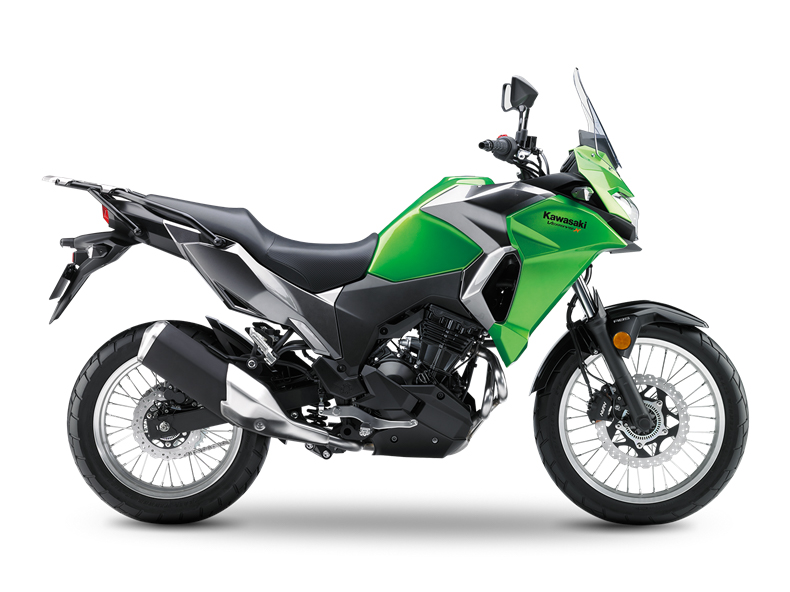 Yes, there is at last one more mainstream adventure-lite, the Suzuki V-Strom 250. It's very much like the Kawasaki, but with a less powerful motor and being even more road-oriented it's not a comparable. Note that even in Suzuki's own marketing there is no off-road imagery – and certainly no accessories like sump guards or crash bars – more of a rugged road bike, so we'll leave it out of this comparison.
We could also go on to mention the Royal Enfield Himalayan, and the Honda CB500X, but – come on – that's extending the discussion away from the 300cc core, so we'll save that for another story.
What do you think?
Well, there we have it. The 300s – adventure's saviour post-pandemic. Or just a nice wee feeder class to the real story that starts at 650cc and upwards? What do you think? We have a comments section below, feel free to pitch in with some debate.