Vintage enduro racing is all about cheap fun on classic machinery, could it be the next big thing? RUST borrowed a 1978 SWM 175GS and signed up for the first ever Retro Enduro…
eBay has got a lot to answer for. A few years back I remember hearing a radio programme where they set out to show that you could sell any old tat on eBay. And just to prove the point they sent a reporter out to find something completely worthless to flog. He came back (not with a copy of TMX as you might imagine), but with a few bits of old string and rope he'd picked up on a walk along a nearby beach. One enterprising online-advert later and he'd sold the lot on eBay… thus providing the programme with its catchy headline: Money for old Rope, whilst at the same time proving that the global-village-idiot is alive and well and nowadays licks Windows98.
The beauty of eBay of course is that not only does it bring together a worldwide scrapheap in the comfort of your own living room, but it also allows unscrupulous vendors to offload the most worthless pieces of crud without ever having to look the buyer in the eye.
And that brings me neatly on to the subject of ropey old classic machinery – or Retro Enduros as the owners prefer to call them. According to editor Barni the world has gone classic-mad, and he's not just talking about his Beach-Boys barnet either. The trouble with classics – and I speak as the owner of numerous so-called 'classics' – i s that one man's classic machine is another bloke's 'old nail.'
These days you can't move for classic racing. In the world of cars not a weekend goes by without some form of classic or Nostalgia race meeting taking place: be it vintage E-types, Capris and Lotus Cortinas taking on the Mustangs, Falcons and Cobras from the Sixties and Seventies, or classic touring cars swapping paint. Again. There's vintage rallying using everything from Minis and MGBs to Escorts and Metro 6R4s, there's vintage drag racing, sprint hillclimbs, vintage F1 racing, and countless more besides.
Then there's vintage plane racing, klassic karting, vintage boat racing (and sail boat racing), hell there's even vintage hovercrafts and lawnmower racing (not together of course). On two wheels there's plenty of classic competition, vintage hillclimbs, twin shock trials, classic circuit racing, and of course the very popular Evo class in motocross. So why not vintage enduros?
Of course in many ways vintage racing has always existed in enduros, in the sense that you can pretty much turn up to an event on any old machine and still be reasonably competitive – just ask the guys that ride the tin-tanked Maicos in the Welsh 2-Day Enduro each year. They may be entered in the twin-shock class but they beat a helluva lot of competitors riding much newer machinery. Enduros have always been less about the bike and more about the course and the rider's experience.
Enduros specifically aimed at classic machinery already exist. Just across the channel there are a number of races designed purely for classic machinery, and here in the UK there's the British Twinshock Enduro Championship, the Vinduro club formed just last year and based in the north east of England ( www.vindurouk.com ), run both timecard enduros and H&H races. And in various parts of the country, local clubs run twin-shock classes and indeed twin-shock races, so the vintage enduro scene is beginning to grow.
So here we were at the Retro Enduro near Ashby-de-la-Zouch in Leicestershire, along with approximately 50 other like minded competitors all sitting around on old tat, sorry… I mean classic machinery, for the first ever Retro Enduro.
Retro Enduro is the brainchild of Scotsman Sam Davidson, a marvellously enthusiastic 44yr old bike nut whose background was originally in overland bike travel rather than racing. However during the last ten years he's got involved with the race scene (and more especially the organisational side of things), and he now manages the Scottish Six Days team, as well as assisting with the British Sprint Enduro Series – though he still finds time to ride, occasionally.
Despite never having met before, he welcomes me to the event with the enthusiasm of an old friend and we hit it off immediately – and that's despite him being a Jock (it's a joke, Sam)!
I'm here to discover for myself the delights of classic machinery, soak up the friendly atmosphere, and participate in the first ever Retro Enduro. Sam has conveniently arranged for me to ride one of his own bikes, it's a 1978 SWM GS175, and he's given me the #1 plate. No pressure then.
I'm not really sure what to expect, but Sam tells me to take the bike and just give it a quick razz around the field. First thing you notice is that the SWM has a centrestand, this was a common enduro fitment until only a few years back. Perfectly balanced, it allows you to easily remove either wheel and the bike will then rock (over centre) the opposite way, meaning that it'll stand up by itself with one wheel removed. Brilliant.
Dropped down off its centre-stand it suddenly seemed quite small and low – and despite sporting probably 10in of travel at either end, the forks are so raked out and the geometry so relaxed that you can easily straddle the machine and get both feet down. That's a pleasant surprise.
There's a comfy sculpted seat to settle your bum into and the rest of the controls feel pretty conventional by modern standards though you notice that the rear brake lever and the gearchange lever are little more than simple L-shaped metal bars, that the clutch has a slightly heavier pull than you might expect (though it's not that bad), and the cable-operated front brake has more of a springy feel than you get with a modern-day hydraulic set-up. Nevertheless I was pleased to note that the SWM felt small and light to ride (Sam confirms it weighs less than his modern 250cc Gasser), and a quick blast around the field confirmed that all was well. Even the drum brakes held no unpleasant surprises (for now anyway).
I lined up on the grid amongst a mixed bag of 'classics' from the sublime Sixties (a beautiful Cheney Rickman Metisse Triumph twin), to the ugly Eighties – (an '84 CR250 complete with single-shock, disc front end and liquid cooled motor, running in the EVO class), with pretty much everything in-between. There seemed to be a good few Huskies from the Seventies and Eighties (including a lovely polished-tank 360), a handful of old Hondas, a mixed bag of Yamahas including a few early monoshock DTs and the odd IT, and a bunch of Seminal Suzukis (of the PE variety). There was also a few old Maicos, some air-cooled KDXs, another SWM, a Betamotor which looked like it had just rolled off the production line, a CCM, an AJS, a Can-Am, a Cagiva, and just a solitary KTM! As our photographer pointed out: there were more makes of machinery represented on our small grid of bikes than you get in a modern ISDE with 300+ riders!
There was a quick chance to warm-up our bikes, and the frantic sound of booting (no electric starts here, remember), preceded an aural cacophony as dozens of air-cooled engines sparked into life. And despite the air being blue with smoke and the odd swearword, I can't say I noticed any more noise than you get with modern machinery. But the sound was somehow different – more evocative and less clinical than with liquid-cooled machinery. Air-cooled bikes have a distinctive sound that comes from the vibration of the cooling fins. Manufacturers used to insert rubber blocks between the fins to cut down on the noise and dampen the vibration, but the captivating sound they make never really goes away.
Glancing along the startline I saw that I was up against everything from a lovely little Seventies Honda SL125 (on trail tyres and piloted by a young lad in rugby shirt and jeans) through to a rip-snorting 560 KTM thumper with a serious looking rider aboard. In between there were plenty of meaty Huskys and Maicos to contend with. The five second board dropped followed by the start flag and I was off into the unknown. Fourth or fifth off the line didn't seem too bad given the bike's meagre capacity, but I really didn't know what to expect.
Sam had warned me about the bike's drum brakes. Just before the flag dropped he leaned over and casually remarked: 'At some point you'll realise you don't actually have enough brakes to stop you, but you'll only make that mistake once!' Gulp! Off the grassy start the track narrowed to a sharp turn that led back through a field, onto some dusty rutted single-track before coming out onto the broad loamy mulch that made up the MX track. As soon as the SWM's tyres dropped into the mulch it instantly lost about 10hp, and given that it only produced 17hp back in the day, I was stuck with just a choice of two gears. Occasionally that choice was reduced to one!
The big mulchy whoops swallowed up all of the bike's suspension travel and I felt my feet dragging through the mud on full compression. I got passed by a couple of flying Huskys, which with their more powerful engines, and 13in of travel could float above the whoops or else wheelie over them. For me there was nothing else for it but to try and stand up and absorb the blows with my legs. A baked dry bombhole led to the only part of the course where there was an alternative route. Instinctively I opted for the hard route figuring that the lightweight SWM would carry me through. And sure enough I emerged from the tyre section ahead of the Huskys once more. Result.
More loam followed before the course ducked into the trees for some typical hare and hounds woods. Dusty and bumpy with a number of tight switchback turns, I began to feel my hands cramp up as I worked the heavy throttle and clutch around each of the hairpins. Back out of the woods, the course emerged onto the MX track again until we arrived at lapscoring (partway around the lap), before heading out once more onto the MX track, and then back onto dry and dusty singletrack and grassy field to complete the rest of the course: all-in-all about four miles of typically mixed H&H going.
Laps two, three and four were similar to the first lap except with the added spectacle of trying to work out which bike would be stopped around the next bend. Pretty much every corner in the woods had a bike stopped on the exit, their owners either frantically stabbing at the kickstart, or else were burrowing – helmet off – into the depths of the motors to try and revive a silent engine.
At the end of the third lap (just as Sam had predicted) the rear brake disappeared completely just as I approached one of the hairpin bends in the woods. With my right hand cramped up into a solid claw I just about managed to scrub off enough speed using only the skinny front drum, before pitching it into the turn. Thereafter I pretty much gave up using the brakes, and instead just concentrated on getting my entry speed right using the throttle and gears.
Strangely enough this tactic seemed to work quite well and I started to pick up speed again. Once when I went too hot into a bermed turn on the MX course I stabbed optimistically at the back brake and nearly went over the bars as it had mysteriously returned to full strength, just as mysteriously as it had disappeared! The other thing I stopped doing was over-using the clutch. I wanted to ensure I made it to the finish and didn't want to abuse Sam's bike, so apart from changing gear and the occasional fanning to get the SWM to pick up revs through the heavy loam, I left it well alone.
By the end of the first hour I was really starting to enjoy myself. Any pre-race nerves about what I was letting myself in for had long since disappeared, the bike was turning out to be a reliable and thoroughly likeable little workhorse. And the other competitors were either mostly sitting by the track patching up their damaged machines or else playing somewhere else on the course. That meant I had the place to myself and could practise a few different techniques.
It took me a good few laps to work out that trying to ride the SWM like a modern bike – standing up and leaning forward over the bars, or else sitting at the front of the tank trying to peg down the front end in the turn, simply did NOT work. These bikes weren't built to corner like that and with a raked out front end sporting 29 degrees of steering angle (by contrast a modern KTM has 26.5 degrees of rake), it simply didn't matter how far forward you got, the SWM's front end seemed to have a mind of its own.
It was only when I tried simply plonking myself in the middle of the saddle, sticking out my inside leg and leaning BACK through the turn in an old-fashioned scrambles style, that the SWM responded perfectly well. Bloody Hell! Despite growing up with twin-shock bikes, it's been way too many years since I've ridden a bike like this.
Once again I found my pace picking up as I discovered how to make the best of the bike through the turns. In fact through the long loamy berms that were starting to develop on the MX course I reckon I could ride the SWM quicker than I could any modern tackle for the simple reason that as soon as you placed the front wheel in the berm, then that's where it stayed. And it never deviated, turned-in unexpectedly or busted through the berm.
That was a revelation to me. In fact there was one long left hander that I looked forward to every lap: slightly downhill it was a fast and blind corner and yet I simply aimed the front wheel at the berm and fed in ALL of the power, settled back into the comfy seat and smiled!
Around the one hour mark, I stopped for a splash and dash, to be honest I couldn't tell whether the SWM would've completed the first hour and a half session, but Sam had warned me that the tank was not that large especially as part of its volume was taken up with housing a toolkit!
Straight back out onto the course I misjudged one of the slow loamy turns and took a tumble, but it didn't take long to right myself and the bike and get going again. The SWM simply booted back into life first kick (still in gear) and away we went.
By the time the morning session had finished I'd racked up nine laps, just one short of the leaders, and good enough to be heading up my class – to be honest that was a bit of a revelation for me. I don't think I've ever led anything before, apart from the queue for the burger van.
An hour long lunch-stop gave competitors chance to rest their weary bones and work on their machines, though fortunately I had Sam to do that for me. He removed the seat on the SWM to reveal a fabulous airbox design that would allow the bike to wade into water deeper than the machine's cylinder head, without filling up! In less than five minutes the filter was changed, the tank fuelled up and the chain oiled, and the bike was wheeled back out onto the starting grid.
As I sat down on a deckchair for a spot of lunch I could feel my hands still tingling from the vibration. I'd forgotten that about old two-strokes, how much they vibrate. Modern bikes don't suffer anywhere near as much vibration, and it took a few minutes for the sensation to completely disappear, but not before most of my cup of tea ended up down my riding pants.
Meanwhile on the tannoy system I heard Sam announce a reminder to all competitors to keep drinking in order to re-hydrate. It was a hot day and as we were called back to the line for the afternoon race, he put it to a vote whether riders wanted to do another hour-and-a-half session, or simply make it an hour (that's a mark of just how friendly this club is). I decided not to vote – I was after all a guest at the club – but when a show of hands revealed an overwhelming majority wanted to opt for the hour-long session I can't say I was disappointed.
I knew the SWM would easily manage the whole hour without a refill, so I decided to simply pound in as many laps as possible and try to make a finish at this, my first ever twin-shock classic/retro/vintage race. Three laps in and a poor decision to pass someone on the outside of a bend saw me hit the dirt for a second time, Doh!
By now I was beginning to tire slightly. I hadn't bothered wearing a hydration pack in order to stick with the vintage theme of the event, and what with all the dust in the air, my throat was drier than the hospitality tent at the Saudi GP.
I hung in there for the last couple of laps and finally crossed the finish line just two minutes after the hour. Phew, I'd made it. As I wound my way back to the van I had time to reflect on what I'd discovered. And these are my findings…
• Just because bikes are old, doesn't mean they aren't fast.
• Just because racers are old, doesn't mean they aren't fast.
• The biggest difference with an old bike isn't the twin-shock suspension, the drum brakes or the lack of power from the non-powervalved engine, it's in the overall handling and in particular the speed of steering.
• Bumps and jumps require a little more forethought and a lot more bravery.
• Racing an old bike brings a smile to your face and a certain whiteness to the knuckles.
• Modern bikes have much smoother controls and engines, but much less soul!
And it's this last point which kinda sums up the whole spirit of the vintage race scene. You see I love racing, whether it be new or old stuff. And while racing modern enduro bikes for me is a huge thrill, what you get in the vintage race scene is the additional elements of nostalgia (there's nothing quite like the sight and sound of classic machinery), mechanical sympathy (these bikes need looking after to ensure you finish the race), and I guess just damn good fun when you're all in a race together trying to make the most of outdated machinery.
Because once you've ridden modern bikes with better suspension, handling and brakes, you realise how far machine development has come in the last few decades. So that when you hop back onto old machinery you end up riding around the problem and that in itself adds an extra dimension to your racing.
It's a bit like the RUST readers who – a few years back – each built themselves a 'chicken chaser' based on an old Step-thru moped on which they would occasionally compete. These guys were all decent enough riders with modern machinery that regularly raced H&Hs, but what they got from competing on their chicken chasers was a whole new element of fun.
To me that's what the vintage/twin-shock enduro scene is all about. It's about having fun, messing about on old bikes, and keeping the machinery 'alive'. The added attraction of purchasing bargain old bikes and keeping them running at minimal cost, as well as patching them up and maybe even improving them along the way is also an attraction. But riding and racing a bike that may well have been part of your youth or even the sort of machine you used to aspire to but could never afford at the time, also comes into it.
In the same way that Marilyn Monroe/Debbie Harry/Honor Blackman/Toyah Wilcox will remain forever sexy in the eyes of men of a certain age, so these bikes will always represent a certain 'golden age' in people's lives.
As for myself, well I confess I'm more intrigued now than I ever was. Could I see myself tracking down, purchasing, restoring and ultimately competing on a classic enduro bike? Yep, I reckon so. But for me it would want to be one that meant something special to me. So now I'm on the lookout for a 1973 Italjet CX50, a 1970 Hodaka Combat Wombat or maybe a '71 Super Rat. Or ultimately a bike I really lusted after, a coffin-tanked 1970s CZ. In fact I've already found one on eBay and the bloke says it's 'hardly ever been ridden…'
Huge thanks to: Retro Enduro – the helpers, marshals, officials and hangers on(!) that made me so welcome at their enduro, and in particular the ever-cheerful Sam Davidson. It's true that a lot of enduro organisers are a great bunch of blokes, but these guys go the extra mile. The course was superbly marked, well thought out and brilliantly executed. The day ran like clockwork, I heard no complaints from any competitors, the sound system played vintage music all day long and the riders were an amazing bunch of (elderly) lads 'n' lasses. Guys, I salute you one and all.
Also thanks to Mark Millhouse from www.vintageracewear.co.uk , who supplied the lovely retro vintage shirt I was wearing in the pics. He can print you a cotton race shirt with any old forgotten logos/marques you like on it (he does other fabrics and clothing too), so if like me you're a fan of the old thumbs-up Bultaco symbol (or CZ or Villa, Rickman, Montesa, Jawa etc) then he will print it onto one of his retro race shirts and charge you (from) just £20-odd for the privilege. Bargain!
Olden Daze
The weird thing about vintage or twin-shock racing is that it's often seen as a way of side-stepping the spiralling costs of modern competition. And yet as far as I can tell it must cost more to keep and maintain some of these old race bikes in tip-top condition than it does a new one. For instance I can't see the clutch lever for an old SWM being as easy to obtain – nor even as cheap – as one for a modern KTM, nor the clutch plates for that matter. And I imagine certain parts like plastics, tanks, crankcases and frames are either unobtainable or else top dollar – even on the net.
Sam told me that at first he had problems finding a replacement air filter for his SWM and had originally used a different shaped filter and cut it down and glued it together to make it fit. But because of the burgeoning twin-shock scene, companies such as Twin-Air have begun re-manufacturing filter elements for owners of this type of machinery.
It's true you don't suffer depreciation costs like you do with a new bike, on the other hand you can always easily shift a new bike if you need to raise some funds, whereas finding a buyer for one of these must take some doing. Or maybe not – that's the beauty of eBay!
Clearly not all of the bikes in the paddock were 'concourse', there were plenty of rattley, smoky old PEs and the like that had been purchased for not a lot of money, and I heard a rumour that the two guys who turned up on a pair of old twin shock KDXs had bought the pair of them for just 400 quid. That's bargain basement money for a classic to compete on.
But whilst the beauty of this series is that you don't have to fork out a lot of dough in order to compete, it was the immaculately prepared and restored machinery that really drew my attention. So in the lunchbreak we strolled around the paddock and asked some of the other competitors: what exactly is the attraction of vintage machinery?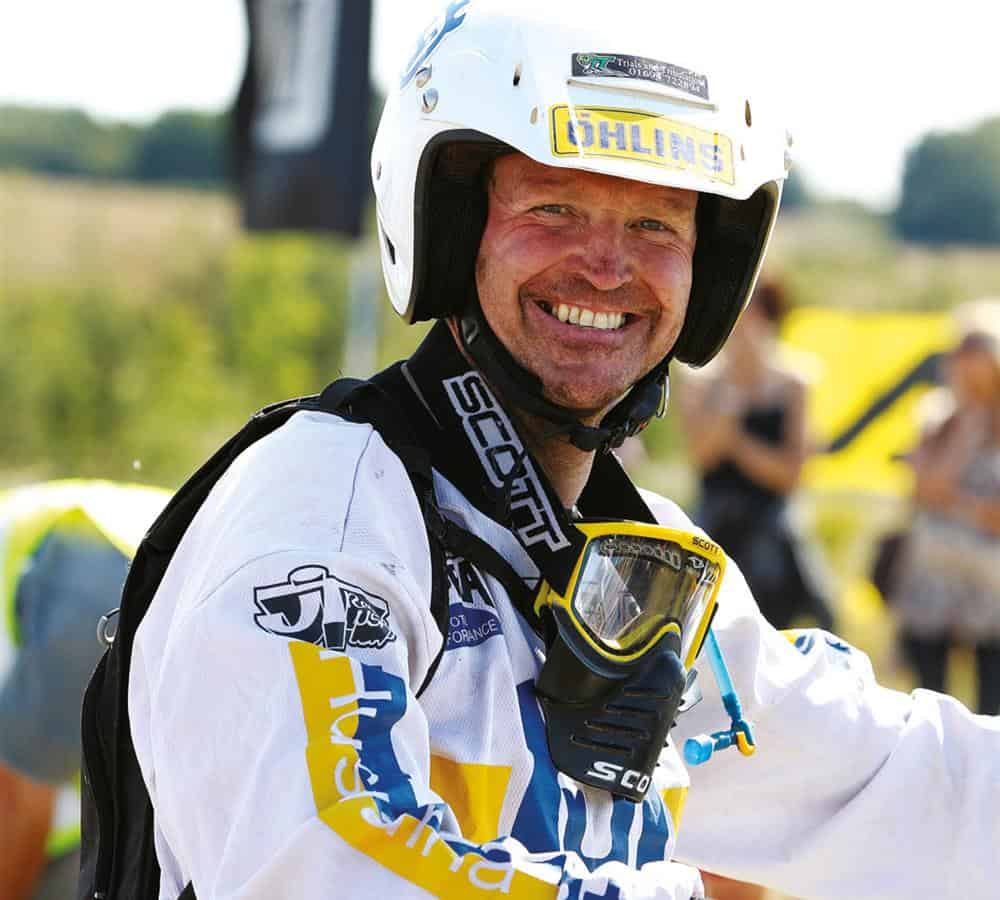 Ian Spence, 45, Husqvarna WR500
'I guess I'm one of many old guys reliving my youth. I sell modern bikes for a living and got a bit board of riding them, I prefer to be riding these older bikes. But I didn't ride them first time around. I got my first bike when I was 18, which was a 400 Maico. I'm more of a time card enduro rider and raced the Welsh Two Day enduro earlier this year. I've never ridden any motocross and prefer Welsh forest riding. But I'm here to support the event and try something a little different.
'I rode the Welsh three years ago on a Bultaco Frontera, which was my first real outing on a twin shock. Last year I rode it on a seven speed Gori, and this year I raced the bike I'm on now, an '84 Husqvarna WR500. It came into the country from California unregistered and not running, now it's road registered and running fine. I do all the work on my bikes myself, I don't like to have others do anything. I do enjoy the renovation work, but I don't believe old bikes should be turned into museum pieces and put in glass boxes. It's nice to take something that doesn't work and spanner them up so that they do.
'I have two seven speed Goris, of which only 50 were brought into the country, but they're just about sold. I have two or three other bikes kicking around waiting to be worked on or built up.
'Older bikes aren't uncompetitive against modern bikes. Modern day bikes are easier to ride, and there's no shortage of good riders about today. But events were as hard, possibly harder in many cases, back in the day.
'I've not been overseas to do any twin-shock events, but I'd certainly like to. The twin shock enduro scene is very much a long way behind where it's at in Italy and France. There seems to be a bit of a reluctance to get into enduro in the UK. Getting a bike taxed and road legal is something some people can't be bothered doing. We have some fantastic going in this country, but many riders seem to dislike it when the going gets tough. That's never how it was in enduro.'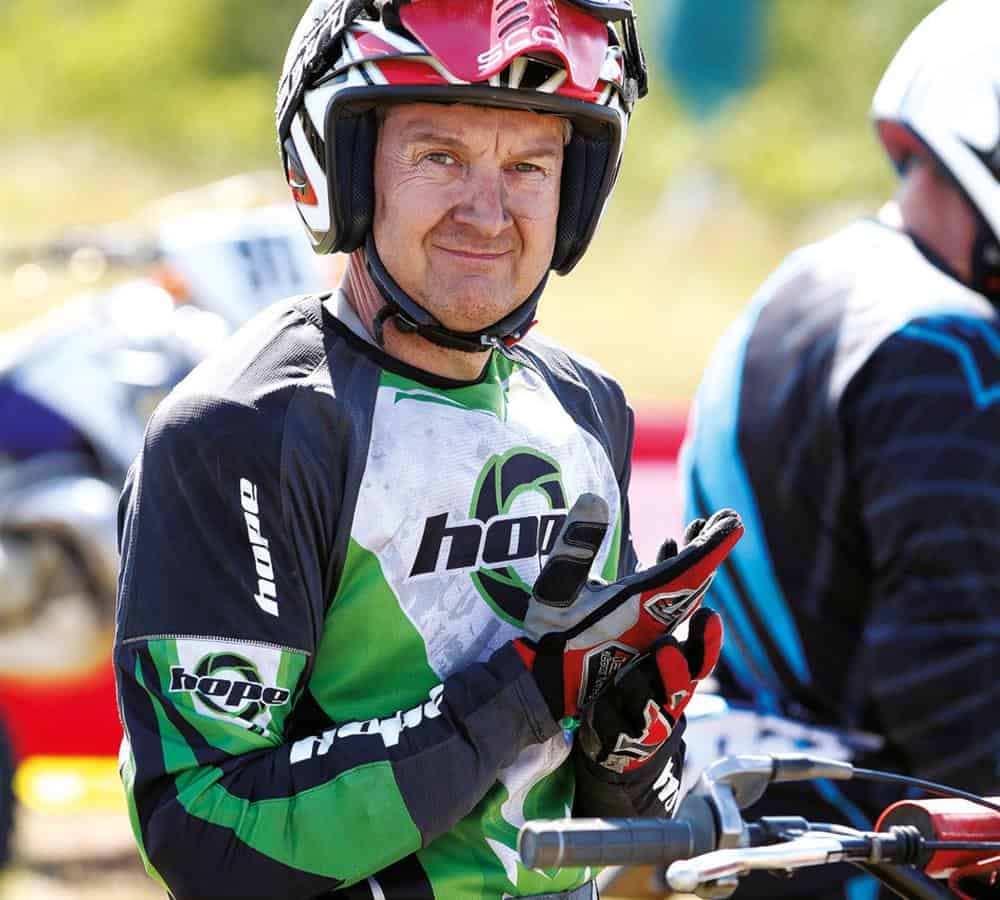 Nigel Houlston, 48 '82 Beta RC125
'This is my first enduro event after 20 years away from the sport. I'm always messing with bikes and just fancied getting a little two-stroke. I fancied a KTM, like I used to race, but I spotted the Beta and decided that that was the bike for me. I was British Clubman enduro champion back in '85, so my heyday is well and truly behind me. I'm an engineer so precision engineering is something I have an interest in, which crosses over a bit with the old bikes. I'm a fan of off-road riding. I do a lot of trail riding, some trials, and just fancied having a go at something a bit different. I picked the Beta up at the Telford Show. I've not seen another, and all I know is that it's been on the cover of a French enduro magazine. I think the bike's as rare as hen's teeth, but I think they're for using not just restoring and keeping in a garage.
When I brought the bike the majority of the donkey-work had already been done. The frame had been stripped and painted, which I always think is a horrible job. I just did the nice bits – put a new exhaust on it and got it running right. The engine was brand spanking new. I've got the original engine, which is complete. It's sad because the person who had the bike before me must have fallen on hard times. I'm guessing he'd spent a fortune on the bike to get it to the stage it was at, before abandoning it.
As far as I can work out he enquired about a new cylinder head, because the original one had a chunk missing from one of the fins, and ending up getting his hands on a brand new engine – the last in the Beta factory I believe. I've managed to get some spare crankcases from a guy in France, I'm constantly on the lookout for parts. There's not a lot of the specialist parts about any more, Beta don't even have many of them left.
The bike has some history because there are old paint marks on the wheels and original engine, but I don't know much more than that.
There's a great mix of people here. From riders that have raced all over Europe to beginners and youngsters having a go, which is great. I'd like to try a time card event next. Unfortunately, my business, which is a cutting tool engineering firm, takes up too much of my time, but I'm enjoying this event…'