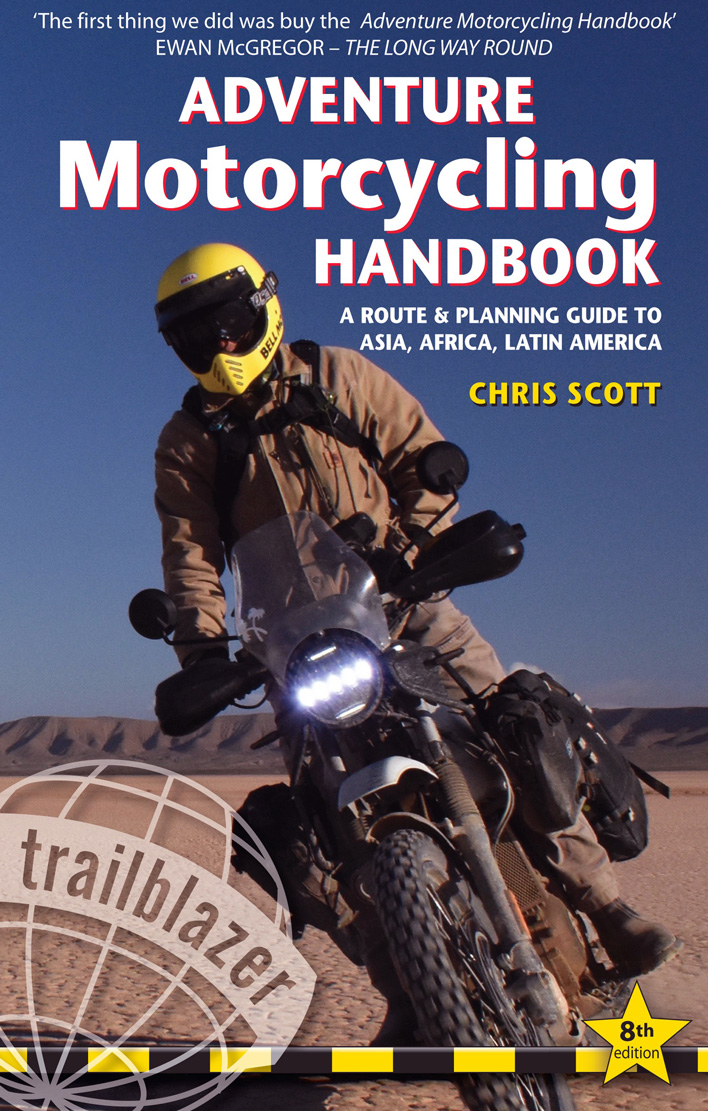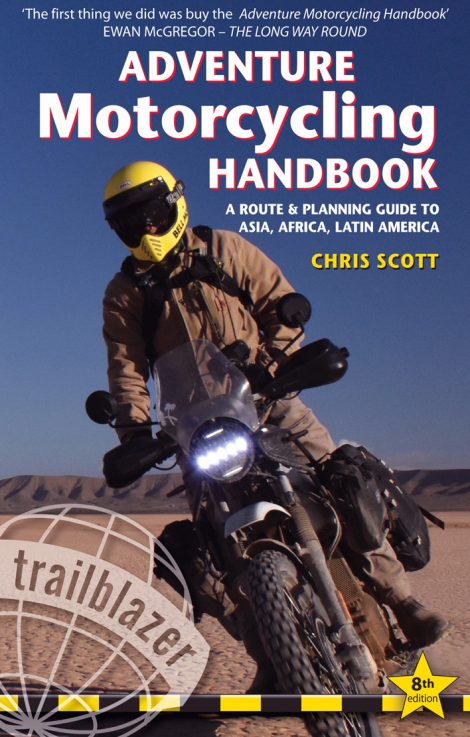 2020 UPDATE.
This interview took place in 2014 (seems like yesterday). Chris has published further books since then and within weeks of this republishing the eighth edition of the Adventure Motorcycling Handbook will be on sale – published by Trailblazer Guides (www.trailblazer-guides.com)
I'm very much enjoying the company of Chris Scott. We're drinking coffee, not beer, in the later hours of a day at Touratech UK's Travel Event (in early May). Chris is one of Nick Plumb's (boss at Touratech UK) special guests, he's spent the day talking to adventure enthusiasts both individually and en masse. He's probably done enough talking for a month, but he's here still and talking – if I can bring myself to use the word – passionately about adventuring on motorcycles.
I've met a few of the 'stars' of the adventure world now and they all have their calling cards. Austin Vince – mad cap movie maker with kitchy 60-70s zany style. Nick Sanders – driven record breaker with slightly mad professor slant on, well, all things. Even foreign versions, like Austrian Joe Pischler – long hair, squeaky voice, always riding at 200mph on his KTM Adventure-come-motocross bike.
Chris Scott though, Chris is different. He's calm, considered, reflective. It could be age that has brought him to where he is now, being into his 50s, but if I'd say he was one thing, if there was one trait that defined his character, it is 'patient'. Chris has the presence of a man who knows no matter how fast you run around, no matter how quickly you want things done, the world will only turn at the very pace it is turning now, taking each minute 60-seconds at a time, using a full 24 hours to make the one revolution. The earth's spinning here on the edge of the Brecon Beacons at the same speed as it does in downtown New York, as in South London (where Chris grew up), as it does in the middle of his much-loved Sahara. Maybe Chris's aura of patience has grown out of too often having to wait all the hours, days and weeks for a visa, for having stood hours at a border crossing, from being one who has sat patiently, alone, in the middle of the desert with a stricken vehicle, waiting for rescue. If Chris Scott is one thing to me, he's patience.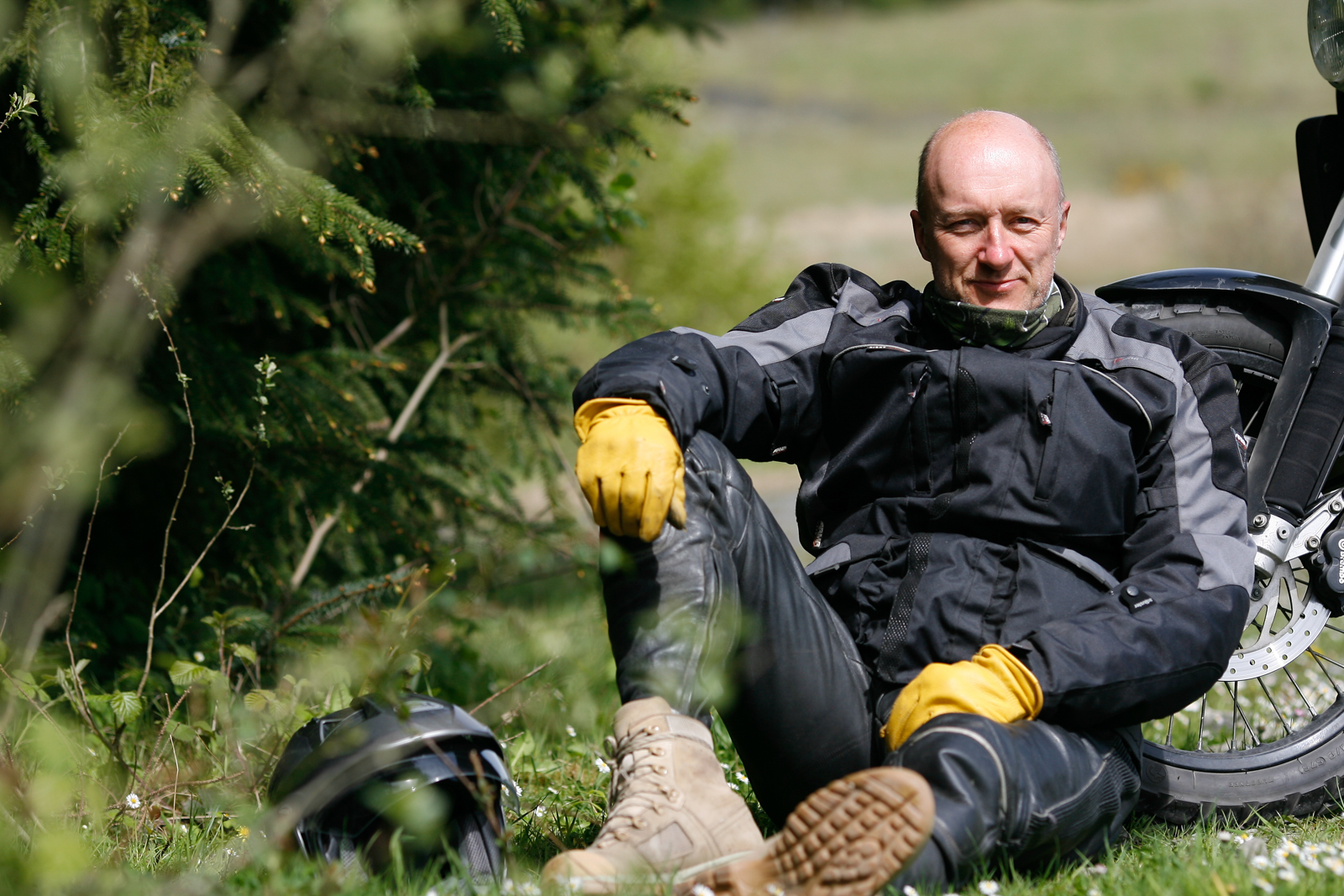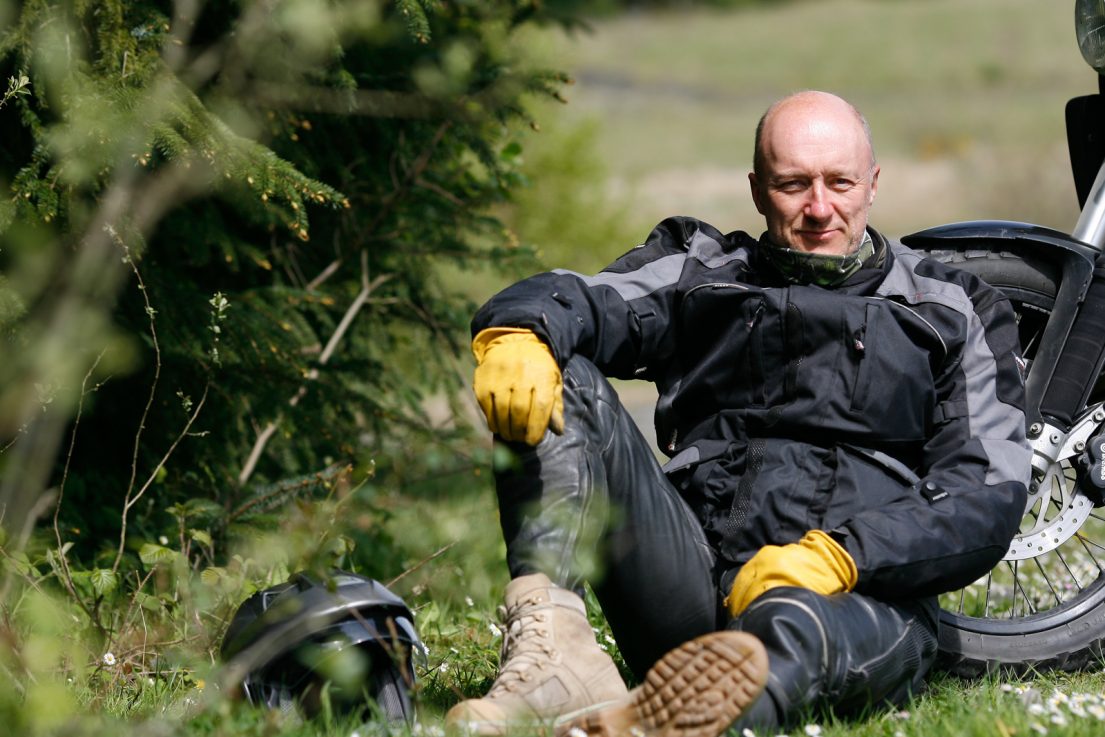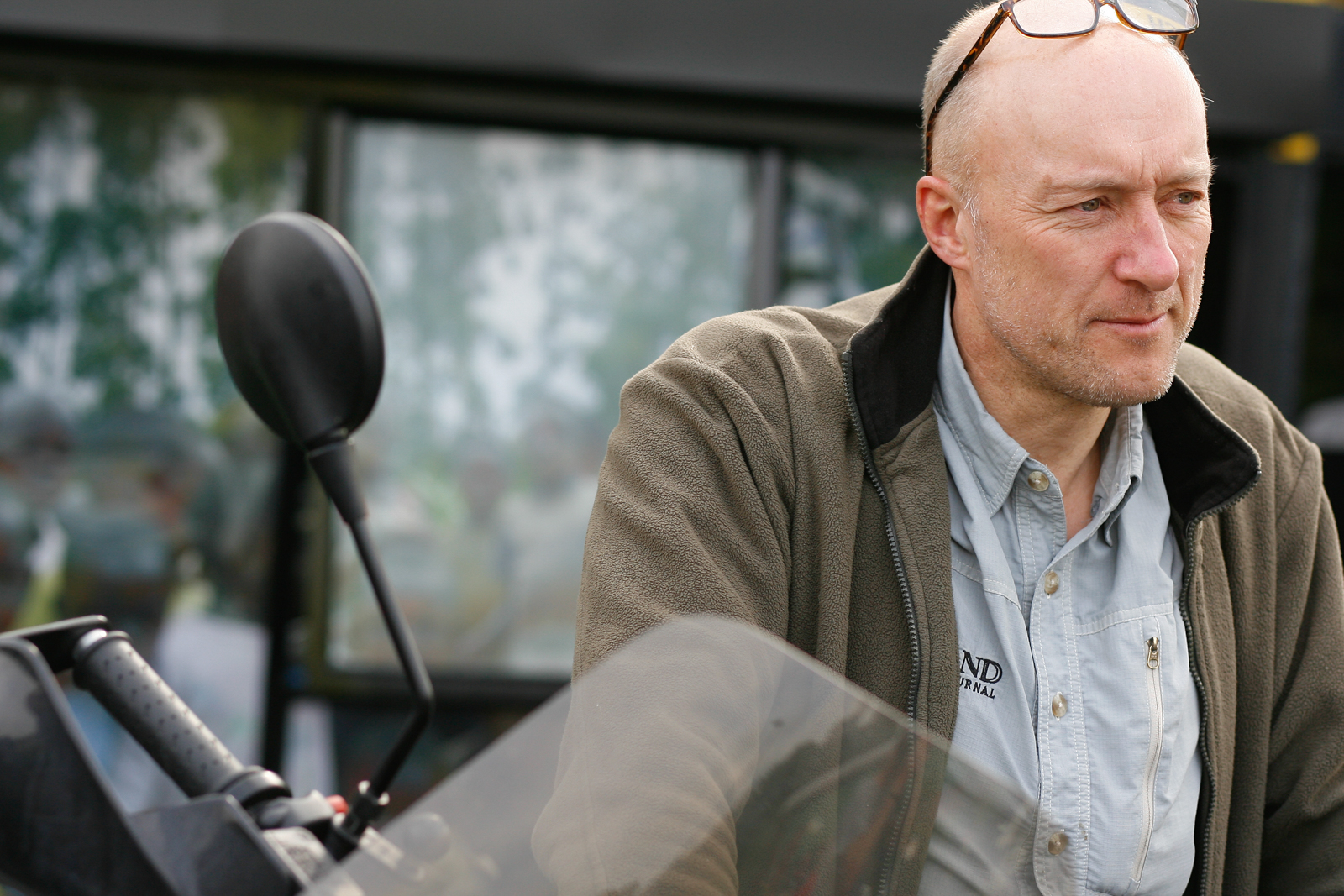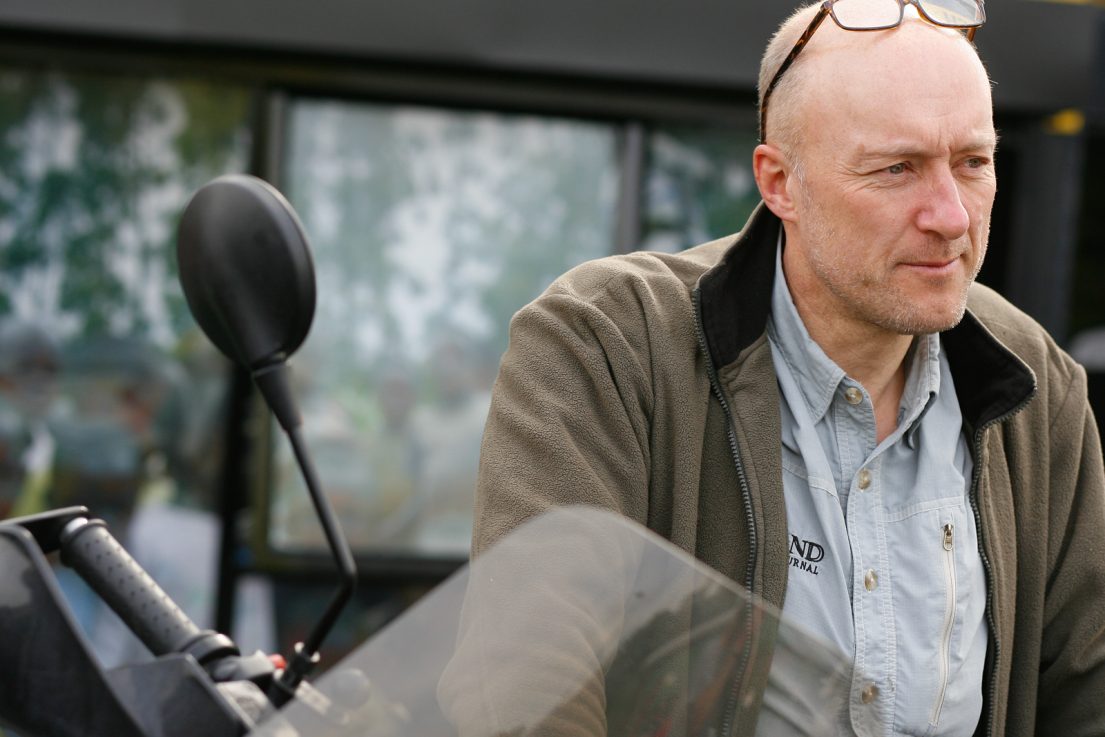 A NEW BOOK
 Chris is well known, not just for his travels – we'll come to those – but for his book. In fact, The Book (no, not that one). For the 'Adventure Motorcycling Handbook' has become the number one book for all aspiring adventure riders to read. As the title suggests it not an account of a Big Trip, instead a compendium of advice on all things motorcycling and adventure. It started life in 1991 as a 30-page report Chris submitted to the Royal Geographical Society (then titled Desert Biking: A guide to independent motorcycling in the Sahara), then became a slightly larger photocopied booklet sold through a Charing Cross travel book shop (as Desert Biking) and has since evolved, through six increasingly larger editions – the latest is 384 pages long – into a full-on route and planning guide for world travel. Chris has been astute enough not to stretch his knowledge too far, now he part-writes part-edits the book, crediting some 30 contributors.
 As a consequence of the book Chris has been elevated to something of an adventure icon, not least for his almost desert fox antics in his preferred playground, the Sahara. Chris was travelling through that remotest desert region long before we had GPS and satellite navigation. He didn't use a compass so much as the sun for guidance. And of course he wasn't riding a fully-loaded GS Adventure, instead an XT500 complete with home-made rack and various home-made bags and boxes. His careful yet colourful and often witty writing is both disarming and involving, making him an easy man to want to follow, to want to emulate. He has though been a private man, caring only to present to the public the persona of Chris Scott the Adventure Motorcyclist, not, he admits, the inner man.
 Only that may not be the case for much longer, for in something of a departure from his usual style Chris is about to see published what he likes to call an 'urban memoir' recalling his younger days, his twenties, living in London, working as a despatch rider.
"Like anyone my age, we did nutty things on bikes back then, got drunk, maybe did a bit of drugs." says Chris. So this, he says, will be a read that will take the reader a long way from the safe pair of hands that typify his style in AMH.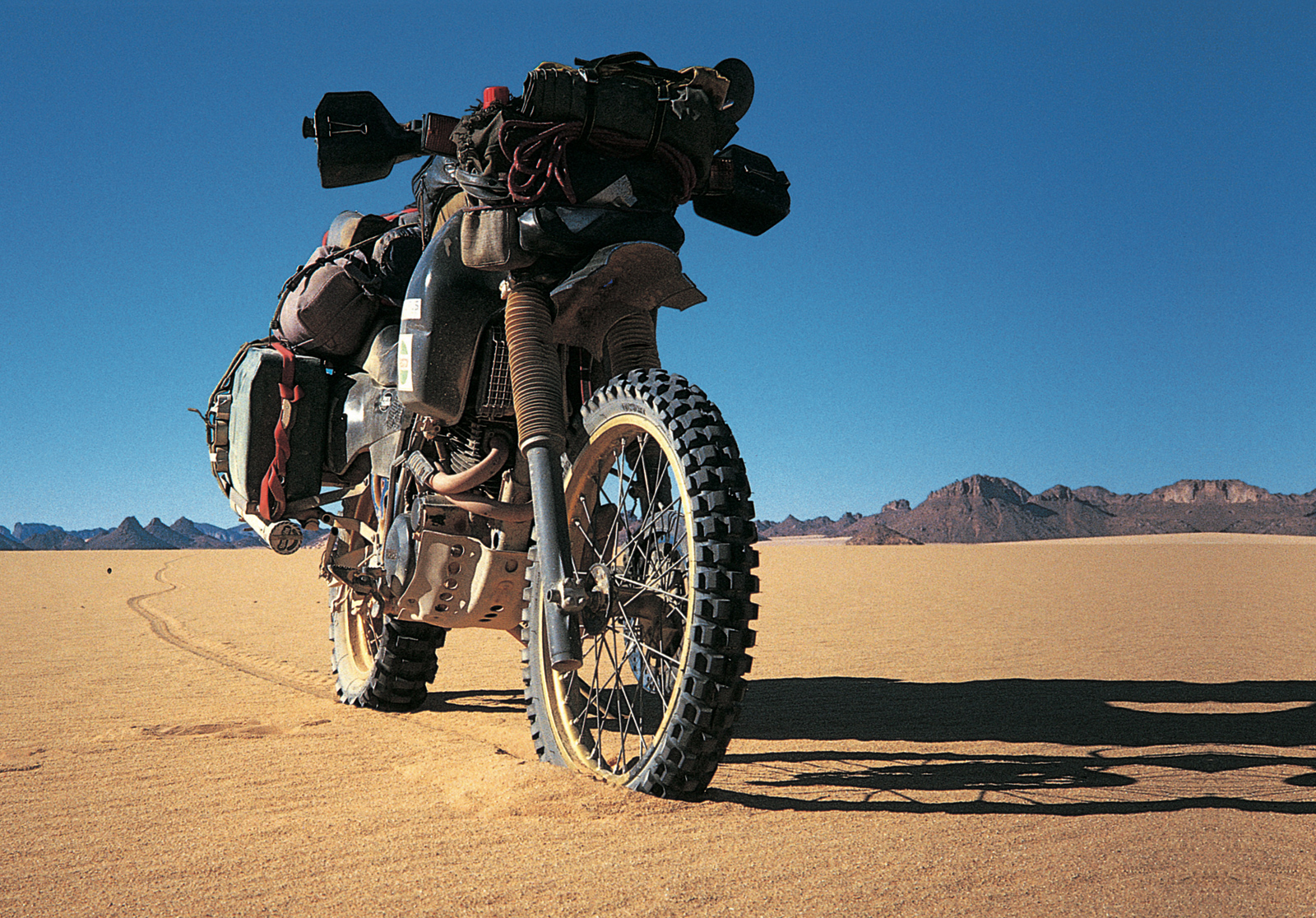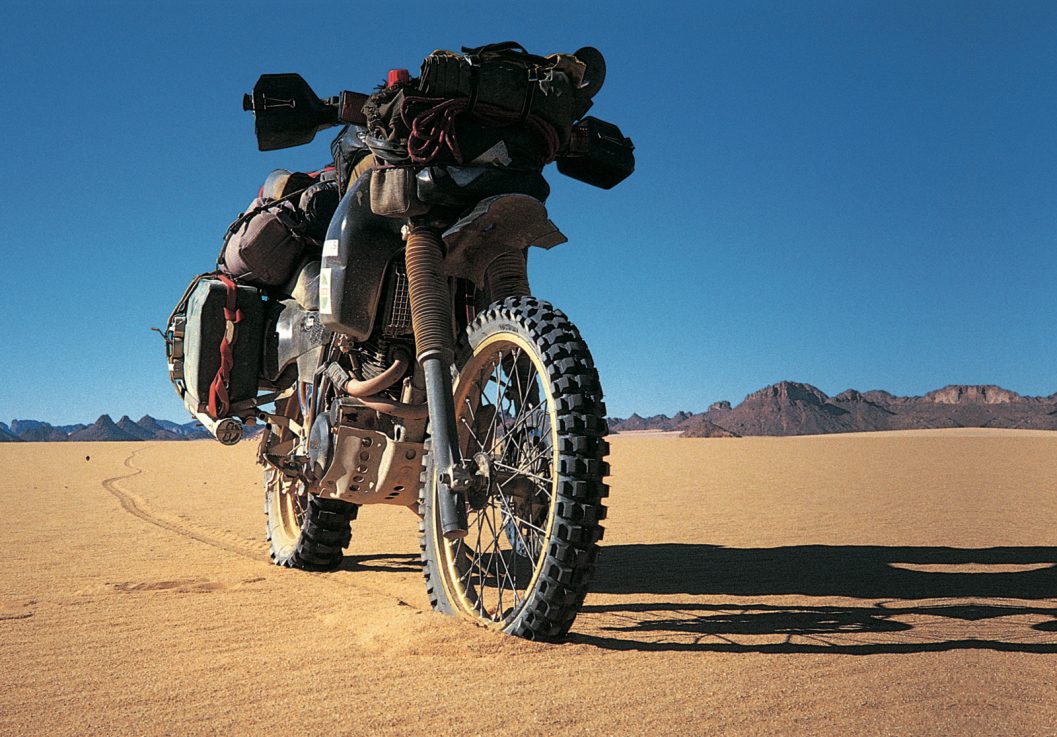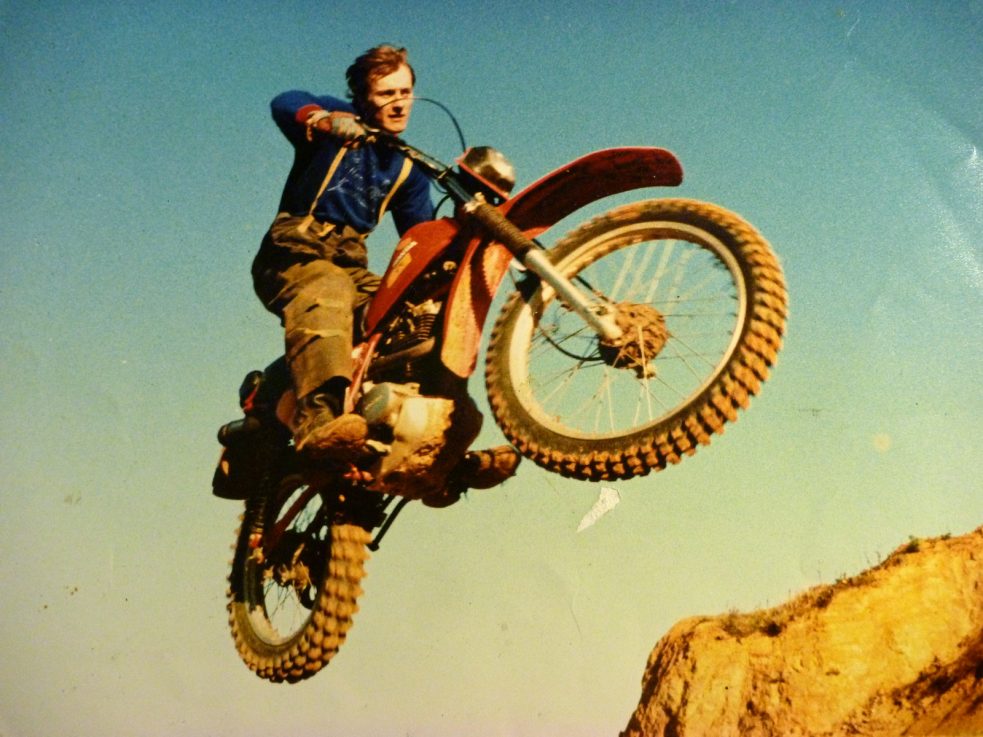 "It's a bit like sabotaging my own profile, I can imagine people will say, I'm never going to read AMH again – he was a drug taker, an anarchist! Well okay, but fact is that is who I was.
"I do say in the back of the new book that I'm known for the sensible book that is AMH, and I declare this is not that book – this is all the mistakes and stupid things I did along the way to AMH. It starts with a crash and ends with a crash, just like biking did in those days. And ends with the end of my despatch riding years; after ten years I was done, the good years were over, fax machines were coming in, email would be on its way. Gone were the crazy days of actors, drug dealers and all kinds of crazy people riding despatch bikes, a colourful era.
"The book title is Adventures in Motorcycling – which might catch out a few of my regular readers – but it's not an adventure motorcycling book, it's an urban memoir. I've enjoyed writing it and researching it. I'd got into bikes at a good time, the late 70s, the boom years for bike sales. They were the Thatcher years too – you were either for her or against her, my people were against her although I can't say it was that strongly felt. But it was a time when it felt like the country was in ruins, everything was shit, the price of fuel had shot up, the unions ran the roost. I'd by accident got into squatting and for the next 12 years I'd be kicking around central London, Hackney and back, with a general disregard for the law. You'd do things back then that couldn't happen now what with cameras and computer data. And it was an era when the bikes were amazing, CBX1000s, XS11s, GS-thous, lot of bikes I never had too, that are now out of my league again given classic values. So there was that – the bikes – in between all the politics and the squatting. I'm calling it a moto-biography, a new genre, it's of course absurd to be writing a biography, but if I give it a motorbike spin, which is my background, it at least seems less of a vanity project!"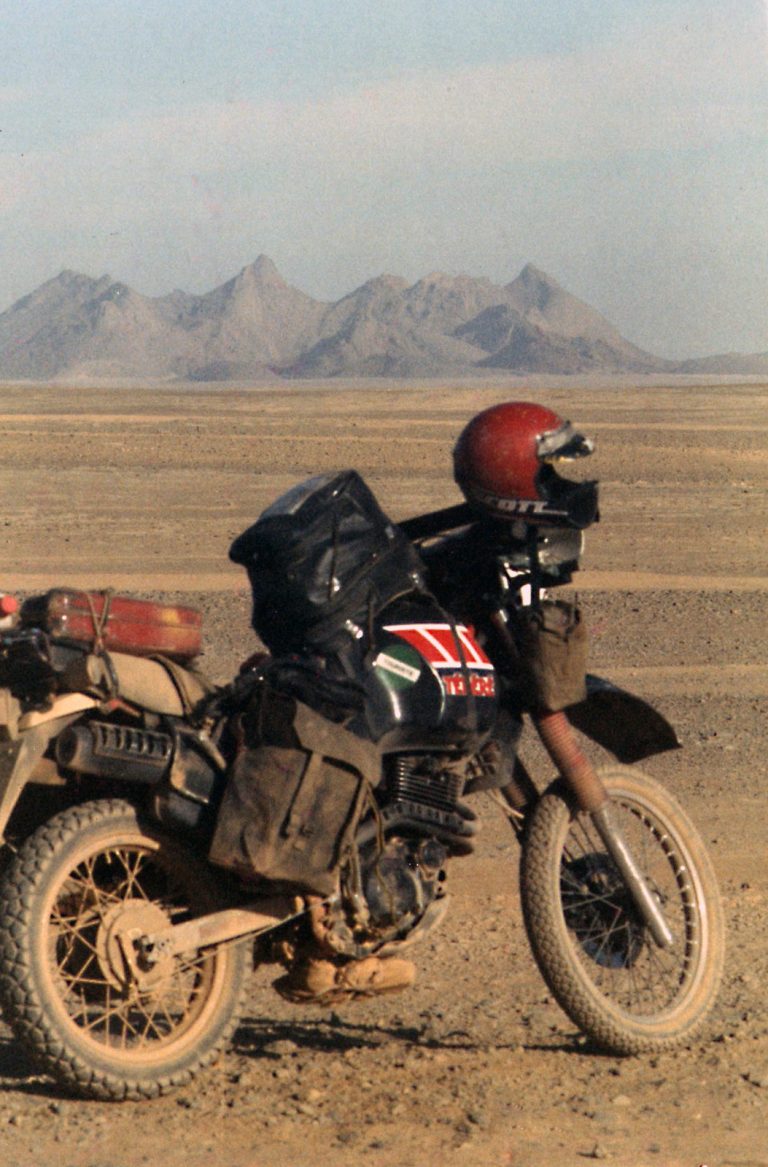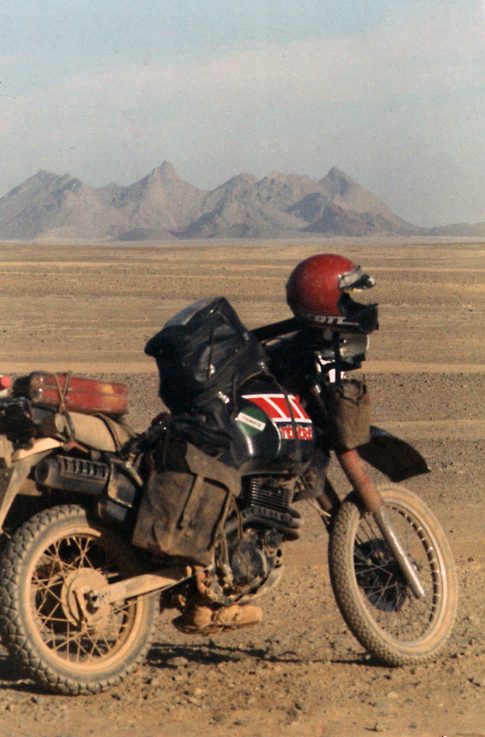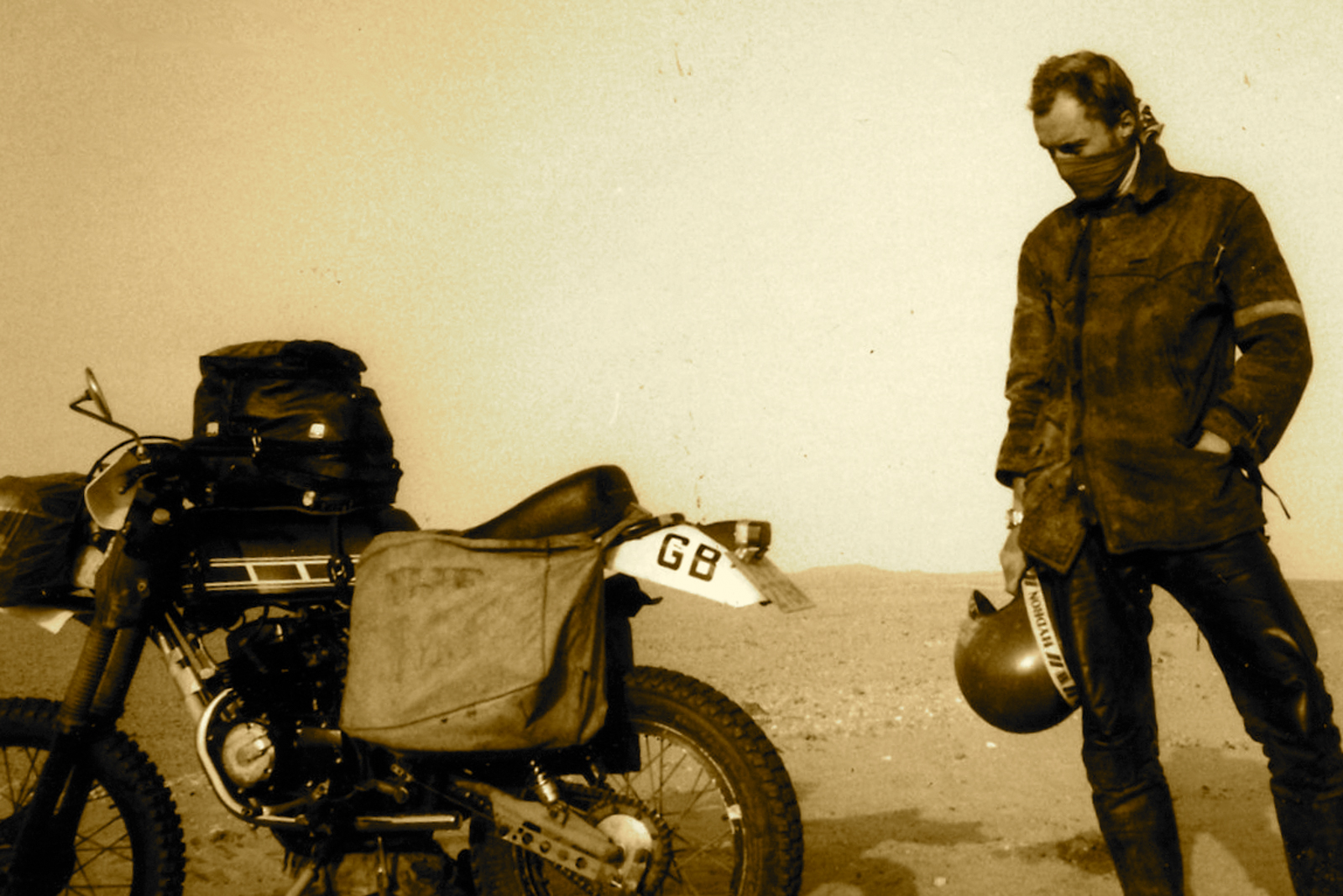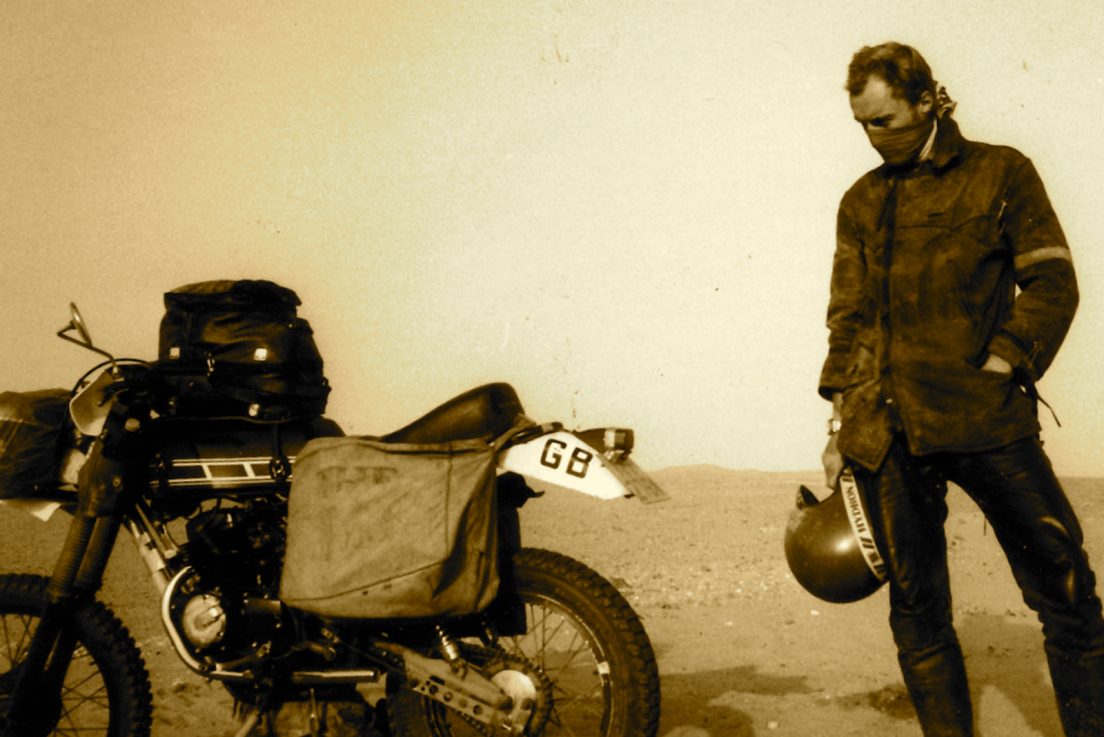 FIRST RIDES
Chris today seems very much the experienced adventurer, explorer even. But his beginnings were as humble as anyone's. And while he was drawn by the great outdoors he was limited by his environment. In his youth, Wales was the wilderness and when he reached his teens he'd jump on a train up to Snowdonia for some mountain walking and climbing. At 16 he got a Honda SS50 and tried riding there, getting as far as Leicester before breaking down. But the freedom of movement that came with the motorcycle was not lost on him and 'a horrible period of MZs' would follow before a Triumph Bonneville rescued his ambitions, a bike that would reliably (yes, Chris got a good one) take him up to Llanberis Pass for weekends in the mountains.
Which is where his new book takes over the story. An attempt to get a proper job in the stores at the Tippex factory in Croydon led to a link with a new courier firm starting up in London. And for the next decade Chris earned a living chasing around the streets of the capital delivery packages and documents. Dirt bikes came too, initially with a TS185 and then an SP370.
"I loved dirt riding, and I could see it would be fun for a long trip, but I couldn't see it happening in the UK. I was reading the American Dirt Bike magazine back then – I loved that magazine, they would be very exacting, weighing the bikes, stripping forks apart, revalving them, altering the headstock angle – 'now it handles!' they'd declare. Their enthusiasm was quite unlike anything in the Brit scene, they were devoted to getting every last ounce from every bike. So I read a lot about bike set-up. But also the writers were brilliant – Rick Sieman and Paul Clipper – they wouldn't take it too seriously. And the whole desert riding thing looked phenomenal, when you're coming from crummy Surrey to ride in the Barstow-Vegas or the Baja just looked fantastic."
This burgeoning interest in dirt riding coincided with a fellow courier rider planning an overland trip home to Kenya. It inspired Chris to join in, only the guy never followed through with the plan. Leaving Chris to modify it to suit his own ambitions. He set off in early 1982 for the Ivory Coast.
"I left in January and the people in France thought I was a Dakar racer, the Rally having set off at the same time – I had a heap-of-shit XT500 with a lump of luggage on the back but they'd be shouting 'Dakar, Dakar, Dakar!' This was the early days of the Dakar and they obviously thought any bike with knobbly tyres was a Dakar bike!
"The journey was one joke after another. I actually thought I was going to work my passage across the Med', I'd thought I'd go to Marseille and go to the docks and say 'hello, I'll scrub the decks for you,' like some 1930s adventure story, with Rudyard Kipling. As it was I ran out of money before even getting to Marseille! I had to call Mum – 'please send money'.
"I'd made a rack out of dexion, panniers made out of drawers sawn in half – even then there was no excuse for that sort of thing, I could have made something better, but I was living in a squat at the time, so you'd use anything you found in a skip that could do the job. I remember the rack swaying around, taking a gouge out of the swingarm, it was a junk bike. A disastrous trip in all, but a big learning curve.
"But I've come to see that this is the way of these things. Despite the fact that now people will read a book like mine or look at the internet and see all the advice, they'll still make the same mistakes. It's human nature, they have to do it their way, then they can come back and say 'now I see what you mean when you said you'll take too much stuff, the wrong stuff'. Everyone's first trip, now, then, forever, will always be a bit of a baptism of fire. It's a good way to learn though, if you did everything by the book it wouldn't work for you. You might think you need to follow the rules but everyone has to find their own way, of solving the problem of how to travel on a motorbike."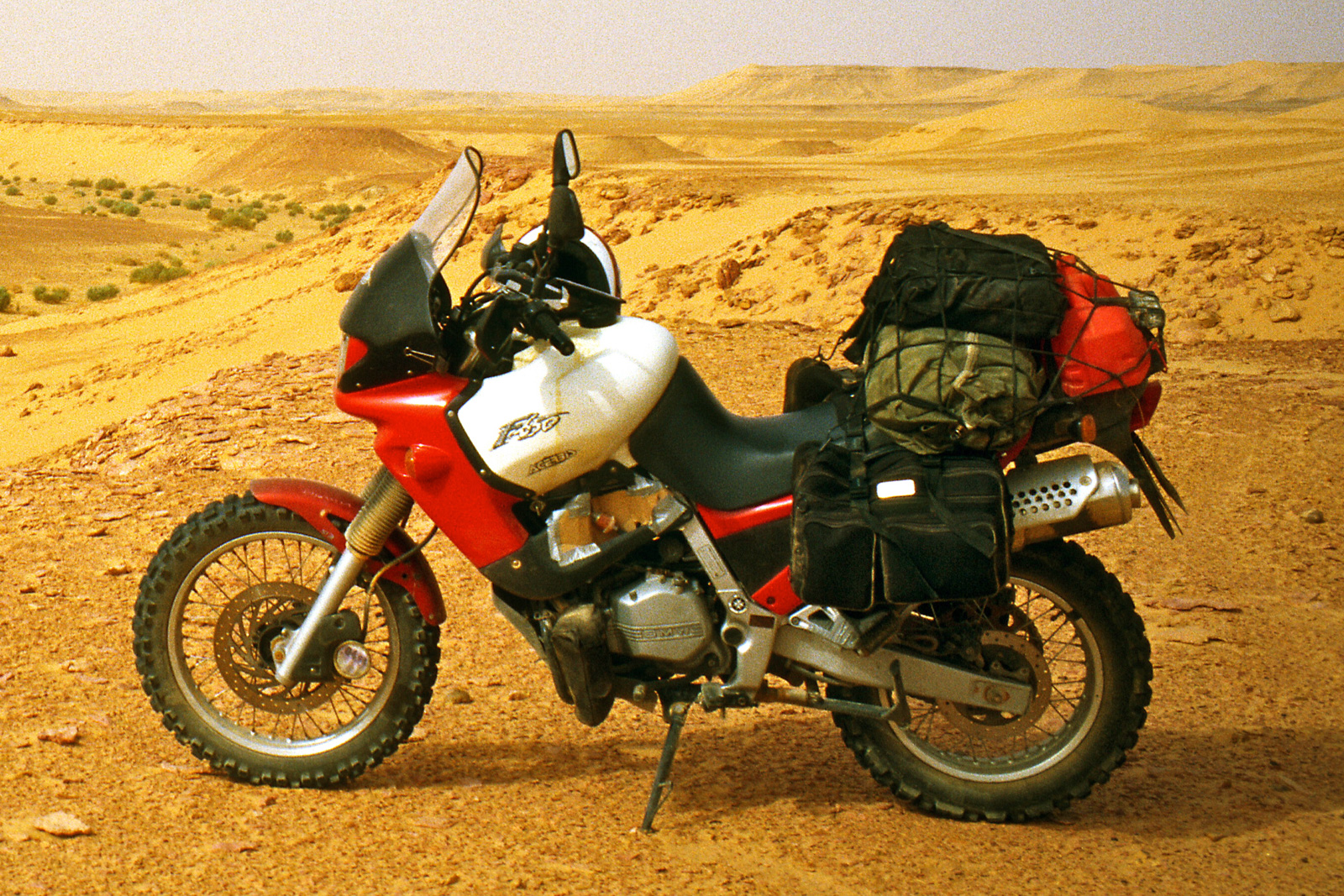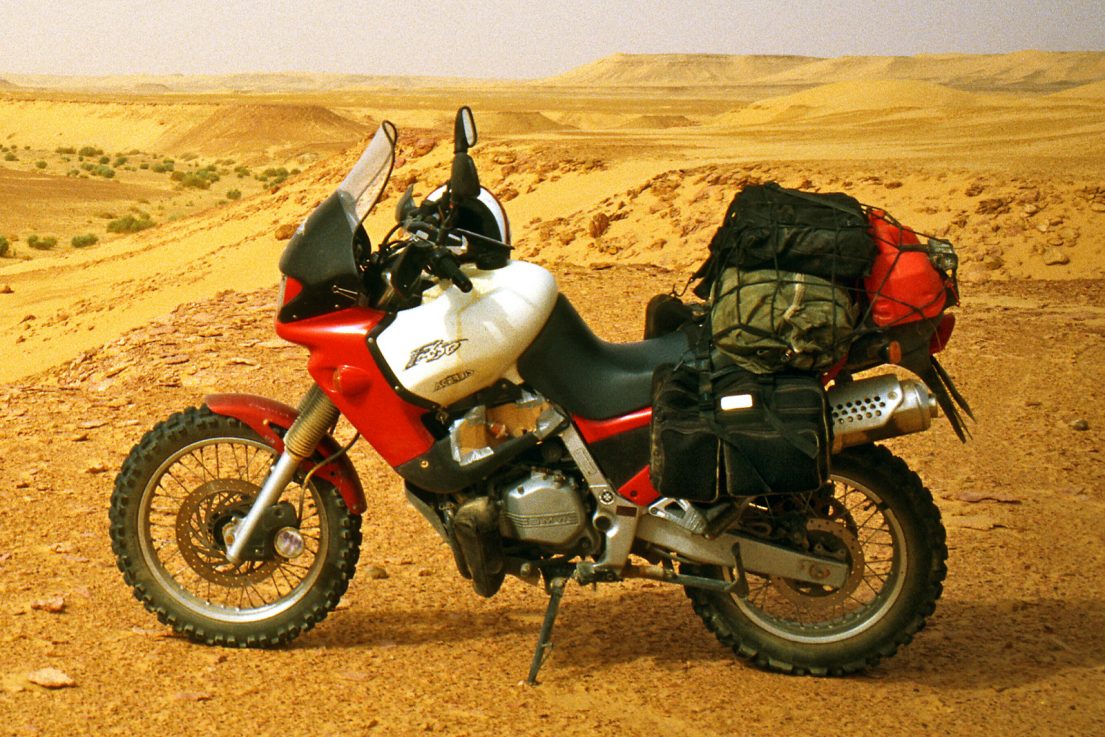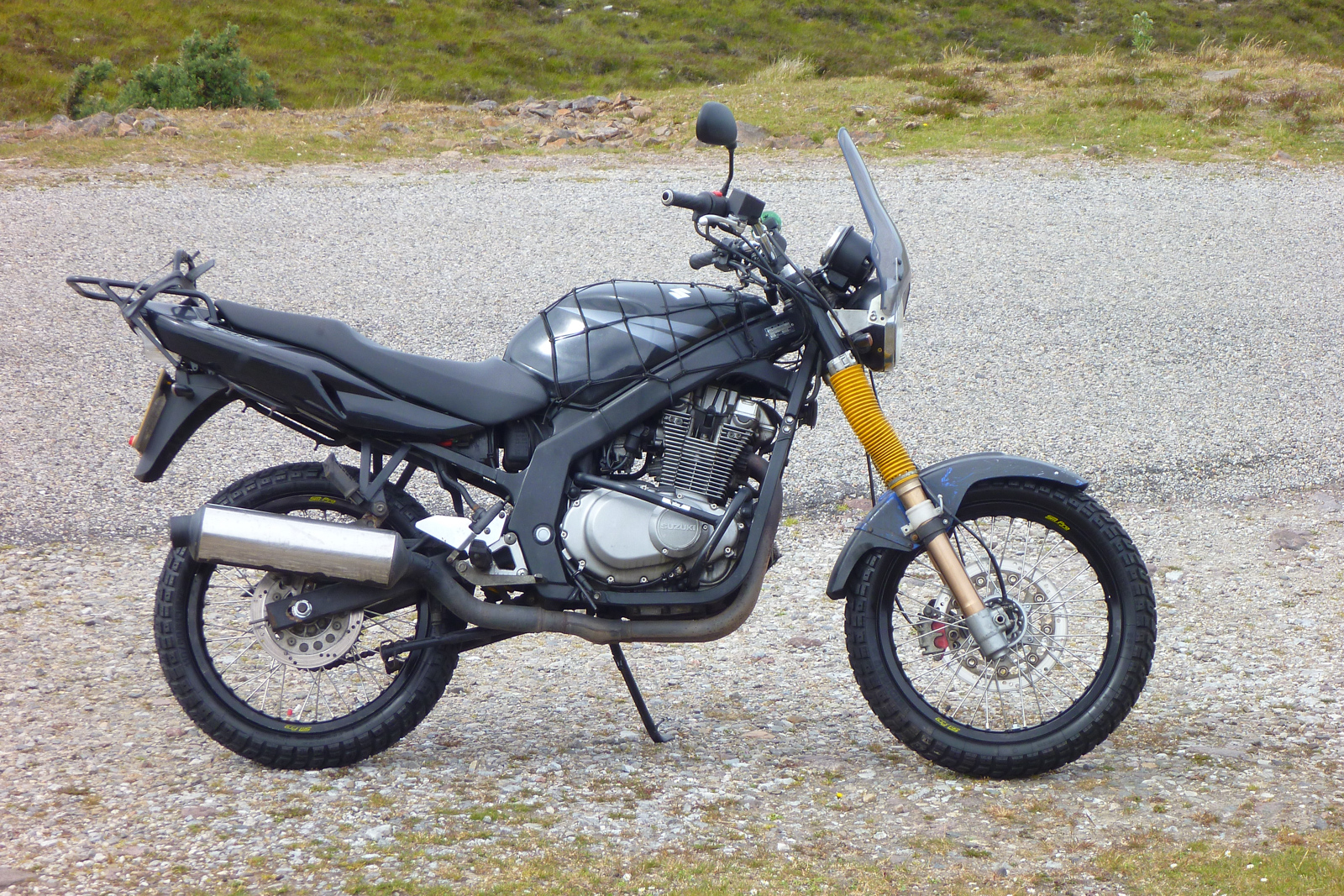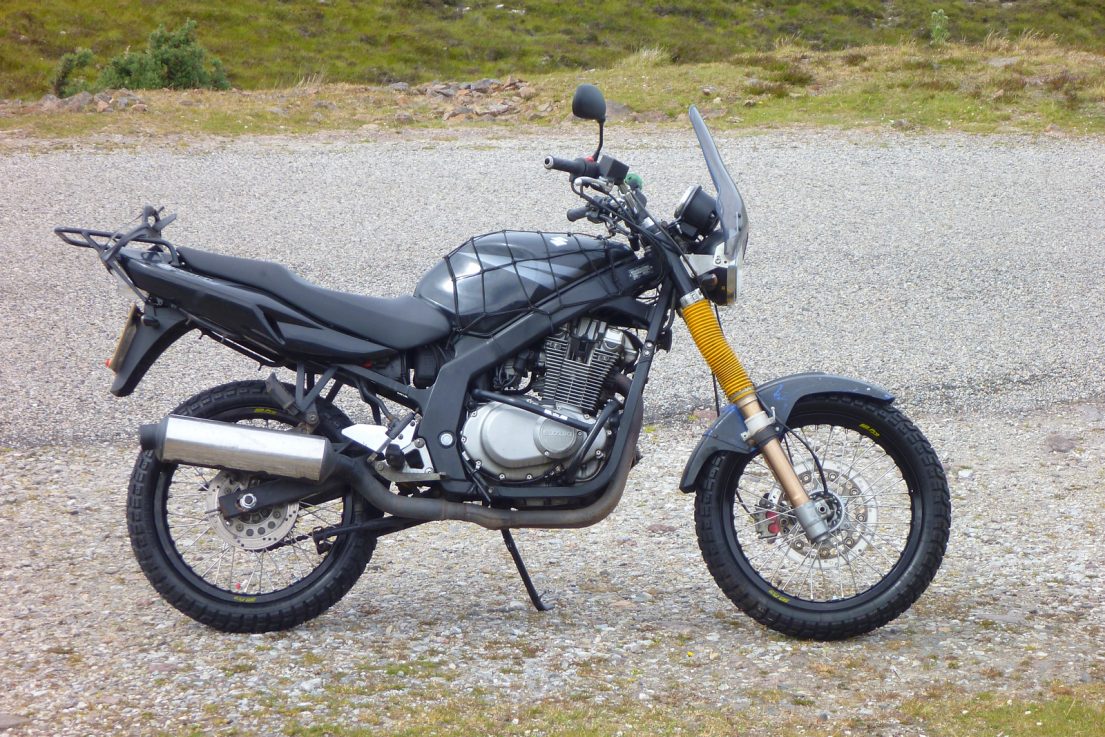 FIRST TOURS
Thirty years later that blundering innocent has become the seasoned desert traveller, respected internationally for his knowledge and sensitivity for the place and the people that is the Sahara. He's travelled further and by different means, too. There's a Chris Scott the car community know for his desert travels in Land Rovers and Land Cruisers (again there's a guide book of revered quality). But he's also co-authored Rough Guides on travel in Australia, there's a walking guide to the Pennine Way. And he also has adventures in the unusual world of travel in small inflatable craft, such as a six-day journey across the creeks of outback Australia in what was little more than a blow-up paddle boat as you might buy at the seaside. And there's that perennial off-shoot for adventurers – guiding. Taking paying customers to where you've been yourself. Ever the self-effacing Englishman (do any other cultures do this as well as we do?), Chris recalls his first attempt at guiding as being as successful as his first big ride.
"My first tour was in the late 1980s and it was a disaster. I bought a military-spec Land Rover and invited five or six despatch riders I knew. Even before we left Marseille one had left his passport at home, one then crashed out, then another, another's bike broke and another decided to leave before his bike went wrong. In the end I came back with just one rider still riding his bike after the five weeks! It was a disaster.
"I could see it was a viable niche, though. I did another one in the early 2000s into Libya and by then the bikes had got better and I had bought myself a better vehicle in a Toyota Land Cruiser.
"Now I've got them sorted, I make sure I word my pitch for a tour appropriately, to attract the right kind of rider. I'm there for the steadier rider, with nothing to prove, who wants to see the Sahara. And really it's making much better money than the books. The books might only make a couple of grand in a year but in a tour you can earn that in a couple of weeks if nothing goes wrong."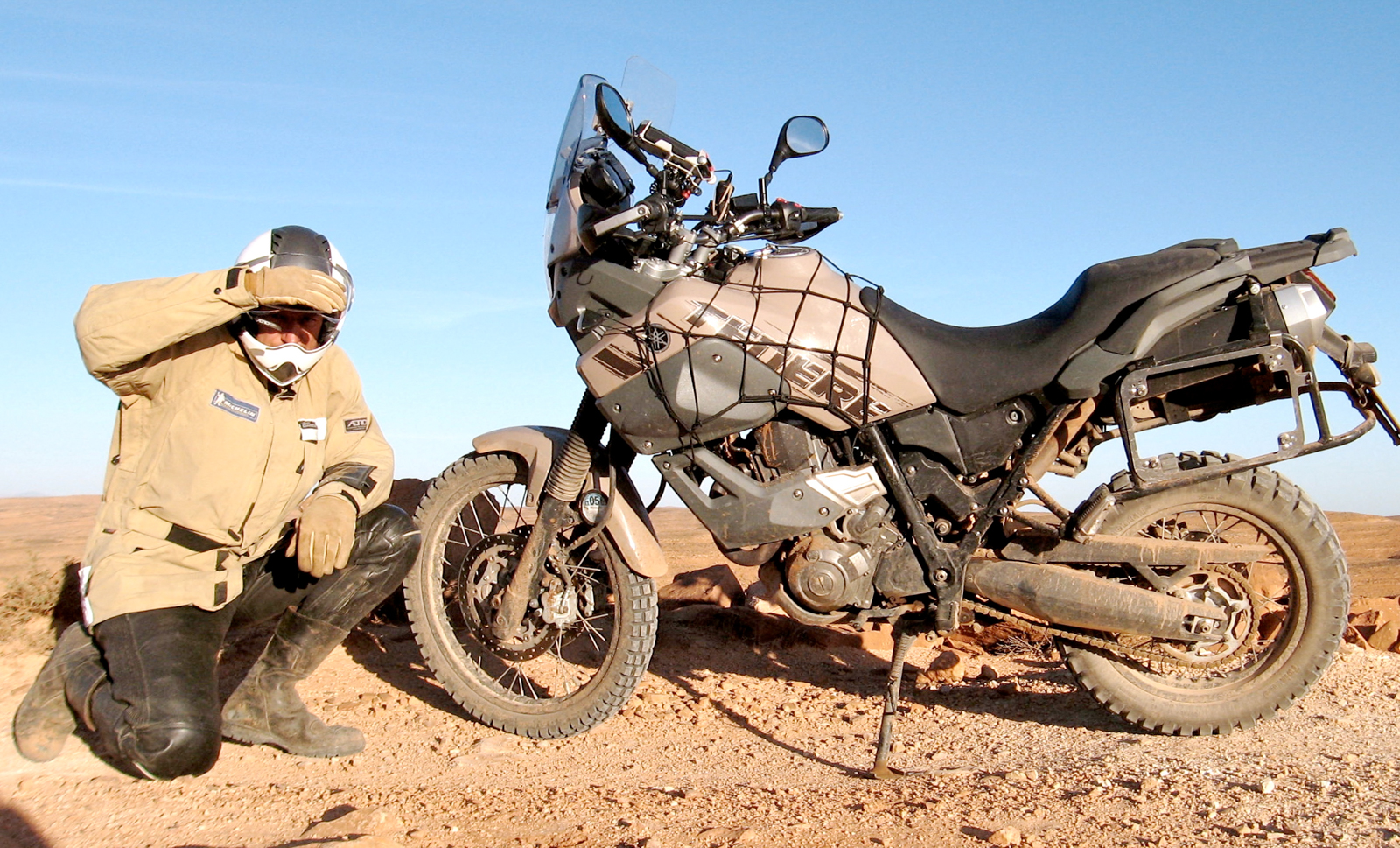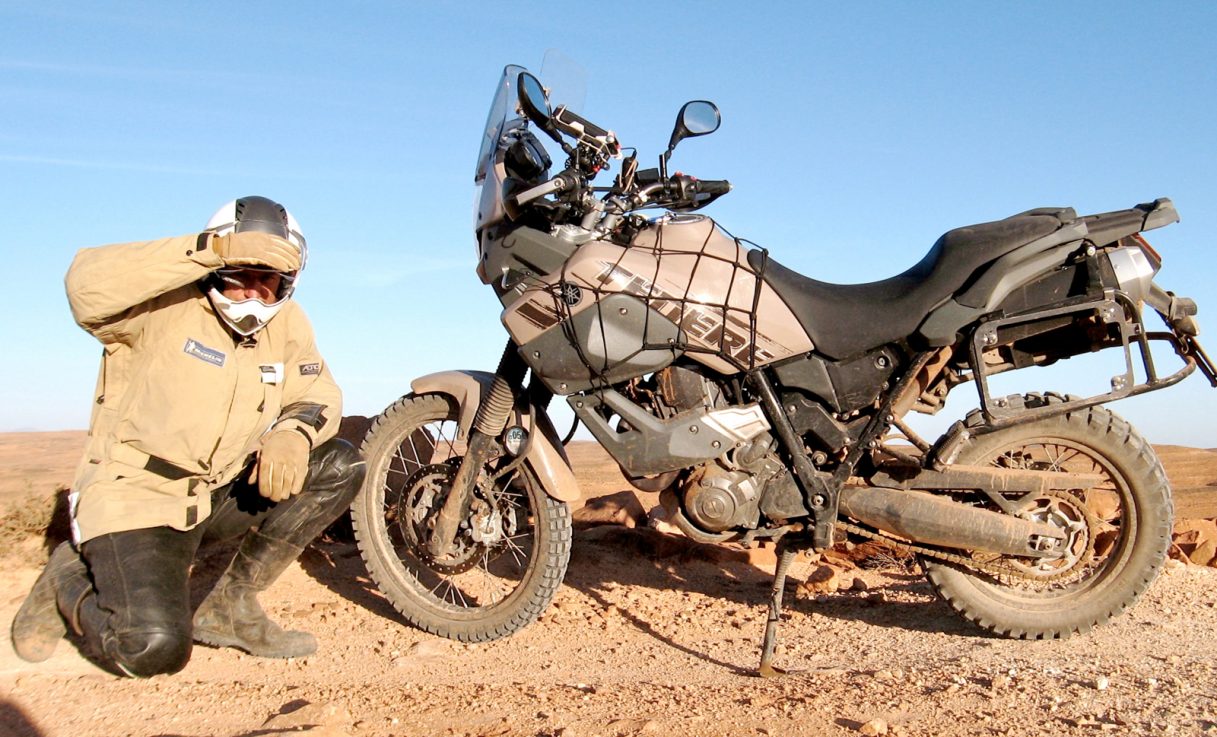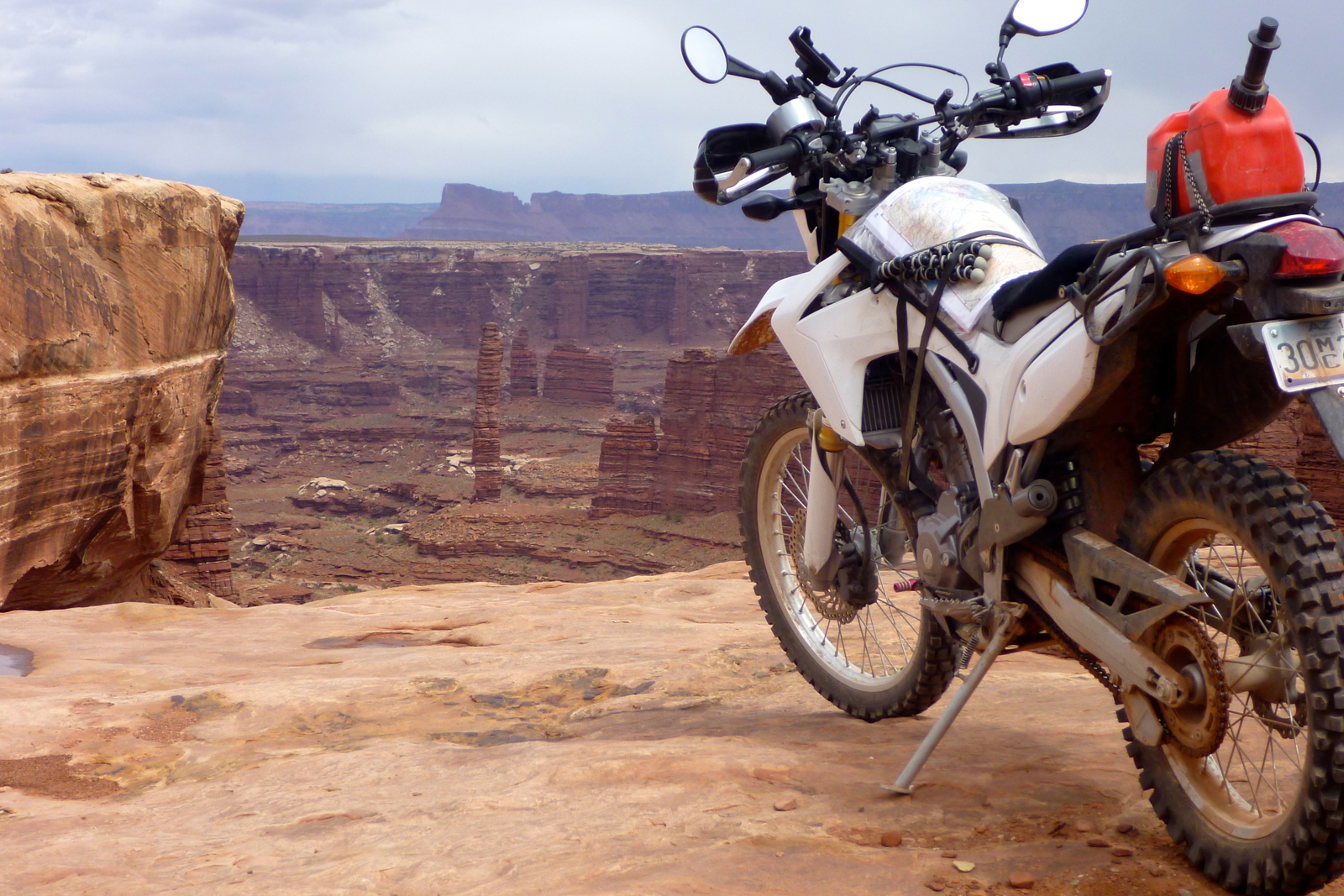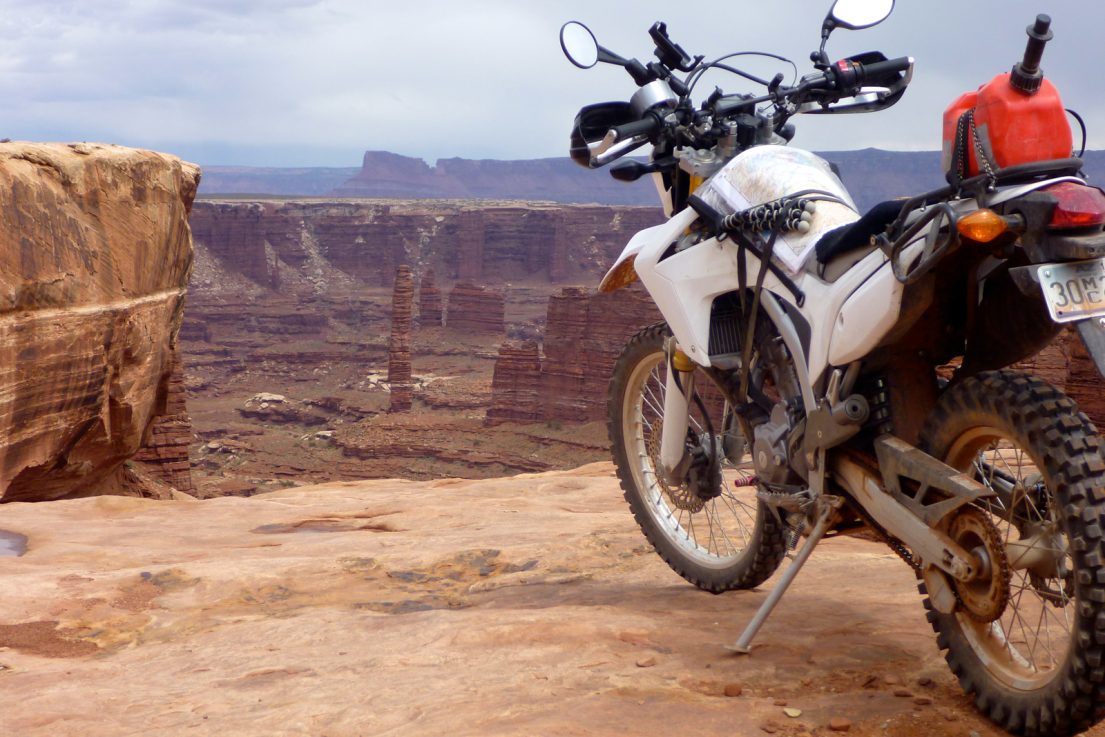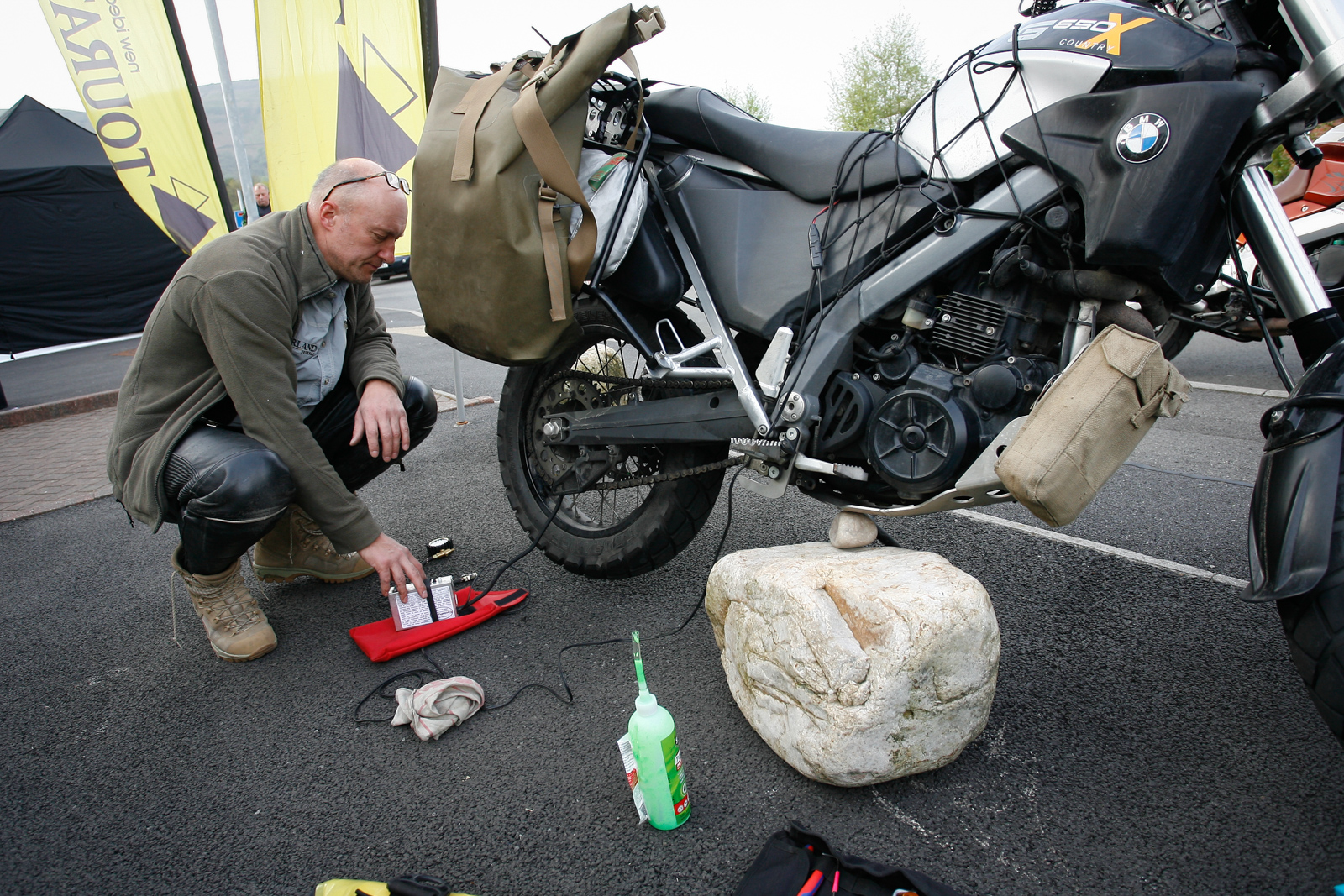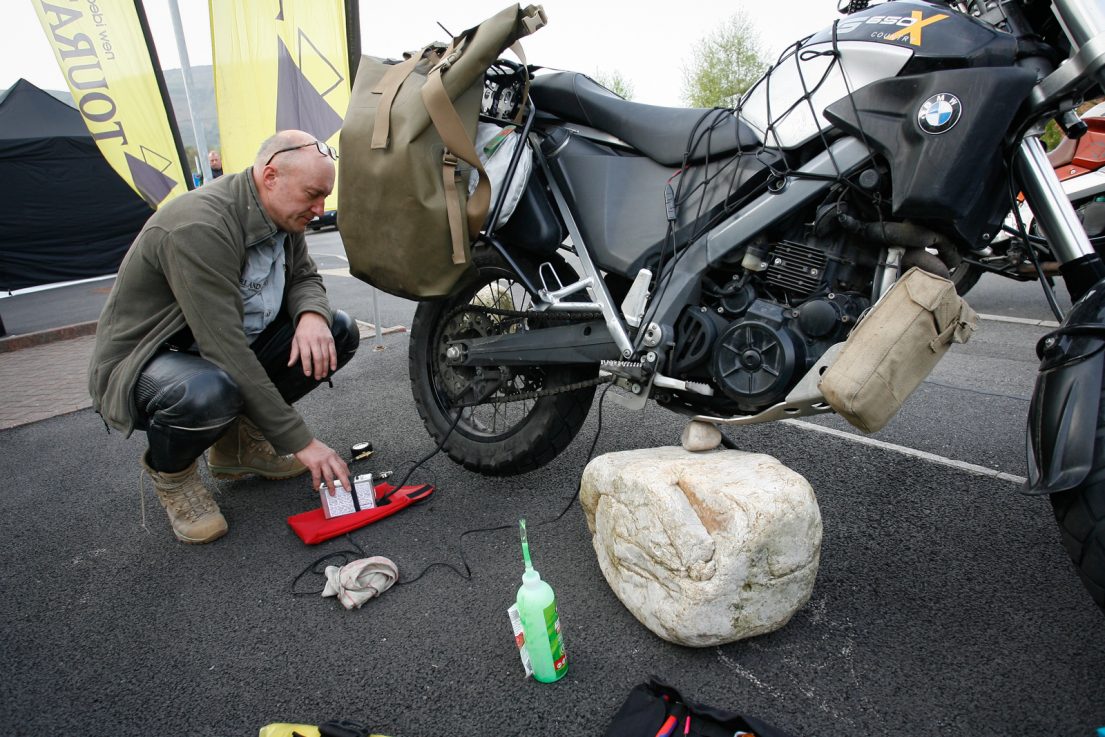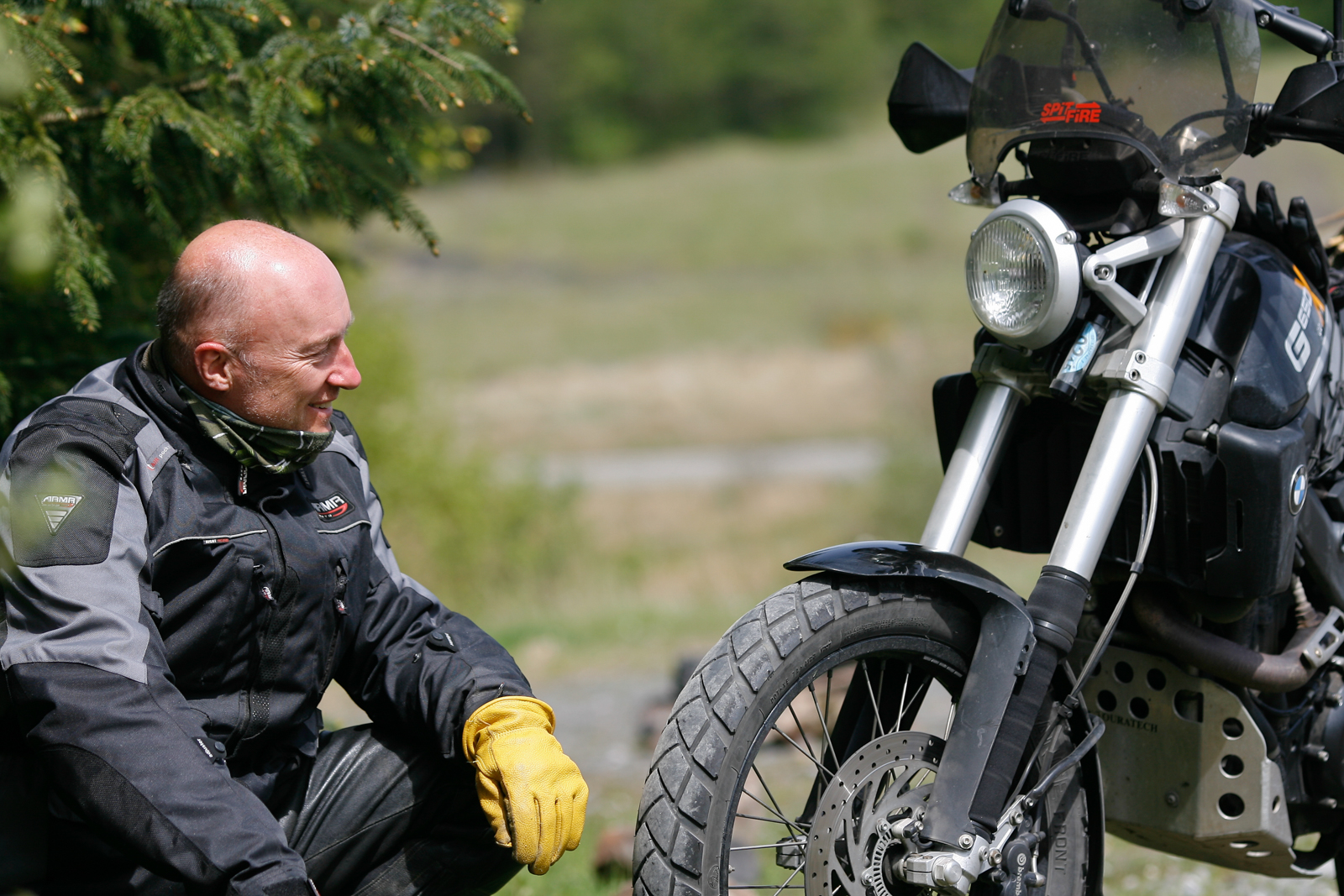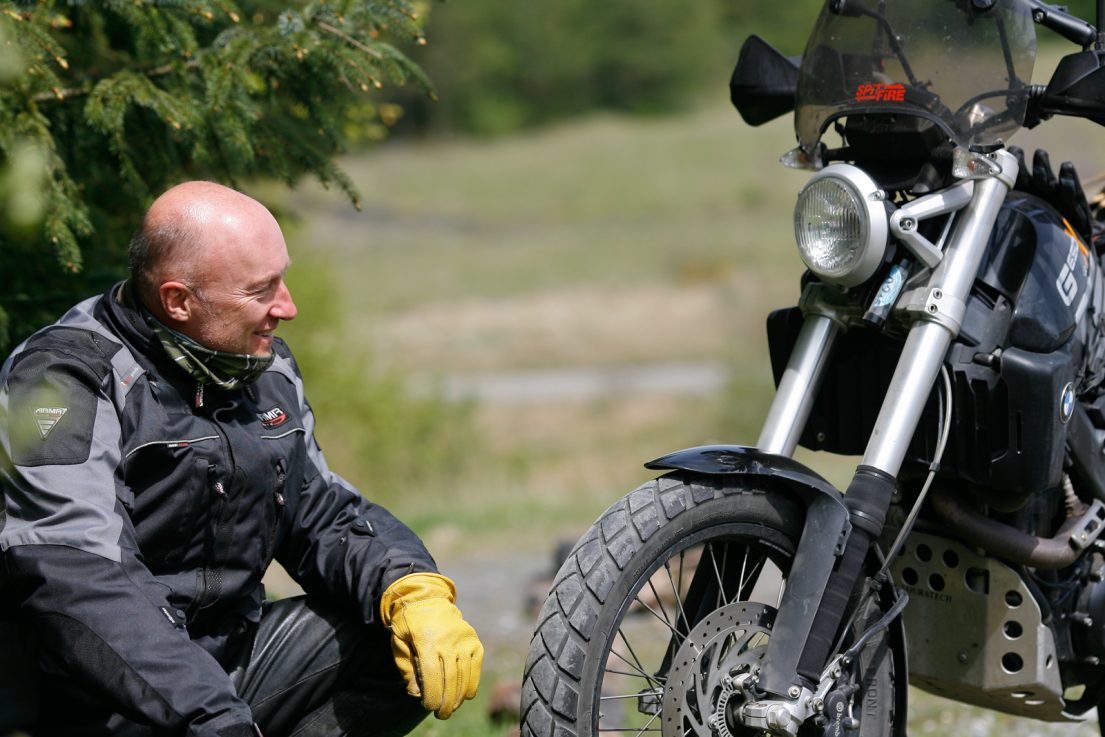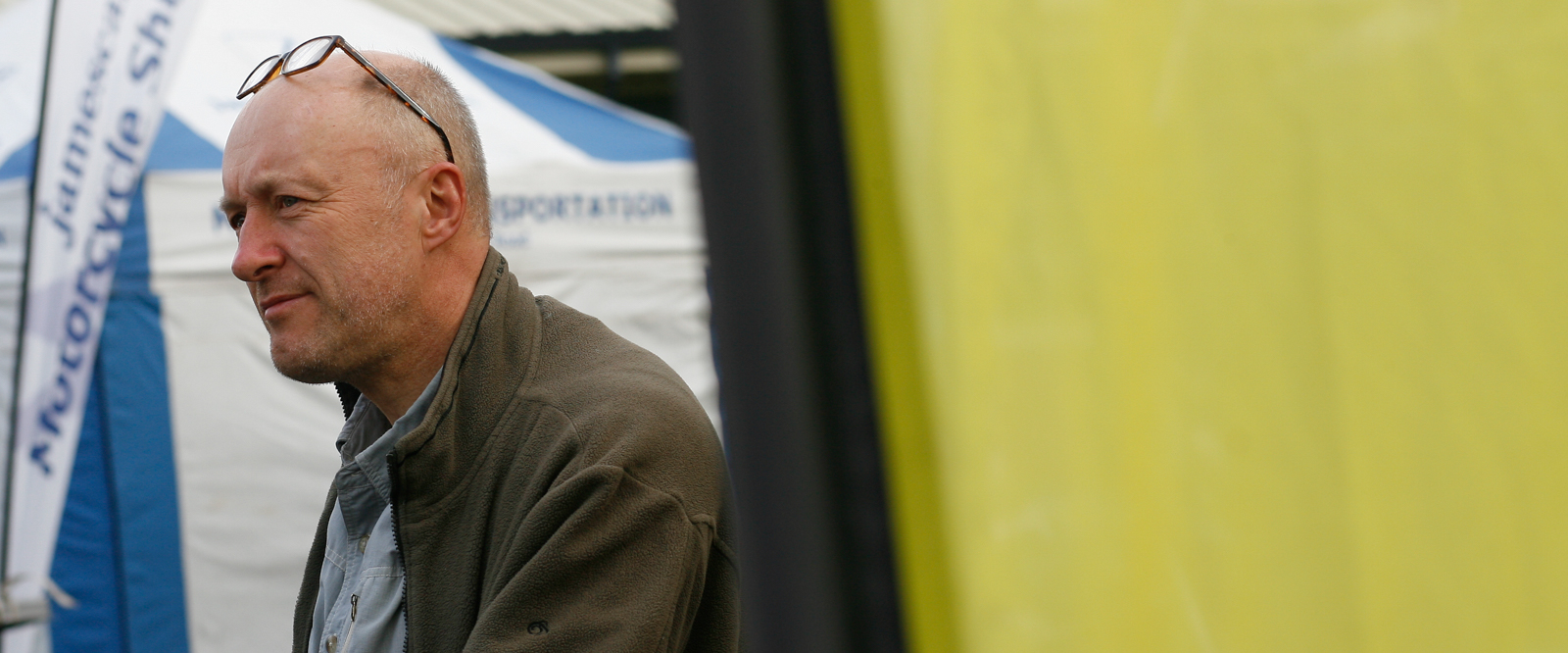 HOW LITTLE YOU NEED

 
Like many at the very sharp end of adventure riding, Chris is ahead of the money – or rather it doesn't reach him. BMW might be making a fair few bob on GS sales, the aftermarket equipment industry support a fair many households too, but for those, like Chris, who take the lead, who have inspired so many, there have been no lucrative endorsement deals, no offers of ambassador status with the trimmings that might come from that. Fortunately for Chris, that's not his style.
"I feel I'm lucky, for I'm time rich if a bit cash poor. But that's the way I've always been, and I've coped with that by always having a modest lifestyle. Certain things are beyond my reach financially or too much of a gamble, but that's the way it is. As it is my tours are a way of capitalizing on what I've done, so I do a couple of them maybe every two years, and it's enough, just, to keep on. I don't want for a huge empire, I don't want to retire with a nice house, I'm happy to scrape by.
"That's what I've learnt on my travels – how little you need to be satisfied. On a bike especially you learn that. It's amazing to think you can pack with your bike with just 30 kilos of gear – one big suitcase – and go around the world. Isn't that amazing? it's all you need, and of course a bit of cash and motivation!"
THE WISDOM – AND WIT – OF CHRIS SCOTT
Our interview with Chris was too long to include it all here. But along the way we gleaned some wonderful insights that might help you with your adventure riding. Here are the edited highlights!
"I love bikes, I love off-roading, the self-sufficiency, the planning and navigation, the whole thing is very satisfying. The riding is actually quite easy really – you don't want to ride anything too gnarly or you'd exhaust yourself."
"There's a quote I lifted from Ewan and Charley's book, 'the first thing we did was buy the Adventure Motorcycling Handbook'. Now I'm not so sure that's what they did, but it was incredibly generous of them to even say that, because they must have known of the potential commercial value! "
"I am the happy amateur in a sort of way – and I can understand the backlash against BMW etc because people feel their pursuit has been stolen from them. But it happens to everything, it happened to sport, look at football, I cant say I ever liked football but I hate it even more now, it wasn't sold out, but bought. F1 racing, the same thing. Some clever guy comes along and manipulates the system to their huge advantage and along the way they increase the audience. It's the same in adventure motorcycling. But I don't use that term anymore, I call them travel bikes, Adventure Motorcycling has become devalued as an expression."
"The adventure bike for you is bike that turns you on when you look at in the morning and say 'ahh look at that bike!' It could be an R1, a GS12 or a Tenere – it just has to be a bike that inspires you to get on it and say this is my adventure. Don't feel you have to conform."
"When it's hard travelling, food really can make or break a day. You need lots of flavours. I have this bag I take on my tours, it carries what I call MBs – morale boosters – it's basically a sack full of chocolate and sweets. So if someone has a puncture and there's a break, I bring out the bag and we have a lucky dip – it's a good way of maintaining light moods."
"Tours are not easy to run, it pays to keep the pace going if you want to avoid a mutiny! On one occasion early on a more-spirited guy got to loathe me so that he planted a cross in the desert with my name on it. I got out of my tent in the morning and saw it – I took it quite lightly, but I think he'd got a bit of sun, got overcooked!"
"The problem with books is that people think the writer is an interesting person, but really I haven't been around the world, I just do my deserty thing. It's a separate thing, a book is carefully produced and edited, but it's not me, it's what I produce."
"I think the most interesting region for adventuring is the along the old Silk Routes. It's an area so rich with history and I love the cultures."
"If you don't camp you can reduce your equipment substantially – lighten the load – but on the other hand you get to those situations where you think, "wouldn't it be nice to camp up on that hill tonight, watch the sunrise, rather than being stuck in Cockroach Hotel? And you do remember those days, out there alone so much more."
FOR MORE
Chris Scott has a catalogue of books in print, you can of course find them via Amazon, or you can do it the old fashioned way, through your local book shop (keep your local businesses alive is what we're saying there).
His number one book, Adventure Motorcycling Handbook is in its eighth edition, to be published shortly,  by Trailblazer Guides (www.trailblazer-guides.com)
Chris maintains an AMH website on which he posts news and reviews and invites others to contribute trip reports. There's plenty of good stuff on there. www.adventure-motorcycling.com