Many older adventure riders yearn for bikes from the past. We'll name a few: BMW R80G/S, Yamaha Ténéré XT600, Honda XL600LM, Honda Dominator, Kawasaki KLR600, Suzuki DR650, BMW Funduro/650GS, Aprilia Pegaso, KTM 625/640 Adventure. Great bikes.
Those of the 1980s were very simple, being air-cooled, 40-50hp carbureted motors (singles of course, the BMW aside), combined with long distance tanks in many cases. Not at all powerful but big on off-road capability and super-easy to maintain and repair. They inspired a generation to set sail for far horizons.
In the 90s, bikes like the BMW 650s (Funduro, GS) brought liquid-cooling, typically a sixth gear and plusher seats for more comfortable cruising (plus a bit more weight). And around the millennium came the odd fantastic beast, like Honda's fantastic stripped-for-action XR650, and KTM's rally-inspired 640 Adventure.
It would seem, however, that the advent of the super-adventure bike, precipitated by the likes of the BMW R 1100 GS, then the 1150 and 1200 – plus the Ewan & Charley effect – has seen the manufacturers focus on increasingly bigger and more sophisticated models, while the middleweights were almost all but forgotten.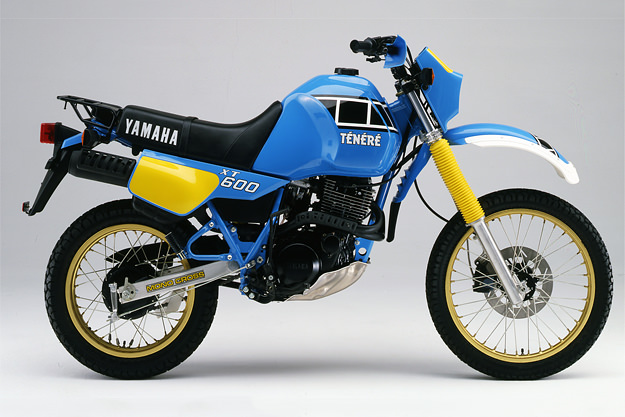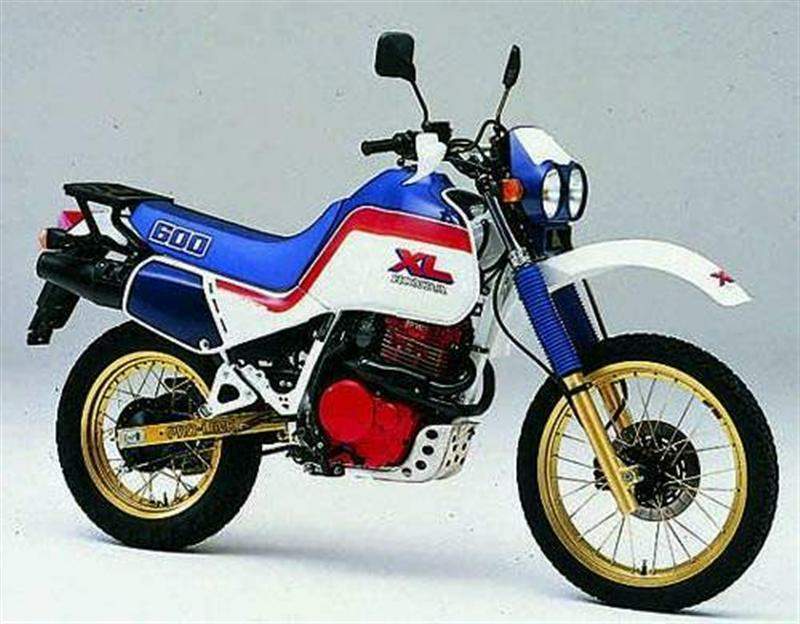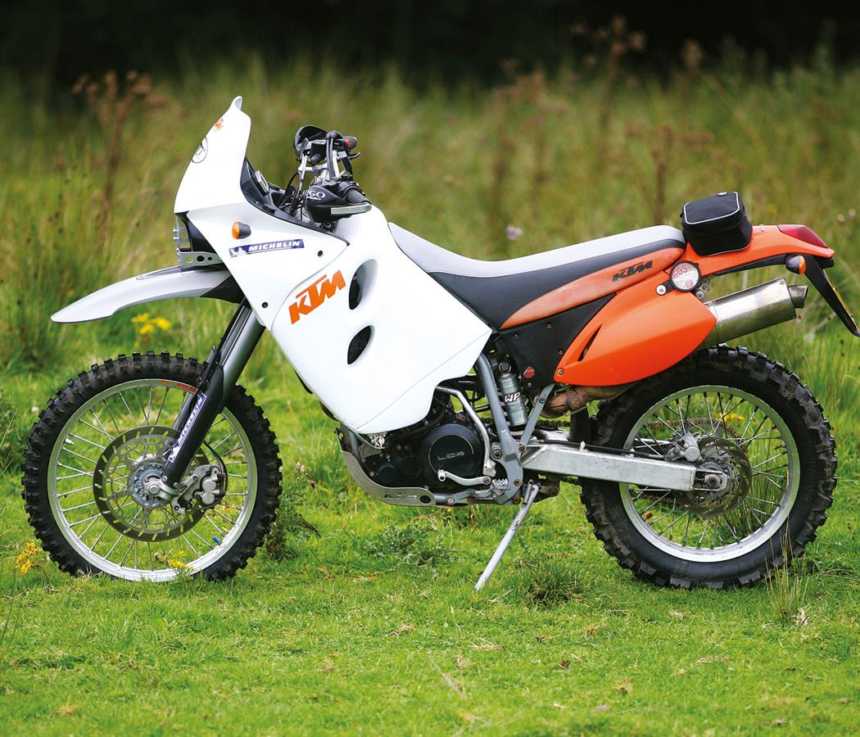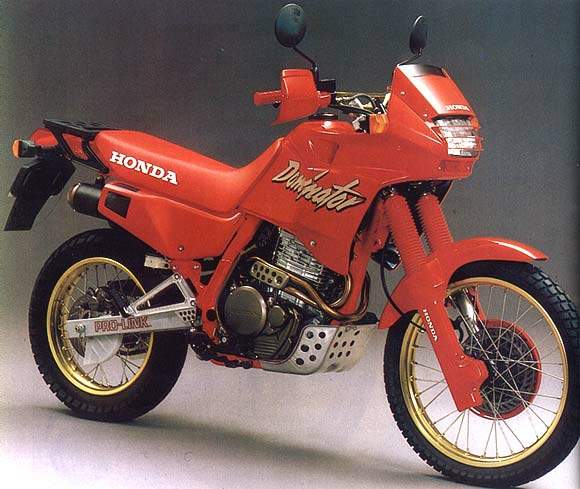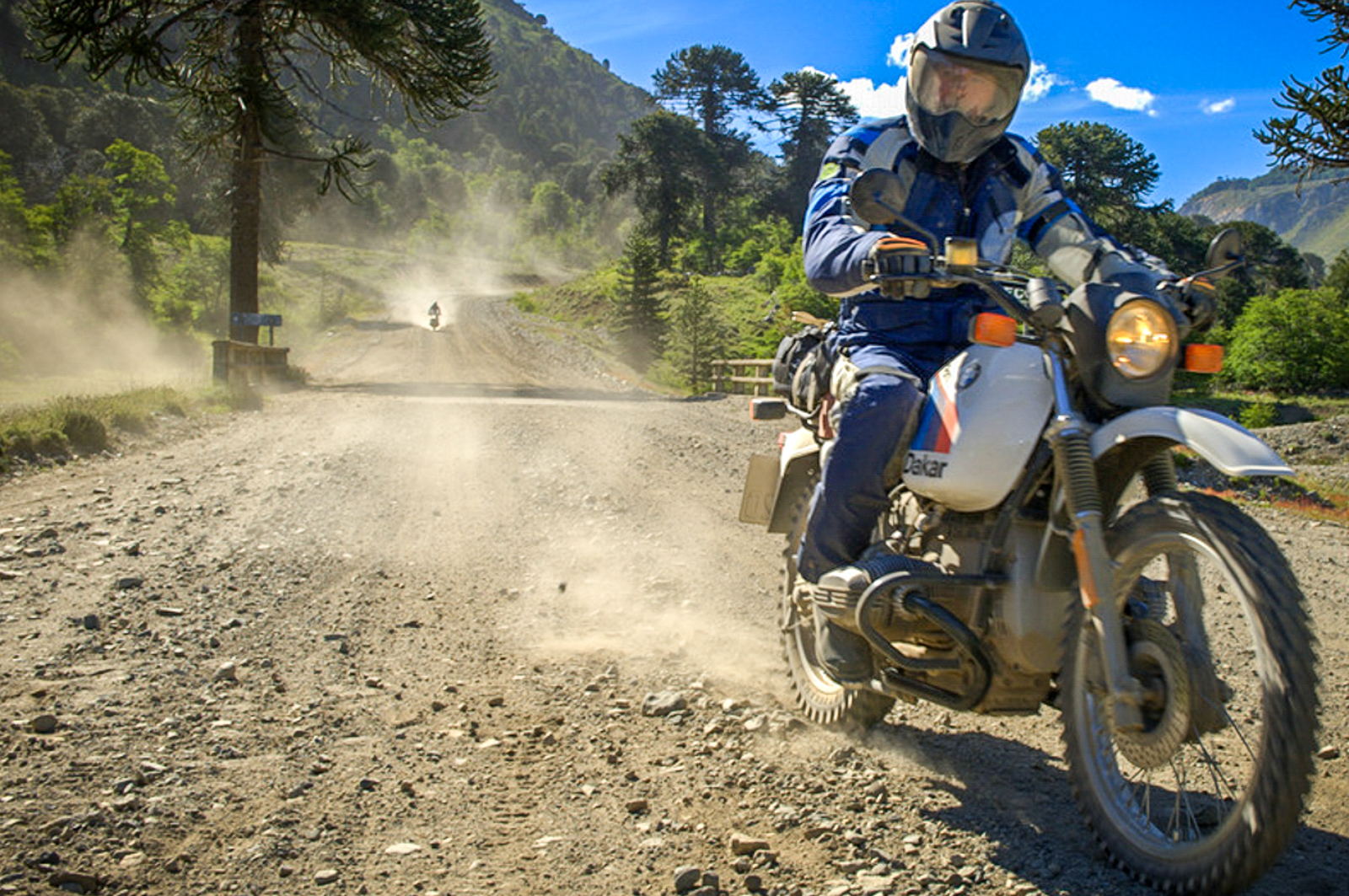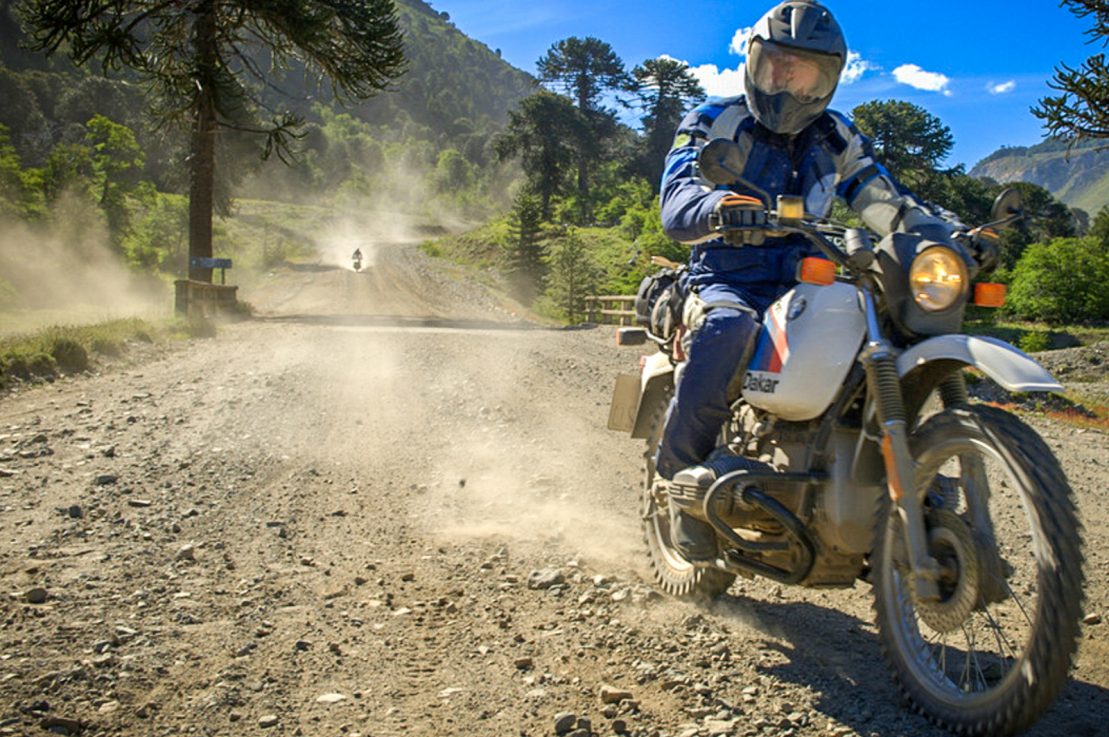 So now it's 2020. And we're all hoping to get riding again in a post-COVID-19 world. Many of us may well be of reduced means so big-ticket big-ADVs might well be off the menu. So the simple, modestly priced middleweight could see a boom period.
Only, we have to be realistic; we can't build the bikes of the past anymore, however much we loved them. Stringent emissions regulations means today's middleweight ADV has to be more complex. It has to be fuel-injected, it has to carry often multiple catalytic converters, has to be liquid-cooled and super-muffled, has to be equipped with ABS, increasingly traction control as well. No Euro5 certificate, no bike.
Here's an odd thing, though. The whole emissions restrictions were started by the US, in the 1970s, when they got tough on the two-strokes. Europe came to embrace these, but maybe a little over zealously. You see in the US and in Australasia they still have simple 600cc singles 'trailies' that us Europeans loved and would love again. The Honda XR650L and the Suzuki DR650 are still both current models, and priced at US$6999 and $6699 are a perfect first adventure bike (or extreme adventure bike for that matter). Okay you might want to add the price of a long-range tank, a little extra protection and maybe panniers to the spend, but near as dammit you're getting that 80s/90s trailie-adv experience for a comparatively affordable price.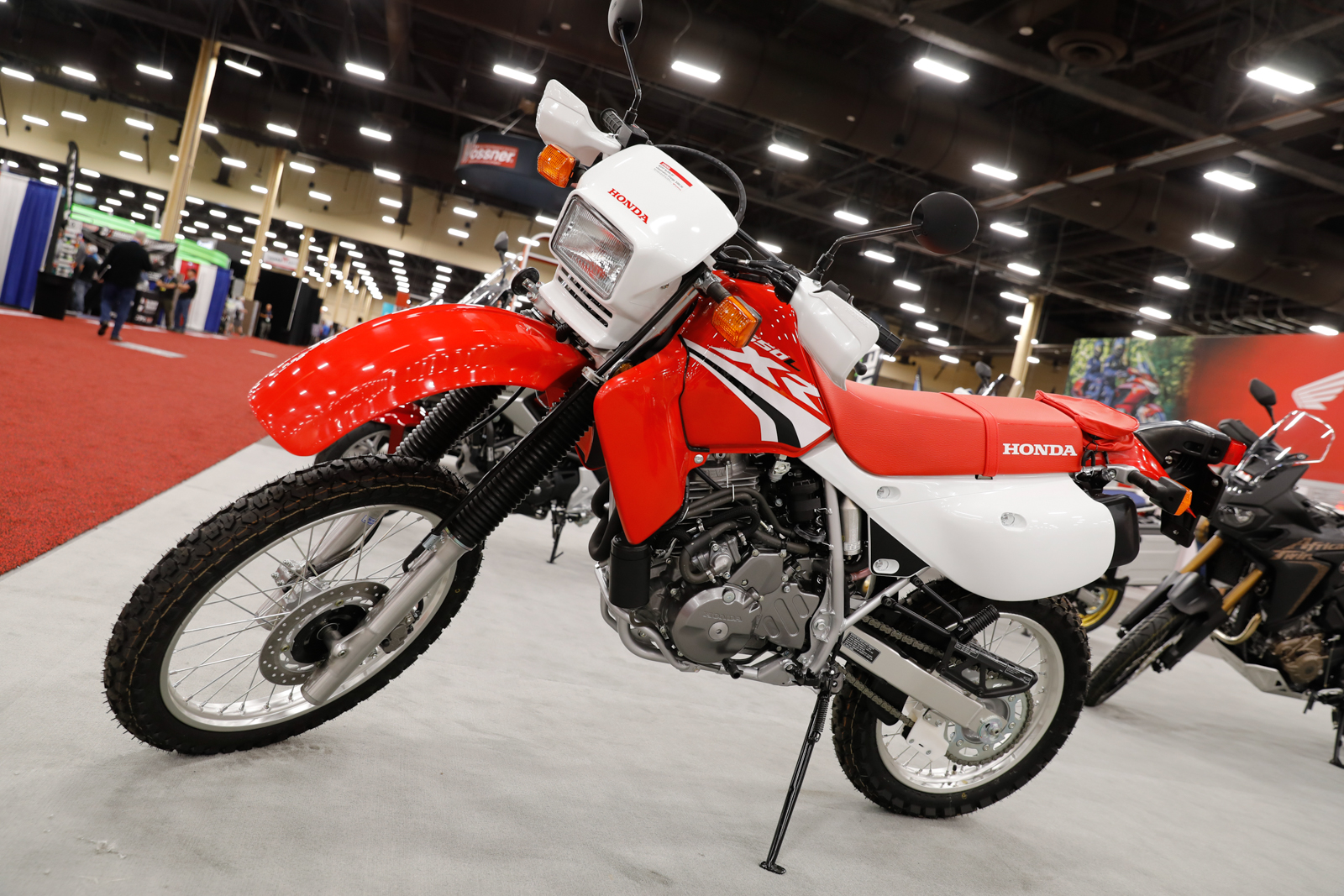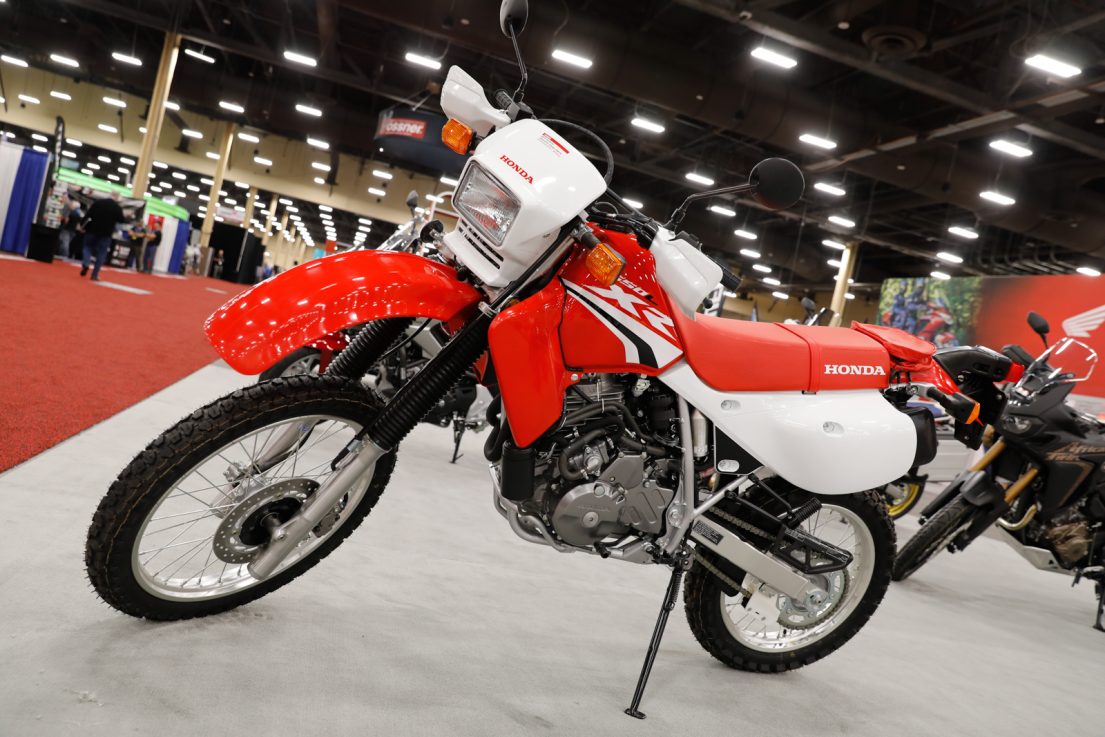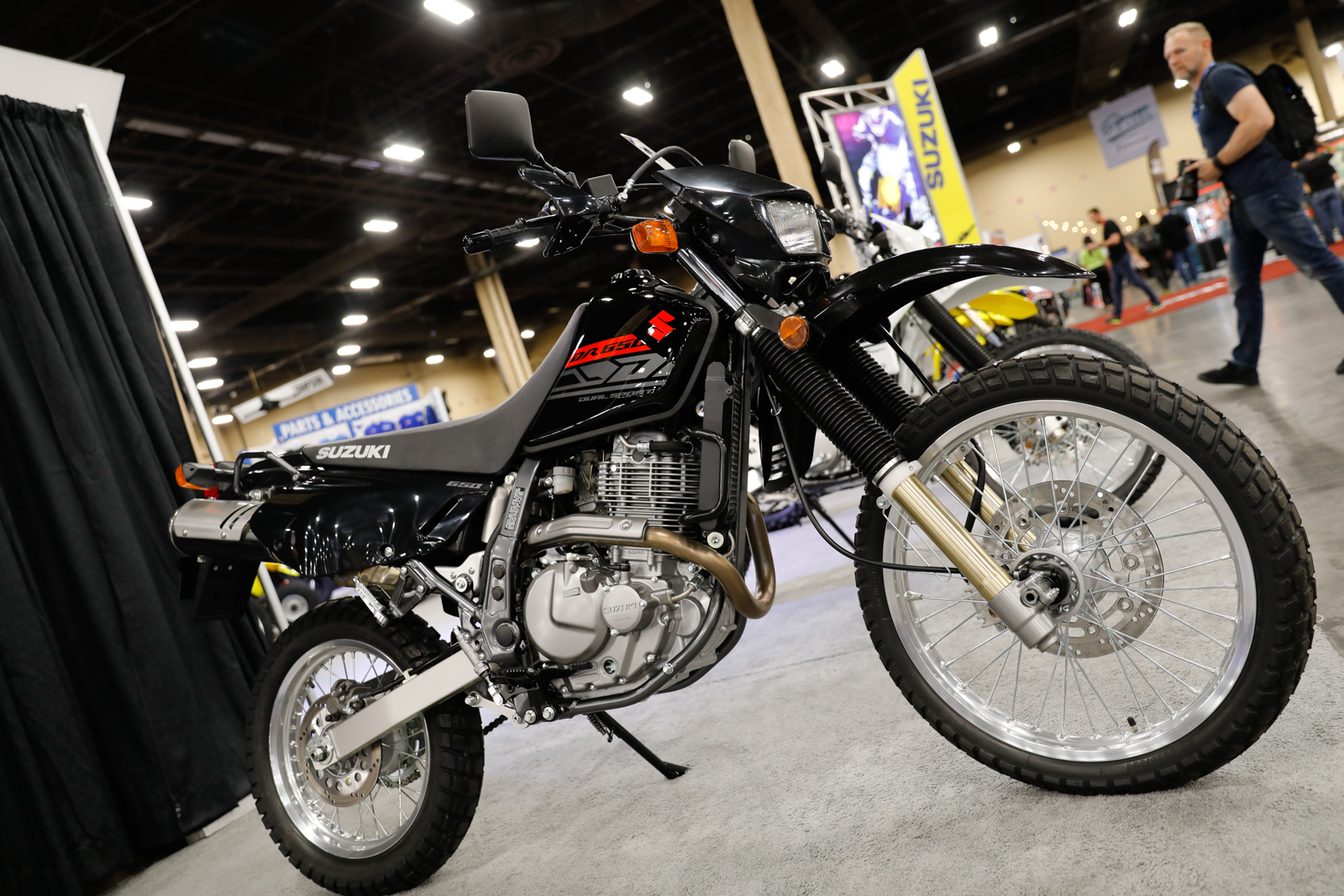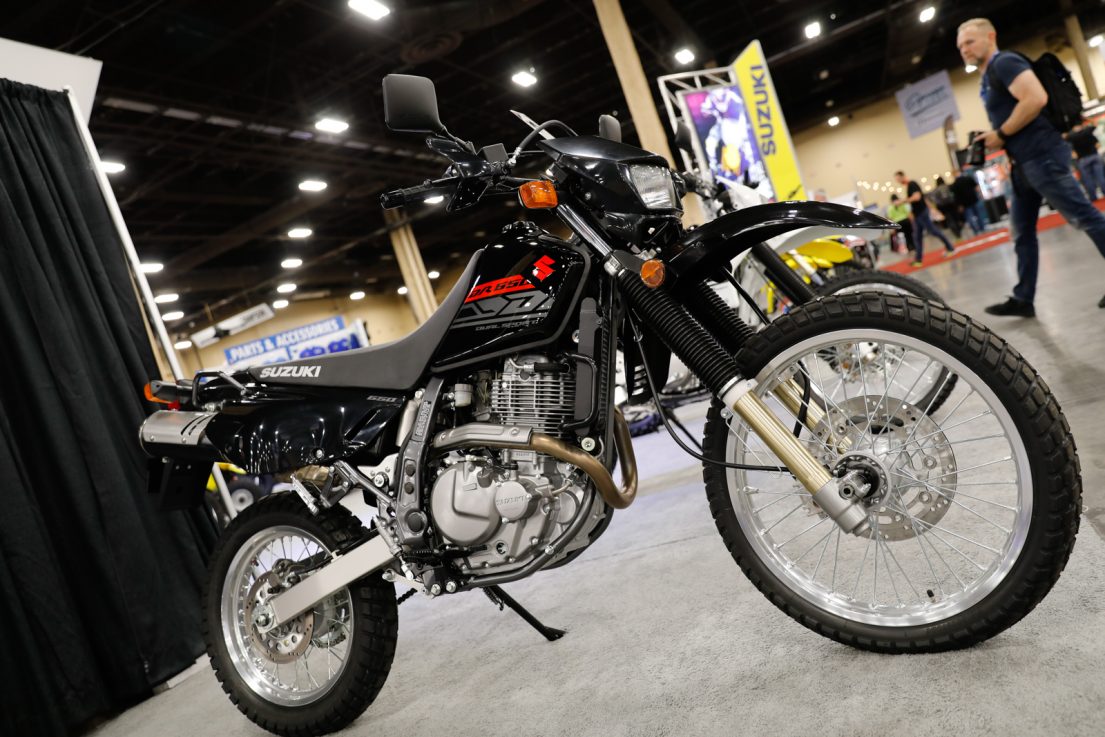 You know, if you were a Chinese bike manufacturer today you might just grab a fair slice of the ADV market if you brought a suitable 600cc trailie-ADV to market (with Euro5 compliance). The reaction to Royal Enfield's Himalayan has shown a good portion of the market is ready to return to smaller, simpler ADVs. Only for some, 410cc and 25hp isn't enough. 600cc and 40hp – now we're getting there. And seeing bikes like the Mash X-ride come to the market with something of a knock off of the old XR600 (radial valve) motor – with Euro5 compliance – gives us hope they could do this.
MIDDLEWEIGHT 'SINGLES' ON OFFER TODAY…
All said and done, when you look around the market today there is actually more choice in this category than we may think. So if you're looking for that middleweight, what's on offer?
KTM 690 Enduro R
Refreshed in 2019, essentially to meet Euro5, the KTM is the modern essence of the 1980s big trailie. It's a punchy 70hp beast, yet surprisingly smooth, with top shelf off-road capability and is very engaging to ride. Downside is the 13.5-litre fuel tank that calls for a fairly expensive aftermarket solution – although you could throw Rotopax canisters on a rear pack frame.
Also £9799 is a premium price.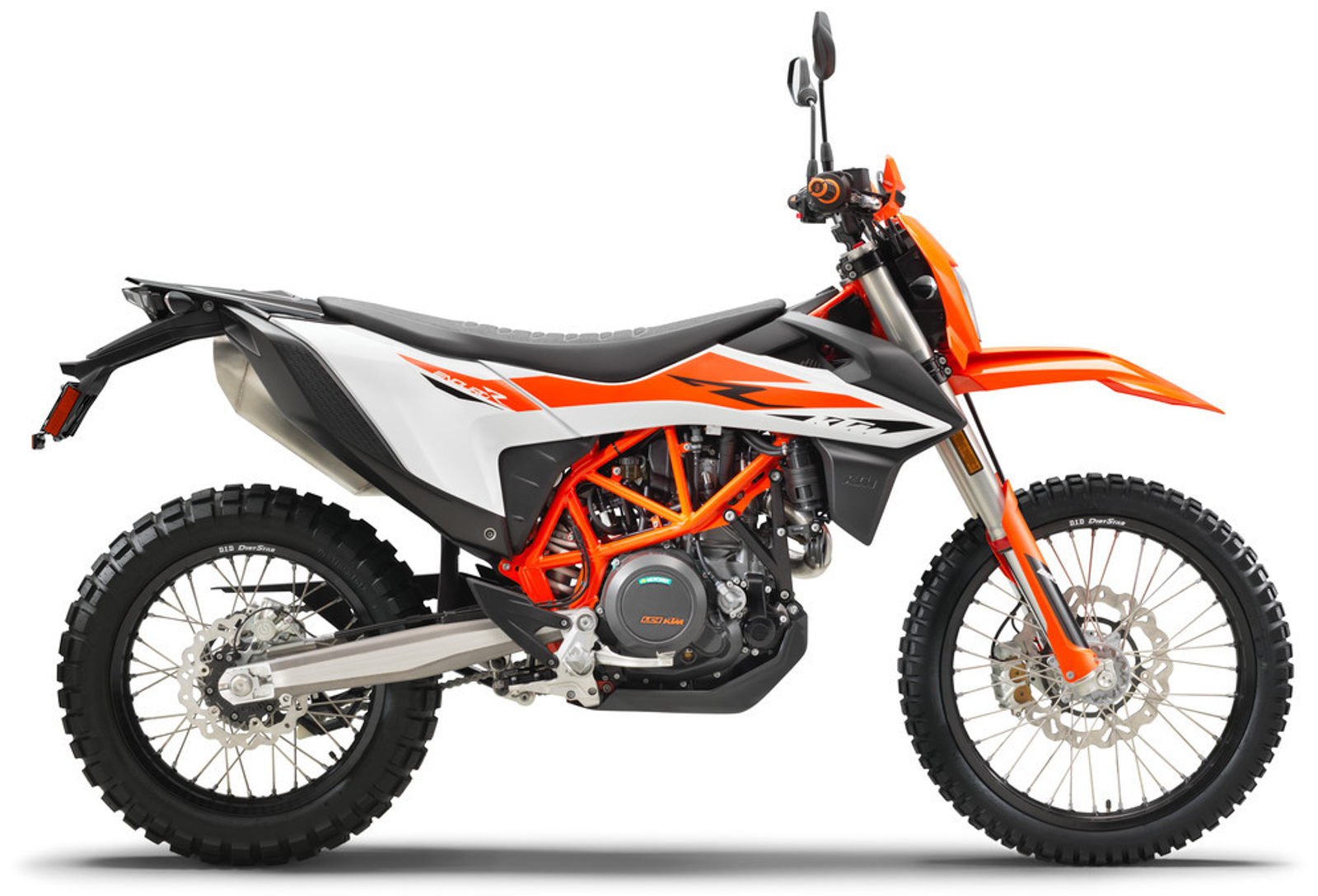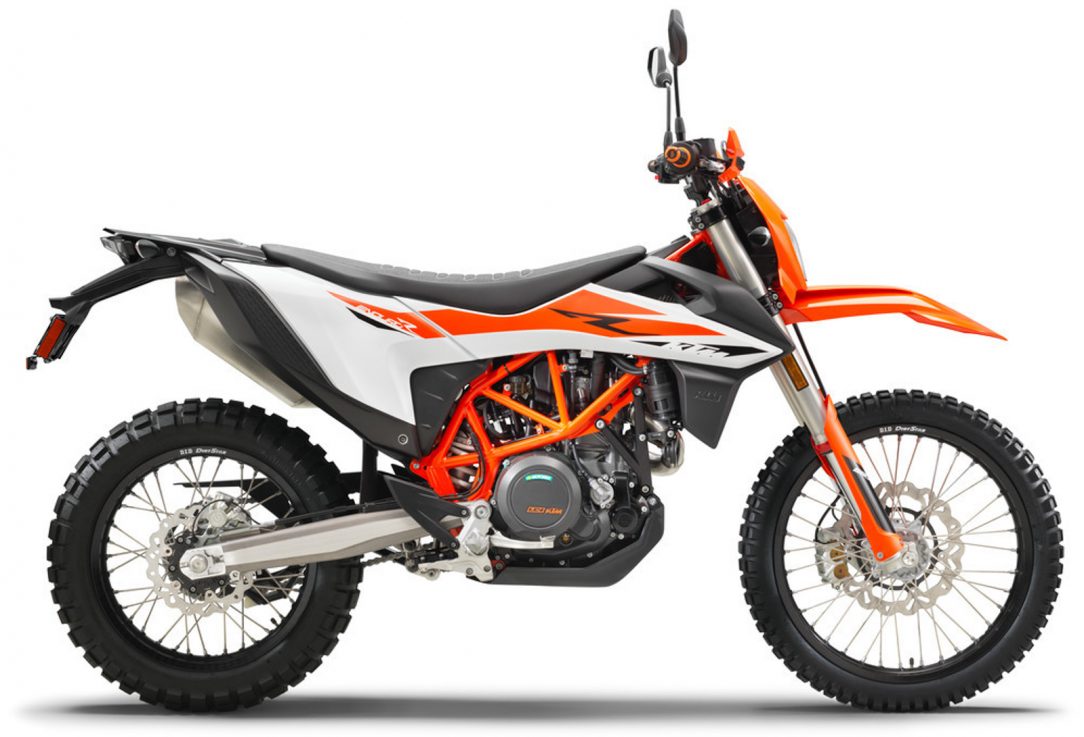 Husqvarna FE701 (LR)
Husky has its own version of the 690. It says something about this sector that the 690 is termed a 'travel' bike, while the 701 is an 'enduro' with sub-category 'dual sport'. Even within the same factory there's liberal use of nomenclature! Anyway the addition of a 12-litre forward tank to the 13-litre rear tank has made the 701 LR both 500km capable and arguably a little ugly! But it's the closest thing yet to the KTM 640 Adventure of the late 90s.
At £10,699 it steps over that £10k barrier; is £900 for that big tank value for money?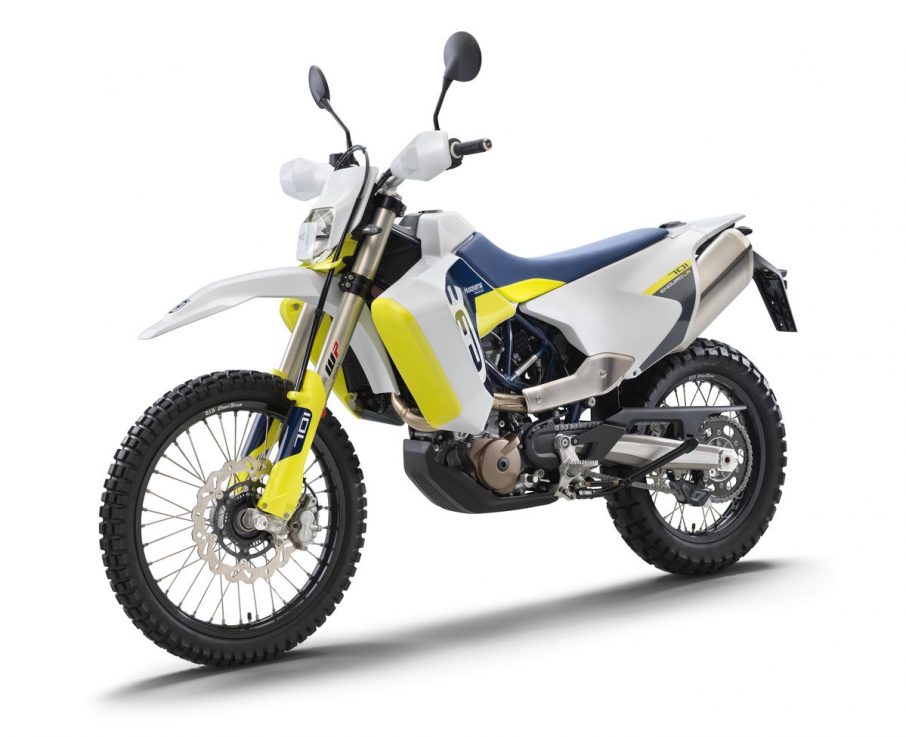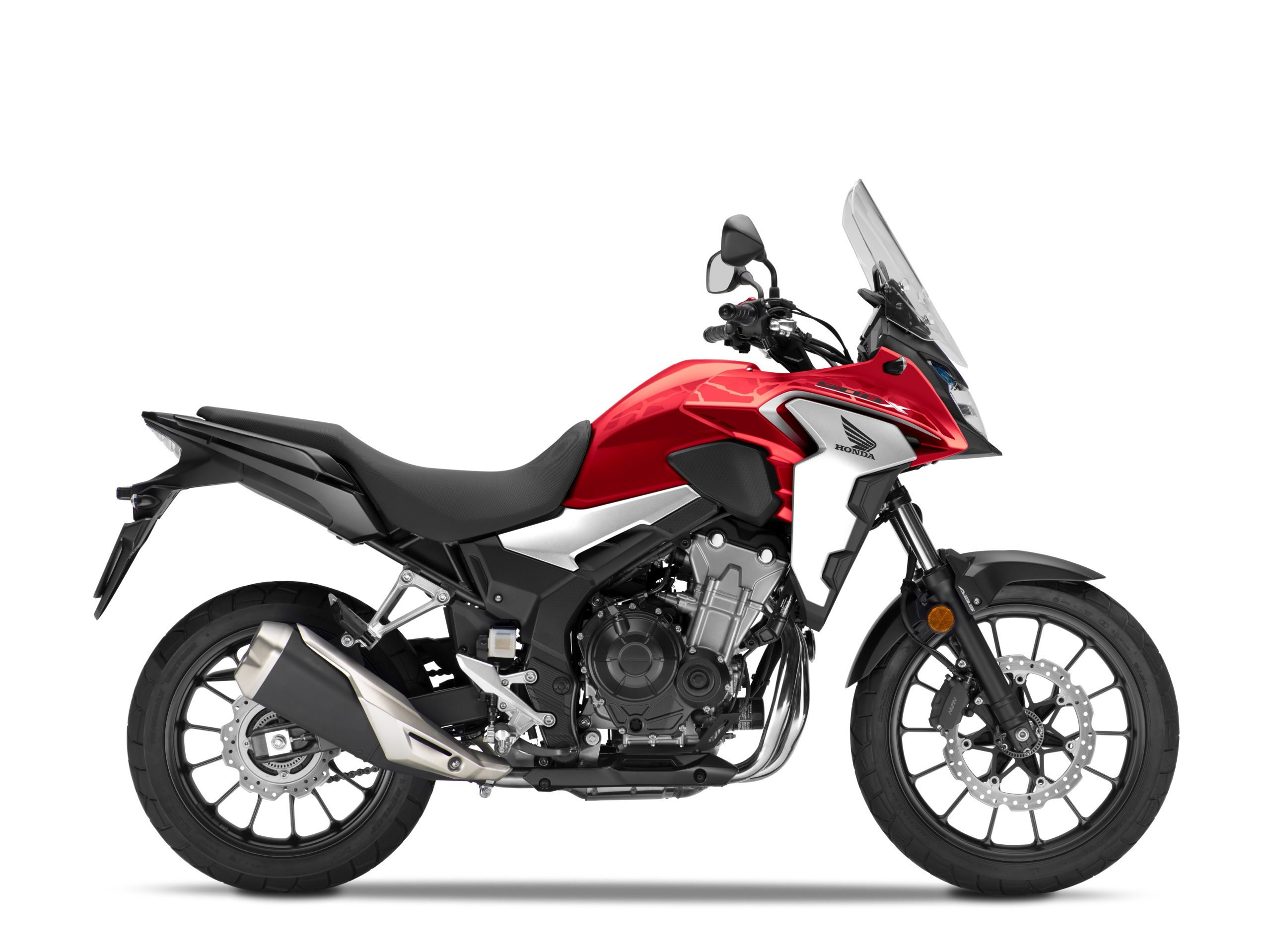 Honda CRF450L / CB500X
Honda missed the ADV market with their CRF450L – it's more of a Californian desert play bike than a proper ADV. Great bike, but not quite on target. Equally the CB500X is one of what are increasingly being called 'soft-roaders'. Size, motor, ergos, design – it's not something you're going to tackle the (said) desert with. Yep, the XR650L is the one, only not for us Europeans…
Split pricing policy here. The CB500X at £6119 embraces the price-conscious market, while the CRF450L at £9469 is an executive's plaything.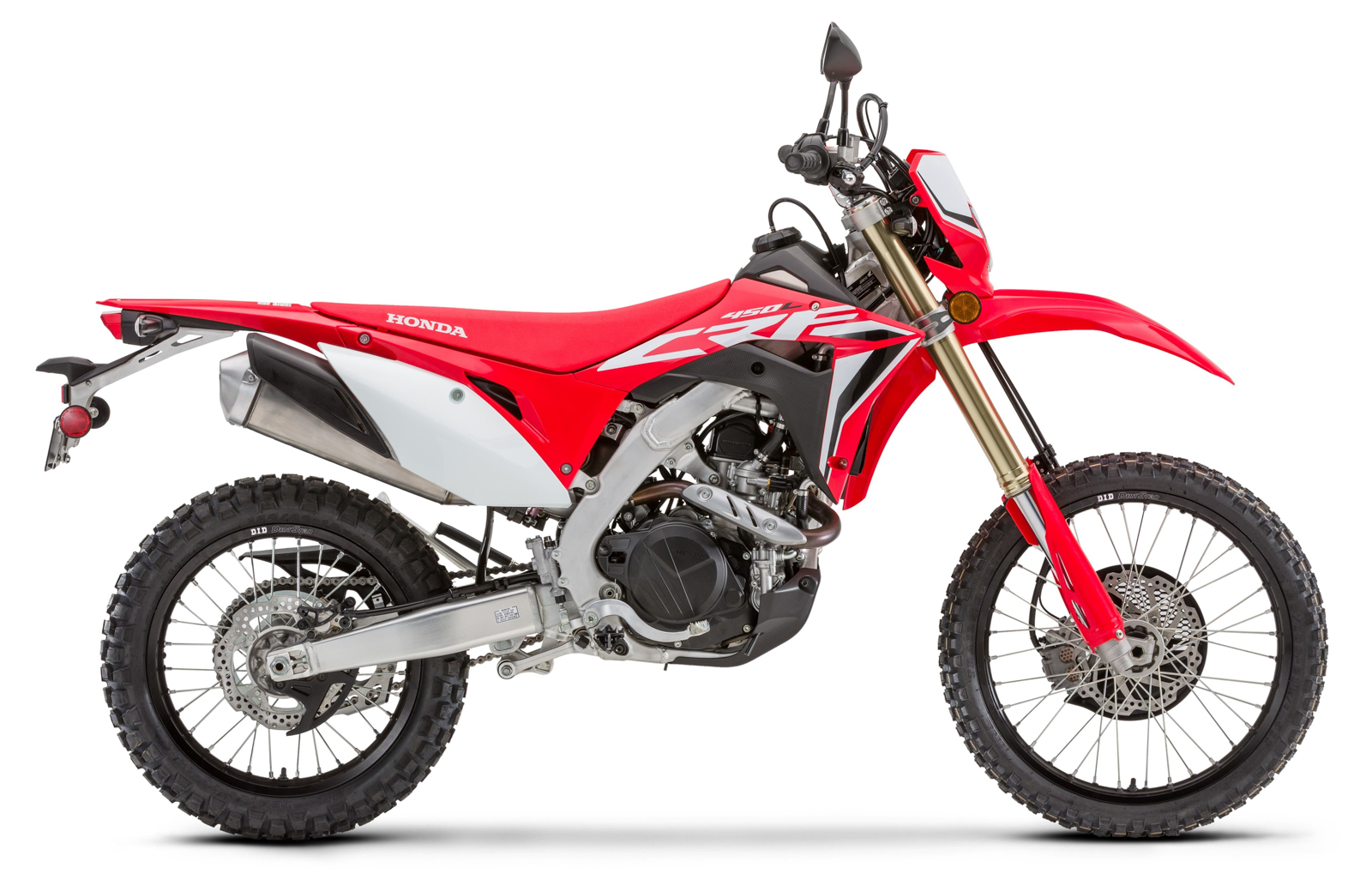 Suzuki V-Strom 650XT
A cracking bike this; as a travel bike where 80% is on road it'll be king. But it's no trailie, just on account of the weight and the limited ground clearance (and suspension). Great range with the 20-litre fuel tank, though. Again, if only Suzuki could homologate the DR650 for Europe?
At £7999 the V-Strom XT is a super-capable nearly-big ADV for a modest spend.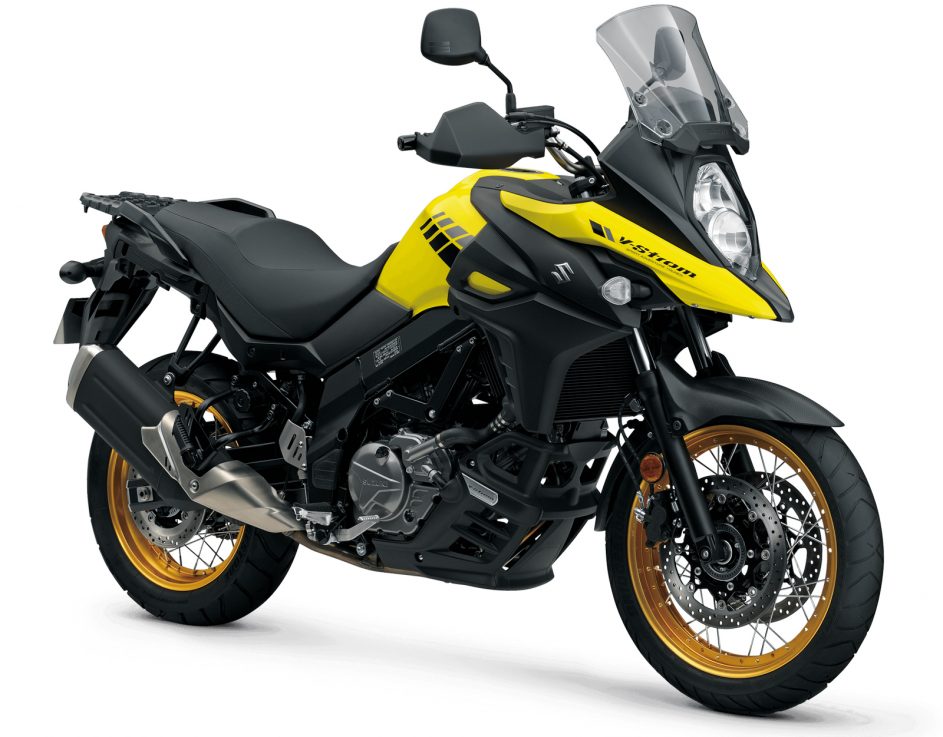 Yamaha Ténéré 700
Yamaha replaced their ultimate trailie single, the Ténéré 660, with this MT-07 twin-cylinder engine powered 700. It's kind of moved up a league from where the old bike was. But it is very good, not quite a smoking hot KTM 790 Adventure R, but given a small suspension upgrade it would get close. And actually it probably fits better the journeys that today's ADV riders would make – where they have to sprint to the location, enjoy a few days or week's ride, then sprint home again.
The T7 started at a very reasonable £8300, but either exchange rates or rising build costs have seen the Yamaha become more expensive, rising to £8600 and now £9147.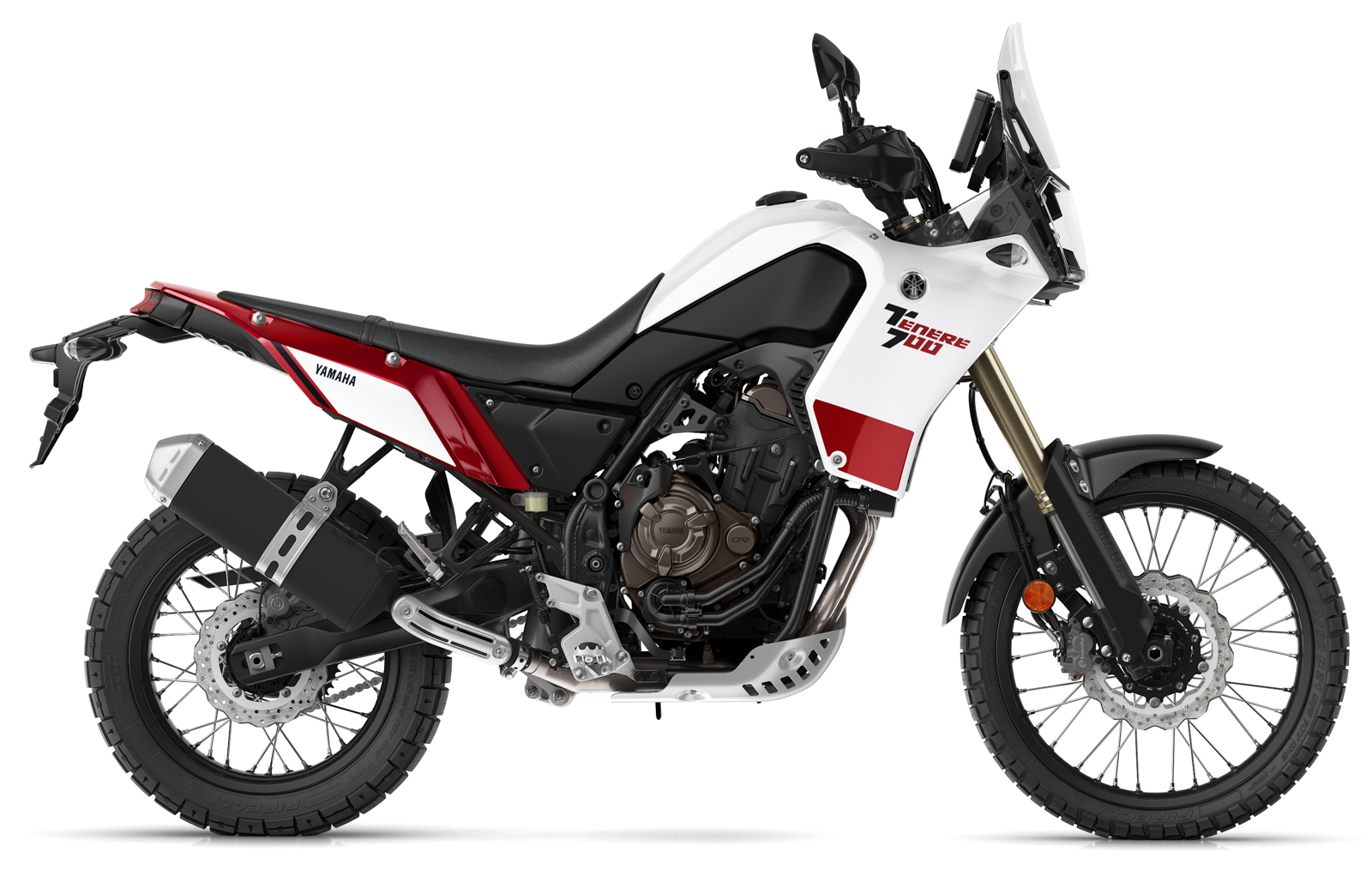 BMW F 750 GS
BMW has stopped making 600cc category singles – a shame as their 650 GS motor was a good one. The nearest they can offer is an F 750 GS, which is a kind of lowered, softer F 850 GS. Not a big trailie by any stretch. Not a bike that seems to be grabbing the imagination either.
Priced at £8520 – cheaper than the Yamaha?! Hey, what's happening here?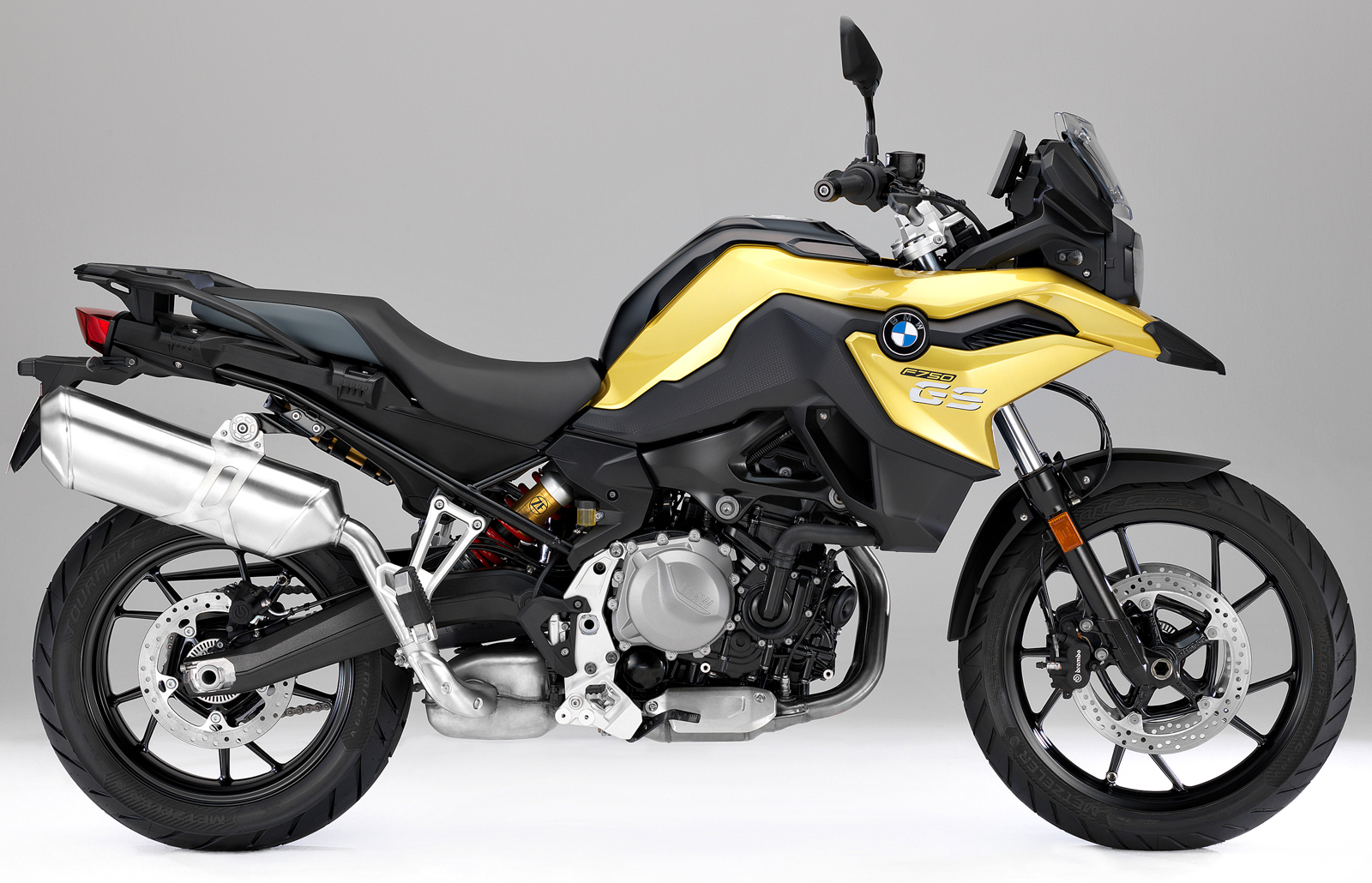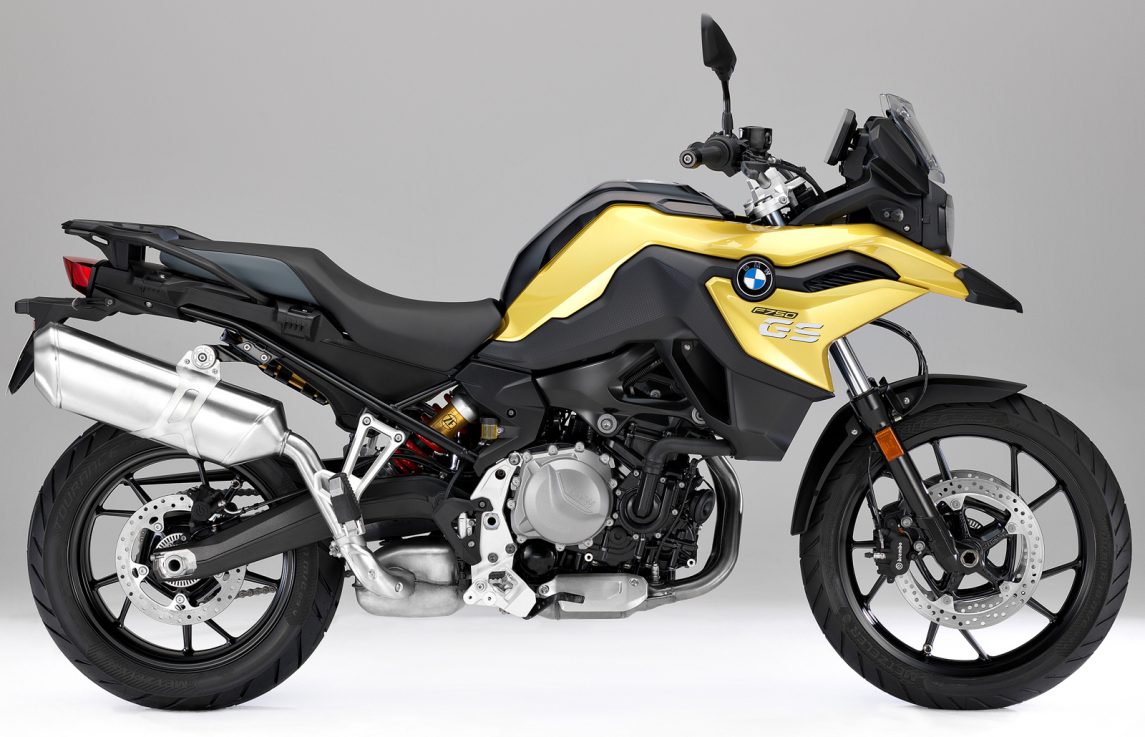 AJP PR7
It looks like a Dakar racer. It kind of is, but that's an SWM 650 (actual 610cc) single in there. More for the hardcore fan who's probably thinking 80% off-road, or yes, wants to compete in the odd rally. Very trick and with a 17-litre tank its fuel range will probably long outlast the comfort of the rally-spec saddle!
Some £8500 is good value for the high spec.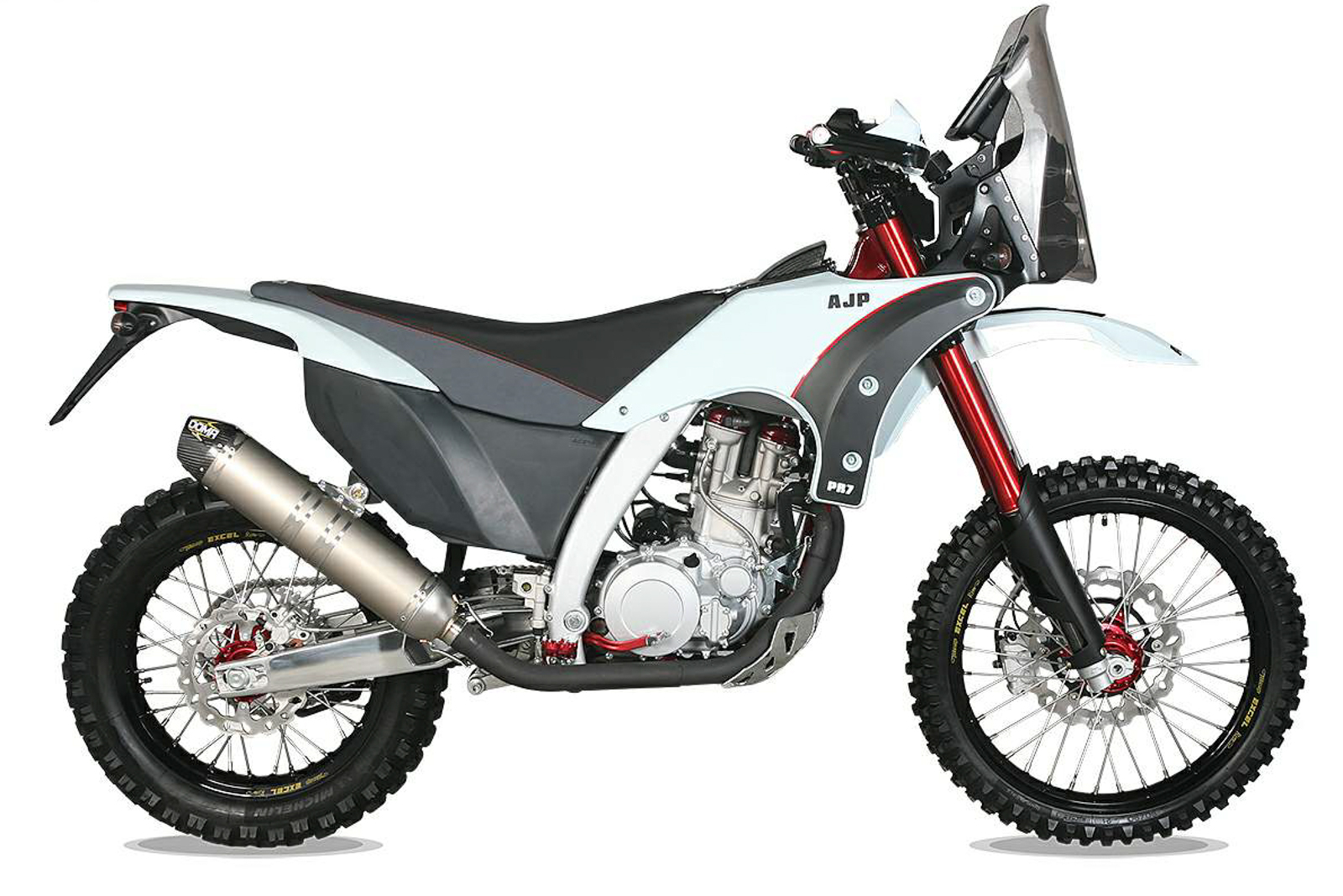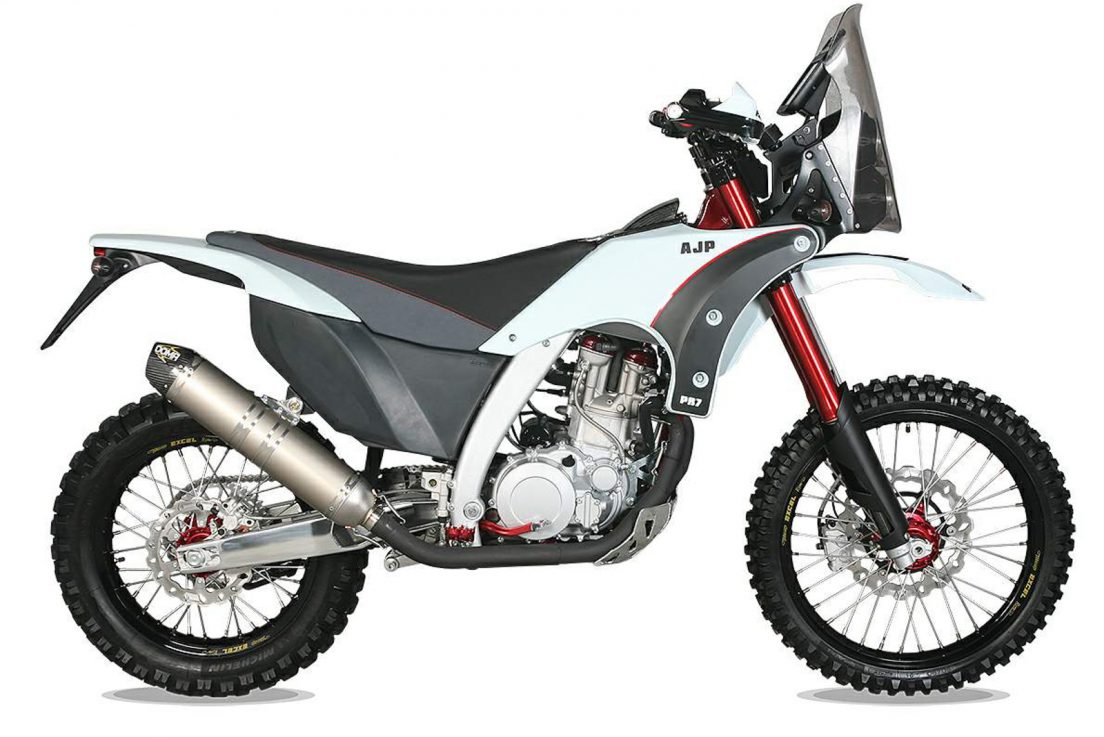 SWM Superdual X
This really is a 600cc big trailie for the 2020s. That's a 54hp (formerly) Husky 610cc motor and while the wheels are spot on (21"/18") there's a sense the design has been nicely tilted toward adventure over trail, with an 18-litre tank, a screen and stepped seat. Hey, there's even a centrestand.
At £6399 it's bang on budget. Even better is the GT version, which at £6799 adds panniers and a bigger screen for full pack-and-go readiness.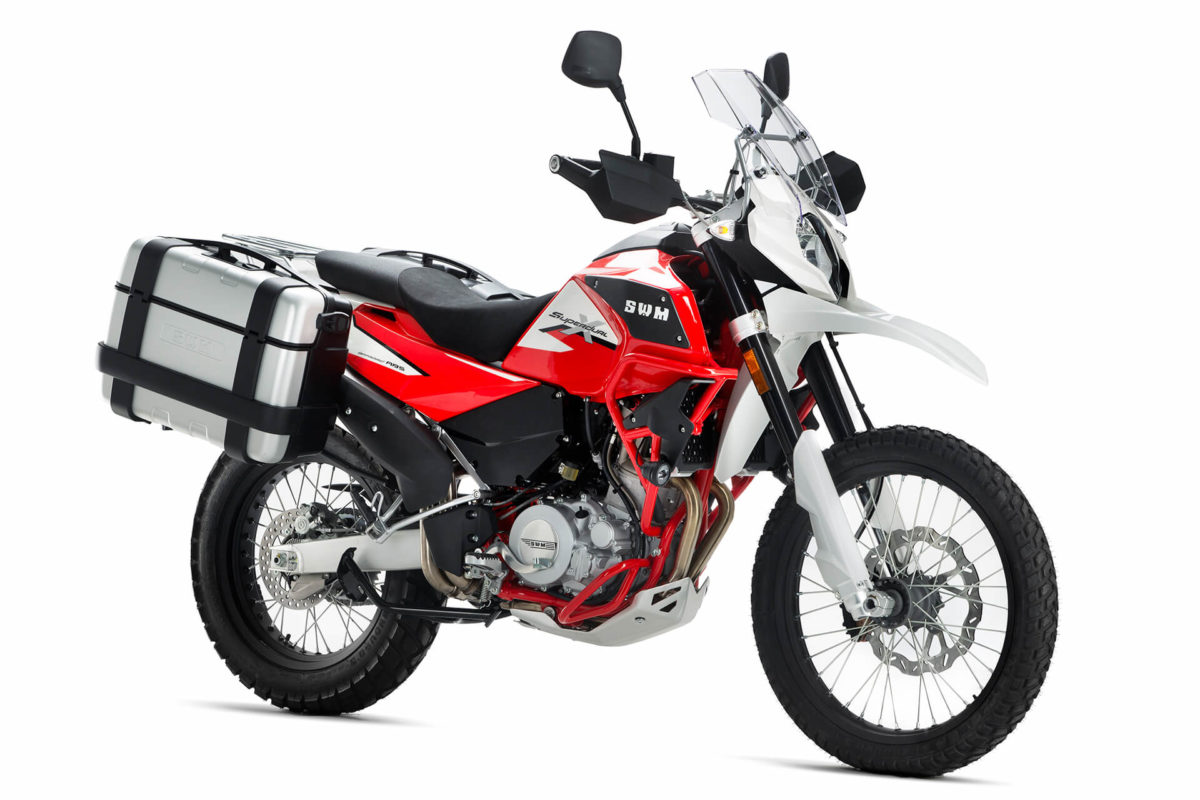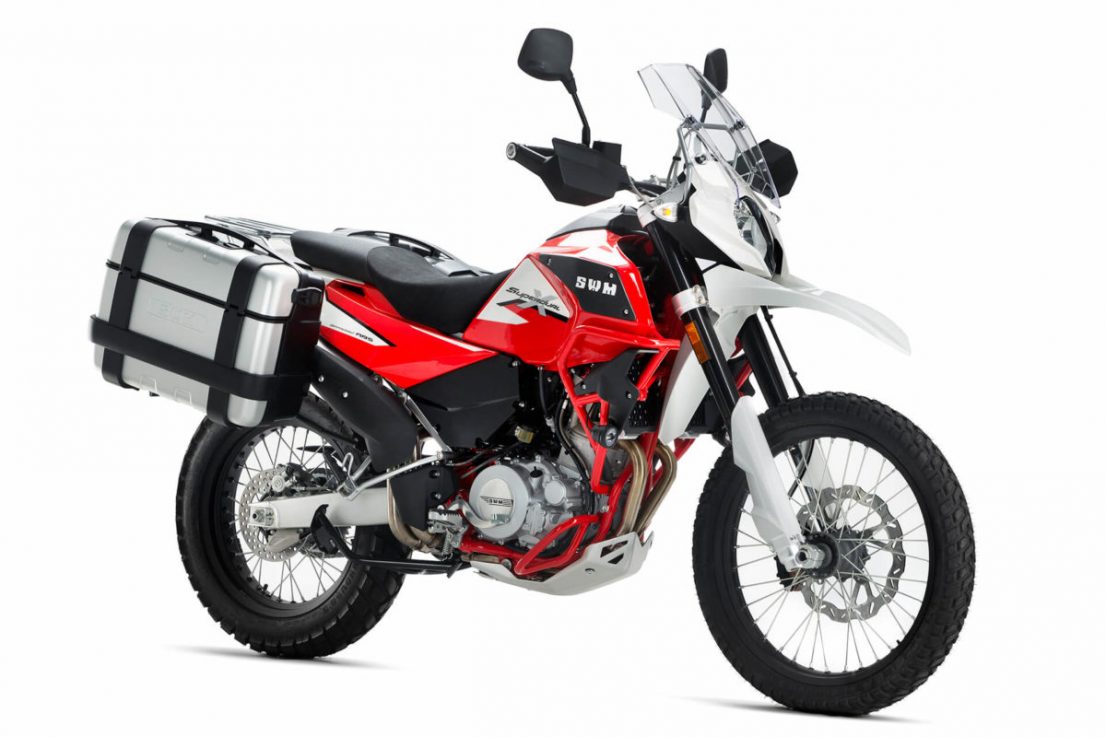 Fantic Caballero Rally
Not quite a 600, really a 450, although the badge says 500. Nonetheless a beautiful looking bike with wonderful retro styling cues and while it might not suit a full-on belt through mid-winter British green lanes (proper mudfest) it would suit something like the Portugues ACT – in fact any big bike ADV route. And it's a little hottie, hard to resist.
At £6999 it's good value and it looks so pretty you'd not be worried any which way, it's a piece of art.
DO WE WANT 600cc SINGLE-CYLINDER ADVs?
This is a topic of some debate. Have your say – leave a reply at the bottom of the page!
WHAT WE'D RIDE TODAY – GIVEN THE CHOICE
To start the debate, RUST has asked a few well-known adventure riders what adventure bike they'd most like to own/ride today given the choice. 
Sam Manicom, UK, world traveller, author
Choice: 2004 BMW F650GS Dakar
If I was told that I couldn't keep my brilliant fun 278,000 mile R80GS and that I had to pick a mid-range bike that would do most things I like to do, then…
I'd go not for a new bike but an older one. In part that's an affordability thing. My choice would be a BMW F650GS Dakar, but from 2004 onwards. The updates to the bikes at that stage means that glitches were sorted out. A lot of things about this bike get the thumbs up from me. I do very few motorway miles. Backroads and dirt roads are where I'd rather be and the Dakar deals with both very well.  However, this bike will happily mile munch and be frugal with fuel consumption – 65mpg at 75mph. They are relatively simple mechanically and the service intervals are good. Minor – 6,000 miles and Major – 12,000 miles.
The standard F650 has quite a low saddle height but the Dakar is 870mm which suits my 6'1" nicely. The spoked 17" and 21" wheels are easy to obtain a wide range of tyres for. I also like the point that as they have been around for a while, aftermarket parts and accessories are plentiful and not expensive. The 400w stator means that they will cope with multiple electrical accessories. The switchable ABS is a bonus and the 17.3lt fuel tank is useful. You can find them very reasonably priced second hand; low mileage around £3,000.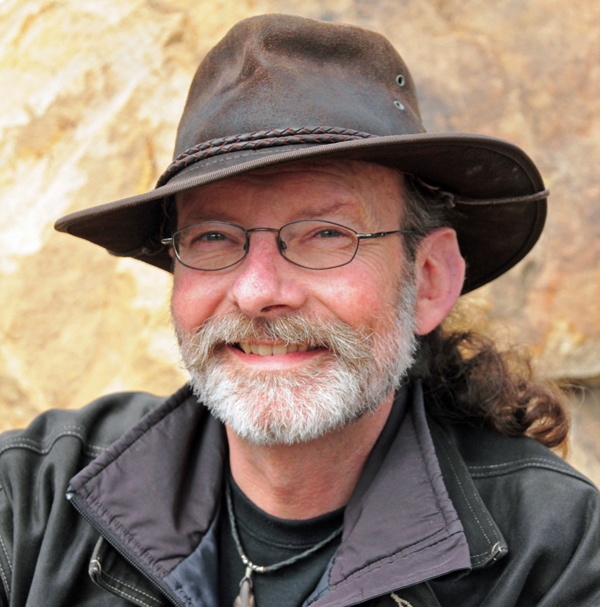 Sam Manicom's four books take people through the six continents of his eight year ride around the world.
Lawrence Hacking, Canada, former Dakar racer, now regular desert / rally racer and adventure enthusiast 
Choice: 2020 Yamaha Ténéré 700
Here in Ontario, Canada, it snowed a few days ago so our riding season is still a few weeks away. After being cooped up for the winter and due to pandemic restrictions we are all itching to get out and ride. Around here we have a wide variety of terrain and conditions. The new (to us) Yamaha Ténéré 700 would be my choice after spending a few days on one last August (check out the embedded video Yamaha Canada made with Lawrence). After that ride I put my name on one right away, and hopefully, I get one of the first 700s into the country. I like riding a bike that is new and different… a bike that may not have been seen in the wild. I think the Ténéré has a cool factor in spades. At this juncture, in my mind, the Yamaha does everything I want in a bike, it is versatile, lively and widens the parameters that adventure bikes are capable of. I like the fact that it rips up our back roads where much of my time is spent, is dirt friendly and compact (read light) enough to handle some pretty aggressive off road conditions. Plus it fits me well, is easy to maintain and dead nuts reliable in case I decide to ride across Asia some day in the near future.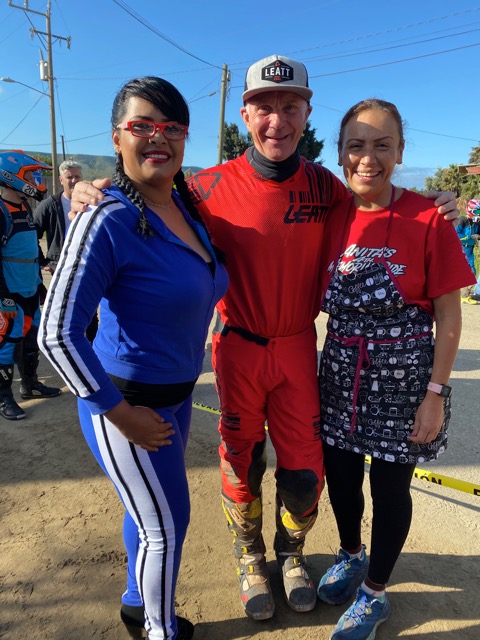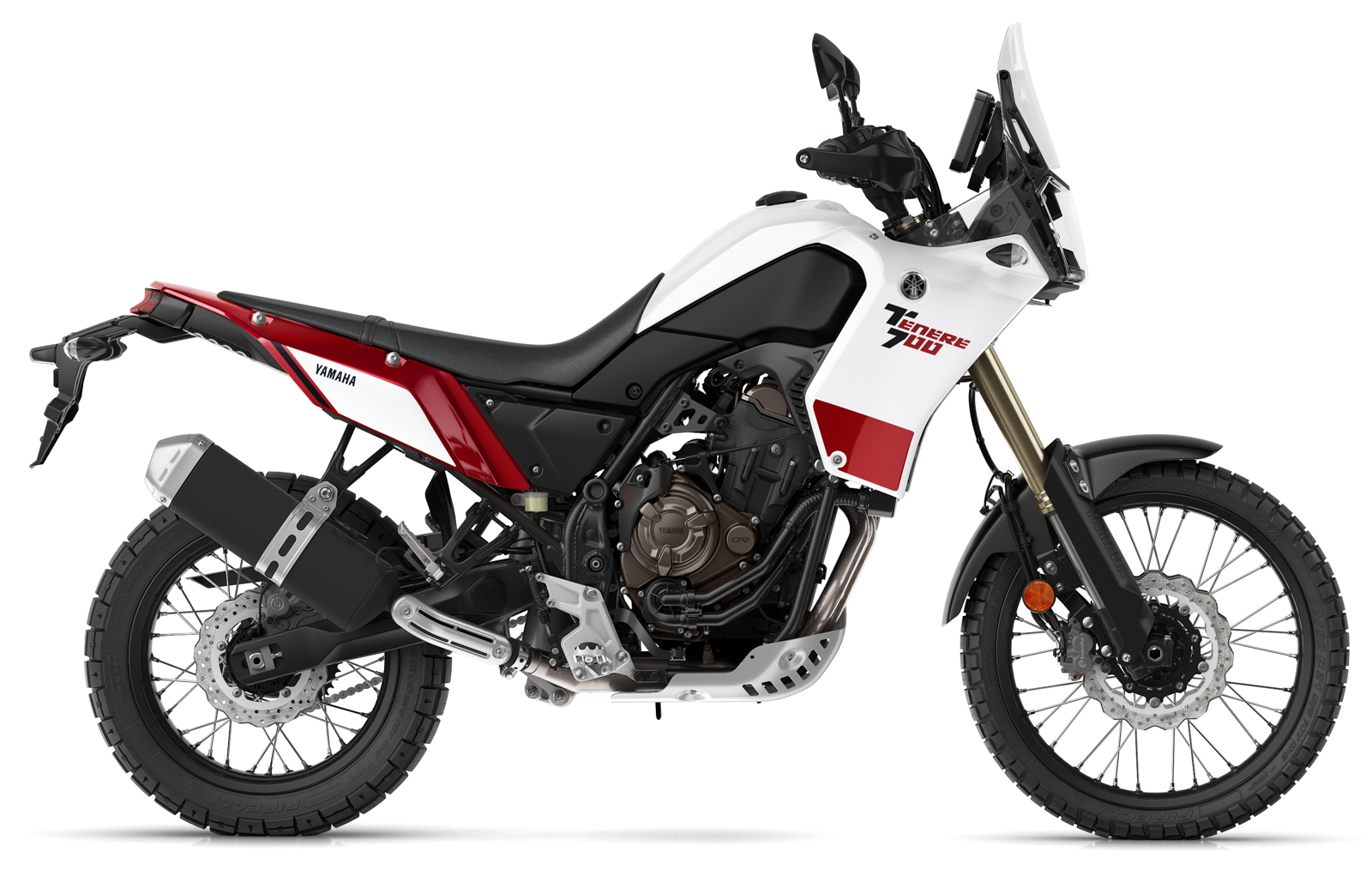 Amy Harburg, Australia, competitor GS Trophy 2016, rode a BMW 310 GS (Rally Raid Products modified) Australia-UK
Choice: 2020 Yamaha Ténéré 700
This was a tough choice as there are so many good bikes out there, both new and old. However, after a bit of consideration I eventually landed on Yamaha's new T7. This bike seriously impressed me when I recently had the opportunity to ride one for a weekend off road rally. I haven't had as much fun riding a bike as I did on the T7 for a long time! The bike is just so planted, and its steering is almost intuitive.  It feels lightweight yet isn't flighty, and its delivery of power is just so linear. However, ultimately for me the reason I would have one tomorrow, if I could, is for its versatility and simplicity. I feel it's the right size for a cross continent adventure and its lack of electronic gadgetry means less that could fail while you're in a remote location. If I'm going to own a bike it has to be something I can get the most out of and enjoy, not a showroom piece that is intimidating to ride.  Even in motorbikes, sometimes less is more.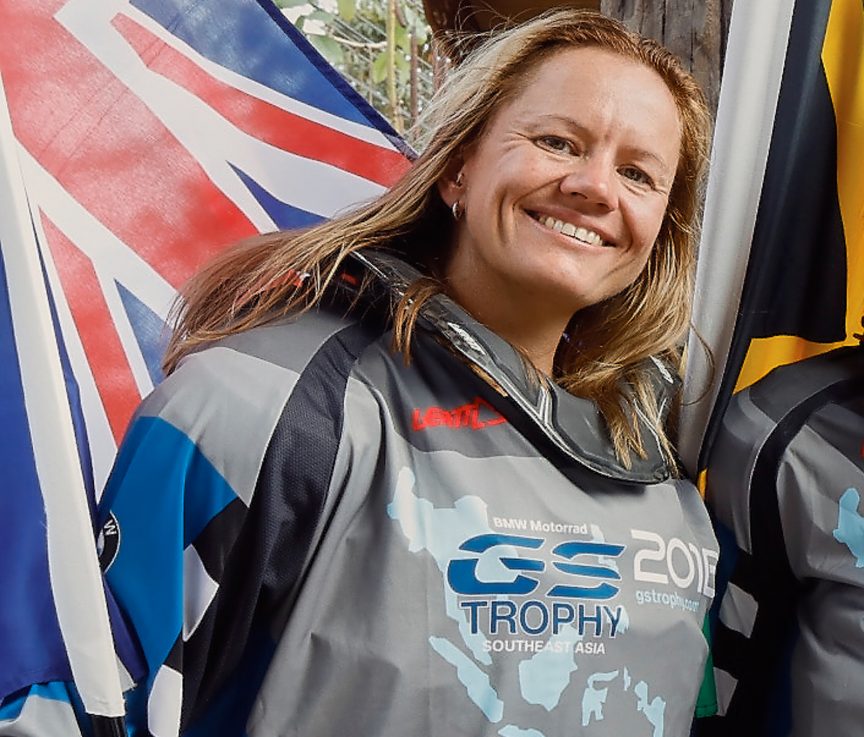 July Behl, UK, ex. UPoA Madagascar, rode the Americas on a BMW R nineT Scrambler 'PanAmScram' as featured in RUST
Choice: BMW R 1200 GS Rallye
I'm going to be dull on this one and call out the BMW R 1200 GS Rallye. I traversed the length of the Americas on a BMW R nineT Scrambler and while I absolutely love that bike and would do the same trip on it again – in a heartbeat – I'm after change. I've been a bit of an ADV bike tart and having done the rounds with most manufacturers, the GS wins hands down. My lockdown luck is running out – my wife's discovered my lack of personality, intellect, humour, sexual prowess – the looks were never there anyways. Which means once the dust has settled on Covid-19 she'd want me as far away and for as long as possible. And to do that in comfort, my GS Rallye is perfect. Unlike me, the bike is reliable, good looking, performs well under pressure, lasts long, has the muscle to get out of hairy situations, has a beautiful exhaust note (mine's getting worse with age), and just about does everything. Despite my lack of skills, I love getting dirty and the GS is the perfect tool for that. Used to be the Mrs. But not anymore. So in a nutshell, the GS does it for me and will continue to for a while. Are you listening Mrs.B?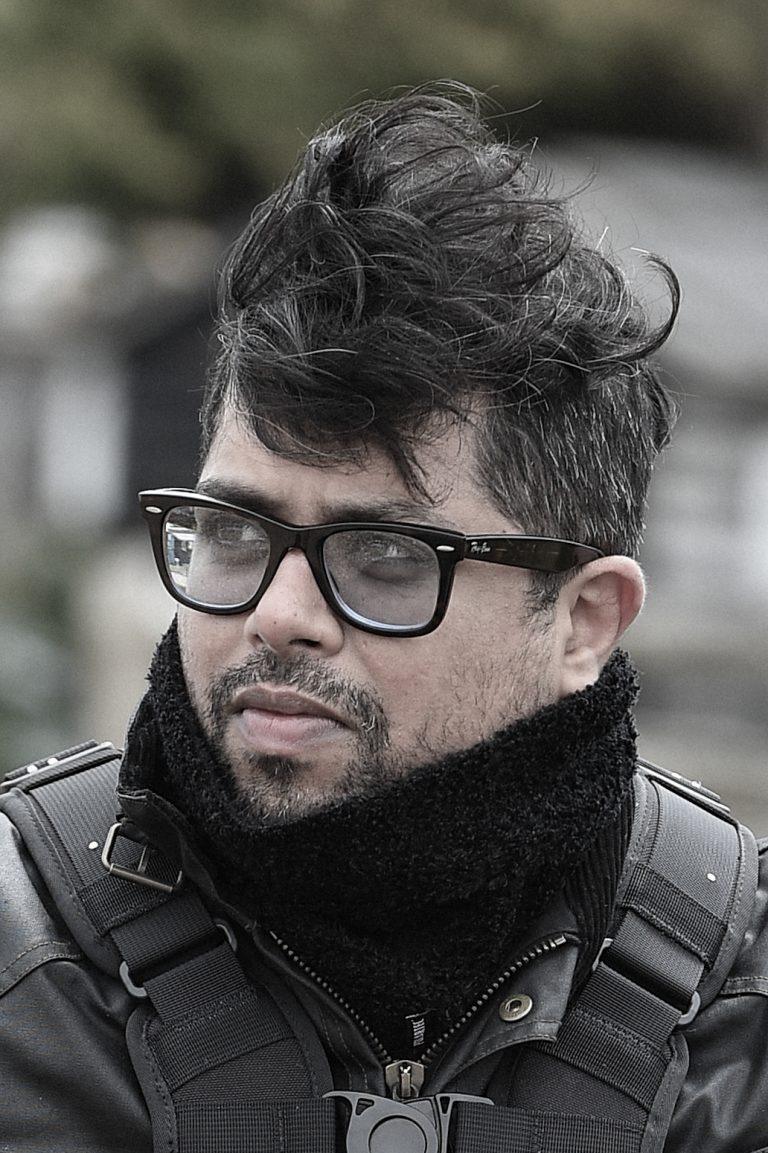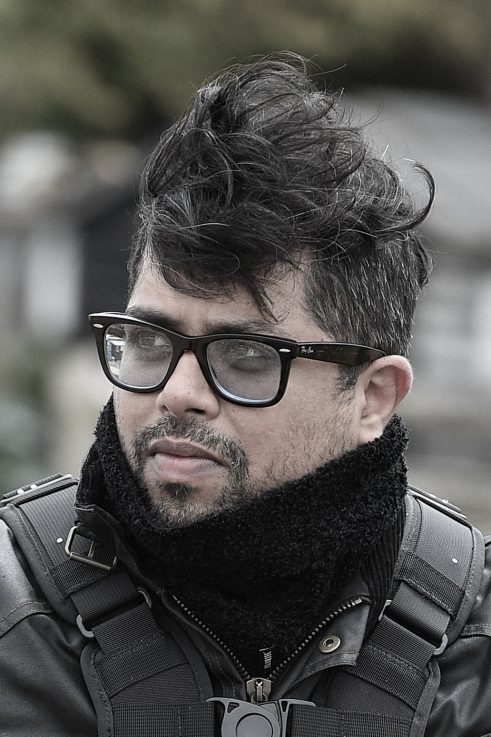 Chris Scott, UK, author of the Adventure Motorcycling Handbook (and others) been riding in the Sahara since the 1980s now leads tours there
Choice: Royal Enfield Interceptor
What value do you place in your road bike's off-highway utility? For me that's been central to my travels from the start, more for wilderness exploration than honing any sporty or technical skills which come anyway. Comfort becomes more important with age but clearly a quarter-ton of £15k adv flagship holds the average rider back so I'm all for these lighter, cheaper alternatives. Sadly, the 701LR or PR7 only tick one of those boxes. Yamaha's XT700 showed the way, eschewing inessential 'because-we-can' electronics. But I'd prefer that Goldilocks motor in a Sled-like scrambler midway between the lofty T7 and fat-wheeled XSR700 [picture]. A CP2 motor is tall, so Enfield's 650s are another contender. I bet something's in the pipeline at RE. Having tried a CB500X, another bike that interests me is the forthcoming 'CRF800L' using a bigger motor from of the innovative NC750. I ran one last year; the tractor-like grunt proves that if tuned and geared right, 50-odd hp is adequate out in the world. As always, the issue will be weight: my ballpark is 200 kilos wet with a 400-km range. I can't see a 'CRF800L' managing that but I bet the upcoming 500 KTM twin will. So, push come to shove, I'd probably go for a smashed up Enfield as that's all I can realistically afford. Then forks + shocks + front rim + bash. Job's a good 'un!
Chris Scott has a catalogue of books in print, you can of course find them via Amazon, or you can do it the old fashioned way, through your local book shop (keep your local businesses alive is what we're saying there).
His number one book, Adventure Motorcycling Handbook is in its eighth edition, to be published shortly,  by Trailblazer Guides (www.trailblazer-guides.com)
Chris maintains an AMH website on which he posts news and reviews and invites others to contribute trip reports. There's plenty of good stuff on there. www.adventure-motorcycling.com
Robert Hughes, UK, rallies competitor, head honcho at Rally Moto who organise top UK adventure rides
Choice: KTM 990 Adventure R
At the moment I ride a 2004 KTM 950 Adventure, one of the original adventure bikes, fashioned on the winning bike in the Pharaohs Rally in 2001 and 2002 Dakar, ridden by Fabrizio Meoni. This bike changed the style of adventure bikes and even now it is a joy to ride. My next bike would be a KTM 990R, I had one of these before and it was also a superb bike. Don't get me wrong, I love the 950 with its carburetors, no 'modes" approach – and it took 15 years for the competition to catch up – but it does need a bit of looking after. So I would like a 990R as well, same no-nonsense adventure riding with taller suspension to use as a bit more of a workhorse so I can preserve my "Fabrizio Meoni" replica.
Rally Moto is busy developing adventure rides for when we come out of lockdown. Check out the latest, inluding the new Tour of Wales Roadbook Challenge (scheduled for Aug 20) at www.rallymoto.co.uk
Editor's choice: 'Donkey' the Husqvarna TR650
I get to ride an awful lot of bikes so I don't need my own big ADV right now, although in two years time my plan is to have a 2012 BMW R 1200 GS TU Triple Black in the garage for my tours with the missus/son and random soft adventure rides. For now though, and as a keeper, I'd have 'Donkey' the exact bike I rode in Australia in 2016. It's a 2013/14 Husky TR650, complete with Safari long distance tanks, Touratech panniers and all the other mods Robin Box applied to it. It needs its handling sorted – something wasn't quite right – but it was comfortable, packed character and just felt so right for long range serious adventuring. Plus every morning I looked forward to riding it, I loved that wee bike. Perfect for slow and technical solo missions.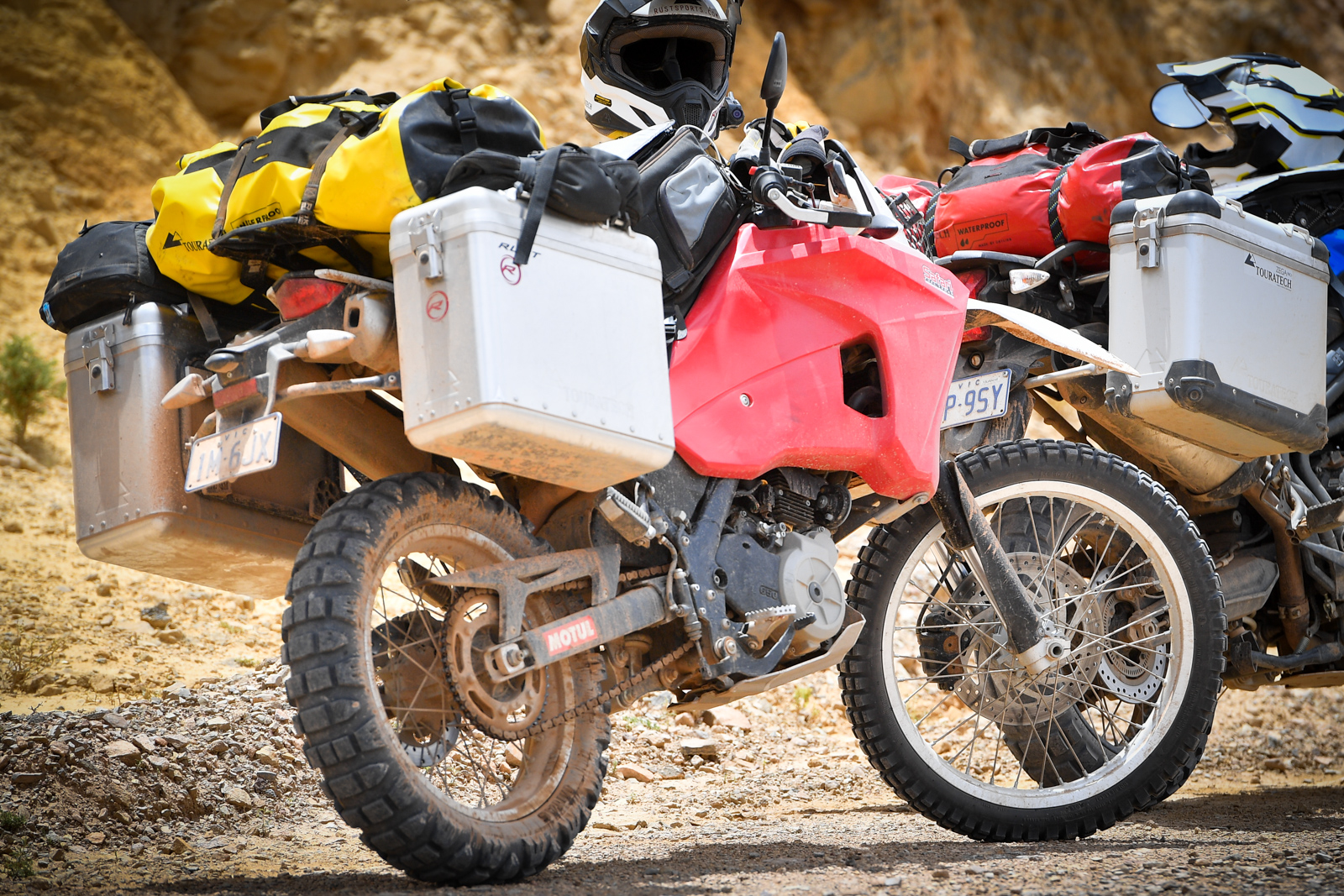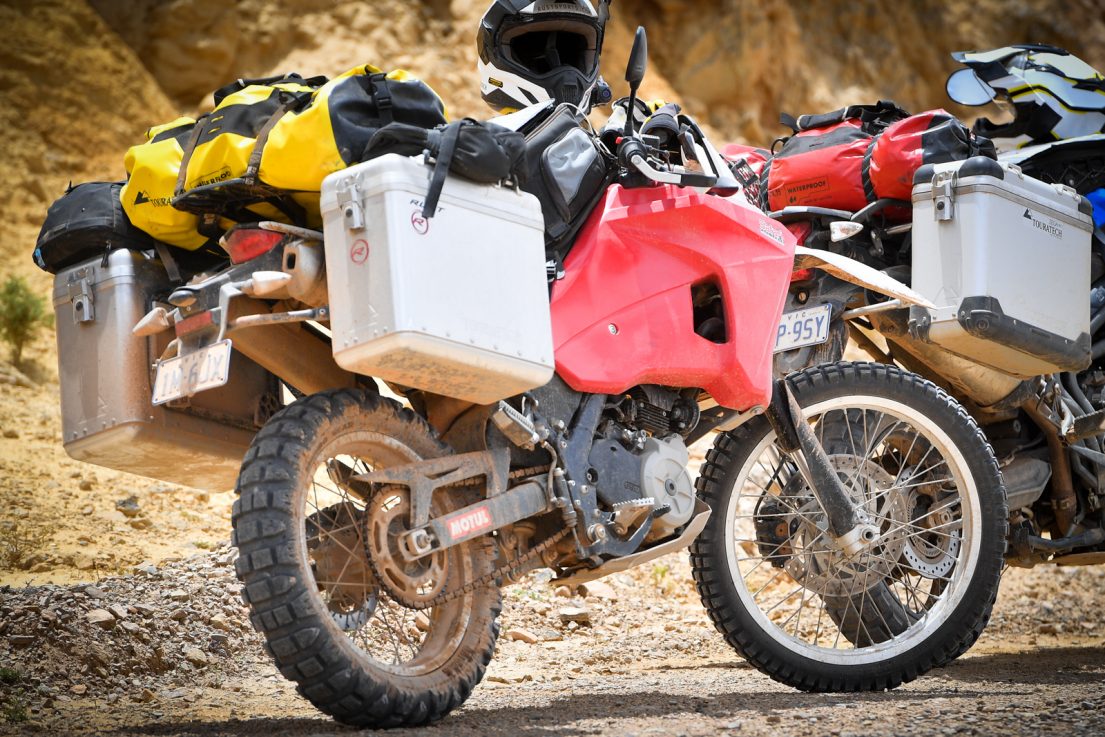 YOUR CHOICE, YOUR COMMENTS
Please, enter the debate, what do you think, should we have more 600cc singles in adventure? And what's your ADV of desire right now? Comment below…