A TINY BMW F800 ADVENTURE
The winding A35 that carves its way through the New Forest in Hampshire is great to ride on a bike, and it's got some magnificent views to soak up. Just remember to keep a wary eye out for the local livestock crossing the road with little or no warning.
My travelling companion for this trip is a box-fresh BMW F800GS. First impressions are good, the seat height and upright riding position have given me an excellent view of the Hampshire countryside on my way down from London. And the comfort is good in all but one aspect (more about which later). But it is a tall bike, at 5'11 my feet just about touch the ground at junctions, shorter riders would be struggling a bit not only with the height but the weight of the bike, which is not insubstantial.
BMW have taken this into account and an 860mm seat (30mm lower than standard) is available at no extra cost should you prefer. We however have the full height version as I'm finding out.
For 2014 the Adventure version comes in a choice of either 'Sand Rover Matt' (hearing-aid beige) or 'Racing Red' like our long termer here. ABS is now standard across the BMW range and this version comes with all manner of electronic trickery: Enduro Mode which allows the rear wheel to spin up in slippery conditions, Electronic Suspension Adjustment (ESA) which you can tweak on the move, and Automatic Stability Control (ASC), all of which covers most conceivable riding conditions you're likely to encounter.
Road Trip
Its road manners are more than acceptable for a bike with a 21in front hoop and serious off road ability. And first impressions are that BMW have got the road riding box ticked on this new model thanks to a combination of quality WP components and the ESA. There are other clues to the genuine dual nature of this bike with the removable chunky rubber footpegs, dual brake pedal heights and adjustable gear lever height.
For any long distance roadwork however I would recommend keeping the rubber cleats in place because whilst the engine is silky smooth at lower revs it does get a little buzzy at 5000rpm+ which is where you need to be for motorway cruising speeds.
And whilst we are on the subject of motorway riding, my only real complaint after the first few hundred miles is the seemingly excessive wind noise. Even with a road lid and earplugs my ears were ringing far louder than usual after a road trip. Whether this is a combination of my particular height combined with the BMW's fixed screen height I'm not entirely sure. But it is something I will be addressing before my next long road trip.
The following week we got the chance to find out whether BMW have really struck a good balance between on-and-off road usability with this Adventure version. Fellow RUSTer (and more experienced off-roader), Jon Bentman was in attendance, and as our knobbly tyres had yet to turn up for the Beemer, we headed out onto the slick Sussex lanes on 'semi-slick' tyres. Here's what JB had to say about it…
JB's Bit…
One thing's for certain, if you take a 230-kilo bike off-road, then you need to fit some decent knobbly-ish tyres. That goes double if there's mud involved. And there was mud involved, and of course – despite the best-laid plans – we only had the road tyres the F800GS Adventure comes fitted with as standard. Here at RUST some things never change…
Sat in something of a very deep muddy rut, the rear tyre spinning fruitlessly, I was reminded of my very own words from last month, about big bikes making simple trails more interesting. This stretch of green lane was far from simple, so this was turning out to be very interesting indeed. And looking down I could see that the gear lever had wrapped itself back around the left footpeg. I remember writing in my original report on the F800GSA that it could do with a folding tip… How smug was I feeling right now?
But I wasn't cursing the BMW… Far from it. It was magnificent. No I was cursing fate that had conspired to hold up our tyres in the post, and cursing my luck for finding a rut that was bigger than an F800GS.
Just a few hundred yards earlier down the same track we'd come to a natural obstacle that was a mass of polished boulders and moss, all stepped over a six foot rise. It had taken some application – and teamwork – to get the BMW over it. With a steadying push here, and a crucial heave there the BMW had made it, without leaving so much as a couple of tyre marks on the rocks. I was mightily impressed.
We eventually got through the ruts though, and after the pride of achievement, came the fall of over-confidence as slick mud and a random branch saw the BMW topple. No damage though – the standard crash bars do a good job, and of course mud is a soft landing.
You should be aware that I'm describing the worst green lane there is in Sussex. Known as a challenge to even the most adept off-roaders riding enduro bikes… that we even took the Beemer up there speaks volumes about its abilities. On other lanes that day, riding across a fair few streams, it was a care-free ride. The BMW is nothing if not perfectly capable off-road.
I really like the riding position when standing – very comfortable and spot-on for dealing with the little slides and corrections that come with riding on dirt. The suspension ably damps out the worst you'll find and when we got onto the tarmac'd lanes I could enjoy the luxury of the smooth 798cc twin. It's not the fastest of bikes, but it's a classy ride.
Gear lever aside the Adventure is built rugged too; so this kind of riding is easily within its capabilities. But best done on proper trail tyres, eh?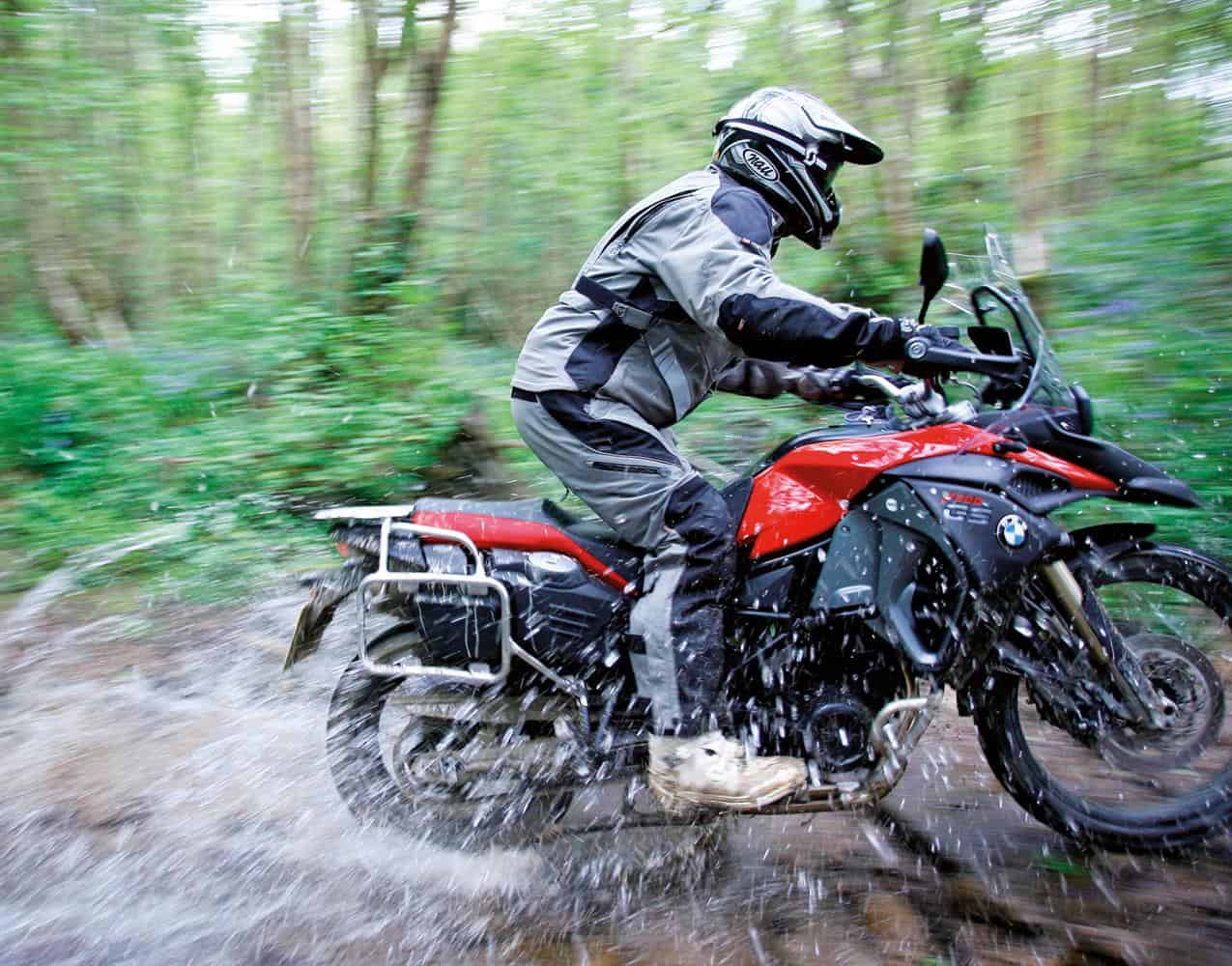 Back to Alex
After watching JB take on the toughest lane in West Sussex, I manfully volunteered to tackle a couple of slightly less intimidating trails on the way home. Standing up for a few gentle descents and a stream crossing my knees nestle into the perfect position around the fairing and the bar height is spot on for me. This is a bike I could spend a long time standing up on in perfect comfort.
As JB points out however, it is sometimes the more innocent looking lanes that can catch you out on a bigger bike when you relax and then try and change direction quickly to avoid something in your path. I'm reminded of the old adage: big bikes are fine off-road until it all starts going wrong!
Fortunately we get back to our starting point without any serious mishaps and all that is required to transform our mega green-laner into a motorway cruiser is to turn the Traction Control Back on, wipe down the number plate and re-fit the rubber footpeg cleats.
I enjoy the quizzical looks I get on the M25 heading back into West London on the heavily mud splattered GS and chuckle quietly to myself as a couple of uber-shiny examples head the other way. They don't know what they're missing!
In the future we plan on racking up some more road miles, fitting some knobblies for another day on the trails and possibly a screen extender to try and cure the annoying wind noise on the motorway. In the meantime I just need to get out and clean it…