600cc. Single cylinder. Trail bike. It is that simple…
I'm loving this SWM RS650R. I wasn't expecting that. Hopping off SWM's two dedicated enduros onto their middleweight trail bike was not a good way to make an introduction. Going from light-and-lively to heavy-and-gentle is never a good route. The big bikes typically end up feeling cumbersome and slow given such a comparison. But the RS650R doesn't. Yes, it's heavier and lower, and with the reduced grip of the Conti TKC80 adventure tyres (as compared to Michelin enduro tyres on the RS300R/500R enduros) we are struggling for grip on these Welsh trails, but heck the big SWM simply feels smooth and sophisticated. And capable. This is what 600-650cc single cylinder trail bikes should be all about…
FLASHBACK
In my youth – decades ago now – bikes like the Honda XL600M and Yamaha XT600 Tenere made a huge impression. They were tall, flashy to the point of being bolshie, and in looking near-enough carbon copies of the Dakar racers of the day they were about as exciting as any trail bike could possibly dream of being. Road race replicas were the bike of popular choice (in the UK), but for an alternative macho statement these were the call.
They also became the call for 'explorer riders'. I call them explorer riders as back in the mid 1980s no one spoke of adventure biking. Post Jupiter's Travels, long distance travel into the Far East or Wild West was starting to become more prevalent (not yet popularised), and bikes like the XLs and XTs were mana to those brave riders keen to blaze new trails. The 600cc singles were particularly popular as they combined mechanical simplicity with a fair serving of reliability, durability and comparatively excellent off-road handling (comparative to a Triumph Tiger T100 à la Ted Simon that is) – plus just enough comfort.
Now while today the 'bigger is better' ethos has largely consumed the adventure motorcycle market there are still many who either remember those simple old days, or who need something a bit smaller, a bit lighter – usually on account of size, age, even gender. Those 1200cc super-adventures are awesome fun, but a 600cc single really can supply most of what's needed in adventure riding. And so while the 1200s are always making the headlines, the middleweights still have a place (you might pause to wonder what might have been had Ewan & Charlie selected BMW 650 Dakars for the Long Way Round…).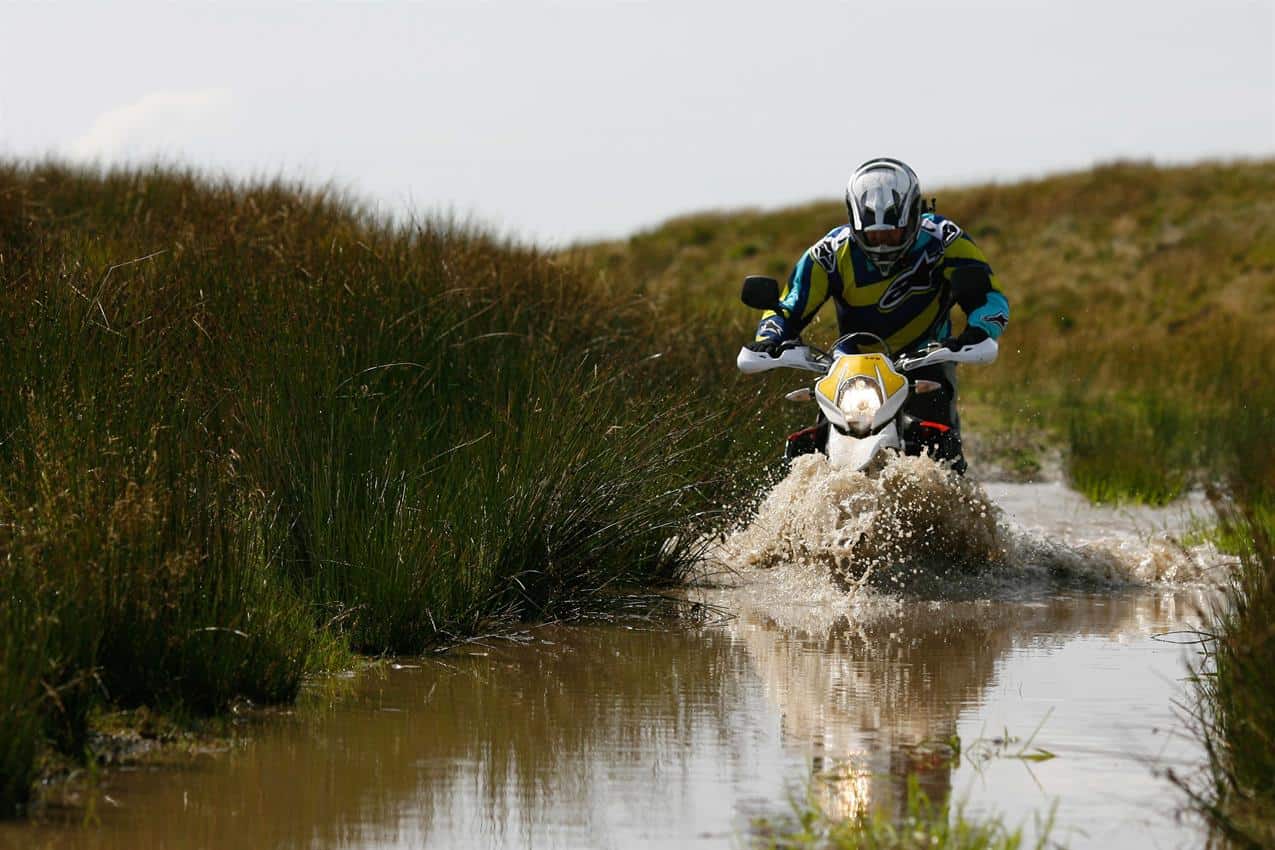 THE NOW
So this SWM RS650R joins onto the 'now' end of a decades-long tradition of single-cylinder trail bike /adventurers. In the now it sits alongside competitors such as the KTM 690 Enduro R, BMW Sertão and the Yamaha Ténéré – although the latter has apparently reached the end of the (production) line, and looks set to be quietly disappearing from Yamaha's showrooms, probably to make way for a 700cc twin-cylinder successor. That's the situation in Europe, elsewhere the SWM will nudge up against bikes like Kawasaki's KLR650 and Suzuki's DR650. All of which offer stiff opposition, whether on performance (the KTM), utility (the Yamaha) or on keen pricing (the rest).
Where the SWM sits is neatly in the middle-to-top on tech and near the bottom on price. The tech is mid-placed because unlike the Japanese and German offerings, this isn't a 1990s based engine. This is a svelte water-cooled DOHC competition-derived unit as developed by Husqvarna (before the sale to Pierer/KTM). It's lineage threads back to the Husqvarna TE570 enduro racer of the early 2000s, albeit with considerable updates over the years, so its closest relative (virtual twin) is the TE630 trail bike of 2010. It is essentially that bike remade with just a few changes.
And while we might scoff at six-year-old tech, we shouldn't, this unit is as up to date as singles have come to be. It's no powerhouse the way the 67hp KTM 690 is, but at 54-56hp it's way ahead of the Japanese, and the fuel-injection is creamy-smooth – something of an improvement on where the TE630 finished (in itself, evidence of continued development by the SWM R&D guys in Varese). As well, that chassis is competition-derived, and so while it has shorter legs (210/270mm travel) and bigger seat and tank, it has the integrity, still, of a pure-bred racer. That takes it a fair technological cut above all but the KTM.
SMOOTH
Riding the RS650R over some trails in Wales, the tech and the market position all come into utterly rational focus. The bike sits only so-high. It says 900mm on the specs, but it seems lower, and with a narrow seat and tank combination it's easier to reach the floor than the numbers imply. Shorter riders really should check this out, it's not a sky-scraper. And while the suspension stroke is shorter (I call it 9" suspension, proper enduro spec being 12-13") the Marzocchi forks and Sachs shock do a great job of offering nicely damped, plush movement. Sure if you rode it like a racer you'd find limitations, but it's not a race bike, so that observation is irrelevant.
That suspension combined with the race-proven frame make for assured handling off-road. There's nothing wallowy or under-damped here, the RS650R has an air of tenacity, you can point it and pin it with a degree of certainty on outcome. The enduro-spec wheel choice helps here, with narrow 21"/18" wheels on non-standard TKC80s – standard are GoldenTyre GT201s – there's decent enough grip. There's no clanking from bottomed-out suspension, there's no issue with your feet slipping off road-spec footpegs, this is a real dirt bike, right down to the seat which is long and fairly flat so you can move around freely. And the handlebars are properly shaped and positioned for comfortable stand-up riding. It has, indeed, a very strong off-road bias in its design. If I were to call it on the blend road/trail I'd say 30/70.
The power is, as said, silky smooth. That old TE630 of 2010 had a few low-rev fuelling glitches, but the SWM team must have put in some hours with the Mikuni fuel injection for it pulled sweetly on the RS650R all the way through. As before, with the TE630, the midrange is the main course, where the SWM feels the liveliest. And that's exactly where it should be. Gear changes and clutch action (hydraulic for the latter) are positive and sweet – one small drawback though – the short gear lever. With size 12 enduro boots I was struggling to sneak my toes underneath it. Two options: replace it, or rotate it up a notch on the spline – in either situation, its 'small beer'.
What I particularly like is that the SWM feels so smooth, so well put together. In their last years with BMW, Husky dropped this engine and swapped over to the Rotax 650cc motor (as found in the Dakar/Sertão) for the Terra model and yet this engine was perfectly serviceable, and in so many ways the superior. In the RS650R it feels reborn, allowing the bike a vital modern gait that some of the lower-powered 650s are lacking. And that smoothness feels to flow through in all areas – the controls are all neat and slick in operation, everything is where it should be. Now the radiator shrouds may make the front end of the 'tank' wide but in the mid-section, where you sit and stand, it's nicely narrowed, proper ergonomics. It really is hitting the sweet spot.
By the way, it's a 600. Not a 650. I suspect SWM – much as Husky before them – figured the market wouldn't respond to a 600 (what with everything else being 650s, 660s, 690s), but ignore that capacity deficit, this bike has ample performance.
LIGHT IS RIGHT
The SWM also hits the mark for weight, or lack of. At 144kg (claimed dry weight – probably call it just under 160kg when fully fuelled) it lives easily alongside the 140kg KTM 690R while being vastly below the poundages of the likes of the Sertão (177kg dry) and Ténéré (claimed 215kg wet, about 192kg dry). Again for the lighter/shorter among us this is a good thing. Even for the bigger, this is still a good thing. This makes it easier to manhandle and makes for an easier time for the suspension etc.
There are other items worthy of note. I like the fact it comes with a dirt-spec foam filter (not a paper type). Interviewing Ted Simon a couple of year back he commented that he'd have not even half of the technical issues he had with his Triumph T100 (as recorded in Jupiter's Travels) if the bike had only come with decent air filtration. For riding in sandy/dusty conditions, as found in adventure, a foam filter is the standard and will go a long way to abating premature engine wear.
I like too the twin exhausts (the TE630 came with a single, rather large muffler), which balance the aesthetic and allow a muted yet tuneful soundtrack to the ride. All round, considering the budget-level pricing, the quality is pleasingly high.
Now while the actual spec (in terms of rider comforts) is fairly bare bones, I like that as well. Better this than overdressed. I'd be quite happy to ride this bike with just panniers (soft or hard) for a long trip. The ground clearance is so good you'd not seriously need a bash plate, and the design is so slick it doesn't want for crash bars either. Maybe if fuel range was an issue I'd swap the standard 12-litre tanks for a 25-litre vessel (Australian firm Safari made them for the TE630 and apparently they'll drop straight onto the SWM as well). But if you want nothing less than a full-dress adventure bike – with screen, crash bars, panniers, kitchen sink – then just hang on a month or two because SWM will have a kitted-650, the 'Superdual' along soon.
SPOT ON
Now this shortish test was dirt only, but with gravel trails of a long and straight type available we could hit 60-70mph and this really wasn't a problem, the gearing is long enough for this to be relaxed enough and there was no immediate hint of vibrations. It would be good to try some tarmac miles soon though.
In all, the SWM RS650R hugely impresses. Lighter and faster than a Sertão or a Ténéré. A good match for a 690R for dirt capability. Well made yet budget priced to match the old-tech KLR/DRs. But as importantly a bike made by guys who clearly know and love the job (they must have been itching to get back into the game these last few years after the Pierer deal left them effectively beached). It's a trail bike come adventure bike made by guys who do enduro – so it has dirt bike capability (rather than adaptability) running right through it. Yet it has a sense of smooth sophistication you associate with roadsters. In short an excellent blend, altogether, an excellent bike.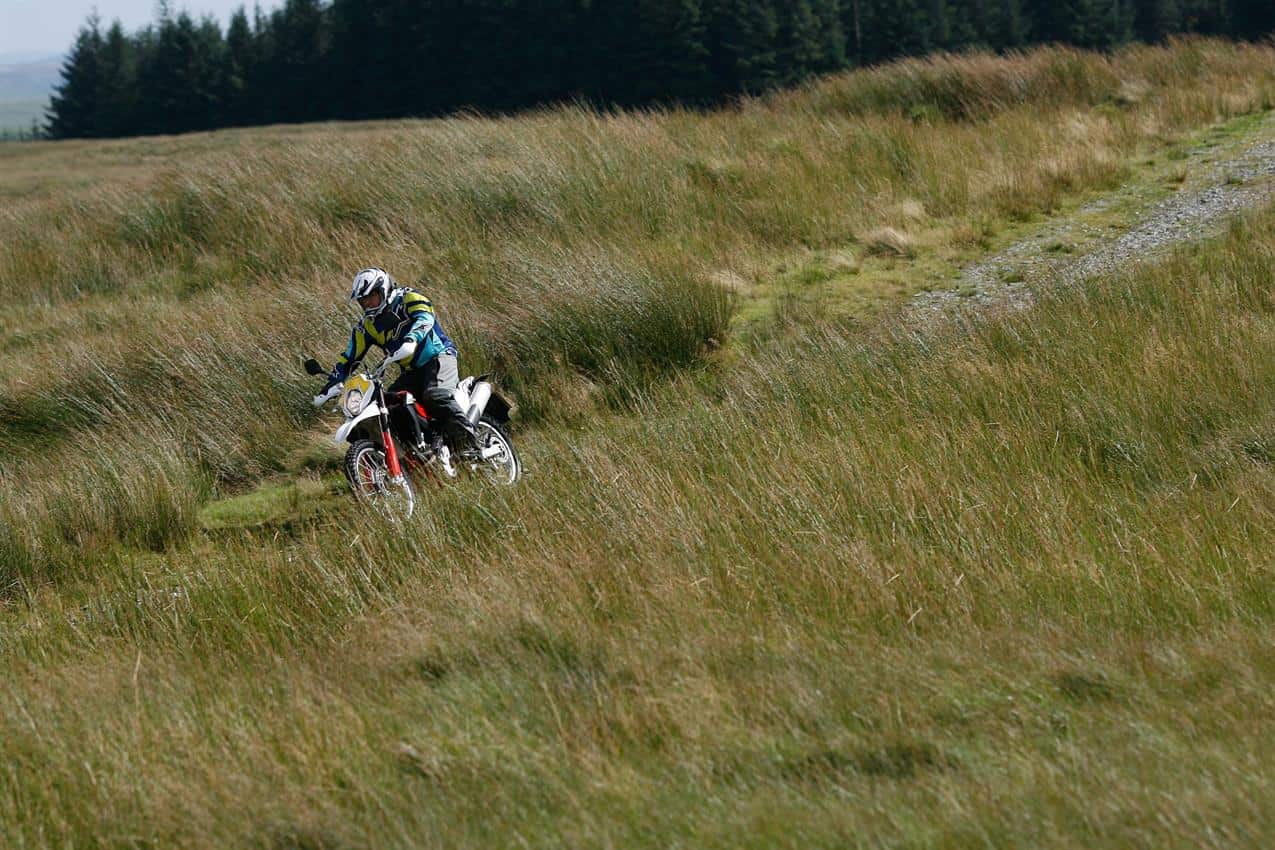 SPECIFICATION
SWM RS650R
Engine liquid-cooled DOHC, 4-valve single cylinder four-stroke
Capacity 600cc
Bore & stroke 100×76.4mm
Compression ratio 12.4:1
Fuelling Mikuni fuel injection, 45mm throttle body
Ignition 12v, electronic
Starting electric
Transmission Six-speed
Clutch wet multiplate
Frame tubular steel single tube backbone, double cradle
Front suspension Marzocchi, 45mm USD, 210mm travel
Rear suspension Sachs monoshock, 270mm travel
Front brake 256mm disc, twin-piston caliper
Rear brake 216mm disc
Tyres 90/90-21, 140/80-18
Weight 144kg
Seat height 900mm
Wheelbase 1505mm
Fuel capacity 12 litres
Top speed NA
Price €6990 / £5699