RUST has been following July Behl as he's been adventuring on his BMW RnineT Scrambler north to south across the American continents. You can read his previous stories in RUST #27 (planning & prep) and #29 (North America into Mexico). In this installment July has reached the Darien Gap, the no-roads jungle barrier between Panama and Colombia. You could fly it in minutes, or take a fiveday boat trip. Yeah, no prizes for the right answer…
words: July Behl images: July Behl & Jon Bentman
As I rode through the large swath of undeveloped swampland and forest between Panama and Colombia infamously known as the Darién Gap, I felt a huge sense of achievement – I've done it – I've crossed the Darién Gap by motorcycle! I'm the first British man to cross the socalled impenetrable 66 mile marshland! And right at the exit, there was my family, friends and the Prime Minister of Colombia cheering my achievement eating a big bucket of fried chicken and sausage rolls! Prime Minister…. sausage rolls…. family…friends…. I can't believe it… and neither should you, as this was nothing but a vivid dream aboard a sailing vessel in the Caribbean. Yes, I was under medication (read side effects of strong sea sickness tablets) Bugger! 'Sally the Scrambler' (a 2017 BMW R nineT Scrambler) and I did get from Panama to Colombia, but by boat.
WHAT THE FARC?
In this age of extremely competent motorcycles and riders, there's very little left in the world that can't be conquered, however the Darién Gap is one of the few challenges still out there that most overlanders shy away from. Is it the wildlife? Is it the FARC rebels? Or is it simply the fear of the unknown? It's quite possibly a combination of all three. The Darién is one of the least visited places on the planet.
This roadless kingdom of hell is inundated with poisonous frogs and scorpions, painful fire ants, jaguars, fer-de-lance snakes, wild pigs, bot flies that lay eggs under your skin – adventure PANAMSCRAM 42 www.rustsports.com www.rustsports.com 43 w w among other nasty creatures. To add insult to inju – ry, it's controlled by the notorious FARC guerillas infamous for drug trafficking, arms smuggling, kidnappings and bombings – yes, even today. In a nutshell, everything that moves in the Darién can and will kill you. As most overlanders don't fancy getting shot, stung or just dying, they 'fly' or sail across 'the gap'.
Much to my wife's disappointment, I too chose the sane option and sailed 'the gap' on the 'Stahl – ratte' – a 110-year-old German vessel that ferries motorcyclists across. It's no Cunard's Queen Mary but to overlanders it's better than that – for five days, we don't have to worry about routes, accommodation, food, fuel, packing – repacking, breakdowns, weather or company. You're fed and watered and taken care of by the fantastic crew who treat you like royalty for USD 1200.
Of course, flying over 'the gap' is probably the efficient option but then you miss out on visiting the gorgeous San Blas islands, eating fresh lobsters, snorkeling and – most importantly – meeting, hanging out and getting drunk with other overland – ers on the Pan Americas, just like I did. When I was in the planning stages of my adventure, I wondered what it would be like to sail 'the gap' with other n All meals are included in the price n Beer and Cold Drinks are a USD 1 each and are extra n Stahlratte have a seawater desalinator on board and there's unlimited water for drinking, cooking etc n Snorkeling equipment and 'noodles' are provided n A 1.5 ton electrical winch is used to load and unload the bikes and the Stahlratte people are liable for any damage to the bike during this process n Maximum capacity on-board is 27 including 4-5 members of crew n There are seven double cabins and 13 single berths n Charging points are next to most berths n There's one toilet and one shower. While I was on board there was never a queue for either. DOCUMENTATION n While booking you'll need to send a copy of your passport and a non refundable deposit n Stahlratte will organise the exit paperwork from Panama for you and your bike n Stahlratte will organise the entry paperwork into Colombia for you and your bike. This includes immigration stamp, motorcycle insurance and the TIP. ADDITIONAL INFORMATION ON THE STAHLRATTE SAILING overlanders, the logistics, the documentation etc… and scoured the internet on information, but to my disdain I didn't come across any tangible info and that's exactly what I hope to achieve through this article – to give you a feel for what's it like to be on the Stahlratte, and other relevant information that'll get you excited about the sailing.
MEET THE CREW
Before we do that, let me introduce fellow adven – turers that I met in Central America who were on the same boat as it'll give you a sense of the sociali – ty both found on the boat and the road. When on the road online interactions soon become realities, as there's an unsaid agreement of loose interdependency between travellers on anything from routes to accommodation to places to eat etc… and that's how I met Matt and Karen, a Dutch couple on two BMW 650s, who suggested biker friendly accommodation to me in San Juan Del Sur – the party town in Nicaragua. All decent (read non sticky sheets) hostels and hotels were sold out to Twinkies with raging hormones for 'Sunday Funday' – a debaucherous Sunday pub-crawl that attracts the majority of the backpacker population in Nicaragua.
ADDITIONAL INFORMATION ON THE STAHLRATTE SAILING
All meals are included in the price
Beer and Cold Drinks are a USD 1 each and are extra
Stahlratte have a seawater desalinator on board and there's unlimited water for drinking, cooking etc
Snorkeling equipment and 'noodles' are provided
A 1.5 ton electrical winch is used to load and unload the bikes and the Stahlratte people are liable for any damage to the bike during this process
Maximum capacity on-board is 27 including 4-5 members of crew n There are seven double cabins and 13 single berths
Charging points are next to most berths
There's one toilet and one shower. While I was on board there was never a queue for either.
DOCUMENTATION 
While booking you'll need to send a copy of your passport and a non refundable deposit
Stahlratte will organise the exit paperwork from Panama for you and your bike
Stahlratte will organise the entry paperwork into Colombia for you and your bike. This includes immigration stamp, motorcycle insurance and the TIP.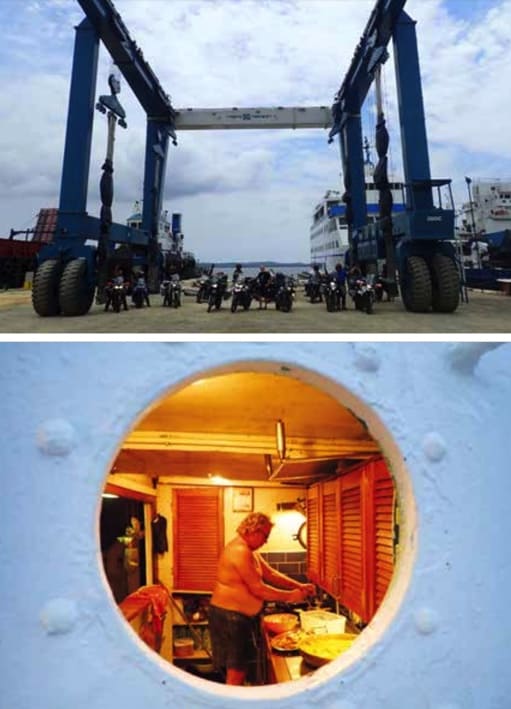 We decided to hang out and ride to Panama together. Matt and Karen had gotten engaged on the trip and were harmoniously in love. Karen made the majority of the decisions and Matt said, "Yes Karen"- this was the secret to their loving relationship. Matt had the GoPro but Karen had the remote, Matt knew the routes but Karen had the Sat Nav – it was a delight to hang out and ride with them.
Matt and Karen's other online acquaintances included Australians, Neake and Paul – an extremely chilled-out bohemian couple with a cracking sense of humour. They are on an open-ended adventure and have already been on the road for close to two years. We were all keen to meet and share stories, so they stayed on in Jaco, Costa Rica for another couple of days. Jaco is famously known for its surf and hosted the 2016 International Surfing Championship. Infamously its known for in-your-face rampant prostitution – a bit like Vegas on steroids. Hey- ho! Different strokes for different folks (pun intended).
Our online community had snowballed in reality to form a small overlander family of motorcyclists and before we knew it, we were all riding to Panama together.
Panama House B&B acts as the nucleus for all Stahlratte clients (who are predominantly motor-cyclists). Nestled in the centre of Panama City, it's a clean vibrant hostel, with secure motorcycle parking (the most important aspect of accommodation for the motorcycling overlander) and is within walking distance of about ten motorcycle shops, as we found out. We got there a few days ahead of the departure date and spent the next few days visiting the Panama Canal, Old Town and sampling fresh seafood ceviche at the Fish Market. The hostel was soon buzzing and you could hear accents and motorcycles from all over the world. We were now a day away from the sailing trip. Below is a linear/ factual…almost dry, breakdown of the Stahlratte journey…
DAY 1 
Port Carti is the meet-up point for loading the bikes and it takes anything between two to three hours to ride there from Panama House. The ride starts out fairly mundane like any city ride but gets the blood flowing for the last 30 miles in the indigenous Kuna territory. The road snakes through the mountains, through dense forest and each twist and turn exposes to you the beautiful jungle landscape. I would've personally preferred the last 30 odd miles to be off-road as the terrain lent it self to some exciting riding but unfortunately it got paved some 15 years back. Though this may be deemed as progress for the locals, for us so called Adventurers it's unfortunate as the world is getting 'tarmacked' at an alarming rate – yet, another reason to get out there and 'play' before everything goes tits up.
The atmosphere at Port Carti is one of excitement and camaraderie. The self-inducted warm meet and greet with other overlanders is both delightful and interesting. Mud caked bikes of all shapes and sizes from all over the world adorn the parking lot; the travel stories and anecdotes start unraveling and the stripping begins. Yes, that's right – the stripping. In order for efficient loading of the bikes, all the hard and soft luggage is taken off the bikes, the mirrors are tucked in and in some cases the fairings come off making them lighter and leaner. The riders and their belongings are ferried in dinghies to the Stahlratte, where Captain Ludwig Hoffman and crew welcome everyone aboard and soon lunch is served.
Post lunch, everyone is asked to pack a night bag and then ferried onto the small island of El Porvenir. This wee island is about a square kilometer and houses a 'hotel', an airstrip and a few other houses. The so-called hotel consists of about 12-13 rooms, which have running water and electricity till 9pm, after which you're at the mercy of the wind gods and local mosquitoes. It's basic and does the job. To keep our ADHD under control, a few of us decided to circumnavigate the island by foot, drank plenty of beers, swam in the beautiful waters – the water surrounding the island is crystal clear with a mix of coral reef and sea grass beds – and played pool. Before we knew it, dinner was served which consisted of rice, beans, coleslaw, papas fritas, fried mahi-mahi and chicken curry which had all bits of the chicken including the feet, neck and head – a curry in a hurry. Beer, food and friends – good fun was had by all.
DAY 2
After a lightning and thunderstormy night, which we were told was unusual for this time of the year, most of us woke up slightly hung-over – not in the post alcoholic sense but more in a bit of a daze. Nobody was sure when and where breakfast was, and when we were being 'lifted' to get back to the Stahlratte. Lo and behold, soon we were aboard the tiny little dinghy again and back onto the Stahlratte, where breakfast was served. More importantly, all 14 bikes were aboard and like infants in a topless bar we were all scurrying around to find our bikes and to ensure they were all right. The bikes were all tied down and wrapped under tarp to protect adventure PANAMSCRAM 46 www.rustsports.com www.rustsports.com 47w w them from the salt water. My Scrambler was nicely tucked and looked quite cosy. Right after breakfast, we sailed for three hours to the gorgeous San Blas Islands.
The San Blas Islands are a group of island in the archipelago de San Blas, located in North West of Panama facing the Caribbean Sea. There's a total of 378 islands, out of which the natives, known as Kunas, inhabit only 49. These islands are travel brochure cover material – high palm trees, white sand, intimate islands surrounded by turquoise blue waters with diverse marine life, in pristine condi – tion. The islands have not yet been discovered by the mainstream tourism industry and are fully in control of the Kunas who ensure they stay healthy and beautiful. One can fly from island to island but sailing is still the most popular way to get around. Do check them out if you ever find yourself in Pan – ama or Colombia. We were anchored close to the Coco Bandero Island and spent the rest of the day snorkeling, getting drunk, enjoying the rope swing NAME COUNTRY BIKE PROFESSION BLOG Neake Australia BMW 750 GS Retired Entrepreneur Two Bikes One Dream Paul Australia BMW 800 GSA Retired Entrepreneur Two Bikes One Dream Matt Holland BMW 650 GS Designer (Sabbatical) It's not a race Karen Holland BMW 650 GS Business Analyst (Sabbatical) It's not a race Phil U.K. Triumph Tiger 800 Retired Anesthetist Loose Nuts Tom U.K. KTM 1290 SA Retired Anesthetist Loose Nuts Ian Ireland Honda Africa Twin 1000 Retired Anesthetist Loose Nuts Anthony Australia Kawasaki KLR 650 Teacher (Sabbatical) – Pascal Canada BMW 800 GS Retired Armed Forces Officer – Simon Australia Triumph Tiger 800 Entrepreneur (Sabbatical) – Manuel Germany Kawasaki KLR 650 Corporate Exec. (Sabbatical) – Ernie U.S.A Triumph Explorer 1200 Carpenter (Sabbatical) Gringos and Penguinos Tara U.S.A Triumph Tiger 800 Professor (Sabbatical) Gringos and Penguinos July U.K. BMW R nineT Scrambler X Corporate Exec. (Sabbatical) The Big Moto Adventure BEAUTIFUL PEOPLE These were the beautiful folks I had the good fortune of meeting and spending time with on the Stahlratte. It's a real eclectic mix of people and also gives you an insight on motorcycles that are popular with overlanders. I've excluded their surnames to make it difficult for sexual predators and nasty online stalkers, however I have included their blogs for any of you interested in following their stories. Just like me, if you plan to ride the Pan Americas alone and fancy some company, the Stahlratte acts as a catalyst for meeting potential riding partners. Your new alliance/s might or might not last long, but people are usually open to riding together for a few days as for most it's a new experience riding with someone different who might or might not be from a different part of the world. Most people left in micro groups from the Aduana office in Cartagena. It certainly worked for most aboard the August 2017 sail from Panama to Colombia, including me. Simon and I ended up exploring South America together. and making the most of the 'noodles', relaxing in the balmy waters of the Caribbean.
DAY 3
The 'sign and recline' theme continues and again you end up doing everything or something or absolutely nothing. The only tedious part of the day is the 'sign' bit i.e. having to count and document the number of beers being drunk, which everyone has to do for himself or herself – counting beers, chilling in the Caribbean… it's a tough life, but someone's got to do it!
It's extremely relaxed and the main focus for me, and I suspect most others, was to make the most of the good food that's served aboard the Stahlratte and put back the lost pounds riding from Alaska to Panama. It's amazing how they churn out the quantity and the quality of food they do, from a pantry-sized kitchen. All meals are cooked by Cap – tain Ludwig himself and just like all good chefs his belly is an indicator of his culinary passion – never trust a skinny chef! The food aboard consists of a variety of meals from pastas, to baked lobsters to stir fried rice and they are always fresh and plentiful. All aboard are on a rota to do the dishes for one meal, as it helps the crew out and is efficient. I personally hate doing the dishes, but luckily paired up with a German lad called Manuael who was super efficient. After dinner the anchor's pulled up and the 30 hours sail to Colombia commences. Unlike the fetching waters of the San Blas, this is open waters sailing and gets extremely choppy at night. This is probably the best time to make the most of seasickness tablets. A fair few people were sea sick on our voyage and all of them looked pretty arse-raped by the next morning. To put it in perspective, the ferry from Portsmouth to Santander via the Bay of Biscay is a doddle compared to this in seasickness terms.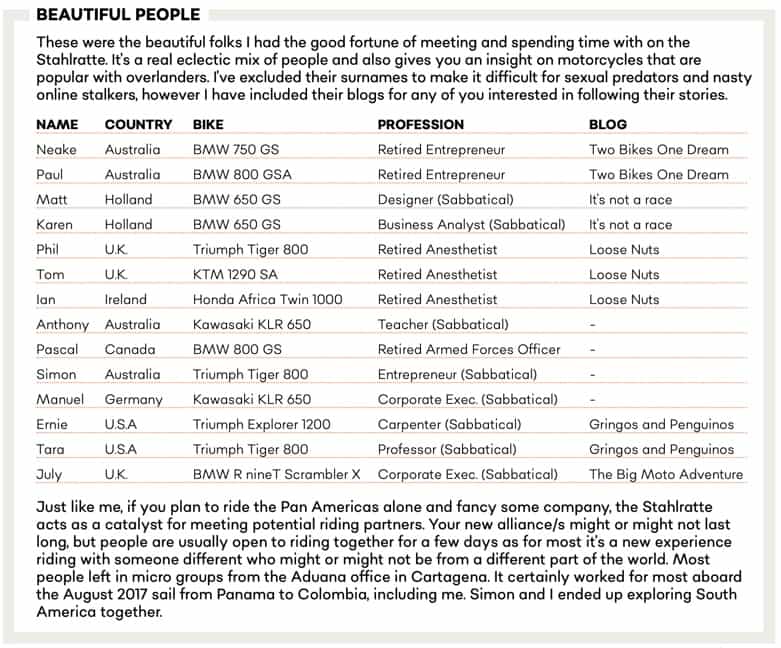 DAY 4
Needless to say, the attendance at Breakfast was thin as most people were still in bed or recuperating from seasickness. Another day to relax and unwind – for me this was the longest I'd been off the bike since the start of my ride in Alaska and honestly both the bike and I needed this well-deserved rest. The distance does start to take a toll and most definitely after 15,000 miles.
My favorite spot on the Stahlratte was the netting on the bow – there's enough room for three to four people to lay down and just observe. It's an ideal spot for 'me' time and also to look out for marine life – we spotted a pod of bottle nosed dolphins who were playing the bow waves. It was brilliant and it 
certainly wakes you up no matter how sea sick or hung over one is.
After a slightly monotonous 30 hours of sailing the bright skyline of Colombia welcomed us. It was bittersweet, as I'd had a blast with the folk on board and didn't want to leave, but at the same time was super excited to ride South America. We docked in Cartagena around midnight and spent the night on the Stahlratte.
DAY 5
Viva Colombia! It's a bright and early start and everyone is asked to pack their bags and bring them to the upper deck by 7:30 am. You can choose to and will get the opportunity to get into your riding gear post loading the bikes. It's pretty hot and after five days of sailing (and living in your swim trunks) it's a bit of a shock to the system to be clad in leathers again. The crew's busy sorting out the immigration paperwork for all the clients and this can take anything from an hour to three hours (in our case), as there was a new Aduana/Customs officer in Colombia.
There's a fair bit of waiting around but usually one is used to it after riding through Mexico and Central America. Everyone pays the remainder of the sailing amount today, which is circa USD 1000 – this can either be paid in Colombian Pesos or USD but needs to be in cash as they don't accept cards or wire transfer – not entirely sure why. I'd suggest keeping the remainder amount to hand, else it can get a bit tedious to go into town and return to complete the payment.
The Stahlratte crew are extremely thorough but just like any other border crossing, it's wise to check all the details are correct in your passport including the VIN (Vehicle Identification Number), registration plate etc. These minor mistakes can cost you significant time and money at subsequent border crossings and in some cases even an entry refusal. As a personal example, my VIN number was recorded incorrectly in El Salvador, but I spotted the mistake and asked the Aduana officer to correct it, which he did including signing and stamping the mistake. Despite the correction, I was given grief at the Honduras border (read worst central American border) and ultimately had to grease palms to get out of it.
Once the paperwork is complete, the Stahlratte sails to the industrial pier, which is 30 minutes away for unloading the bikes. Post unloading, we agreed to ride together to the Aduana office in the city to get our bikes inspected and to receive our motorcycle insurance. Yet again, we waited for over an hour at the Aduana office, as no one knew the whereabouts of our insurance broker. This is the last part of the Colombian entry process and once you receive your TIP (Temporary Importation Permit) and your motorcycle insurance, you're free to explore and ride on. But that's another story – for the next instalment on the PanAmScram