Women are increasingly getting on board with motorcycling, especially off-road. And when you witness female riders of the calibre of Laia Sanz at Dakar you know the sky is the limit for them, just as it for men. But everyone has to start somewhere and in the Outback pastures not far out of Melbourne eight ladies recently took on Australia's toughest enduro. Wildwood today, the World tomorrow…
words & images: Michelle Linnane
I t was during last minute grocery run that an innocuous poster at the supermarket caught my eye. This would result in a 6am drive out to the middle of nowhere. I was about to experience my first Wildwood Extreme, one of Australia's toughest offroad events. The race is a 13-kilometre loop, to be completed as many times as possible in a three-hour period. It began eight years ago and has gone from strength to strength.
Set amongst the wheat fields and rolling hills on the edge of Sunbury town (about an hour inland from Melbourne) the drive in provides a very wild and isolated outback feel, to this exceptionally well-organised event. People of all ages were enjoying the atmosphere and lining the track to get up close to the action. Here close to the action means getting covered in dirt and dust, it's the Aussie way. Food and coffee stalls were dotted in a variety of convenient locations around the track, providing welcome relief from the scorching sun and the chance to debate which rider looked likely to win their category. Another hot topic for fans of previous events was this year's track. The course is completely rebuilt every year, so no two years are ever the same. 
A whopping 150 tonnes of extra boulders was added to the rock gardens for this year. New and more challenging obstacles were also added ensuring the course is constantly evolving with the w WILDWOOD event.
This keeps some hard-core riders coming back time and again to take on the challenge. Competitor numbers are limited to 150, though, and this year eight women made the cut, the largest women's class since the race started in 2009.
Here at the track, the day is shaping up to be a scorcher, temperatures reaching 28 in the shade. Australian weather can be brutal, really brutal, and 25-knot winds buffet the entire site, doing absolutely nothing to cool things down. It's Australia, even the wind is hot. The riders are boiling, clad in armour, goggles and helmets. But they might be slightly more comfortable than the crowd who are happily getting covered head-to-toe in a coating of dust over their sticky sun cream.
I find the female riders lining up to take on this gruelling three-hour course. Standing shoulder to shoulder with all the male riders (or as close as you can on bikes), it lifts the heart to notice not only the easy banter between them but the genuine sportsmanship you can see. And after three action-packed hours cheering them on, I caught up with a few of the girls to get a full look into why they do it and what it is really like to be right there in at the deep end.
RIDERS: Amber Lock, 43, Macedon, Victoria. Sue Emery-Smith, 45, Melbourne Australia Ina Halls, 27 Yarra Valley Victoria Cheyenne Jones, 25 Latrobe Valley Victoria Jenna Lupo, 21, Launceston Tasmania
WHAT MADE YOU START?
Amber: When I first met my boyfriend, he doubled me on his bike. Which I didn't like. I had a ride by myself and loved it. I immediately bought my first dirt bike, which was a clapped-out Yamaha YZ80, and have never looked back.
Cheyenne: My dad brought my brother a YZ80 that he never rode, so I started riding it.
Jenna: My whole family rides bikes, so it was something that the family did together. How hard was it to get started?
Sue: Hard enduro takes a lot of practice and patience to learn the skills. This is the first time I have raced in this event, so I am new to the sport of enduro.
Amber: My first ride, I jumped on, kicked her over, held the throttle on the stopper and took off. It was like I had been riding for my entire life. Ina: It wasn't hard at all to get started; Dad found a bike for me to learn on and taught me how to ride. I entered my first competition in the junior's class and just kept going from there.
WHAT WAS THE MOST DIFFICULT THING AT THE START FOR YOU?
Ina: The most difficult thing at the start is probably still the most difficult thing now. Trying not to get frustrated or down on yourself when you are having a hard day, or had a few crashes. It is easy to get annoyed or lose confidence after you have a few offs. The hardest thing is trying to get your mind clear and get your confidence back to keep riding.
Cheyenne: Height, learning how to use my shortness. Being smart about where I can and can't put a foot down.
Jenna: Not running into people!
HOW DO PEOPLE REACT WHEN YOU TELL THEM YOU DO THIS SPORT?
Amber: People who don't know me think I'm crazy, mad, weird, irresponsible and/or too old.
Ina: People that don't know I ride bikes are usually surprised when I tell them. Apparently I don't look like a motorbike rider. However if I say I ride trials, most people have no idea what that means! But generally people are pretty interested and think it's a cool sport to be into.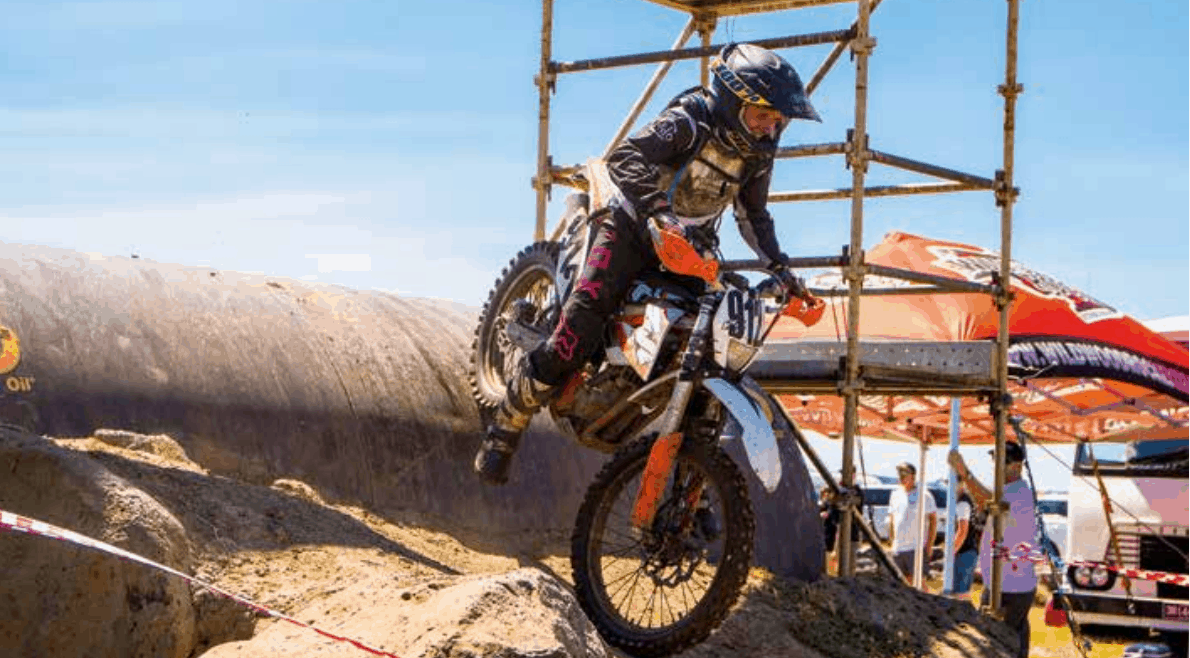 HOW DO YOU FIND THE ATTITUDE OF THE MALE RIDERS TOWARD YOU?
Ina: Generally the attitude of male riders has always been great. I've never felt as though I have been treated any differently to any males that ride.
Jenna: They are definitely a lot more aggressive on the racetrack, as no one wants to be beaten by a girl. This has taught me how to be an aggressive rider, which is an important skill to have. So I'm able to give these riders the same aggression back. I feel like I have earned the respect of a lot of male riders by not letting them take me out of the track.
HOW MUCH TRAINING DO YOU HAVE TO DO TO TAKE PART IN AN EVENT LIKE THIS? WHAT OTHER TRAINING DO YOU HAVE TO DO?
Sue: I do a lot of physical and weights training, at my age it is critical. It's a very intense sport and it lessens the chance of injury. I also have a trials bike which helps with the technical side.
Amber: I shifted my focus to extreme/ hard enduro roughly four years ago. I ride and train on my enduro bike twice a week. I do the odd trials ride on my trials bike, which I plan to increase. On top of that I go to the gym (strength/cardio) twice a week and Pilates once a week.
HAVE YOU HAD ANY MAJOR CRASHES WHILE RIDING? WERE YOU INJURED?
Sue: I have had major arm/shoulder break. I couldn't drive for several months due to frozen shoulder, from a complicated injury that happened training.
Amber: Yes and yes. The major injuries being fractured vertebrae/slipped disc. Fortunately no surgery required. Broken my hand twice, one requiring surgery. Knee reconstruction due to ruptured ACL as well.
AS SOME OF THE FEW FEMALES TAKING PART THIS YEAR HOW DO YOU FEEL ABOUT THIS?
Sue: I think there are more than usual. It is a very physically demanding sport and tough. I would love to see more women doing this sport.
Amber: This year is the biggest group of females riding in Wildwood Rock Extreme Enduro since it started. Which I think it is fantastic. Extreme/ hard enduro is extremely demanding on you physically and mentally. Seeing more women in the sport venturing down this path is inspiring. Ina: It is so great that there is women's class and that there are enough girls to make one. Hopefully the class continues to grow. However If there wasn't a women's class, I would just enter clubman or expert, it wouldn't really worry me! When you're out there, we are on the same track with the blokes, riding together. It really doesn't make much difference during the race.
WHAT MAKES YOU WANT TO DO THIS HARD, LONG EVENT? WHAT KEEPS YOU COMING BACK?
Sue: The feeling of getting through is unbelievable (like at a club race). Also progression of my skills even at my age continues to inspire and surprise me.
Amber: This will be my fourth year racing this event. I love the technical aspect of riding extreme/hard enduro. In previous years I rode and trained all year for just this event, as it is the only event like this in Australia. I feel elation when I get through an obstacle or section with skill and grace, also the sheer exhaustion nearing the end of the three hours, willing for the finish line.
Jenna: This race has been on my bucket list for a while. It gets harder every year, so I think I wanted to do it before it got ridiculously hard. Plus to finish it is an awesome achievement. I was also thinking about the beer I was going to demolish when I'd finished. I was absolutely spent.
WHAT IS YOUR FAVOURITE MEMORY/ PROUDEST MOMENT OF RIDING?
Amber: This year by far, by being successful in being a Bronze finisher at Red Bull Romaniacs in Romania. This was a true test of my physical and mental strength. The ultimate test of my skill set when riding dirt bikes. It was such an amazing experience.
Ina: I guess I would say being selected to ride on the Australian women's trials team for the first time in 2012. A lot of the time it is just those moments in riding, when you finally master a new skill or have a 'clean' ride through a tough trials section. That is what really give you those feelings of accomplishment and make you want to keep riding.
Jenna: I've got a few actually. My first proud moment was finishing fifth at the Australian MX Nationals a few years back. Next would be when I finished fifth at the Australian Trials Titles this year, after only riding trials for about 10 months. Finishing Wildwood is definitely something I am extremely proud of.
WHERE WOULD YOU LIKE TO SEE FEMALES GO IN THIS SPORT?
Ina: I think females are already stepping up and showing that they have a spot in motorsports. Our Aussie enduro women's team are dominating on the world scene and showing everyone what they are capable of. I just hope that girls continue riding and our numbers continue to grow.
Jenna: I would hope that one day women weren't such a small percentage of the motorcycling community. We are just as capable as the boys are, more girls just have to have faith in their abilities and give things a crack.
WHAT ADVICE DO YOU HAVE FOR ANYONE WANTING TO TAKE IT UP?
Sue: Don't give up and be patient and laugh at your mistakes.
Cheyenne: Just have fun and don't take it too seriously, unless you're getting paid. It's just a hobby.
Jenna: Make sure you have a good job, because dirt bikes cost a fortune!! Also don't drink beer for the two weeks leading up to an extreme enduro.
WHERE TO NEXT? WHAT IS YOUR NEXT STEP?
Ina: I'd really like to get better at riding on an enduro bike as I've always ridden these events on my trials bike, and maybe next year have a crack at an overseas hard enduro!
Cheyenne: Next step is more practice on the skills that I may be lacking on. Getting ready to tackle Red Bull Romaniacs 2018.
Jenna: My next goal is to work hard on the trials bike and hopefully try for the Aussie team within the next few years.
With the event over the girls are busy discussing the race and swapping training tips. Ina and Amber have taken home 2nd and 3rd in the women's division. Ina getting in four laps in 3hrs 22:32 and Amber finishing three laps in 4hrs 15:35 . Emma Broadbent taking first, completed 5 laps in 3hr 20:41 finishing easily in the top half of the overall racers.
With the afternoon shadows growing long, I take in the scene surrounding me. People milling around, covered in dust, dirt, oil and grease – and that is only the spectators. You can feel the atmosphere of pure joy everywhere.
Kids running to hug their mums and dads who have just finished the race. Parents helping load-up bikes. Riders laying flat out on the ground shattered, having given it all to the track. They have overcome rocks, dodged obstacles and mastered an epic hill-climb. Truly capturing the spirit of Australian enduro.