There's much more to Spain's Costa del Sol than sunburnt stag-dos and British bars… there's some great dirtbiking there too! Barni joined local tour company Dust Devils to explore the Coast of the Sun…
The trail winds its way through the woods, the leaves of the trees turning the strong sun into dappled light on the hardpacked dirt. Through a gap in the foliage I spot something white covering a faraway ridge. Maybe it's the heat frazzling my brain, or perhaps the fact we've been steadily climbing now for quite some time, that momentarily makes me think it's snow. 200 yards later the view improves and I realise just how daft I've been. A few miles to the south I can clearly make out the Mediterranean lapping at the shoreline of the Costa Del Sol. Just inland is a swathe of hotels and villas, and that splash of white along a hilltop just a few hundred feet above sea-level is actually a rambling white-washed apartment complex. I don't know what was more stupid: thinking it was snow or subsequently telling my fellow riders about it. Cue a gentle ribbing…
The Costa Del Sol might have a reputation as an Essex gangster's sun-drenched bolt-hole but get out into the countryside and the scenery is stunning, and offers some incredible riding (not quite diverse enough for summertime snow, mind you). So when spending a few days down in southern Spain, how could we turn down an invitation from tour company Dust Devils to head out into the hills with them..?
The Costa Del Sol might have a reputation as an Essex gangster's sun-drenched bolt-hole but get out into the countryside and the scenery is stunning, and offers some incredible riding (not quite diverse enough for summertime snow, mind you). So when spending a few days down in southern Spain, how could we turn down an invitation from tour company Dust Devils to head out into the hills with them..?
Our first day begins by meeting owner Robert at Malaga airport, followed by a short drive to Dust Devils' base in La Campana, on the outskirts of Marbella. Their HQ is above a custom bike shop, though this isn't a greasy chopper garage with spit 'n' swarf covering the floor but a tidy modern workshop, with chrome-bedecked bikes lined up along a glass partition, a comfortable waiting area and the most immaculate WC of any bike shop, anywhere. Upstairs Dust Devils keep their fleet of KTMs (access for bikes is via an industrial elevator), with a changing area, racks of kit for hire, and a well-stocked fridge.
Before we head out, Robert introduces us to John and Paul (who take care of guiding customers on a day-to-day basis), runs through his regular safety briefing and asks us all to sign a form to show that we've read the information. Amongst other things, it sets out the format for the ride – using a guide and a sweeper rider – and warns of what to look out for, not least the highly polished Spanish tarmac on our way to-and-from the trails.
And what trails! The land rises quite sharply from the coast, and the hills start as soon as the conurbation ends. We turn off the road, around a short curving climb and we could be in the middle of nowhere. A wide track heads off into the hills, but instead we get a real warm-up on nadgery singletrack.
Picking our way through the shrubland, the trail descends into a small valley before climbing sharply up the other side. Typical of the region, the hillside is scarred with rain ruts, and the trails are ever changing. Having negotiated one such channel and a minefield of rocks washed down the trail, Robert announces 'it wasn't like that last time I came up here!'
An even more treacherous climb leads straight up to the summit – part of a regional enduro course, we're told – though we don't take the turning. Instead we skirt around the side of the hill, mindful of the occasional washout we've been warned about, and clamber our way over wide slabs of rock before eventually arriving on a grassy plain. It's the local practice track, with an assortment of small jumps, whoops and even some enduro-cross obstacles – tyres, logs and a rockgarden. A quick spin around the loop shows it's no MX course, more of an enduro test. Away from the small tabletop and bermed turns, there's rocksteps, ledges and some very abrupt climbs. One lap is enough…
Hell Fire
The neighbouring hillside is charred matt black, the water-rich cacti withered and blackened, hanging forlornly over the edge of the tracks and only the occasional new green shoot breaking through the cinders. Fires are a big problem in the area during the tinder-dry summer months, and the singed surroundings illustrate exactly why Dust Devils run a no smoking policy on the trails.
We climb higher, beyond the extent of the burnt land and into dense bushy foliage which grabs at our shirts and levers, thankfully brushed aside by wraparound handguards.
The drop back down is steep, and made all the more awkward by a rainwater gulley that offers only one choice of line and a tight turn just before the bottom. It's nicely technical, rather than terrifying.
Faster trails follow, far wider and with enough vision to allow us to pull some tall gears. Soon we arrive on tarmac…
We're more or less in the middle of nowhere, yet around an old village lowrise apartment blocks have sprung up, with floodlit tennis courts and chainlink fences. 'There's one road in and the same road out' comments John, though that doesn't take into account the sweeping trail that leads us high into the hills above the village. Switchback after switchback takes us to a viewing point just below the summit, where we stop to survey the scenery.
Far across the valley, littered amongst the trees, are a number of huge properties surrounding a golf course. The fairways and greens look immaculate, yet deserted. Robert explains that it's Zagaleta – one of Europe's most expensive slices of real estate and more-or-less a very exclusive golf club, attracting celebrities, heads of state and those with obscene amounts of cash. Looks ideal for a spot of 'golf course MX'…
On the way back down we're given an option of two routes: a wide trail or a goat-track. We pick the later and are rewarded with a beautiful ride clinging to a 60-degree slope, with a few rocksteps and chunky roots just to add a little extra fun. It's nothing too hard, unless you let your mind and your wheels wander towards the edge. The first 20 yards are by far the hardest – purely because the drop to our right is revealed in all its vertigo-inducing glory.
Much of the sinewy track is no less severe, the only difference being that a living safety net of small trees and dense bushes wait to catch a tumbling bike or rider. That said, extricating a bike from even a metre down such a severe slope is a serious team effort… No names, no pack drill!
Back on the straight-and-fortunately-not-so-narrow, we take in a few more wide trails and a good blast up a steep dusty hillside before turning tail and heading back to the aforementioned village, Benahavis. Penetrating the outer ring of apartments, the village centre is all whitewashed buildings, cobbled streets and quaint cafes – just the place for a well-earned drink before the road-ride back to base.
Dust Men
The Costa Del Sol means that there's plenty of nightlife to suit all tastes and levels of staying power, and we spend the evening with a few beers, some good grub and a spot of people-watching at the marina in Puerto Banus marina before heading back to our accommodation, a four-star NH Hotel arranged through Dust Devils.
The following morning we arrive at base, where we join up with three customers for the day's riding. Airline pilot and 450EXC owner Paul McCarty has been dirtbiking for 18 months. However, brothers Keith and Alan Ward have, until now, never set tyre on dirt and are far more used to piloting a VFR800 and ZZR1400, respectively.
Our route to the trails is slightly longer today, with a few miles buzzing line astern down the autoroute before we reach the dirt. A wide track runs up to a broad area of scrubland criss-crossed with tracks. With climbs of varying severity, fast straights and slow corners, it's an area Dust Devils use to quickly and easily assess riders' abilities and confidence before getting too deep into the day. Robert and John are happy that everyone can try something tougher than the nearby fireroads, and we take a wonderful twin-track down towards a river gorge.
The descent is reasonably steep, though the gradient isn't the biggest issue. It's the awkward rain-rut and loose rocks down the centre, forcing you onto a narrow strip along its edge that sees the guys inching their way down. When the inevitable happens, and someone ends up on the floor, the blow is cushioned by some conveniently placed shrubbery!
Dust Devils' damage policy is refreshingly relaxed. Essentially you're expected to pay for any damage that a reasonable trail rider could have avoided. The bikes wear rad braces and wraparound handguards to minimise the destruction, so the odd scuffed plastic on a tough climb isn't necessarily an issue. Tweaking a subframe because you thought you'd practice your wheelies, however, will require you to break-out your credit card…
The trail gradually descends, narrowing to barely bike-width as spiny bushes close in around us, and dropping down a number of rocksteps. (Bob stops to give advice and everyone makes it through untroubled, despite it ). We find ourselves in a gorge, with the hill climbing sharply on one side and a 60ft cliff on the other. It's a lovely spot.
The riverbed itself proves deceptively tricky, the trail wending its way back 'n' forth from one bank to another. Initially there seems to be plenty of grip, with a mix of shale and football-sized rocks. However, we're soon bobbling from slimy rounded rock to ice-like smooth slab, and the water's just deep enough to hide any hazards from our view.
It's not pretty, and everyone has a few 'moments', but with a bit of pushing and shoving, and an even greater serving of good luck, we all make it through the section without going for a swim.
The Towering Inferno
Wide hardpacked tracks give us some much-needed respite, and we climb through fragrant pine woods – the scent is pure 'Mediterranean trail'. We wind our way upward, finishing our climb in the baking sun, alongside a fire watchtower which is continuously manned throughout the summer months. I hope the guy inside has got a good book..!
As you might expect, the view is far-reaching and utterly stunning, revealing a huge network of trails laid out across a landscape of wooded hills and parched grassy plateaus.
Our descent loops around the hillsides, the track intermittently changing from smooth dirt to scattered rocks, often narrowing to provide a more focussed ride. An eagle takes off from a few hundred yards ahead, and as we stop to watch it lazily circles, climbing higher and higher on the thermals.
We're nearly at our lunchstop when Robert and I stop to take a couple of photos, and as we head off to catch up with the group I'm taken in by a tower perched atop a steep-sided hill. It looks like an old monastery…
 'It's a water tower', explains Robert, 'to feed the golf course. They got permission to build it on the understanding they made it look 'old'. They then ran out of money so it isn't used.'
The climb up to the tower is a steep, loose, third gear blast, with a few rocks and holes towards the summit just to make it that bit harder. I circle around the tower, then park up to give it a closer look, swinging open the steel bar door to take a peak inside. It's a curious mix of olde worlde architecture, industrial fittings, and wooden beams so crusty-looking that you wouldn't trust to hold your bike up, let alone a tower and a good few tonnes of water.
Lunch is at the GENUINELY old (350 years plus) inn, Finca La Mota, and we settle into some hearty local cuisine in the shaded garden…
The Devil Rides Again
Fed and watered, we take a route back out past the tower. A narrow sunken streambed runs alongside the trail, and whilst half the group skirts around it, some of us drop in amongst the square-edged rocks and awkwardly stepped dirt to test our trials prowess. It's not hugely tricky – the challenge comes in riding it feet-up…
Having exited the stream (and scored a 'clean' to boot), a system of roads sits unfinished and abandoned – presumably intended to serve the non-existent golf club – and we hop up and down curbs wherever the track meets tarmac, before heading out through a wide 'savannah' – the long grass hiding another unofficial practice track rather than lions and wildebeest – and off into the cooling air of some nearby woods.
The dirt road is brilliant white, far more pure than the yellowy-white of chalk lanes back home, and with a blazing sun overhead the contrast between the dense woodland and open trail is almost blinding. I can only imagine what it's like working in the nearby dolomite quarry, where they blast the mineral out of the ground and dust kicked-up by the heavy machinery hangs in the air like a heavy fog.
There's apparently a trail which runs through the quarry, but we don't take it. Instead we tackle an undulating lane of loose, shifting, stones and broad stepped rockslabs, before hitting some more forestry road and a lovely winding singletrack spiderwebbed with tree roots. Our surroundings flit between woodland and open hills, alternating every few miles.
Sitting at the head of a valley for a well-earned rest, we can hear the dull roar of a big diesel motor hidden somewhere among the trees below. Something big is slowly grinding its way back and forth on the track below, and all I can think of is the opening scene to the Italian Job…
Dropping slowly down into the valley, humming some Matt Munro, and sure enough just a few hundred yards down the track a grader is smoothing out the dirt, whilst a road-roller compacts the surface behind it. It only serves to highlight the fact that such trails are used in the exact same way as tarmac roads, and if there's the SLIGHTEST chance of getting a battered old Seat along a track don't be too surprised if you round a corner to find said battered old Seat creaking and bouncing its way towards you!
It's the last trail of the day, and even though there's nothing technical to get excited about it does allow us to flow through hairpin bends and enjoy some great views down towards the huge Reservoir of the Conception. Every so often the apex of the tight right-handers will be soft sand, camouflaged the exact same colour as the surrounding dust, and the front will shimmy and try to tuck if you're not quick enough on the gas to save it.
The trail leads down onto a tarmac road, though the fun doesn't stop as it's equally as tortuous (and thankfully far more grippy than the suburban streets). We eventually roll into Marbella parched and dusty, but with some great riding under our wheels.
Dust Busters
A dip in the hotel pool works wonders on tired limbs, and it's just as well because on the morning of our third and final day Robert is keen to show us some of the more technical riding the area has to offer. He grades each route in a similar manner to ski-runs – green for novices, through blue and red, to black for experts. We won't be touching anything too extreme, just a few relatively tricky trails…
We start with stream-ride that kicked-off the previous day, and whilst it's still lethally slippery we do at least know where big holes and chunky boulders lay beneath the water. The section is soon dispatched and we pop up onto a wide trail for a few hundred yards before turning off into the trees.
Stopping to give us a heads-up about a sharp drop, Robert leads the way along a second gear singletrack. On a barely open throttle, we wend through the trees, carefully placing front wheels to avoid careening down the steep slope to our left. Dropping the KTM off a dug-out rockstep, I wonder why Robert bothered to warn us – the bike simply rolled off the ledge with just a little graze of its bashplate on the way down. Of course, this wasn't the drop in question…
Suddenly the ground disappeared and the trail tumbled down the hill. I stop at the edge and survey our route. It's not steep or long enough to be scary, but it's certainly technical enough to be wary. Partway down the line splits, and the ground inbetween becomes a vertical slab. Either side the dirt has eroded into wheel-grabbing slots, so you'll be locked in Scalextric-like and unlikely to get too out of shape on the way down. More of an issue is where the lines join they lead between two trees, with not a whole lotta room to get through. Focus on the gap and you'll be fine…
I choose the left-hand-side, push off as I lift my foot to the peg and ride down the drop. At this point I'm all but a passenger, as any sudden direction changes aren't going to end well. Whizzing between the trees, first gear slows the bike enough to make the turn at the bottom and I roll through a ditch up onto a fireroad.
Robert explains how lethal that section is in the wet, and how his friend, Erzberg finisher, and Dust Devil's riding instructor Mark Jackson makes getting back up the hill look an absolute doddle. I consider giving it a crack, then decide against throwing Robert's 350EXC-F at the scenery and we press on.
Down into a gulley, we clamber over water-sculpted ledges and squirm through the deep sandy soil, eventually clambering out onto an equally 'fluid' rocky climb. A big handful of throttle sees us to the top without worry, ensuring that we float across the loose stones rather than getting sucked in and having them determine our path.
A quick breather on the fireroad, and it's back onto the singletrack to attempt another hill. Were it not for the temperature and the complete lack of gloopy mud it's just the kind of awkward climb you'd find in Welsh forestry. Having traversed the gradient you turn into the climb, select whichever dug-out, root-infested, rut takes your fancy, and give it some gas…
On the first try I get hooked on a root and have to drop back down for another go. A different line works a treat, and the second attempt sees me reach the top. It isn't pretty but I'm there. Trying to be a smart-ass, I wonder if I can make it feet-up, so descend for a third attempt.
Having avoided all of the ruts, all is going well, until I lose momentum crossing a hole halfway up, realise I should've been in first not second and cough-stall the bike before I manage to downchange. Darn it. So I settle for sitting down, gunning it, and paddling like a Mississippi steamer. That does the trick.
Before we head off Robert again dispenses some advice for the goat-trail ahead. This time it's regarding the trees that cross our path, as on such a steep slope many of them have grown at awkward angles which require you to inch around them, waggling your bars to make it through the gaps. Others simply lean over the track oppressively, forcing you to cower under them. Clip one and you could easily disappear down the hill.
Safely through, it's on to some faster, and considerably wider riding: climbs that lead us straight up to each peak, before dropping down the other side.
The final run to lunch on the beach is just as up 'n' down. We pick trails that climb each hill, only to descend straight back down a little bit further each time. And as they go on the descents get more technical, with bigger rocks and ever-steeper drop-offs.
Finally we reach see level, where a winding fireroad gives us chance to stretch our, and the bikes' legs, before a sandy streambed (complete with overhanging palms and towering bamboo) deposits us close to the beach.
The air's warm, the Coke's ice cold, and we kick back and relax in the afternoon sun. It's been a great few days… and not a lagered-up stag-do in sight.
Gold Dust
Dust Devils was set-up by Robert Hodds in 2009, growing from him merely keeping some bikes so that he and his mates could go riding when they were in town, into a KTM-backed tour company, and one of the biggest in Europe at that..!
They're insured for both rider and public liability, registered as a Spanish company and fully licenced to operate 'off-road' riding tours in Spain. Which not only means that you're properly covered should something go wrong, but also that the authorities don't hassle you when you're out on the trails..!
All of Dust Devils' bikes are Spanish registered 2011-2012 models, with a choice of 250EXC-F, 350EXC-F or 450EXC (18 bikes in total). Or you can ride one of two 125EXCs if you like small-bore strokers or don't have a bike licence – under Spanish law you can ride a bike up to 125cc on your car licence. However, you do need to have some riding experience, as Dust Devils aren't in a position to teach absolute beginners.
Due to existing customer bookings, the riding that we sampled was essentially two-and-a-half days of individual routes, as opposed to the multi-day tours Dust Devils offer. These are named 'silver' or 'gold', and comprise of two days riding with three nights hotel, or three days riding and four nights hotel, respectively. The routes head north to the stunning lakes and gorges near El Chorro, where you stay overnight before heading back to the coast. The price, £399 (silver, check the website for details) or £585 (gold,  check the website for details) per head, includes bike and kit hire, fuel, water, lunches, guide, accommodation and breakfast. However, as we did, you can ride 'locally', returning to base each night – ideal if you made it part of a family holiday.
Alongside their enduro machines, DD have just taken delivery of three 990 Adventures, which they'll hire out to allow customers to travel a little further afield, on-road.
Speaking of which, they also run training days on an ad-hoc basis, with Mark Jackson passing on his undoubted skills, plus four/five day tours into Morocco, tailored to customers' individual requirements.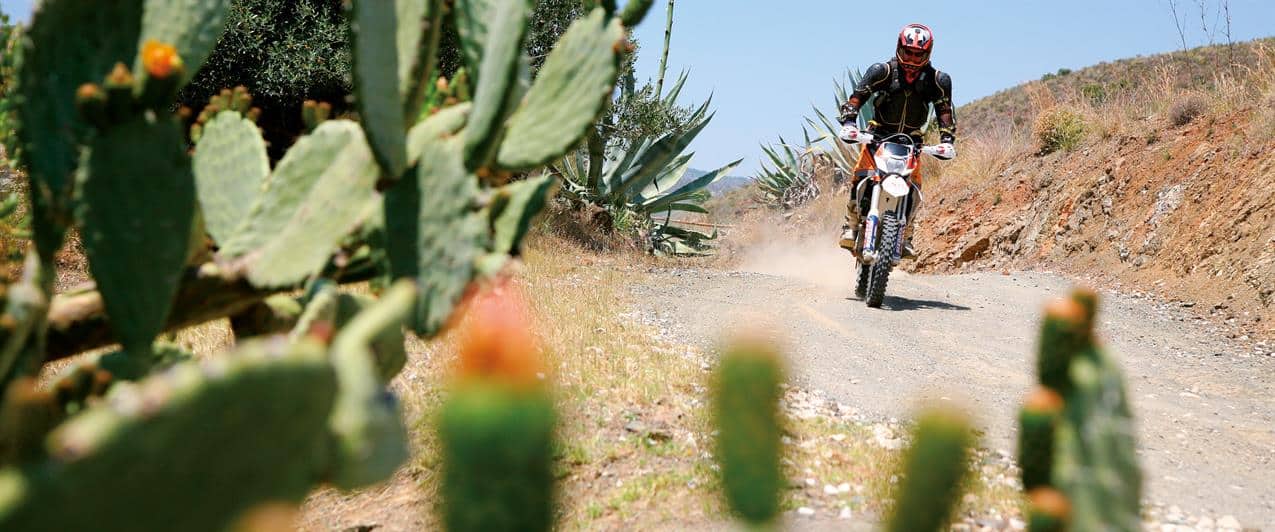 At A Glance
Where: Marbella, Spain, plus routes in Morocco
Nearest airport: Malaga
Bikes: KTM 125/250F/350/450EXC, 990 Adventure
Kit: Lazer, Alpinestars, Troy Lee Designs
Accommodation: 4-star NH, or quality rural hotel (depending on tour)
Airport collection: €10 per head, €40 minimum
Price: From £120 each, per day. Silver tour, £515 per head. Gold tour, £699 per head. Minimum of four riders per silver/gold tour.
Contact: 00 34 695 798 877, 00 34 952 908 201 or 07802 405572
Web: www.dustdevils.net