The poaching situation in Kenya has never been worse. Alex headed out on a one-of-a-kind trail tour to discover the causes and what is being done to combat it…
One of the best things for me about working for TBM is the huge number of invitations we receive to go and ride in far-flung corners of the world. From Spain to the US we are always getting asked to go and ride in inspiring places with colourful characters. Whilst these invitations are always gratefully received we are always looking for something just a little bit different. In these days of mile-munching, ultra-reliable adventure bikes, GPS and plethora of other gadgets it has all become very accessible and dare I say 'easy' to hop on 2 wheels and blast down to the Alps for a long weekend with mates. Occasionally however, we hear of trips that just offer that extra element to make a great story that we want to participate in and (hopefully) you want to read about…
One such trip was offered to us in early 2013 and sounded simply too good to be true. The brainchild of Tamsin Jones of Black Desert Training and Netta Ruthmann of motorbike safari outfit Dusty Helmets, all in the name of a good cause. Namely The David Sheldrick Wildlife Trust, protector of elephants and rhinos in Kenya. The plan, to go and ride through the wonderful and varied landscapes of Kenya, learn a bit more about the problems currently being faced out there by the wildlife and take a closer look at the cause and effects of illegal poaching which has quite simply exploded out there in recent times.
Into Africa
Fast forward to late November and I find myself touching down on a glorious African sunrise at Kenyatta International airport with some apprehension about what the next 8 days will hold in store in this East African country.
Kenya has of course recently been in the public eye for all the wrong reasons. The horrendous shootings and bombing of the Westgate shopping centre in Nairobi is still fresh in the minds of the people who live here. More than 60 people lost their lives in that barbaric act of terrorism and coupled with an unsatisfactory election earlier in the year, there remains an air of unrest in Nairobi. This is also not helped by the fact that the main terminal of airport itself burnt down in August of the same year and is still not fully up and running properly. In the midst of these humanitarian issues however, Kenya's wildlife is also having a tough time of it.
After handing over the obligatory 50USD for a tourist visa and heading out of arrivals I am met by the ever smiling driver Eddy who whisks me through the morning rush hour traffic to the Purdy Arms Hotel to grab some breakfast and re-group before the 4 hour drive out to meet the rest of the group. On arrival I am greeted by the bubbly proprietor Jules who gives me a quick rundown of the trip so far, 'its all going well but everyone's had a few offs and Netta has possibly broken a couple of bones in her foot'
I am joined for breakfast by a bleary-eyed Kiwi by the name of Nick who arrived on an earlier flight and is also adjusting to the assault on the senses that Africa has on your arrival. He is also out for the second half the trip and after breakfast we stumble into the back of an old land-cruiser and head off into the unknown.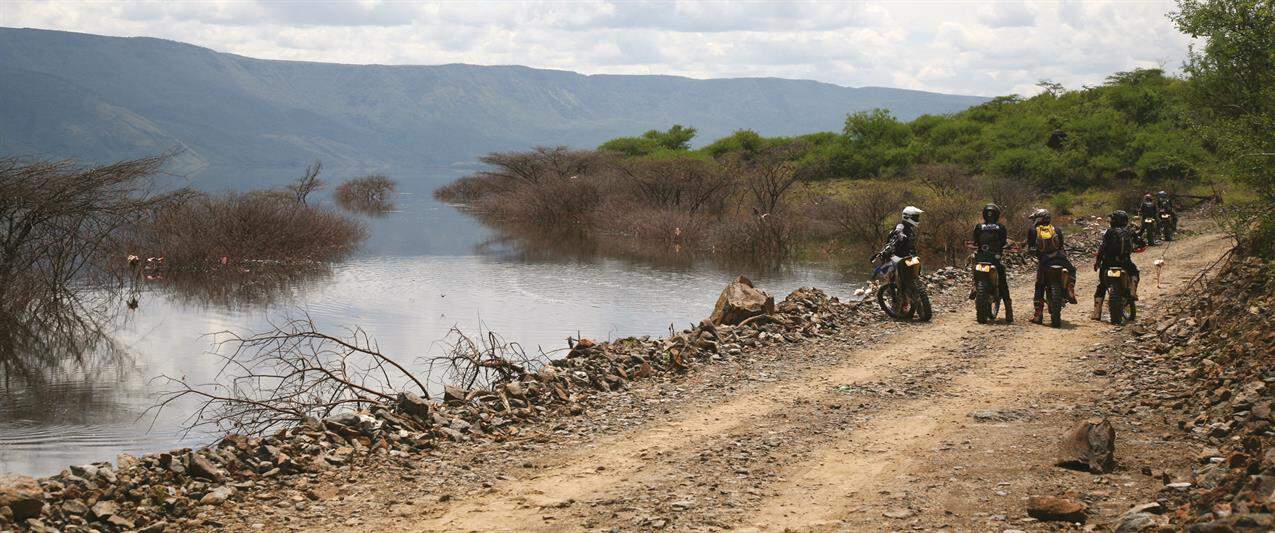 Happy Camper
A bumpy four hours or so later we arrive at Lake Baringo, a stunning wildlife haven and are greeted by a limping Netta. We hop on a boat out to 'Island Camp' in the middle of the lake where the group are currently kicking back after a week of extremely tough riding up in the North of the country in temperatures of 50 degrees plus. Everyone has a few bumps and bruises but are all in good spirits and enjoying the relatively cool temperatures further south. Apparently the Island itself used to be a bit of a destination for celebs back in the 90's with the likes of Tom Cruise and Naomi Campbell amongst others gracing it with their presence. And its easy to see why, it is a stunning and tranquil location with amazing accommodation dotted over it with a pool and bar up at the top. For some unknown reason I am given the keys to room no.1 which turns out to be the pick of the bunch with breathtaking views across the lake and my own plunge-pool outside the room. There are undoubtedly people who deserve it more after a week of hard riding but I sensibly don't ask too many questions as I unpack my bag and soak up the surrounding landscape.
On Safari
Early next morning I am treated to quick boat ride around the lake before breakfast and then we head back to the mainland where the bikes and my first proper day in the saddle beckons. After a bit of gentle roadwork we arrive at the first destination of the day, Bogoria National Park which contains another lake which is at certain times of the year home to a couple of million Flamingos. I should at this point make it clear than not just anyone can turn up and ride a dirtbike through a national park in Kenya. Netta is a born and bred white Kenyan with 20 years in the safari business and excellent contacts throughout the country, simply put she knows everyone worth knowing involved in any aspect of the travel industry out here, a fact I am to learn well in the following days of the trip. Africa is notorious for its mind-numbing and needless bureaucracy and unnecessary red tape and Kenya is no exception. The seemingly simple task of buying 9 tickets to enter the park becomes a drawn out affair, which Netta smooths over and resolves whilst we seek some shade and have a drink. Behind the scenes in this well-oiled machine is an incredible amount of forward planning and careful thought. Put simply, don't try this at home, if something can be over-complicated in Africa, it very often is!
After finally gaining access we skirt around the edge of the lake, occasionally having to detour off the heavily flooded road and re-joining it a mile or so later.
I immediately see the advantage of 2 wheels over 4 in this situation. The hardiest and best driven 4×4 would simply not have been able to deal with sections of the tracks we encounter which is why Netta came up with the 2 wheel safari concept. And this is the point – you get to combine some challenging riding with scenery you simply can't experience in Europe or North Africa.
We head on through the park and exit via seemingly endless Cecil plantations by way of long straight dusty tracks with varying degrees of rocks and ruts which allow you to keep a good pace up. We are being guided by Noel with the faster riders up ahead and the injured Netta bringing up the rear in her pickup. This format works well, the quicker riders can push on a bit and then take a few minutes out to soak up the surrounding landscape, take a few snaps and have a drink whilst the rest of the group catch up.
Everyone can ride at pace that suits them and no one gets left behind.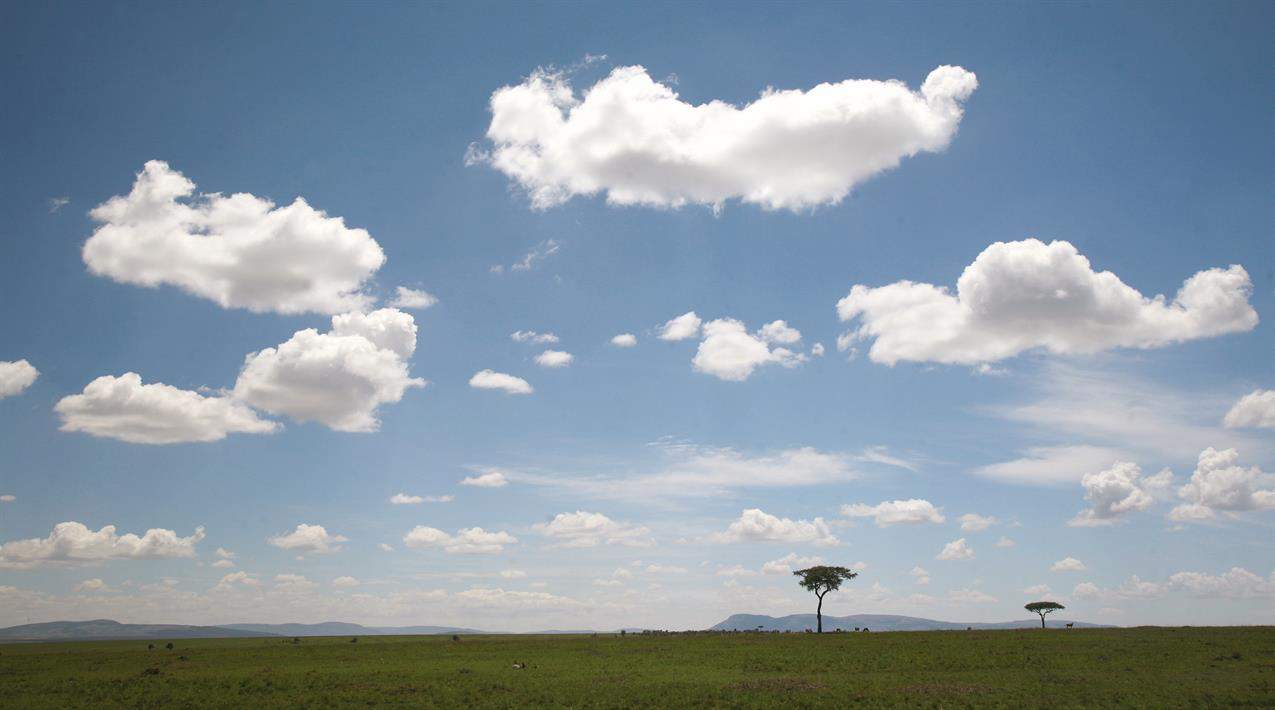 The Sleeping Warrior
Our next destination is the vast Soysambu conservancy in the Great Rift Valley with an incredible 30,000+ acres of off road riding amongst the volcanic hills, endless plains and dense acacia woodlands 1,775–1,950 metres above sea level We are staying at the aptly named Punda Milias Camp which loosely translates as 'Stripey Donkey' from Swahili, run by friendly Glaswegian Jason. After a hearty lunch Netta offers anyone who wants to ride a bit more a visit to the nearby abandoned Kockum Diatomite Mine.
This white chalky substance gets used in everything from toothpaste to road building and the abandoned piles make an excellent playground for anyone wanting to brush up their technical riding. In attendance for the afternoon activities is four times Dakar finisher, self proclaimed Merthyr playboy and all round good guy Craig Bounds and friend Dylan who along with Nick make good use of the obstacles whilst I snap away with the sun setting dramatically behind us, bathing the quarry in a stunning light. Playtime over we head back to camp and get our first experience of one of the major problems being faced on the conservancy. Our guide Noel runs over a piece of fencing wire that wraps itself round his back wheel and leg, flinging him off the bike and pinning him underneath it. We untangle him and his bike and luckily he is relatively unscathed as he was riding slowly at the time, but it is our first taste of what is to come and one of the problems we have come to try and help out with. The fencing wire is cut by the poachers to make crude snares and any leftover wire is simply abandoned posing a serious threat to livestock, game and bikers!
Our first full day at Soysambu involves a foray into the heart of the conservancy, riding amongst large herds of Burchell's zebras, Rothschild's giraffe and the odd African buffalo keep you on your toes! We have lunch by the stunning Lake Elmentaita and head back to camp early afternoon. The day is far from over for Craig, Dylan, Nick and myself however as it turns out that local landowner and keen conservationist Tom Cholmondeley is a bit of an enduro fan. A week or so previously he held an event on the conservancy itself and apparently the course is still marked out…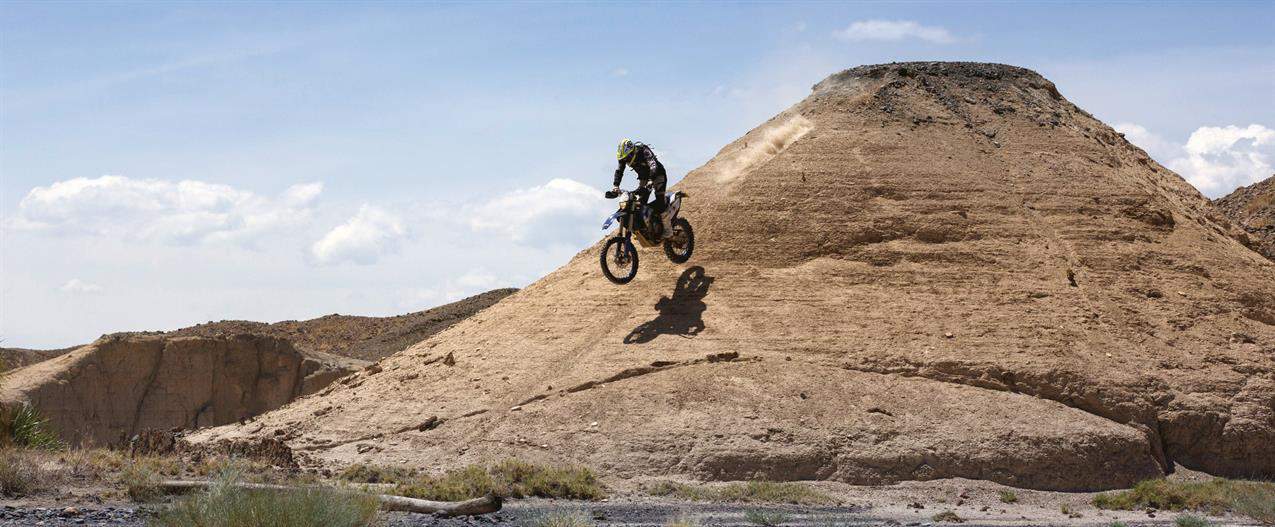 He arrives in style with an open-faced lid, jeans and sunnies on a KTM Freeride, his weapon of choice for messing around on the rocky climbs and windy single tracks his land is covered in. At well over 6 foot he dwarfs the little KTM but sets of at a brisk pace to the start course. He has set out a fast, flowing loop with some steep descents, windy single track and tough river crossings which he absolutely flies round, almost always sitting down and keeping us honest on our 390 'Bergs, anyone questioning the speed and ability of the Freeride should witness this man ride! A fast, frantic lap later we finish up with a final river crossing and head home with smiles on our faces.
The next morning its back to business with de-snaring on the menu and Tom re-appears on a first generation KTM 640 Rally that he has had from new and literally draws out a plan of action in the sand with a stick. We spread out on the bikes over a couple of 'fields' and move forward in unison, chugging along in first gear keeping a close eye out for any of the dreaded snares or abandoned wire… The advancing army of blue and yellow makes for quite a spectacle and half an hour later we have a pick – up bed full of snares and wire for our efforts. A satisfactory mornings work done we head back to the lake on a long loop and as we arrive are greeted with the sight of zebra, kudu and eland sweeping en-masse across the plain in front of us, one of many moments I will not forget in a hurry…
Massai Warrior
Leaving Soysambu behind us we set off for a day of extended roadwork to get us to the World famous Massai Mara game reserve by nightfall, just missing out on an early stage of the East African Safari Classic rally which has a stage through the conservancy. Its good to see motor sport still thrives in Africa despite the Dakar being forced out from its original home, there are plenty of fans waiting to see the cars come through and are slightly surprised to see eight Husabergs fly past instead in a cloud of dust! We climb steadily up the Mau Escarpment in the morning via heavily rutted tracks and roads, stopping off at a couple villages along the way for a breather. Thankfully it remains dry as they would have been a different prospect altogether in the wet. After a few hours we stop climbing and the landscape has changed dramatically once again, the surrounding fields are green and lush with rolling hills, entirely different from the dry plains we have left behind. It is also noticeably cooler and we all stop to add an extra layer. We are now riding on stretches of unforgiving bedrock, smoothed over in parts by years of passing traffic and rough in other places, always looking to catch out the unwary.

After stopping for a quick lunch and refuel in Narok we are briefly back on tarmac before reaching the edge of Massai country. Here the grey stuff comes to an abrupt halt and is replaced with wide semi-graded roads which have had the top layer washed away by rain revealing rocks underneath. The resulting effect on a bike at 70-90kmph is not unlike holding on to a pneumatic drill, punishing on suspension and forearms alike! Mercifully, either side are vehicle tracks with a fine sandy top layer and series of natural whoops, excellent terrain for some fast technical riding and a relief from the bone shaking 'road' in the middle!
The landscape has changed one again back to dry, sandy desert, the bikes kicking up dust which hangs in the air for the rider behind to deal with, it is also much hotter than the morning and water breaks become more frequent.
250 fairly gruelling kilometres after setting off, we finally reach the Sekenani gate of the mighty Maasai Mara Game Reserve and are immediately set upon by the local Massai girls, hawking their homemade jewellery as we wait for Netta to sort out or entry. After giving in and buying a couple of necklaces, we are finally allowed through and make our way to camp.
Everyone is fairly knackered after a long day in the saddle and the next morning we take a welcome break from the bikes and head out into the Mara for the only 4-wheeled part of the trip. Our driver is local Maasai tribe member 'Geoff'; his mum did not give a name I strongly suspect to him! We are hoping to see some or all of the 'Big Five' and a couple of hours later we are treated with an extremely rare sighting of a Leopard having a snooze up his favourite tree. People spend weeks going out hoping to see a leopard in the daytime and it really is a sight to behold, just 40 feet in front of you stretched out like a tabby sleeping off his dinner in your living room! Geoff has earned some serious brownie points with this find which he then promptly loses by getting our Land cruiser hopelessly stuck in the only bit of mud for miles around! Luckily for him his passengers are the hands-on type and after a few attempts it is pulled free by some pushing and shoving and a tow from an amused Netta in her pickup. Lunch is a picnic by the Mara river with a group of around 40 hippos, almost entirely submerged other than eyes and nostrils, keeping out of the midday sun and a couple of crocodiles keeping a beady eye on proceedings from the far bank. The afternoon brings us a Cheetah under a tree in the distance and soon after we see six lion cubs, aged around 2 years, also hiding away from the heat under a large bush. Geoff has excelled himself and we return to camp with only a rhino missing from our list, which considering there are only 200 or so in an area the size of Wales is just about forgivable! We are staying at the amazing Sekenani camp and once again I am sharing a room with the long suffering Nick who has had to put up with the smell of my body armour for the last 3 nights but has done so with good humour, the view from our 'tent' on stilts, looking across a valley is breathtaking. One of the unique features of a stay at this particular camp is that after dark you get escorted to and from your tent by a Maasai guard complete with bow and arrows for protection. Fortunately I never got to find out if that would have been enough firepower against say, a rogue lion that had wandered into camp or an ill tempered rhino on the rampage!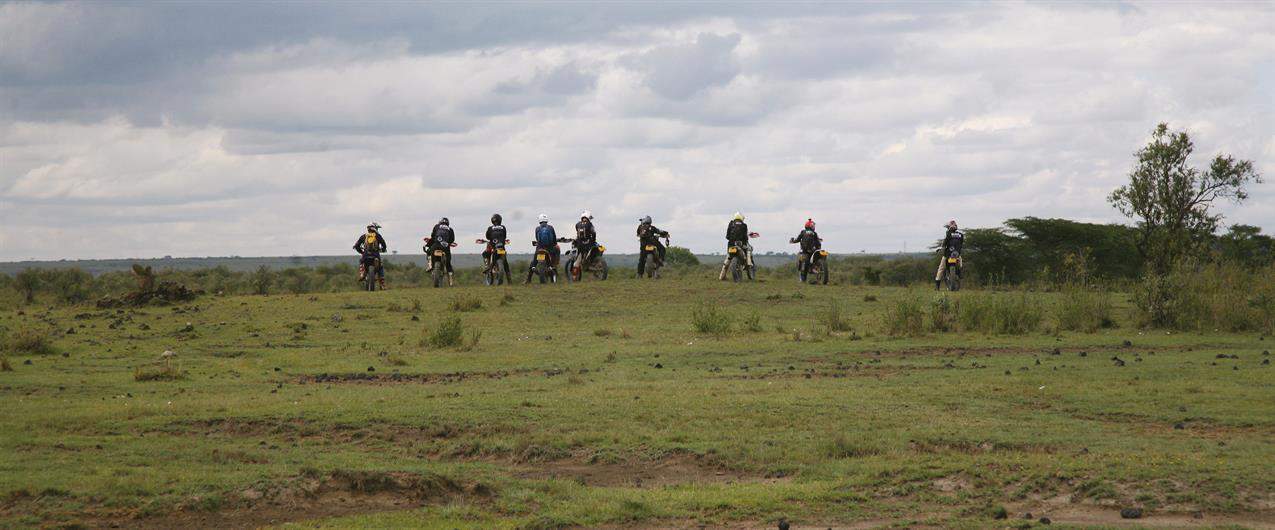 After another day of magical riding in the Mara along sandy tracks and dried up river beds the time has come to start heading back towards to our final destination Nairobi. Unfortunately that means a couple more hours back on the dreaded 'drill effect' road but it's a small price to pay after such an incredible few days in arguably the most famous game reserve in Africa. Stopping off at an extremely windy outpost town somewhere in Narok makes me feel like an extra in a Serge Leone Spaghetti western for 20 minutes with dust blowing down the main drag and faces looking out from behind ragged shop fronts. Leaving the dust behind we pass back through Narok and onwards to Lake Naivasha where we are to spend our last night in Africa. We take an evening boat ride on the less touristy nearby Lake and after a few team photos on the edge of the lake head back to the Lake Naivasha Country Club for a few well-earned beers. The Club used to be the main airport in Kenya for BOAC airlines with travellers landing in seaplanes on the lake but is now just a place to stay and eat, albeit a very nice one. I am stopped on the way back to my room as a couple of hippos have come to feed on some shrubbery on the lawn and in the morning on of the porters shows me where a family of seven hippos had their breakfast outside my room before I even woke up! It is this up close and personal relationship with nature in Africa that will be one of the most enduring memories for me personally, and the best is still to come!
Elephant Man
After getting back to Nairobi the next day we head off for the final and most important destination of our trip. The David Sheldrick Wildlife Trust. Set up in 1977 by the widow of David Sheldrick, the founding warden of Tsavo game reserve, after 30 years of protecting Africa's giants, its role has never been more important. The current statistics are quite terrifying. Elephants are being poached at unprecedented rates, around 30,000 in Africa annually, and urgent measures are needed to stop this illegal trade. There are some encouraging signs with the US having recently agreed to destroy its stockpile of ivory but it education in other countries, in particular China, that is urgently needed to stem the demand that feeds the trade.
The elephant nursery is based in Nairobi National Park and they currently have 30 orphans in their care, aged from just 2 weeks through to 3 years where they are nearing the age of being re-introduced to a foster family in the wild. The youngest ones are the most vulnerable and often turn up in a state of shock and badly missing their mother. They require 24 hour care with their keepers sleeping in their stable to keep them company. Elephants are incredibly maternal and have a similar family structure to humans and these orphans have had the most important thing in their life taken away from them.
It is a very fine balance of helping them grow up happy and healthy but at the same time avoiding strong emotional attachments to individuals so as keep them wary of humans in case they encounter poachers again when released into the wild. It took Daphne nearly 30 years to perfect the replacement milk formula they require to survive without their mother. They must be physically and emotionally stable to have any chance of survival once released.
We are led down to their feeding area, given instructions by the head keeper and then suddenly all 30 appear at a casual jog, eagerly looking around for their afternoon meal! I feel a mixture of emotions all at once, it is an absolute joy to see them up close, a unique experience but also saddening to know the reasons they are all there rather than out in the wild where they should be with their mothers and other family members.
Looking round at the faces of all the other guys and girls I can see they feel the same. The ups and downs of the last two weeks have all been worth it, an amazing experience with a real sense of achievement at the end. They present Daphne with a cheque for just over £10,000 – a fantastic and much needed contribution to the Trust.
All that is now left to do is grab a few souvenirs and get ready to head back home, it has been a truly eye opening eight days that have literally flown past in a blur with so many different people met and places visited. That said it wouldn't take taken much to convince me to get back on one of the 'Bergs and head out for another week, there is so much great riding out here and as Netta points out over a beer back at the Purdy Arms, we have barely scratched the surface. If you are looking for a 2 – wheeled adventure of a lifetime then Kenya needs to be right at the top of your shortlist.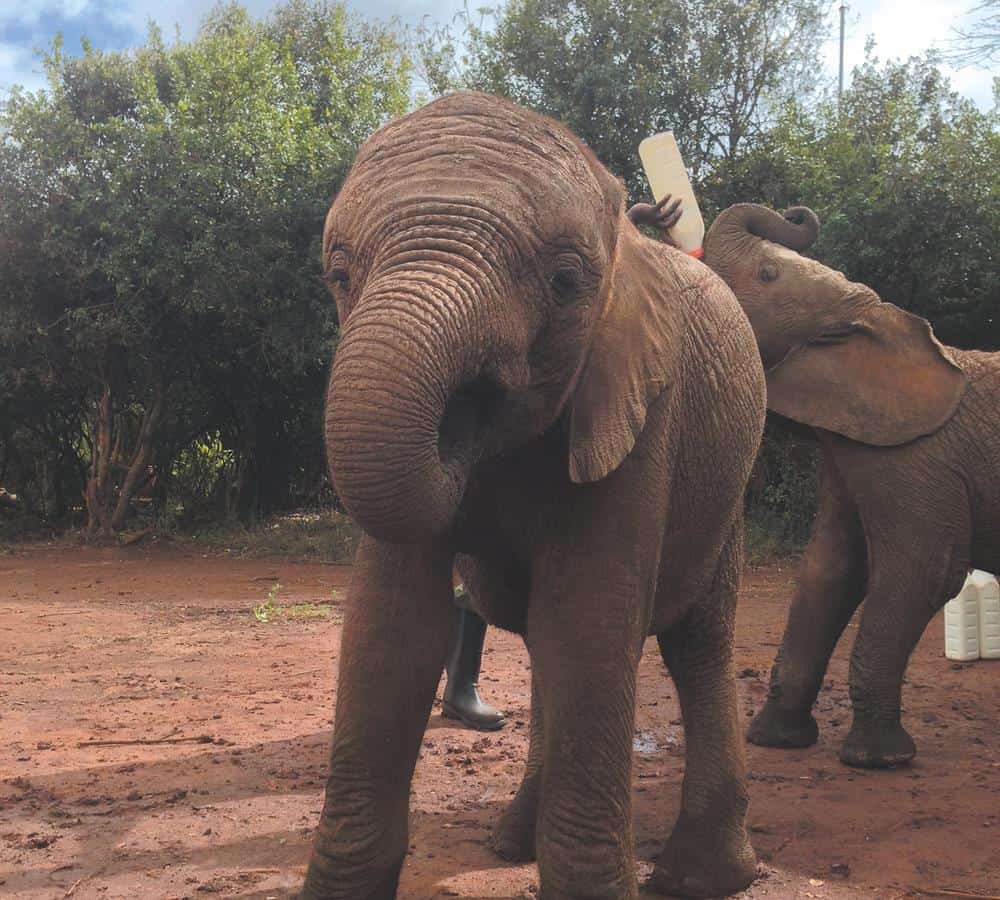 Thanks to:
Dylan Davis, Nick King, Irene Routh Jones, Liz Robinson, Nick lines and Peter Stapleton for letting me crash their trip of a lifetime and making me feel so welcome, in particular Nick Lines for not grumbling (too much) about having to share a room with me!
Netta Ruthmann of Dusty Helmets for making it possible for me to come out and experience Kenya and all it has to offer on 2 wheels and so much more.
Craig Bounds and Tamsin Jones of Black Desert Training for helping organise the whole trip, providing riding gear and getting sponsors sorted out. All the riders on the trip learnt or improved their off road skills with them down in Wales.
Contact: info@blackdeserttraining.com / 01443 410595/ www.blackdeserttraining.com
The following companies who sponsored the trip:
Kriega
Craghoppers
Whitby and Co
Wayne Mounter motorcycles
Baydale
RSD sports
John Bounds