WITH DAKAR RALLY 2020 fast approaching, it's very timely of Yamaha to offer us a quick visual on the development of their bikes over the years since the inaugural Paris-Dakar Rally in 1979. It wasn't a complete collection that we saw, at Motorcycle Live! at the NEC in the UK, but there was plenty to see and appreciate.
This is the number one works Yamaha of 1982, ridden by Serge Bacou (seven-time French motocross champion). He'd placed second in 1981 in first Dakar and clearly big things were expected this following year. And it started well, Bacou winning the first African stage. Only somewhere in southern Algeria it all came undone as Bacou made a navigational error and became lost in the desert far from the rally. He spent three days and nights waiting for rescue, with very little water and no food. It was sub-zero at night and he had no cover in the desert. Dehydrated and hallucinating, and considering his demise, he did eventually attract the attention of an army vehicle, using flares. In fact it was only with his third and last flare that the vehicle spotted him. Undeterred Bacou returned to the rally, placing fifth in 1983. Bacou continued to ride the Dakar through to 1989, recording four further top-ten results.
The Dakar Rally of 1987 was an all-new era after the tragic death of the founder Thierry Sabine in a helicopter crash in the previous year's edition. Times were changing – and the bikes especially so as the manufacturers were upping their game. The simple trail bikes of the early Dakar years had given way to rally specials. And answering to the advances made by BMW and Honda, Yamaha had come to the 1986 edition with a four-cylinder racer based around Yamaha's FZ750 superbike! Of course that engine was not enough and it was enlarged to a full 911cc for rally racing. In 1987 Serge Bacou piloted this one to 7th overall. Dakar's historical records can be a bit is shaky, so both Bacou and Gaston Rahier are credited with the final stage win that year. Either way, this 200-kilo monster must have been an exciting ride.
Four years later and Yamaha has reconsidered its position, crazy prototypes were not the way forward. Having looked for success with 680 and 750cc singles, their next move was to try a twin. In 1989 Yamaha had launched their Super Tenere 750cc adventure twin and it made sense for the Dakar racers to be based around this unit. Only of course, highly modified. The engine in the racer was 800cc producing about 75hp. It was hugely successful, taking all three podium positions in 1991 and bringing former enduro world champion Stephane Peterhansel the first of his six motorcycle Dakar victories – all secured on Yamaha's Super Tenere based racers.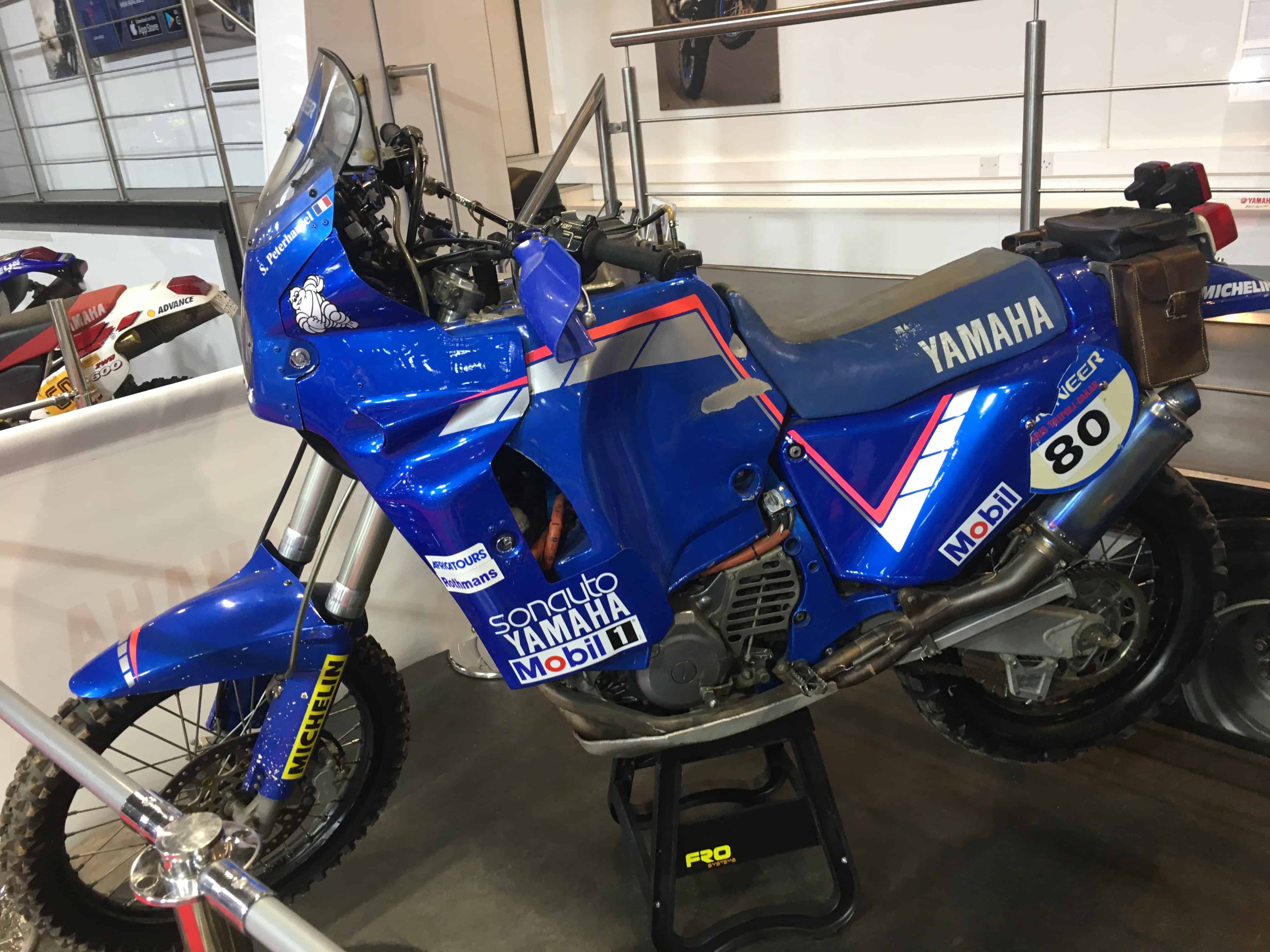 2004 YAMAHA WR450F 2-TRAC
After a notable absence from the rally for five years, Yamaha were back in the mix in 2004, with not only a new generation of rally bike but one with a unique technical innovation. Yamaha Motor France entered former enduro world champion David Fretigne with something of a forerunner of the modern 450cc rally bike. They entered a WR450F enduro model with the Yamaha/Ohlins developed 2-Trac two-wheel-drive system (that delivered drive to the front wheel via a system of chain and hydraulic drives). The 2-Trac was instantly competitive and against the bigger 660cc rally bikes Fretigne won the opening stage plus two more on his way to 7th overall. In 2005 he returned again with the 2-Trac and won two more stages to place fifth overall (both years being first in the 450cc category) and in 2006 he won one more stage to finish 13th.
Bringing us up to date is the 2019 Yamaha WR450F Rally as raced by Adrien Van Beveren. As with Fretigne's WR450F of 2004 it's not so far removed from a standard enduro machine. Whereas KTM's Rally model uses a unique trellis frame especially developed for rallying, the Yamaha Rally bike sticks closely to its enduro roots, with a modification to the steering head angle and a 2cm longer swingarm to suit, while the 33-litre fuel capacity is achieved with some clever moulding of the tanks around the WR's alloy frame. Navigational equipment these days is mounted on a carbon fibre 'tower' replacing the alumnium fabrications of the past. As before, with select models, near identical copies of these machines (rally replicas) are available for purchase by privateer riders .