If ever there were a dirtbike to really stir the soul it is the Aprilia RXV450. But is that reason enough to buy one second-hand? Barni took to the trails to find out…
Aprilia's RXV450 is one deeply sexy motorcycle. From that stunning part trellis/part beam frame clad in dramatically angled bodywork to the beautifully compact V-twin motor it simply exudes Latin style. Crank it into life and the noise, even with a single can replacing those early slash-cut twin pipes, is pure aural sex. Yet the bike hasn't exactly been 'the goose that laid the golden egg' for the Italian manufacturer. In fact, it's been something of a turkey..! Which means that if you're looking at the RXV with half a mind to purchase, your heart is probably screaming 'to hell with sensible, break out the credit card!' whilst your head is telling you not to be so darn stupid. But which one should you listen to…
Motor
Head: Not only does the 450 make a great deal of power but most people would argue that for off-road use it's 'the wrong kind of power'. Quick-revving and super-smooth, it's very hard to 'feel' for grip on slick rocks, wet grass or slippery mud, and unless you possess the throttle control of Stefan Merriman you'll often find that the RXV lights-up its rear tyre with very little provocation. For the 2009 model year Aprilia added a flywheel weight to the RXV models and this did improve matters considerably… which really goes to show just how 'electric' those early bikes really were! Most single cylinder 450s – especially SOHC machines – lay down the power in a series of thuds which dig the rear tyre into the ground. The Aprilia doesn't thud, it whizzes!
Zipping along a wide and grassy Wiltshire lane, I gave the RXV's throttle a cheeky tweak as the trail in front opened out. What I expected to happen was the bike to gather pace and lift the front-end a little over the approaching series of small whoops. Instead I was treated to a far wilder ride as the rear-end fishtailed across the lightly cambered trail and only came back into line once I'd employed some generous body English, weighted the pegs and muttered a short prayer.
On more technical terrain or tight wooded going the fast-building power can prove tiresome, as you're constantly working to rein it in. The throttle response is fantastic, yet with so much power on tap from the mid-range upwards there are times when you simply don't want the bike to leap forward at every twitch of your right-hand. Riding across the camber of a wooded Yorkshire hillside, anything more than taking up the slack in the throttle cables saw the back-end slither away down the root-veined incline, and coaxing the Aprilia trials-style up a grip-less slope proved just as taxing. On slick ground you need to be carrying some momentum before you can really use the power – finding traction isn't the RXV's forte…
The same can be said for tackling obstacles such as fallen trees or rocksteps. You've really got to dial in a certain amount of revs in order to overcome the placid bottom-end, only once you're in the meat of the power there's a fine line between wheelspin and wheelstand! A measured approach, and covering the clutch, is crucial.
The five-speed gearbox is another area where the Aprilia doesn't really impress. Yes, it works fine on the dirt and, yes, it does shift very nicely. But throw in a few miles of A-road, keeping pace with the traffic, and you soon get the feeling that eight titanium valves are gonna come bursting out of the cylinder heads. Which leads me to question whether the bloke who designed it ever actually test rode it or had the mental capacity to count higher than the fingers of one hand..! Powerful bikes can often get away with just a few ratios (four-speed 450 MXers, for instance) but for trail use this bike desperately needs a sixth gear!
And lastly running a twin means that when it comes to servicing there's two spark plugs to change, eight valve clearances to check, two camchains to occasionally replace… you get the idea.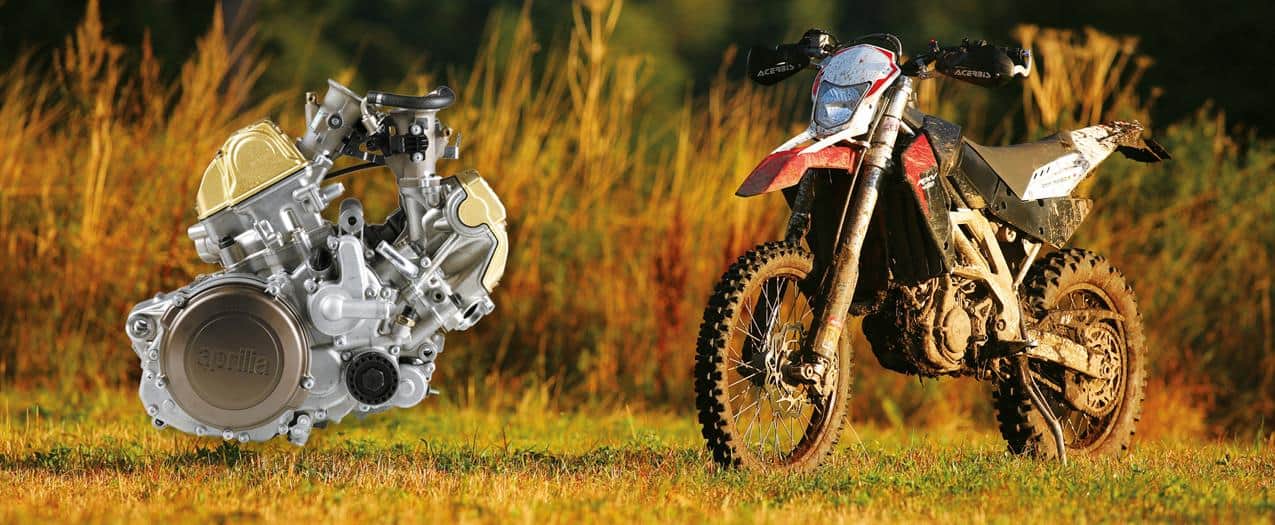 Heart: If the glorious rasping exhaust note of that quick-revving short-stroke twin doesn't send a tingle down your spine then perhaps you should be reading 'What Stairlift? Magazine'. I'd even go so far as to suggest that the RXV is the best sounding standard motorcycle in the world. Yet it certainly isn't loud. The bike has none of the booming bass of a regular V-twin, or the deep 'brrrapp' of a big thumper – it's a tenor rather than a baritone – and that means the sound doesn't seem to carry quite as far. So while you can revel in the noise, you won't be broadcasting it to everyone for miles around.
Still, I can't imagine many people buying a bike for its audio qualities, so, if you like your engines feisty, you'll love the 450's fabulously strong mid-range and top-end. Once you're through the relatively mellow low down power (which at least helps you control the RXV in tight going – imagine that delivery with a punchy bottom-end!) there's a great deal of oomph at your disposal, that's easy to deploy with the merest twist of throttle. The response is instantaneous. Thankfully, the power is far more linear than on the early bikes, so you don't have to suffer the unnerving kick in the ass that signified the jump from mellow bottom-end to oh-my-god-this-thing's-gonna-kill-me mid-range.
Where this delivery works best is on flowing trails or fast enduro tracks – times when you can get up on the pegs, hook tall gears and let the bike do the work by simply rolling on and off the gas. This is where the RXV really comes alive and starts to make sense! If UK rallies are your thing then the RXV simply eats up fireroads and open moorland, and it's unsurprising that the bike is now taking some big name scalps on the desert rally scene, which is going to be even more interesting should the 450cc capacity limit kick-in across the sport and not just in the Dakar.
Chassis
Head: The RXV feels big. The seat's quite tall, the wheelbase is 20mm longer than an EXC or CRF, and you do notice that it's carrying a few more kilos than most single-cylinder 450s. A super-nimble woods weapon this is not. You'll also have to work hard to blast it around a special test, or simply thread it through a densely wooded trail, because it's not particularly quick-turning either. This, combined with that 'lively' motor, means that in many situations a single-cylindered 450 would be a far better option.
Heart: There's no doubt that the RXV can't match the smaller singles in terms of compact dimensions and low weight. So stability is its trump card. Long and reasonably softly suspended, it tracks straight 'n' true where other enduro machines would bounce around like a hyperactive child trapped in a Haribo lorry. Even under hard acceleration or over awkward whoops, such as those we found on a couple of Wiltshire trails, there's not a hint of instability, and hitting potholes on the wide chalky tracks across Salisbury Plain caused nothing more than a brief twitch of the bars.
Feedback from the front suspension is particularly good and the progressive action of the forks means that even though they're set quite soft they don't dive too quickly nor crash into the bumpstops at the first sign of a hard-edged hole or when hopping down rocksteps.
The back-end is similarly well-behaved, and the plush settings at least give the bike a fighting chance of putting some power down. I'd personally run them just a little firmer so that the bike doesn't sit down quite so much at the rear (which effectively raked out the front-end and made it even harder to get turned) but the action of the shock complements the forks well.
When things get a little sideways – and trust me, they will – the long-ish wheelbase prevents the rear-end overtaking you before you've realised something's wrong, and it also contributes to that overwhelming sense of stability.
On rocky descents I can't think of a bike I'd rather be on, and that's not just because of its unflinching ability to hold a line either. The Nissin front brake, with its big 270mm floating disc, mixes an abundance of power with great lever feel to let you really attack the descents. It's kinda like a downhill MTB with a motor…
Lastly, the air filter is positioned high above the motor, meaning it's less susceptible to clogging with dirt, or sucking in water on river crossings, than a conventional mid-mounted airbox.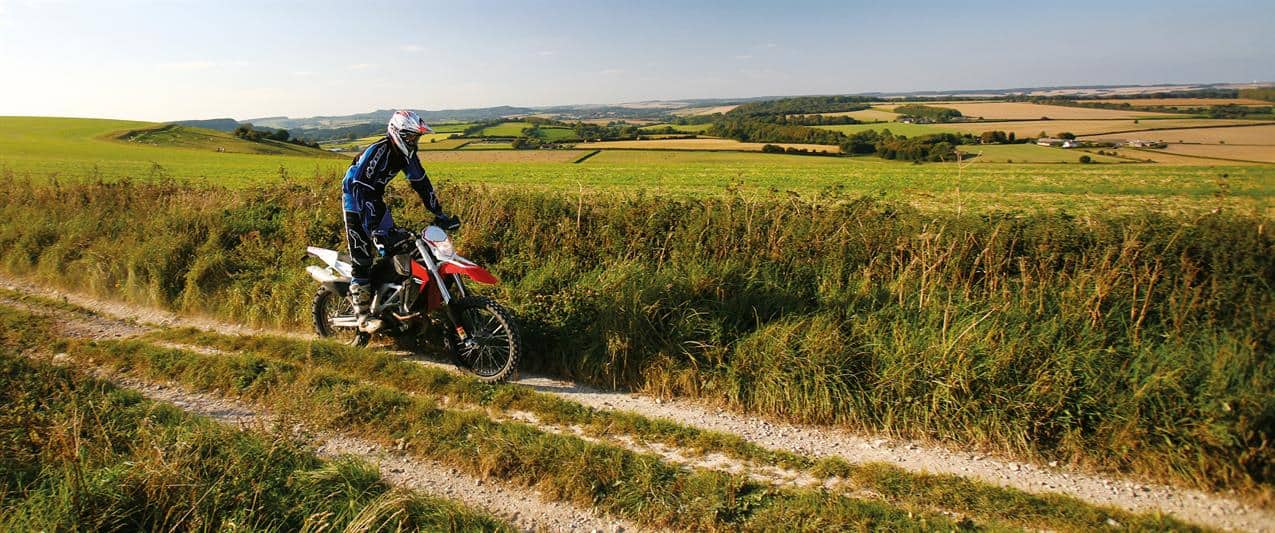 Ergos and Controls
Head: If you're six foot plus then you'll probably find the bars just a little bit too low (especially when the plank of a seat is forcing you to stand up EVERYWHERE) and unless you like old skool high seat/low bars bikes you'll want to source a set of risers.
The bodywork on most dirtbikes curves outwards to meet the edge of the rads, though on the Aprilia the panels suddenly jut out around the radiators and when cornering you notice that your leg's pushed out that bit further than normal. (Incidentally, the bigger tank on our bike didn't feel particularly incongruous and added some much needed gas mileage.)
But the strangest thing is the action of the twistgrip, which doesn't turn progressively. Instead there's a noticeable 'step' in the initial part of the turn, which is, we're told, linked to the way the two throttle bodies open at different rates at low rpm.
Heart: If you're under six foot then you probably won't have much of a problem with the cockpit, and the hard seat will force you to adopt the style of greats such as Merriman and Everts and ride everywhere standing up. (Well, that's what you tell your mates, rather than admitting that the seat's as comfortable as being disembowelled!)
And the step in the throttle? Yep, that's a bit weird… but you do get used to it!
Styling
Head: It does look gorgeous, there's no doubt about that, even if the original design has been somewhat tainted by the need to have somewhere on the sides to stick race numbers. But replacement plastics aren't as readily available as they would be for a more mainstream machine and if you're the kind of person who's swayed by what off-the-shelf graphics kits and aftermarket baubles you can slather your bike in then this simply isn't the dirtbike for you.
Befitting such a fine-looking machine, the sidestand is a work of art. But it's a lousy flip-up item which holds the bike perilously close to upright. And even if its wide foot does mean it doesn't sink into the dirt your heart will certainly sink the first time you park the RXV to open a gate and turn to find a light breath of wind has sent it crashing to the floor!
Heart: The RXV's styling? Be still my beating heart! Even with the twin pipes long since consigned to the spares bin, and those add-on sidepanels looking a little strange, the V-twin Aprilia remains one of the most sensational looking motorcycles ever. We mourned the passing of the 'trellis' swingarm last year, though the replacement is still a beautiful piece of ally-work, and, like a 916 Ducati, it's one of those bikes you never tire of looking at. Though there's no getting away from the fact that the phrase 'form over function' could've been invented for that sidestand..!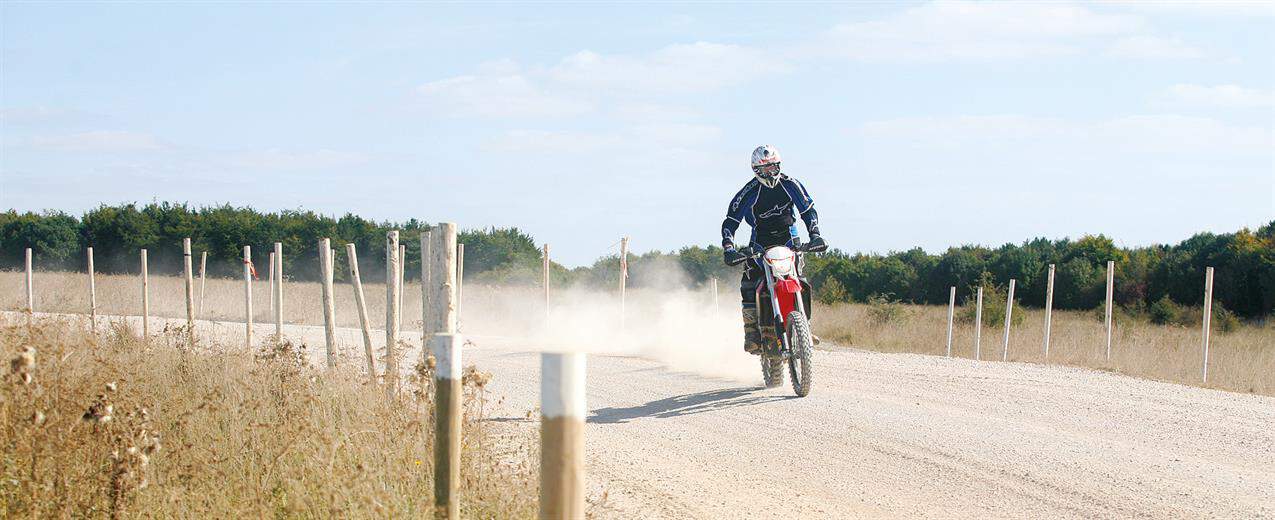 Weighing It Up
So if you listen to your head, then you've probably long since discounted the RXV as a curio, exotica, or simply a mediocre enduro bike. And in many respects you'd be right. The RXV450 just isn't that good as an enduro racebike and nor is it ideally suited to many UK trails. So it won't matter to you that Aprilia haven't touched the RXV450 for 2010, and, bar the graphics, that it's the exact same bike as last year – including the price! Meaning you can bag yourself a V-twin 450 for just £5599 OTR – roughly £1000 cheaper than the European opposition! (All prices correct at time of going to press)
But if you listen to your heart then you'll realise that what the Aprilia IS good at is swaying your emotions, making you forget the fact that it's far from an accomplished all-rounder and instead reminding you that you're riding something that little bit different. It's like yearning for an Alfa when you know a Mondeo would really be far more suitable. And, if I'm honest, it's hard to really recommend that you own one. But one day you might look back and kick yourself if you don't…
Thanks: Huge thanks to Clive at Bracknell Aprilia dealership Tri-County Motorcycles for the loan of his RXV450. The shop not only stocks Aprilia off-roaders but their roadbikes too, along with KTMs (both road and dirt) and a wide range of kit and equipment. You'll find Tri-County online at www.tricountymotorcycles.co.uk or you can call Clive or Richard on 01344 424282.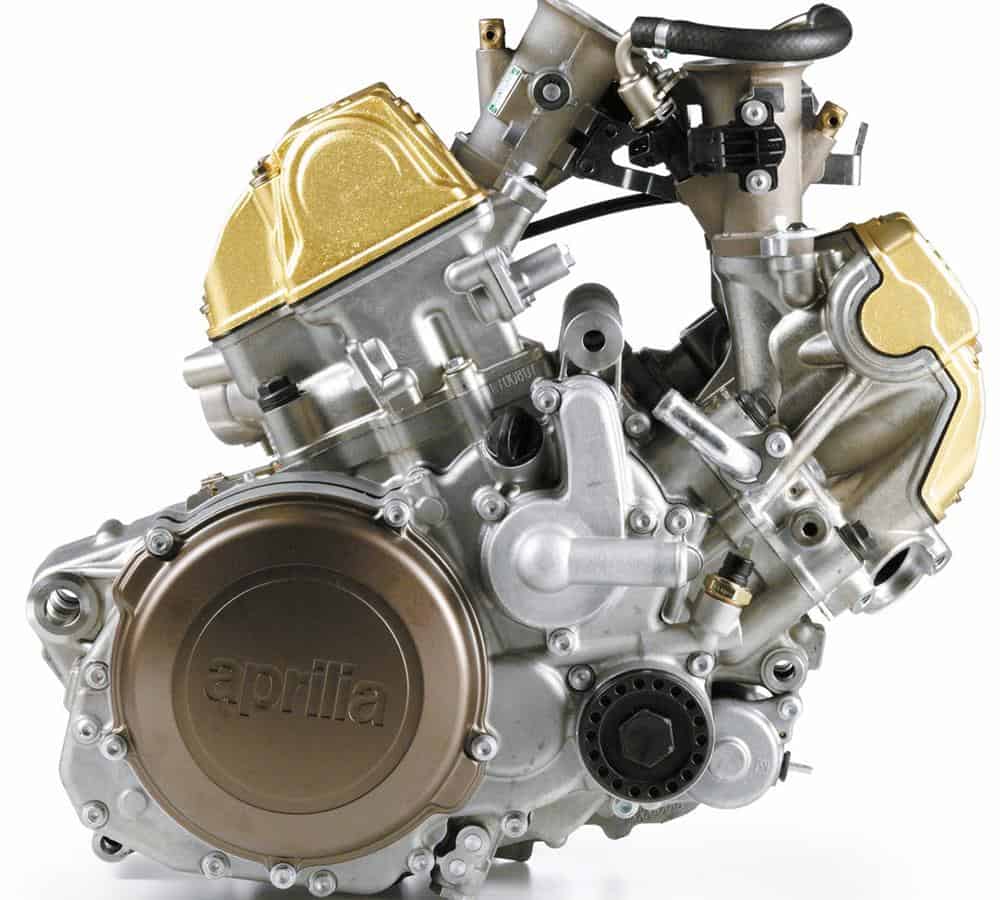 Aprilia RXV4.5
Price: £5599 OTR (When new in 2006)
Engine: SOHC, fuel-injected, e-start, four-stroke 77º V-twin
Displacement: 449cc
Bore & stroke: 76 x 49.5mm
Transmission: 5-speed
Frame: Chro-moly steel trellis with alloy side spars
Front suspension: 45mm USD forks
Rear suspension: Sachs shock
Front brake: 270mm floating disc, Nissin caliper
Wheelbase: 1495mm
Seat height: 941mm (claimed)
Fuel capacity: 7.8L
Contact: Aprilia UK on http://www.aprilia.com/uk_EN/ Tel: 020 8290 8800