You could almost buy a new bike for what Steve Wilson has spent comprehensively rebuilding this mkI Honda CRM. So is he mad, or is it a work of genius..?
Everyone has their own reason for starting a project bike, be it an obsession with the marque, a favourite old machine that's slipped into disrepair or simply something to occupy them over long winter evenings. Only for Midlander Steve Wilson, the reason for embarking on the 'restoration' of a mkI Honda CRM250 was quite different…
A few years back, Steve suffered an ear infection which transferred through to his brain, and as part of his treatment he underwent a craniotomy (where the surgeon accesses the brain by removing part of the skull). As you can imagine after such a serious procedure, there was a long period of rehabilitation and Steve wanted a project to 'exercise the brain and hands'.
Having previously owned a number of enduro bikes, Steve felt that the softer, smoother power delivery of a trail bike would be more useable, and the practical nature of a CRM would allow him to get out on it more. Steve also had some experience of Honda's popular grey import, as he'd previously owned the second example in the country.
So in October '06 Steve bought himself a 1989 mkI 250 from eBay, for £650. 'I should've taken some pictures', laughed Steve. 'It was an absolute wreck'. Within the month he had it stripped down to the bare frame…
Having lightly modified his previous CRM, Steve knew that there were a couple of areas easily improved – namely the forks and the fuel tank. These weren't the only mods he had planned, but they gave him a starting point on which to build.
1989 CR125 forks were another eBay purchase and although they're not a straight swap for the CRM's parts, the greater adjustability makes the work worthwhile. They were sent off to be fettled by suspension specialist Kevin Bancroft, who had the stanchions rechromed, whilst Steve then had the sliders refinished and new 'Showa' stickers added. The clamps were milled to fit the 2mm bigger forks and although the CR legs are longer than the CRM's, Steve knew he could retain the standard geometry simply by running them pushed up through the yokes.
The change in fuel tank for another early CR125 item not only replaced heavy steel with plastic (thus saving 1.5 kilos), but also gave the CRM a much thinner profile and a flatter seat. As with the forks, the MX part didn't quite bolt straight on and Steve had to weld a mounting point onto the frame to hold it securely.
Mix 'n' Match
The original shock was 'completely shot' and unlike the rear suspension on later CRMs, the mkI's isn't rebuildable. Being almost 20 years old, any secondhand part was likely to be in a similar state, so rather than try to track down an expensive and low-specced OE part or an equally costly (not to mention rare) aftermarket unit, Steve instead acquired a new mkII shock. The only problem was fitting it to the very different mkI chassis…
Actually, this wasn't quite the predicament you might expect, as Steve already knew what he was going to do. Having discovered that the swinger and linkage (though not the shock) from a late model CRM would fit his early machine, he'd already bought a secondhand AR swingarm and the linkage from a mkIII, with the intention of moving the upper shock mount on the frame. Out came the welder and with the hole relocated a few mill higher everything fitted-up a treat.
This mix 'n' match philosophy is employed throughout the bike, Steve trawling various eBay listings to acquire the parts he needed. 'Quite a lot came from eBay', he reported with a smile. Most of the major parts, and more than a few minor components, were also bought from the web.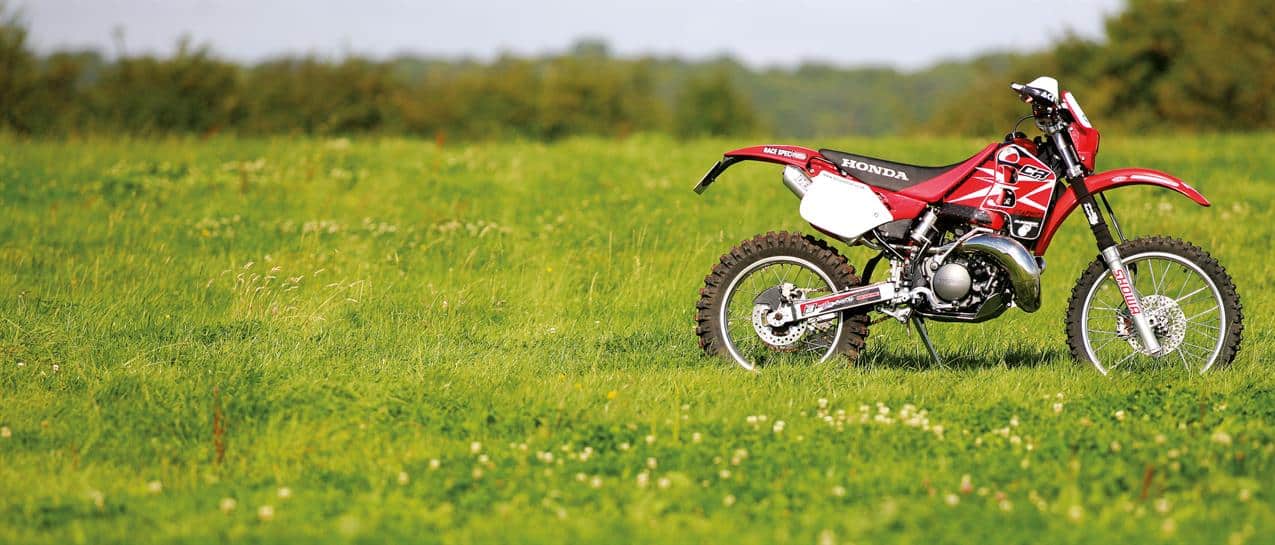 The original rear brake was beyond repair and Steve replaced the standard Nissin caliper with one from an XR400. The master cylinder isn't from a CRM either, though nor is it an XR item. 'I don't like the reservoir and associated bits you get with the CRM's rear master cylinder,' he explained, 'so I bought one for a CRF'. Rather than the old style plunger brake light switch, the CRF runs a pressure switch and incorporates the reservoir within its body. It's a neat design and would've bolted pretty much straight onto the CRM's frame were it not for the lever. 'I needed one with a longer arm at the rear', commented Steve, 'so I bought one for a CR500'. 'How did you know all these different parts would fit?' I wondered. 'I didn't', replied Steve, glancing at his creation. 'Well, apart from the XR400 caliper, that is. A lot of things got sold on'.
Steve actually bought a cheap, tatty brake lever first just to see if the CR5 part would line up and then, when he was certain it was what he wanted, found one in the kind of condition which befits the project. You'd never guess it was from a different model as it curves almost perfectly around the super-sharp IMS pegs (which were designed to fit an XR650).
Like the rear brake, the CRM's wheels were well past their best, so they hit the skip, to be replaced with a pair from an XR650. The rear was fitted with an XR400 disc and slotted into the swinger using the standard CRM spindle (new bearings with a smaller internal diameter were required to allow it to fit). Doing away with the tatty old chain adjusters, Steve used a pair of aftermarket Transalp snail cams from Germany.
Up front, a CR125 spindle was required and an entire brake system was lifted from a CRF. 'It was a bit of a gamble whether it would fit', recalled Steve. Luckily it paid off and, kitted out with a custom-made HEL braided hose, Steve's ensured that the CRM'll stop like no other 20 year old dirtbike!
Stop 'n' Go
That's the basic rolling chassis, but what of the engine? Well, you don't think it was a straightforward rebuild of the mkI motor, do you? Of course not. Instead Steve put together a pick 'n' mix of other CRM's components.
'There were a lot of problems with the original motor', explained Steve, 'so I started by picking up a secondhand bottom-end'. To this he fitted a mkII barrel which 'gives slightly more torque due to its powervalve set-up'. Adding to the 'tuned for torque' theme, Steve bought an AR model head. 'It cost me £1', he recounted with a grin. Pressed further about this bargain, Steve explained that it was another eBay buy and that no-one had shown any interest in it, so he put in a cheeky bid. 'I obviously had to pay postage on top of that, but I bought it along with another AR part.'
The original kickstart was 'knackered' and although he could've used an AR one he'd bought, Steve found that it sat too high up against the CR fuel tank. Instead he took a punt on a kicker from a 2003 CR250, and as luck would have it the MX part not only fitted onto the shaft but also curved neatly around the expansion chamber too.
Steve went through the entire gearbox, making sure that everything was tickety-boo, though he noticed on both his old motor and the bottom-end he'd purchased, that the clutch baskets were horribly notched. The prohibitive cost of an OE part ruled that out, and those intended for other Hondas wouldn't fit. It'd be easier to make one yourself than find an aftermarket CRM basket… so that's just what Steve did. He machined his own!
Now at this point I should tell you that partway through the rebuild Steve had signed up for the motorcycle maintenance course at his local college. Initially, the sessions in this 'part one' course covered the kind of basics an experienced dirtbiker like Steve would already know, but 'if you showed enthusiasm the tutors would help you with anything'. And with the machinery and know-how that the college possessed, this allowed him to take on some really ambitious work. Which is how he came to be buying a billet of aluminium in order to machine his own clutch basket…
With a 40 quid hunk of metal carefully machined down, there was only the final finishing to be done when Steve realised that a mistake had been made when changing the mounting head of the milling machine. The gaps between the fingers of the basket were slightly out of line, meaning the plates wouldn't slot into place and that his clutch was essentially scrap.
Undeterred, Steve purchased another billet and set to work. With the basket correctly machined he then used the original as a tester for anodising, before adding the finish to his new creation.
The desire to fabricate his own parts didn't just end with the clutch basket, as Steve produced a number of little fasteners and fixings himself. He also fancied adorning the CRM with a bit of carbon-fibre. A rear discguard was produced, though making a generator cover turned out to be much trickier. Far from being a simple 'bowl' (as on many dirtbikes), the CRM's cover is a particularly complex shape, with a number of awkward curves. Eventually, after producing a mould and having a good crack at it, Steve decided he couldn't get the finish he was after and instead sourced a new OE cover.
Bits 'n' Bobs
As with any special, there were a number of detail changes which might appear insignificant, but add up to a great deal of time and energy. Fitting the original rubber airbox boot would've required a lot of heating and moulding as the 'boost bottle' which sits atop the boot fouled on the tank. So instead Steve used a mkII boot (which has no bottle). He also opened up the top of the airbox to increase the airflow, and employed a new TwinAir filter frame to get the bike breathing deeper. He complemented these mods with a brand new Keihin PWK33 carb and a set of Boyesen reeds.
Wiring old bikes is generally considered a nightmare, and the loom was laid out on the floor in order to work out what went where before Steve went through it and chopped out anything which was surplus to requirements or in need of replacement.
Now with so many modifications, updates and parts replaced, not to mention the unfortunate incident with the clutch basket, you might be surprised to hear that the worst part of the entire build was the seat. I could hardly believe it either. But getting the seat to match at both the tank and subframe, with the desired height and curvature but without huge 'panel gaps' was something of a palaver. 'The original foam was shot, so I looked at those on other Hondas but none matched. The 500's came closest. I had three CRM seat bases and the foam and cover from a 1989 CR500 to work with,' explained Steve. 'In the end I cut too much foam off trying to get it to fit. So I took another gamble and bought a complete CR500 seat from America. It cost me $40'. That's something of a bargain, especially when you see how well it fits. Naturally, it required a little bit of work to obtain the 'factory-fitted' look. 'I did have to shave some of the plastic off the sidepanels and airbox to get it on there, and make up some new rear mounting points for the base.'
What Steve wanted was a seat which followed the contours of the less humpy CR tank without sitting too far proud of the rear fender – the standard CRM seat is very tall at the back. And that's just what he's got. Plus the CR foam is a little harder than the sofa-like CRM, allowing him to slide up the seat easier and make use of the bike's narrower front-end.
Fit 'n' Finish
With the 'fire-up day' in sight, Steve could start worrying about the cosmetics and those final bolt-on parts. The rads were in a reasonable state and so they were lightly shotblasted before being given a blow-over with gloss black radiator paint. The engine was powdercoated a lustrous grey, and virtually every metal part that was suitable was given a similar treatment in either grey, silver or satin black.
The cockpit was kitted out with Pro Taper braced bars and a Trail Tech Vapor computer (with idiot light surround), which Steve mounted on a homemade bracket. The switchgear was stripped down and new casings fitted over the old innards.
An FMF Gnarly front pipe was used with a DEP silencer, giving the CRM that familiar two-stroke ring-ting-ting. The standard pipe may be quieter but it was understandably in poor condition and not easily repaired.
Replacement CRM plastics aren't freely available so at the back-end Steve fitted an early CR125 fender. 'It's identical to the CRM part except it's missing the cut-out for the rear light.' Steve addressed the lighting issue by fitting a DRC LED unit, though as this came without a numberplate light he had to install three small white LEDs to ensure the set-up was road legal.
CR500 graphics were cut to fit the plastics, handguards added to the bars, and the bike looked like the finished article. 'Is there anything you'd change?' I asked. 'Well it's not quite done', commented Steve with a grin. 'I need to alter the bracket for the speedo as it's too long. And mount a switch for the fan on it'. Ah yes, the fan. Knowing that his old CRM had a tendency to run hot when faced with snotty conditions, and having picked up a hint from an internet forum, Steve acquired some computer fans. Only when they arrived through the post he realised his mistake – they were 4cm items, not 4in parts. Ooops.
Rather than covering the rads in tiny fans, Steve ordered up a 12cm two-speed fan from the States (costing just $5). Mounted on the left-hand rad, it's yet to be wired up but it fits so well that it looks like it's meant to be there.
And that's the great thing about Steve's 250. Each of the improvements has been carried out in a way that's sympathetic to the overall style and every single one of his modifications looks as if it left the factory that way. And I'm sure Honda would've approved if it had done, as the fit and finish is utterly fantastic. Really, if it weren't for the 20th century styling and the F-prefix numberplate you'd swear it was a brand new bike. Which, in some ways, it almost is, as the only parts which Steve hasn't fettled, modified or replaced are the rear spindle, the CDI, the rad louvres and the powervalve servo.
And there's also the fact that the CRM cost the same as a year old enduro bike – Steve reckons the Honda owes him four-grand! Ouch. Still, Steve's got the bike he wanted and he's done the work himself, the experience of which must be almost invaluable. And let's not forget that the CRM is one of the finest trail bikes ever produced..!
Earlier I mentioned that Steve had built the CRM whilst 'studying' a motorcycle maintenance course. Well now he's enrolled in the next stage of the class. And if the 250 was the result of part one, just think what part two could bring…
Thanks to: Anthony at Little London Enduro Park in Worcestershire for the photo location. For more details phone Anthony on 07866 738360, www.littlelondonenduro.weebly.com And thanks to Martin Davis for his help.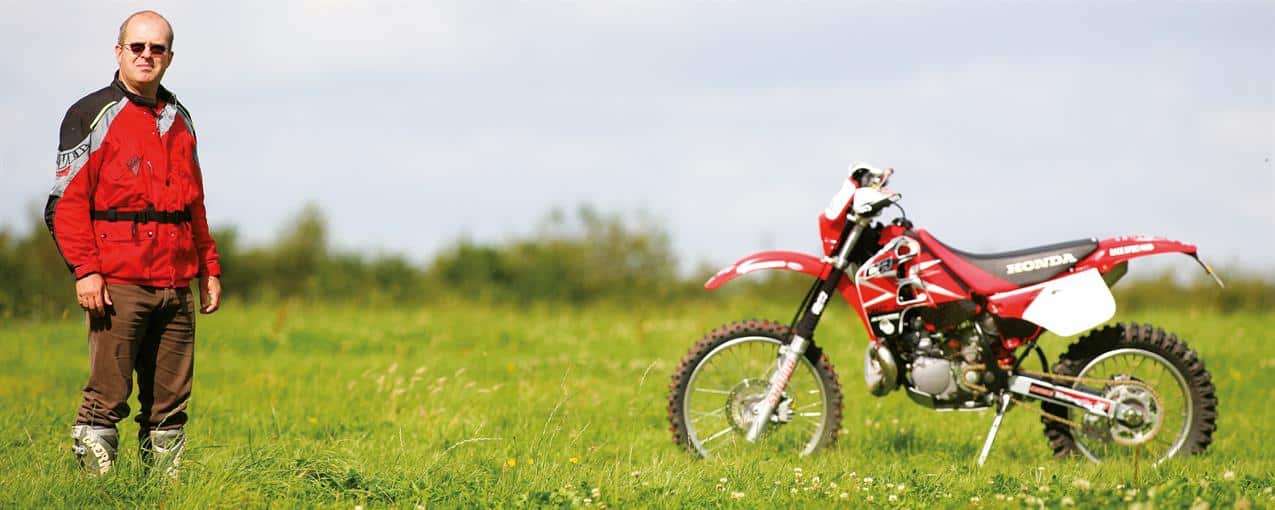 Steve would like to thank the following people for their help with the CRM: Steve Dixon, John Emerson and Mike Moore at Worcester college; Tom, Gerry and Kev at Leisure Trail; Kevin Bancroft; and Race Spec www.racespec.com