Rust Sports takes the first test ride aboard the brand new 2010 Suzuki RMX450Z…
As Devon green lanes go this one was typically testing. It began with a couple of easy potholes with broken tarmac before developing into the typical bumpy and deeply-rutted twin-track affair with a central grass strip flanked on either side by glorious red mud the colour of plum jam. And I'm sure had I been riding Suzuki's new RMX450, I'd have enjoyed it even more. Unfortunately as I was travelling in the TBM van at the time… In the dark… following my sat-nav (ahem),  it didn't have quite the same appeal.
Progress is a wonderful thing, whereas before it used to take a well-thumbed AA road atlas minus a few pages to get me thoroughly disoriented, these days I can do it electronically at the touch of a button – thereby saving an awful lot of time, but none of the confusion.
It's a bit like my car radio, in the old days you had a choice of about six stations all of which I had somehow managed to pre-set into my car stereo. However my latest DAB (digital)  stereo seems hell-bent on reprogramming itself every 15 seconds and then tuning into Radio Poland. Either that or I live with the pre-sets of its former owner, so that I spend most of the day either hearing the weather forecast in Krakow or else listening to Skank FM.
And progress is exactly what the new Suzuki RMX450Z is all about. I can well remember first riding the DR-Z400E back in 2000 and thinking it was amazing at the time. Here was a bike offering the trail rider exactly what he or she wanted (aside from road legality of course),  heaps of midrange torque, a flexible and reliable motor, plush suspension and Suzuki value. But a ride on the re-launched DR-Z400 just a year back was ever-so-slightly disappointing. What had once been a revelation, has been transformed by the passage of time into an overweight, overbearing tank. And although I generally subscribe to the theory that 'if it was good then, it'll still feel good now',  all too often I find that experience is rendering this phrase obsolete.
For example, you've only got to look back at the phones we used ten years ago to find, heavy, small screened (in most cases black & white),  low-tech devices. A far cry from the modern touch-screen high-tech mobiles we have now. Of course those phones too were a revelation compared with the housebrick we see Del-Boy Trotter holding in re-runs of Only Fools & Horses. The point being that progress continues to improve all our lives… well except when it's taking you on a short-cut to Deptford, of course.
Ten years of progress has resulted in Suzuki's latest off-roader – the new RMX450Z – being considerably lighter, faster, and better handling than the old DR-Z. And while the new bike has not been designed to replace the DR-Z (which is still listed in Suzuki's line-up),  we all know that the majority of riders will register their RMXs and take them trail riding – and thoroughly enjoy themselves. As a matter of fact the new RMX is categorized as an enduro bike, based as it is on the new (and successful)  fuel-injected RMZ motocrosser. I'll get to the details in a moment, but the point is this, that the lines between enduro bikes and dedicated trailbikes have been blurred by the relentless orange tide. And it's into this gap that the RMX450 launches.
Competitive enough to get Paul Edmondson and Tom Sagar (two-thirds of Suzuki GB's new WEC rider line-up)  fired up enough to state categorically that they'll ride RMXs rather than their much more potent RMZs in the WEC this year. To my mind there are probably better enduro bikes – or at least more nimble and more powerful enduro bikes, that the likes of Messrs Sagar and Edmondson are much more qualified to be able to exploit, but the point about the new RMX is not how powerful it is but just how bloody easy it is to ride – a factor equally as important in the white heat of WEC competition as it is in your local enduro.
Yellow Hammer
The RMX is not exactly new from the ground up. Unlike Honda for example who tend to build and develop a completely new powerplant for every intended purpose, Suzuki don't have quite the same level of resources at their disposal. So when Suzuki claim that the new RMX is based on the existing RM-Z motocrosser, you can be certain that they actually mean it. Of course that could've been an utter disaster as the RM-Z has (I understand from those who've ridden it)  a whole heap of explosive performance at its disposal. But clearly Suzuki has done enough of an engineering job on the new RMX to make it eminently usable in the hands of pretty much anybody.
They've achieved this by removing the RMZ's high compression cylinder head and replacing it with a completely new item specifically built for this application – with a much lower compression ratio (11.6:1 as opposed to the motocrosser's 12.2:1),  and less aggressive camshaft timing. Key to the bike's performance is a Keihin electronic fuel injection system (with progressive linkage),  only in the RMX's case it features a rather more slender 41mm throttle body than the MXer's engorged 44mm item – once again as a way of improving torque. Spent gases exit the engine via a FULL titanium exhaust system by the way. A nice touch.
There's twin oil pump lubrication to keep the motor running sweetly, with one pump providing oil to the top-end of the engine and the other keeping the bottom-end lubed. Suzuki term the engine a semi-dry sump design whereby the bulk of the oil is retained in the gearbox part of the motor so that there's less in the way of drag on the crank. Clever stuff.
Suzuki engines have always had a rep for toughness and durability, with very little going wrong in terms of major component failure and they've obviously designed and built this new motor with the same degree of care. Major service intervals are listed as every1000 miles, there's a 6 months parts warranty and get this… unlike KTM and some other manufacturers, Suzuki don't even list the piston as a serviceable item – in other words there's none of that 70hrs and you have to change the piston nonsense – with the new RMX they reckon that the piston should last and last – even if you're racing.
And I've no reason to doubt Suzuki's claims. After all this motor has been built to withstand the additional power output that the RM-Z requires, so the softer-tuned RMX ought to be absolutely bulletproof. I can see that one fact alone influencing an awful lot of buyers.
Naturally enough there's a wide-ratio 5-speed gearbox located within the cases, operated (in typical Japanese fashion)  by a cable clutch. It's not the lightest of clutches, nor the heaviest either, but this being a Suzuki the gearchanges are as smooth as Simon Cowell's forehead.
You may remember that the DR-Z400 was the first Japanese enduro bike to feature electric-starting, so of course the RM-Z's kickstart-only engine has had an electric-starter added (as well as retaining the kickstart).  And the way that Suzuki's engineered it, with the starter motor sitting just behind the left side of the cylinder and covered by an extended case is eerily reminiscent of the DR-Z400 engine (and the old 350 for that matter).  But as you will read later on, that's not the only similarity with the old DeeArr.
In terms of chassis the RMX features EXACTLY the same twin-spar alloy frame as the motocrosser albeit with a revised swingarm. That makes the RMX marginally shorter (by a millimetre or two),  but there's the same firm but comfortable seat and the same beautifully made 6.2 litre alloy tank. Sounds small I know, and trail riders may baulk at the idea of having such a small amount of fuel on board, but the EFI engine is claimed to be considerably more frugal and efficient than a carb-fed motor (it has received green sticker approval for the state of California no less)  and the benefit is that the slimline and low-profile tank doesn't intrude upon the bike's superb riding position at all. Larger tanks are available in the aftermarket should you require.
Naturally enough the Showa suspension has been revised for enduro use with super-plush 47mm Showa USD forks up front, and a Showa piggyback shock operated by a linkage at the rear. And during our short test I have nothing more onerous to report than the fact that the suspension felt very compliant and set up quite softly as standard.
Other differences from the motocross bike include an 18in rear wheel and steel side-stand, a heavy-duty lighting coil powering head and tail lights (but no brake-light switches or switchgear),  and of course a comprehensive set of digital dials.
It's worth mentioning that the dials can be operated in two modes: standard and sport. The sport mode shows a simplified readout with just timer, tripmeter, average speed and (bizarrely)  tyre-size correction on display; whereas the standard mode features speed, time, dual tripmeters and voltage. A nice touch is that the bike's readout can be configured for any size of tyre diameter (meaning you can adjust it for tyre wear, or the fitment of a smaller 17in SM wheel),  and the dials double-up as a visual confirmation of any fuel-injection/mapping changes once you plug in a power-commander (if you want to make changes to the EFI settings).
Finally there's a side-hinging airbox door and deeper airbox featuring a quick-release filter. Oh and a sturdy plastic wraparound bashplate to protect the lower frame rails and cases from damage by sharp thistles.
All Terrain
All-in-all the changes wrought in turning the feisty RM-Z into a sweet RMX seem clear, properly thought through and well executed. Obviously the RMX lacks the finishing touches of road legality you would find on an EXC or TE for instance, but that's pretty much the norm with Japanese 'enduro'  bikes.
Gone are the towering seat heights of a few years ago, at 955mm the RMX's saddle doesn't feel unduly tall for this type of machine and the firm seat settles you into an excellent riding position. In front of you there's a set of braceless Renthal Fatbars protected by a chunky red barpad, but your eyes are drawn inexorably down to the stylish, shapely yellow mudguard poking out front.
What you don't notice are the rad-panels nor the fuel tank as they're both so slender as to have no bearing on the riding position at all. Truly excellent! The RMX starts at the push of a button (or fairly easily on the kicker),  and there's a fast idle/choke knob in a conventional position just below the left-side frame rail. Pull it out to operate, or turn it clockwise to adjust the idle speed.
The idle speed was set fairly high on the press bikes we rode – presumably to avoid stalling – but stalling did still occur with the still-tight engines. Hopefully this will disappear once the motor loosens up a little.
Also all the press bikes had had their standard fitment baffles removed, but before you start panicking, the stock insert is fitted just to get the bike through Euro regs and is designed to be removable. Taking it out (which is a simple two-minute job)  changes the noise output from the standard 82dB (near enough silent for a motorcycle),  to a pleasantly muted and enduro friendly 94dB. It's not at all loud, in fact you can quite happily start the bike and still have a sensible conversation over the top of it, though of course it does release a little more of the RMX's potential. And that potential was what I was about to explore.
The course Suzuki had laid on for us was a significant part of a GBXC track based down in south Devon. And what a course it was – featuring a mixture of different surfaces, multiple hazards and various elevations. This being December, the ground was slick and muddy, but the mixture of sub-surface rock and the Suzuki's tendency to find traction, allowed just enough grip to make it interesting.
Like all twin-cam motors the RMX can feel a bit 'cammy'  at walking pace and while the fuel injection does its best to keep the motor running at low revs, ultimately this engine is no plodder. Of course it can be trickled along slowly if necessary but you do need to keep one finger on the clutch at all times, and the old bugbear of an inappropriate four-stroke cough-stall is ever present. That said the terrain was that snotty in places, that at times the RMX was crawling along in first and second gear through one or two of the tighter hazards.
Once the course opened out a little however, the RMX was huge fun to pilot around the flowing track and although I don't want you to get the impression that it feels like a DR-Z, it does exhibit that same kind of relentless midrange surge, effortless torque and gorgeous creamy power – albeit there's considerably more than you get with a DR-Z400. That said the RMX doesn't feel overtly powerful, as a seat-of-the-pants guide I would suggest that the X450 feels more like a KTM 400EXC than a Yamaha WR450F. And that's a good thing – especially for a twin-cam motor. We've always found that the WR450F makes a bit too much of the wrong sort of power (especially in slippery conditions)  to help the rider find traction, whereas the RMX though undoubtedly powerful, was also very good at finding traction and utilising it.
Power comes in fairly low down and continues through a punchy midrange to a good, though not exceptional, top-end. I think it's fair to say that power tails away fairly rapidly at the top (though everything is adjustable to some degree with a power commander module),  but by then it's time to shift up a gear and dip into some more of the RMX's succulent midrange. I'm going to reserve judgement until we get the bike on a dyno, but I would imagine that the X makes little bit more than the CRF450X and a bit less than the 450EXC, but this is only based on first impressions.
First impressions also demonstrated how well the Suzuki handles. Despite horrendously slippery conditions I never fell off the bike all day (except when gooning around for photos),  which to me is a measure of getting the geometry absolutely right. In typical Japanese fashion, Suzuki have given the bike fairly quick steering without making it unstable: that RM-Z chassis is ultra predictable and very easy to get turned thanks to being able to slide all the way up the front of the bike without getting stopped by an intrusive tank or rad panels, and an engine which lets you dial in the precise amount of power required.
In fact the Suzook belies its weight which at a claimed 123.5kg (plus 4.5kg of fuel)  makes it about three kilos heavier than a Husaberg 450 (assuming Suzuki's stats are correct – we'll check this with the truth-seeking RUST scales in the new year).
No doubt part of the Suzuki's nonchalance at being able to shrug off technical terrain was a superb set of suspenders. Showa kit is always good stuff and the RMX's suspension was no exception: ideal for coping with the challenging demands of multi-speed terrain – albeit in very wet conditions. You'd definitely want to firm up the clickers a little in dry weather as speeds increased I reckon.
Suspension is more than just about absorbing bumps though, it helps the bike find grip in treacherous conditions and once again I came away from this test with nothing but admiration for the new Suzuki. Aided and abetted by a decent set of anchors – the front a 250mm Nissin set-up was plenty powerful enough without feeling grabby, the rear a 240mm Nissin was gentle and forgiving – Suzuki have made the bike feel absolutely secure in all manner of riding conditions.
Judgement Day
I know that an awful lot of riders are waiting to read the RMX's reviews before committing to purchase. It's difficult to really make a telling judgement on a bike like this when thanks to short winter days and the need to get photos, the testing period is relatively limited – though we'll be testing the bike again in a shootout in the near future. That said a brief foray onto the Devonshire trails in the afternoon really confirmed for me what this bike is all about.
Zipping along in third, fourth and fifth gear with the suspension soaking up every bump and hidden pothole without unsettling the bike at all; easily being able to pick the central line along ruts without the need to take a steadying dab and with the utmost confidence in its handling; and powered along by an engine that can be relied upon to offer sufficient grunt at the precise moment you need it to get you out of trouble, makes it a mighty fine trail tool in my book. Then when you get to a gate there's a decent sidestand with a proper foot to keep the bike upright in the rich Devonshire mud.
Yes the RMX has been built as an enduro bike, and it fulfils that role perfectly too – no doubt about that. It's a typical Japanese machine: ultra reliable, ever so slightly conservative in terms of handling, performance and weight saving, and extremely well put together, though it lacks some of the finer details or cutting edge style of a European machine.
But I'm going to stick my neck out here and say that this RMX is going to go stratospheric in terms of sales – at least for a year or three. But I'm going to temper that by saying that I think it may date reasonably quickly. Not the styling as such, but more the fact that the Suzuki doesn't offer anything new, nor move the game any further forward with this product.
What they've done however is build a brilliant DR-Z replacement (actually it's a whole lot more than that, but you get what I mean),  a bike for the new decade which will see trail/enduro riders enjoying their sport for the next few years to come. And best of all they've done it a really competitive price.
And this last nugget of information is absolutely key to the RM-Z's success, because along with a good product, a healthy dealer network, a reserve of existing customers (many of whom will have owned, or will still own a DR-Z400),  Suzuki have pitched the new bike at an astonishing £5899 (full rrp in 2010),  seriously undercutting all the opposition by a healthy margin.
Yes I know the bike is not road registerable as it comes and there'll be a good few quid spent in putting a plate on the back, but that's not the point. The point is that Suzuki has launched a brand new model which is not only long overdue, but also bloody capable and at a half-decent price. Form an orderly queue right now…
Thanks to: Luke, Helen and Richard at Suzuki, the guys from Wheeldon Farm (lovely bunch of blokes who will take you trail riding on the new RMX – call them on 01548 821784),  Paul Eddy and Tom Sagar, and Ray Archer for his limitless patience and fine Geordie humour!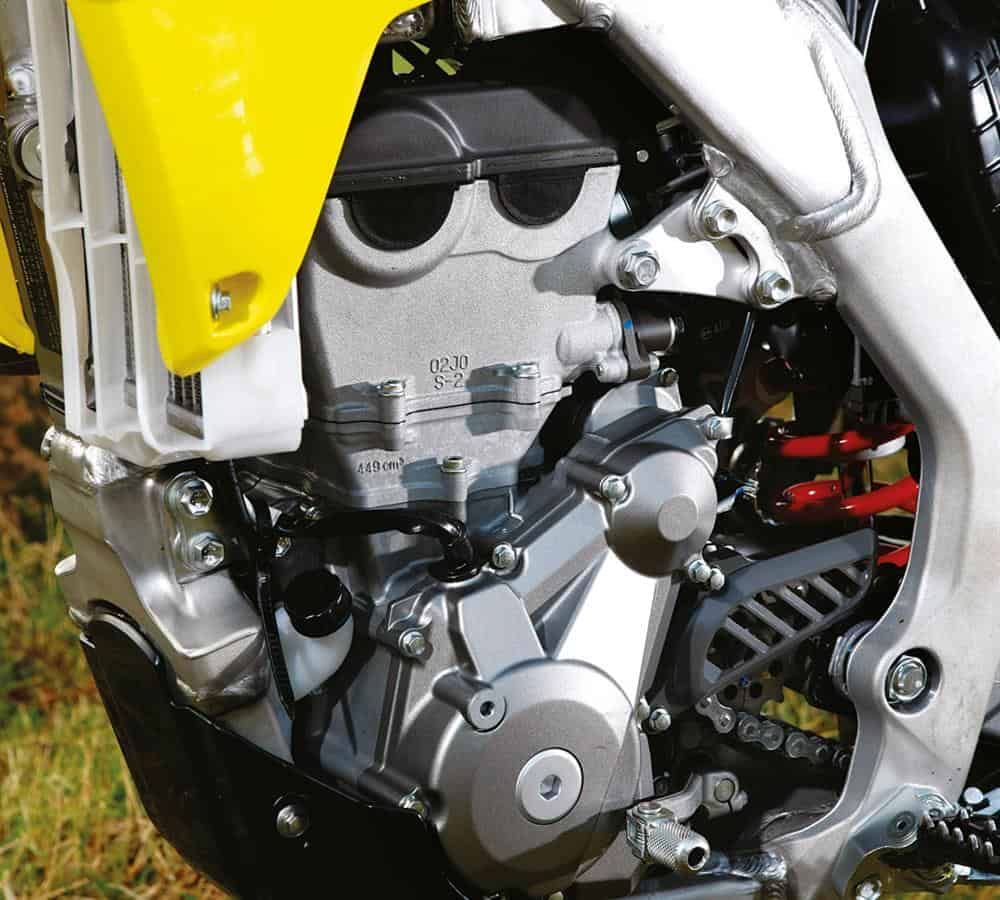 Suzuki RMX450Z
Price: £5899 + otr (When published in 2010)
Engine: Liquid-cooled, DOHC, 4-valve single with EFI & dual start.
Frame: Alloy twin-spar
Wheelbase: 1480mm
Seat height: 955mm
Ground clearance: 320mm
Front susp: 47mm Showa USD forks
Rear susp: Showa piggyback shock with linkage
Front brake: 250mm Nissin
Rear brake: 240mm Nissin
Fuel capacity: 6.2L
Dry weight: 123.5kg (claimed)