Revered and feared in equal measure, Kawasaki's two-stroke KX500 may not have been as popular as its Honda classmate but it did come with a brutal, powervalve-equipped engine. So what on earth possessed Si Massey to rebuild a KX with a bored AND stroked motor?
Ever wondered where all those old bikes, those once great machines that are now considered just SOO last century, go to? Perhaps they're all simply sitting unloved and unridden in peoples' sheds; Maybe they get used as donor bikes for foolhardy magazine projects; Or could it be that they're all bent and broken, clogging up the waterways of the UK canal system?
Thankfully, the immaculate 1995 KX500 you see before you didn't end up consigned to a watery grave. Instead it was left languishing in boxes in someone's bedroom! And it was in this state that reader Simon Massey bought the bike.
Now normally, when buying a box of bits that's supposedly a complete motorcycle, you end up finding a few odds 'n' ends that are either missing, broken beyond repair or turn out to be from a 1982 MZ ETZ250 (fine if you're expecting a clapped-out East German relic, not so good if you aren't). But in Simon's case, this couldn't be further from the truth. 'The bike was just a frame and six boxes of parts', he explained. 'Even the spokes were stripped out of the wheels. But the guy selling it said that if there were any bits missing, or if I had second-thoughts and it looked like too much of a project, he'd give me my money back'.
Clearly Simon didn't have any second-thoughts – he's one of those people who can't help but tinker. As a Fizzie-riding youngster, his father took him out into the garage to strip the motor of his diminutive Yamaha 'just so I knew how it worked'.
Having bought the 'bike' in November 2005 Simon spent the first week of the project out in a freezing cold garage, getting covered in paint stripper removing the original finish from the steel frame. Along with the swingarm, this was then sent off to be powder-coated deep gloss black – the result being what Simon describes as a 'gorgeous job'.
The wheels that came with the bike comprised of polished Excel rims with mauve, yes mauve, Talon hubs and these too went off to the powder-coaters. However the wheels didn't turn out quite as well as the frame. 'The guy didn't prep the rims properly', Simon recounted, 'probably because he was always stoned! I took 'em to Hagon to get the wheels built up and when they put the tyres on half the 'coating fell off!'
While the wheels were away, Simon renewed every single bearing on the chassis and sent the stock pegs off to be sandblasted. A set of KX125 yokes were fitted (pretty much slotting straight in), holding a pair of late model, albeit stock MX spec, KX250 forks. So to make them slightly more road-suitable heavyweight fork oil was used and the clickers tweaked to suit.
Smoke Bomb
As with any project, not least a 12 year-old motocrosser, Simon 'kept finding one little job after another'. Though by far the biggest aggro was the motor. And what a motor! The barrel came pre-tuned by Steve Clitheroe Tuning, with what Simon described as 'knife-edge ports'. Jet-ski fettler Chris Appleby lightened and balanced a modified crank and the motor was put together with a custom small-end bearing (with a marine cage and Ti washers 'for better oil feed'), a CR500 con-rod and a +40 thou Wiseco kit – resulting in a displacement somewhere around 580cc. The gearbox had already been rebuilt before Simon bought the project, though the engine builders refused to work on the motor without checking the gearbox too (just in case the 'box went bang and they got the blame). While everything was apart a Hinson clutch basket was added to the long list of mods.
Only once the newly built-up motor was back in the frame, Simon found something wasn't quite right. So back the engine went, and back apart it came. 'The crankcases had warped', stated Simon, matter-of-factly. 'The guy put them on a sheet of glass and they simply rolled around!'
Now you might think that this would spell disaster, I mean, decent KX5 crankcases aren't exactly keeping eBay share prices buoyant or Kawasaki dealers in new Mercedes. And you'd be right. Well, half right. Because whilst you won't find huge stocks of KX500 bits at every dealer, Simon found himself a reliable supply of parts. 'All the bits came from Cradley Kawasaki in Birmingham', he explained. 'And they've been excellent. Every single part I've ordered, with the exception of the cases which they had to get shipped, have come off-the-shelf'.
And so, with shiny new cases, the motor was finally ready to go, dressed up with a Boyesen ignition cover, new coolant hoses, and a set of V-Force reeds nestling between the barrel and the Keihin carb.
Smoking Jacket
The actual rebuild phase of the project started in earnest at the end of last summer. 'I simply piled into it, working on the bike most evenings. And my friend Mark helped out every step of the way', stated Simon.
The KX's distinctive up-and-over front pipe is now a Pro Circuit part, linking to an FMF silencer at the rear. The SM braking upgrade was achieved with a Talon 320mm disc and, hanging from the forks with a specially fabricated bracket, is a twin-pot caliper from an old CBR600.
For the controls, Simon fitted a pair of graphite-coloured Renthal 'bars, with a pair of Reikon levers hiding behind the Acerbis handguards.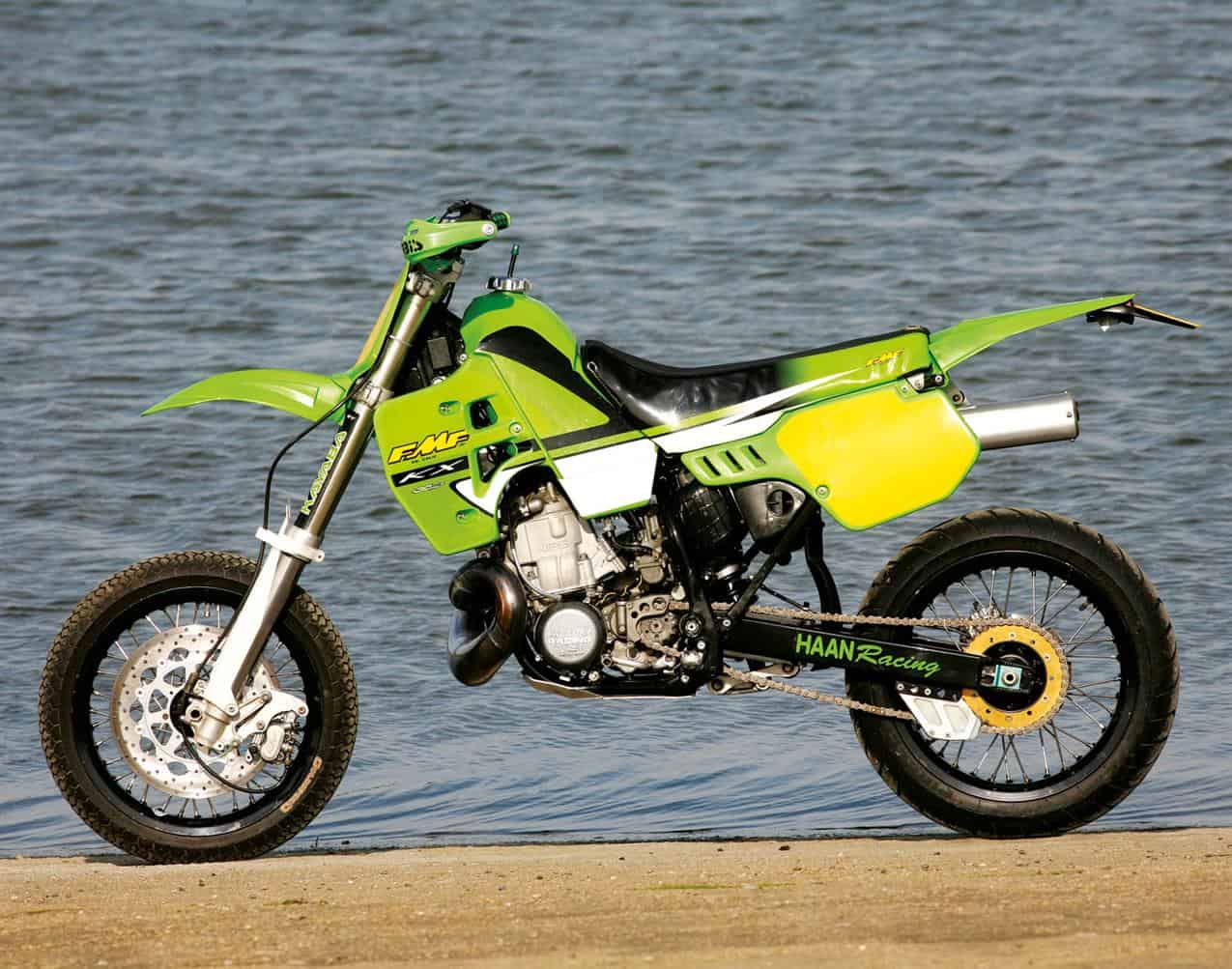 As you'd expect of an old 'crosser, the original plastics (if they really were the originals) had seen better days and so a fresh set was obtained. Had Simon even been able to lay his hands on one, a new KX tank would've cost the earth. So he simply polished up the old part. 'I spent a day with a polishing mop getting all the scratches out,' laughed Simon. 'I was literally covered in compound!'
Now I think it's fair to say that a standard KX500 certainly looks a little dated, what with its short rad scoops, droopy front fender and seemingly sagging rear-end. So Simon decided to update the styling with a couple of well-chosen parts…
Big floppy MX front fenders never work with motard wheels, and even cut down they can look decidedly strange. An Acerbis Supermotard fender gives the front-end of Simon's KX a much needed facelift. The flaccid-looking rear-end also received a bit of a lift with the fitment of a fender from a 2006 KX250F. The new fender was two days in surgery as Simon shaved enough plastic off it to ensure a proper fit with the standard sub-frame. And I'm sure you'll agree, the result was well worth it. The new fenders have really transformed the look of the Kawasaki, giving it a more modern appearance, not to mention a meaner stance with that kicked-up rear-end. It's easily one of the best-looking KX5s we've ever seen…
And with the plastics in place the bike was treated to a set of 2002 N-Style graphics. (Although the KX5 was long since dropped from the UK range, it isn't so long since they stopped selling the bikes, and aftermarket parts, Stateside.) The Haan Racing swingarm stickers were made up by a friend, taking 'Haan' from the wheel company of that name and the 'Racing' script from aftermarket company Joker Racing.
Smoke Alarm
By January this year the 500 was up and running, and Simon took it for a daylight MoT (one which requires no lights but restricts you to riding in good visibility) to 'see what it would fail on'. To his surprise, (not to mention testimony to his attention to detail), it passed first time. Next stop, the DVLA and an appointment with 'a jobsworth in an anorak' to get it registered…
Having secured a registration number all that was left was to add an LED brake light – not strictly legal for a daylight MoT but safer than not running one – and ride the wheels off it!
Following Simon as he threaded his way through East London traffic on the way to our photo location the big KX looked surprisingly civilised. It didn't cough, splutter or hunt on a part throttle half as much as a cantankerous two-stroke can. The noise from the expansion chamber rang off bus shelters and shop fronts, and the sight of a Mean Green motocrosser with small wheels caused something of a commotion amongst the school kids and mid-day shoppers, with more than a few people mouthing 'what the f**k is that?' This bike certainly stands out! Though not, it would appear, enough to avoid nearly being sideswiped by a car pulling out from a parking bay into the slow moving traffic!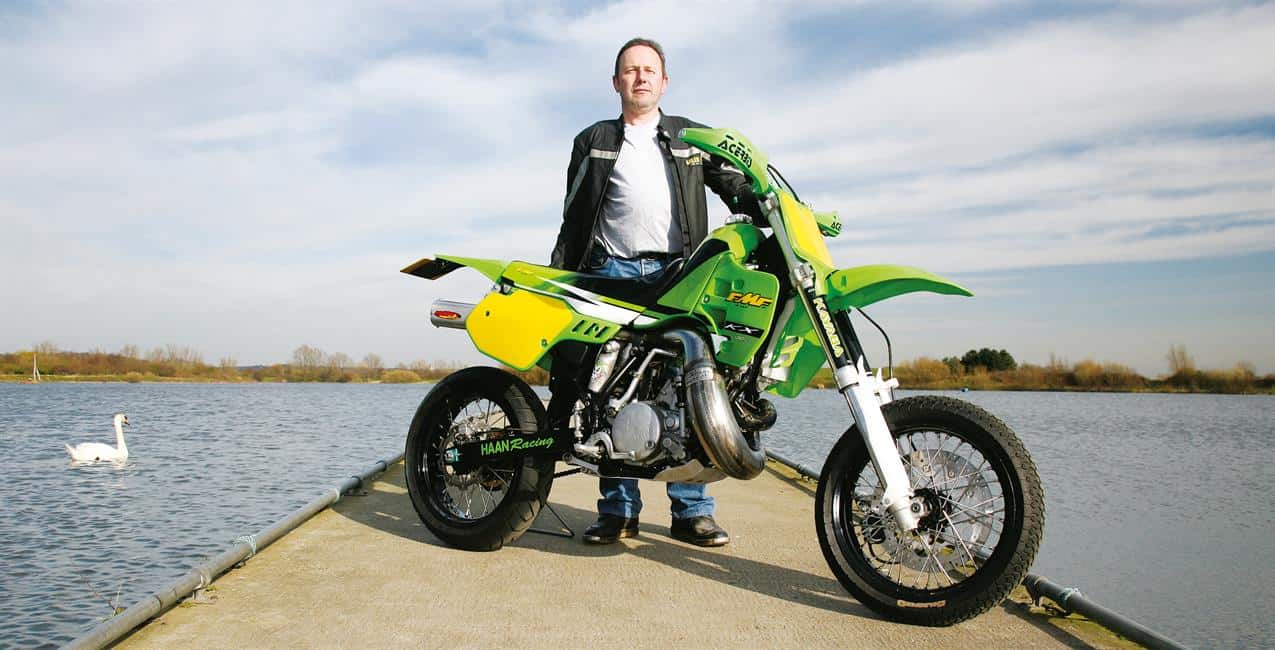 Smoke Out
Despite being Simon's first rebuild project the Kawasaki's by no means his first SM. 'I previously had an XR400 dirtbike', Simon recounted. 'Then a friend brought round a copy of issue four of SMM, with the converted XR650R in it. Two days later I drove up to Norwich, to CJ Ball [the Honda dealership who'd converted the feature bike], and ordered an XR650 with all the bits'. Since that day five years ago, Simon's owned an incredible 14 other motards including a CCM 604, FOUR Huskys (three 610s and a 570), a 650 'Berg, a couple of 525 KTMs, a trick ex-race YZ426 and another KX500! So how does the 500 compare with his previous bikes?
'The power's brutal. In fact, twist the throttle and it's hard to keep up with what's going on!' he stated with a smile. 'I just wonder if I'm not a little too old to ride something like that'. No doubt the fact that the overbore is right on the limit of what a KX cylinder can take (meaning should that big piston scuff the expensively-tuned barrel then it'll require a new cylinder) was also whittling away at the back of Simon's mind.
In fact, Simon's doubts about the Kawasaki have meant that he's now moved the green machine on… and bought himself another 520 KTM, this time an ex-race 540 with a daylight MoT that's 'been raced to death'. Cosmetically it doesn't quite meet with his usual high standards but it's apparently mechanically strong. And having previously received a good level of aftersales service from the Brackley importers with his other KTMs, he's confident in his latest orange purchase.
So the Kwaka has found itself another home, joining a number of bikes in the new owner's collection. And hopefully it won't end up gathering dust at the back of his garage…