BMW's new R1200GS is an amazing bike, an ultra-adventurer with superbike power and space age technology. This creation, the Touratech Rallye is an unapologetic speed machine alive with the spirit of the Dakars of old. RUST's Jon Bentman is the only journalist in the world to have ridden it. He's still shaking…
I have Jochen Schanz's words ringing in my ears. 'You eat with your eyes first,' he said. We'd been discussing the design of his Touratech (TT) R1200GS Rallye machine. I'm now aboard that bike – only the third person to actually ride it after Jochen and one of his engineers – and I'm riding on gravel. The TT Rallye is snarling offensively from its carbon fibre AC Schnitzer exhaust – man it sounds mean – and any time I tweak the throttle it snaps forward with such brutal aggression that the traction control kicks in almost immediately.
In fact it's too invasive, you can't ride, let alone judge, a bike based on repeated split-seconds of brute force. The riding aids are going to have to be switched off. I don't want to switch them off, I enjoy life too much, but this is obviously going to be no kind of a ride with them on. So you eat first with your eyes… but where do you first feel fear? My gut gives a little involuntary spasm as I flick off the switch and prepare to go again.
Silent Power
Jochen Schanz is the almost silent partner at Touratech AG, the motorcycle adventure accessory specialists based in Germany. Yeah, he's the joint CEO, while Herbert Schwarz is the very visible 50 per cent. Jochen is the back room guy. He's happy working on the firm's technical and production aspects. The firm's output is prodigious, every year they increase their catalogue by some 500 products. And so Jochen's kept busy, and happy, keeping this super-company rolling smoothly along its (gravel) path. But actually Jochen is a motorcycle adventurer too. It's how he and Herbert buddied up in the first place, on a long distance run across central Africa. And first and foremost Jochen is an enthusiast.
Which meant that when BMW released their all new K50 'wasserboxer' R1200GS last year, here was a bike that Jochen took quite a shine to. More than that, here was a bike that he could see had the potential to be his dream bike. Only Jochen's dream bike was not a full-dress adventure machine at all. No, he wanted something far more visceral. Like so many bikers of a certain vintage, he'd grown up to New Year images of super desert racers charging south towards the Senegalese capital, Dakar. So Jochen's dream bike does not have Zega Pro panniers… there's not even space to store a toothbrush on his super-GS.
Sportive
'I wanted to have a little more of a sportive bike, rather than a tourer-travel bike' says Jochen. 'We have a lot of travel bikes at Touratech, so it was good to have the possibility to make a more sportive bike. I wanted a different feel, where I'd be sitting more on the bike than in the bike. It's important for me to be able to get over the front of the bike, to put weight through the front tyre, and to have perfect suspension. It has to be a bike to drive with a bit more fun, a bit more speed, on the pistes – the gravel roads.'
Jochen is of course in a perfect position to turn his dream into a reality. There are approximately 15 designers and engineers working in Touratech's R&D, busy creating everything from crash bars to panniers to riding suits. Guys who'd be only too happy to park their CAD programmes for a week or two to create a full-size concept bike.
Three key figures came to the fore, Touratech's lead designer Bart Van den Bogaard, Lars Würdemann from their specialist suspension section and Dirk Bendl from sister company TT-3D, a team who are based in Munich (suspiciously close to BMW if you ask us!). Bogaard led the overall design, Bendl was charged principally with the clay modeling while Würdemann set-to customising the suspension and associated technologies, using Touratech's latest semi-active suspension systems.
The team worked fast. The project needing to be designed, built and finished, in a matter of weeks, as Jochen could see the marketing value in a public airing at the EICMA motorcycle show in Milan (at the end of 2013). Two bikes were used to ensure double the progress, Bogaard and Bendl working on the design with one, Würdemann working on the technologies on the other.
The result is quite unique. Thanks to the vision and the background of the four principle characters, the Rallye is a modern twist on an old idea. There are elements that hark back to the heady days of Paris-Dakar on big hyperbikes, but there are styling cues that are entirely contemporary, with a long flat saddle, a narrow mid-section and high and wide handlebars, set quite forward. Bars, pegs, seat – they're all MX/enduro inspired. The big motor – well there's a bit of Hubert Auriol about that, a bit HPN works BMW racer there. The bodywork is simplified, the angular design is Touratech's own, and nowhere can you see even a single aluminium bracket. Not even for mounting a GPS!
'Although I started with travelling from childhood, my interest is also racing,' says Jochen. 'And I think these two are complementary; for instance travelling in Africa and racing – you can combine the two things and the result of these two interests will work for both. We had a race team as part of our R&D (Touratech have in the past built and raced their own Dakar racers based on the BMW F650GS), and that gives us a lot of experience in the materials, in terms of design, strength and durability.'
Rodeo Time
Jochen and team would seem not to have exorcised – but rather embraced – the beast that lies beneath the wasserboxer's mild-mannered exterior. They've not tuned the motor as such, but the exhaust says otherwise and liberates a few more ponies. Meanwhile, shorn of at least 15 excess kilos, and riding on race-firm suspension, the TT Rallye is 100 per cent attitude. It gets the heart pumping the way a proper race bike will. There's a sense of anticipation that you need to dig into such reserves as you have, and bring along your A Game to ride it.
As Jochen intended, you're not sat in the bike but right on top of it, on a rather firm saddle. And initially that feels a bit precarious, with the bike responding so readily to the throttle, the imagination is want to think of a rodeo bull throwing its rider. When we transfer from tarmac to gravel there's more to consider. In full electronic-assist you're constantly tripping the traction control. The bike growls then spits in distain as the power is interrupted.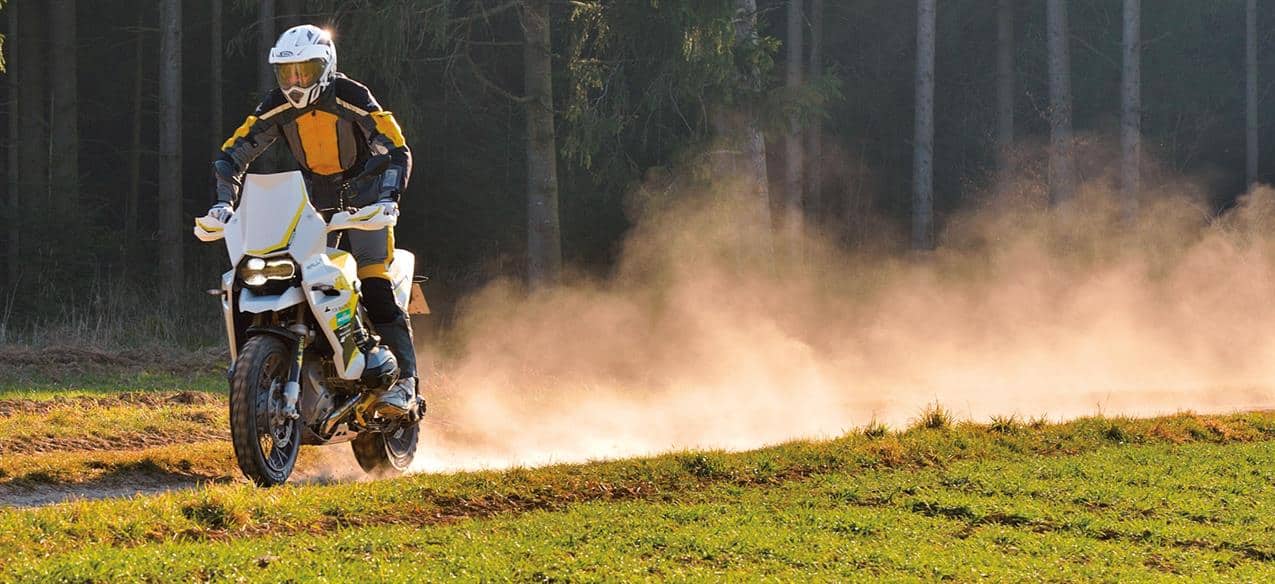 But slipping the noose – swapping the engine map to 'enduro pro' is what you need to do, to regain control over the rear wheel. The anticipation is probably much like flying a plane solo for the first time – but in fact the bark is initially worse than the bite…
Or not! On gravel, with a full 125+hp, the back spins up almost immediately, the Metzeler Karoo 3s look real chunky but the GS will rip them apart in very short order if you allow it. You accelerate, it spins, you short shift to second, it spins more, then third… it would keep going, the power is too huge to care about the internal ratios of the transmission, this brute will rip even in top gear.
Of course self preservation cuts in, you're getting warnings such as the back sliding out so far sideways it sometimes appears in your peripheral vision, so you steady the throttle rather than risk a big heavyweight broadside into the undergrowth. And in this instance it was necessary to throttle back rather then pepper the photographers with gravel. 'Pepper' not being the right word there, stones flicked off this beast will probably tear through flesh like hot lead from a Luger.
It's not all bull-on-steroids though. The flat twin boxer layout retains that lovely low centre of gravity feeling it's always had, and when you slow down to a walking pace you can easily make feet-up, full-lock U-turns aboard the TT Rallye. The bars, as per Jochen's preference, are high and set well forward. Perfect for the attacking riding position. Even the seat is designed for this, with the necessary suede friction grip on the top, but slide-y vinyl on the sides. The foam is as firm as any competition enduro bike, I'm not sure I'd want to do too many highway miles on it.
The suspension feels good. The GS already has a pretty sophisticated set-up as standard, but Touratech have taken the semi-active system and given it the bespoke treatment. Thus spring rates and damping responses have been customised to one man. A few years back and a ride off-road on a GS was accompanied by a lot of clanking and wallowing as the Telelever and Paralever systems struggled with the rapid irregularities of natural terrain. But the TT Rallye tracks confidently and quietly. There was no jarring, and with the connection between tyre and terrain so improved you could ride the loose stuff with a lot of confidence.
The ABS braking system allows more confidence still. This latest incarnation of ABS by BMW feels easily the best yet. With 'enduro pro' mode engaged, the system was allowing a lot of braking force through the front tyre where in years past, it would have been repeatedly releasing the pressure too early. Meanwhile the rear was allowed to lock as it wanted. In fact the rear was a natural slider and it was possible to brake slide it into turns. This wasn't quite Christian Pfeiffer standard, but the TT Rallye was so easy to ride like this you could certainly exploit such traits more and more.
Phantom Menace?
The TT Rallye is as Jochen intended, a 'sportive' ride. It's not meant to be a straight out racer. And frankly racing a bike like a 1200GS, even as tricked-up as this one, has to be bad for your health. Big bikes don't bounce. But Jochen's TT Rallye certainly has the essence of rally within it. It feels taught, aggressive, ultra-powerful and just-for-fun it has a sense of menace. It's a bike that'll need to be afforded a good measure of respect, but at the same time it's going to be hugely rewarding.
Jochen says there are (currently) no plans to put the TT Rallye into production, either as a complete bike or as a kit. That's probably social and corporate responsibility having an effect there, or it could well be reverse psychology at work. For now, as a flagship to show the company's capability, to show that they have heart if not to say a reckless-edge, then it certainly delivers. Jochen's taking it to Morocco soon. Hopefully the locals will stand well back…
Here's a video showing our man JB getting to grips with the Touratech BMW (TT)R1200GS Rallye. Enjoy
Building the Touratech R1200GS Rallye
with Jochen Schanz & Bart van den Bogaard
RUST: So, where did you start?
JS: I was really excited by the new R1200GS, I could see the potential. As it is it's designed for two-up and touring uses, I didn't need that but I liked the engine, the suspension and the frame, I could see from that base we could build a big rally bike with a good look, good design and nice bodywork.
BvdB: This is not the first bike I've designed, I've worked on many in the past. Also I ride a GS myself and have changed it quite a bit to my needs – again with a more sporty feel, with different seat and screen. So I was completely with Jochen on creating a ride position on top of the bike as against sitting in the bike. Being from Holland I've also enjoyed following the Dakar Rally and I've watched it from a young age. So I understood the idea of making a rally-style bike with high Dakar feel. It was very appealing to me. And then integrating that with the design language we have developed at Touratech. That's why it's got a lot of angles, because this is TT, we do a lot of angles. We don't do rounded stuff!
RUST: You had just weeks to go from scratch to completion, did that compromise the design?
BvdB: All designers like a little more time… it's normal. On one hand you can endlessly discuss your design and change it and change and change it. On the other hand it doesn't always get better when you take longer. The thing you have to trust to when you have limited time is your experience and gut feeling. With our experience – me, Jochen and Dirk – we could very quickly decide what is good or not good. It's not the first bike for any of us, we have a wide range of knowledge to call upon. And of course if it feels good it probably is good. And that helps in a project like this. You need to make quick decisions. Every line, you should ask is this good? Yes or no. Then move onto the next line and the next.
JS: It was easier because we had a dream, a picture in our mind, it was really clear what the result of this bike had to be. We worked together with two bikes in parallel, one with our sister company TT-3D, with Dirk, for the clay modeling and one with Touratech for the technical parts, so we were able to speed the project along, halving the time.
RUST: Did you use computer modeling?
BvdB: No, it's not computer generated. After initial sketches we started with cardboard, to do certain volume explorations. We designed in cardboard in just one week and when everyone was happy with that we went to clay. Clay is completely tactile, you have to work it by hand and quickly – because clay dries quickly. It's very nice to do the whole design on a computer but still you need to have a product ready by a certain time. And as this had a limited time, this was the way.
Even where designers have worked on computers they've often found the design has not worked at clay model stage, the feeling is different – so you need to stand next to it and have the complete feeling. And with the motorbike this is even more important because you have to sit on it, it has to fit the person and that is very important, so research in seat height and handlebar position was crucial to the first stages of design. Get those right and the rest will flow.
RUST: Was there a big weight saving?
BvdB: Not so much, it was only 15 kilos lighter [not counting the exhaust], it's not a huge amount. To save more weight you'd have to dig in deeper and change significant components like wheels, axles etc. The frame is a frame, you can try and take kilos off but it still has to function. The rear subframe you can make in aluminium and it'll save you a kilo but then you have to go into every detail. With race bikes that's what they do, they spend a lot of time and money on every detail. But that's not the issue here. This was not intended to be a race bike.
JS: Also we wanted to keep certain items in-situ for safety, like the headlight – if you compromise on that kind of quality and performance you can save more weight, but that was not our focus. Functionality is important.
RUST: You've vastly simplified the bodywork compared to the standard GS. Was that one of your goals?
BvdB: Yes, for instance just around the tank area where BMW have six or seven components we're down to just one.
JS: We designed it so that the parts can be removed very quickly, you can strip this bike completely of the bodywork in just one minute – there'll be only the engine and framework left.
RUST: And now you're taking it to Morocco to test.
JS: Yes, for a few days of travelling and testing. It will be possible to make special pannier racks and to add some aluminium cases. But for now I'd like to keep it as it is. We'll be travelling light with a soft luggage system. I'm really looking forward to it!