Yamaha's WR250F is long overdue a revamp. Anticipated for years – never arriving. But now there's a revolutionary new YZ250F and we're betting it will be the basis for the new WRF. A bike that has the potential to blow the doors off KTM's 250EXC-F. We ride it… (This article was written in 2014 not long before the launch of the new WR250F)
Behold! This is the next enduro bike Yamaha will build. It'll arrive in time for the 2015 season, and when it does, history will repeat itself and Yamaha will turn the established enduro order on its head. This is the bike that will take the fight to KTM, and we have already ridden it – or at least something like it…
F in First
It's ridiculous to think that it was 13 years ago that Yamaha first launched the WR250F. A bike that is still in production now, and meant to sit at the sharp end of Yamaha's enduro range. Here at RUST we recall the excitement that surrounded the launch of the 2001 WR250F as if it were yesterday. The 250F brought a whole new dynamic to enduro. And this new 250F – you can see just by looking at it – could well do the same.
Yamaha have a strong history in enduro, dating back to the late 1960s and the DT-1; through the awesome ITs of the 1970s and 80s; the astonishing two-stroke WRs of the 1990s, then the all-conquering four-stroke WRFs that first blasted into enduro in 1998 with the WR400F.
But over the past decade KTM have come to dominate the sport, and whilst Yamaha haven't exactly disappeared from the scene – in fact go to Australia and they still rule the roost, winning national enduro titles, the WR450F being one of Oz's all time best sellers – the lack of updates for the WR250F has cost Yamaha market position.
Here in the UK Yamaha are not #1, not even #2, and the current WR250F is well into its eighth season without an update. To all intents and purposes it's been consigned to the category headed 'trailbike'. But with a new WR250F based on the 2014 YZ250F, chances are Yamaha will smash the market wide open again. Big words, but read on, it's quite probable it's going to happen…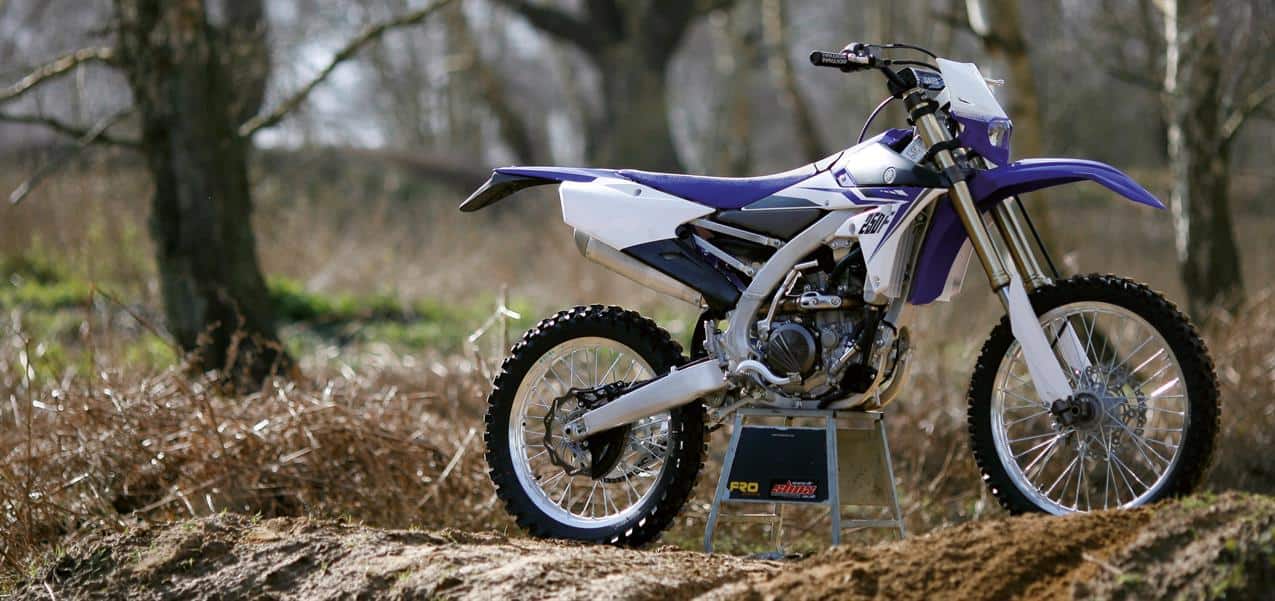 THE 2014 YZ250F
The latest YZ250F is special. It's arguably the most progressive, most technologically-advanced motocrosser in the paddock. Okay, it's using the tech we've known in the YZ450F for a good four years now, but in the smaller bike it seems that tech comes alive in a much more dynamic way. It takes fuel injection, a reverse-layout motor with backwards tilted cylinder, and with a repositioning of the fuel tank, airbox and exhaust it takes mass centralisation to a new level. And all that makes for a machine that becomes much more agile.
Empirically it's not all that much lighter than the current competitors, but dynamically it feels considerably lighter and subjectively it feels light years ahead. It's the MX2 bike that thinks it's a 125 only with 40-odd horsepower (spread generously across the bottom, mid and on to a screaming top-end). It's got the necessary speed, it's got the handling to match and it's got its own unique styling. What's not to love about the new Yam? Of course it's not stealing the big wins just yet, but often in motorsport it takes a season or two for the technicians to get to grips with the new kit and what it can do.
Now the YZ250F is of interest to us enduro people because the smart money is on this bike being the basis of the new WR250F. History supports that notion. Back in 2001 the connection between the then new YZ250F and WR250F siblings was very strong.
So the WR was effectively a YZ250F with a softer tune, a headlight and tail-light, a lighting coil, with enduro-friendly suspension, a bigger fuel tank and a quieter pipe. The frame was very similar, the motor was a near-identical twin-cam, five valve (Titanium) water-cooled single. It was still fitted with a five-cog gearbox… only the cams were slightly softer, the radiators slightly bigger, the gearbox was the requisite wide-ratio pattern and it had a sidestand.
Back then I was editor of Kiwi Rider in New Zealand and we tested the YZ250F back-to-back with the WR250F at a natural terrain motocross track. Amazingly, with the same expert rider, the two Yamahas turned almost identical lap-times. Where the YZ gained for having a harder acceleration and could take on the biggest jumps, the WR was the easier to ride and with more compliant suspension it could really fly through the tricky small stuff where the YZ got loose on its firm suspension.
We didn't have a name for it back in 2001, but what Yamaha had adopted then was what we now call common-platform engineering. You've heard that term before of course, it's existed in the automotive industry for many years, and more recently from Stefan Pierer of course, when talking KTM and Husqvarna. But just lately TBM heard that same expression being bandied around at a Yamaha launch, only clearly with an internal application in mind. And it hails from sound economic reasons.
Because when it comes to production line efficiencies, costs of tooling, to turning a profit from what are low-production run items then it stands to reason to make a common basis for a number of machines. And so, it would seem Yamaha are intending to create their next WR250F on the basis of the new YZ250F.
Making a 2015 WR250F
Technology has inevitably moved on over the past 13 years and the humble WR250F has been left behind, no question. But actually, some aspects of the design have persevered. For instance the fundamental architecture of the old WR remains the same in the new YZ: it's the same 77 x 53.6mm bore and stroke, only the surrounding tech has changed. So while we thought an 11,000rpm rev ceiling to be giddying in 2001 (13,000rpm claimed), today we can genuinely take that same piston to 13-14,000rpm.
That's achieved by way of reversing the cylinder, angling it backwards a good 16.7º from the slightly forward lean of the 2013/14 motor, by losing a valve (five become four), decreasing the included valve angle and then adding a near-straight run for the incoming charge – provided by way of digital fuel injection from a fairly hefty 44mm Keihin unit. That's a fair bit bigger than the FCR37 Keihin carb that was fitted conventionally – in a horizontal plane – behind the cylinder of the YZ/WR in 2001. And that's 20% more capacity to breathe (by cross sectional area). If claimed power figures weren't so flagrantly fictional (or in any case nonsensical) then we'd publish them here. Suffice it to say that while RUST's long term WR250F (a 2013 model) has been dynoed at 25hp, Yamaha are confidently claiming the new YZ250F will make 40hp at the back wheel. Fancy a WR250F with 50-60% more power?
In terms of general dimensions, again the new YZ250F doesn't seem so different to the WR. Wheelbase on the YZ is 1475mm, on the WR it's 1485mm. Rake and trail – the YZ's 26.5º/118mm compares with the WR's 26º/113mm. Even the fuel capacity is separated by just 0.5 of a litre. The big difference then, is in the weight. The YZ250F now weighs in at a claimed 105kg compared to the WR's 117kg – that's fully loaded too, yep – oil and fuel included.
You can see the potential. Obviously enduro-ising the YZ motor will take off a few peak horsepower, and some power will be lost in order to meet emissions regulations. But if you're starting at 40hp, chances are the new WR could still be left with a strong 32+hp… which pitches it right in 250EXC-F territory, and then some.
Now let's talk about weight. We'll add 2-3kg for an electric start, then lights, a sidestand, a heavier silencer, a speedo-computer, but there's not much more. Say all-up that's plus 6kg, making a new WR250F in the region of 111-112kg. Or in other words, exactly like-for-like with the 250EXC-F. So that's an equivalent mass and slightly more power than the KTM. Let's be generous to KTM and say neck and neck for the E1 title. It would all come down to real world performance.
Riding the 2014 Yamaha YZ250F
For now the 2015 WR250F doesn't exist, so we'll have to ride the motocrosser and see what it has to offer and then figure out how it'll convert. And there's a lot on offer…
First impression with the 2014 YZ250F is the incredible lightness. It's light to pick off a paddock stand – probably because aft of the swingarm pivot there's so little mass, with the exhaust pulled 190mm inboard, with no airbox (it's behind the headstock), there's just the lightest alloy subframe, a seat, mudguard, the swingarm and wheel. The overall weight is actually not that far from current MX state-of-the-art at 105kg, but like Yamaha say, it's properly centralised.
Next impression is just how sweet the motor runs. This is kickstart only, and with a capacitor to run the fuel injection it takes just two quick strokes on the kickstart before giving it the proper boot. It fires up easily and it revs freely – with sweet sharp 'BRAAAPS' accompanying any twist of the throttle. It's not loud either, motocross regs have been brought into line with enduro, so this machine should pass the 94dB requirement.
Into gear and the ride immediately is tip-toe light. It's dancing over the bumps. A little too much, but that's because this test bike is fresh out of the crate and the suspension still to be bedded in. Much too hard for enduro though, with 0.47kg springs in the forks, and a 5.7kg shock spring, it's designed to cope with huge doubles. On the upside, these are world class Kayaba units… with a change of springs and a simple revalve they'll be plush-as for enduro.
The power is both right and wrong. The right bit is the strength and breadth of delivery. Good bottom, good mid, coming in nice and punchy. Once run-in we're told there's a screaming top end too, the riders at the world launch loved this motor. But as it is for enduro it needs modifying. The response is probably spot-on for supercross, where you need to go from a standing start to the fat part of third gear in just yards to carry you over a 75' triple jump. That kind of a kick here, among the roots and ruts of an enduro track, is just too much. It'll need all the softening-off that a lighting coil and heavier flywheel can muster. Whereas the factory will use a combination of ignition timing, exhaust and probably cam profile to achieve the same result. That said, once in third gear the power is incredibly rideable. You can bog it slightly and the cable-actuated clutch is super-light (who needs hydraulics?!). It rocks along real easy.
Once you get the hang of the suspension and the ballsy motor everything else starts falling into place. The lightness in motion makes it feel like a 125. No really! The YZ responded to the lightest of inputs. For our fellow tester of expert skills this parlayed into jumping sweet 'doubles' over the gnarliest of whoops and holes. And the bike feels small too – you can easily pull yourself front to back, side to side, to push it down into the track, or alternatively levitate it over the worst. There's a feeling of going beyond the normal parameters and we've got to be hoping that not too much of this is lost when an extra five-kilos of enduro meat is added. Because there's something a wee bit special about this YZ250F – a feeling of subtlety and accuracy that you don't find too often in dirt bikes.
Build it and they will come
Journalists are of course natural born cynics. We need proof before we're convinced. You're probably the same. But riding and getting to know the 2014 YZ250F definitely advanced our appreciation of what might be just around the corner. It's clear to see that the potential for Yamaha to create a new generation of enduro bikes is huge.
Mind you, a year or so ago, we tested the then new WR450F. On the launch in Sardinia it was amazing. Given wide open spaces it ran like a cheetah and carved corners with equal excellence. But when we got it back in the tight and slippery confines of the UK, boy was it a handful.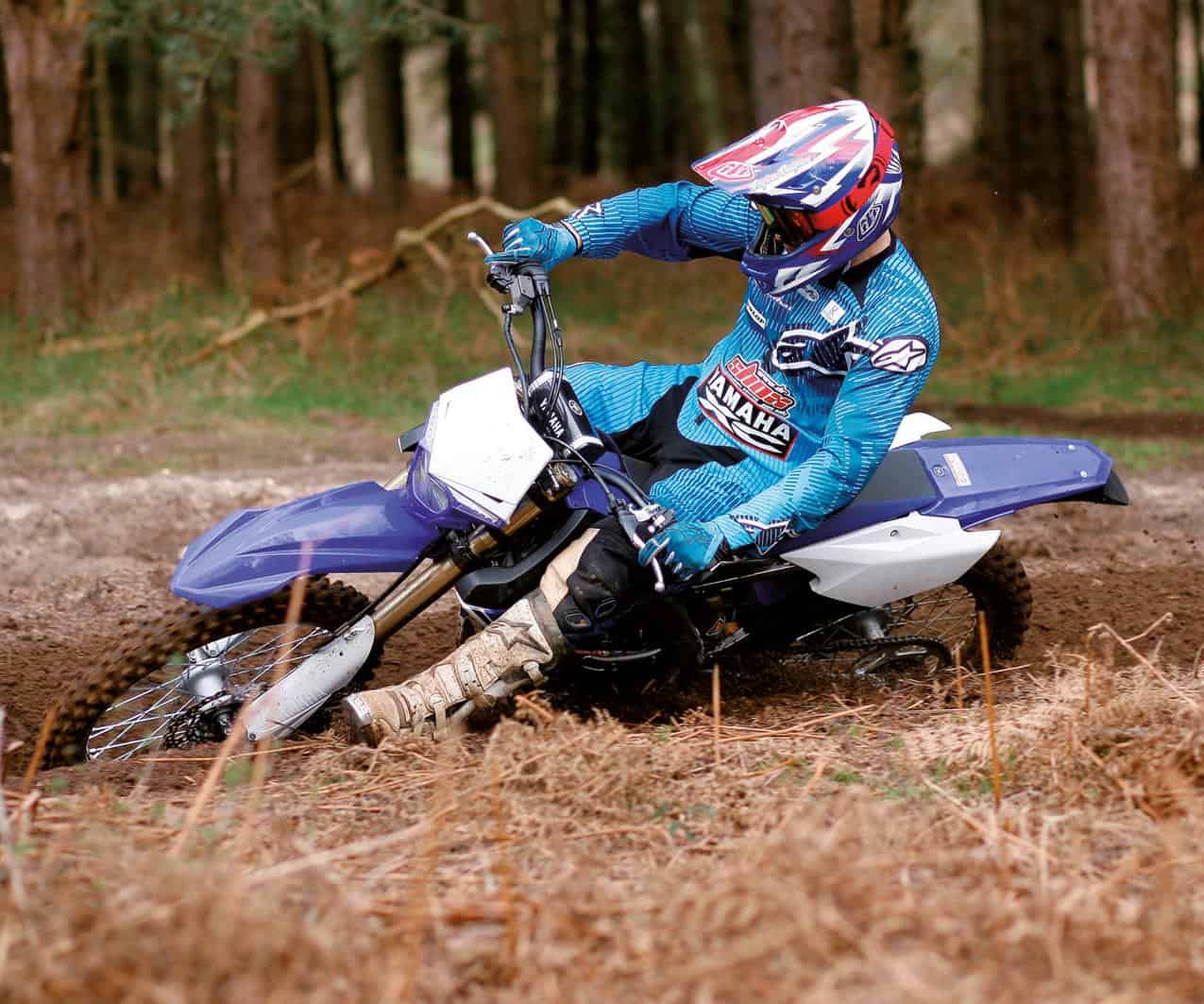 With the YZ250F here, this is different. We are riding it here and now in Blighty, and okay it doesn't quite work as an enduro as it is, but you can tell the conversion is entirely feasible and you can tell by the ease of handling, by the nature of the power available, that it will work as an enduro bike. The result will be as exciting as it is significant.
We are convinced Yamaha will build this bike… are already gearing-up to build this bike. And when it arrives it will be good. Very good indeed. So let's hope they have them ready soon – and in sufficient numbers. KTM always set the bar high in enduro, we love them for that. But variety is the spice of paddock life, and a new contender for championship honours is always welcome.
Yep, it's been a long long time coming – and we're still actually waiting – but this could be the greatest comeback since Rocky Balboa!
Yamaha WR250F timeline
1998: Immediate predecessor, the WR400F is launched
2001: WR250F arrives, closely mirrors YZ250F launched at the same time – DOHC, five Titanium valves, water-cooled, it's a slice off Yamaha's Genesis/R1 sport roadbike engine programme. Engine is high-compression at 12.5:1, cylinder is ceramic composite coated, it's got a full monty Keihin FCR37 motocross carb and with a light clutch, crank and balancer it revs to a giddy 11,000rpm. Engine oil is carried in the frame for lightness, there's a light alloy sub-frame. The 250F opposition in many parts of the world at this time was the XR250 – no competition! Weight was listed as 102kg which sounds unreliable and probably was without fuel in the 8-litre tank.
2003: Yamaha add electric start and auto decompression. There are a few engine updates that include a larger crank pin and stronger con-rod, changes to the oil circuit and cam chain tensioner. Modest changes to the bodywork and to the swingarm and brakes. Weight listed as 106kg – which suggests a 4kg penalty for electric start. Then add fuel – a considerable 10-litre vessel at that time!
2005: Kayaba forks changed from 46mm to 48mm.
2007: Big news is an all new aluminium die-cast frame – mirroring developments in the YZ250F of 2006. Motor is tweaked with cam profile changes, CDI settings changed, carb changes (all quite probably to meet emissions regulations as new silencer on this model was rated at 86dB, ultra-quiet). The ratios for gears three to five are closed up. The new frame design means a new airbox shape, modified suspension and triple clamps. There's new styling (again YZ-style), new headlight and LED tail light, wavy brake discs, bigger footrests now mounted 5mm higher. Handlebars by Pro Taper. Fuel tank is Euro-market correct 8-litres again. Weight is a claimed 106kg.
2014: Seven years later the WR250F is unchanged except for minor cosmetic updates. The claimed weight this year though is 117kg fully fueled – which for once sounds brutally honest! The spec sheet also now lists an FCR39 carb, not the old 37mm jobbie.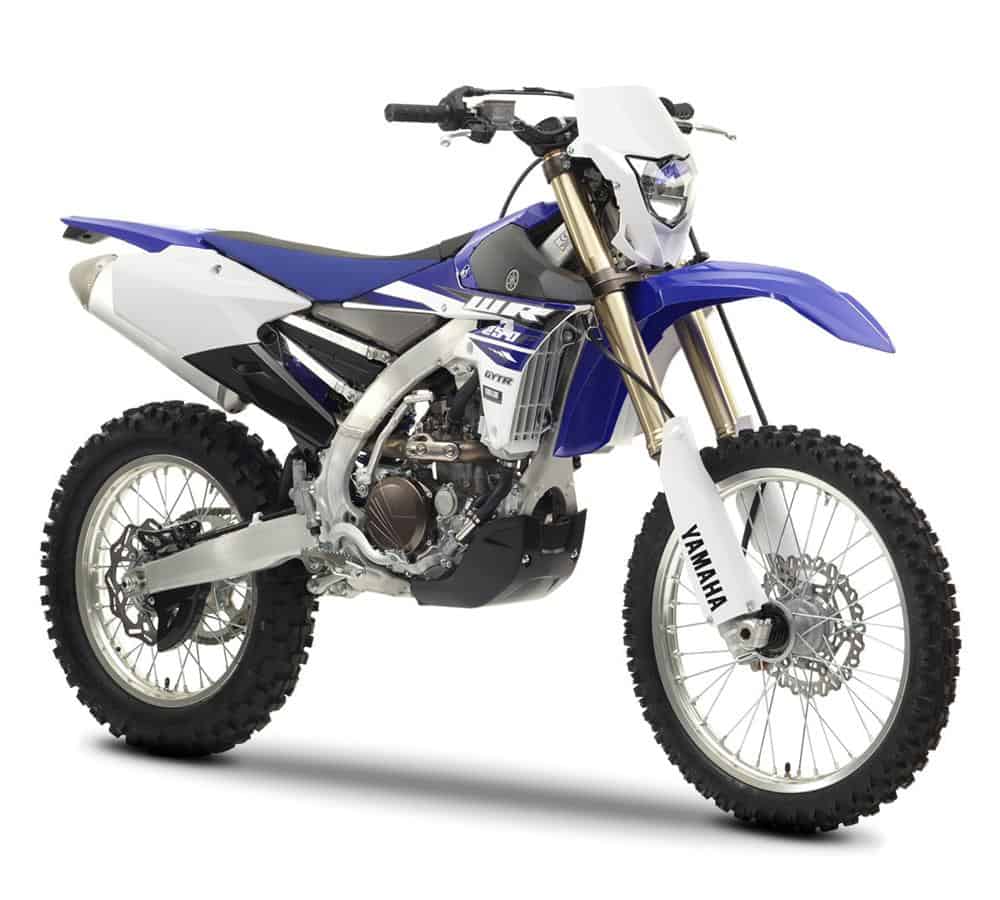 When Yamaha launched the WR250F in 2001 they changed the face, the look, the sound, of enduro, probably forever. After a 14 year wait – we have the first real renaissance of the model. And with the YZ's reverso-motor, it looks like they've gone and done it again. The back-to-front-to-the-future begins right here…
To read the about the launch of the 2015 Yamaha WR250F which was based fundamentally on the bike in this feature, click the link below…