It's major overhaul time as KTM seek to keep their EXCs ahead of the competition and below the limits of the emissions regulators. Mission accomplished?
KTM look to have hit all their targets, all our targets in fact. The totally revamped 2017 EXCs and EXC-Fs are lighter and more powerful – and so faster – lower (even) and easily better looking. And so of course they make the 2016 models look so last year, darling. This is KTM doing what KTM do best – pushing the envelope.
Of course we knew this was coming, KTM now seem to follow a standard cycle of five-year updates, and just as soon they revamp their SX and SX-F range of motocrossers we know, guaranteed, the next year the enduros will get the same treatment. However, as we've said before, there was a risk this year that the new bikes could be slower, heavier – as Euro IV emissions regulations loom on the horizon. But KTM have been canny. They've taken the 125/200EXCs out of the equation altogether, replacing them with two 'closed course competition' models – the 125 and 150XC-Ws (still enduros in KTM's catalogue, but not road legal), and so they fall outside the new regulations. Meanwhile the 250/300 EXC two-strokes get major revamps, but avoid fuel injection for one more year at least. The latest four-stroke EXC-Fs, though, are apparently fully Euro IV compliant as they appear now. The new tech motors are meeting the challenge while being smaller and probably more powerful (we have no figures for this – but we know that KTM made quite significant gains on the range of 'crossers, so this probably rolls over into the enduros). So the 2017s are all new and it would seem, all good.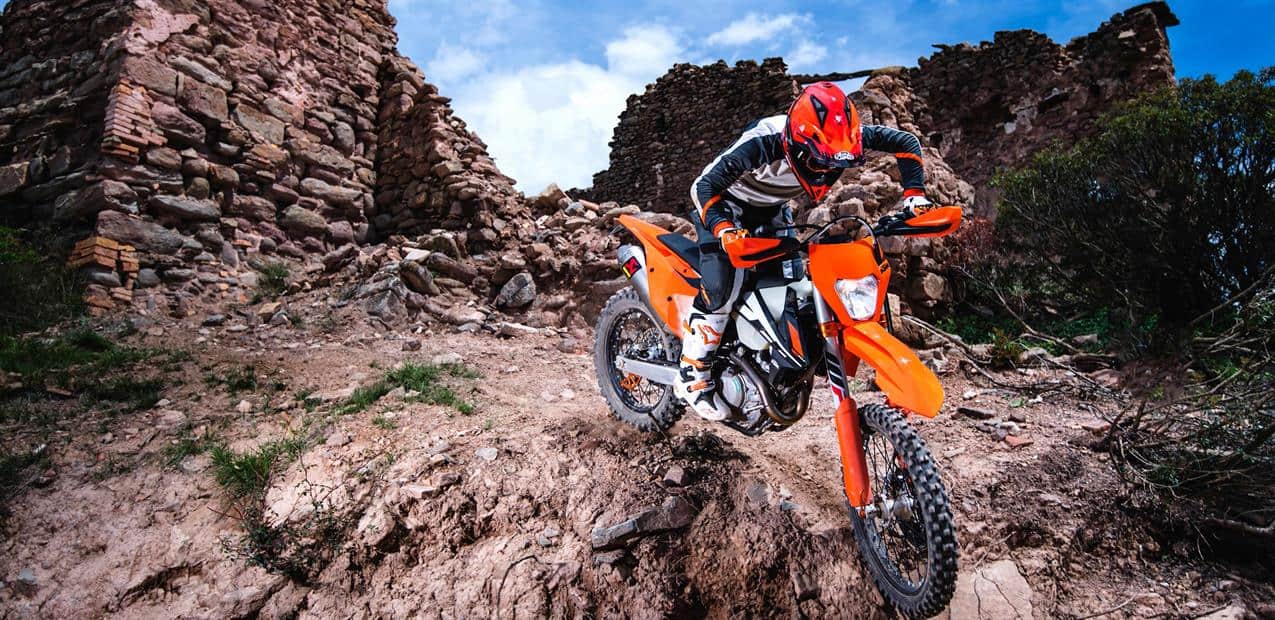 DETAILS
How much do you really want to know? Now we could go through every detail for you here, but would you read it, do you care? (Please write to us and argue your standpoint on this, usual address: editorial@rustsports.com) And if you really want to know, everything we got told at the press briefing is already on KTM's global network of websites. So instead, we'll do a quick synopsis and then get a move on into the ride impressions.
To start, across the range, KTM claim 90% of the components are all-new. They also claim this is the first time they've introduced all new chassis and engines at once (surely not?). Across the board they've made typically 5kg of weight savings. They've been a bit sneaky in some cases – the EXC-Fs are now without kickstarts (that's probably near-enough 2kg saved), and they've knocked 0.5-litres out of the fuel capacity, only that doesn't count as they claim dry weights (i.e. without fuel). But actually, fair play, it's the tech that's made the difference, with significantly smaller motors and lighter frames and swingarms.
We should detail those changes at least. The frames are 300g lighter – and we note KTM claim they have 20% more torsional rigidity (that's resistance to sideways flex) while being 30% less stiff in the longitudinal plane – a continuing line of development there, for some years we've seen commentary on how controlled frame flex makes for better feel and less stress for the rider. Meanwhile the subframes are 20% lighter at a nadge under 900g. And the swingarms, a single casting, are now 220g lighter. Note that the PDS shock has again moved closer to the centerline of the frame, by 5mm – you'd have to think the closer the shock loadings were to the centre of the bike the better this has to be for structural integrity, no?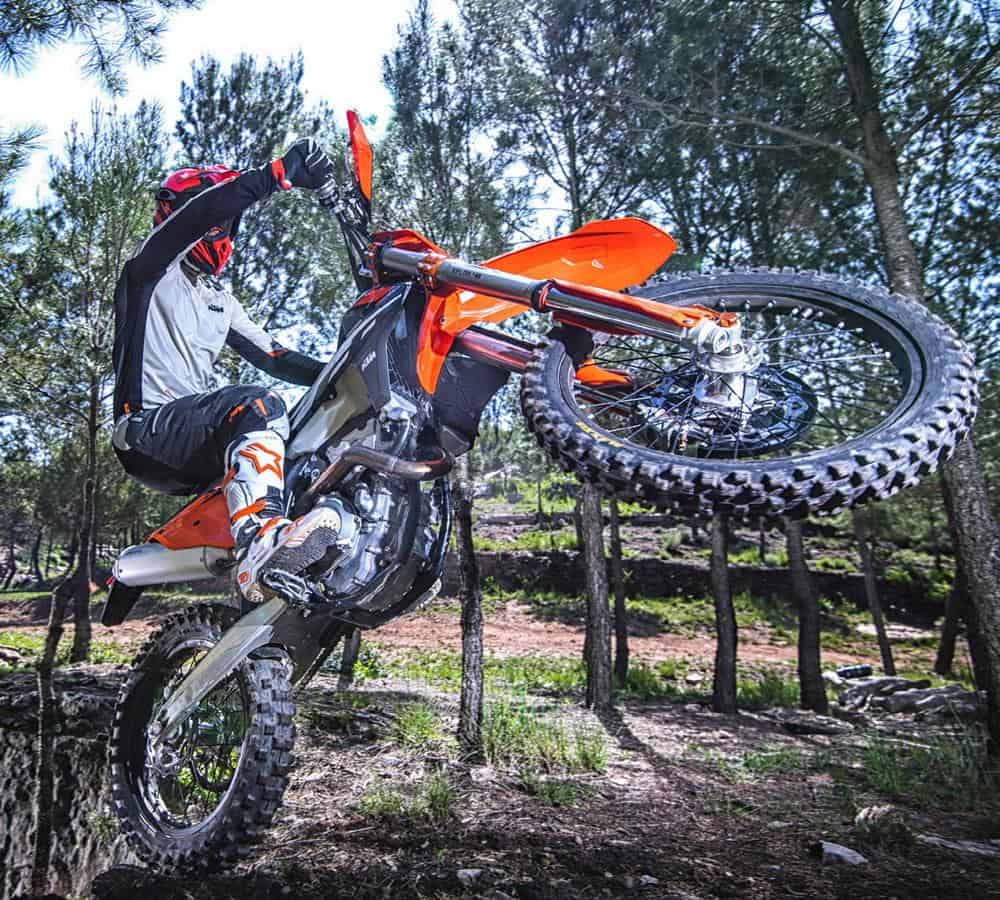 KTM 2017 EXC
What's new…
New frames, 300g lighter, with revised flex characteristics
New sub-frames, 200g lighter
New swingarm, single-casting, 220g lighter
New shock, WP PDS Xplore, 600g lighter
New forks, WP Xplore 48mm, 200g lighter
New engines, two-stroke and four-stroke
New bodywork & seats
Triple clamp off-set now 22mm
Lower seat heights
More ground clearance
Kickstarts removed from four-strokes
According to KTM, the bikes are 90% new…
There's new suspension across the board, too. Still WP, but redesigned and labeled 'Xplore'. The forks now have the compression and rebound circuits separated into the two legs, compression left, rebound right. Meanwhile the new PDS shock is smaller and 600g lighter and we note that, significantly, rear wheel travel has reduced from 335 to 310mm (that's an inch in old money) – which probably contributes to the 10mm reduction in seat height, now 960mm across the range. Steering angle is unchanged at 63.5º but the fork offset has changed (again, they do it every year) now to 22mm, was 20mm. Whether this significantly rebalances the bike we'll have to see. We'd like to think so.
The rear brake has seen some subtle changes too. There's +10mm on the lever length and –2mm on the brake pistons (down to 24mm) and this may allow a little more sensitivity. If you've had the regular experience where braking into turns you've locked the rear brake and consequently stalled the motor, then this small mod may well be very important to your ride enjoyment, perhaps more than the rest combined.
There are other changes too. The seat is now even flatter, thanks to some judicious sculpting which sees the front of the seat lowered by 14mm and the rear by 8mm. The bodywork changes certainly refresh the bikes' look. The radiator-tank panels are pleasingly minimalist while there are distinct edges to be found in most panels that help define the aesthetic. With Kiska design there's been some hot and cold reactions to past designs, but this definitely registers at the hot end.
One very odd move though – back to cast triple clamps after getting milled units, at last, only last year. And, honestly, why can't KTM fit a bash plate as standard equipment – how much would it hurt their bottom line? Anyway, as said, there's plenty more detail and for that go to www.ktm.com or go to the websites of those media outlets who think to cut-and-paste the technical briefing notes 'in toto' passes for professional journalism (ah, getting snaky there…!).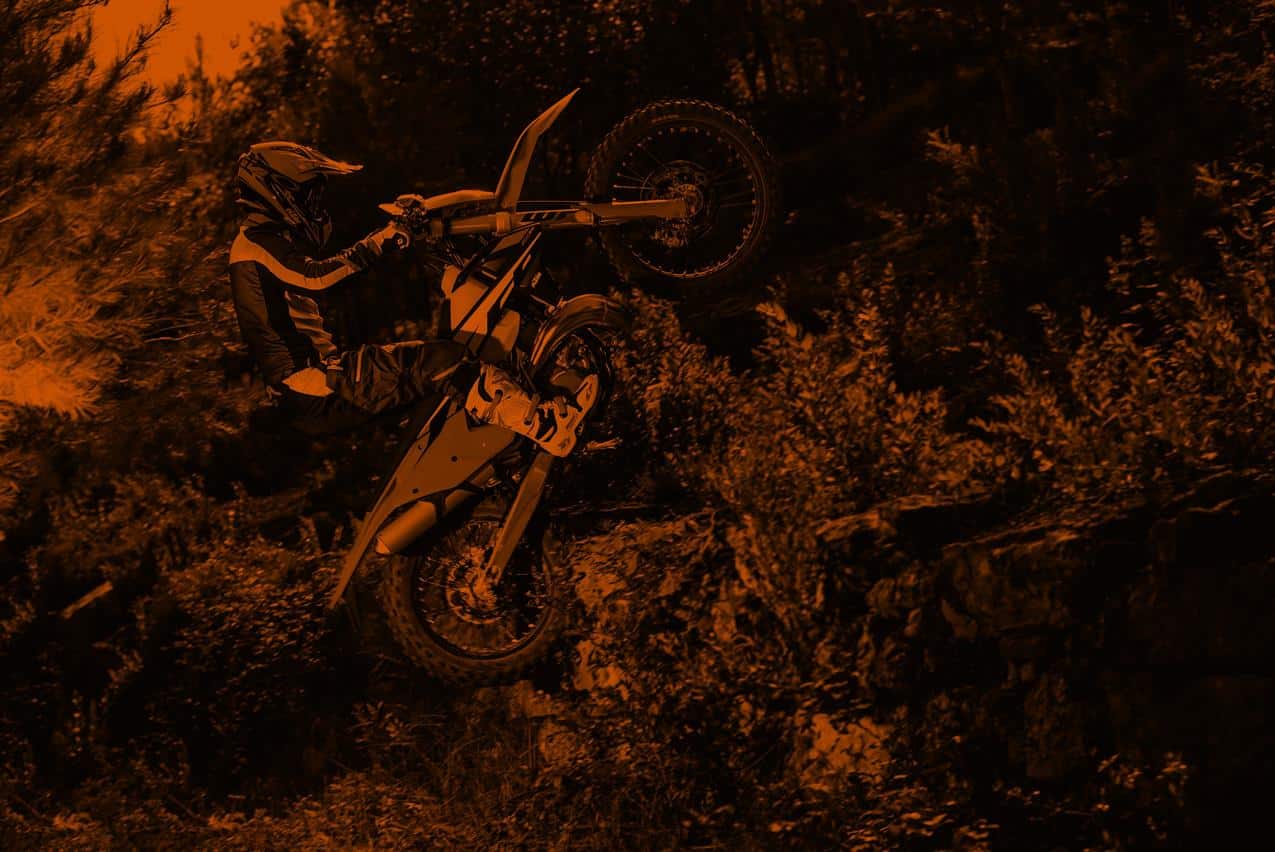 2017 KTM EXC
what's hot
Superb upgrade
More power never hurt anyone
Light is right
Great redesign on the bodywork
250EXC is best (Warren)
250EXC-F is best (Josh)
what's not
WP Xplore forks need sorting
Maxxis tyres
Cast triple clamps