The Western world has been curious about Royal Enfield's all-new Himalayan, a commuter-adventure bike (featured in RUST 8) realeased into India in 2016, to high acclaim. Word is it's due to come to Europe in late 2017. So what's it like? Editor JB's mate Dani has been riding one for months in India – so we asked him. Easy as that!
WHO WHAT WHERE
WHO: Dani Gonzalez Guarinos and wife Marta, from Spain. Dani has been for many years a motorcycle travel guide in India, currently guiding with Aventura en India (www.aventuraenindia.es)
WHAT: Riding a 2016 Royal Enfield Himalayan – not yet available outside India, but due into Europe later in 2017.
WHERE: Dani took time out from his guiding to take his wife on a long tour from Delhi to the Spiti Valley, in the very northern most part of India, high in the Himalayas.
FIRST IMPRESSIONS
First lookover of the bike and I was impressed by its appearance – it looks strong. The finishing might not be to Japanese standards, but this is not what this bike is about. It's not a premium product, being priced only slightly above traditional Royal Enfields, it is, even in India, classed as a budget adventure bike. Start the bike – electric, there's no kickstart! – and for all the changes in aesthetic, it still sounds like a Royal Enfield, with a distinct thump to the exhaust note. There's nothing fancy here, rugged simplicity would best describe it.
For the ride we were undertaking I had some engine protection bars fitted (there's an oil cooler that looks like it needs a little looking after). I also ran with the optional screen – there's plenty of dust, let alone stones and rocks, kicked up by Indian trucks.
I'm not the tallest guy so I was impressed and relieved to find a modest seat height (800mm). After years of riding Bullets I also appreciated the upgrade that is the Himalayan's suspension, which offers 200mm of travel up front and 180mm at the rear – figures that are becoming standard for proper adventure bikes.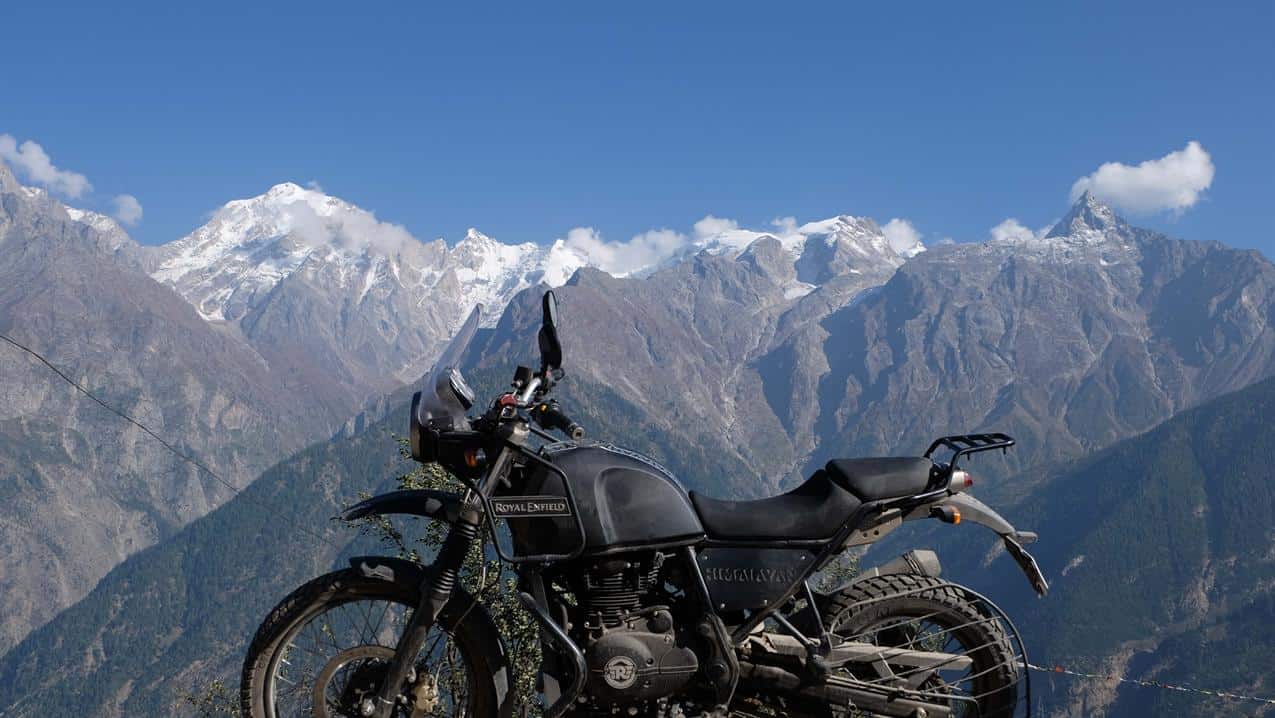 FIRST RIDE
In common with the Bullet, this bike benefits from having a very low centre of gravity, despite the long suspension, which makes it very easy to manoeuvre and creates an overall feeling of lightness despite being a fair 182kg. Acceleration is smart, if not staggering – again like the Bullet it's not about revs, a steady 3-4000rpm creates enough of a shove! Certainly enough to deal with the traffic in downtown Delhi.
LOAD IT UP
For our ride into the Himalayan mountains we packed some pretty large saddlebags, plus a big backpack – and of course we were a rider and pillion. Altogether, a payload of around 200kg (say 440lbs). A fair amount for a modest 411cc low-power motor to deal with. I was impressed to find the bike dealt well with the load, remaining stable, while the power remained plenty too, not feeling overly laboured.
HEAD ON UP
On day one we reached an altitude of 1500 metres. The next day 3400 metres. All on very poor roads. I kept to the Himalayan's favoured engine speed of 3000rpm and it powered along without complaint (note this is a carb model, not fuel injected).
At Chitkul, the last Indian village before the Chinese border, I unloaded the bike to go for a 20km solo trail ride. The Himalayan's suspension worked well and I was happy to find a natural standing position (I used to ride mx/enduro bike off-road in my youth), so it does off-road quite competently.
We carried on climbing, at Kanzum Pass we reached 4590 metres, and the Himalayan was still pulling the load well, and again 3000rpm was enough, leaving 2000rpm in hand before the redline. Cornering with so much weight was okay, although the main stand would ground on full lean.
Still in the mountains I got another chance to ride solo on gravel and this time was pleased to find the bike handled well at speeds up to 70km/h, the bike responding with keenness and some level of agility. The only downside being the gearbox – which lacks precision when shifting, needing a firm toe, up and down
The brakes need a little adapting to, as well. Good for off-road, but the front disc feels a bit weak on-road and so it needs help from the rear brake. Also, when fully loaded, with the weight rear-biased, you had to be careful with the front brake as the 21" front wheel/tyre could skid out if you were not careful.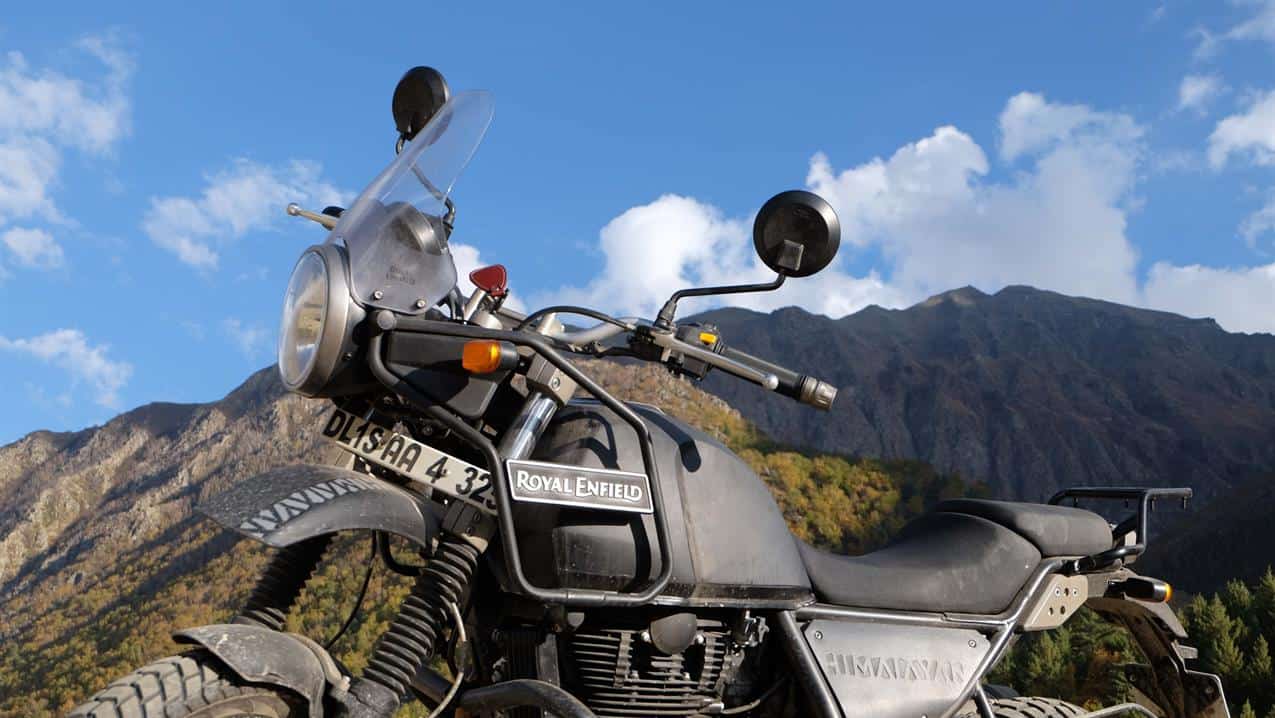 OVERALL?
In riding Le Grand Kinnaur & Spiti Tour we put 1000km on the Himalaya. Since then I've ridden 3500km on the Himalayan on all kinds of Indian roads, including highways where the bike cruises at an easy 80-100km/h, with easy overtakes given the engine's torque. The bike has remained reliable throughout. It's a comfortable bike too, we rode some 400km days that took eight to ten hours and we weren't left exhausted, despite the harsh conditions.
The important thing with this bike is not to compare it to other adventure bikes. Dynamically it's a giant leap forward from the Bullet, for which the Indian market will be eternally grateful. However, its design and ethos reflects the social and economic climate in India, not Europe, so the power is gentle at just 24.5hp (about the same as a Honda CRF250L) and the level of sophistication is purposely limited, so it can be repaired by average Indian workshops, without the need for specialist tools or equipment.
Approached from that standpoint the Himalayan works well. I've only positive comments to say about it, it's a joy to ride, and if I had just the one word to describe my feelings about the bike: delighted!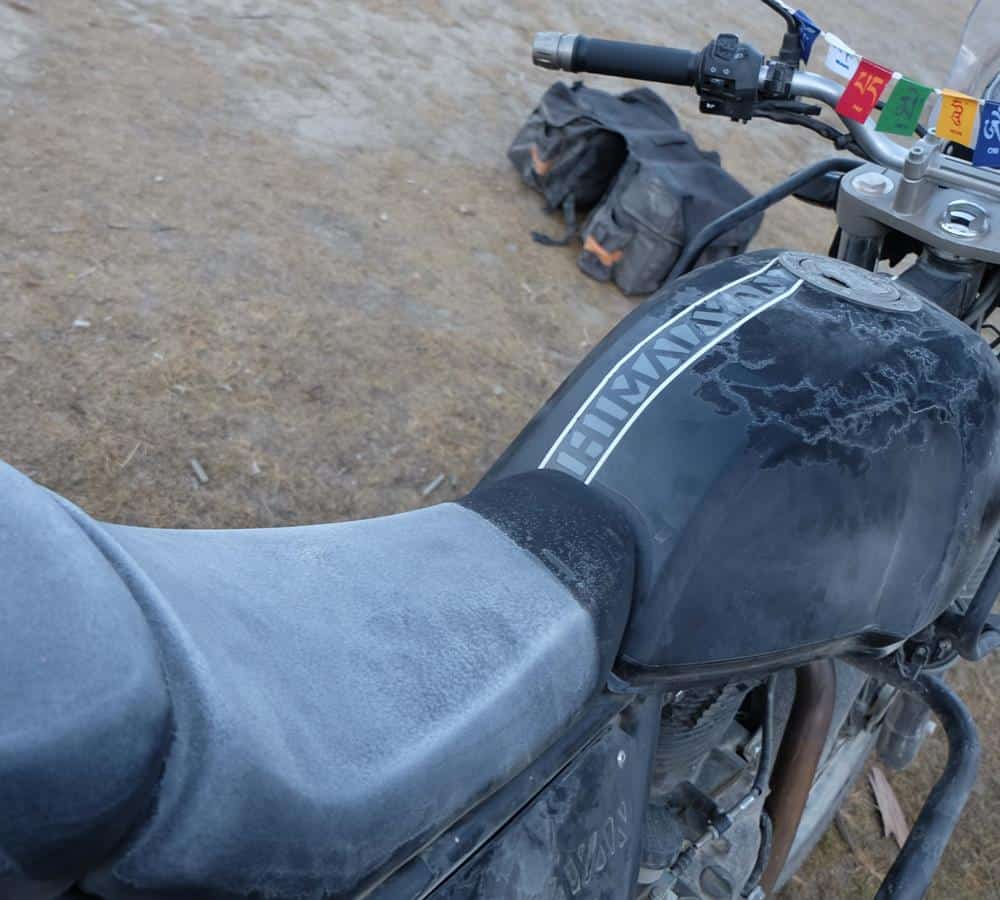 ROYAL ENFIELD HIMALAYAN
What's to know:
*411cc air-oil-cooled single cylinder four-stroke
*24.5hp & 70mpg
*counter balancer for smoothness
*6000 mile service intervals
*steel semi-cradle frame (designed in conjunction with Harris Performance, UK)
*long travel forks (200mm) and monoshock rear (180mm travel)
*21"/17" wheels
*220mm ground clearance
*15-litre tank, good for 280 miles
*182kg