BRABEC IN COMMAND
Ricky Brabec (Monster Energy Honda) continues to command the 2020 Dakar Rally as it enters its final phase, with just three more stages to go. His rivals have yet to find an answer to his speed and consistency – albeit there's very probably a sting in the tail of this rally as the organisers are promising the toughest challenges in the region known as the Empty Quarter.
Sadly the fight for victory has been overshadowed by the tragic death of Paulo Goncalves (Hero Motorsports), who succumbed to his injuries after crashing heavily in stage 7. While the riders were shaken and clearly upset by the news, the cancellation of stage 8 (out of respect to Goncalves, and to allow the moto competitors time to come to terms with the situation) seems to have allowed the riders to reset and the action in stage 9 has been as competitive as any.
In the two stages since our last report Brabec has surrendered only three seconds of his 20+ minute lead over Pablo Quintanilla (Rockstar Energy Husqvarna) while Toby Price (Red Bull KTM) has lost a further minute on Brabec and now lies nearly 27 minutes behind.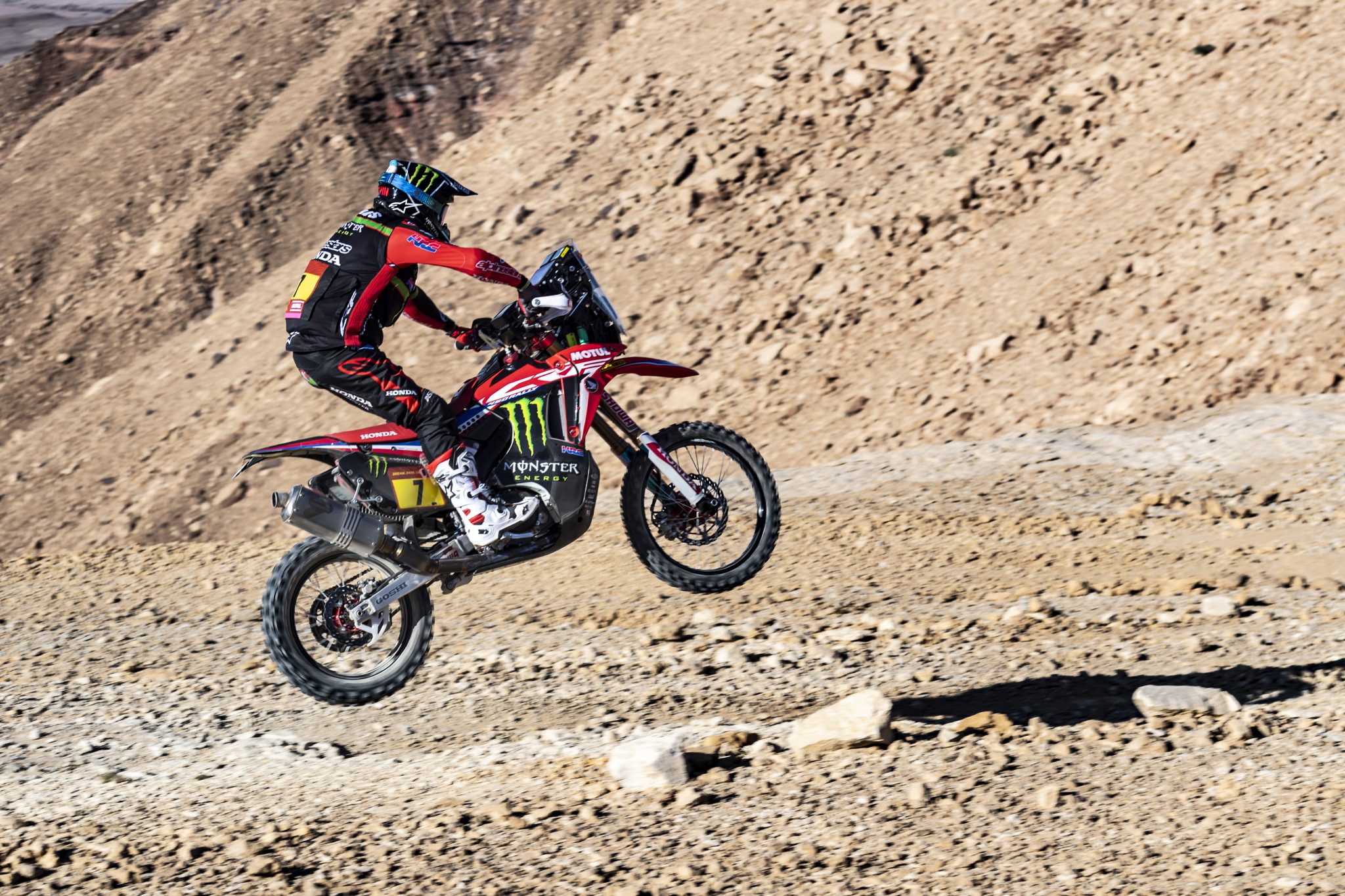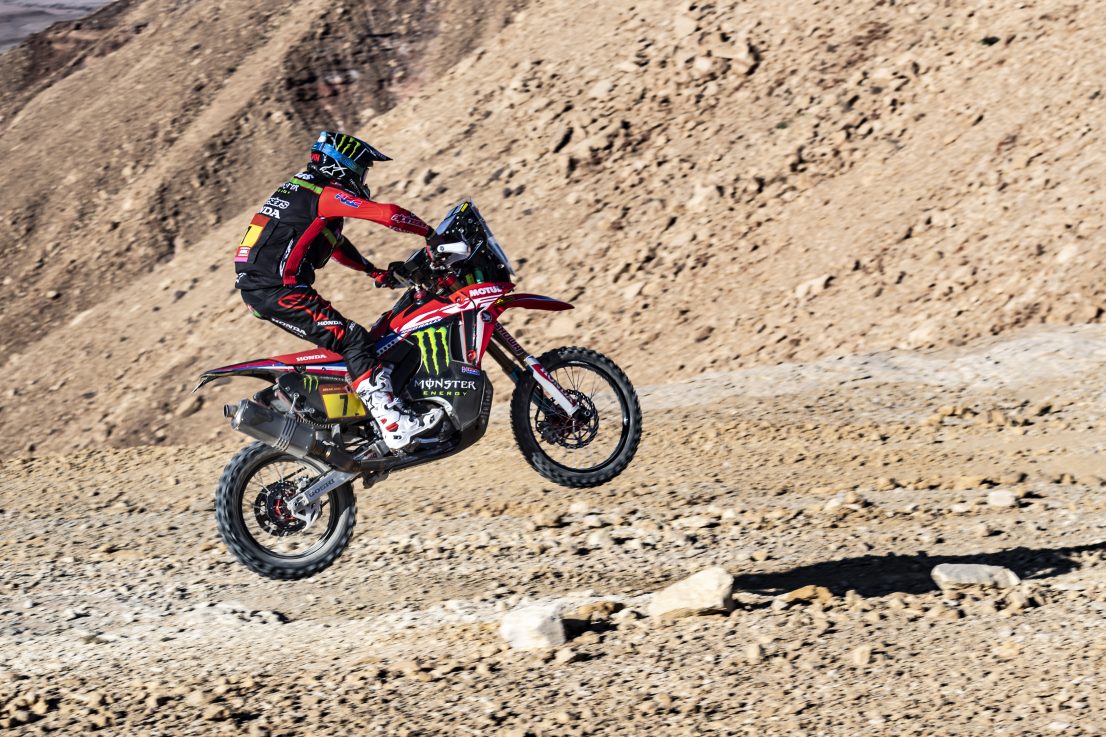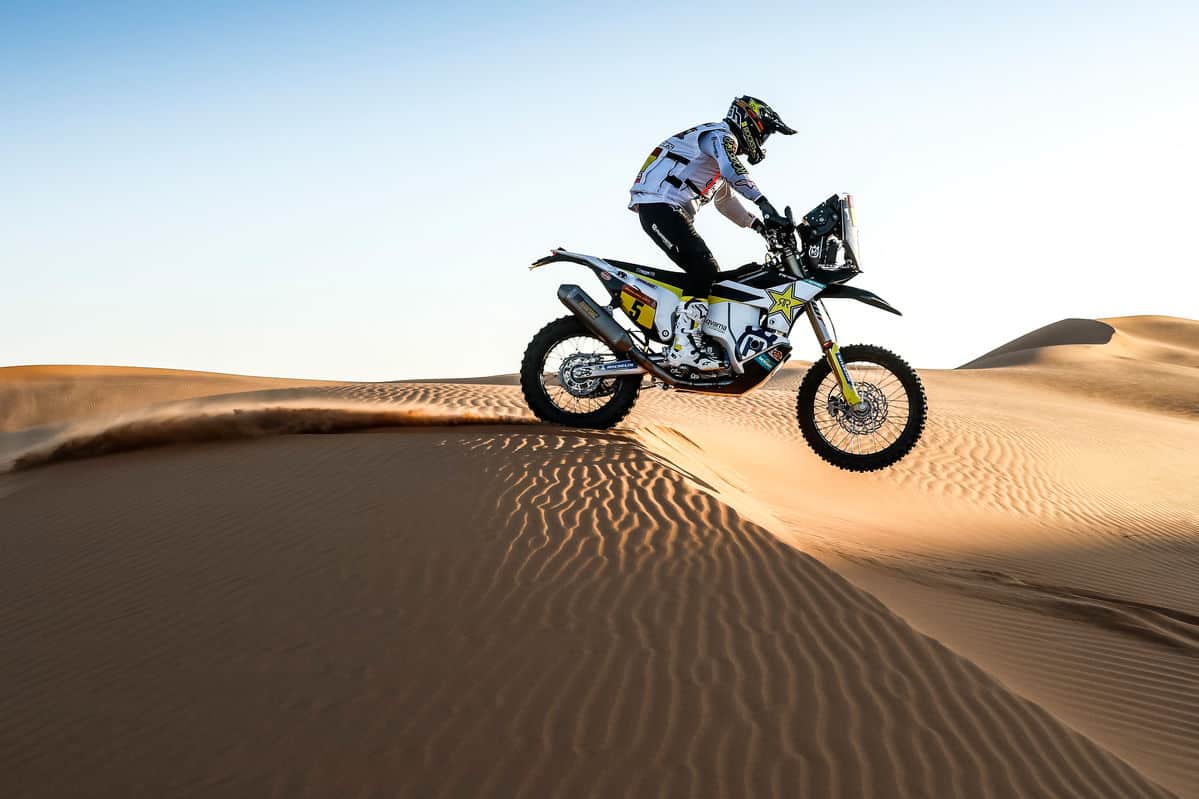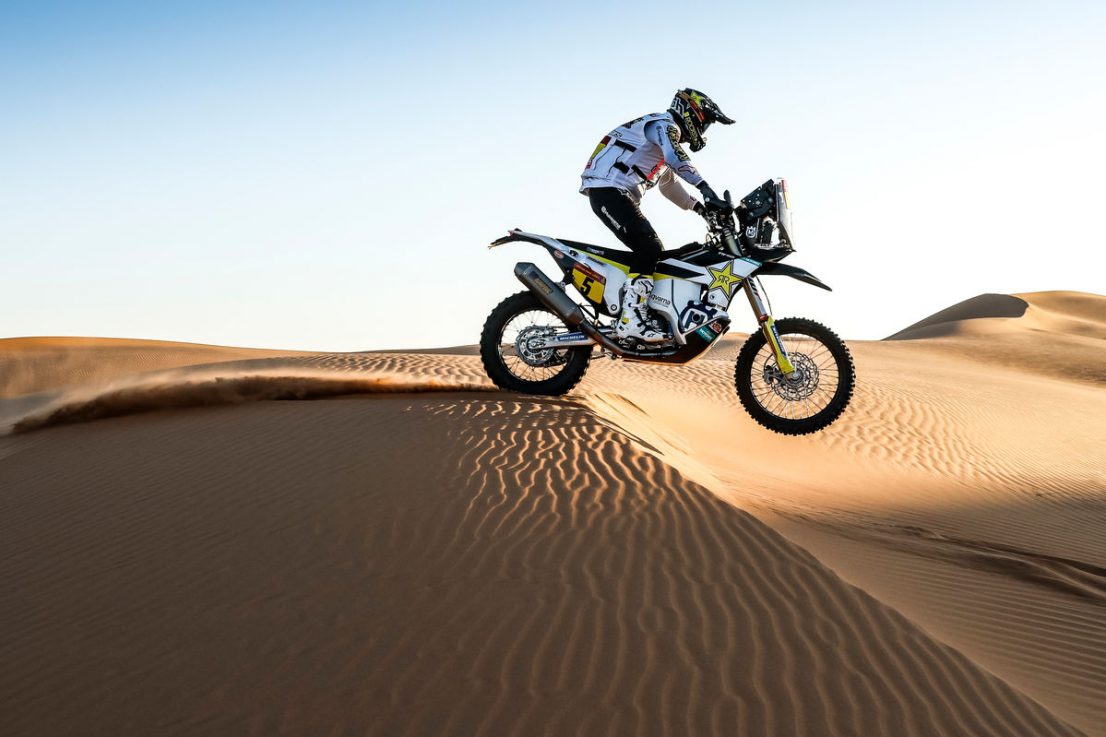 HONDA'S ADVANTAGE
Certainly the story of this Dakar has been Honda's capability to maintain their advantage. All of their riders are in top form and they're all still in the rally. And while Kevin Benavides has slipped out of contention following his engine breakage in stage 6, with the new engine installed he's again able to ride each day at the front and is there to support his team-mates. Such as in stage 9 where he could lead-out team-mate Joan Barreda, helping the Spaniard to third in the stage. Meanwhile Brabec was again able to limit his losses to less then 5 minutes in stage 7, where he led-out (having won stage 6), and riding in his team-mates' wheel tracks placed a very in-touch fourth in stage 9.
In the KTM/Husky camp there's a sense of struggle. Toby Price hasn't been able to match Brabec's consistency and when he does fly (such as to second place in stage 9) Brabec is never far behind, so in fact over the last two stages Price has lost a minute to Brabec rather than gain time. Quintanilla has gained on Brabec over the two stages, but only by three seconds – nowhere near enough when he's fighting a near 21-minute deficit. Matthias Walkner meanwhile is suffering with a sore throat and is generally under the weather – yet races on in fair style.
So there's a sense of stalemate, and frustration among the pursuers as part of this situation is coming from a course which isn't presently offering up enough challenges – or opportunities – it's been a case of flat out over the desert plateaus, which hasn't stood to shake up the standings but has shown to be very seriously risky.
Can Brabec win? Yes, of course. But Dakar is never over until it's over; mechanical failures are everyone's first fear. And ahead lies a two-day marathon section (no mechanics) and each day offers probably the biggest sand dune sections yet, with 30km in stage 10 and 80km of dunes in stage 11. So maybe there are opportunities there?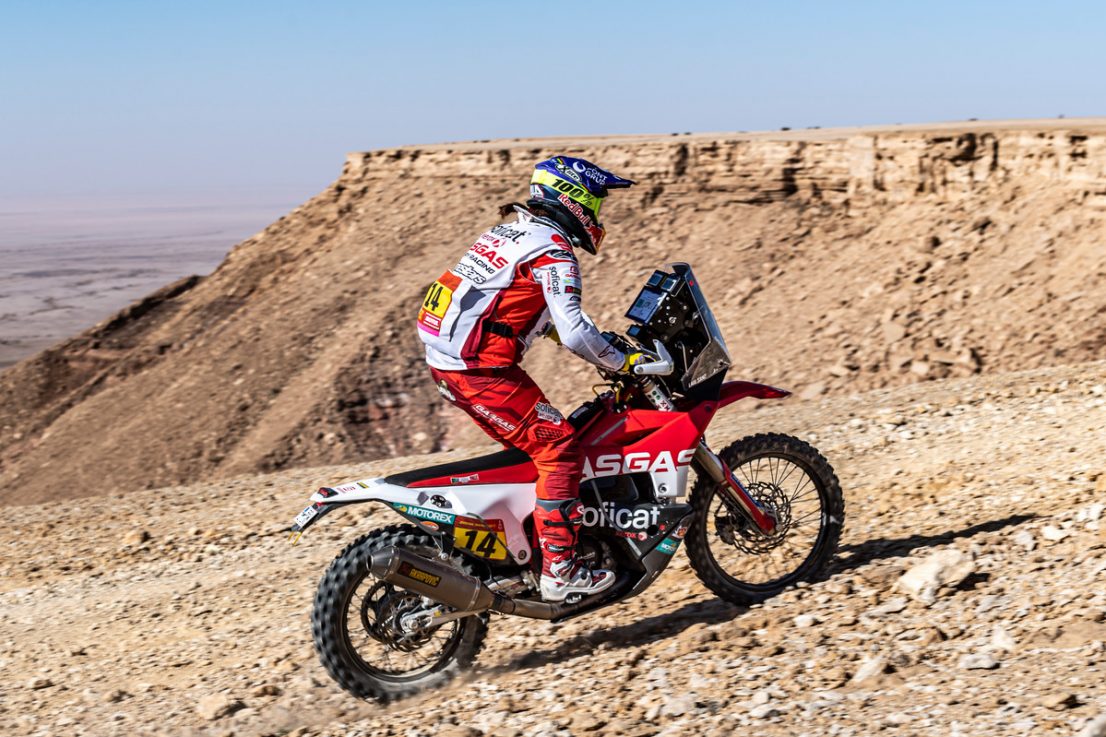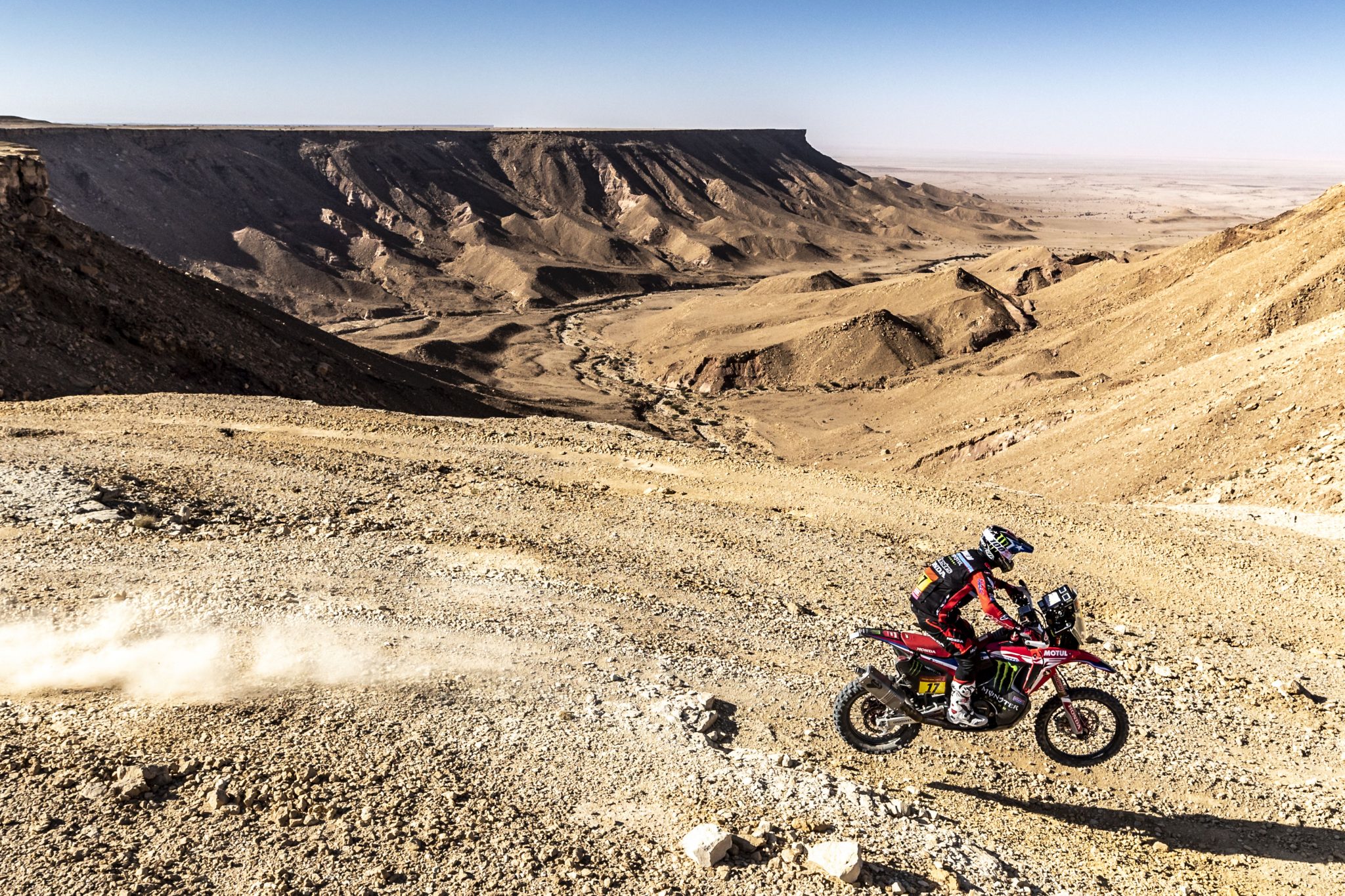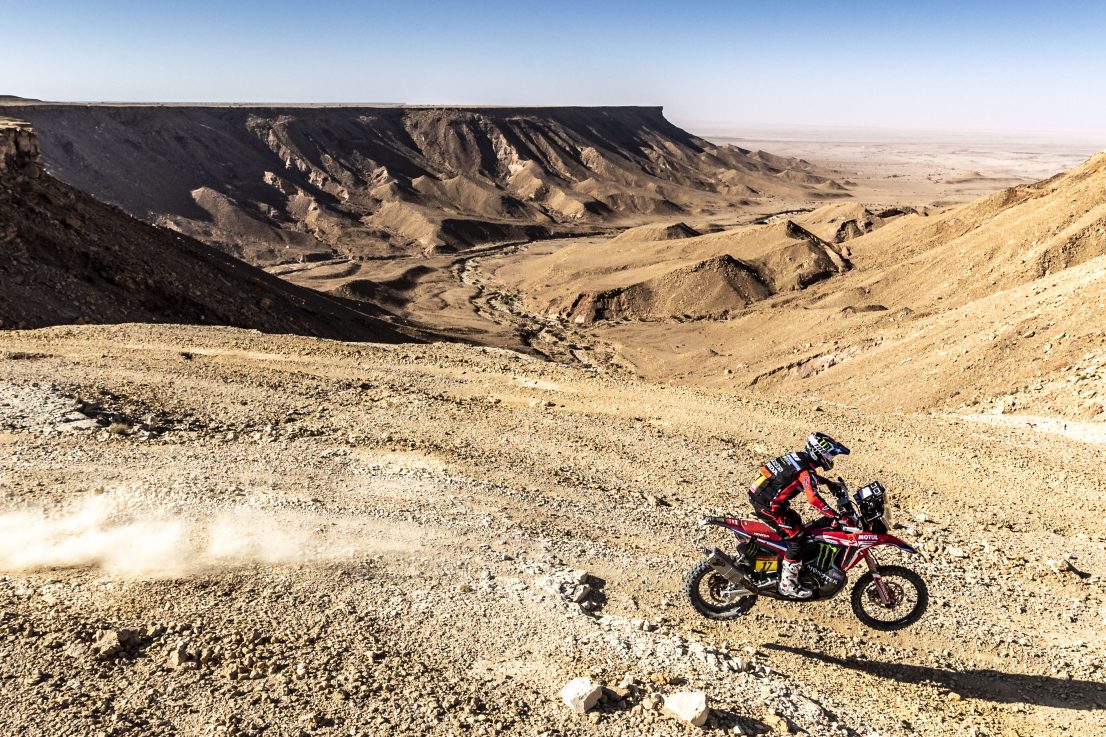 TOP PRIVATEERS
A quick mention here to two guys who are in the top 10 on privateer entries. American Skylar Howes is doing a brilliant job in only his second Dakar, holding onto ninth place. The 27 year old from Utah is a US off-road racing star and while new to the rally scene has confirmed his capability. He placed as high as 10th in a stage last year (before abandoning in stage six with a dislocated collarbone), and this year, riding with the Czech-based OK Racing team, has shown consistent speed, always inside the top-20, three times inside the top 10. A possible works rider in 2021?
Veteran Stefan Svitko holds down 10th place. The Slovakian is in his 11th year of Dakar racing and is always close to the front, having placed second in 2016 and twice fifth. He's not shown the speed of Howes, but like a true veteran it's his ability to day after day put in a solid performance that's put him ahead of a number of works riders.
THE MANUFACTURERS' POSITIONS
Honda. Everyone at Honda has his or her fingers' crossed. Could this at last be their year? They deserve it. Placed 1, 4, 5, they're looking good, and with Benavides in attendance, almost like a water-carrier from Dakars of old, he's no doubt a great back-up as the rally goes into its second marathon stage. Expect him to ride steady in stage 10 then swap his wheels (and so crisp tyres) into Brabec's bike for stage 11…
KTM. These guys will be looking for technicality in the course, something to unhinge the Honda riders – tough navigation or challenging riding. If that doesn't come then their only hope is mechanical misfortune, which isn't the preferred way to secure victory.
Husqvarna. Quintanilla is in top form. Team-mate Andrew Short suffered for a loss of a tyre and mousse in stage 6, putting him out of the running. Quintanilla needs the same chances to come his way as the KTM guys.
Yamaha. Franco Caimi continues to impress, having jumped from 10th to eighth over the last two stages, satellite (Australian Yamaha) rider Rodney Faggotter continues to hold down 13th while the team's rookie Jamie McCanney has also continued his consistent form and now places 21st.
Sherco. The shine has gone off Sherco's race. Adrien Metge is still going strong in 12th but Lorenzo Santolini was a retirement in stage 9.
RALLY QUOTES
Toby Price, after stage 9:
"Pretty much (since) the hundred kilometre marker it's just been pretty much full gas and wide open. It's a little boring. You can't make up time on anyone or do anything because it's pretty much point and shoot and full gas and wide open… For sure, Ricky is riding really, really well, like he was last year, so we always knew he was going to be a threat on the race this year. So far, everything has gone really well for him. It hasn't quite been our year on this race, but that's the way it is. You have your good moments and you have your bad ones and unfortunately 2020 hasn't quite been good for us but we'll still keep giving it a good fight and see how we go".
Ricky Brabec:
The main goal now is to focus and stay positive after the incident that happened a few days ago. Right now we are going to rest and make sure our bikes are 100%, get some food, pack our bags for the marathon and try to stay positive. There's a 21-minute gap in the general. So tomorrow Quintanilla and Toby start in front of me so the plan is to maybe catch them or maybe keep them in my sights. That way they will start in front of me for the next few days. I'm not really sure what is going to happen so we are just going to stay focused and not lose the twenty-one minutes..
Pablo Quitanilla:
"It was a strange feeling this morning after what happened to Paulo, but I think it was good to get riding again. There was a long liaison this morning and it was very cold, but I felt better when we hit the special and I was able to push right away. In the end, I won the stage, which was a fitting way to honour Paulo. But now, with stage eight cancelled, my strategy is more complicated. My goal from here is to push and try to make up as much time over the final three days as possible."
2020 Dakar Rally
Positions after nine stages
1.Ricky Brabec  Monster Energy Honda / USA 31:59.29
2. Pablo Quintanilla  Rockstar Energy Husqvarna / CHL  +20.53
3. Toby Price  Red Bull KTM / AUS  +26.49
4. Joan Barreda Bort  Monster Energy Honda / ESP  +28.16
5. Jose Cornejo  Monster Energy Honda / CHL  +29.29
6. Matthias Walkner  Red Bull KTM / AUT  +37.16
7. Luciano Benavides  Red Bull KTM / ARG  +41.11
8. Franco Caimi  Monster Energy Yamaha / ARG  +1:21.04
9. Skyler Howes KLYMCIW Racing / USA  + 1:24.24
9. Stefan Svitko  Slovnaft Rally / SLO  +1:30.04