Astars SM10 Carbon Helmet
I started riding motocross at around 9 years old. My first helmet was a Bell Moto 3. and I've ridden with a Bell helmet as my personal choice for the past 47 years. Mind you, I've tried a few alternatives over the years but somehow always found my way back to wearing my trusted Bell. We're lucky to be in a position where we get to test innovative new products and helmets are no exception. The key feature for me in a helmet is safety, as it should be for all of us. This is not negotiable. The quote "if you think your head is worth £10 then buy a £10 helmet" has stuck with me over the years as has the gratefulness to a good helmet after ringing my bell with more than my fair share violent head pounding engagements with the dirt over the years. I just don't do helmet tests unless they are in the premium category.
I've tested loads of premium helmets from different manufacturers over the years and while they each have had their unique features, none of them has so far convinced me to switch brands or (in my opinion) been good enough for me to hang up my trusted Bell Moto-9 Flex in favour of them. 
For those of us that have been riding for years, most are brand and model loyal for the reasons given above. You just develop trust in a product that has literally saved your life time and time again.
However!
Technology and innovation can't be ignored, and it would be silly to ignore advancements made in helmet design and safety. Enter the Alpinestars SM10 Carbon composite helmet. I first became aware of the helmet back in 2018 when it launched at Anaheim 1. JB our then editor was invited to do the photography for the world launch in California. I liked the innovative new safety and design features and JB's feedback was that he was really impressed with it. Fast forward to 2023 and I have finally managed to get my hands on one for testing.
I've done about 25 hours on the helmet so far and to cut to the chase I chose to take it to my last 2 day event after the initial few hours of testing. It's the one and only helmet I have ever worn that has made me decide to leave my Bell on the shelf and take the it instead.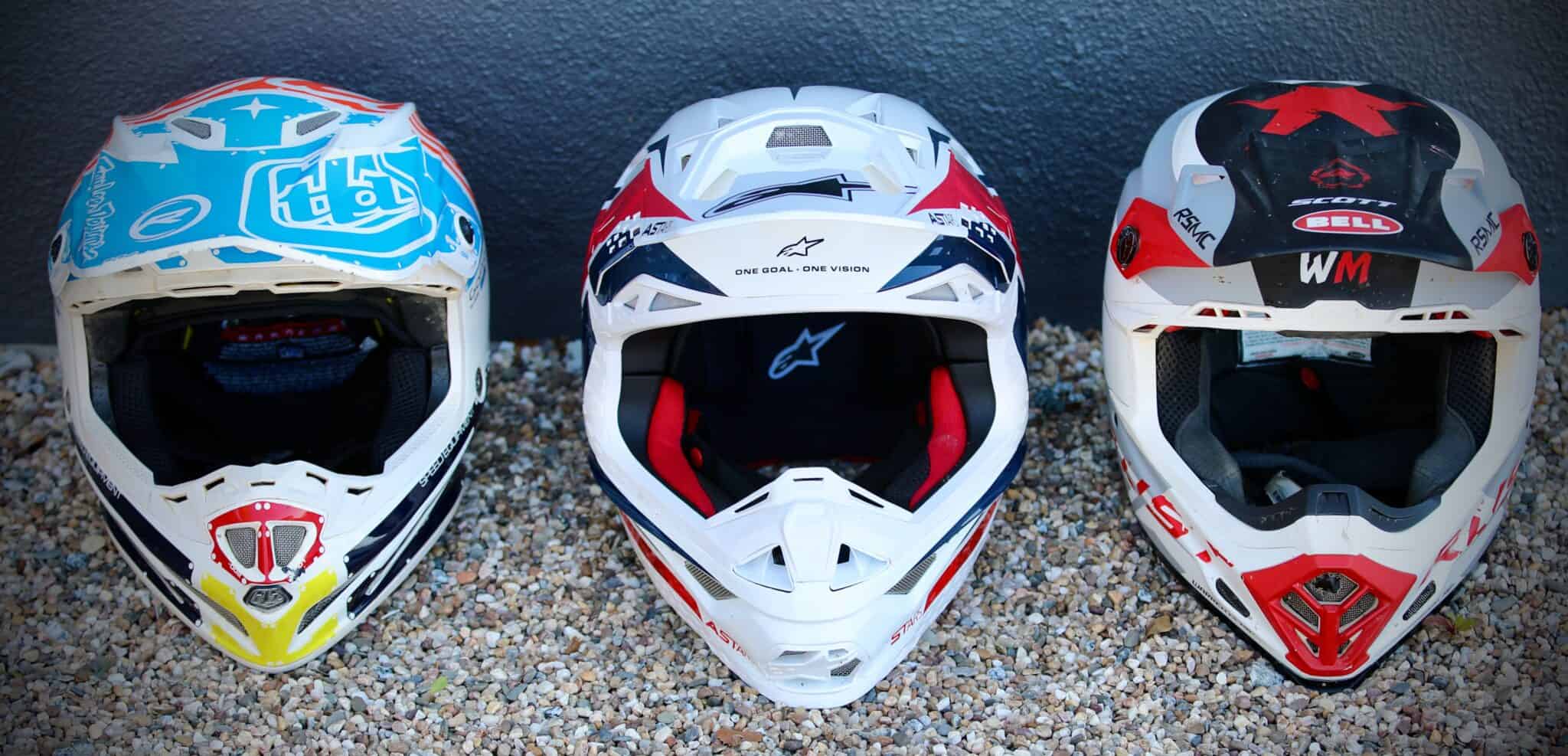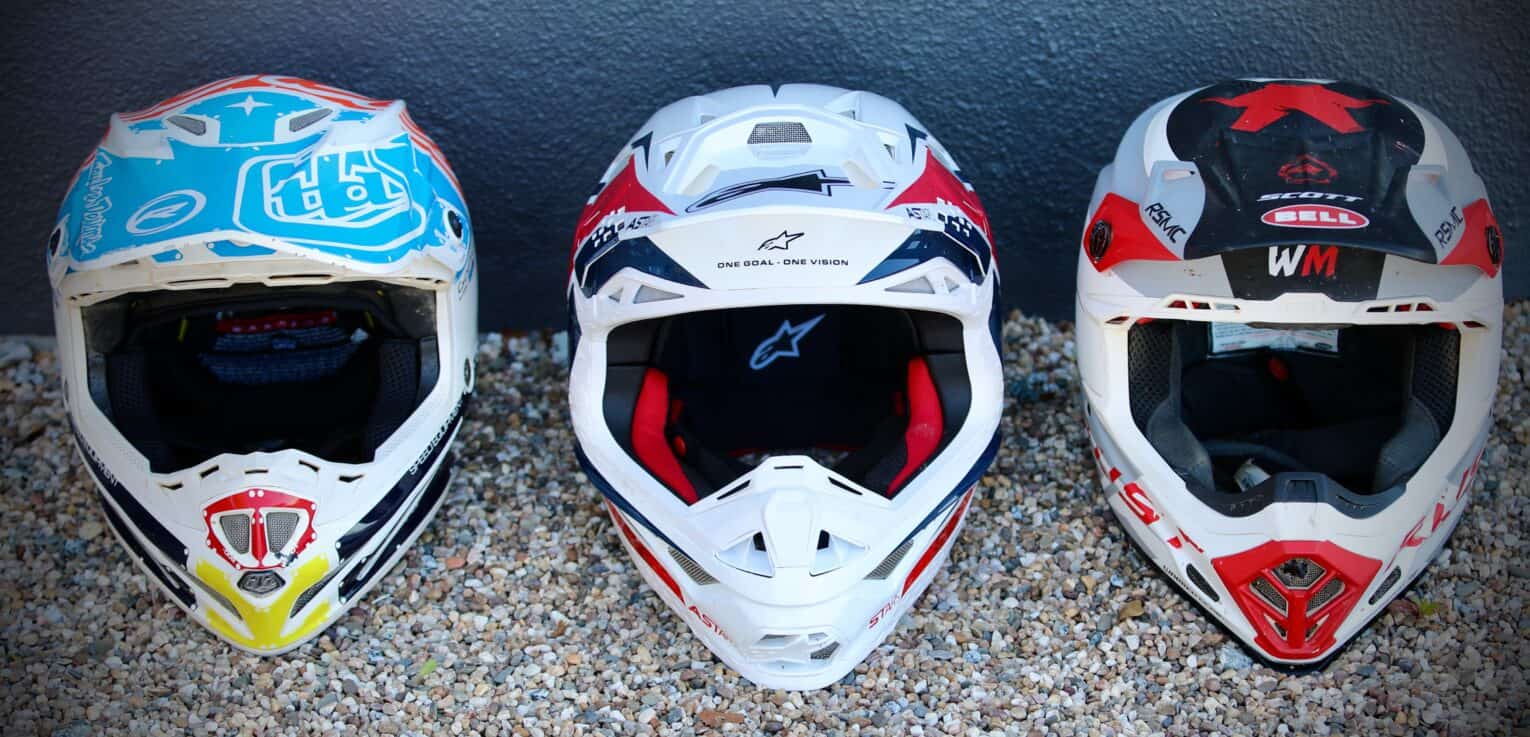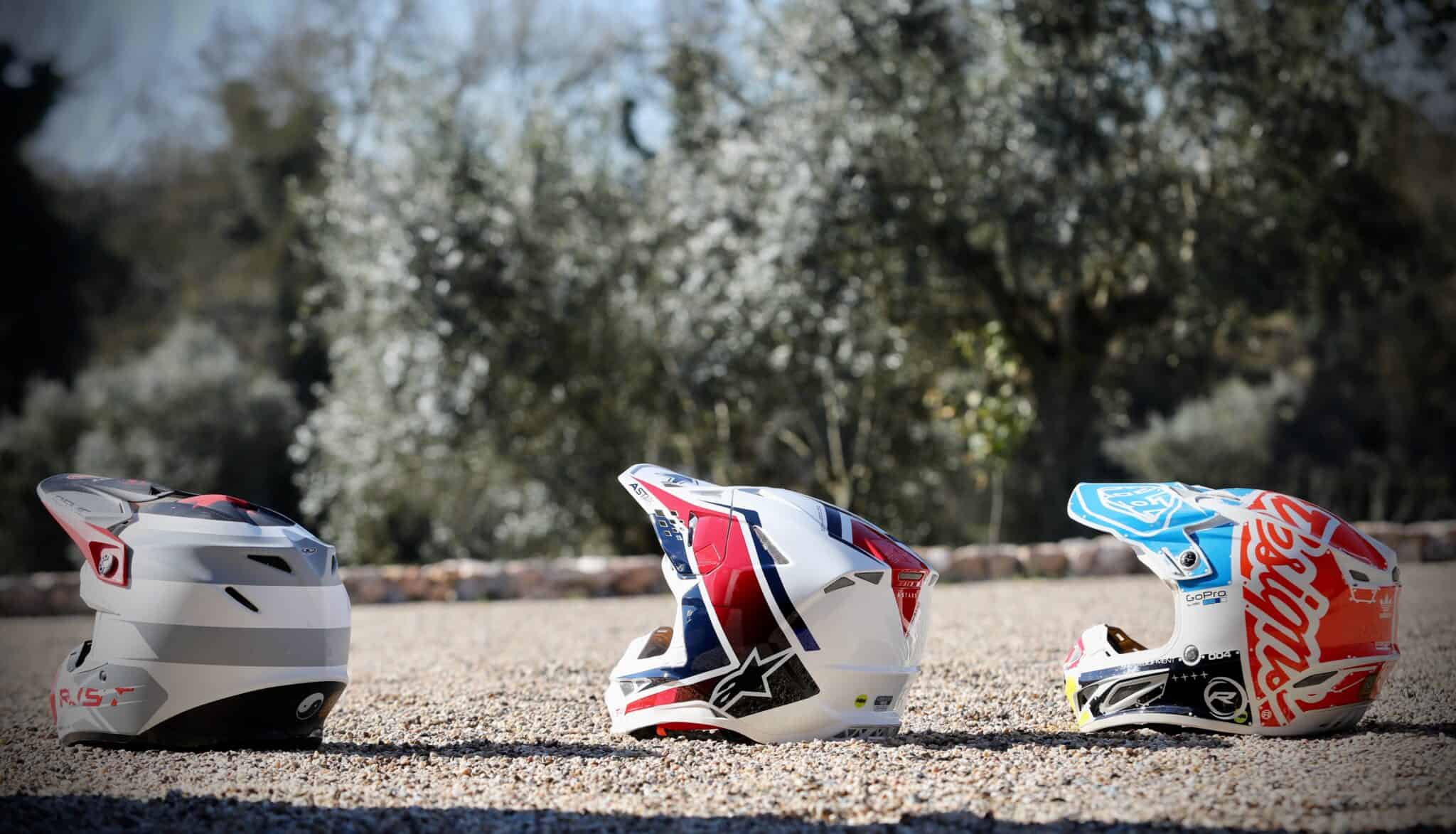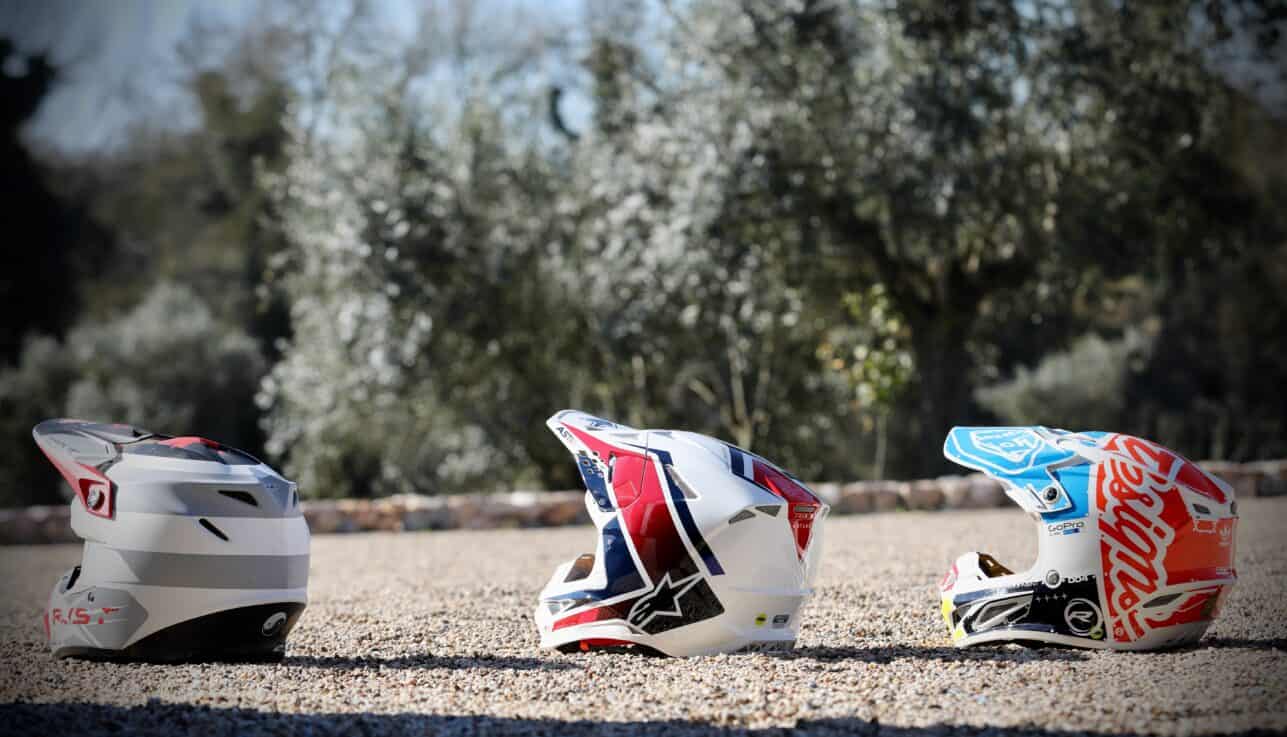 Why? The first reason is safety and the fact this helmet features a Gen2 Mips system (no yellow plastic slider) synonymous with the gen 1 Mips system but rather an upgraded 2 stage liner system that improves reduction in rotational forces on the brain when your head meets the dirt. The other factors in sequence of importance to me was the comfort. I'm a size 59 (L) and I found the fit and comfort bang-on for me. The cheek pads were snug but not tight. The Eye box / aperture is really wide, wider than any other helmet I've tested and certainly wider than the Bell. This meant that my goggles, with and without roll offs fit better. There was no downward pressure on the top of the google frame pushing them down on the nose that often inhibits nose breathing and blocks general airflow around the face.
I sweat more than most unfortunately, so airflow in the helmet is important to me and the SM10 outperforms here too. There are a load of vents, and the design apparently uses the Venturi principle to expel warm air way from the head through the upper vents. All I know is that whatever it uses, it works bloody well. Normally I have sweat dripping down my face within a half hour of tough riding, even when it cool and so far so good, no such problem with sweat so far wearing this helmet. The chin strap is wider than most without being too big (26mm), also good for safety and then there's all the cool stuff that are just added bonuses as far as I'm concerned.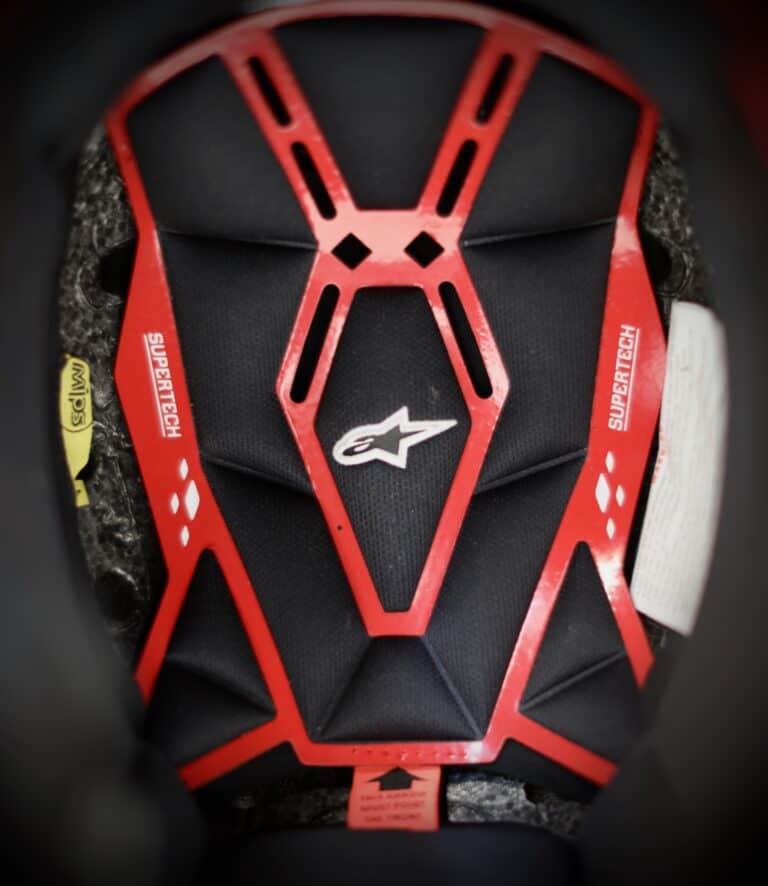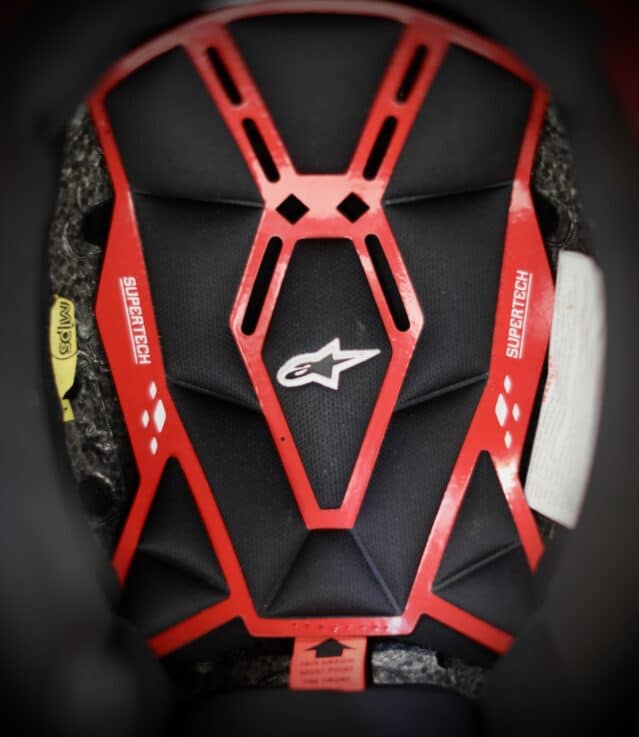 The helmet has an internal compartment for comms devices which I haven't seen on any other dirt helmet so far, built in hands-free hydration channels so you don't have to drill the helmet or wire mesh on the mouthpiece to accommodate the tubes. It's also the only dirt helmet that allows you to adjust the fit to suit you. It has 3 different liner adjustment positions so you can adjust the helmet forward or backward and also deeper into the shell based on your preference. The SM10 has a softer EPP lining below the shell on the sides of the helmet that is designed to reduce a hard impact against the clavicle (collarbone) when you crash and a very unique breakaway peak with no screws or magnets.
So, are there any downsides or foibles?  I suppose that is down to perspectives and personal preferences. The peak is fixed, and some riders may not like that, it didn't bother me, the positioning allows a good view up and down for those steep hill climbs or descents. The chin piece has no foam or mesh in the front vents and if your racing motocross then I'd stuff foam in them to prevent roost potentially hitting your face (murphy's law always prevails that the smallest stone will find its way in there) but for trail riding and using a hands-free tube that's not going to be an issue. I chose the Meta 2 white & red colour-way. The helmet is available in 8 different colours and comes with a helmet bag and spare peak included.
The RRP for the helmet is around the £500 mark but searching online its available from around £399 to £449.00 which seems like a bargain for a helmet of this quality. This lid gets a full 5-stars from me. Great product and excellently priced.