I go full-gas with the Astars gear for 2023.  Tech 7 boots (black and fluo red), Venture R pants, Bionic V2 Protection jacket and the Session Race jacket. For the new 2023 Helmets check out Craig and Warren's reviews.
Starting bottom's up. I just love the Tech 7's right out of the box, they are so comfy and have the best buckle system on the market in my opinion. Its so easy putting on and taking off the boots where this is often a proper faff with other boots. Now for the tech stuff; as you would expect from Astars, the tech is premium. They come in 3 different versions, the enduro, enduro Drystar and motocross. The two enduro models are exactly the same except that the Drystar has a fully waterproof internal membrane. The enduro models have a grippier sole than the motocross versions for wet and muddier conditions. All have a  biomechanical link between middle and bottom sections, wide aperture, injection moulded TPU shin plate and ankle box, honeycomb moulded inner panel for grip and a long laundry list of internal features for comfort. Yeah, fancy stuff.But do I like the Tech 7s to wear? I do, I suppose I'm not spoilt, just look at the pics of what Ive been wearing and you'll know that the Tech 7's are a serious upgrade for me. I think I would go for the Drystar for a 5 star review. The standard enduro version of the boots if they get wet can take a longer time to dry than competitors in the same price bracket. The Tech 7's comp set price is good but not great and gets them flirting with the ultra-premium boot sector and that they are not. The Tech 10's, Sidi Srs 3'S Gaerne SG12 all have something on these boots but as a boot for adventure riding and long days out on the trail these boots are banging. I would choose these them over premium race boots given the comfort levels. They are a no nonsense boot and a solid choice.  I give these boots these boots 4 stars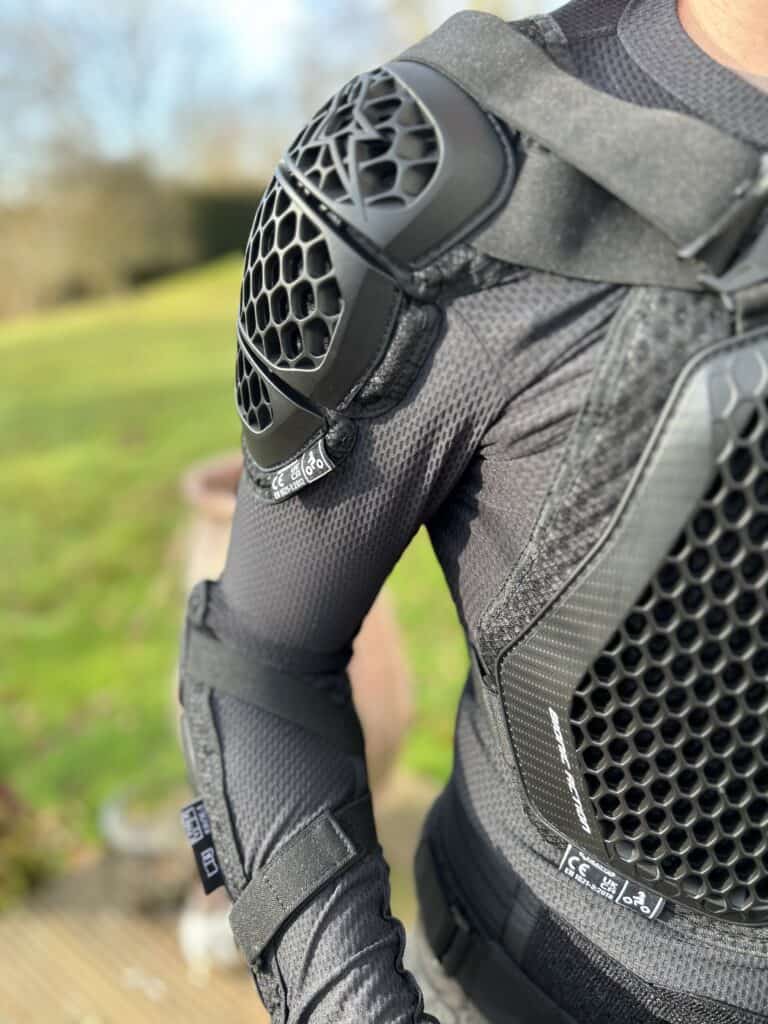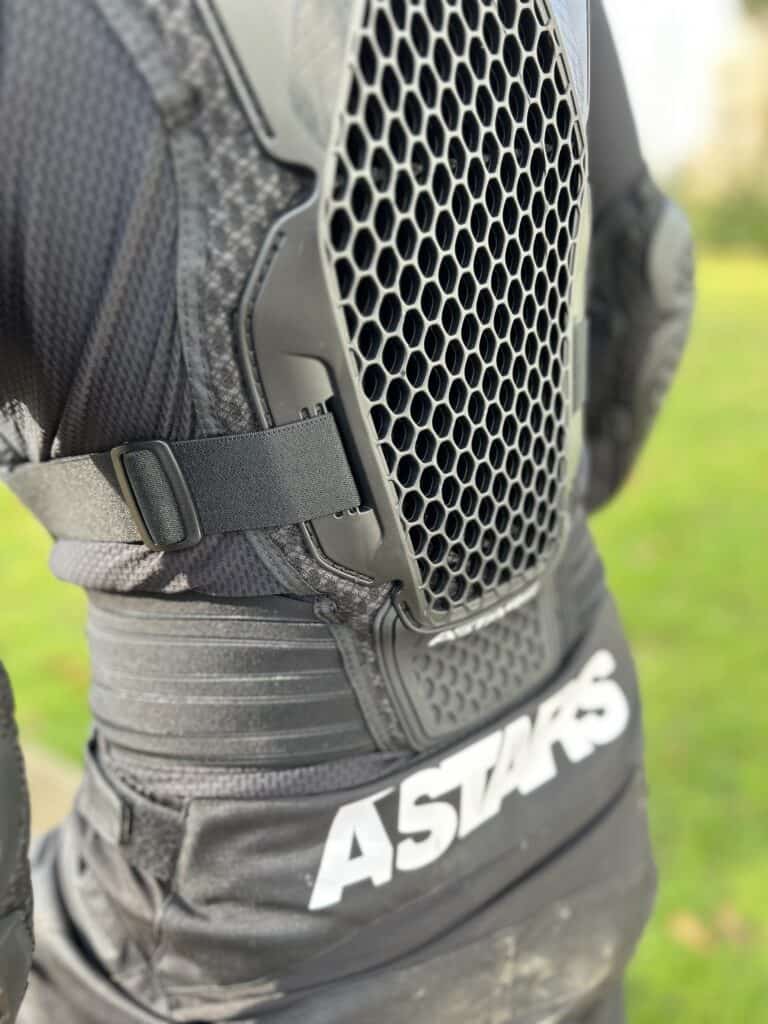 Bionic V2 Protection Jacket. 
I'm confused about the name, its definitely not a 'jacket' but more like a base layer exoskeleton for the upper body. I don't typically wear hard shell armour due to perceived lack of comfort. I just found that it was not as versatile as soft armour, especially for adventure riding but this 'jacket' surprised me.  The vented elastene material was really comfortable and the CE level hard shell protection was clearly well thought out in the way it was positioned and stitched into the fabric. I was unaware of it riding and that's exactly what you want in protection gear, until you need it. The Bionic V2 has CE level 2 protection on the chest and back and Level 1 on the shoulders and elbows and liked the armour extension around the rib cage. I hadn't worn a kidney belt in years and I liked it being incorporated into the design and I'm sure in a crash it would hold the jacket in place really well.  I also liked that in summer I could wear it with a vented shirt over the top and feel like I was fully protected and in winter the mesh allows for a base layer without being bulky. This is especially true around the forearm which has loads of adjustment available. The new 2023 hard shell protection is a big upgrade from plastic protection of yesteryear (hence my bias in the past to the tech advances in soft protection alternatives) and besides now being CE rated it can also be worn comfortably under a backpack for adventure rides or with hydration packs which was not comfortably possible in the past. While off-road protection has not advanced as quickly as on-road development, it is making good steps forward and the Bionic V2 'jacket' is a serious choice for dirt bikers as well as adventure riders. It certainly opened my eyes and removed my bias after testing. I give the V2 Bionic jacket 5 stars for protection, price and comfort. 
Session Race Jacket and Venture R Pants combo – Field tested.
The Venture R pants impressed, they're not overly designed, just functional and they fit perfectly. These are not typiccal mx pants and I like that. They're pure enduro. Well ventilated for all weather conditions which can be opened and closed with well placed sturdy zippers. Ripstop material for real woods and outdoor riding – none of this groomed mx piste style-over- function pants trying to cross over to real outdoor riding. There is plenty of room for knee guards/braces and stretch panels where you need them. I like that Astars have made non nonsense simple, functional enduro pants. They're roomy and movement is totally unrestricted. The fit is European and as per the chart.
This where I start having a gripe about the sizing of the Session jacket and I'm not alone here. Craig and WM both agreed that their XT and Venture jackets were 'American' sized rather than 'Euro' sized. This means that if you have shoulders you're given the corresponding room for a larger midriff as standard. Gone is the slim fit of years past (and this carries over to the 2023 casual and race shirts too). So, while this is one cracking softshell enduro windbreaker the fit lets it down somewhat. No one wants to look 30 pounds heavier than they actually are. Once over my pout about style and looking overweight I really liked the jacket. Its meant to be a lightweight windbreaker for those cooler mornings. The softshell has a polar fleece lining, stretch neoprene collar and cuff and loads of strategic ventilation zippers and a waterproof breast pocket. The jacket itself is not waterproof and its not designed to be. It has a good number of pockets, removable sleeves, a hydration pocket and breast tab for hydration tube and is super light and comfy. As a combo out in the woods I thought the gear was super. Protective, durable, light and comfy. I rate the pants 5 stars and they are great for enduro riding and stylish too. The jacket is let down by the sizing so rather than a 4.5 stars it gets 3.5 stars for less than stellar fit. NH