I recently read something that a reviewer should never make comparisons with other products. The article was by a well trodden, respected 'journalist' who's stuff I've read a decent amount of. Unfortunately I disagree. I'm not a journalist anyway, I'm an engineer, and I've done enough product design and development in various capacities to know that very little development starts afresh, and often as engineers, and riders, we love a comparison, plus that guy isn't very quick, so I'm going to handily listen to, but respectfully ignore that little snippet!
In the interest of proving my engineering provenance, I shall set a premise. I've a big nose, hunter spec eyes and I like to ride with an open mouth and a cool head. I've also crash tested a good few helmets to destruction, and woken up on the floor twice more than I want to think about. It happens. Thus, I don't mess about with cheap helmets. This gig is a hobby, I pay my bills with a brain.
I've done a lot of reading on the MIPS system. See the intro paragraph. I've also done a lot of mountain biking, a good chunk of downhill racing and I could probably start assigning my temper and timely grumpiness to too many knocks to the head. This isn't a MIPS article of course, although i'd happily do one, I have recently also bought a raft of new MIPS equipped MTB helmets.
So (finally) we're almost onto the actual helmet, the Alpinestars SM8 – is a top line offering, and I'll start, as perhaps suggested with a comparison. I've 'campaigned' my Shoei VFX for some time, and have actually gone though about 5 of them in the last four years. I did ask if they'd help out with my Dakar, but they weren't even remotely interested. I wore the VFX on alternate days with my Bell Moto-9, who, via Rust, helped me out a lot. Neither the Shoei or the Bell were MIPS. Time for a change.
This little article is late. It was due on Friday, and today is Tuesday, but I don't review a product without using it. I'd worn the SM8 before, but not this 'carbon' one, and on the day I'd got it, we weren't really tramming on. It was a photo shoot and test day for the new '23 Betas. It wasn't a particularly quick or flowing day – we did a good few hours, in the selfless interest of your reading pleasure, but it wasn't angry, flowing, unadulterated riding. This is what I was doing on Sunday, when I put three hours on a new bike, and four hours on this helmet at a Raw enduro fast and flowing practice day on a new bike.
Sliding the SM8 on it feels like a substantial and solid prospect. You'd be surprised how some of the lower end lids squish and squeak. It's a fairly light bit of kit. It's also easily as comfy as a Shoei, but just a sniff behind the Bell in terms of duvet level cheek squeezing. Obviously it's a fine line with a helmet, but too light starts to get me worried. This isn't that.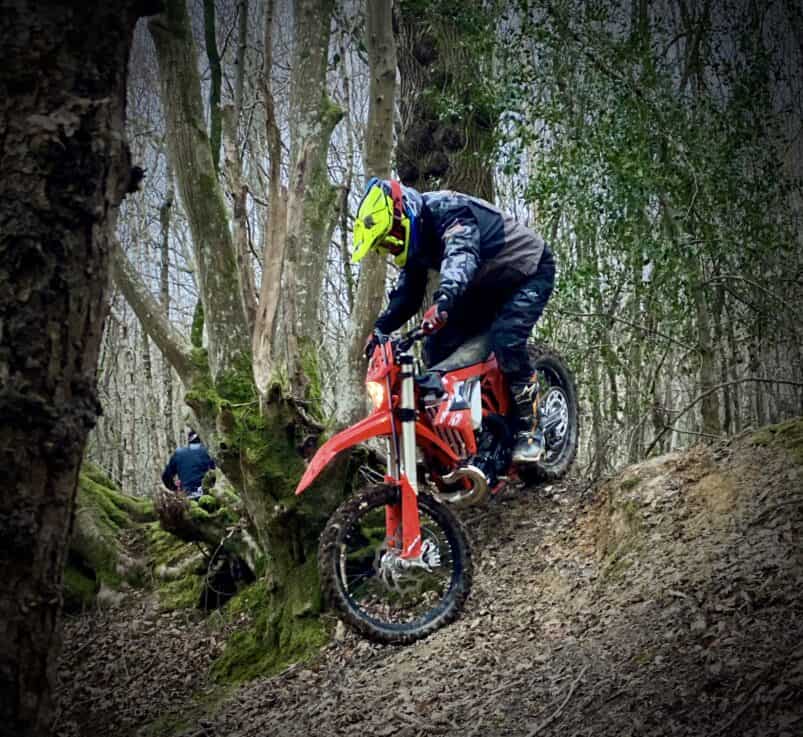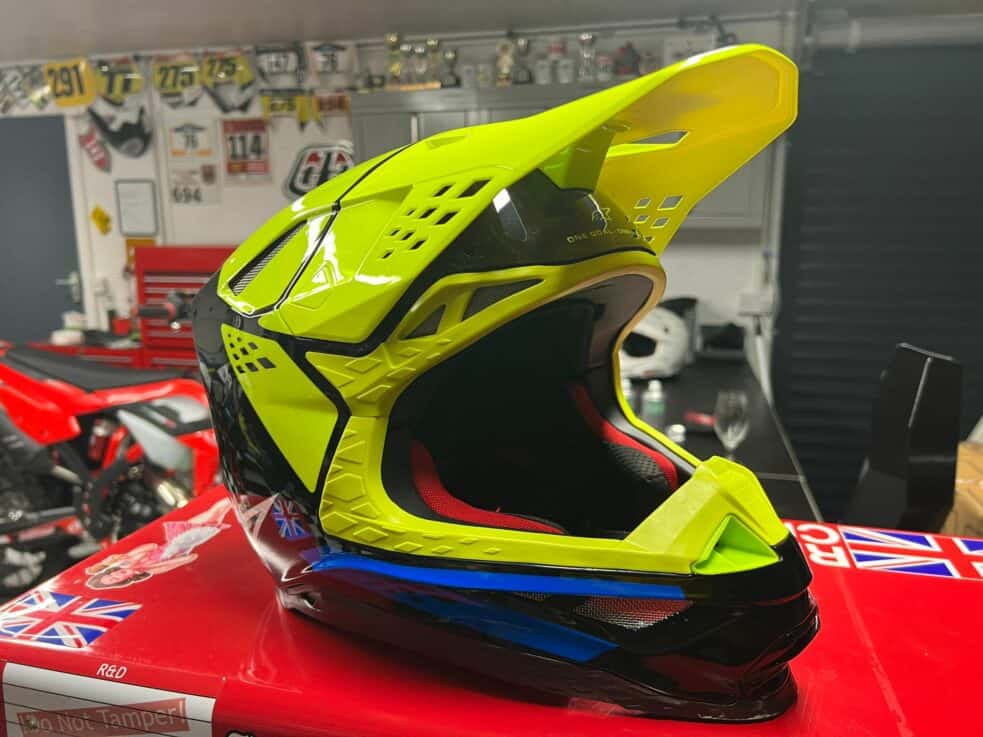 As I'd said, I wanted to test the SM8 in anger, and that I did. I'm typing this with a blue hand having 'brushed' a sturdy tree in the woods as I got a bit tired. During that sweaty session, and after taking a minute to re arrange my lever, swear a bit and check how much blood was oozing from my finger, the airflow of the SM8 showed itself, my head having cooled a little, the air flow around the helmet was far and away the best of any MX lid I've worn. Likewise the end of session helmet head, after an hour and a bit of a cold air blow dry.
Once on, the MIPS isn't entirely apparent, but whether it's imagined or not, it does feel a little less 'tight' on your head.
Goggle aperture is cracking, and once I'd removed the little rubber lip from the nose piece, the ergo's of the helmet around my face were great. I find the mouthpiece of the Bell a little claustrophobic, and it's also difficult to eat with it on (not just a rally riders problem, but handy to be able to wipe your nose or scratch your chin), this SM8 has room enough for all of this.
The push button peak attachment does mean there's no adjustment, but I have mine as high has possible in any case, handy when heading down steep stuff and for looking up at big dunes. In an imaginary dune fest I gave this a good few 'full up' and 'full down' tests and I don't imagine it's an issue. The buttons are slick, and the lack of adjusting probably beneficial in terms of them not shaking loose, a terrible habit of my other helmets on long days. (I mean LONG days at a decent, desert pace here too)
The look of it is great. I do like the fluo, despite being a fan and long term member of club plain white lid. This is a refreshing departure, and my huge 100% roll off goggles slotted in great, plus looked superb, so that's also a plus.
So, cutting to it, I've worn it for four hours of photo shooting and testing – a similar day to greenlaning and mates faffing, with about 3 hrs of actual riding, 2 hours of full kit wearing and about the same of eating, drinking and talking rubbish, and for four hours of actual 'moving' at almost race pace. Would I spend my own money replacing my trusty Shoei with an SM8? (Which comes with a lovely bag and a spare peak) well, yes I would. Do they do them in white?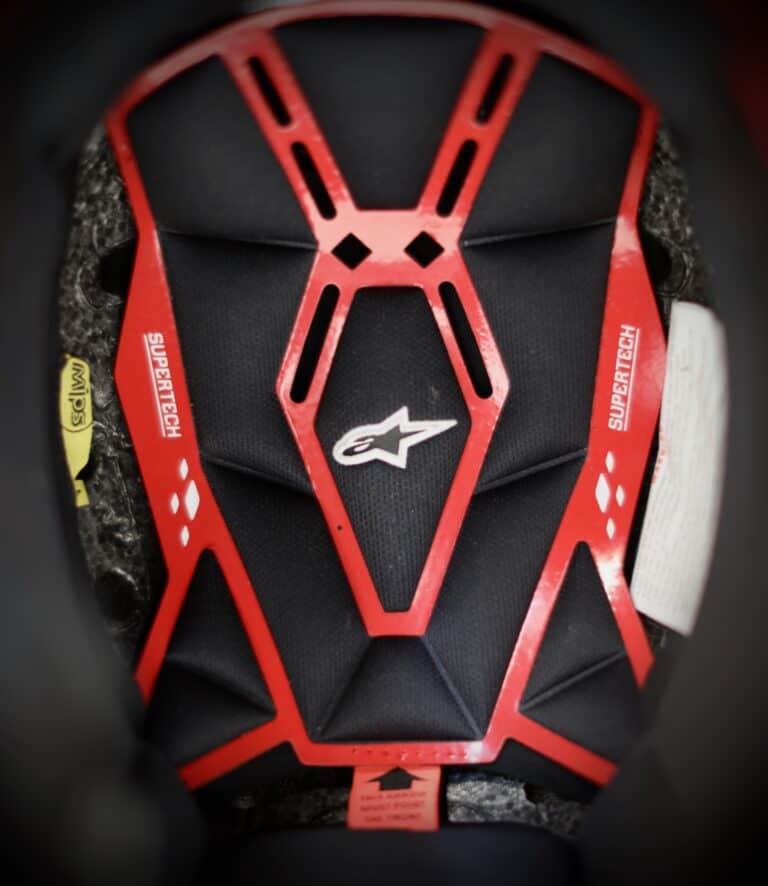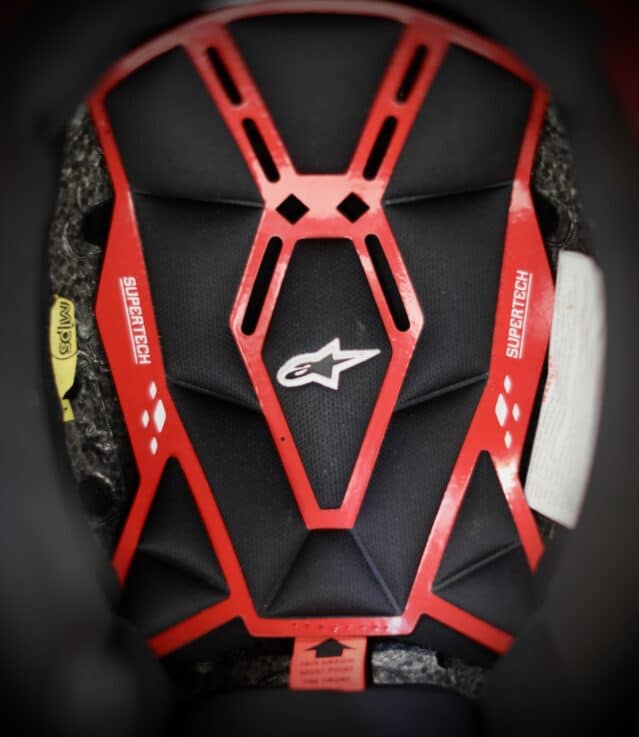 The helmet has an internal compartment for comms devices which I haven't seen on any other dirt helmet so far, built in hands-free hydration channels so you don't have to drill the helmet or wire mesh on the mouthpiece to accommodate the tubes. It's the only dirt helmet that allows you to adjust the fit to suit you. It has 3 different liner adjustment positions so you can adjust the helmet forward or backward and also deeper into the shell based on your preference.  The SM10 has a softer EPP lining below the shell on the sides of the helmet that is designed to reduce a hard impact against the clavicle (collarbone) when you crash and a very unique breakaway peak with no screws or magnets.
So, are there any downsides or foibles?  I suppose that is down to perspectives and personal preferences. The peak is fixed, and some riders may not like that, it didn't bother me, the positioning allows a good view up and down for those steep hill climbs or descents. The chin piece has no foam or mesh in the front vents and if your racing motocross then I'd stuff foam in them to prevent roost potentially hitting your face (murphy's law always prevails that the smallest stone will find its way in there) but for trail riding and using a hands-free tube that's not going to be an issue. I chose the Meta 2 white & red colour-way. The helmet is available in 8 different colours and comes with a helmet bag and spare peak included.
The RRP for the helmet is around the £500 mark but searching online its available from around £399 to £449.00 which seems like a bargain for a helmet of this quality.