It's early December 2004 in Wurzburg, Germany. Four Harley-Davidsons are being strapped down in their crates. Destination: The end of the world. The itinerary: Buenos Aires to Ushuaia via Ruta 40.
The challenges that lie ahead include broken down planes, cracked gearboxes, bottomless gravel, winds from the Antarctic, not to mention the sheer madness of dirt riding on heavy, vintage machinery. This is classic Adventure Sport with a twist. Welcome to the madness… Across Patagonia to Tierra Del Fuego on vintage Harleys. Are they mad…?
HARLEY-DAVIDSON motorcycles are unreliable, right? It's a prejudice that is at least as outdated as the one that says all Scots are penny-pinching or all-Bavarians-wear-leather-pants. Where does this prejudice come from? Well, a lot of it has to do with the recreational drugs and the 1970s. Let me explain…
The centennial history of the Milwaukee brand demonstrates that until well into the 1960s Harleys were bought mainly for their dependability, not just in the US but in Europe as well. The decline set in with the rise of the chopper cult during the Hippy era, when many unskilled hobby mechanics started to realise their Easy Rider fantasies in their dad´s garage. The resulting creations often looked wild but rarely performed as well as they looked. And these home-builds forged a public image that still sticks to the brand like tar (although I'd wager the AMF management of the company from 1969 to 1981 might also have something to do with the decline – the AMF years saw bad management and some shocking bikes while build quality sunk to an all-time low – JB) Nevertheless, there was no turning back and at least those days can be considered as the beginning of a worldwide phenomenon of individualising Harleys, today called customising.
So back in 2004 four guys set about proving to the world that the image of Harleys as unreliable boulevard cruisers was misplaced. Actually these guys had a vested interest in proving the worth of their machinery – three of them were staff members of the German Harley accessories company W&W Cycles, the fourth was a photographer brought in to document the trip. And the bikes they chose to travel on were as bonkers as the guys themselves.
Two riders were mounted on original Knucklehead models from 1946 and 1947, ie without rear suspension and with minimal fork travel. For these bikes the 5500km that lay ahead, of which 2000km would be on gravel roads, should prove a merciless punishment. The third bike was a Panhead – again a rigid frame model – completely assembled from accessory parts from the W&W Cycles warehouse. Only the photographer who was hired from outside had a modern(ish) scoot: an enduro-like modified 1995 Sportster. No helicopter assistance, no 4×4 support, no TV crew, no doctors, just four guys on four old bikes on a five-week trip to Patagonia and 'Fireland' in South America looking to silence the Harley critics once and for all.
Jumped start (Amsterdam to Buenos Aires)
Three weeks after the bikes had left Europe, the four riders Joe, Paul, Tommy and Volker leave for Buenos Aires, to straddle their 74 cu.in. V-twins. Paul's riding a '46 rigid Knuckle on 19 inch wheels and Joe's on a '47 Knuckle – both feature hand-shift, foot clutches and long-range five gallon tanks. Next is Volker's heavily modified off-road Evo Sportster – this has huge carrying capacity for Volker's photographic equipment. Last is Tommy's Panhead, well proven in an earlier outing to Panama!
Only there's bad news right at the start: at Buenos Aires airport we meet the DHL manager who regrets to inform us that the bikes are in fact still in Europe. The plane has developed a fault and is stuck in Amsterdam. There's no Plan B just yet. But at least passing through Argentine customs is a cinch. The climate is hot, but damp, and the locals receive us with overwhelming warmth and friendliness. Alberto, and his buddy Flavio have organised a grandiose 'asado', meaning an orgy of steak, steak and more steak. They even make room in their homes so we forget the Harleys for the time being and think about our bellies. A couple of hunks of charred meat and some cold ones later, we fall into a blissful sleep…
Argentine Asphalt! (Buenos Aires to Pedro Luro)
Next morning we awake to the news that the bikes have arrived in Buenos Aires. After uncrating them the equipment goes on the bikes. Tomorrow we'll roll!
When tomorrow arrives it's raining buckets. So we decide to finish packing in a more leisurely manner and don't get seriously rolling until the afternoon. We manage 400km on the Ruta 3 to Azul with a stopover at 'La posta del viajero en moto', a travellers must-see. It's a humble shack filled with stickers, presents, graffiti, pictures, postcards from bikers from all over the world. The day ends in the now traditional way: asado, beer, bed. The following day the landscape changes from flat to flatter. So we roll along to our own tune… eight cylinders thunder through Bahia Blanca to Pedro Luro. That's 550km in one hit.
Acetylene-torch, Anyone? (Pedro Luro to Puerto Piramides)
The first breakdown occurs. Despite extensive testing on home soil, Tommy's rear brake and the springs of his solo seat go kaput. Not funny on a rigid framed machine. While Tommy battles on unsprung and semi-braked, W&W Cycles headquarters ship our first UPS emergency kit with much needed spares.
'Patagonia Starts Here' says the long awaited sign on the side of the road, and as we depart Argentina we start to think that we are finally underway. Volker's Sportster doesn't think so: it slides to a halt, two spokes have broken and punctured the tyre, but the flat is quickly fixed and an hour later we move off again. Leaving Viedma we face nothing. Okay, there is a road under our wheels but to the left and right there is nothing but featureless plain. Cow skins are drying over fences, the relentless heat blow-dries our faces and scorches the skin, the bikes rumble along. So in San Antonio we decide to hang a left to the coast. Las Grutas, a little resort town promises refreshment. Not refreshing is the hand-soldered internet connection. No photos get sent again today.
All next day we cruise across a lot of nothing, until we get to the Valdez peninsula a kind of island shaped chunk of rock sticking out into the South Atlantic: alpacas, ostriches and armadillos line the road, which are a strange sight to our European eyes. Today we stop in Puerto Pirámides for the night – and some minor surgery: Tommy drops the hand pump in Volker's gas tank while pumping fuel from one tank to the other. Guess who gets to extract it, again. To end the day, we chow down in full view of the ocean: sensational!
Penguins & Peninsula (Valdés Peninsula to Esquel)
A fun little tour around the peninsula, and we get the full Monty: deep, treacherous gravel, killer winds and evil dust obscuring the gravel track. A short break in Punta Norte where we get to see penguins, sea lions, sea elephants, many of them with newborns – cute! Two wheeled reality is back soon: Paul's primary chain needs adjustment, wind and dust or not. A little later black smoke splurges from his bike's tailpipe. This low-revving gravel-travel is fouling the plugs. New plugs in and VRRROOOOM, the bike's 74 cubic inches breathe freely again. Back in Puerto Pirámides we do a major service on the bikes, tomorrow it's gonna be a lot of miles.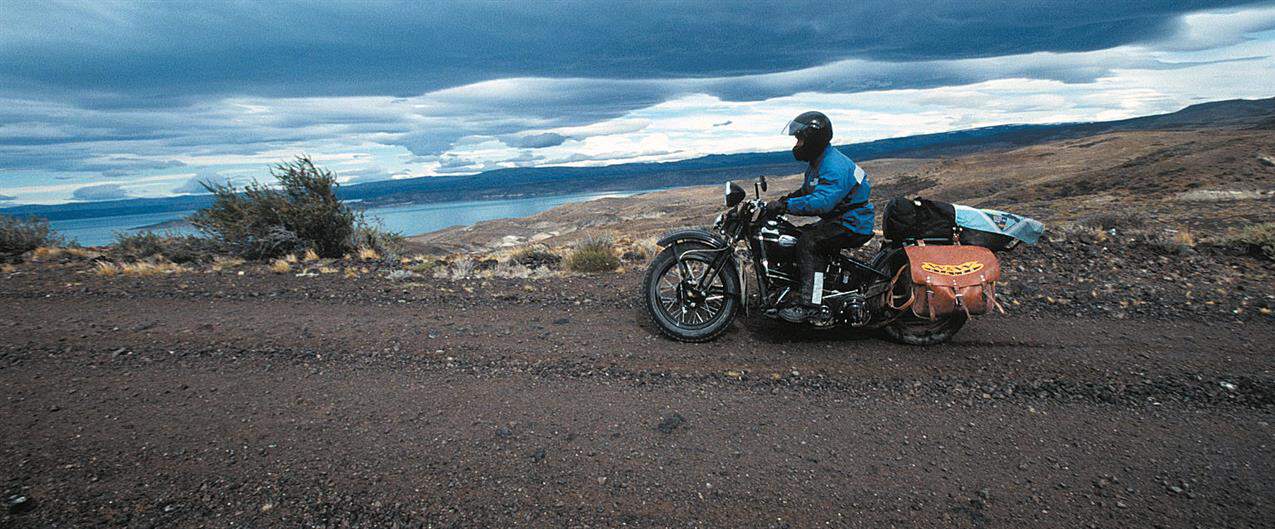 By noon next day we blaze through Trelev, from there to Ruta 25, due west 180km across the steppe. Big, wide open, hot, desolate, a short gas stop in Las Plumas keeps us going to the Valle de los Martires which is an eye opener for all of us. The Valley of the Martyrs is a mix between Monument Valley and the Grand Canyon, crammed with completely wacky formations – buttes, needles, and all kinds of desert scenery; it's the perfect setting for a bike movie. Out there there's endless barren steppe and the mountains, and yet near the road, along the Rio Chubut there's lush vegetation. And it gets even better: sunset in Los Altares, a cold beer in our hands. Monumental scenery. In fact the only things that keep getting smaller are the towns. While the straights are getting longer. It's 200 bend-free kilometres from Paso de los Indios to Tecka, a one-horse town with one gas station. This is travel the South American way.
At last we hit the mother of all gravel roads, the infamous Ruta 40. We lay the first rubber on this legendary road and even the big twins' rumble gets a touch more solemn. Along the Rio Techa the four riders roll towards Esquel for some much needed laundry, picture sending e-mail and bike servicing. Tommy has found someone who knows someone who knows a guy that can weld his saddle. While the welding is going on in some shack, Ricky from Bariloche brings the long awaited spare parts for Tommy's rear brake. Paul and Tommy have it fixed within an hour. To celebrate the day we separate a couple of cows from their steaks, and drink the bar dry.
Rocky Roads (Esquel to Perito Moreno)
Next comes 400km of Ruta 40. Apparently 40 in Spanish means 'a lot of gravel' or something like that. Right from the start we get the feeling that the Ruta 40 separates the men from the boys. A biker from Brazil, on his way up from the south on a Yamaha brings us news: the 40 is in a hopeless state, and the wind howls along it as if from a turbine. Hey, this sounds like fun! Well, we didn't ship four Harleys from Europe to South America to go Sunday driving. The day ends in a place called Rio Mayo, with an asado, for a change. The local radio (it is actually next door) rocks our getaway with Joe's and Volker's favourite Metal bands. Bad to the B-b-bone…
Meantime the Ruta 40 rocks on. It is a nightmare of round pebbly gravel and larger chunks of rock. More than 25mph is impossible for the rigids. Volker on his 'modern' Evo Sportster can go faster which is a good thing. He rides ahead, stops and takes pictures of us as we scramble past. Crappy road, great pictures, trouble-free bikes today.
We reach Perito Moreno after five hours of butt-massage and gravel-surfing. We dine on home-made chorizo-ham-cheese-olive-toasties. And spend a great evening with some hitch hiking Argentinos and Israelis. Hitch hiking, a great idea – if you wanna stick your thumb in the wind, you get all the wind you want here. But finding cars or trucks to pick you up is more of a problem. They do come along but you have to wait…
At breakfast time we hear that the Ruta 40 is possibly better from here onwards. And, lo and behold, the gravel gets friendlier, 30, 40, even 55mph are possible at times. The land is as barren as ever – albeit here and there decorated with buttes and dead volcanic cones. It's an other-worldly landscape we are riding through…
To read the rest of this feature, just click the link below… Do they make it Ushuaia unscathed? Probably not…
Read full article in RUST – Issue 8 or download as a pdf here