Fancy making your trailriding a little easier? RUST gathers together a bunch of middleweight Easy Riders and heads up the trail to easy street…
You know how it is when you reach that certain stage in life? You know the one where you begin to think that slippers might be a good idea in winter after all? When you choose a car, not on its pulling power with the opposite sex, but on whether it comes with heated seats. And where your idea of a good night out involves getting home by 10pm in order to see the evening news. You my friend, are an Easy Rider.
Easy Riders haven't given up on life just yet. They still listen to their old Stranglers albums, but now instead of pogo-ing around the room, they nod their heads discreetly to their iPod earphones. And instead of dressing up in Pringle every weekend and playing a four-ball they're out shooting the trail with a bunch of mates. But they're savvy enough to know the difference between owning a bike and one that owns them. Y'see Easy Riders want a dirt bike that's easy to have fun on, but they're not quite ready to settle down with a 250 four-stroke quite yet.
And while some of their mates still insist on riding full-fat, uber-powerful race machinery, Easy Riders know full well that they're the same mates who invariably leave a ride partway through, because they're 'knackered' long before the finish.
Tough Choices
So what choice of bike do Easy Riders have these days? Well two of the obvious ones are the new Husaberg 390 and the ever-friendly KTM 400EXC. Both these bikes have been introduced by their respective manufacturers' SPECIFICALLY to cater for the Easy Rider sector. Both models are designed to be less powerful than full-blown 450s, and both have the so-called 'hobby rider' squirming in their GAP chinos in anticipation.
Alongside these two we have the new-kid-on-the-block in the form of the all-new Suzuki RMX450Z. Not strictly an Easy Rider as such, but having come away from the launch test of the RMX last month with the overriding impression that an awful lot of trail riders are going to be signing on the RMX's dotted line, we felt that it should be included here. At the very least as a yardstick for the 450 class and a means by which the other Easy Riders could be judged. Would it get the nod as the Easy Rider of the 450 class? We were aiming to find out.
And then we have the oddball of the bunch, in the form of a secondhand dirt bike. Yep, we accept not all readers can afford to stump for a new six-grand machine, so we included a two-grand one. Purchased secondhand, our Sherco 4.5i cost about a third of the price of a brand new dirt bike, but looked almost new. We chose the Sherco for good reason, as it not only won our 450cc shootout a few years back, but it did so by dint of being the easiest and coolest 450 to have fun on. Do you need to ride the latest machine to get your Easy Riding kicks? We were about to discover the truth.
So we had the makings of a classic shootout: four bikes, three of the latest models (one absolutely brand-spanking – the RMX), bone secondhand, three fuel-injected, one carbed (the KTM), btwo 400s and two 450s. The plan was to join up with a well-known forumite and then together with a bunch of Welsh trail riders, head off on a typical day's riding. And for that we schlepped over to the area around the Black mountains and nearby Ammanford.
Despite Jack Frost having set his heater to demist during the previous five days, there were still isolated patches of snow up on the mountain tops. Indeed where it had drifted and filled-in hollows it was feet deep in places. Elsewhere the thaw had turned snow to water, and the water had turned the tracks and trails to a soggy bath sponge. Every turn of a wheel saw water squirting out in all directions and a couple of the steeper tracks had suffered deep gulley erosion from water flowing down off the hills.
This then was the perfect test of a bike's ability to be an Easy Rider. With grip at a premium, power the enemy of control, and countless other clichés falling easily to hand, we donned our waterproof socks and headed for the torrential Taffy trails.
Suzuki RMX450Z, 122.8kg, 948mm seat height.
The Welsh trails can be a challenge at the best of times, but chuck in a few million cubic gallons of water, a Siberian ski season and a lack of riding over Christmas and it probably won't surprise you to learn that I was the first to succumb to the Suzuki's slightly more quick-fire power delivery, and fling it rudely across the floor – albeit at fairly low speed.
Despite first impressions that the Suzuki's probably not the most powerful 450 in class, I remarked in last month's launch test that it can still catch you out at the bottom end (okay, what I actually said was "it can feel a bit 'cammy' at walking pace'…. and…. "it's no plodder", and having ridden it a second time, I stand by those remarks).
Just like a motocrosser, the RMX wants to pull hard from low down – when sometimes all you need is to be carried along on a melody of throttle, the RMX comes blasting in with some monster powerchords! And if the volume's too low then the music stops completely and getting it to start up again can be quite a chore. Sometimes the starter churns for a good five or ten seconds before the motor comes chiming into life.
This is strangely at odds with Suzuki's usual high standards of fuelling on their injected bikes and makes me think that there's a little more set-up work needed to get the RMX's fuelling spot-on right at the bottom. Not that there's a hiccup or a flat-spot (there isn't), cit's just that the transition between stalling and wheelspin is hard to judge.
Okay, it's not a bike designed for Long Distance Trials, but it does make finessing the power on slippery going a little bit more awkward than it needs to be. Once above walking pace I loved the Suzuki's power delivery, which was broad and strong, but never overpowering. But I have to say that not everyone agreed with me. Paul 'Elvis' Davis is a decent trials rider and an expert enduro rider to boot, but he felt the 'RMX's power was a bit too on/off' cfor his liking. Whilst Terry Brooks commented that 'the vibes were awful.'
I know what he means and while personally I didn't find the vibes all that intrusive, you are aware that it isn't quite as smooth as any of the other bikes here, that's for sure. Interestingly, Elvis' riding buddy, Darren Jones reckoned that the 'RMX has an awesome engine' cand that 'the power would get you out of any situation.' cAdding that he felt the bike had 'intermediate sort of power' which was 'especially good from the midrange up…'
There were mixed reviews for the suspension too which Elvis felt was 'too heavily sprung for the trail', and Darren agreed: 'The RMX has a more harsher ride, but could probably be adjusted to suit the rider.'
And I agree with that – okay it wasn't quite as softly sprung as the other bikes, and in the heavy conditions we encountered, that made it seem quite firm and unforgiving, but I suspect there will be many riders that use their bikes on firmer, faster going where the Suzuki's Showas will come into their own. At least everyone agreed that the RMX's Nissin front brake was the best of the bunch with all the feel and retardation you could possibly need. And that's some accolade, because the Sherco has an absolutely blinding set of anchors, while both the Berg and KTM use the latest design of Brembos which are a massive improvement on the old design.
When it came to the riding position it was a split victory once again with 6ft tall Darren and me (5ft 11in) favouring the roomy RMX, while Paul and Terry (5ft 7in) both preferred the more compact Berg. As Darren put in: 'On the RMX my feet felt planted all the time, my hands were in the right position and the seat and tank were narrower.' And I've got to say I agree wholeheartedly with that. I felt most at home on the RMX and KTM, followed by the Sherco and Berg in that order!
So was the RMX an Easy Rider as such….? Well no it wasn't, at least not in this context and in these particular conditions, but it needs other bikes to put it into perspective, that's why multi-bike shootouts are so useful. It's also worth pointing out that the RMX is a full 450cc and had we brought the more powerful 450EXC and Bergs along for the ride, then the outcome may well have been different. Suffice it to say that the RMX is a fabulous sport-trailie – albeit one with the emphasis firmly on sport and with a slightly more aggressive power delivery than a typical 400 (and some 450s). It has awesome brakes, a brilliant riding position and a great chassis but in this context among Easy Riders, it can't claim the gong.
Husaberg FE390, 123.4kg, 960mm seat height
I've been itching to get my hands on a Berg 390 and ride it on British soil ever since the launch last year in southern Spain where it consumed the technical dusty tracks like a lithe 250 4T! Oddly enough at 123.4kg on the RUST scales it's actually the heaviest of the three new bikes tested here (albeit not by very much), but as it carries the most fuel we'll let that pass.
It also has the highest seat height measured back at the ranch – 2mm up on the KTM and 12mm taller than the RMX, but being fitted with extremely plush suspension, the difference is marginal once you clamber aboard. I have to say that there was universal praise for the Berg 390 from EVERYONE who rode it. This despite our guest riders looking at the (high-crank) engine and commenting on its strange appearance. But as soon as they got going, all thoughts about its looks disappeared completely.
Elvis in particular fell immediately in love with the Husaberg and had to be forcably prised from its seat whenever we stopped to have a change of bikes. These are his comments on the FE immediately after the test. 'I loved the Berg, it instantly felt like it fitted me like a glove. It's such a great bike, so bloody nimble and easy to ride. The suspension is super plush, the gearbox is sweet as a nut, and the engine – with slightly less power [than a 450] – gives more in the way of grip.'
Darren echoed his comments adding: 'the Berg seemed so much like a 250 four-stroke to ride. The power is so forgiving, it's so agile and it's just so easy to get on with. From an Easy Riders' point of view you can just jump on the Husaberg and go.' Even Terry the owner of the Sherco, reckoned that 'the Berg has a fun snap to its power.'
I've gotta' say that for me the Berg was the one I was most looking forward to ride, and the one I felt most disappointed with when I actually first jumped on. I'd forgotten how tiny it felt (usually a good thing, but in this case it felt ever so slightly cramped), and the engine seemed slightly revvier than I remember. And (dare I say) because it sprinted through its rev range so quickly, it made you feel like you were wringing its neck and that it could've done with having a touch more power.
Stopping to roll the bars a little further forward in the clamps improved matters slightly in that it allowed more cockpit space, though I'm not that taken with the bend of the bars fitted to the Berg. But I have to agree with the others that familiarity with the FE brings nothing but huge smiles. It does feel like a 250 4T to ride, it does feel the lightest of all the bikes, and it does handle amazingly.
As an Easy Rider – yep it's bang on the money, though I wished for a touch more traction from its slightly quick-revving motor to really satisfy me. Was it the best of this bunch, well so far it was certainly heading that way.
KTM 400EXC, 121.7kg, 958mm seat height
There's Easy Riders and then there's the KTM 400 – the bike that defines the Easy Rider category. This bike was conceived as the king of the Easy Riders and it's a role it fills perfectly. Jump aboard a KTM 400 and you climb onto Easy Riding perfection. It feels right, it starts easily, it grips low down, it powers through the midrange, it storms up top, it rides the bumps, it stops and goes just like any good dirt bike, but it does it all with the ABSOLUTE minimum of fuss and demands of the rider. And it does it all with a sense of incredible solidity. If I had to design my own Easy Rider, then this is the bike I would end up with.
Oddly enough it wasn't everyone else's first choice in all the usual categories of how you define a great bike, though this is what the others had to say about the KTM. Elvis: 'It felt like it had a bit more power than the Husaberg, and more forgiving power than the RMX, in short its power delivery was nigh-on perfect. And its handling was a VERY close second to the Husaberg.'
Darren agreed: 'I like the power delivery of the KTM best, it was smooth and usable right the way up from the bottom to the very top. As for the handling… it's a KTM… The geometry is absolutely fantastic!'
Terry wasn't quite so taken by the KTM, he confesses he's no lover of the orange brand as he reckons the bikes feel 'nervous' in terms of their handling and the suspension is overly stiff. But as any KTM owner will tell you, it's all about familiarisation.
There was one section of trail we rode where a series of continual depressions in the ground formed perfect leaping off points to jump into and out of one bowl to the next one. I tried it on the RMX first (plenty of poke, good handling but the wrong gearing for this trick), the Husaberg came next (good gearing, nice smooth power, but slightly too soft suspension), and finally the KTM (perfect power, handling and suspension, and the most fun all round).
It would be easy to dismiss all other bikes and nail my colours to the orange mast right now, but that would be to deny the Husaberg its due, to overlook the feistier but still fun RMX and besides, there was another bike along for the test…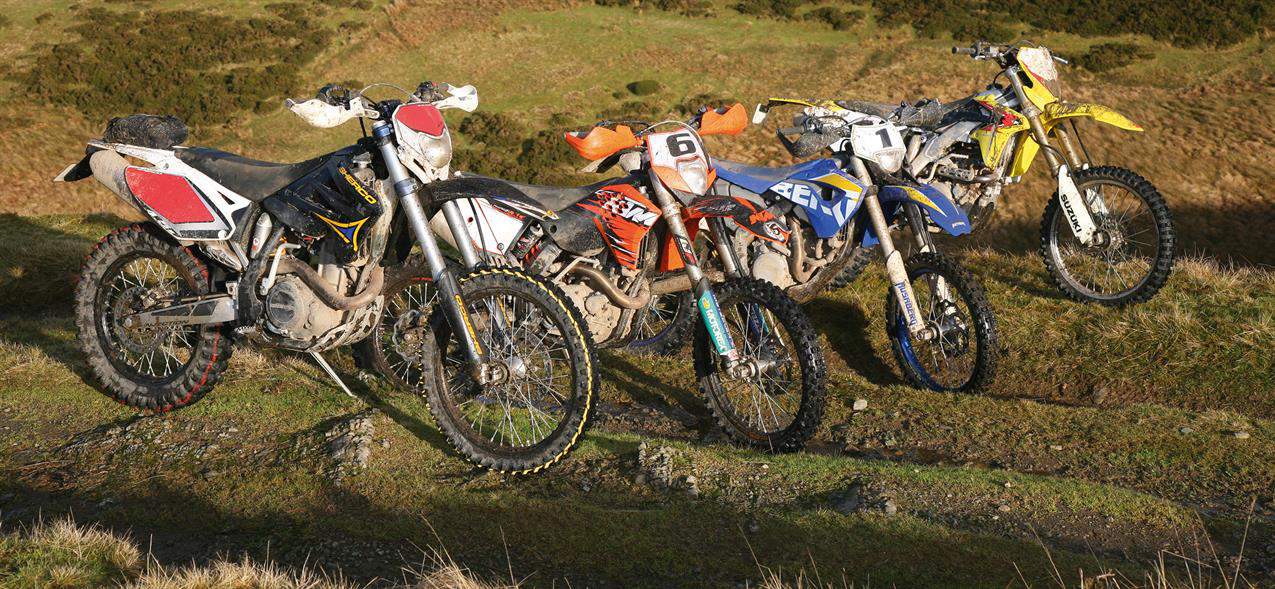 Sherco 4.5i
A few days before we started putting this test together we took a call from a mate of ours asking about Sherco 450s. Was it a good bike, would he like it, was it too powerful for his type of trail riding, or would he be better off with something else? Despite the fact that he was coming off a 250cc four-stroke Yamaha Tricker, we had no hesitation in recommending the Sherco – as long as it was for sale at the right price. 'They want two grand' he said, 'for a 2008 model.' 'Bloody hell fire… go get it right away' we told him. And he did.
The bike in question is an '08 model with a few of the 2009 updates and about 5000 miles on the bore. But the cost of our advice was that the Sherco got to be included in our test as a way of showing what else you can get for a fraction of the cost of a new bike.
I was wondering whether the Sherco would feel as good as I remembered it – especially a used one – but I needn't have worried. Aside from the fact that this particular bike looked and felt almost like new, it was every bit as good as I'd recalled when it won our 450 shootout back in May 2006!
It managed that victory (over an old model EXC450 and a CRF450X) by virtue of being the easiest of the 450s to ride fast, thanks to super supple suspension, an easy-going motor (modelled on the old KTM lump), a neutral handling chassis, great riding position and an awesome set of brakes. In fact about the only area where you can tell that dirt bikes have evolved in the intervening years is in the general size and feel of the Sherco. Even back then it didn't feel exactly cutting edge in its design, it felt a few millimetres bigger in every dimension than the other models, and nowadays with bikes shedding pounds and feeling fractionally smaller each year, you can definitely notice the size difference.
That said the Sherco is still a good bike – a bloody good bike – and the first time I jumped on it I remembered why. The lane in question was rocky (Sherco's favourite territory), and led fairly steeply downhill. It was one of those lanes where a quick-steering bike could easily get knocked off course by an errant boulder (as happened to the Husaberg), or too much of the wrong sort of power (as happened to the RMX). What you need is a bike with a gentle power delivery, stable handling and brilliant brakes. And that's exactly what the Sherco's got, as well as a lovely flat seat and arguably the very best riding position in town. And as I scooted my way to the end of the lane ahead of all the other bikes, I thought to myself how good it felt for a bike which cost a fraction of the price of the others.
Sure it's not the latest piece of kit, it doesn't look as nice and it has a few miles on the clock, but in terms of value for money – he da maaaaan! But don't just take my word for it, here's what the others had to say. Darren: 'It's an absolutely fantastic buy for the money, this bike would suit any trail rider, the brakes and suspension are good and it's one of those bikes that just sort of slipped through the net.'
Elvis added: 'If I was buying a bike purely for trail riding on and one of these came up at that sort of money, this is the bike I would buy. I haven't really known much about Shercos before now, but having ridden this one and coupled with their recent success in the Dakar rally [a Sherco 450 won the opening stage], it's really opened my eyes up to the Sherco'.
Praise indeed – so there you have it. Everyone liked the Sherco, but then we told you how great it was back in 2005 when we first tested it. And repeated it again in 2006 and still no bugger bought 'em. Which is why bikes like this come up for sale on the secondhand market at knockdown prices. As an Easy Rider the Sherco 4.5i is brilliant, but it's also good as an allround racer and 450 class machine.
Thanks to: Terry Brooks for his amazing help in putting this feature together: for organising the ride-out, loaning his bike, providing the accommodation and subbing me 20 quid when I forgot my wallet. You're a star! Thanks also to Terry's mates Paul Elvis Davis, Darren Do-Da Jones and especially Jason Lewis who guided us round the lanes of South Wales. Heroes one and all. Thanks also to Sean and Ross at KTM and Husaberg, Luke and Helen at Suzuki and VW vans for the loan of a Transporter. Cheers guys!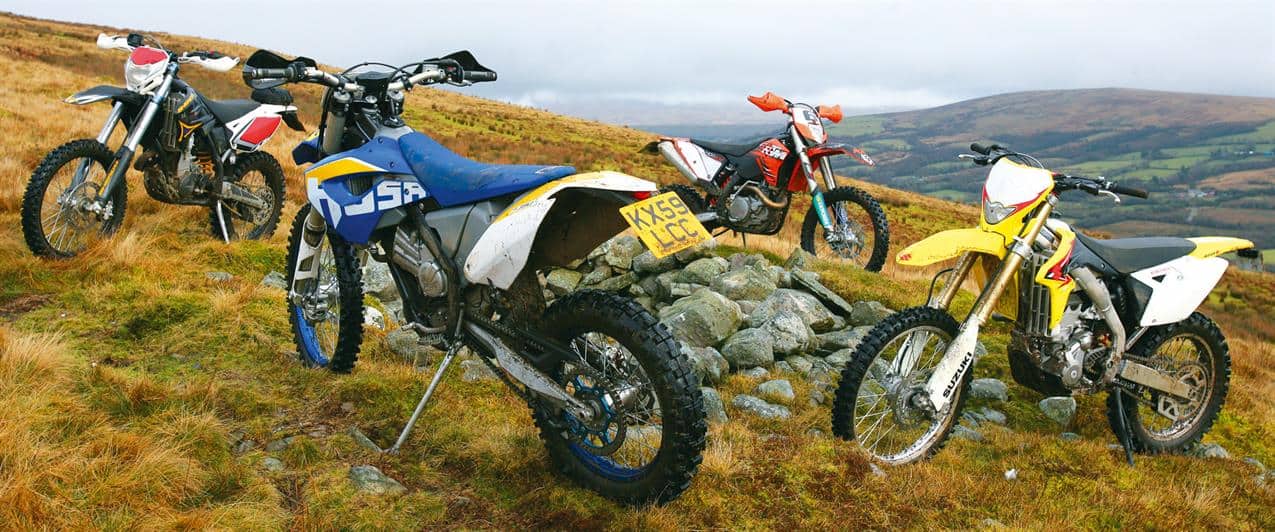 Winning Margin
So can a cheap pre-owned bike win our Easy Riders shootout? Well yes it can and in a sense yes it does, especially if you toss value for money into the equation. Because for less than a third of the cost of a brand new Husaberg, you can get a machine which makes riding the trails an absolute doddle.
However it's not as simple as all that (as if!). First of all a secondhand bike (no matter how good) can never offer you the security, reliability and confidence you get with a new machine. If you don't know the previous owner then you can have no idea of the sort of work it's done, how hard a life it's lived, and for how much longer it's going to keep giving its best.
No if you want that sort of security then that only comes with buying new. And of course because you could count the number of Sherco 4.5is sold in the UK without having to remove either of your socks, they rarely come up for sale in the classifieds. So the Sherco doesn't win our Easy Riders test, though it does earn an honourable mention in despatches. Nope the winner of our Easy Riders test is a bike which despite being more common than a Margate fishwife, is currently the best (and best value), easiest riding, mid-sized trail/enduro thumper on the market today.
Step forward the KTM 400EXC and claim your prize. Yes it was a close run thing between that and the Berg, and I know that the other riders would probably favour the Berg over the KTM, but sadly for them they don't own a magazine.
For me the difference is down to the fact that not only does the KTM feel more powerful, more linear and find more available grip, but it also does that at a price that undercuts the Husaberg. Where does that leave the RMX? Well the RMX is a great bike, no doubt about it, but as an Easy Rider it's really rather middling.
So if it was my cash, what would I opt for? Well, if I had the folding for a new dirt bike then I'd definitely flash for the KTM, it's just a work of art and a functional one at that. But if I was looking for an affordable way in to effortless trail riding, I'd be searching the classified ads right now for a two grand Sherco. Because at that price they're an absolute steal.
Thank God you guys never listened to us in the first place…