Having heard there was an abundance of free 'craic'  in Ireland, Rust's roving reporter Rory Elliot headed off on an F800GS to get his fix…
I can digest a book on mountaineering in one sitting. Some of the world's greatest stories of survival – legends like Maurice Herzog who had to verbally dictate his 1952 book 'Annapurna' as he lost all his fingers (and other items) to frostbite descending the previously unpeaked monster. Joe Simpson in the rope cuttingly agonising tale 'Touching the Void'  Or Jon Krakauer's 'Into Thin Air'  who witnessed the result of the commercialisation of Everest, a human traffic jam at the final section and bad leadership lead to 12 deaths in one horrendous night over 20 years ago.
It's the strength of the human spirit that engrosses me when reading these encounters, how far past your limits could you push yourself in difficult situations? And where does that inner strength come from? On reflection, you could question their sanity. And what about their commitment to their families? Extreme mountaineering is probably an inherently selfish thing to do. There is a high probability you will vanish, or at best your knob will freeze off.
On a lesser level, people make the same assumptions about riding a motorbike. An outsider can see the danger, the risks and the unknown hazards. A bike rider – like a mountaineer – sees those hazards but considers the rewards are worth the risk. A sense of achievement, a focus (nothing else is on your mind when traversing a difficult river crossing),  the beauty of the surroundings, pushing yourself physically. Biking, like mountaineering, holds all those things that our comfortable modern life takes away from us; fear, excitement, hardship, pain, joy. On the eve of a recent motorbike trip around Ireland the selfishness of my plans were brought into focus as I received a call from my girlfriend's fairly anxious father.
'Rory, the weather is terrible, do not go if it is anything like this.'
Whilst I am sure he wishes me the best, it was his daughter he was concerned about. Lucy was due to ride pillion for a few thousand miles. I was now responsible for more than myself, my actions on the bike would directly affect a much larger circle of people. Also Lucy's father is 'proper'  Geordie and has hands like shovels, if anything happened to his daughter, he would damage me.
'If there is any sign of rain don't go'  he said. Hmmm, we're going to Ireland, I thought to myself. And as sure as you expect sun in the Sahara, if you go to Ireland for any length of time you can expect to get wet.
'The forecast looks good'  I predicted with as much confidence as I could muster. 'Nothing means more to me than your daughter's wellbeing… You have nothing to worry about… We are in no hurry… 'If it's bad weather we will delay and get the later ferry.'
Having pretty much failed to convince Mr 'killer hands'  to relax, I reflected upon how having a pillion changes the focus on a bike trip. A bit like those paying clients putting their lives into the hands of the Everest guides, you have more responsibility, carrying a pillion. Up until now I had just been looking forward to the company. But on the other hand Lucy had never ridden pillion before, only ever in the riding seat. She had grown up motocrossing with her twin sister. Several years of bombing around the countryside had given her a taste of the fun and excitement to be had on a bike. And then a few years ago – on Christmas eve – her best friend died in a motorbike accident. I am not sure how I managed to convince her to do this trip to Ireland, other than that she is a confirmed Guinness drinker!
I had managed to take the hair dryer and straighteners out of the bag when Lucy's back was turned, but with all our camping gear attached, a Giant Loop Tank bag and two side panniers, I feared the brand new BMW F800GS was going to bottom out and we would travel around Ireland with a cloud of sparks behind us.
However, German engineering held up (unlike the weather) and by the time we arrived in Holyhead six hours later (after pulling over a few times due to the incredible rain), we'd missed our boat.
Irish Ferries were amazingly human and understanding about it (unlike a certain Irish airline I could mention). They charged us a tiny amount and put us on the faster jet boat. Dublin in two and a half hours. Whoopee….
We had decided this trip would be a mixture of relative luxury and the usual camping, so the first night was spent in the 'Rock and Roll' hotel of Dublin: Morrison's. Katie Perry and Russell Brand had just checked out and we got a free upgrade! A suite overlooking the River Liffey and the iconic Ha'penny Bridge.
After a quick wash, within minutes we were Guinness in hand, in amongst the centre of Dublin's nightlife – 'Temple Bar'. Guinness is not a beer it is a way of life in Ireland. It is still prescribed as a tonic and given to children to aid their good health. We were drinking a stone's throws away from the brewery and within seconds we realised this was the best pint we had ever tasted. The informed drinker believes the difference in taste from pub to pub was down to the distance from the barrel to the pump, hence the search for the perfect pint goes on all over the country. A much smoother pint than in London. I guess that was down to the amount of peat in the water they use in Dublin – gives it a much creamier, earthier taste. Realising that spending the night drinking and singing may impede our trip south the following morning; we reluctantly started back for the Hotel.
Ten meters outside the pub we were captivated by an amazing busker, playing his guitar in the street. As we were to find out, people love to chat in Ireland. He stopped what he was doing to ask us about ourselves. And to cut a long story short, upon finding out we were heading south to Wicklow the next day, Phil Cosby had convinced us not to camp but stay with him and his folks at a farm tucked away amongst the mountains near Aughrim in South Wicklow. Directions on a scrap of paper were hastily scribbled down and that was that. Just to add, watch out for the name Phil Cosby. He has an amazingly soulful voice and a stripped down skill on a guitar that any fans of Neil Young or country and rock music of the late 60s and 70s, will find intoxicating.
The following morning after a refreshing sleep and an amazing 'full Irish'  cooked breakfast, pastries, fruit, cheese and cereals… we checked out of Morrison's hotel, fired up the fresh and beautiful GS and set off. We briefly travelled on a stretch of motorway that lasted about 3.5 miles (Ireland has very little in the way of motorways), and headed into the hills.
I have never owned a new big bike, and have maybe unfairly thought riding a big GS a bit of a cliché. But the limited edition paintwork on the 30-year anniversary bike is hard not to love. And for an 800 twin there's a surprising amount of power available, which made riding a joy. However riding along stunning mountain roads on a cloudless day may have helped our mood, so I will wait to pass judgement on the bike.

Down on the Farm
The Cosby farm was stunning; an array of brightly coloured flowers greeted us in the yard along with Max, Lucy and Posy (the working sheepdogs), doves, half a dozen miniature ducks, lots of playful chickens and some guinea fowl. Mr and Mrs Cosby were clearly very cheerful and kind people, inviting a couple of strangers into their house like family. It turns out Mr Cosby was also a respected horse breeder who's horse 'Ballycreen Milord' just won its event at The Royal Dublin Show and is probably ranked number one in Ireland now. Somehow he gets 7/8ths of a thoroughbred and mixes it with 1/8th draught – traditionally an all rounder, great for working with as they have the brains but with enough athleticism and stamina to be ridden and hunted.
Phil and his parents greeted us with a huge farm lunch. Unable to politely explain we had just eaten a huge breakfast just a few hours previously, Lucy and I somehow greedily ate everything on our plate. A long walk was the order of the afternoon, when your back garden is a mountain; a long yomp is a fairly easy thing to organise.
With the four legged Lucy and Posy acting as trail guides, Phil turned from pirate-looking-musician into Ray Mears – introducing us to bog cotton, the tasty blue berrys underfoot (food source of the low flying Snipe), and the art of 'the commando roll' when losing your footing on the clumpy ground.
The views were breathtaking, from the cliffs of Wales to the east, Dublin bay to the north, Wexford to the south and the Wicklow Mountains National Park to the West. That evening the local pub was the venue. It's a pub with a particularly dubious and not altogether legal history, but the less said about the better. My night was rather confusing as I spent some time talking to a small kid with a blonde Afro only to gradually realise he was an adult and he was finding me really patronising…
If you go to Ireland everyone will speak to you. Irish people's ability to talk to strangers is renowned the world over, and stems from a genuine curiosity about other people. Not only that but the best spoken English in the world can be found in Ireland. Listening to a couple of old boys having a conversation was like hearing a poetry recital. Irish folk have a relaxed rhythm and easy way with words; the English sentences have a more clearly defined meaning, a polite formalness, and an intriguing lilt that makes everyone else sound a little clumsy.
I think it was about four o'clock in the morning when Lucy said to me 'Rory, why have you been talking in that stupid Irish accent all evening?' Clearly I had decided I liked the accent so much I would adopt it. To be fair at that time in the morning it would have made perfect sense if I was speaking Swahili.
Fowl Play
A quick tip, if you are given a choice between chicken eggs or guinea fowl eggs take the fowl, they are exquisite. I know, I ate seven of them one morning. Lucy and I had decided to head west, see how far we got and where the country roads took us on the way to Galway.
The F800 had attracted some attention in the farmyard, and not just from the farmer and his wife. Having removed a chicken AND a kitten from the seat; we found another kitten (Candy) nestling under the back wheel arch.
We didn't really want to leave the farm, but fortunately the drive was so breathtaking we soon forgot our harbouring for the 'good life' as we wound our way between the peaks of Tonelagee and Mullaghcleevaun standing well over 800ft high. The previous evening, Mr Cosby had educated us in some local Irish history and we were now travelling through Ireland's bread basket – some of the most fertile land in the whole country was flowing beneath our wheels.
A thousand years ago the Normans had brought turmoil to the area, but left behind some amazing landmarks. The area was littered with Norman relics like Baltinglass Abbey and the castle at Kilkea. We straddled Ireland using only B roads, the satmap system picked out roads that weren't shown up on our map. One lane roads with grass growing in the middle, forest tracks over the Slieve Bloom Mountains, and trails around Lough Derg. The sun had not stopped shining all day, however we were suffering slightly from the hours spent in the saddle. The seat on the F800 sloped forward so every time I slowed down Lucy would slide into the back of me, giving her a sore coccyx and causing my testicles to head-butt the tank. A two level seat like the 1200 would have been far more comfortable I reckon.
Galway is mental; we weren't prepared for it after the serenity of the countryside. We arrived just as 2000 bikes and trikes were leaving, all honking and waving at us. Lucy became the official bike acknowledger, as I needed my clutch hand back. After finding a café in the centre of town we sat and watched as an endless procession of bikes passed by.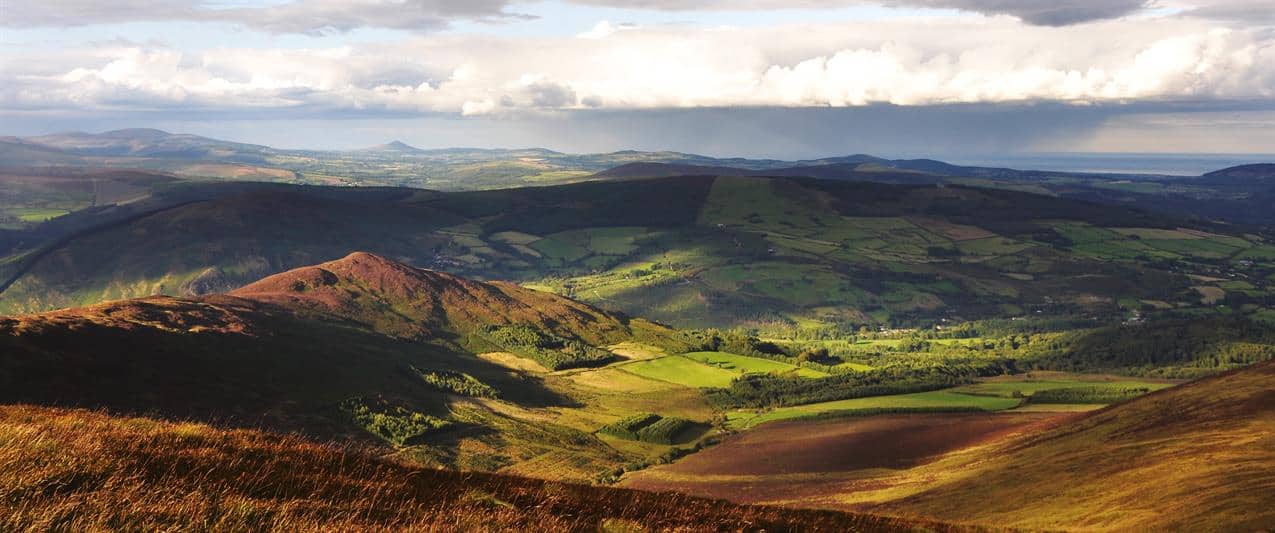 Just behind the bikes hundreds of people were streaming through town with supporters in tow, on top of this Galway seemed to be the stag party centre of Ireland as every 10th person was either in a Borat Mankini or cross-dressed. The bars were bulging at the seams, music was everywhere and for once Lucy and I were not in the mood for joining in. We were tired. After making a mental note to come back here with the boys one weekend, we left heading west to a fishing village called Spiddal. Every third house seemed to be a hostel and I am sure the other two houses would have made us welcome.
It had become commonplace for Lucy and I to be late for everything we planned. However being late for a small fishing boat we were to share with a family of eight wasn't an option, so with great haste we made it to the harbour with minutes to spare. The only problem was… we were at the wrong harbour – having been given directions by an old man who in retrospect should not have been trusted (we interrupted him as he was picking pebbles off the beach and putting them into his mouth). We arrived two hours late at Rossaveel harbour. The boat had kindly come back for us, as they'd not been far out, catching mackerel for bait.
With red faces we apologetically boarded, my face made redder by immediately mistaking a seal for a dolphin. But a pleasant day was spent flitting between good fishing sites around the North Sound and Galway Bay within casting distance of The Aran Islands. Max the skipper was a Frenchman, however he had obviously decided on the same tactic I had a few nights earlier, he had adopted a terrible Irish accent. He swore like the Irish but with the verbal elegance of a chainsaw. He was a great skipper, he cooked us mackerel on the BBQ (strapped to the deck), he helped with setting up the bait, and showed us how to fillet bigger fish, such as the big flat weird ones with spiky lips, the small spotty shark guys and the green ones with big eyes (Editor's note -Spiked Backed Skate, Lesser Spotted Dog Fish and Pollock). Max had a huge respect for the marine life; he made sure the hooks were extracted without any damage to the fish. He made sure all females were thrown back and we kept only enough to eat.
Surprise Surprise
The plan according to Lucy was to drive an hour north to camp somewhere and eat our fish, hopefully avoiding any midge infestations and getting camp set up before dark. Secretly, I had other plans… After a day bobbing about in the Atlantic we were both pretty cold. Lucy wasn't looking forward to a night under the stars but kept smiling with my enthusiasm on how basic things would be. Upon entering the small town of Cong, we took an immediate left through an ancient forty-foot gateway with turrets either side and onto the Ashford Castle Estate. The sky was orange with the last of the day's light casting huge shadows from the ancient trees over the perfectly manicured greens of a beautiful golf course. The road wound its way down and over the river Cong towards the Loch and a VERY big castle.
'Welcome to your humble bed for the night' I said. Now I am not a very romantic person, but the mix of surprise, excitement and relief that spread across Lucy's windswept face that we weren't camping in the reeds somewhere, meant I felt a pretty cool boyfriend.
'Well get the bags then Ginger' she said snapping me out of my self-congratulatory haze. I parked the bike up amongst the Jags, Range Rover Sports, Bentleys, BMWs and Mercs; to be honest it looked like it was amongst friends. A very good-looking bike…
The luck of the Irish was still with us, our second surprise upgrade from budget to luxury suite with sweeping views over the terraced gardens and lough. Hogwarts seemed to have taken design tips from Ashford Castle; huge oiled canvases hung on the decadent silk lined walls, suits of armour and vases the size of teenagers sprouted flowers over heavily lacquered mahogany tables. Constructed in 1228 and added to by owners along the way (one of the most illustrious being the Guinness family) the hotel was easily the most impressive private building I had ever been inside.
Lucy and I spent our day eating, snoozing and strolling. Hours slipped by with epic walks amongst the 140 hectares of parklands. I was even given permission to ride the bike up and down the trails in the forest and even found myself jumping off huge stone steps into landscaped gardens – at one point followed by two training falcons, it felt medieval. The rivers were jumping with salmon and trout. If you have seen the John Ford film 'The Quiet Man' which stars John Wayne and was filmed in the area you will get a glimpse of just how extraordinarily beautiful the place is.
We left Pierce Brosnan's wedding venue with a vow to return (when we were richer). We were heading north to Enniscrone near Sligo to surf and camp. It was just as wholesome an experience as Ashford but with less fine dining. The first hour and a half of the journey was the most beautiful yet. Once again with the detail of the Satmap system we picked out some amazing routes we would otherwise have missed, especially as there are no signposts in rural Ireland.
If you ask anyone how far it is from A to B the Irish talk in time; '20 minutes will have yerself there' they say, much better than 'four Miles' as they are passing on their knowledge of the traffic/sheep or road conditions. Views of Connemara National Park and the Atlantic Ocean to the west of us rolled by as we picked our way through peaks such as Penwee and The Devils Mother in the Partry Mountains.
Surf & Turf
The surf tailed off by the end of the day at the smaller sand break in Killala Bay in Enniscrone, where you can get expert tutorage from an Irish Long board Champion daughter and father team – called Seventh Wave. That part of Ireland has some of the best surfing in the world, with regular 30ft waves breaking at some of the more rugged points in the area. Pint of black stuff in hand we watched a group of about 30 dolphins frolic in the orange glow of another amazing sunset over the bay.
Investigating strange signs for seaweed we then found ourselves at Kilcullen's Seaweed Baths, a Spa with a difference. We were led into a large Victorian bathhouse, a private room with two big iron baths and a steam box in the corner. The idea was to poach yourself in the steamer, which opens up your pores, and then jump into a hot bath filled with local green seaweed. Apparently the oils from the seaweed are very good for your skin and boy was it oily. Lucy hated it; she was worried there might be a crab hiding in the gloom of the bath water so spent her time curled in a ball at one end with all the seaweed at the other end of the bath. I on the other hand embraced it, and it felt great.
After another relaxing night's camping with good company around the campfire I was excited, I was going trail riding. Our journey took us into the west side of Northern Ireland, and Oscar Wilde's school town of Enniskillen. I had arranged to drop Lucy off at the spectacularly situated hotel on the banks of Lough Erne. I then met up with local farmer/mechanic Brian – owner of a relatively small outfit 'Trail Bike Ireland' that specialises in big bike tours in and around the Ring of Fermanagh.
We were both eager to get going for what would turn out to be some of the best riding of my life. A few miles out of town we hit the forest tracks, long narrow winding paths with sudden inclines and corners. The F800 took it in its stride we were moving at a fairly reasonable pace with the odd jump here and there. The bike felt really light (without pillion or luggage) and despite it mixed road/dirt credentials was incredibly good at negotiating the slippery tracks.
We then stepped up a gear and climbed the 'Cliffs of Magho' or Knock Moor as it was known locally. This was a far more technical a climb resulting in testing our skills on a (thankfully dry) mounded grass area with panoramic views of the county.
We moved on to long fast forestry roads where the F800 was in its element, this lead us into the Irish town of Kiltyclogher (we were to be crossing the border all day). Like all Irishmen Brian knew his history, we passed a monument to local man Sean Diarmada. He was part of the Irish brotherhood who in 1916 organised the Easter uprising against the British; he was executed with six other members of the Irish parliament in Dublin. This sparked the Black and Tan War leading (in 1922) to the British giving back the 26 counties of Ireland and keeping the six of Ulster.
Dividing the border led to the increasing need for trails and 'back roads' between the two countries. Later in the day we came across another monument in the form of an excavator and a plaque to the Boarder Busters. The 'Border Busters' kept the roads and trails open for local business and farming in the face of little official support. Unpaid they effectively make it possible for us to ride that whole area today.
We then moved on and up O'Connell's rock past a sign that would put a smile on any trail rider's face: 'Unsuitable for Horses or Walkers'. It was whilst coming down on one of these trails at the base of Boley Brock Mountain that I suffered a slight 'pilot error' – basically going straight on where there was no option to; I didn't fall off exactly, more dropped into a big soft ditch. The bike didn't break or suffer any damage apart from some slight scuffing to the panel, and I was impressed at how well it survived what was quite a big off. It took both of us to extract it from where it lay, five feet down in the ditch.
From there we rode the Dowra Express – a fairly muddy and boggy trail, I struggled a bit on the road-biased tyres on the F800, but momentum carried me through most potential mud traps. We crossed a rickety cattle bridge with the River Shannon below us and were spitting distance away from the source of Ireland's longest river (240 miles long). Again the last of the evening's sun provided an amazing light show and a picturesque backdrop to the final stages of our ride over Cuillagh mountain range and past Europe's Largest Geopark. As we rode, we were enveloped by about 30 wild horses running alongside us. Breathtaking.
The final days of our trip were spent in the very north of the country. We paid homage to Joey and Robert Dunlop at their memorial garden in Ballymoney, which coincidentally, is the town where I was born. Lucy and I rode the legendary North West 200 track up and around Portrush. The fact that the country's biggest sporting and social event is based around two wheels not four legs, should have TBM readers itching to visit.
We spent a great day walking the pristine sands at White Park Bay and exploring the bizarre rock formations at The Giant's Causeway world heritage site. While listing in on a tour guide's description of the 60 million year old history of how these formations came into being, a pair of sharply dressed Americans interjected. 'But the world is only 9,000 years old according to the bible. This explanation is nonsense.'
Now Ireland has seen it's fair share of disagreement when it comes to the subject of religion so a delicate response was needed. Quick as a flash the guide said: 'I agree, I never believed all that scientific evidence and research. The Causeway was in-fact built by the giant Finn MacCool who built a bridge across to Scotland so he could have a punch up with a Scottish Giant.' Everyone laughed… well, everyone except the creationists.
Our final afternoon was a special one – we followed the 50-mile road that leads you around the rugged outcrop defining one edge of the North Channel in the north east of Ireland. With its combination of smooth tarmac and savage beauty this was easily the best road we had travelled on during our tour and again a slow and psychedelic sunset bade us farewell. Destination the overnight Stenna Line ferry departing from Larne and taking us to Fleetwood.
Lying in my bunk on the ferry home we both reflected on the trip. Riding two-up on a big trailie was great, though my side ached from Lucy's prodding finger when unhappy with my speed. It proved a really social way to travel; I kept my promise to 'Killer Hands', as we didn't come across even a drop of rain.
Was it a dangerous trip? What risks did Lucy take to face her personal Everest? I think the biggest issue of a successful 'summit' is how do you capture that feeling again. The same with our voyage around Ireland… How the hell do you top that?
Thanks to:
BMW and Vines of Guildford for the loan of the 30th Anniversary edition BMW F800GS
Feridax for the clothing and helmets – www.feridax.com
Adventure Spec for the Pants – www.adventure-spec.com
Irish Ferries www.irishferries.com
Morrison Hotel in Dublin – www.morrisonhotel.ie
Max Couque at Galway Fishing – www.galwayfishing.ie
Ashford Castle at Coin – www.ashford.ie
7th Wave Surf School – www.surfsligo.com
Brian McGirr at Trail Bike Ireland www.trailbikeireland.co.uk
Killyhevlin Hotel & Chalets – www.killyhevlin.com
Eddie McGovern – Fermanagh Tourism – www.fermanagh.gov.uk
Philip Coldwell at HTM Trail & Enduro Ballymena – www.htmtrailenduro.co.uk
Stenna Line (Ferries) – www.stenaLine.co.uk
Phil Cosby (musician) – www.philcosby.com