When Honda came back to Dakar they'd been away for 24 years, although in that time a small HRC project had landed at the 1995 event with an experimental 400cc two-stroke. Significantly the man who led that project also leads the new HRC super-squad. And while last year was a learning year, this year is all about the winning…
Honda turned up at the Dakar back in January 2012, and immediately found themselves in the middle of a war. Yamaha had found their feet (and speed), Husqvarna had turned their BMW hybrid into something competitive and KTM, with their joint-favourite rider Marc Coma out (injured just before the big event), were all hands on deck trying to save victory with their remaining Dakar-god Cyril Despres.
Amid the skirmish – one of the most hotly contested Dakars in years – Honda didn't exactly creep in (you can't hide a 40-man team) but they worked away quietly, diligently, claiming just two podiums from the 14 stage finishes (with Johnny Campbell and Helder Rodrigues) to bank two lower leaderboard placings in the final reckoning. By their own suspiciously modest goals it was 'job done'.
This year, there can be no downplaying the situation. Honda have reworked their rally racer from the ground up – it's now got its own prototype motor – and with five very strong riders lined up they could well manage to achieve in two years what was claimed to be a three-year goal… to claim overall victory.
After just one year of trying to hang on to the established teams riding what was ostensibly a modified ten-year-old trail bike, this year Honda are turning up armed to the teeth. Not that they'll have it all their own way of course… KTM have responded by making an all-new version of their 450RR rally bike, while Yamaha (France) have… well, Yamaha now have Cyril Despres!
You can spend a fortune in carbon fibre and on R&D – or you can simply buy yourself the fastest and most consistently winning rider in the paddock. It's not like the Yamaha's YZ450F-based bike is slow either. It has Dakar stage wins to its name and proven reliability. So while Honda are here in the biggest, meanest way possible they've got one hell of a fight on their hands. Here's the story of the Honda… and what it's up against!
Below: The million dollar CRF 450 Rally. Below right: Two shots of the Honda EXP-2 entered in the 1995 Dakar
HRC's Million-Dollar Baby
So what's to know about Honda's new racer? Not much, given their complete shut-down on all details. But we've still procured some pertinent facts, and of course we have to consider the wider picture – the team itself. Let it be said their team is a proper flagship set-up; HRC have hired some big names with plenty of experience, and running under their prestigious HRC colours they cannot afford to be shy.
Their leader Katsumi Yamazaki is a man with formidable experience: In world championship motocross, in Baja and not to mention having led the small team that raced the experimental Honda EXP-2 two-stroke racer that finished fourth in the 1995 Dakar at its first attempt. Yamazaki has solid R&D form, combined with a serious contacts book and a hefty budget.
Honda's weapon is an interesting one. Last year's Dakar bike was based on their CRF450X because that's how Honda had interpreted the production bike rules that underpin the current race format. Honda had obeyed not just the rules, but also the spirit of the rules. Of course they'd carried out the most super-serious R&D, and just as back in the day a factory RC45 WSB racer was twice what the road-going RC45 was, so the Rally bike was a long way beyond an X with a big tank…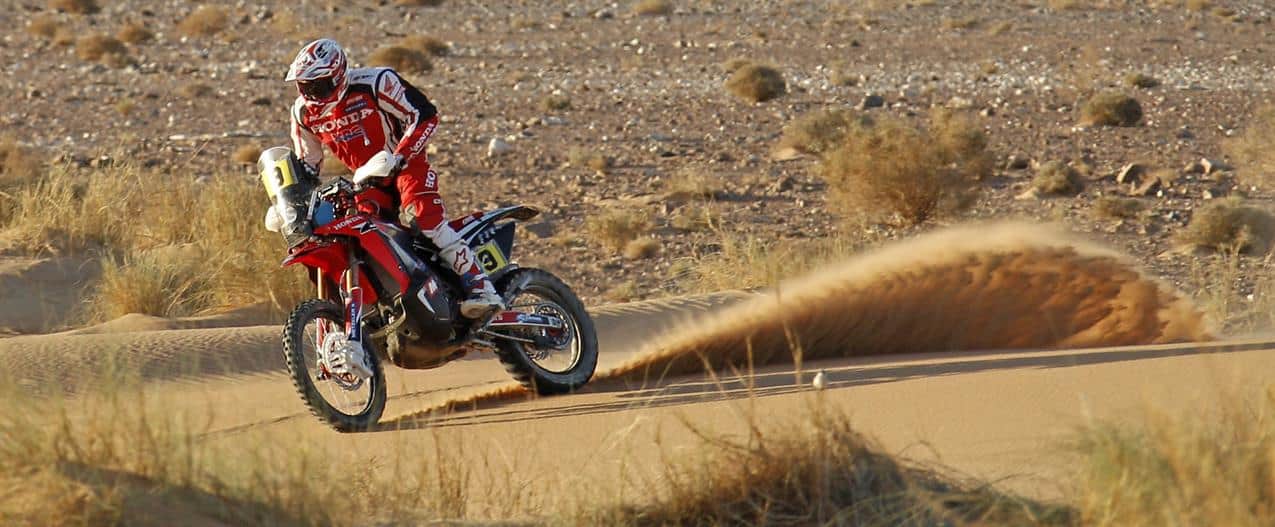 Despite all that, their X-based racer was still considered… just a little slow. That's not a situation that HRC can countenance. So it was no surprise when they announced a whole new bike in October. When it came to describing what's gone into the new bike they said this much:
'The 2013 Dakar Rally generated valuable data in key areas such as engine output, aerodynamic performance, durability and maintenance requirements, which was used as the basis for further design modifications and enhancements. The resulting all-new CRF450 RALLY model retains the Programmed Fuel Injection (PGM-FI) electronic fuel injection system that has shown proven performance in the severe and highly variable environmental conditions of the Dakar Rally. The new CRF450 RALLY will be used by TEAM HRC and will be released to other rally teams as a production rally bike during 2014.'
Specifically what they weren't saying was that the new bike has a whole new engine. And remarkably, it's the first Honda single cylinder off-road racer to feature a DOHC set-up (not Uni-Cam) since, we think, the XR500! The motor, such as can be seen, has all the hallmarks of hand-built exotica. Sand cast crankcases, trick rally-spec oil coolers, extra-large water pump, an unusually large oil inspection window on the side of the motor. The exhaust is now by Termignoni (last year's had a Leo Vince). There are no more details than that, but everyone is aware of the new motor's speed. At the Morocco and Merzouga Rallies in Autumn, the Hondas led the way home. Slow, they ain't.
The chassis this year is still an alloy beam-frame, but is likely to be less X-model, and more one-off desert special that's been anodised black to cover that fact. Fuel tanks are made in alloy but there's top-grade carbon fibre bodywork over the top; and take a look at the swoopy shape of the lower tanks. That's pure HRC magic right there. Honda took to clay-sculpting their bodywork, then testing with their riders before determining the final shape. They've also led with the clear screen look, which no doubt must give the rider just that little bit more forward vision (and as we all know, every little helps).
As with last year Honda have a high-level front mudguard (where KTM have traditionally run a tyre-hugging sort) which is a better bet for those instances when mud is encountered (as happens in South America). The detailing is said to be every bit as studied as we'd expect of HRC.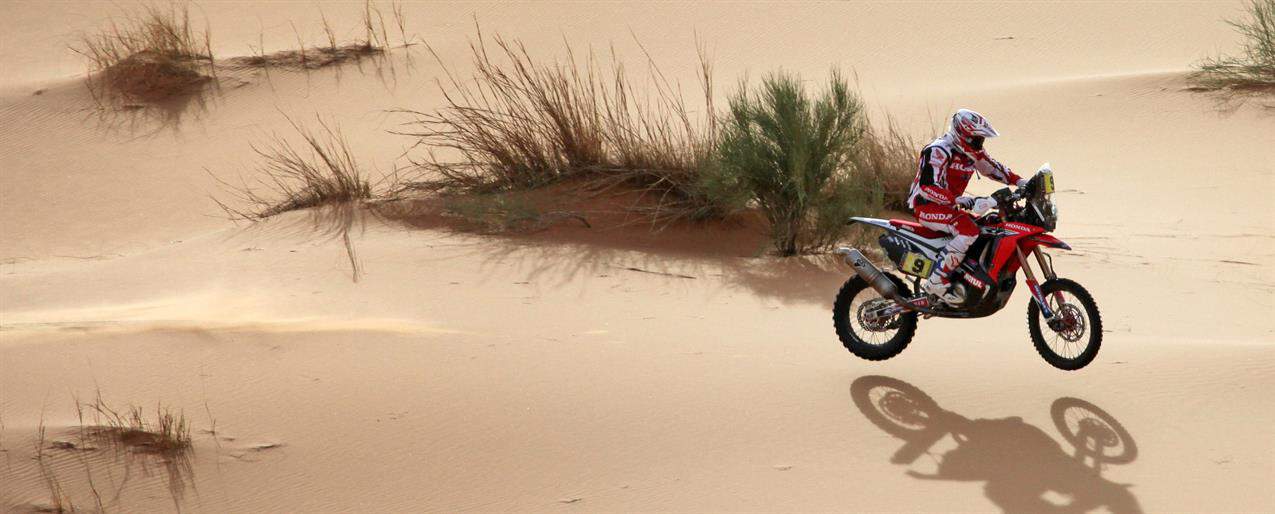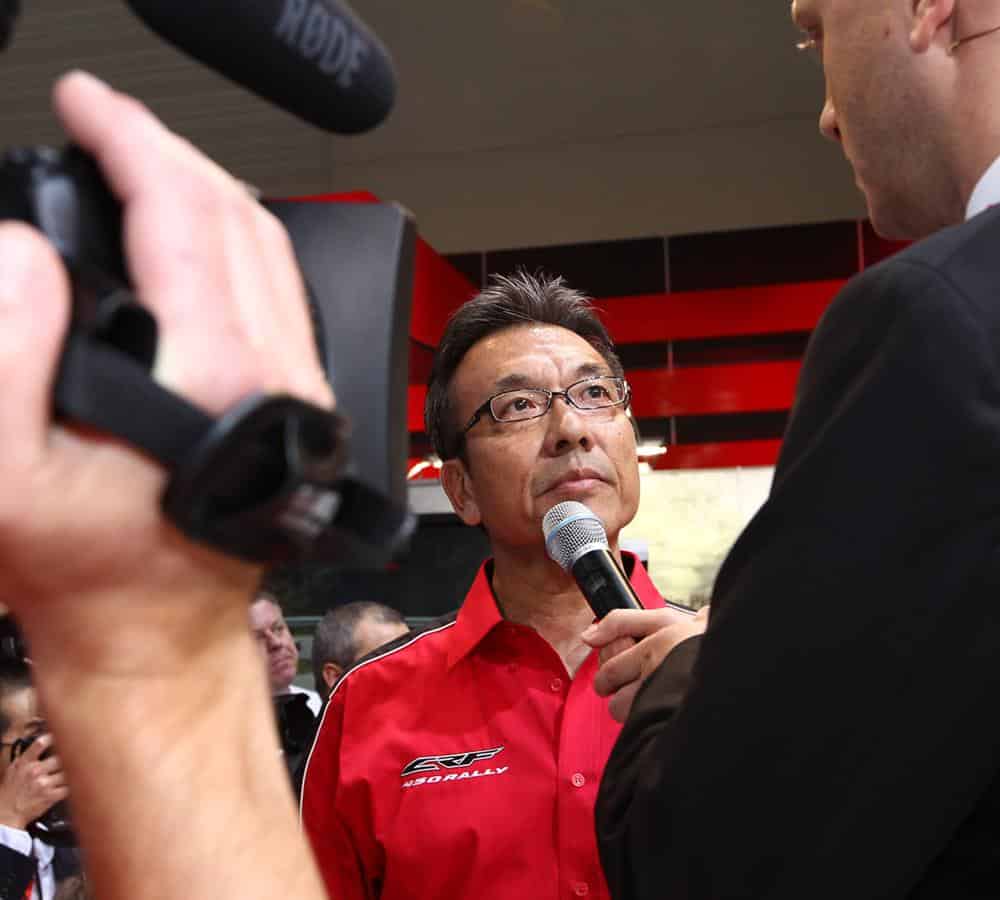 Leading Man
Team HRC boss Katsumi Yamazaki won't reveal what's in his Dakar Honda rally racer, but he has gone on record about a few of his Dakar principles.
'The most important requirement we are aiming for in this rally machine is overall balance. We need the bike to perform at top speed, but it can't break down. We also need to keep weight down. I believe it is important to strike a superior balance between these opposing factors whilst making sure the machine does not overtax the rider.
'Fuel injection is necessary due to the altitude difference. When you race in the Dakar Rally, you go from sea level to almost 5000m at the highest point. A carburetor cannot handle that altitude difference without the proper settings. But PGM-FI can. Another factor is temperature. During the Dakar Rally, temperatures can range from -10ºC to 45ºC. PGM-FI is in a league of its own when it comes to flexibly adapting to these kinds of changes.
'We have developed this bike so that like KTM, we can offer parts kits or completed bikes to amateur riders in the future. It may be expensive, but riders with more money to spend will be able to purchase a bike with the same specs as our rally machine. That is why each part is replaceable.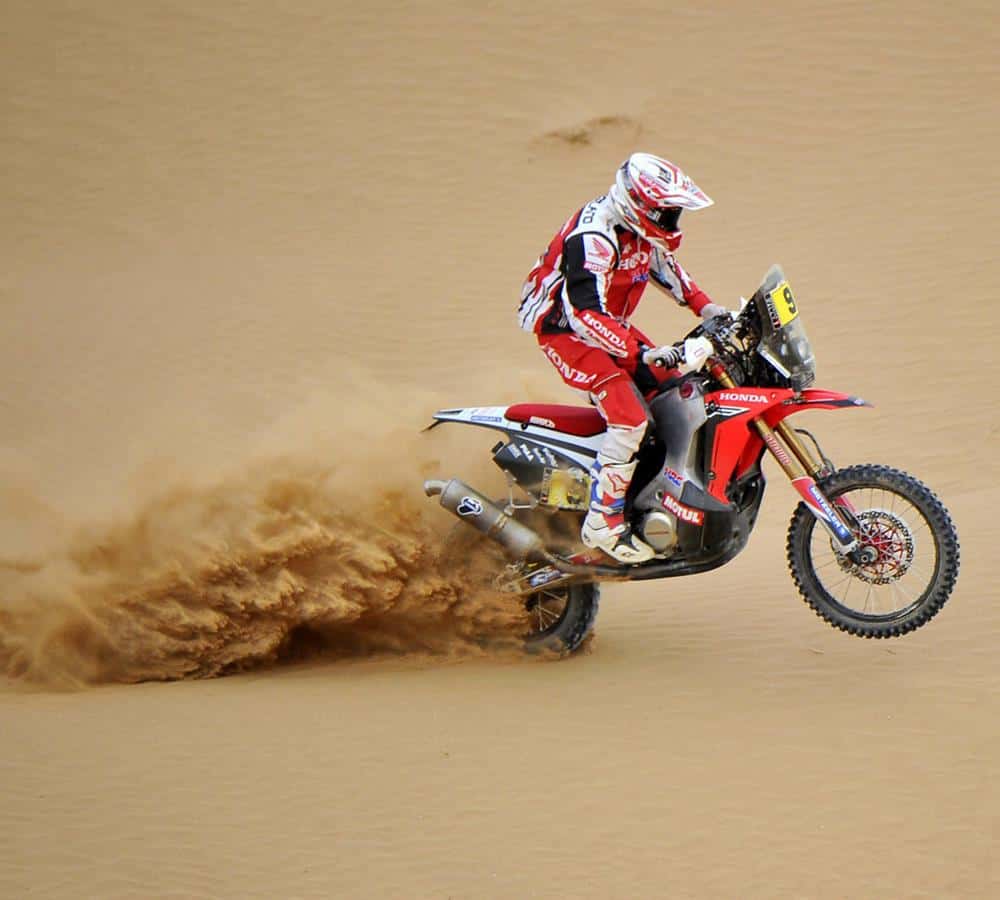 My idea is to offer a cheaper base machine and optional high performance parts for riders who want high performance. For example, we could even let customers choose the PGM-FI that we are using.
'At the Morocco Rally in 2012 our staff worked through the night every night to make engine repairs, and we somehow managed to last one week. But it would be hard to do the same thing for two straight weeks at the Dakar. So we know we can't just have a good machine. No matter how well it performs, if it has poor serviceability, our mechanics will get worn out. If they get tired, they will naturally be more prone to error and that will impact our end result.
'My goal is for us to become the world's number one off-road team. Being #1 doesn't just mean we have all the experts on our team, it means we are open with each other. This means we share information with everybody on the team. If someone is in trouble, we help them. This kind of open team is the ideal off-road team. From the outside, it may look like confusion, but actually there is order in the chaos, not to mention a great atmosphere. I think that is what makes a team number one… it's the same for MotoGP or F1 racing.'
Click here to read part 2. How the competition are armed and ready for the fight… https://rustsports.com/metal/the-honda-crf450-rally-the-competition_6387.html