Since introduced in 2012, Honda has sold thousands of CRF250Ls worldwide. The spec reads like a basic trail bike (made in Thailand), but the engine uses up-to-the-minute tech and overall the sum is massively greater than the parts. It's an international solid gold dual-sport-lite.
In 2014, then as TBM, we celebrated the CRF-Ls capability by riding it coast-to-coast across England and Wales using as much off-road as possible. Direct, the trip is about 270 miles (430km) and takes six hours. On the trails we laboured for four days and over 630 miles (1000km)! But the CRF-L made the journey in style, never faltering.
We did a little prep beforehand though, to make sure we minimised our risk of failure – and to make the trip a little more comfortable. Here's what we used…
KRIEGA OVERLANDER 30 BAGS
Supplied by www.kriega.com
The Overlander 30s are – as the name implies – a pair of saddlebags offering a combined capacity of 30-litres. Enough capacity, just, for our JB for a weekend in Wales, or if you're RTW adventurer Steph Jeavons enough for 14 months riding non-stop around the world (go figure). There are no frames within the bags but sturdy, long straps mean you can get them to seriously hug your bike.
Steph's have already gone 12 months of her trip – even to Antarctica – while JB's have been to Wales and back twice! They are indeed sturdy items and the velcro'd-in liner has proven (in JB's case, can't speak for Steph) properly waterproof – and that lining was severely tested in what was a rain-lashed coast-to-coast ride.
They are deceptively simple devices: just Cordura outers, waterproof liners, a roll-closure top and a bundle of straps, but the value is in the quality, ruggedness and long life. At first you may think 30-litres isn't enough, and if you're used to giant touring panniers on RT/LT BMWs then maybe it isn't, but for trailbike tours this is the correct amount if you want to still have a good handling bike. You can always add a 10 or 20-litre tail pack to the combo if you really insist.
Do we like them? You betcha we do. And they'll stay in the kit store ready for plenty more trips to come, solid useful kit like this you treasure!
PRO TAPER HANDLEBARS
PRO TAPER FULL DIAMOND SOFT GRIPS
PRO TAPER GRIP GLUE
POLISPORT HANDGUARDS
supplied by www.apico.co.uk
When it came to sorting out the controls on our Honda CRF250L we were looking for two things: precision-quality and budget price point. The standard Honda equipment is pretty good, but we wanted enduro-spec kit, anticipating some extreme conditions in the long coast-to-coast ride and for the Long Distance Trial that followed.
The Pro Taper SE handlebars fitted the bill perfectly. Strong, light, well-made yet at a modest price point. We chose the 7/8" SEs (Seven-Eighths, get it?) in CR Mid bend and they were perfect for the Honda. As we were fitting them to a road bike we needed to drill a couple of holes, just as appear in the OE bars, for the tabs on the switchgear, but this wasn't an issue – and we remembered to chamfer those holes so as to not make stress points.
To these we added Pro Taper's soft grips and these again were just perfect. These are slim grips, grippy, as you'll need on wet or muddy days, but the comfort is surprisingly high. So far they've lasted well, but at only just over £8 a time they're cheap enough to not worry about frequent replacement if necessary. We stuck them on with Pro Taper's own grip glue and this was a wise choice. The glue gives ample time to locate the grips in position, but since the glue has set they've not budged so much as a millimetre, despite repeated soakings. We were going to safety lock-wire the grips, but never got around to it, the glue has been more than good enough.
We finished off the controls with protection from a pair of basic Polisport hand guards. Nothing fancy about these, there are no inner aluminium bars, just the plastic, but they bolted on sweetly and have done the job ever since. We've not tested them in a big fall, but set against mile after mile of thick brambles down in the green lanes they've been invaluable. They look smart too.
APICO BAR RISER KIT
Supplied by www.apico.co.uk
These bar risers deserve their own appraisal. The price is just a little above 'budget' but the quality is very good. They've been designed and manufactured with pride – and intelligence, with the range of spacers provided you can customise to the exact bar height you want.
This worked so well on the Honda CRF250L. For all-day standing on the pegs slow-speed trail-use a height of 25mm (1-in) is perfect. But for days when you anticipate riding faster, using primarily standing attack and then sitting, then dropping out one spacer and riding at 22mm (3/4-in) is a nice compromise. If you're going to commute on the bike for a solid week, then set them at the lowest – no spacers – is perfect for maximum-comfort sitting. It's that added flexibility that adds value and makes these a better choice than just using one-height risers. The finish is top notch and there are two lengths of bolts supplied, which set you use depends on the height you choose. Seriously intelligent kit.
ADTEK BASH PLATE
Supplied by www.ad-tekproducts.co.uk
The CRF250L needs a proper sump guard, no question. This British-made guard by Adtek is a proper guard. The quality is top notch, solid 4mm thick alloy, and bent, welded and drilled to perfection. It slips into place like OE kit, there's no levering, no sweating, no skinned knuckles. And there's even a small tube of thread-lock included to ensure the bolts don't vibrate free. And the protection is comprehensive, properly protecting not just the frame rails and sump, but the water pump too. And the plate's even been drilled for easy sump plug access.
The guard has now been tested on countless rocks and roots and not been found wanting. Adtek customer service was also spot-on with overnight delivery.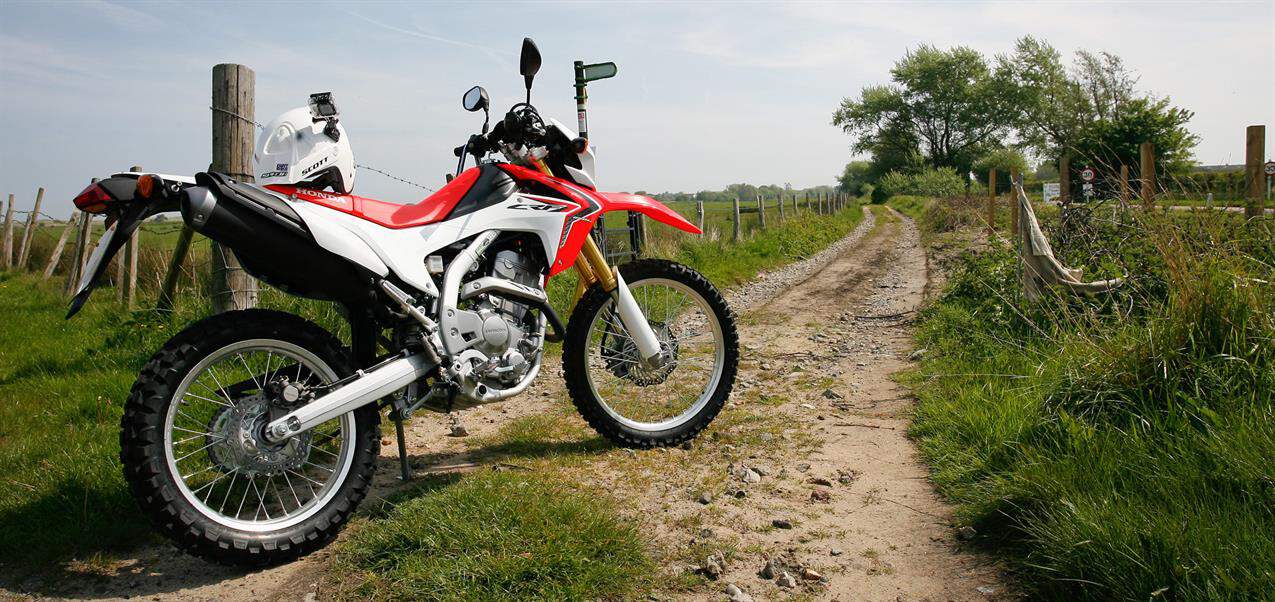 MICHELIN AC10 TYRES
Supplied by www.endurotyres.com
After nearly 2000 miles (3250km) these are almost worn down to needing replacement. They've been excellent though. After the performance of the standard tyres on the CRF250L these have felt like riding on velcro when riding off-road. They were good for the coast-to-coast as hoped, but they properly proved themselves in the Eastborne Long Distance Trial, when despite running at road pressures of 30psi they still gave enough grip to clean but all of two of the 15 sections (just two dabs surrendered) for a second class finisher's award. You do however need to exercise caution on the road for the front will skid if you crash-brake, particularly on dampish smooth tarmac. Just ride with that in mind and you're okay, and they're reasonably comfortable even over extended road riding. The price point is very reasonable too. And just as importantly – especially when it comes to insurance – they're road legal.
We had ours supplied by Enduro Tyres (headed by the enthusiastic Al Ranger) in the UK and they're another outfit offering excellent service. And Al is utterly dedicated to the enduro as a rider and a sponsor – we love to support those who support our sport.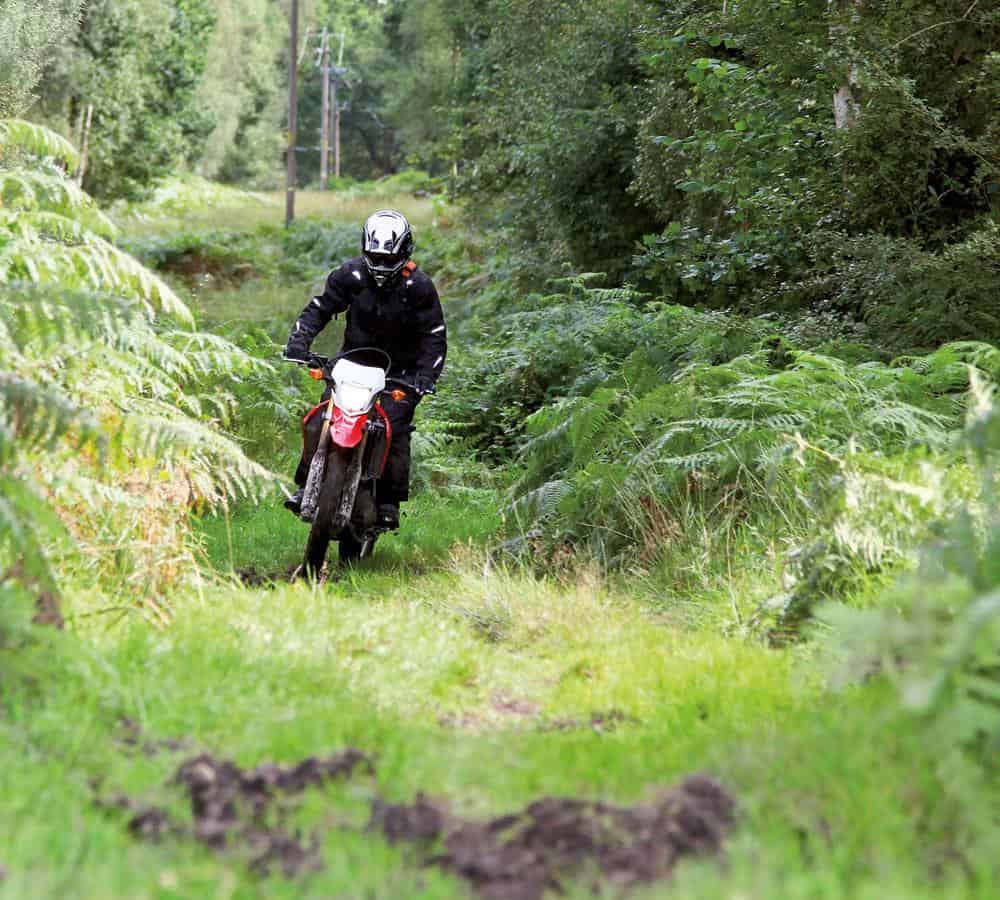 TELL US ABOUT YOUR CRF250L
How do you rate our preparations? What works for you on your CRF250L? If you feel inspired to share your knowledge, please feel free to post your thoughts and images on our Facebook page www.facebook.com/rustsports.
We're keen to hear from you!