Project Honda TLR250 – Part 5
Was JB ever going to get his TLR sorted, did he have the skills, motivation, cash…? Shockingly the answer to all that seems to be yes!
A CLEAN FINISH
Sometimes you are closer to the finish line than you know. I've come to the end of many an enduro like that, suddenly surprised it's all over. I've also DNF'd within a mile of the end of an enduro, so I know it's not over until it's over.
And so it is with Project TLR. Once I'd sorted the wheels and tyres (and brakes) there really wasn't much left to do, I just needed to make that one final push.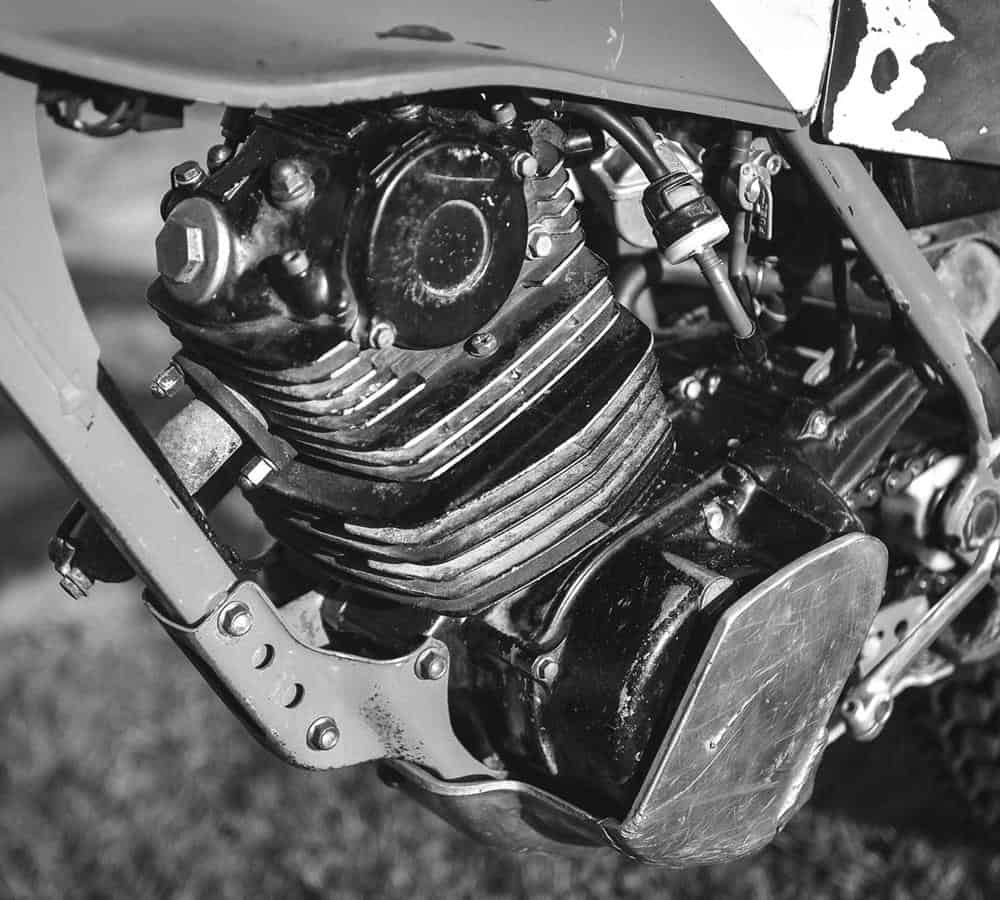 1: BETTER THREAD THAN DEAD
For a long time I'd been in a funk over the broken drain screw in the carb float bowl. Brass with a fibre washer, it had leaked when I first got the bike back. So I'd gone to remove the screw to replace the washer when the head of the screw snapped off. I'd then got a stud extractor on the left-over screw but it refused to budge. Then came a drill and while most of the old screw succumbed, try as I might the last bit, stuck in the thread, wouldn't budge. Two or three months went by, then at last I waved the white flag and called in a local machine shop, and dropped the part off. They called me back next morning, job done, new screw and washer sorted for twenty notes. Why I hadn't called them earlier I don't know…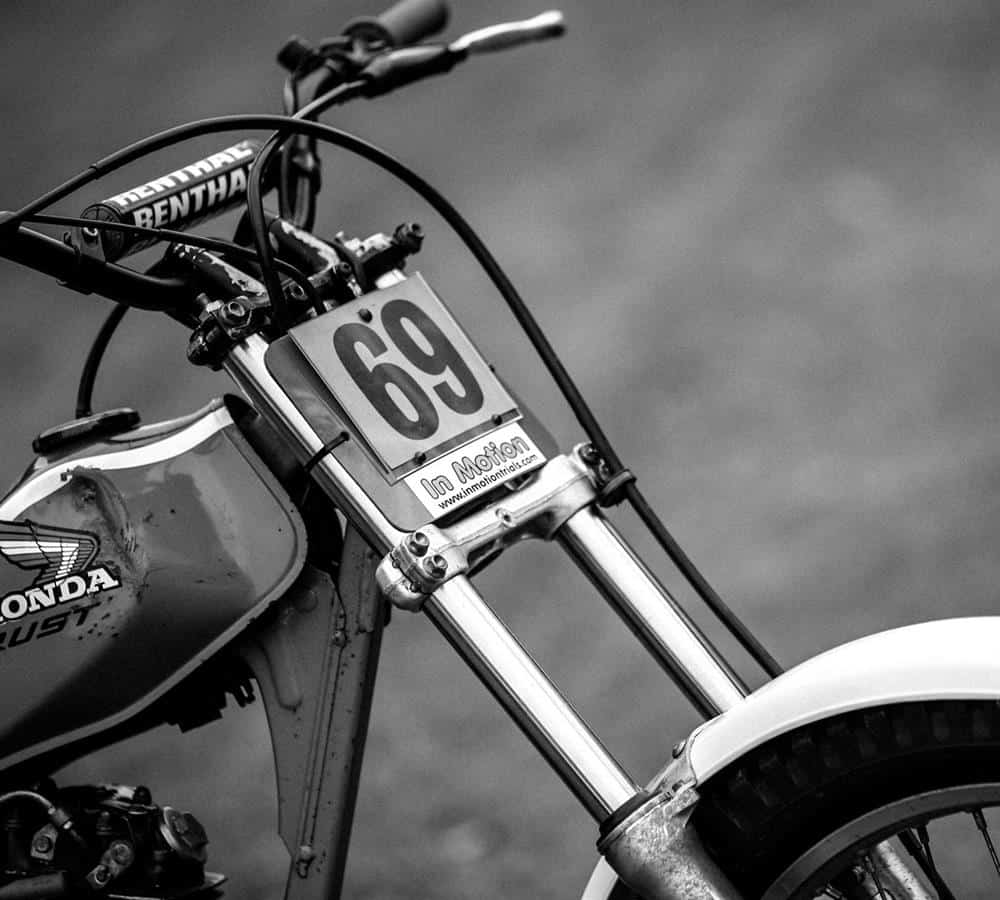 2: THE WRONG HOSES
The fuel lines looked rather brittle so for a few quid I thought I'd replace them and the inline filter. Should be easy, only I didn't figure on there being different bore sizes on the fuel lines. Sure enough the ones I ordered were too big. So the old ones, and the old filter went back on, after all they were still working!
3: BAR NONE
I guess the old alloy bars on the TLR had been offending me for too long. They're clearly not a trials bar, just an old enduro set, complete with hand guards (for Kiwi bush bashing) – too wide and too low. Having always spec'd Renthal on my enduro long termers I was always going to opt for more of the same. Priced to suit the budget conscious, bent to a 6" height (eases the back pains…) and anodized a lovely satin black, these trials bars suited the TLR down to the ground. I rate Renthal's trials grips too (which I often see, curiously, on road race bikes), for being a slim no-nonsense design. I stuck them on with Renthal's own grip glue – then promised myself I'd lockwire them, too. Only I don't have lockwire or the fancy pliers (so one day on that…).
4: AND?
I was going to sort the cracked muffler, wasn't I? Only when I bolted everything up the crack didn't seem so bad, it wasn't even visibly blowing, so I just left it! After that, a quick check over, some fresh fuel and broom-broom, it was good to go. Four laps of the garden later nothing had fallen off or stopped working, so no more procrastinating – to the trials.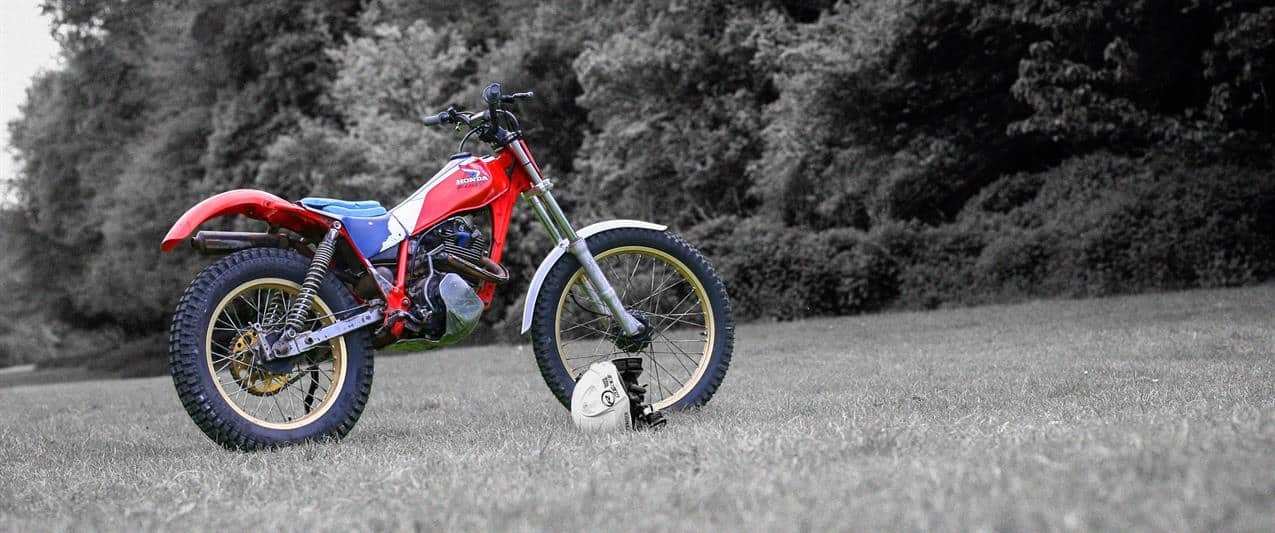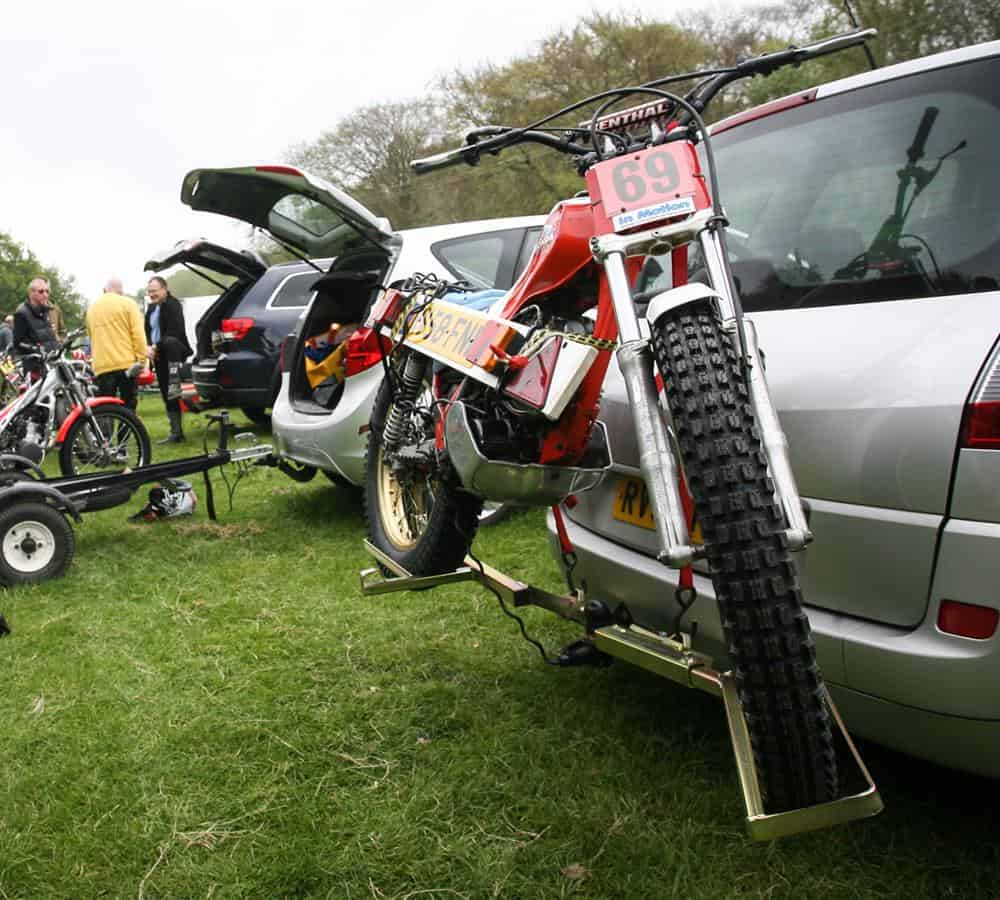 CLEAN? WELL, NEARLY…
After so much procrastination I'd missed my planned trials debut at my local club. But, as is the way with trials, there are always at least two or three local events to choose from on any given weekend. So I ended up at the Double 5 club's trial which was incidentally listed as a centre championship round for Pre-65s and Twinshocks, so was sure to be the right fit for my purposes.
Ahh yes, and last minute as always, and not having a trailer – I got onto the phone to Dave Cooper http://www.davecooper.co.uk to supply one of his excellent motorcycle racks that fits straight onto a tow bar. A smart piece of kit that costs under £100 including delivery, it means you're not stuck with the 60mph speed limit that applies to trailers. It arrived a couple of days after ordering and fitted in ten minutes flat! Happiness.
At the trial there was a good mix of machines, from brand new Montesa 4RTs to old BSAs and Triumphs. The Twinshock class provided a mix of mostly Fantics (my old ride) and Honda TLR200s; my TLR250 was the only one of its sort and given its originality (that is to say unrestored, barn-find presentation) it attracted a fair bit of attention from the other TLR owners.
Now, one thing I forgot to do was to go for a warm-up ride. Instead once I'd signed-on (£20 entry fee) I rode straight to the start and from there straight to the first section. Consequently after walking the section, I had no idea what gear to choose and no idea how the bike would turn, stop or go. And because of that I wobbled on an uphill off-camber turn and ended up footing out for a three. By the time I'd ridden to the next section I'd got a much better feel for the bike and for the rest of the day would have the confidence to trust in the bike and stay feet up through turns like that. In fact, for the next three visits to that first section I went clean each time.
Soon as I'd ridden that first section I had my feeling back for trials. I also quickly got a feel for the TLR, which was proving just a brilliant ride. In dry conditions it was quite happy to motor up even the steepest banks in first gear, with no clutch work and perfect traction. I'd picked the intermediate level from the three on offer (expert/intermediate/beginner) and this was ideal, technical enough to make you concentrate, not so extreme as to cause bike damage.
The TLR was in its element, I swear I was riding on autopilot as it was instinctive the way it tackled the sections. If in doubt, trust the bike – every time the TLR pulled through. The brakes were a bit rubbish but there was enough engine braking to compensate. The suspension front and rear was rubbish, too. The forks probably had no oil in them given the clunking I could hear going on. The shocks had spring but no obvious sense of damping, and they'd clang on full compression, too – and after a lap the right shock had no oil, evidenced by said oil now dripping all over the swing arm.
But the TLR didn't care. I lost the odd dab on the second lap, and then – urgh – I missed a gate and so collected a five. But for the last two laps the TLR and I rode clean. In all we lost 11 marks. The class was won on three. And so the trials' competitor's brain went into action – if I'd only not missed that gate I'd have finished on six; if I had only practiced before that first section and taken a clean I'd have finished on three… and so on. Hey, I could have been a contender.
In all though, I'm overjoyed. I loved riding that trial. Just jeans, shirt, open face lid and a pair of super-comfy Alpinestars trials boots for kit. The TLR didn't even ask for half a tank of fuel (probably 3-4 litres used, max). The tyres are unmarked. And even with no brakes or suspension the TLR is competitive – maybe you don't need those things.
So the TLR stays a keeper. I'm not sure whether I'd like to restore it. It's nice not to have to worry about scratches. And I like the character the old dents and rust bring. Most of all I love the feeling the TLR brings. It's a lovely joyful little bike that trots along going doff-doff-doff; and in trials similarly there's a lovely low-key laid-back sense of enjoyment. There's plenty of time for chat and you can sledge (throw jibes and insults at) other riders as they compete in the sections – everyone, regardless, riding with big smiles.
So what's next? The suspension deserves some attention. New oil (and seals, why not) for the forks has to be on the cards, if only out of mechanical sympathy. The shocks – well, its repair or replace. Not sure which yet. The exhaust – I'm thinking a wire brush and some BBQ paint might work well there. And if I can find an orginal rear mudguard in decent condition for reasonable money maybe one of those. Or just fit a new white universal job (aesthetics permitting).
For sure, though, more trials riding is calling…