Honda's RALLY variant of their super-successful CRF250L has been with us since 2017. Kind of odd that it's missed the clutches of the RUST testers all these years. But given the 2021 refresh and upgrade to 300cc (or thereabouts) this was an ideal opportunity to catch up with this model.
It's not that we dismissed this model, in fact we love the styling – aping Honda-HRC's factory Dakar racers – and we get the whole ethos behind the design: take what's great about the CRF250L trail bike (now CRF300L – check out our full test report on that in RUST #50)  and give it some long-distance legs. Of course, knowing that the L produces just about 27hp we always wondered whether this was really going to work out as an adventure model or whether the RALLY was all a bit fur coat and no knickers?
CONTEXT
Fact is these L/RALLY models really do work, not just as weekend playthings, but have proven themselves as credible RTW (round the world) rides. Over four years Steph Jeavons took her CRF250L around the world – and uniquely rode on all seven continents (ie. including Antarctica). And now we see Noraly Schoenmaker (aka #Itchyboots) happily making her own RTW way across the Americas on the latest CRF300 RALLY.
Here's the thing, we should all know by now that we don't need lots of power in our adventure bikes. Sure, KTM's 1290 can offer you 160hp if you like, but it's not necessary for the job. We always go back to Ted Simon and Jupiter (here at RUST) when we look for an adventure datum. Ted's Triumph T100P was probably good for all of 32hp in a chassis that weighed about 170kg – that's a power to weight ratio of 0.18hp/kg. This latest CRF300 RALLY produces 27hp and weighs 153kg – so that's 0.176hp/kg. Close enough.
Where Ted's 'Jupiter' and Itchyboots' 'Alaska' (Steph called her CRF250L 'Rhonda' – keeping it Welsh) – it seems RTW people always like to name their bikes, eh? – differ is, among many things, the service intervals. Given 8,000 miles between oil changes and 16,000 miles between valve checks, the little Hondas can really knock up the miles with so little attention. Ted's four-year circumnavigation might have been a touch quicker on the Honda, albeit, as they say, it's the unplanned stops that make the journey.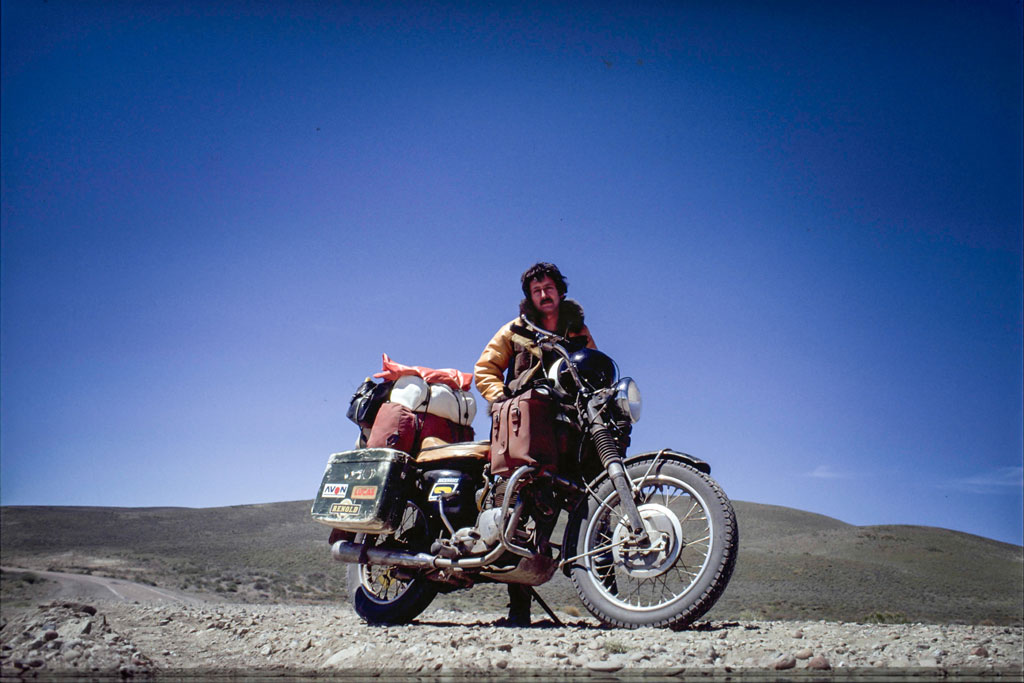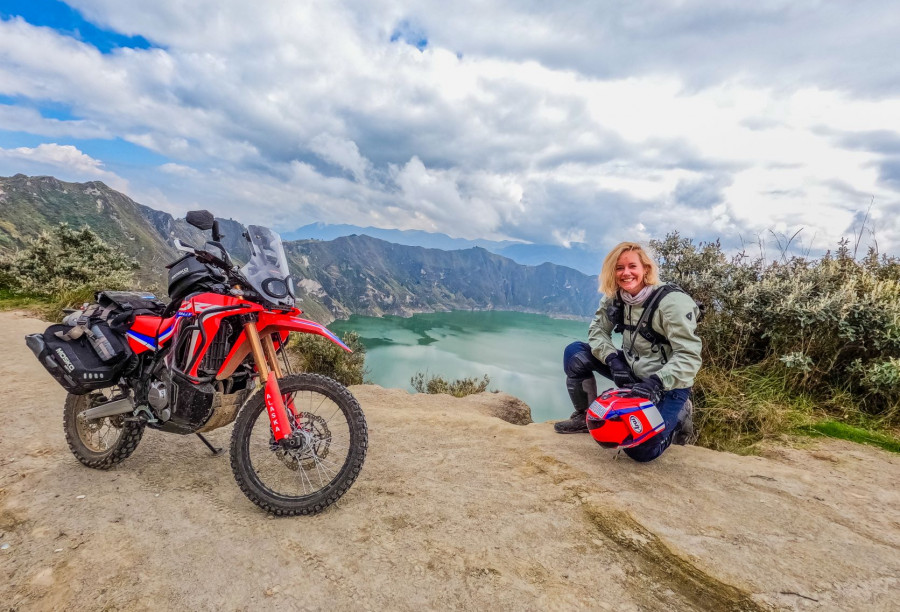 27hp – IS IT ENOUGH?
Not sold? No, nor us. Hence the need to test. And here's the story. You jump on the RALLY – and get over the immediate sinking of the soft suspension – and ride up the road. And yes, you fly through those gears pretty quick for not an awful lot of velocity gain. But get the RALLY out on to the dual carriageway and surprisingly the momentum builds quite nicely until – surprise-surprise (thank you, Cilla) – there you are sitting on a comfortable 70mph at an even 7000rpm. It's not actually that buzzy, nor does the engine feel in any way stressed, and you can feel the motor would do this for days on end, no issues. It can go faster, too – but at 80mph and about 8000rpm things do get tingly, a little strained. Fine for an overtake, but not for cruising. But that 70mph in most countries of the world is more than plenty. By the way, Honda claim the top speed is 132km/h (80mph).
The soft suspension works fine on the road but also 'soft' would seem to be the brakes, which need a good squeeze to bring the speed down. And, as said in the test of the L, we don't mind the fitment of ABS given knobbly tyres on 21" rims can get pretty skittish in a crash-brake scenario. As with the L, there's a simple dash-mounted button to deactivate the ABS to the rear brake (only).
ADVENTURE, SERIOUSLY?
We've previously rated the 300 L as a superlative trail machine. Not an EXC-F beater, granted, but for quiet casual trail rides just the sweetest thing, so perfectly pitched for the job. Whether that same machine, by virtue of a fairing and bigger tank can make a serious travel bike – well, there's the question. The answer is – well, yes it can!
We shouldn't be surprised, but that's one of the joys of being a cynic – you get to eat your own words. So, okay, that fairing, that funky headlight, the gold anodising on the fork legs, it's all Dakar-pastiche. Indeed. Acres of plastic and bling for no purpose (the fur coat). Only, actually, it kind of does all work. Fact is the fairing/screen does a great job of deflecting the wind flow, and that screen is just the right height – protective but not an encumbrance. And while the much-enlarged fuel tank is wide by modern enduro standards, you can live it, whether seated or standing. Meanwhile the upgraded seat (over the L), with rubber mounting and a broader width is a lot more comfortable than the L. The RALLY feels significantly more substantial, and while (personally) we're not ready to ride this bike 500 miles at a time, it can and will do distance work. That tank enlargement – from 7.8-litres on the L to 12.8-litres – gives the RALLY a potential near-250-mile range, too.
ON THE TRAIL
So we've established the RALLY is bigger and more comfortable than the L and can sustain decent travel speeds – so we give it a serious YES to being an adventure model. But does it still do trail? Well, of course it does. It still has that 21" front hoop and 18" rear. And yes, while the suspension is soft it still works, and it still has pretty decent ground clearance.
Now for 2021 Honda has moved the handlebars back a smidge, and lowered and moved the footpegs back, too, which work fine for on the road. And work pretty good for off-road as well, but for this 6'0" tester it did feel a touch close-coupled, like the pegs and handlebars could be further apart to allow for a more natural, braced standing position. Shorter folk may not agree. That's minor criticism, mind – and what's wrong with rolling the bars forward a smidge? What was cool, was that the fairing didn't feel to inhibit the bike. You can see over the top of the screen no problem, and the side fairings didn't feel too wide. It retains 90% of the trail manners of the L, and being able to easily get your feet to the floor for a paddle when needed there wasn't a sense of fear of damaging the fairing etc. So trail – not a problem.
NICE SPEC
As we've alluded to, we like the spec and the build of this bike. It could have come off as the poor cousin to say KTM's 390 Adventure or the BMW G 310 GS – both of which are considerably more powerful – but between the build quality and that rally-nuance to the adventure build of this bike, it stands proudly and attractively in its own field. In fact, each of these bikes has its own take on adventure, its own character and while the 310 GS has the most GS-adventurey feel when it comes to size, deportment and when seated looking at your instruments etc, the Honda's cockpit doesn't disappoint. It doesn't feel in any way bare bones, there's even a bar above the instruments (doing double duty as the screen support) waiting for your sat nav and the improved LCD display of those instruments works just fine, with – as on the L – plenty of information.
Equally, as with the L, there's a real sense and feel of quality. You know the motor is going to reach 200,000 miles with just oil changes, but equally it looks and feels like the rest of the bike will make the distance too.
2021 HONDA CRF300 RALLY UPDATES
Increased cubic capacity (to 286cc) , plus revised air intake, inlet cam timing and exhaust system that inject 10% more peak power and 18% stronger torque across the rev-range.
Shorter gearbox ratios are topped with a taller 6th gear, assist/slipper clutch.
New swingarm and more laterally flexible frame, increased ground clearance (275mm), longer travel suspension (260/260mm) and revised riding position.
Increased capacity (12.8l) for the fuel tank extends range; the seat is now rubber-mounted and lower (885mm), and there are rubber inserts for the footpegs. The handlebars use internal weights, indicators are now flexibly mounted and the finishing touch is an easy-to-read, positive LCD instrument display.
Kerb weight is reduced by 4kg to 153kg, making for a 13% improvement in power to weight ratio.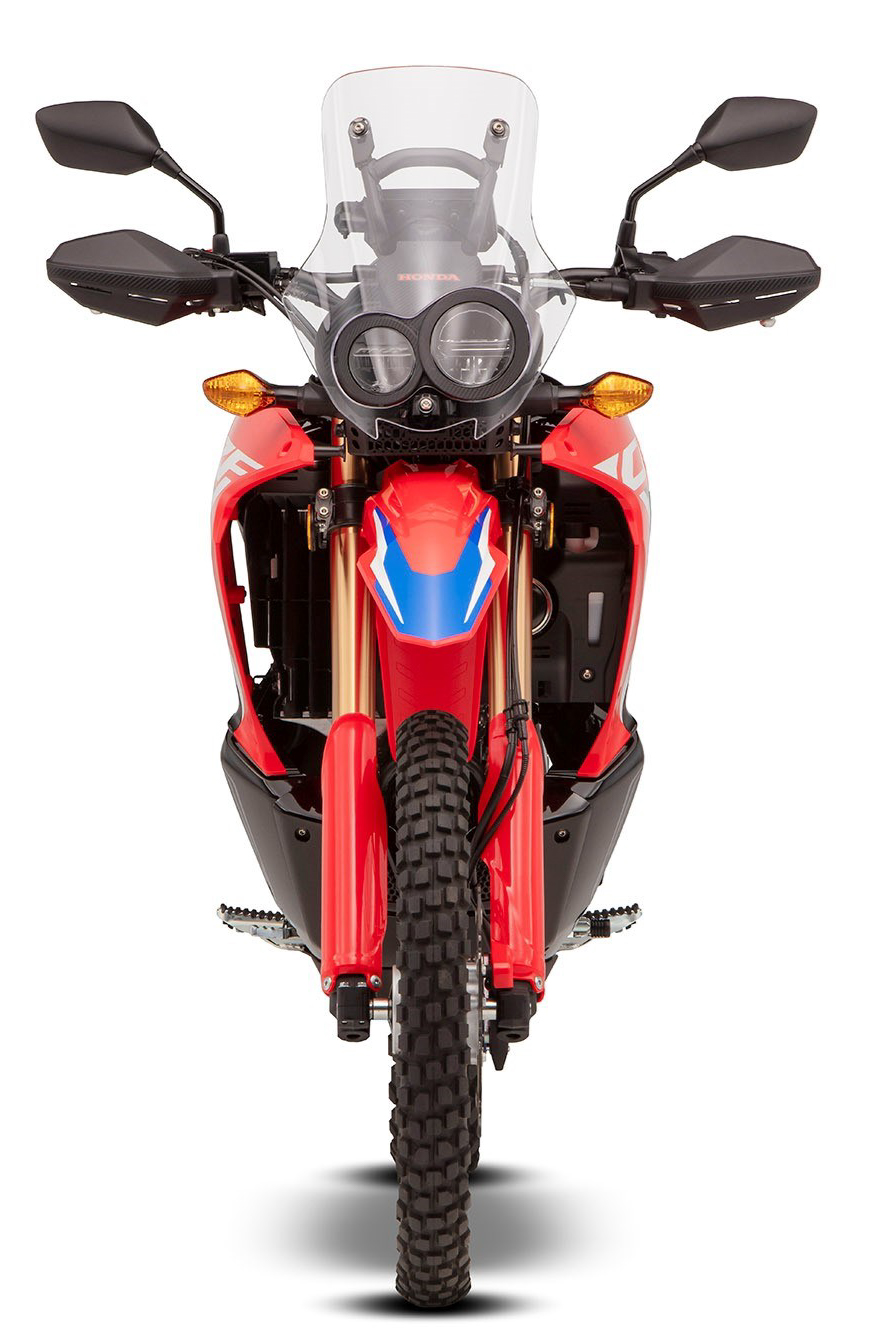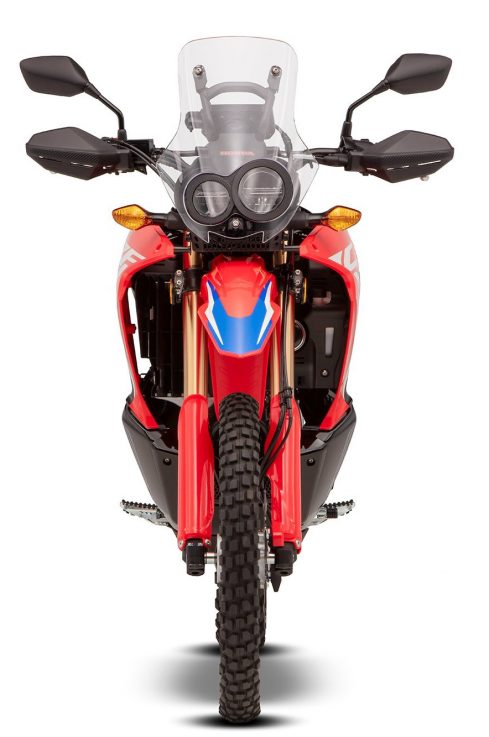 IMPRESSED?
Yes, we're impressed. As with the L, for 2021 there has been quite a few changes to the RALLY. The motor upgrade, the lighter frame, a bigger tank, the new LCD instruments – it's all added up to make the new model better than the old, while not accidentally veering away from what's made it so successful.
Price wise. Well, it's the most expensive of the three adventure-lites we're naming here. The RALLY at £6099 is £100 more than KTM's 390 Adventure and over £600 more than BMW's 310 GS – and a fair £1000 more than its sibling the L (£5149). Of course it would nice of it was a touch cheaper but it can probably stand to be that bit more expensive on account it has its own defined trail-rally-adventure niche – chances are you'll be after a certain spec here and there's a sense of apples and oranges when comparing the models. And unless you're picky about your suspension – or planning some seriously rugged action – there's not much upgrading required before taking to the trail less travelled.
So, yes, we like the RALLY very much, thank you. It's quite sophisticated for what it is, quite capable and in these energy-conscious times (and rising fuel prices) who doesn't like near enough 90mpg? It's got a cool look too.
2021 HONDA CRF300 RALLY
SPECIFICATIONS
Engine: liquid cooled DOHC four-valve parallel single cylinder four-stroke
Displacement: 286cc
Bore & stroke: 76.0 x 63.0mm
Max power: 26hp at 8500rpm
Max torque: 26.6Nm at 6500rpm
Fueling: PGM-FI electronic fuel injection
Starter: Electric
Transmission: Six-speed gearbox, cable operated oil lubricated clutch
Frame: Steel semi-double cradle
Front suspension: Showa 43mm USD fork, 260mm travel
Rear suspension: Showa monoshock, 260mm travel
Wheels/tyres: 80/100-21, 120/80-18 (IRC Trails GP)
Brakes: 256mm front disc, twin-piston caliper, rear disc: 220mm disc single-piston caliper
Seat height: 885mm
Wheelbase: 1455mm
Ground clearance: 285mm
Weight: 153kg
Fuel capacity: 12.8 litres
Contact: www.honda.co.uk
Price: UK £6,099