Michelin Tracker
A road legal off-road tyre
Not a planned test this one, I was looking to buy some of Michelin's Enduro mediums for a trail ride but couldn't find such a front tyre at short notice so bought the Tracker instead – and yes, I was sceptical about how it would perform as a substitute for what is an excellent enduro tyre.
Here's how Michelin describe the Tracker:
Engineered to address the needs of the growing number of riders who are looking for a reliable product that allows them to enjoy their off-road forays to the full.
Designed to cover a particularly broad spectrum of terrains
New tread pattern design, perfectly suited to riding on sand, mud and dirt.
Approved for road use, 170 km/h max.
Affordable price tag.
Tread pattern and crown reinforced to shrug off the knocks associated with off-road riding.
Outstanding traction and braking performance in even the toughest conditions.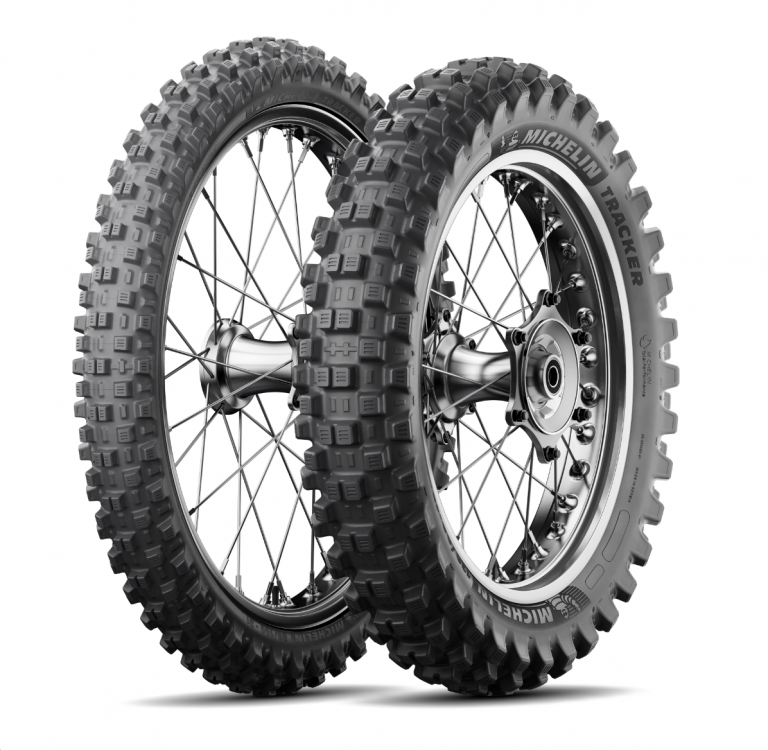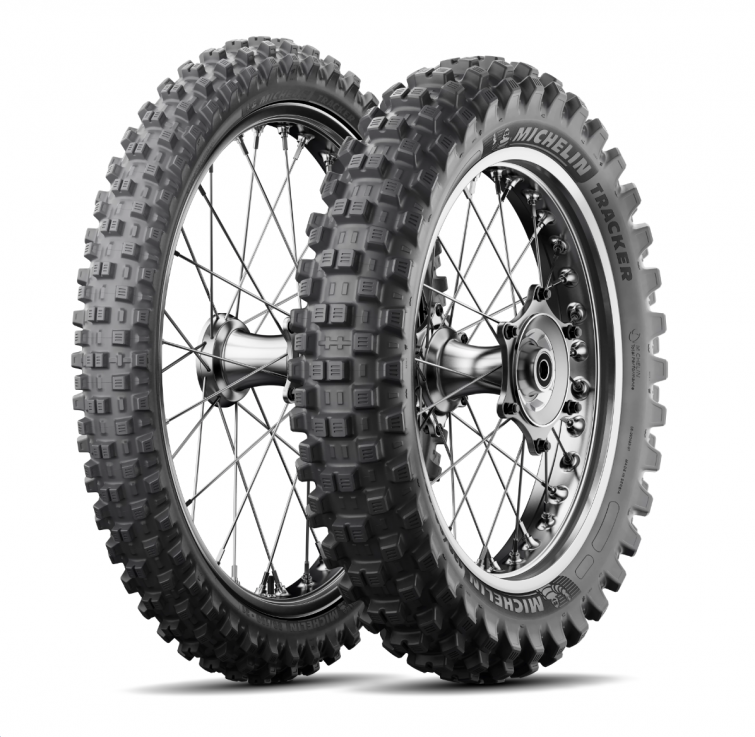 As said, I was wanting these tyres for a trail ride, in fact for a four-day trail ride in the hills of the Algarve, Portugal – so a good test. The majority of the riding was off-road in typical Iberian rally / enduro conditions but the liaisons to the tracks meant that over the four days I also used this tyre on about 100km on tarmac, so I was able to get a good feel for its performance on-road as well as in the dirt.  
The performance:
I was pretty surprised at its off-road capability. Apparently, Trackers are not meant to be competition / performance level tyres (and they're not FIM sanctioned since the knobbies are too high) but frankly I found this front tyre excellent off-road in all types of terrain. My confidence in it grew over the four days that's for sure and I was impressed the way the front stayed planted and secure even on marbly loose shale over hardpack. We had at least one afternoon when the sky opened for a deluge but in fairness while the going was slick it wasn't muddy so I can't really rate it for deep mud. However, in every other type of terrain the tyre performed well beyond my expectations. As for its behaviour on tarmac, again, I was pretty impressed. The front was secure and I felt that I could reach the same lean angle on road that you would with a road tyre. The bike felt secure in corners, even in heavy rain on wet roads. By the way, I ran the Tracker with a used Michelin mousse with a single rim lock. The tyre carcass is stiff enough to allow you to run a soft used mousse without the tyre rolling on the rim, so grip was not hard to find on the front.
The front tyre wear after 1000km is very reasonable (see the attached photos). Surprisingly you'll see that the centre knobs have worn the least with the second row and outside knobs showing the most directional wear. Given that these are multi-directional tyres I reckon that I have at least another 1500km of easy riding or a 100km on the gas with these, with a directional change thrown in. 
The verdict:
I liked the tyre so much so that I'm now going to give the 120/90-18 rear Tracker a go. At the prices and with little or no perceptible performance difference between these and the Enduro mediums the savings are welcome, especially if you ride a lot and go through tyres like I do. Conclusion: I'll be buying these again for non-race riding and I'd be happy to recommend these tyres to a mate.
So:
They're relatively cheap and perform above expectations 
The front tyre has genuinely good grip
Performance on the road in very good
The front tyre is remarkably stable due a stiffer carcass but that allows you to run a soft mousse without the tyre rolling on the rim – a good thing 
Durability is great and for the price and performance a standout feature 
The only downside to the tyre is that they are not FIM sanctioned so they're for trail riding and training only 

MICHELIN TRACKER
Tested: March 2022
Mileage approx. 1000 kms: 10% tarmac – 90% trail
Front Tire: 90/100-21 
Riding conditions: Tarmac, single track, forest roads, rocky mountain trails
Price: €61.00
Sizes available : the usual sizes in 21" fronts and 18" and 19" (mx) rears