After months chasing overseas rides and then concentrating on family commitments, at last JB has got back to the TLR. Things are looking up…
Either I was too pessimistic at the end of the last instalment of Project TLR, or I'm again being overly optimistic now. But a rare Sunday spent in the workshop (okay, garage – workshop is definitely overstating it) has restarted the re-commission of this venerable old trials iron. Okay, not a great deal has happened, to be fair, but its heading in the right direction: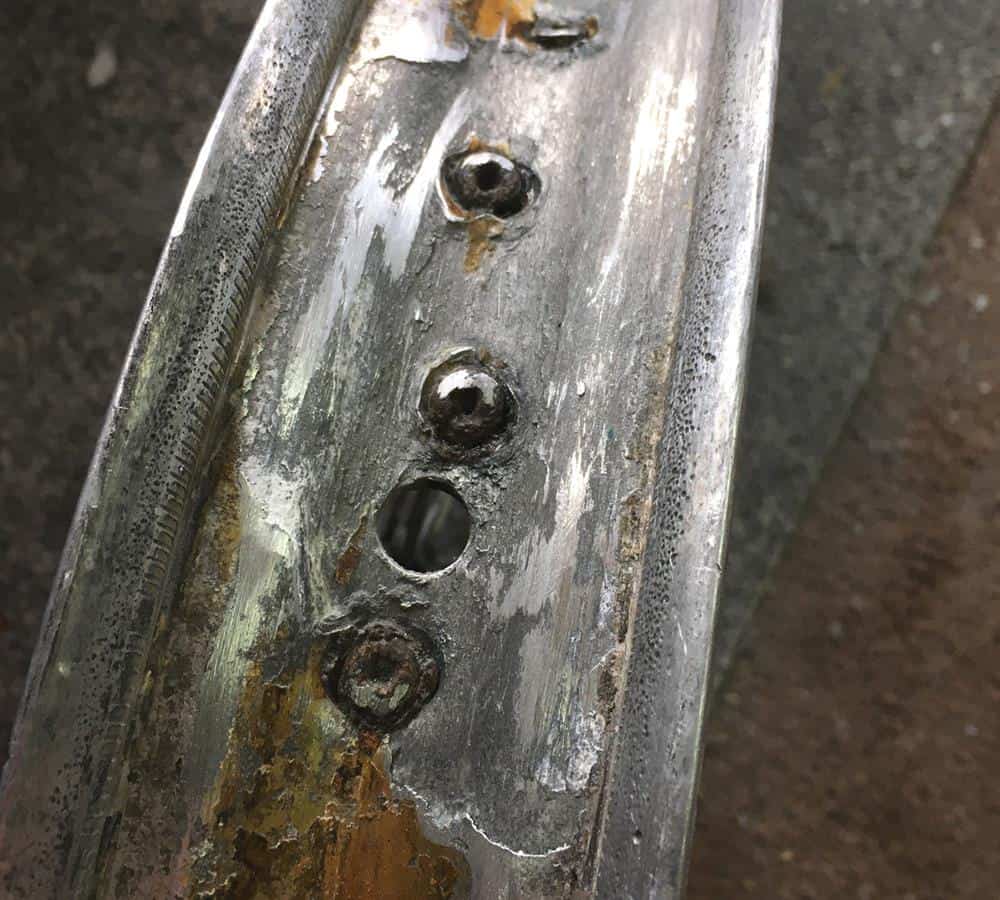 1: BACK FROM THE DEAD? I said in the last instalment that I like spending money, but actually I will hold back given the chance, especially when the numbers get bigger. And the prospect of a big bill for wheel building (plus new rims and spokes) meant I had put a cover over the Honda and run away for a month or two (to Australia then Portugal). On my return, revitalized, and keen to get this project rattling along again, I dragged the old wheels out again and decided to take a file and a wire brush to the rims one more time. Sure, stack loads of powdered metal fell away, but underneath there was solid metal (well, aluminium) and the rims are a good deal thicker than I first thought. So it was a few hours work filing and brushing to get back to some shiny metal (agh, aluminum) on each rim (the back was worse than the front), but having done so and having played around tapping and feeling and measuring I'm now of the opinion there's enough meat left for them to remain in service. They're not exactly tip-top, but they could just do the job. So a good while was spent filing down any sticky-up bits, then the rim tape went back on and as a belt-and-braces step I added a round of duct tape too. I'm expecting the duct tape to be a bad idea of course, it's a bodge but I'm keen at this stage to get the Honda up and running, give it a gentle ride and make a full assessment of its condition.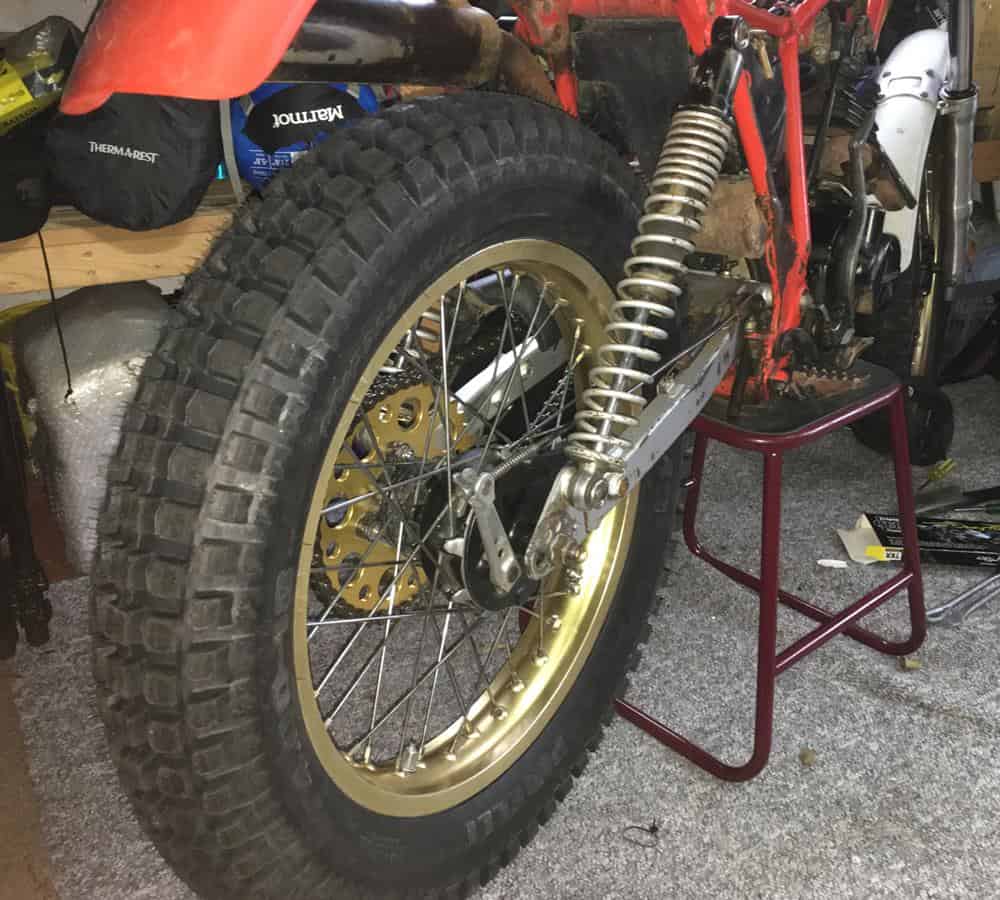 2: SOME REASSEMBLY With the rims kind of cleaned up I was out with the Motion Pro levers again and shoe-ing on some Pirelli MT43 trials tyres. I suspect Michelin's X11s are the hot ticket these days, judging by the ads (and their premium price), but when I was a lad riding my Fantic I'm pretty sure it was the Pirellis that were the hot ticket for the sand and loamy woods we rode in Southern England. So, seeing as they're still available (something of a record in itself) and come at a fair price I've stuck with them. Next, I fitted the new chain. Not a major job, just needed the chain splitter to reduce the number of links to suit the TLR. And I needed a punch to drift out the pin the last few mill'. Sometimes there's a little satisfaction in finding you have those tools to hand, there in your toolbox…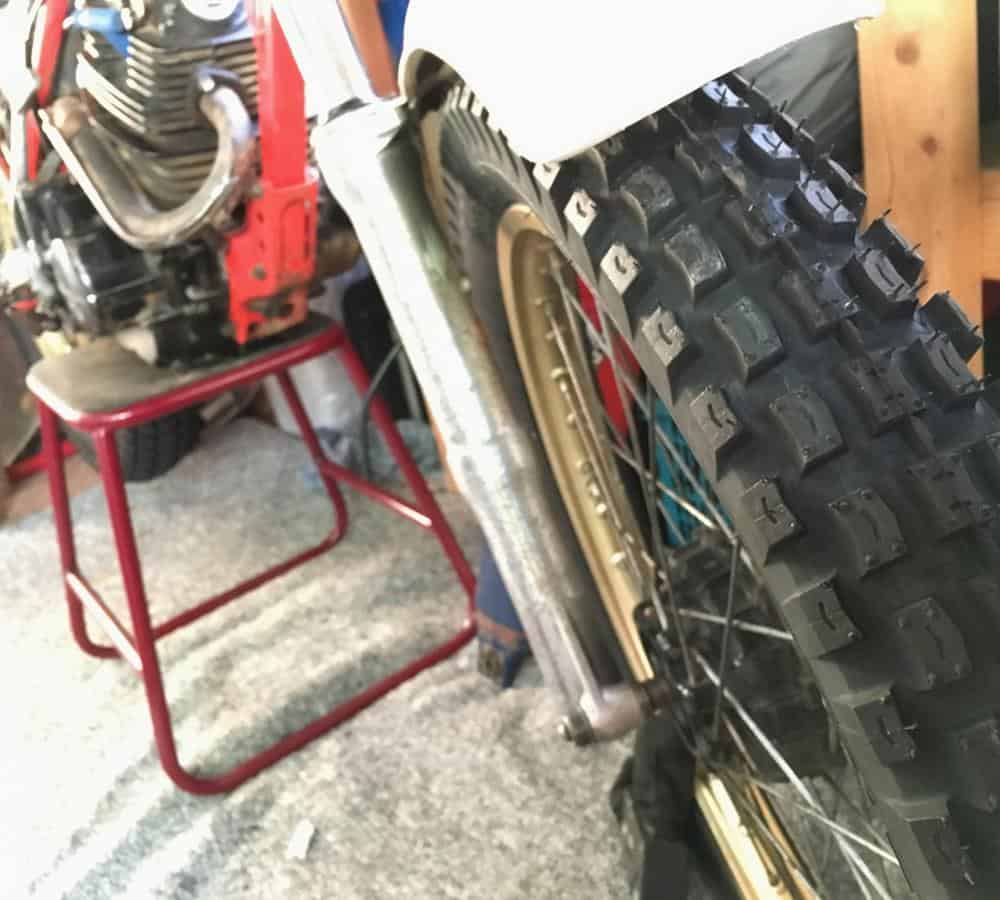 3: SORTING THE BRAKES New brake shoes I'd already fitted to the brake plates – noting that the front brake had previously been enhanced by a strip of sheet alloy being wrapped around the actuating cam – a classic ploy to get a little more life out of old shoes before replacement! So now these, all cleaned up, could go back in the hubs. The front wheel bearings feel surprisingly good, no play, they turn sweetly and are well greased. I suspect the rear bearings are not so good, there's no play but the spinning doesn't feel so slick. I'll give them a small ride and if they don't come good I'll replace (that's me putting off another inevitable job). I gave the front cable the big lube job and then stripped, cleaned and greased the lever and perch and I'm pleased with the action now, it all feels nicely adjusted and free moving.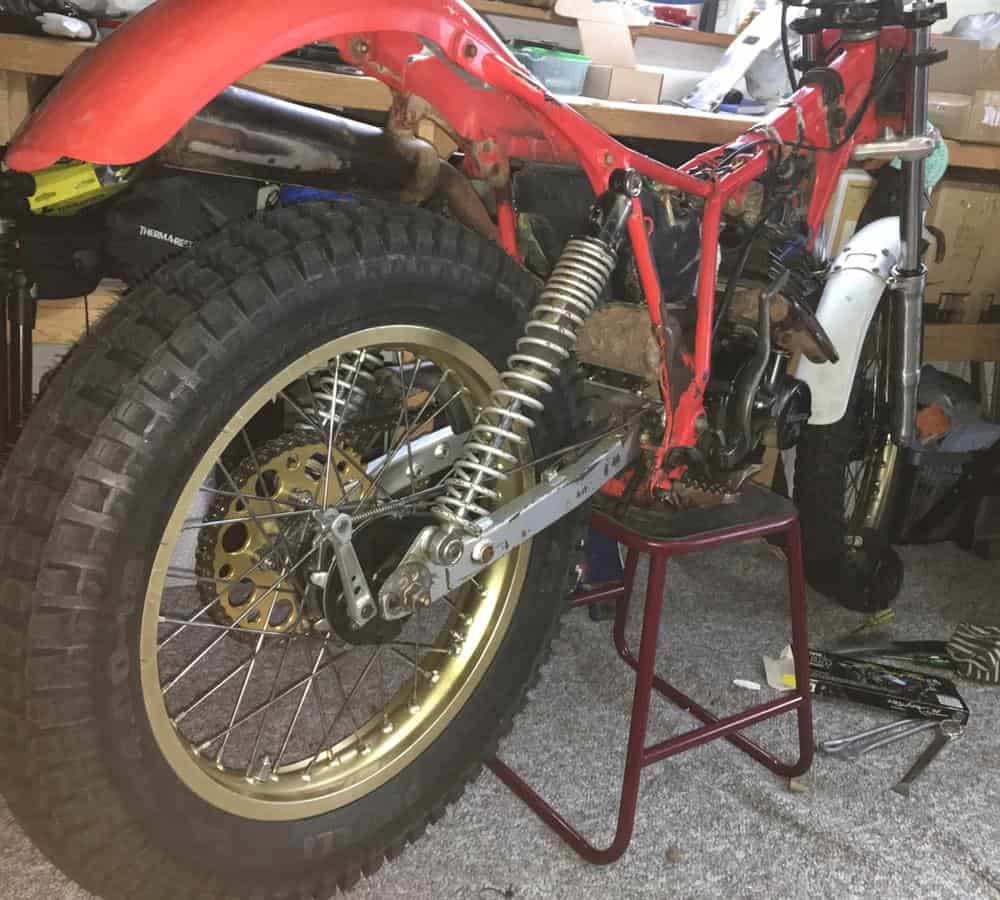 4:
AND SO…
For now, that's it. But with the wheels back in, with new brakes and tyres fitted there's a sense of life coming back to the old bike. I've got the parts to reassemble the carb and with a new fuel line and filter it's not much of a job to get that sorted. The exhaust isn't looking flash and will in time be replaced, but for now – alert: another bodge – I'll fix the one serious crack I've found with some liquid metal
(told you)
and tighten it up. Then I'm going to fix some new handlebars
(taller)
and grips
(the old ones are like Bakelite)
and we should be ready for a shakedown ride. Should be…
WHAT'S NEXT?
Like I said, I'm going for the earliest reassembly and test ride I can manage. A few pals have dropped by over the months and having looked over the TLR are with me on not
(yet)
restoring the old bike. We like that the scratches, dents
(and rust!)
tell the story of its life. But we'll see. And in any case my local club
(Sidcup & District MCC)
have a wobblers trial coming up – I really do want to get out there. PART 5
https://rustsports.com/metal/heritage/project-honda-tlr250-part-5_3253.html