Sidecars are an anachronism, a throwback to a time when people couldn't afford cars, and motorcycles were commonplace. So what are they doing competing in a 21st century sport? RUST went to the races to find out…
Why oh Why
It is the first question that solo riders most frequently ask: why? For the wider public there's often an even more fundamental question: what? You see, many people can't understand the concept of an off-road sidecar, let alone imagine competing on one, as Tom Powell, driver in this year's Sidecar clubman winning team (together with Mike Curnow), explained.
'Most people simply can't get their head around the passenger aspect. "What… you ride off-road with someone sitting down in the sidecar?" I'll explain to them that no, the passenger stands up, then leans left and right for the corners. "He stands up!" they exclaim in horror. They can't really visualise it until they see it. I admit… Even I used to look at it and thought that it all looked like hard work and a waste of time. Why would you want to do that?'
Of course, why WOULD you want to do that? Given a chance of having a perfectly decent day's riding, why would you want to encumber your bike with a bloody great platform and a third wheel… AND carry a passenger. In road bike terms it would be like booking a track day at Brands Hatch then having the missus ride pillion the whole day. Still fun, but it's not really the essence of what it's all about, is it?
Yet the fact is, so many of the sidecar people are ex solo riders, or still solo riders in fact. So they were once just like you and me, perfectly sane people. In fact if you talk to them and take them away from the immediate context of their sidecar, then they seem perfectly rational human beings. And when you ask them 'why?' they have a perfectly sane answer: the challenge.
Alun Davies is a carpenter from Llanwrda in Dyfed (clearly looking to win the most-Welsh, Welshman award) and was runner-up with James Ferguson in the Sidecar experts. Davies – a veteran of the solo class at the Welsh – only recently turned to the dark side, switching from two wheels to three.
'I rode solos in competition for close to ten years, so I fancied a change. A lot of the enduros were getting easier and I like a challenge and so a friend who'd raced sidecars for a few years said I should give it a go.
'And it really IS a challenge! It's twice as hard as riding anything else in the parc ferme. It's not the steering, it's the sheer weight of everything. You're carrying two people around and that's an extra strain on the bike and engine.'
Another reason for wanting to compete on three wheels (and everyone I spoke to echoed this), was the aspect we can best express as: an experience-shared.
James Ferguson: 'The team effort is a big part of it. A lot of your time you're hating your driver, or they're hating the passenger, but when you get back and you've had a good day, you've someone to share it with.'
Sharon Neville has passengered an outfit driven by her husband for five Welsh events. 'We can expect to find grounds for divorce at least five time a day when we're on the Welsh. But it's nice to do it together as you can talk about it afterwards and the memories are there to tell the grandkids.'
Or this from another of the pilots – Mike Curnow: 'With this it's teamwork, you really have to trust each other to do the right thing – which is better. And with sidecars nearly all the people here know one another, it's very social. There are 15 of us riding sidecars in Cornwall, we know everyone and compete with each other, it's brilliant.'
The How Question
Now if you've ever ridden a sidecar you'll know that they are seriously weird bits of kit. They behave nothing like a solo, and nothing like a car for that matter. The nearest preparation for riding one is perhaps an ATV, and a three-wheel one at that. Essentially you need to have it in mind that the front wheel probably accounts for only the last 15 percent of any steering input. Simply riding in a straight line is a challenge. So the second question has to be 'how?'
Tom Powell: 'You're right, it handles like nothing else, you throttle-on and it pulls to the left and throttle-off and the back goes really light and tries to pull you around to the right. It took us five months just to get half good!' And this is the crux of a sidecar. It doesn't work without the passenger.
Our Oxford dictionary defines a passenger as 'a person travelling in a car, train etc not driven by him; a member of a team who is not fully participating in the work'. In that respect the term 'passenger' is a misnomer. Down Under they call passengers 'swingers' but here in Blighty that term has an unfortunate connotation. So as in rallying, we could better term them co-drivers.
'When we first rode the outfit,' explains Curnow, 'Tom said with just me gently leaning left and him doing nothing with the bars the bike would start pulling left. The passenger really has as much effect on steering and direction as the driver. You simply can't steer without the passenger being where they are supposed to be.
'It's also massively physical work for the passenger, harder I think than riding a solo and arguably harder than for the driver. The driver has to concentrate on lines, where they are going, but it takes the two of us to make it go where he's intending. So if you don't know where the other wants to be going, it will most definitely go wrong. It helps that we get to walk the special tests and discuss lines so we're prepared, but we still often get to the end of the event and will be asking each other, 'What happened there? Why didn't you go left, or right or fast or slow…'
James Ferguson explains that it's not only directionally that the passenger has a huge impact, on hills the skill and knowledge of the passenger can make or break the situation. 'If you've got a steep climb you want to be halfway across the sidecar, you don't want to put too much weight over on the driver's side or you'll tip, but then you don't want the rear wheel lifting, so it's a critical balancing act. On corners it is easier, on right handers you're all the way over [across the bike] as far as you can get, and the same with the lefts [hanging off the chair – assuming the sidecar is on the left, which most of them are]. Depending on if it's quite fast and flattish then you might have your backside skimming the ground.
'Braking is an issue for passengers. On the special tests when you're braking hard then you'll often use the driver as a brace, but a lot of the time I'll be pushing hard with my arms on the cross brace. Braking into lefts you're simply doing all you can to hang on to it any which way!'
Passenger fatigue, too, can be a real issue, especially if the driver hasn't noticed. Mike Curnow: 'When accelerating up a hill and you've just landed off a jump, your feet are flying, you're arms are tired – yeah it gets scary. Where on a solo you can back off and catch a hold again, on the sidecar Tom, can't always know I'm losing it. I'll have to hang in there best as I can until he throttles off so I can gather it all in again.'
For all it's extreme physicality it's definitely no 'men-only' club, though. We counted six women racing in the sidecars at Welsh, including one driver, Ann Giles – who's raced no less than eight Welsh Two Days.
'It is very physical and hard work for sure' she tells me, 'but good fun when it goes well. That said, when it doesn't it's horrible! I go to the gym quite regularly, but I've had some injuries lately that are preventing me at the moment – a shoulder injury and a leg injury, from racing an outfit.'
Fellow sidecar-ist Sharon Neville adds: 'I'd say there aren't enough women involved. It's tough, but if you're up for a challenge, go for it. But given that it is so tough, you've really got to want it. Yes there are risks, but you don't worry about accidents when you're on it – just getting to the next check on time.'
And talking of risks, what do the sidecar mob fear? If rain is bad news for a solo then it's surely doubly bad for the sidecars, especially when it comes to climbs. But more often it's the unknown. The hidden hole, or worse the hidden stump.
Davies: 'Stumps are bad news. They can catch you out, you'll not see them then they'll catch you on the cross bar of the sidecar chassis and have you over the bars in an instant, much like with quads.'
'Bogs are a concern, too,' explains Curnow. 'In some ways bogs are easier on a sidecar than they are for a solo – the bike stays upright and as long as you can keep it moving it's fine. But if it gets stuck you're in for one hell of job to get it out.'
Hidden Talent
What you don't see are the hours and hours of preparation. For a start you can't really say there's such a thing as a production sidecar. KTM certainly don't make them. There are specialist chassis makers and so you can buy a complete outfit – but that's an expensive route to go down.
Alastair and Sharon Neville – the husband and wife team risking a divorce petition with every race – went the route of buying new with their latest outfit and confirmed that you're talking around £15,000, or as Sharon described it, 'a second mortgage'. 'And of course here we are two years on, having to rebuild wheels and all sorts – it doesn't last forever.'
More often than not, riders take the homebuilt route – making it, or adapting it themselves from existing machinery and old outfits.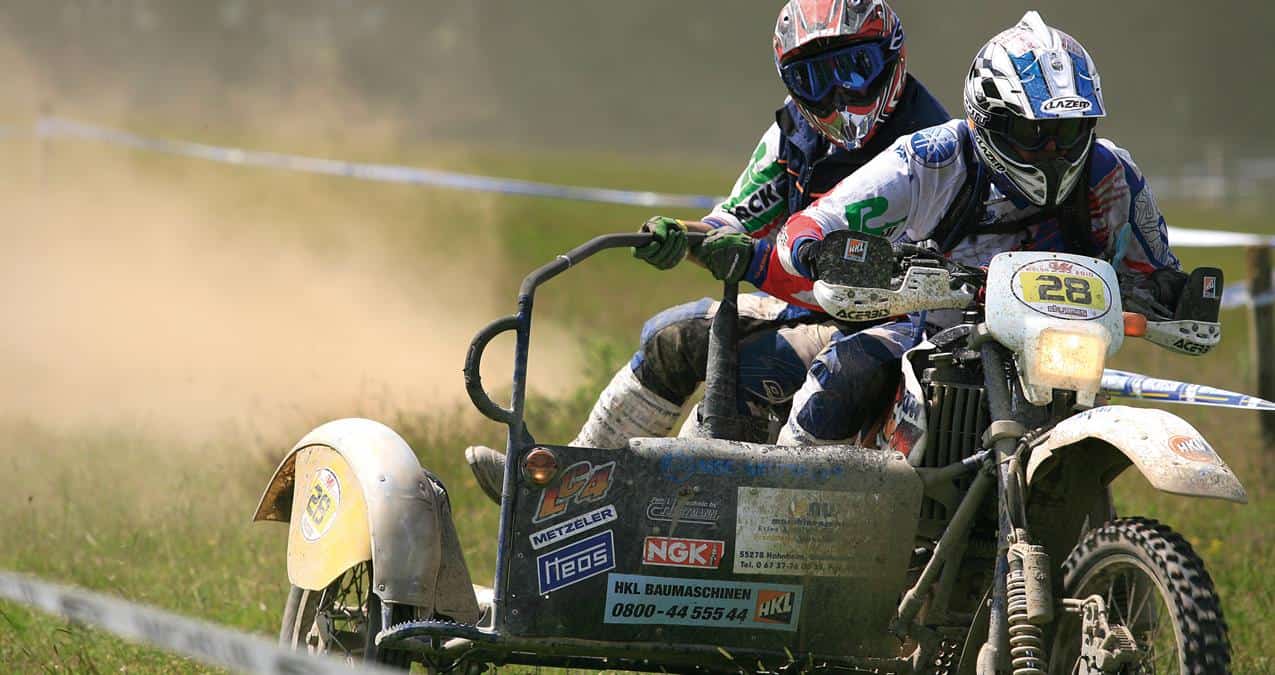 For Alun Davies, coming into 2010, that meant taking his existing Kawasaki KX500-engined 2005 VMC outfit and shoehorning in a 2006 TE610 Husqvarna motor.
'All up it's cost in the region of £7000. We started the engine swap before Christmas and got the bike out in about April, building it up in our spare time. The engine is bog standard, we want an engine to last we so don't modify them much at all.'
But anytime you're transplanting engines – in this case going from two-stroke to four-stroke – there's a lot to consider.
'We had to make our own engine plates to get the new motor in the chassis. You have to squeeze the carb in, you're looking to allow clearances to get everything in its place, drain plugs and all. Everything is so tight, really you're starting from scratch.'
And some things that us solo riders take for granted simply have to be made from scratch. The most obvious example being airboxes, almost every last one we saw was custom fabricated from sheet alloy.
Buying and preparing a sidecar is one thing, maintaining them is another. Everyone commented that given that you've twice the weight in riders plus the weight of the sidecar to consider then everything – and we mean everything – wears out at twice the normal speed. Wheel bearings, brakes, suspension, tyres are just some of the items that the sidecar racers chew through as if there's no tomorrow.
Tom Powell: 'We paid £4000 for our outfit, it's a KTM 540 with a VMC chassis. Maybe that's not so expensive, but keeping it running is! Here at the Welsh we'll go through two rear tyres and one front, that's about £150. They'll be wrecked at the end, good for nothing. Then there's mousses, and they don't last like they do on a solo. Oil and filters every meeting, then brakes and bearings. Everything on the bike wears out in no time. You replace it and think 'ahh, that's done now', then you go to an event and its worn out again.'
James Ferguson: 'Because there is so much to do to get the bike ready it's a team effort. It's so much extra work to get it ready on your own, with the sidecar there's twice as many parts. You're always checking, 'Have we got this? Have we got that?' You have to think for each other.'
Ferguson and driver Davies took us for a tour around their outfit to explain some of the specialist kit that's involved.
The forks are leading link with the brake necessitating a torque arm assembly – so even more bearings there. The forks come with twin shocks from Dutch specialist firm Reiger. We noted that their outfit had a monoshock set-up (on the rear of the bike), but some of the outfits have a twin-shock rear end, plus most have a suspended sidecar wheel with a shock, so you can imagine the bill for rebuilding that little lot – five shocks in all!
All the sidecars have whopping great steering dampers – they must be unrideable without – but Davies said this is more a help with the fast going than in ruts. Tyres are standard issue enduro tyres but the passenger wheel is a smooth road tyre; Davies explained you don't want any grip from that wheel or 'it'll chuck you over', it just needs to slide.
A hefty great radiator is the order of the day. Some look truck-issue and many have an oil cooler wedged in front, too, the radiator being typically located in the front of the sidecar. The engines run much hotter on sidecars (we noticed stick-on temperature indicator strips on the barrels of a few bikes), not only because of the weight, but also because with the substantial skid plates that are required there's less air getting in to cool the engine cases.
Exhausts are typically cut and rewelded out across the front of the sidecar, exiting to the left of the chair, as this not only helps weight distribution, but is also a safer route (away from damage and safer for the passenger). You'll notice most sidecars wear panels across the front of the sidecar to protect the passenger from roost, to prevent mud ingress and to act as a radiator guard. Again, most of these are custom made (you'll not find them in the UFO or Polisport catalogues) as no two sidecars are ever the same.
Something most solo riders might struggle to adapt to is the off-set handlebars, that are shortened on the offside. Width of course is an issue with sidecars, so moving them inboard in the clamps and shaving off the odd inch makes a fair difference, even if it means you have to ride with bars that we'd consider 'all to cock'.
Two more additions mark a significant divergence from what we're used to. Giant car batteries (again placed in the chair for better balance) are typically used to fire up the thumping great engines, as it can be difficult to get a good swing at the kickstarter – especially if it's a left-side kick like the old KTM LC4 engine. And they always carry fairly comprehensive toolkits as breakdowns, tangles and running repairs are common-place. Oh, and the sorts of spanners these guys need to effect a repair are never gonna' fit in your average bumbag.
So Next Year…
Stick around sidecars long enough and their brand of insanity starts sounding reasonable. Or maybe insanity is just infectious. Either way, sidecars are certainly curious and entertaining enough to want to always have them around. They bring team-spirit back into a sport that's otherwise all about individuals. They make for one hell of a sight when spectating – and having witnessed one solo get trampled by a marauding sidecar, you're well advised to give them something of a wide berth, if you're a rider of moderate pace.
It's kind of curious. Road racing sidecars have lost part of their spectator appeal as the bikes have become more car-like. Off-road sidecars though, are still very much a motorcycle and 'chair'. Ever so slightly Heath Robinson, a contraption of dubious mechanical correctness, which appears to defy the laws of physics. And it's this sense of daftness, that makes them so interesting and appealing to watch. And curiously makes them so enjoyable to both participants and spectators alike.
Long live three-wheelers… A curiously British tradition!
The above feature was shot at the Welsh Two Day Enduro. Why not take a look at our video of The Welsh to get an idea of the action from that amazing event?